I relish every opportunity to visit the local farmers' market. As great as it is to spend time with people in my local community, it's the diverse selection of fresh produce, crafts, honey, flowers, and more that really draws me in.
Shopping for locally-grown produce and other items is relatively cheaper, and often healthier, than at grocery stores. Not to mention, a farmers' market is exponentially more enjoyable to visit! Plus, when you shop at the farmers' market in your area, you help your local economy as well as the environment.
There are plenty of reasons why you should shop at farmers' markets. But what should you buy once you get there? Which items are you better off buying at local markets than from grocery stores? Keep reading to find out!
What To Buy At Farmers' Markets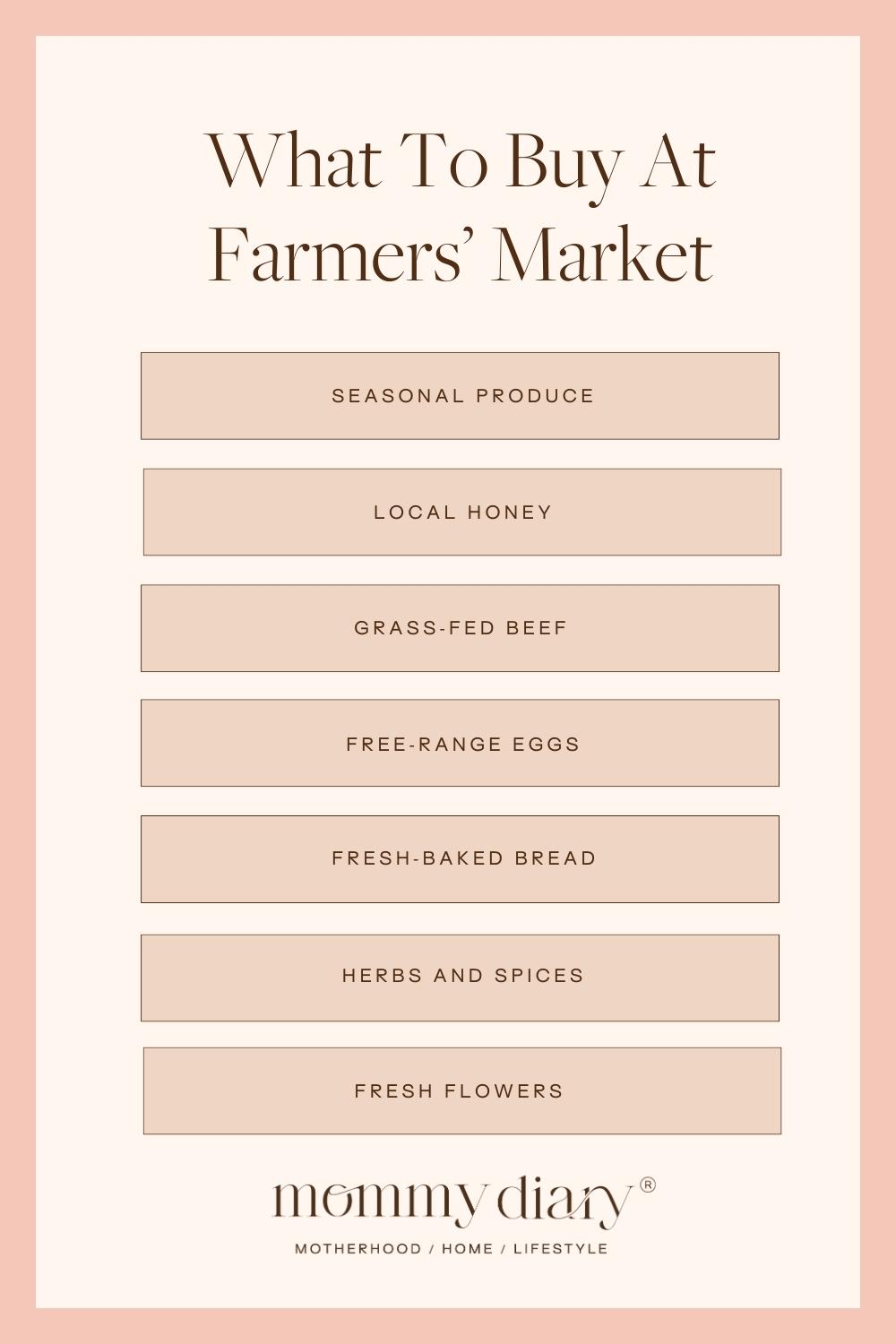 Seasonal Produce
Fresh, seasonal produce is undoubtedly the best thing to buy at the farmer's market. There's simply no comparison between fresh, locally-grown produce and store-bought produce.
Stick to what's in season, grab heirloom varieties whenever possible, and stock up on all the fruits and veggies you want.
Local Honey
If you've only ever had store-bought honey, you're in for a treat. Fresh, local honey is unparalleled. It's nutritious and delicious, and there are benefits to choosing local, raw honey over the alternative.
When you stumble upon a vendor selling local honey, be sure to ask them where their honey comes from. The occasional vendor will try to tempt shoppers into paying a premium for store-bought honey. But if it's from local bees, grab a jar.
Grass-Fed Beef
Wouldn't it be nice to know where the beef you're eating came from? Not every farmer's market offers grass-fed beef, but if yours has it, you'll want to get some. Not only does grass-fed beef taste better, it's also better for your body.
Meat from free-roaming cows is naturally lower in fat and calories than meat from grain-fed cows. Grass-fed beef also contains two to six times more omega-3 fatty acids.
Free-Range Eggs
The debate over whether free-range eggs taste better than store-bought ones will probably never end. But, there's no denying that free-range eggs are healthier. Fresh, free-range eggs from local farms contain more vitamins A, E, and D, omega-3 fatty acids, and beta carotene, and less cholesterol and saturated fat.
Fresh-Baked Bread
There's just something about freshly baked bread and baked goods that makes them irresistible. Many farmer's markets have vendors offering a variety of freshly-baked goodies. Whether it's a crusted loaf of sourdough, baguettes, croissants, or biscuits, once you taste the fresh-baked bread at your local farmer's market, you'll never want anything else.
Herbs And Spices
Although they might be more expensive than at the grocery store, the herbs and spices available at farmer's markets are worth every extra penny. You'd be surprised by how much of a difference it'll make in your recipes. You might even discover something new.
Browse your local market and you'll likely find a wide selection of flavorful herbs and spices. If you come across something you're unfamiliar with, ask the vendor about it. You can also inquire about the best way to store different herbs and spices to keep them fresh for as long as possible.
Fresh Flowers
If you know me, then you know that fresh flowers are a staple in my household. They are calming, and therapeutic, and bring a touch of beautiful yet simplistic nature into the home. Whether I'm creating a Spring-inspired peony and tulip bouquet, decorating for an elevated at-home Mother's Day brunch, styling my mantel for the season, or designing a Fall tablescape, fresh flowers are the key to tying everything together seamlessly.
There's no better place than your local farmers' market to find a beautiful array of flowers, perfect for decorating for the current season. The best part? Depending on the Farmer's Market, you may be able to purchase pre-made bouquets for easy display or you can purchase several types of flowers to create your own unique style!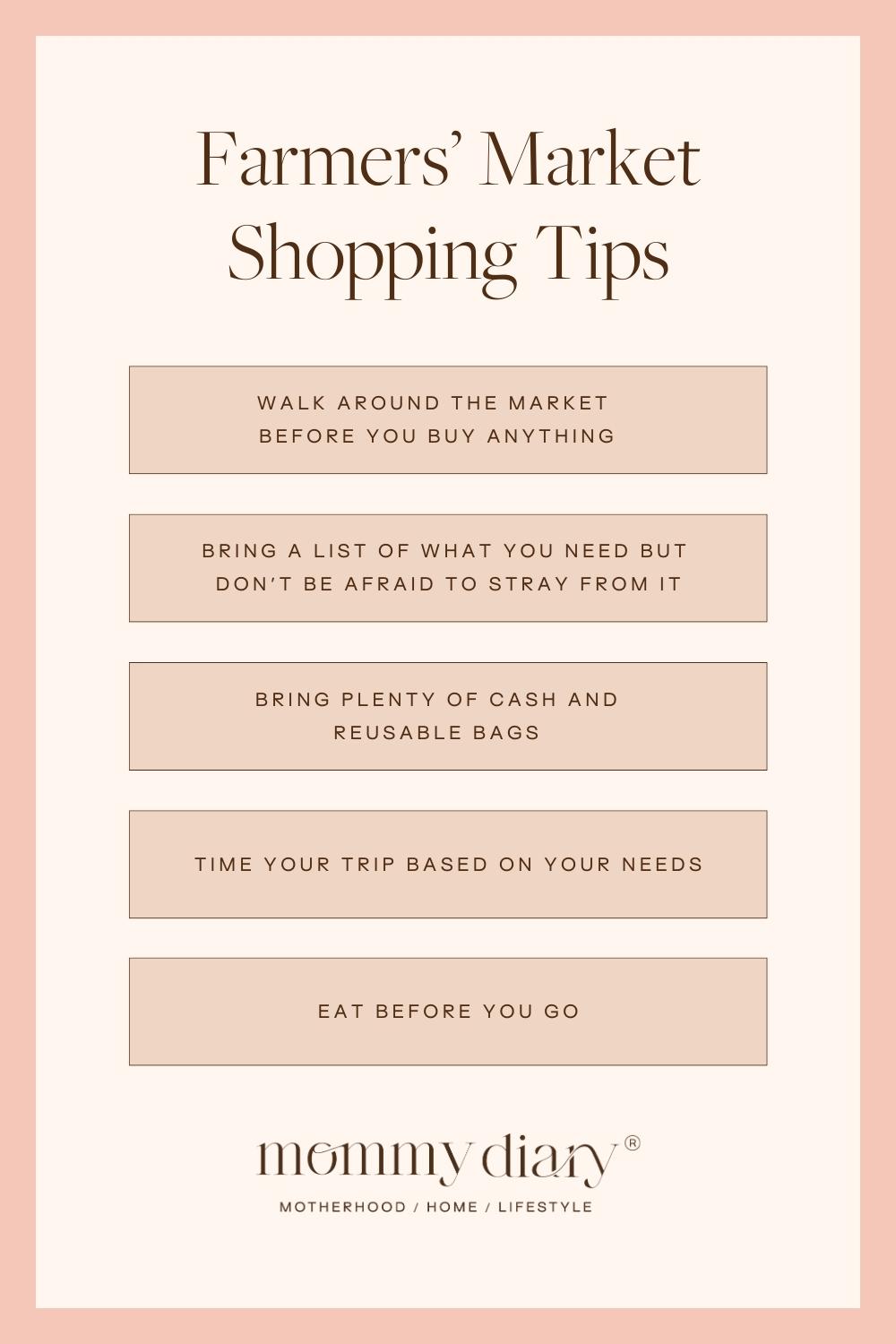 Farmers' Market Shopping Tips
Walk around the market before you buy anything.
When you first get to the farmer's market, your eyes are bound to land on a booth that you immediately want to spend money at. But to get the most out of your time at the farmer's market, and to potentially save you a bit of money as well, walk around the market first.
As you make your first lap around the market, take note of what goods are available. Chat with the vendors. Make a note of vendors offering better-quality or lower-priced goods. This way, you can be sure you're getting the most out of your trip.
Bring a list of what you need, but don't be afraid to stray from it.
If you bring a shopping list with you to the grocery store, do the same thing when you go to a farmers' market. Even if the farmers' market isn't your primary source of groceries, you don't want to miss out on a chance to buy a high-quality or better-priced item.
That said, you shouldn't feel like you have to stick to only what's on your list, either. You never know what you might find at this week's farmers' market. Use your visit as an opportunity to try something new. And, go ahead and treat yourself while you're at it. You deserve it!
Bring plenty of cash and reusable bags.
There are two things you should have on you when shopping at a farmer's market: cash and reusable bags.
In this day and age, it seems as though everything and everyone has gone digital. But, you'll probably still run into a couple of vendors that prefer cash. Be sure to have plenty of small bills on hand.
Also, bring several reusable bags to put your purchases in. If you plan on buying goods that need to stay cold, like meat and seafood, bring a cooler or insulated bag.
Time your trip based on your needs.
It's important to be strategic about when you visit the farmer's market. Some markets are only open for a few hours, while others last a whole day. When deciding what time to go, consider what you'll be looking for.
If you're hoping to grab the freshest produce, bread, or baked goods, you're better off going in the morning. However, markets tend to be the busiest during the morning hours. If you prefer to go when there's less of a crowd, go closer to closing time. As long as you're okay with missing out on the absolute freshest picks, you might be able to bargain with vendors to get their leftover items at a lower cost.
Eat before you go.
If you've ever attempted a trip to the grocery store on an empty stomach then you're already acutely aware of the consequences of shopping while hungry. Don't make this mistake. Eat before you go. This way, you'll be far less tempted by the various prepared foods that will inevitably infiltrate your senses. At the very least, your wallet will thank you.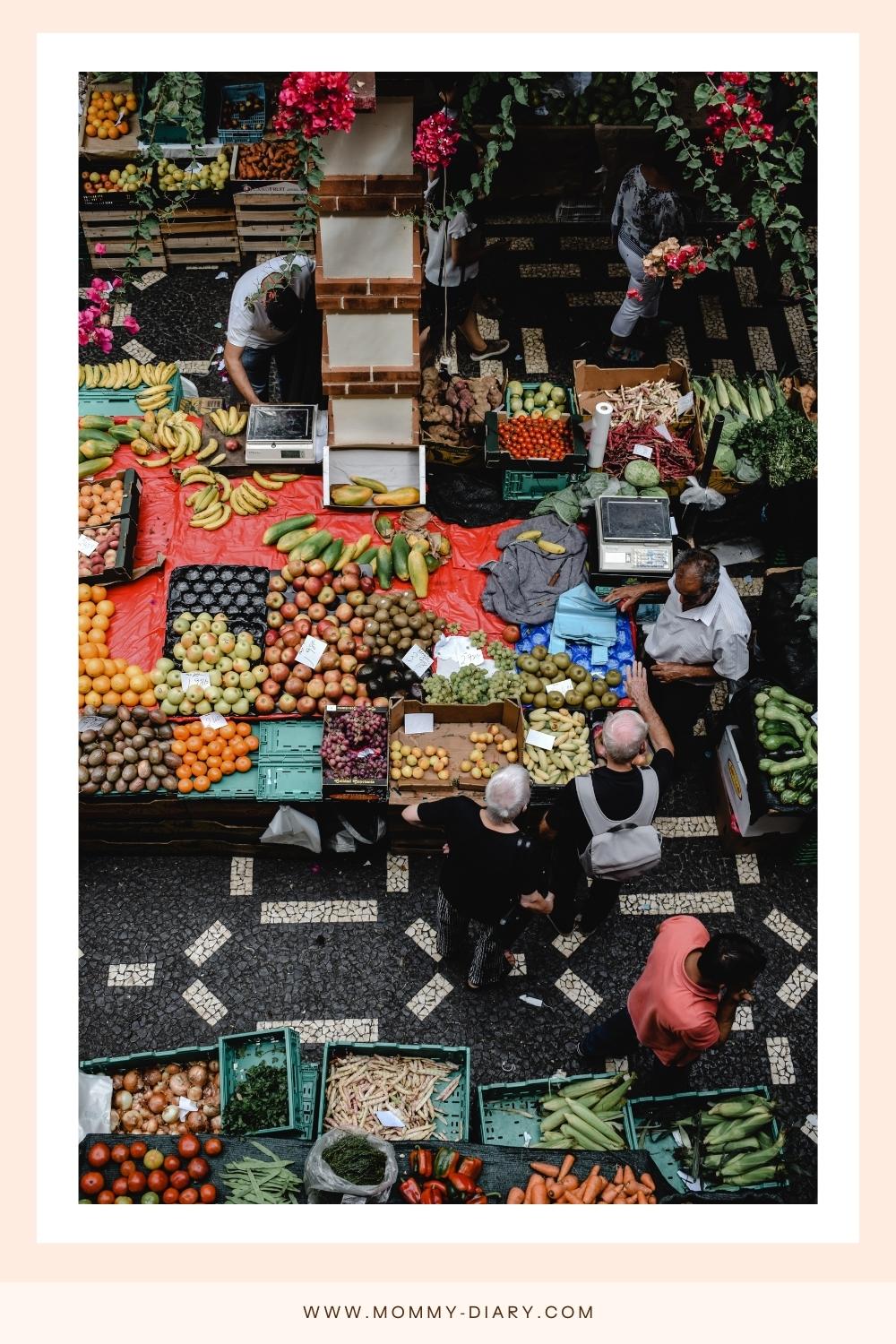 What are your favorite things to buy at farmers' markets?
What goods do you buy most often from farmers' markets? If it's something I didn't mention, let me know in the comments. You might inspire me or another reader to try something new.
For more tips on everything from lifestyle to motherhood to travel and beyond, browse the blog. And for some delicious recipes to use your Farmer's Market finds in, check out the recipes section!