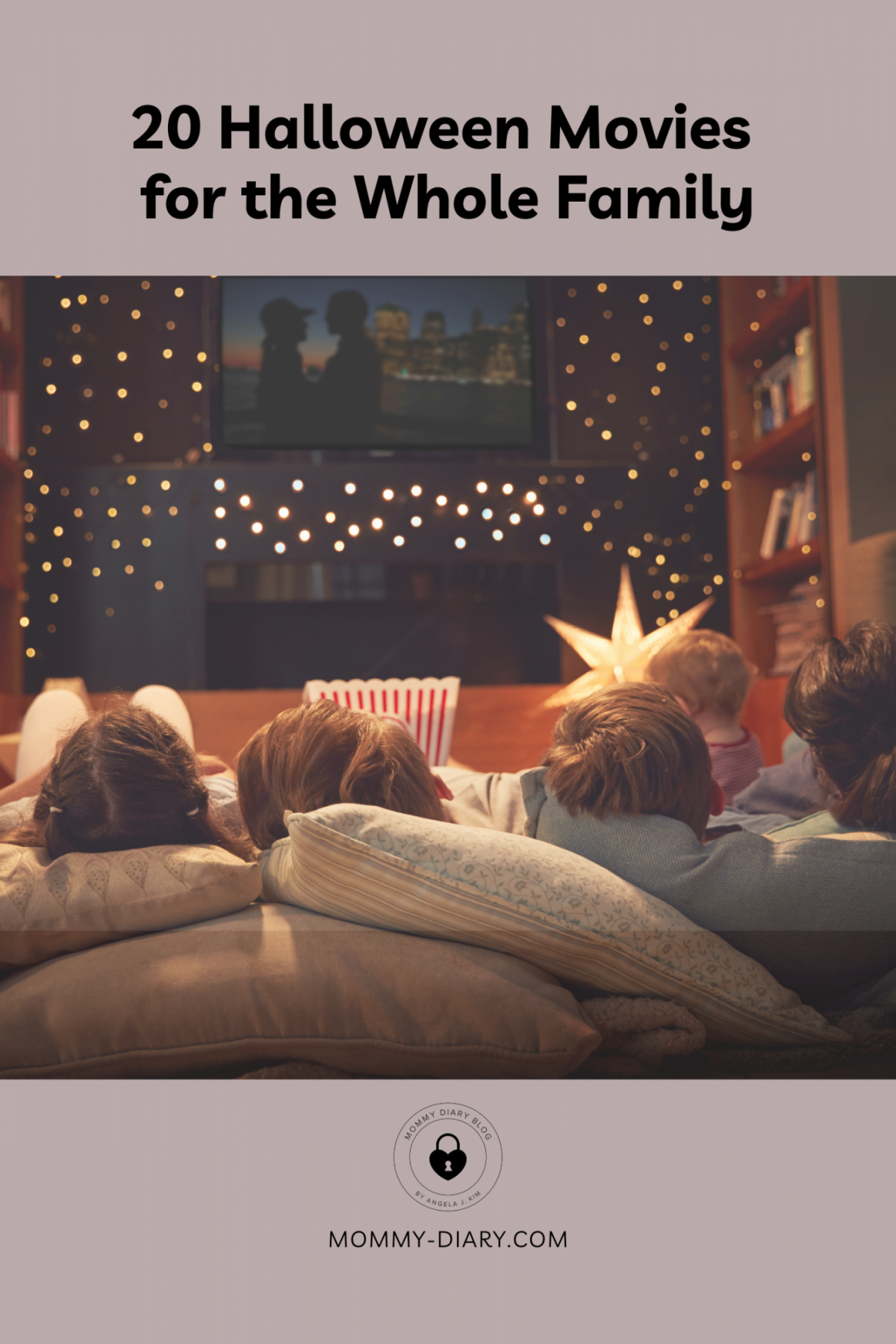 'Tis the spooky season, and with that comes Halloween movies! There is nothing better on a chilly fall evening than snuggling on the couch with a warm bowl of soup, cuddled up with your kiddos and fluffy blankets, a fall-scented candle burning, and your favorite Halloween-themed movie on the screen. 
Family movie night is a great tradition any time of the year, but something about the change of pace that comes with the fall season makes this even more exciting. Not to mention, there are some fantastic Halloween movies from decades past that will give you major nostalgia as you share them with your kids. 
Now, I know that there are some seriously spooky movies out there, not for the whole family, but I've rounded the top 20 Halloween movies you can enjoy with your little (and not-so-little) monsters! 
20 Family Halloween Movies
Have you ever seen "Hocus Pocus" with Bette Midler, Sarah Jessica Parker, and Kathy Najimy? I mean, talk about a trio of talent! This Halloween movie is perfect for kids, and to be honest, even us moms get a kick out of it too. The Sanderson sisters, played by Midler, Parker, and Najimy, are absolutely hysterical and their antics will have the whole family laughing. Trust me, this film is a must-watch for any cozy movie night during the fall season, or really any time of the year when you want a good ol' dose of magical mischief and laughter.
Halloweentown is an early 2000s kid classic. Not to mention there are three sequels to this Halloween favorite!
The Addams Family
You could go with classic 90s or cartoon; either way, it is a spooky win!
This heartfelt movie is a favorite among kids and parents. While more of a Day of the Dead theme versus Halloween, it is still worth a movie night!
Your kids will ask to read your old Goosebumps books immediately. 
This movie is the perfect animated Halloween movie for all ages, too cute not to add to your family movie night list!
A true Halloween classic. This one might be a little too spooky for your younger monsters, but an award-winning movie worth adding to your list of Halloween traditions. Now, I know what you're thinking – with a title like that, it might seem a tad spooky for the kiddos. But fear not, my friend, this movie is as kid-friendly as a pumpkin patch picnic! Jack Skellington, the lovable Pumpkin King, takes us on a magical adventure that's part Halloween and part Christmas. It's a perfect blend of spooky fun and holiday cheer, making it a must-watch for your Halloween traditions. 
Eye-catching scenes and suspense of an alternative world will keep your kids engaged. 
Another Tim Burton classic, this stop-motion animated movie is one to add to your must-watch list indeed! It's truly a gem, crafted with love and creativity. This Tim Burton classic is a must-watch for the whole fam-bam, with its unique visuals and enchanting storytelling.
Comedy and Halloween, what's not to love? Eddie Murphy is hilarious in this spooky tale of a very haunted house.
Add this animated thriller to your Halloween list for sure, and ask your kids what they would do if they found out their neighbor's house was a living monster??
The whole Scooby gang is back together in the live-action version of the classic who-done-it cartoon. Your kids will love watching Scooby and friends solve mysteries in this Halloween favorite.
If anything, this movie will bring back memories of your childhood! Casper is such the perfect movie for a family Halloween night!
Ghostbusters
Another classic with an original and a remake, both the perfect addition to your Halloween movie collection!
Oh, I remember those days when my little ones were still pint-sized. Watching movies together was a bonding experience, but I always had to be mindful of the age-appropriate factor. This 1990s movie is definitely a must-watch classic, but trust me, it's one you might want to save for when your kiddos are a little older. Those scare-inducing moments can be a bit too much for the little tots to handle! But hey, as they grow up, it's always exciting to introduce them to the magical world of older kids' scary movies. Just make sure to have lots of popcorn ready for those cozy movie nights – they might need it to hide behind during the scarier scenes!
Okay, The Goonies may not be 100% Halloween-related, but an excellent movie for the time of year. The Goonies is beyond a classic and something every kid should experience! 
I had to save some excellent choices for the end of this list, and It's the Great Pumpkin, Charlie Brown is a no-brainer for family movie night this Halloween! 
When it comes to friendly Halloween movies, it's best to steer clear of the scary ones, especially when you're trying to keep the little ones happily occupied. You know, those movies that make you jump out of your seat and send shivers down your spine? Yeah, we want to avoid those and opt for the family-friendly flicks that are more giggles than screams.
This fantastic movie is probably not so much a family movie night must as it is just a GREAT movie night all around. Practical Magic is one of the best movies to get you in the Halloween spirit.
I am saving the best and most classic for last. E.T. is a movie your whole family is sure to love for decades to come! This classic stands the test of time. 
Get ready for spooktacular family nights and dive into kid-friendly Halloween movies!
Oh, what a wonderful journey it has been, exploring the spooktacular world of Halloween movies for kids! From the timeless classics to the cheerful animations, we've discovered a treasure trove of cinematic delights that will surely make this Halloween extra special for our little ones. Whether it's cuddling up with our favorite witches and wizards or being delighted by adorable monsters and friendly ghosts, these movies have sparked laughter, creativity, and countless memories. So, grab a bowl of candy, gather the family around, and let the Halloween movie marathon begin! May this season be filled with not just chills and thrills, but also with the warmth and joy that only family movie nights can bring. Happy Halloween, my dear friends!

Tip, if you get started now, you can watch all of these before All Hallows Eve!