It's that time of the year, to decorate your mantle for fall with pumpkins, florals, candles and more. Since the minimal vibe is speaking to me, I am showing you how to decorate your fall mantel to fit any home regardless of your style.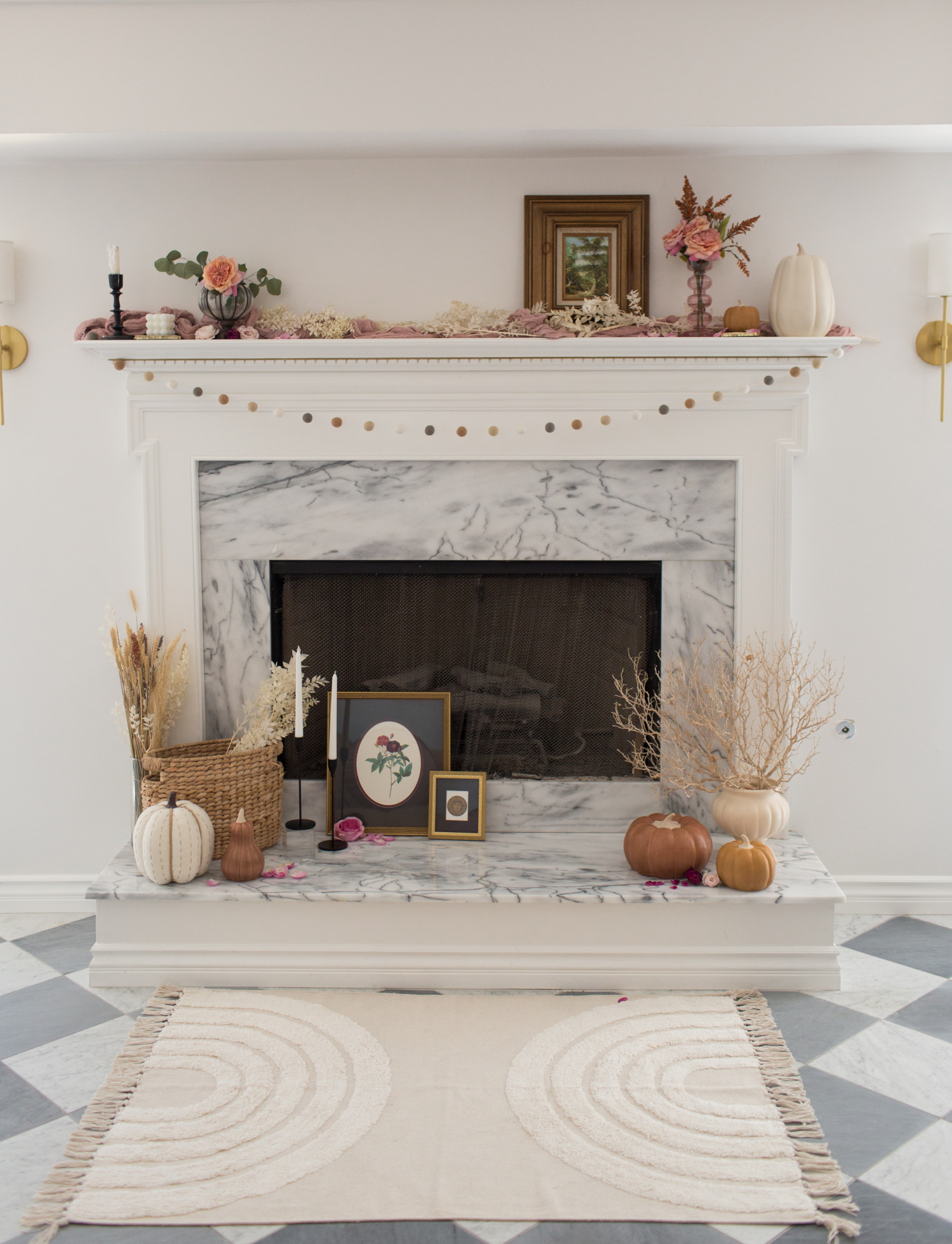 How to Style a Vintage Fall Mantel
Fall means rich color. However, I wanted to wean off a huge burst of color like we did on our fall coffee cart. This time, I chose to keep it all around neutral with smaller accents of color.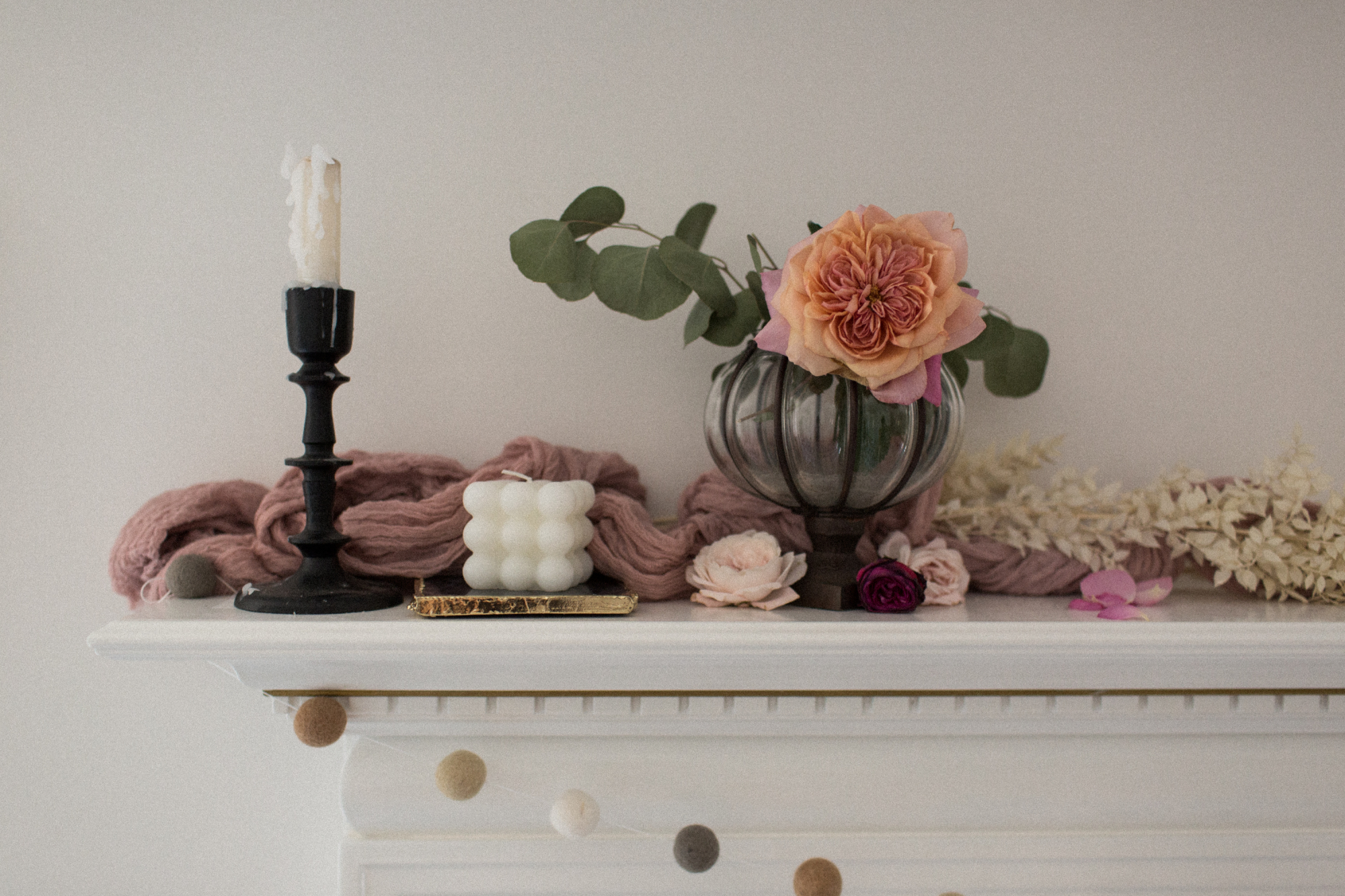 Decorating the mantle
First, I start with a blush runner to frame the top layer of our mantel. As you can see, my mantel area is very light in color. I added a color that would fit in nicely but not be too overpowering.
To keep the same color concept, fresh buds along with some dried floral in the beautiful Delaney Candle Holder in pink are a must. Then, I layered in white foliage to make the fall feeling come alive.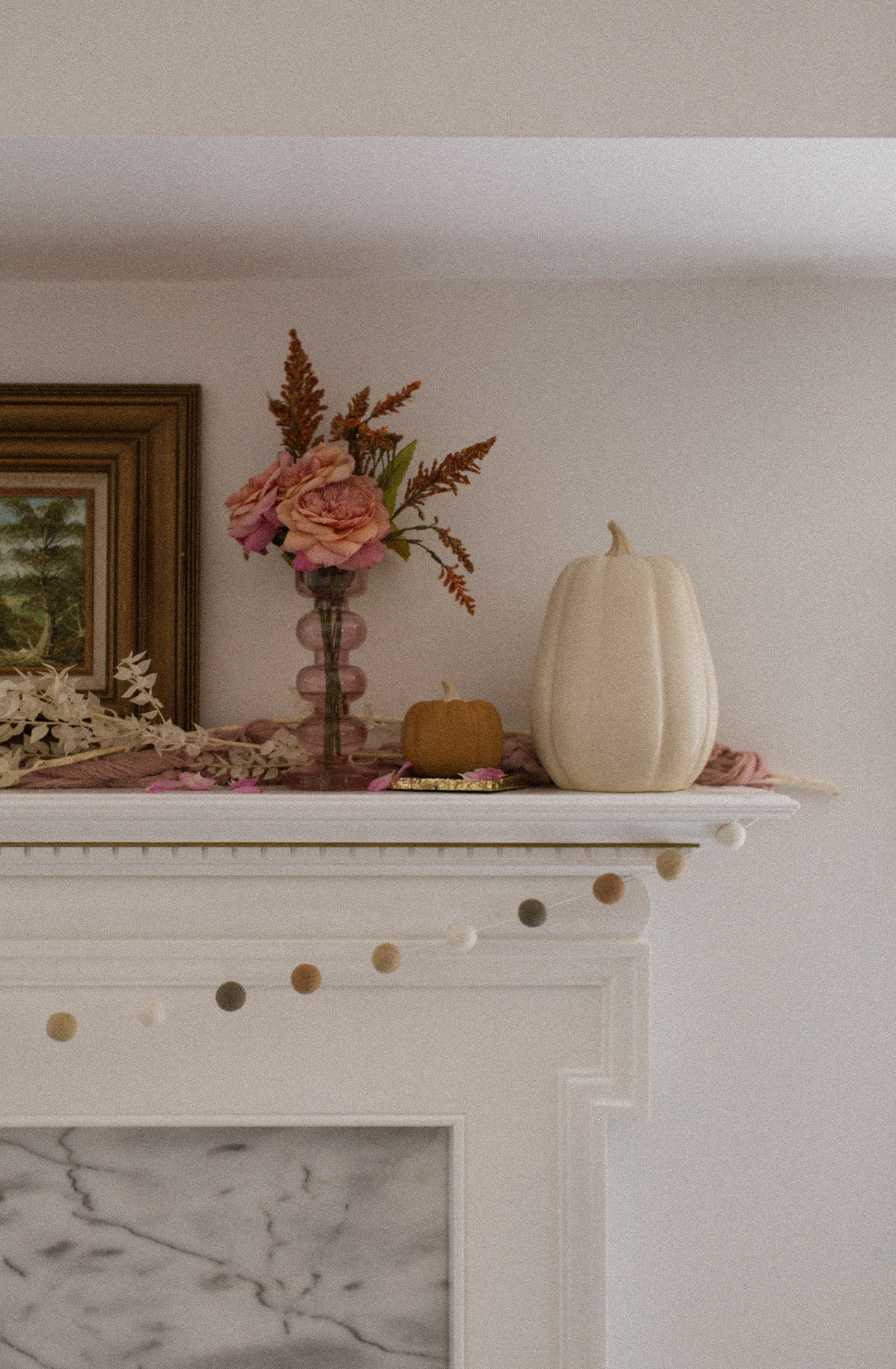 Notably, one of my favorite additions to my collection is the bubble candle! I truly believe that this simple candle helps anything turn a bit more fun!
This year, I found these adorable Ceramic Pumpkins that are available in various sizes and colors. I love these pumpkins more than any other I've found. They are easy on the eyes and also really help make a place feel festive yet classic.
In order to balance the look the top and the bottom, I incorporated this felt ball garland that was on the same theme of a neutral color palette.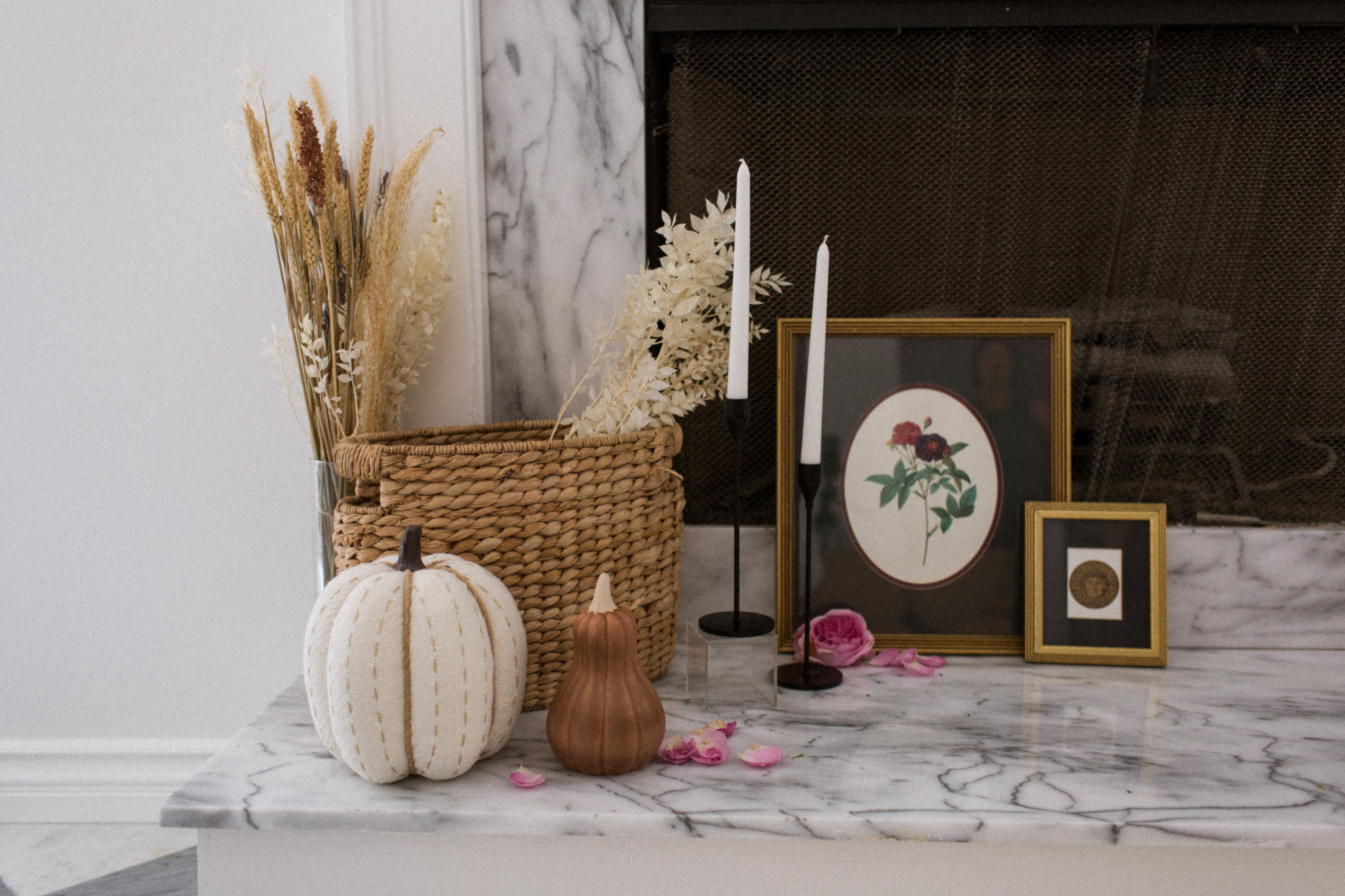 Bottom of the mantle
Next, on the hearth portion, the matte black candle holders added dark tones to even out the inside of the fireplace. If you like thrifting, you might score yourself a nice dark vintage looking touch of art work. This can potentially help add in more personality to your mantel.
To help tie in the mantel with more color, I chose to add in flower petals here and there to help make things look a bit more 3 dimensional. Most importantly, add as much dried floral as possible, as this will really add the fall vibes and tie everything together. Dried florals are so on trend and last long too!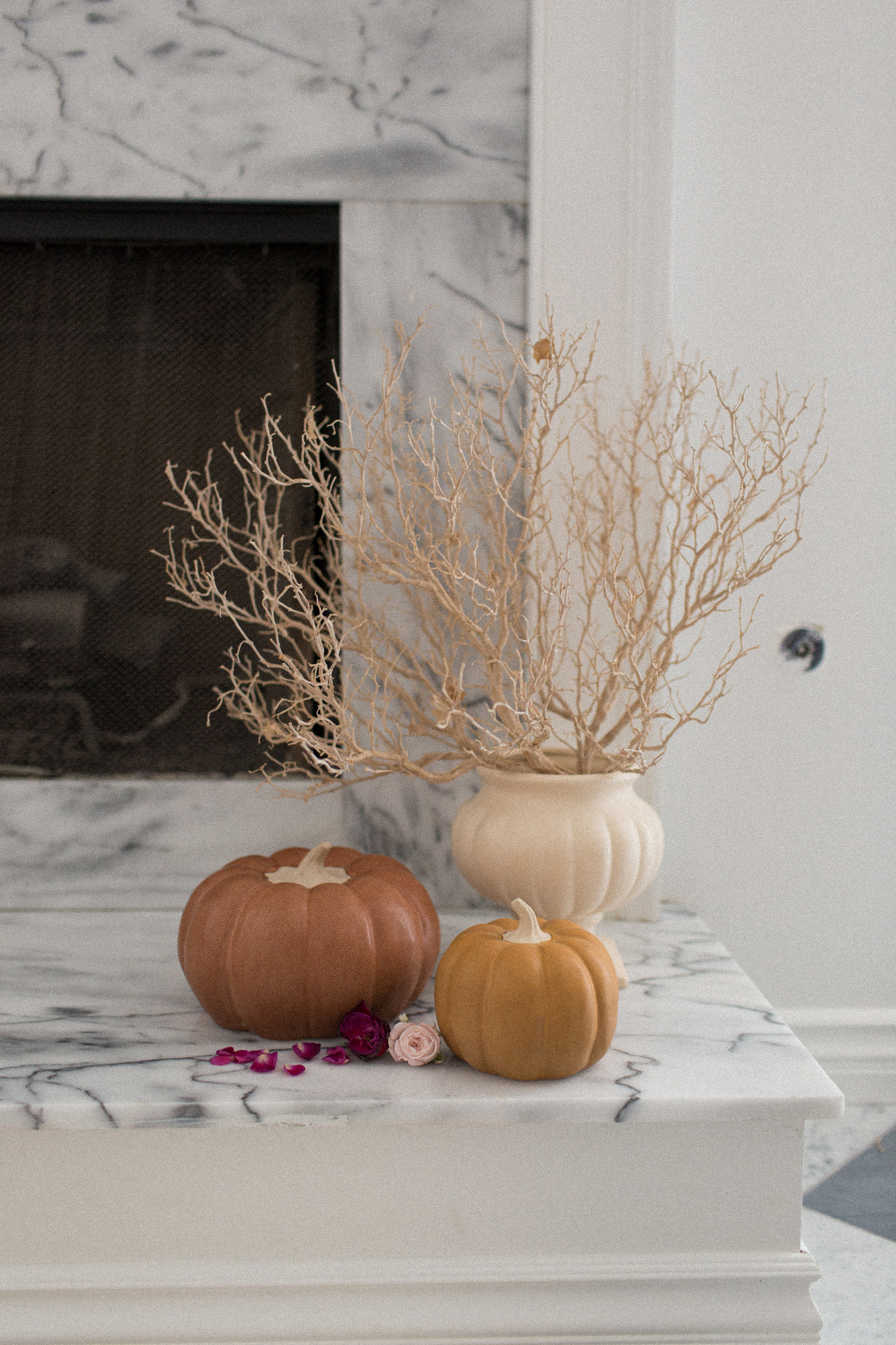 How do you like this idea? What ideas are you all dreaming up for your fall mantel?