As the crisp autumn air settles in and the fall season breathes life into every corner of our homes, it's time to adorn our mantles with rich hues and cozy charm. Because they come with changing leaves and vibrant fall colors. This year, I'm embracing a minimalistic approach to fall decor, where simplicity and elegance shine through.
Keep in mind that there's a lot more to autumn decor than just bold colors and flashy accents. Neutral-toned pieces and subtle fall flowers can be just as inspiring and beautiful when used strategically. By incorporating these elements into your mantel display, you can create an inspired mantel that exudes elegance and cozy charm. So, let's explore some fall mantel decorating ideas that are sure to help you achieve the perfect balance of simplicity and sophistication.
Grab your cozy blanket, hop into your favorite sweater, and join me on this journey of transforming your mantel into a serene and inviting space that truly captures the essence of the season. And don't worry, you don't need to break the bank to achieve this look! I'll be sharing some thrifty yet stylish ideas, from visiting the local thrift store to finding adorable mini pumpkins to sprinkle throughout your display. Are you ready to embrace the beauty of fall and create a mantel that radiates warmth and grace? Let's get started!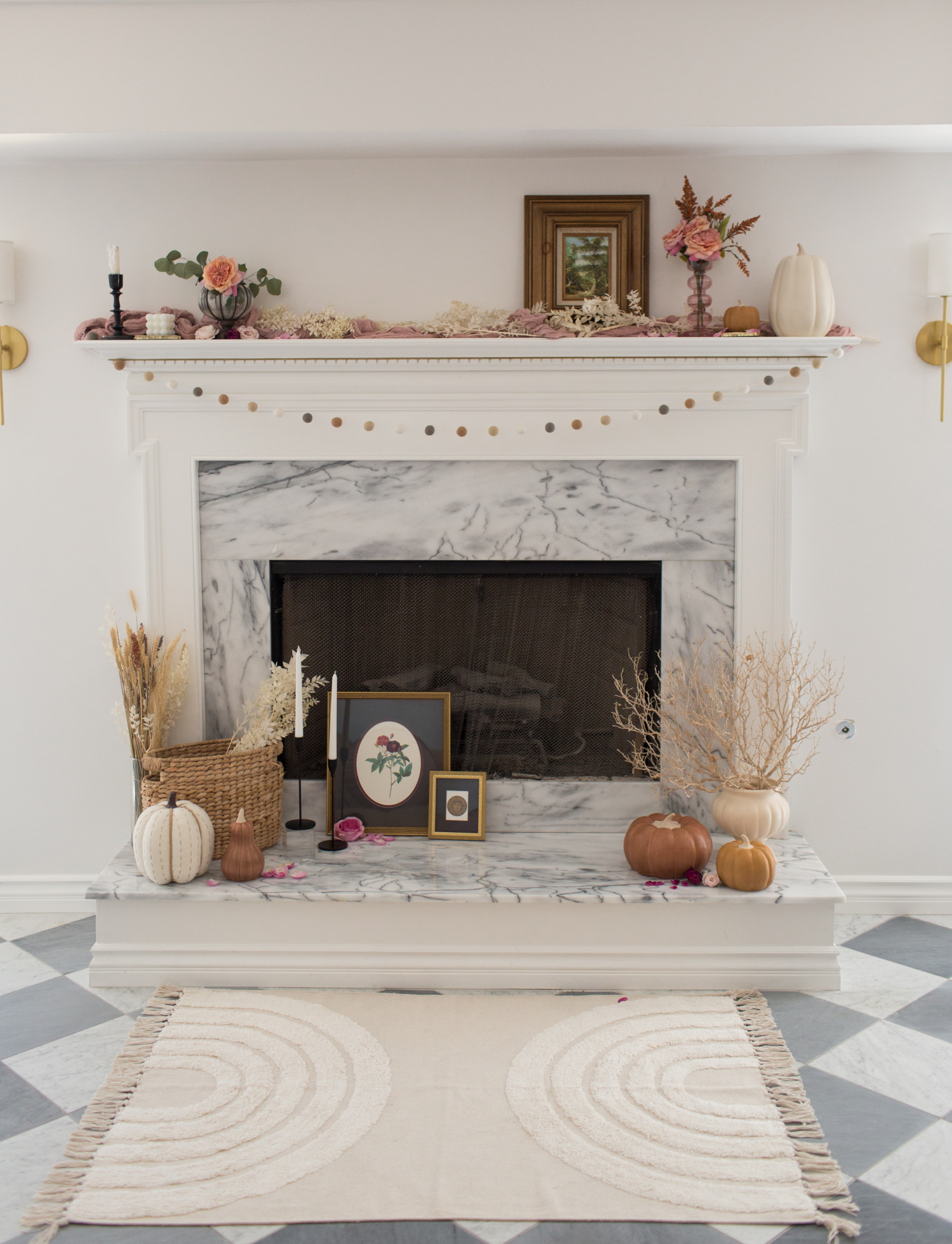 How to Style a Vintage Fall Mantel
As you probably already know, fall is a season of change. And that means we get the chance to switch up our decor as well. If you're looking for some ways to bring those beloved fall colors into your home, there are plenty of easy and affordable options to explore. One great place to start is by visiting a thrift store or two. These hidden gems are often stocked with fall seasonal items. Including mini pumpkins, and can be found at a fraction of the cost of brand-new decor.
Once you have your thrift store finds, consider pairing them with some fresh fall leaves or other natural elements to really showcase those rich fall colors. And if you're in the mood for some coffee, why not take a stroll to your local fall coffee cart? You just might find some inspiration for your own decor along the way.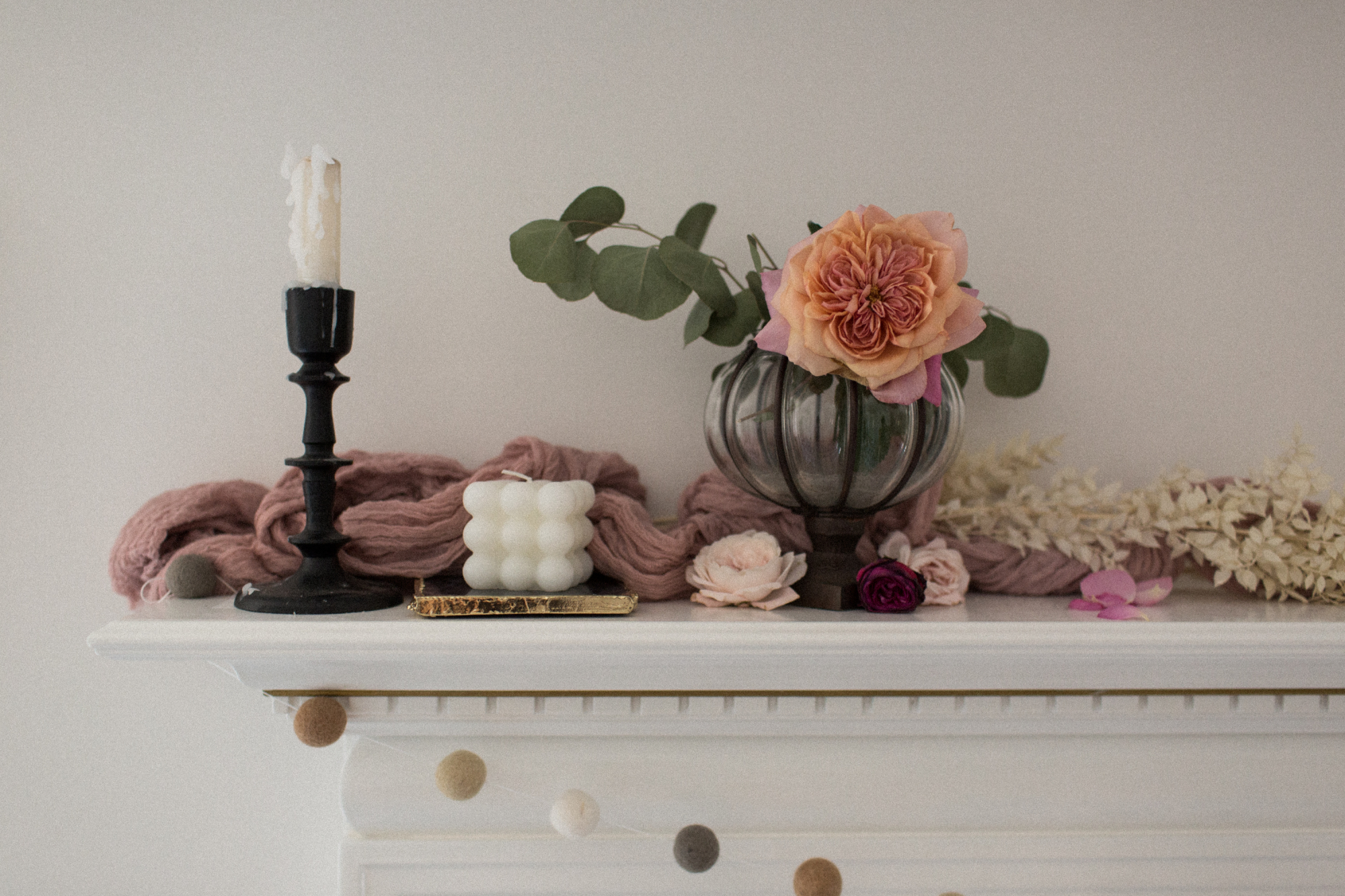 Decorating the mantle
First, I start with a blush runner to frame the top layer of our mantel. As you can see, my mantel area is very light in color. I added a color that would fit in nicely but not be too overpowering.
To keep the same color concept, fresh buds along with some dried floral in the beautiful Delaney Candle Holder in pink are a must. Then, I layered in white foliage to make the fall feeling come alive.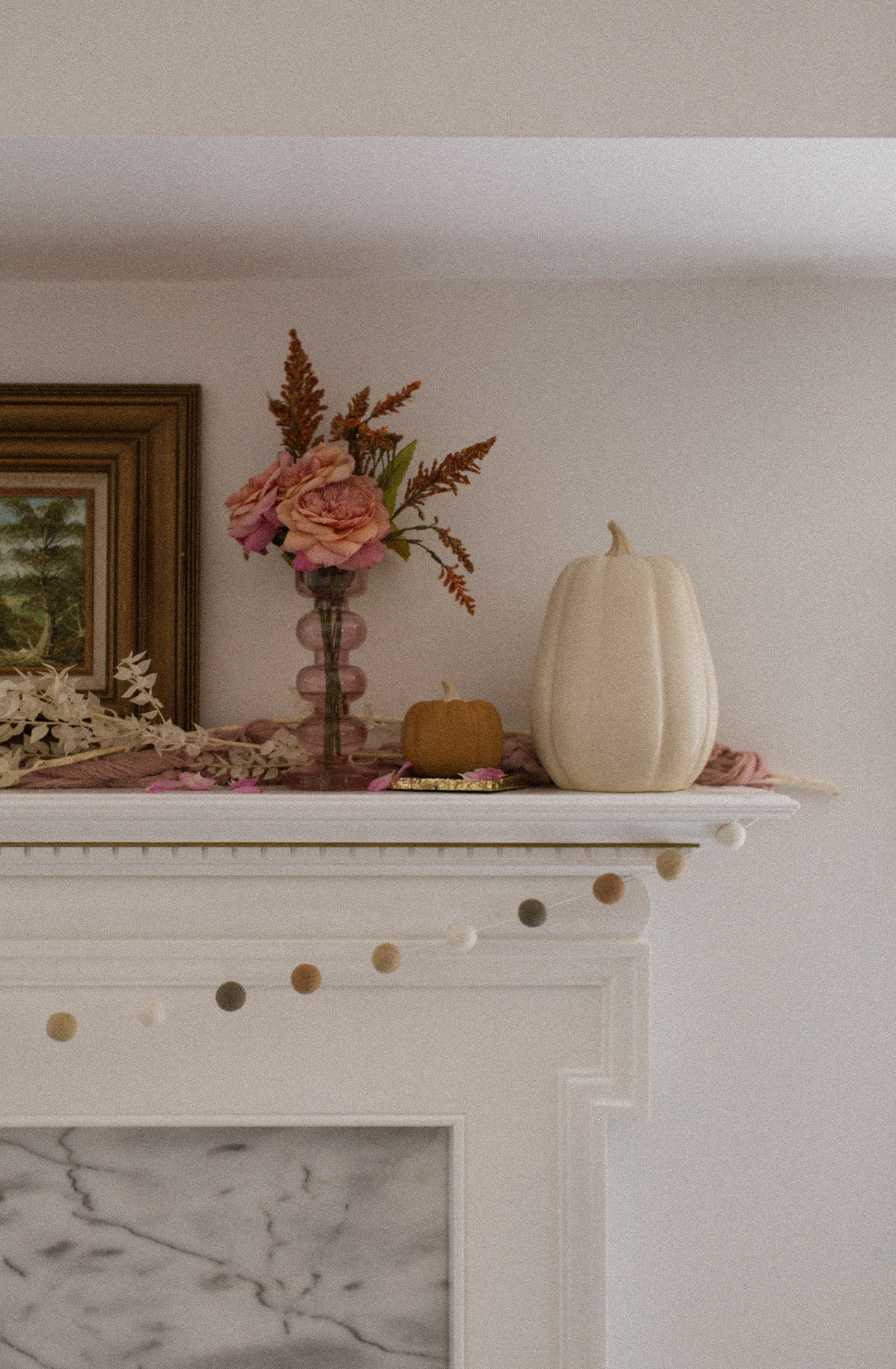 Notably, one of my favorite additions to my collection is the bubble candle! I truly believe that this simple candle helps anything turn a bit more fun!
This year, I found these adorable Ceramic Pumpkins that are available in various sizes and colors. I love these pumpkins more than any other I've found. They are easy on the eyes and also really help make a place feel festive yet classic. 
In order to balance the look of the top and the bottom, I incorporated this felt ball garland that was on the same theme of a neutral color palette.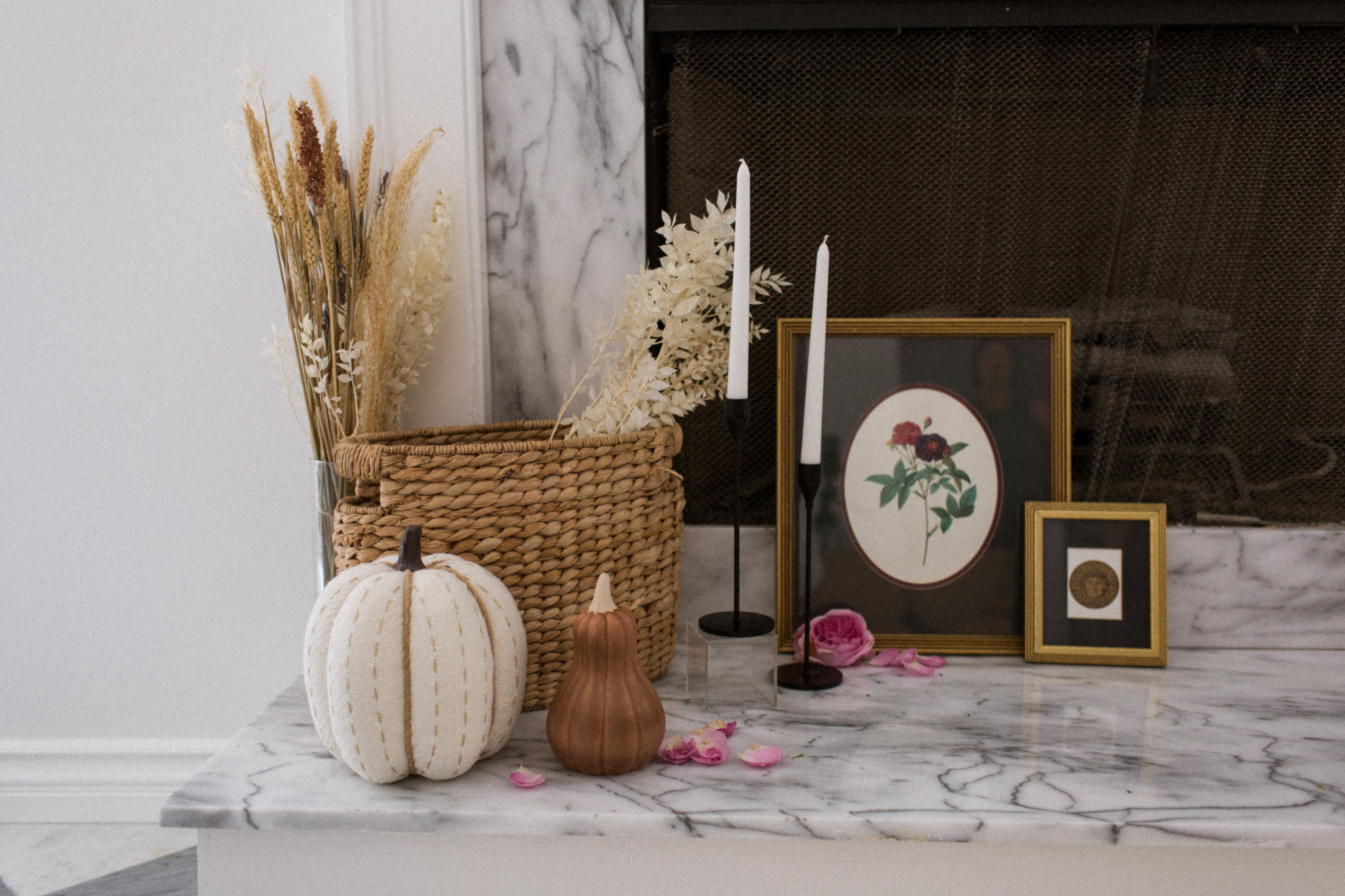 Bottom of the mantle
Next, on the hearth portion, the matte black candle holders added dark tones to even out the inside of the fireplace. If you like thrifting, you might score yourself a nice dark vintage-looking touch of artwork. This can potentially help add more personality to your mantel.
To help tie in the mantel with more color, I chose to add flower petals here and there to help make things look a bit more 3 dimensional. Most importantly, add as much dried floral as possible. As this will really add the fall vibes and tie everything together. Dried florals are so on-trend and last long too! 
And finally, for the finishing touches of your fall mantel decor, don't forget to incorporate some faux pumpkins in neutral tones. These versatile decorations can add a touch of warmth and rustic charm to your living room. You can arrange them alongside the dried florals and flower petals for a cohesive autumnal display that will impress your guests.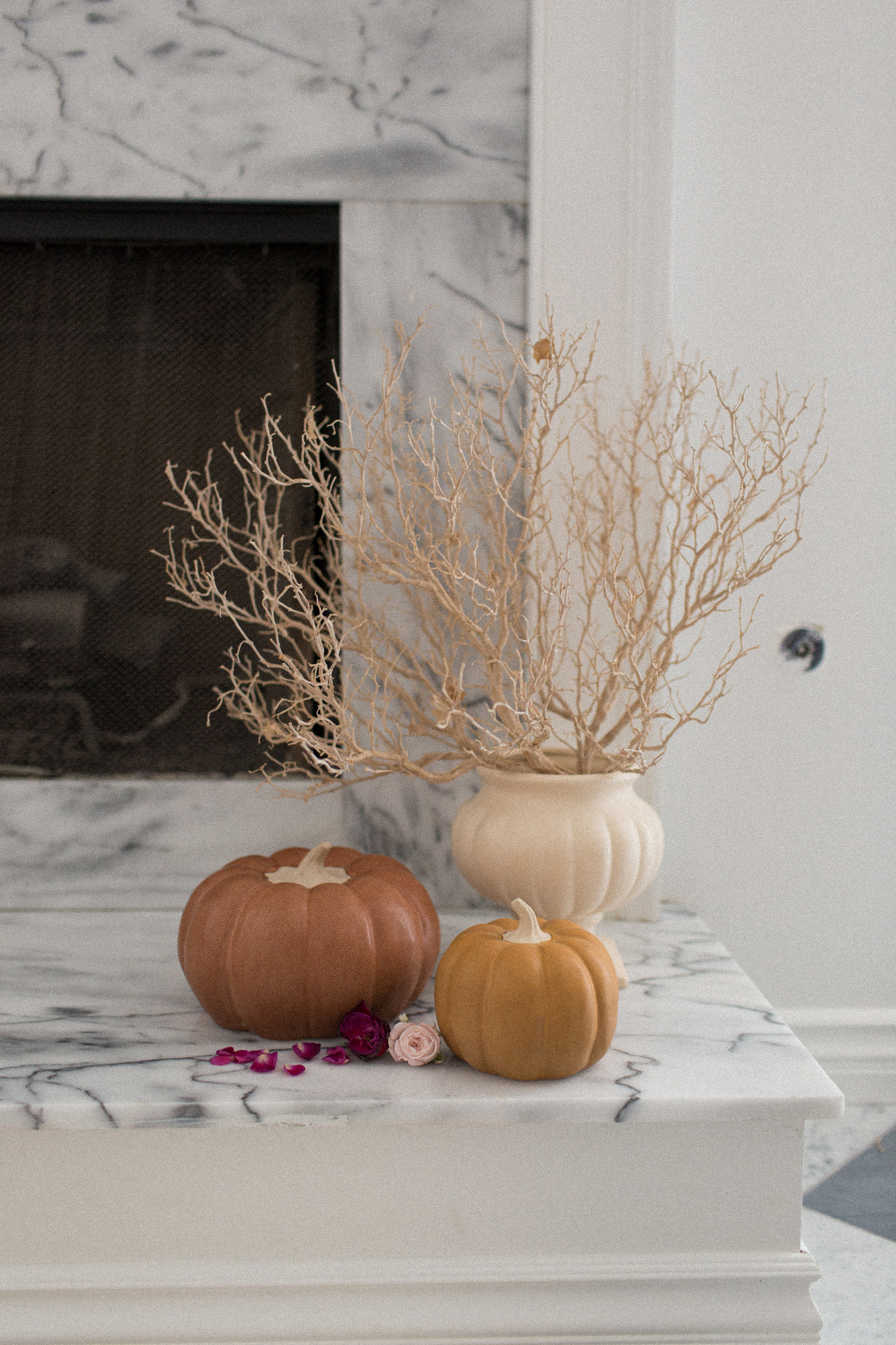 Transform your fall mantel with natural vintage charm!
As we wrap up our journey to create the perfect vintage fall mantel, I hope you feel inspired and ready to infuse your home with the beautiful essence of autumn. The farmhouse style and traditional fall mantel decor provide a warm and cozy atmosphere that instantly welcomes anyone who enters your space. By incorporating simple fall mantel decor ideas, such as using seasonal decor and adding a fall wreath, you can effortlessly transform your mantel into a captivating focal point.
Don't forget to include natural elements like dried leaves, twigs, and pumpkins to bring a touch of the outdoors inside. Remember, the key to a successful vintage fall mantel is to combine rustic charm with a sense of nostalgia. So gather your favorite treasures and let the spirit of autumn guide your creative journey. Happy decorating, my dear friends!
How do you like this idea? What ideas are you all dreaming up for your fall mantel?