Who else is excited for fall fashion? Fall is a great time to purchase high-quality fall staples that you can keep in your wardrobe for years to come. If you've been following me, you'll know how much I enjoy building a capsule wardrobe for every season. Below, I've compiled my top 10 items that you need in your closet this fall.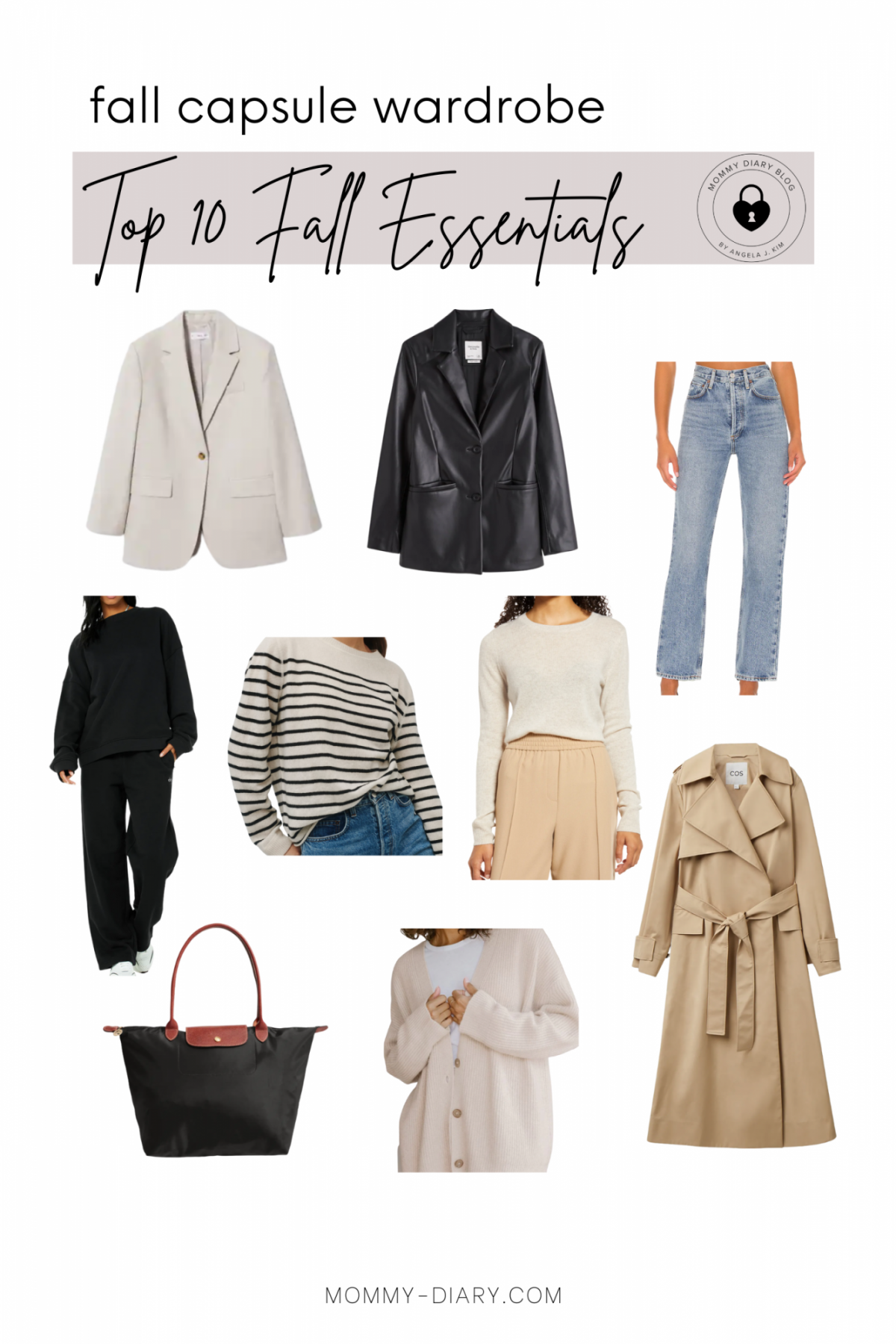 Top 10 Fall Closet Wardrobe Essentials
A good chunky sweater can be so versatile for fall. I love the oversized look because it's really comfortable and easy to pair with different items! I love my Jenni Kane sweaters as they are very high quality and last many years. You can find various lengths and materials for fall and winter.
Chunky sweaters are trendy but there's nothing more classic than a fitted cashmere sweater. These are classy, can be dressed up or down, and will last you many years.
Stripes are back this season and I'm here for it! I love this classic and slightly oversized boyfriend sweater for fall. You can wear it alone, under a trench coat or even around your shoulders to add texture and visual interest to your fall fit.
I wear my trench coat with everything during the fall. It's such a classic style that is effortless and chic at the same time. These are perfect to throw on when it's cold or raining but don't get too heavy or hot.
Leather blazers are a more updated and polished version of a leather jacket. I love the versatility of this blazer and they keep you surprisingly warm!
Blazers are a year-round staple for me, but they work perfectly as a light jacket in fall.
A tailored pair of leather pants are so cute and fun for fall. It's a great way to spice up an outfit that you might have normally opted for black jeans.
One good pair of jeans can carry you through the fall and winter season. I opt for a mid-wash, straight leg fit! I love the Levis Ribcage cropped jeans for shorter girls like me, I love the fit and length.
This is my favorite every day tote + mom bag! I love that it has black and brown elements (like the boots listed above) so it goes with everything. Plus it's waterproof, which is perfect if you live in an area with rain or snow!
My friends and family know that most of the time I live in loungewear. During fall I opt for black because it's easy to dress up slightly to run errands.
I hope these items get you feeling excited about revamping your closet this season! Make sure to follow me on instagram to see my fall fits in action. If you're excited for fall, check out my fall mantle inspo here.