Are you as excited as I am for the cooler weather and the chance to break out some autumnal outfits? As a busy mom, I know that finding the time to shop and put together a stylish wardrobe can be challenging. That's why I absolutely love building a capsule wardrobe for every season. It allows me to mix and match my favorite pieces and always have something on hand that works for any occasion.
Today, I want to share my top 10 must-have items for your fall capsule wardrobe. Trust me, with these staples, you'll be looking fabulous and feeling confident all season long. So, let's dive in and get started on our fall fashion journey together!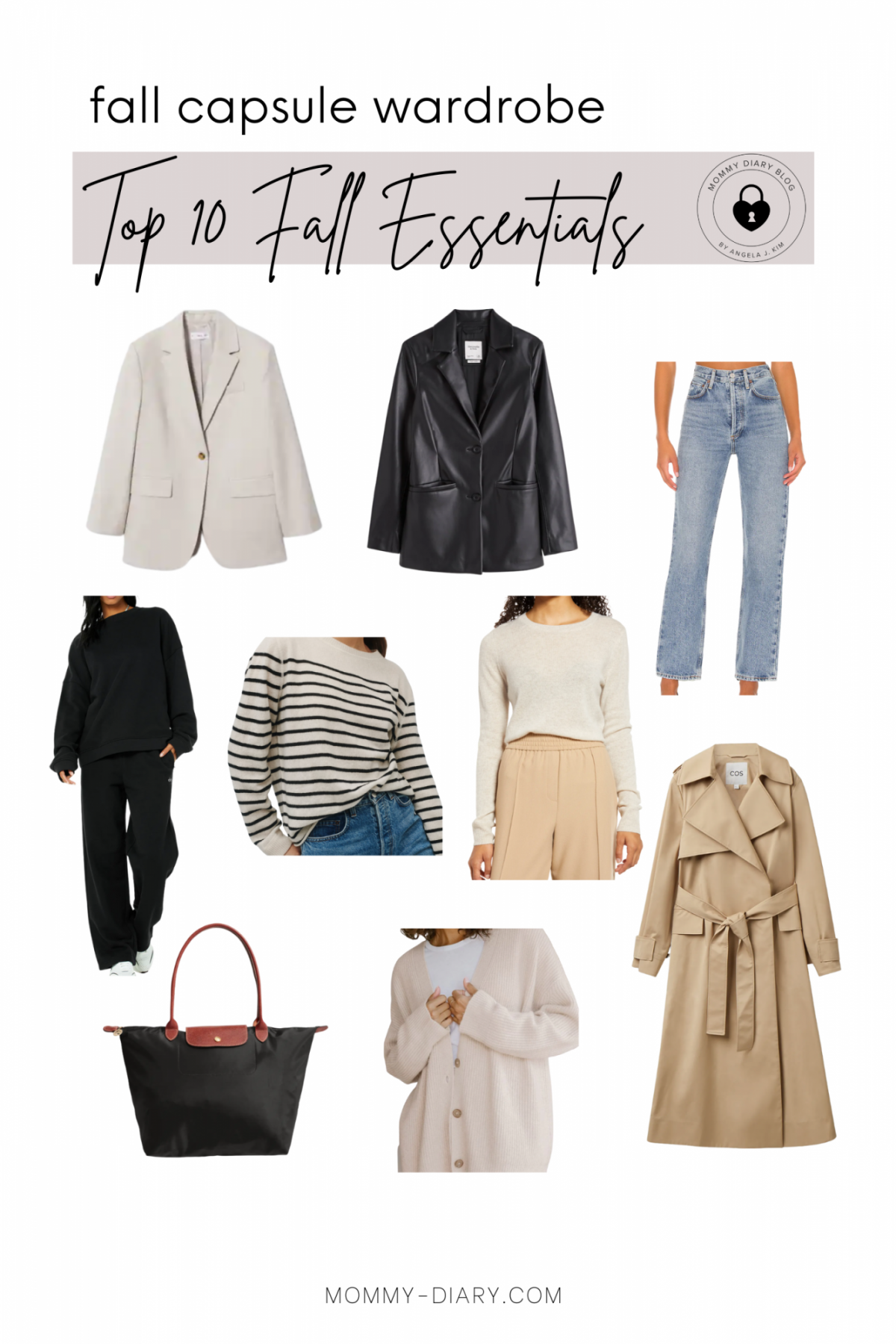 Top 10 Fall Capsule Wardrobe Essentials
As we approach fall, I love putting together a capsule wardrobe that not only reflects my personal style but also works for different occasions. When it comes to fall colors, think warm earthy tones like rust, mustard, and olive green. These hues can easily be mixed and matched to create endless outfit options.
The best part about fall fashion is that you can transition seamlessly from day to night with the right accessories and footwear. One of my favorite fall shoe options is the ballet flat – comfortable yet stylish. So, whether you're running errands or going out for date night, a well-curated fall capsule wardrobe can simplify your life and make you feel confident in every situation.
Here are some cozy fall capsule wardrobe additions:
A good chunky sweater can be so versatile for fall. I love the oversized look because it's really comfortable and easy to pair with different items! I love my Jenni Kayne sweaters as they are very high quality and last many years. You can find various lengths and materials for fall and winter.
When it comes to choosing a chunky sweater for the colder months, Jenni Kane is my go-to brand. Their sweaters are not only incredibly stylish, but the quality is unmatched. I have had my Jenni Kane sweaters for years and they still look as good as new. From cozy cable knits to trendy turtlenecks, Jenni Kane offers a wide selection of styles to suit any wardrobe. Plus, with their attention to detail and commitment to craftsmanship, you can trust that your Jenni Kane sweater will withstand the test of time and keep you warm season after season.
Chunky sweaters are trendy but there's nothing more classic than a fitted cashmere sweater. These are classy, can be dressed up or down, and will last you many years. When it comes to polished cashmere sweaters, the keyword is luxury. There's just something so indulgent about snuggling up in the softest cashmere against your skin. It's like a hug from heaven!
And the best part is, these sweaters are not only timeless, but they are also incredibly versatile. Whether you're a busy mom on the go or heading out for a night on the town, a fitted cashmere sweater is the perfect companion. It effortlessly elevates any outfit, and with proper care, it will remain a staple in your wardrobe for years to come.
Stripes have always had a special place in my heart, and this season they're making a bold comeback. I can't resist the allure of a cozy striped boyfriend sweater for those chilly autumn days. It's the perfect blend of comfort and style, hugging you in all the right places while adding a touch of effortless cool to your outfit. Whether you're running errands or meeting up with friends, this versatile sweater can be paired with jeans, leggings, or even a cute skirt for a trendy and relaxed look. So go ahead, embrace the revival of stripes and cozy up in a striped boyfriend sweater – it's time to rock that effortlessly chic vibe, mama!
I wear my trench coat with everything during the fall. It's such a classic style that is effortless and chic at the same time. These are perfect to throw on when it's cold or raining but don't get too heavy or hot.
When it comes to trench coats, they have become my ultimate fall fashion essential. The keyword here is versatility. I love how I can easily layer it over a cozy sweater and jeans for a casual day out, or dress it up with a skirt and heels for a more polished look. Rain or shine, the trench coat offers that perfect balance of functionality and style, keeping me dry without bogging me down with unnecessary weight.
Leather blazers are a more updated and polished version of a leather jacket. I love the versatility of this blazer and they keep you surprisingly warm!
Not only are they an updated and polished version of a traditional leather jacket, but they also offer an incredibly versatile option for moms on the go. Whether I'm running errands, attending meetings, or enjoying a night out with my partner, my faux leather blazer adds that touch of sophistication and style that instantly elevates any outfit. Plus, the best part is that they keep me surprisingly warm, making them a must-have staple in my wardrobe.
Blazers are a year-round staple for me, but they work perfectly as a light jacket in the fall. And as a busy mom, I have come to cherish the versatility of blazers. Not only do they add an air of sophistication to any outfit, but they also serve as a practical light jacket for those crisp fall days.
I love how I can easily throw on a blazer over a simple tee and jeans and instantly look polished and put together. And, perhaps most importantly, blazers are a piece of clothing that I can wear throughout the year without worrying about going out of style.
A tailored pair of leather pants is so cute and fun for fall. It's a great way to spice up an outfit that you might have normally opted for black jeans. I remember the first time I slipped into a pair of tailored leather pants, I instantly felt like a fashion-forward rockstar, ready to conquer the world. It's amazing how one clothing item can spice up an outfit that would have otherwise been a predictable choice of black jeans.
One good pair of jeans can carry you through the fall and winter seasons. I opt for a mid-wash, straight-leg fit! As a shorter girl myself, I've fallen head over heels for the Levis Ribcage cropped jeans. Not only do they offer an amazing fit and length, but they also give me the confidence to tackle any mom-life adventure that comes my way.
Trust me, once you find that perfect pair of jeans, it's like discovering a fashion hidden gem that will carry you through the seasons with style and comfort.
This is my favorite everyday tote + mom bag! I love that it has black and brown elements (like the boots listed above) so it goes with everything. And let's not forget the ample storage space and thoughtful pockets of this everyday tote + mom bag, making it a practical yet stylish companion that keeps all of my essentials organized and easily accessible on the go. Plus it's waterproof, which is perfect if you live in an area with rain or snow!
Living in loungewear has become my #momlife uniform, and I have to say, sweat sets in black are my ultimate fall go-to. My friends and family know that most of the time I live in loungewear. Not only are they cozy and comfortable for those days at home, but with a few simple accessories, like a cute scarf or trendy sneakers, they effortlessly transition into a stylish outfit for those quick errands and playdates.
I hope these items get you feeling excited about revamping your closet this season! Make sure to follow me on Instagram to see my fall fits in action. If you're excited about fall, check out my fall mantle inspo here.