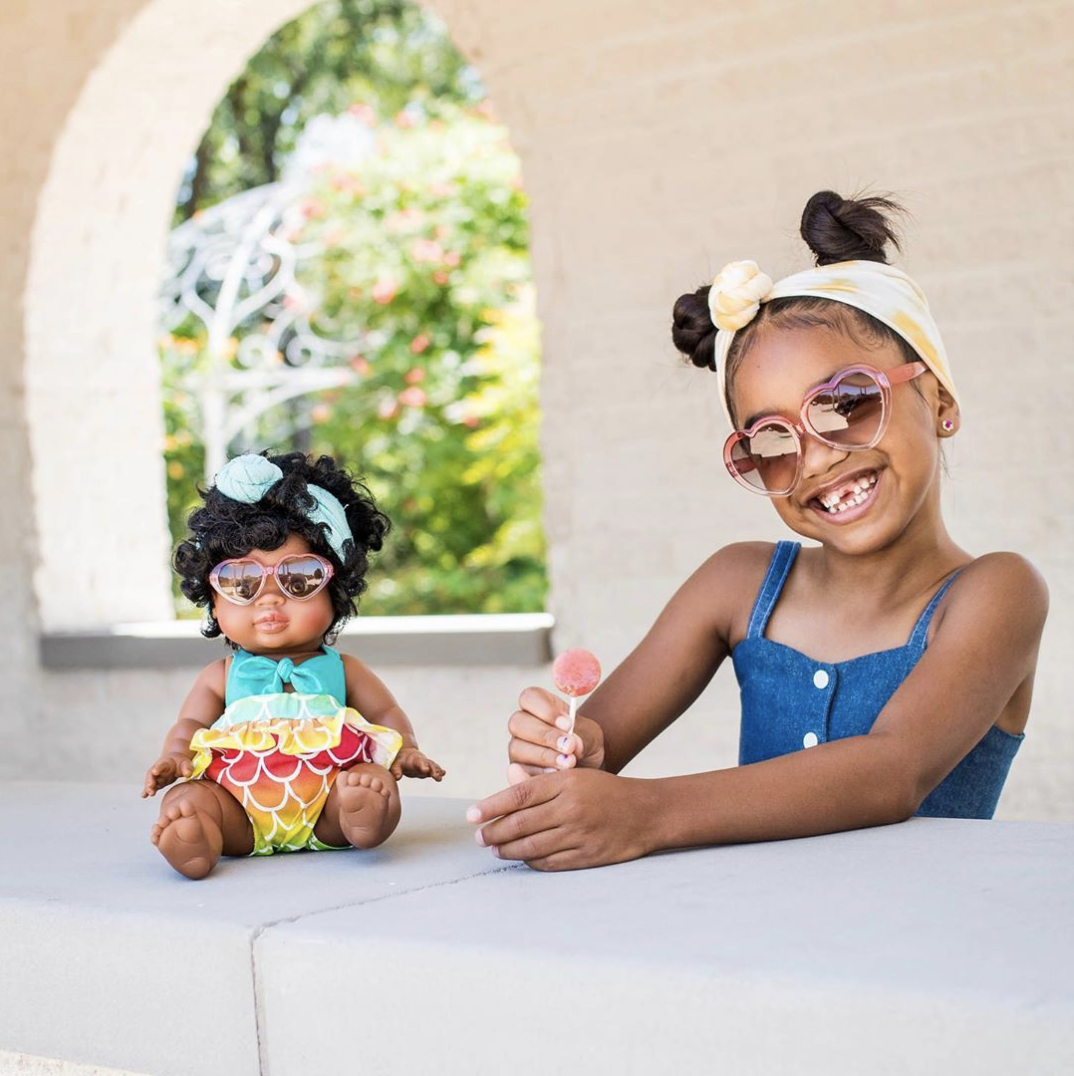 Toddlers like to move. They are super busy all the time, so styling their hair is not always easy. What's even more difficult is keeping their hair styled for the day without having to redo it a million times. I've never been great at doing hair, but I remember when my girls were younger I would try cute hairstyles, and five minutes later it would already be messed up. That's why I think keeping it simple is best. Figure out a couple of different styles that you're confident doing quickly and stick with that! It's been a while since I've had to think about this, but I know Gia will be toddler-age before I know it. Here are 5 quick toddler hairstyles that are good for everyday wear.
Quick Toddler Hairstyles
You'll want to have your supplies ready before you begin your toddler's hair. We all know that if you have to leave your toddler girl or boy to go grab a hairbrush, chances are their attention will be lost and onto something new! Here are some simple tools for toddler hairstyles.
Detangler brush: these small wet brushes are my favorite because they are perfect for tiny heads! I keep one in our diaper bag and purse as well.
Spray bottle: squirting some water on the hair before styling will make it easier.
Hair Bow or Headband
When all else fails, stick a hair bow or headband in your toddler's long hair and call it a day! This is by far my favorite simple hairstyle because it's so effortless and there are endless options of cute and affordable bows and headbands. Quick and easy! I like the headbands that have thin stretchy fabric because they are typically the most comfortable and will stay in place.
Little Poppy Co makes beautiful bows and headbands depending on your child's age. They even offer monthly subscriptions where they will send you three bows per month to match the seasons and holidays. Baby Bling bows are another top choice because they are made with soft stretchy fabric that is gentle even on a newborn. They can be found on babyblingbows.com or at Nordstrom. Amazon also sells a variety of inexpensive hair bows and headbands. The hair bow barrettes are the best for keeping hair out of your child's face.
View this post on Instagram

@littlepoppyco
Top Knot
Top knots are the best. They are the ultimate lounge-around hairstyle for moms, and it's even cuter on a kid. This is one easy hairstyle that I've seen look great on a lot of little boys too! The key is to brush the hair up as high as you can to form a ponytail, and then twist the hair like you would with a bun. I do find the top knot to be a little difficult to do on thin toddler hair. If you're baby or toddler doesn't have enough hair, you can always use one of these adorable top knot head wraps! How sweet are these top knot pigtails?
View this post on Instagram

@harperbowco
French Braid
I already told you I'm not the best at hairstyles, but a French braid is something I've always wanted to master. They are so timeless and look adorable on toddlers. Best of all, they are yet another great way to keep the hair out of your toddler's face for the entire day. If you're like me and need some help with learning how to French braid, here is a YouTube tutorial.
View this post on Instagram

@chloeysdooftheday
Fishtail Braid
A fishtail is a well-loved braided hairstyle these days. To me, it has a beautiful bohemian look. This hairstyle is created by weaving strands of hair together. It can start from the top of your head and from a ponytail.
View this post on Instagram
@nicolejohnson_hair
Dutch Braid
A Dutch braid is a quick toddler hairstyle once you get the hang of it. For step-by-step directions, head to this tutorial video. If you want to take it one step further, you can do Dutch braid pigtails. check out Tiffany over at @easytoddlerhairstyles on Instagram! She shows all kinds of incredibly cute girls' hairstyles like the one below.
View this post on Instagram

Did those quick toddler hairstyles inspire you to try something new? While I don't want Gia to grow up too fast, I am a little excited to try some of these hairstyles in the next year or so!
This post contains affiliate links that help to support the blog at no additional cost to you. Thank you for your support that allows me to continue to create valuable content for families all around the world.