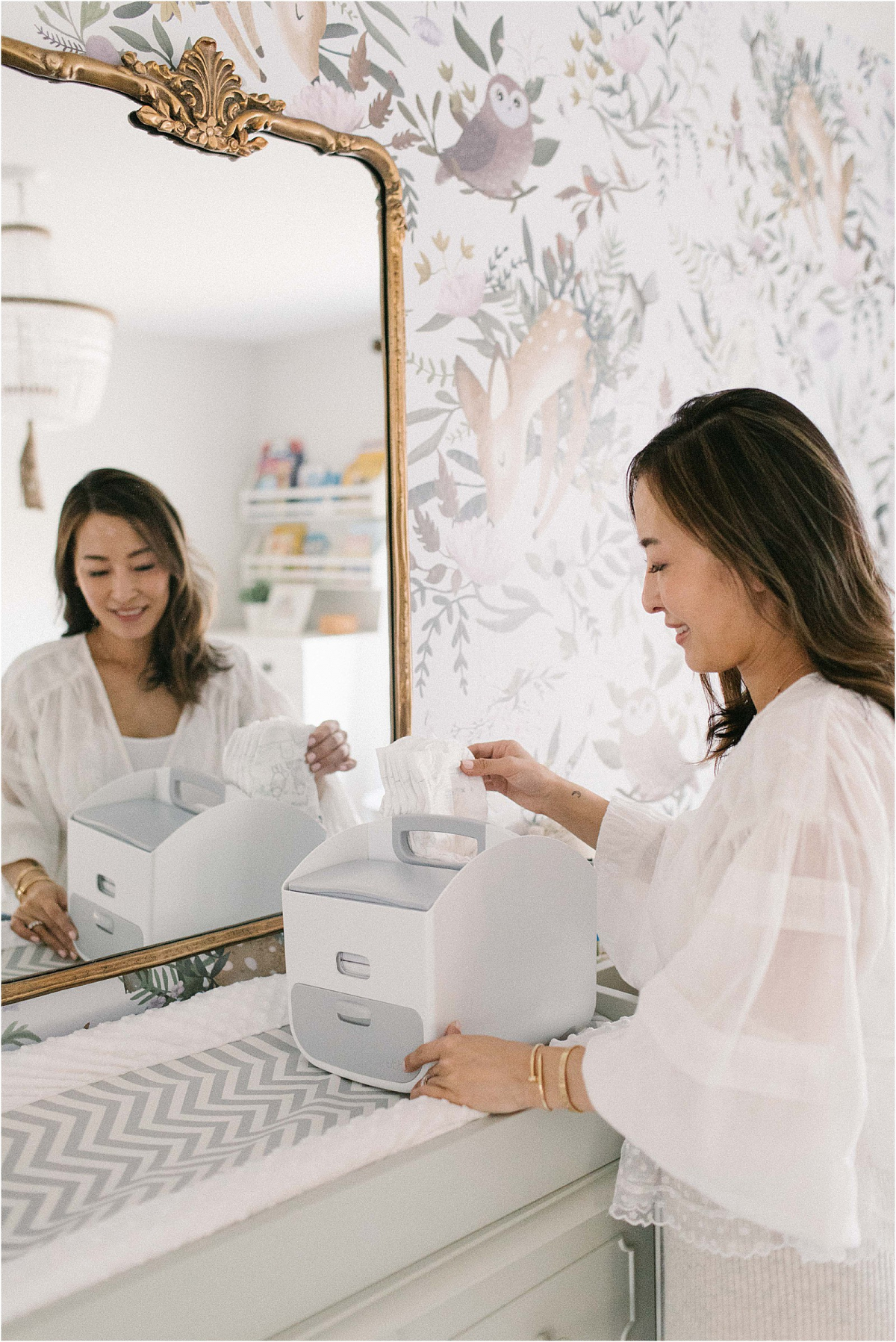 One of my friends recently said to me that what you put on your skin is just as important as what you put in your mouth. Any products that go onto your skin are absorbed into your bloodstream in a matter of seconds. That really stuck with me. I've heard it before, but it inspired me to do some research on the subject.
If we're putting so much thought and effort into meal times, we should do the same for baby wipes. An item that comes into contact with baby's skin over and over and over again. I have to be honest, I was pretty pleased with the ingredient lists and affordability of a lot of these brands. Today I'm sharing the best natural baby wipes for sensitive skin with you.
There were a lot of different factors I was considering when picking out the best wipes for sensitive skin. As it typically goes, if you buy in bulk you're more likely to save money. I also reviewed the descriptions for the diaper wipes with more natural ingredients and less harsh chemicals. This is so important since baby wipes come into direct contact with the skin on a regular basis.
Let's face it, babies have such delicate skin that we need to take care of. We want to avoid diaper rash and other reactions as much as possible.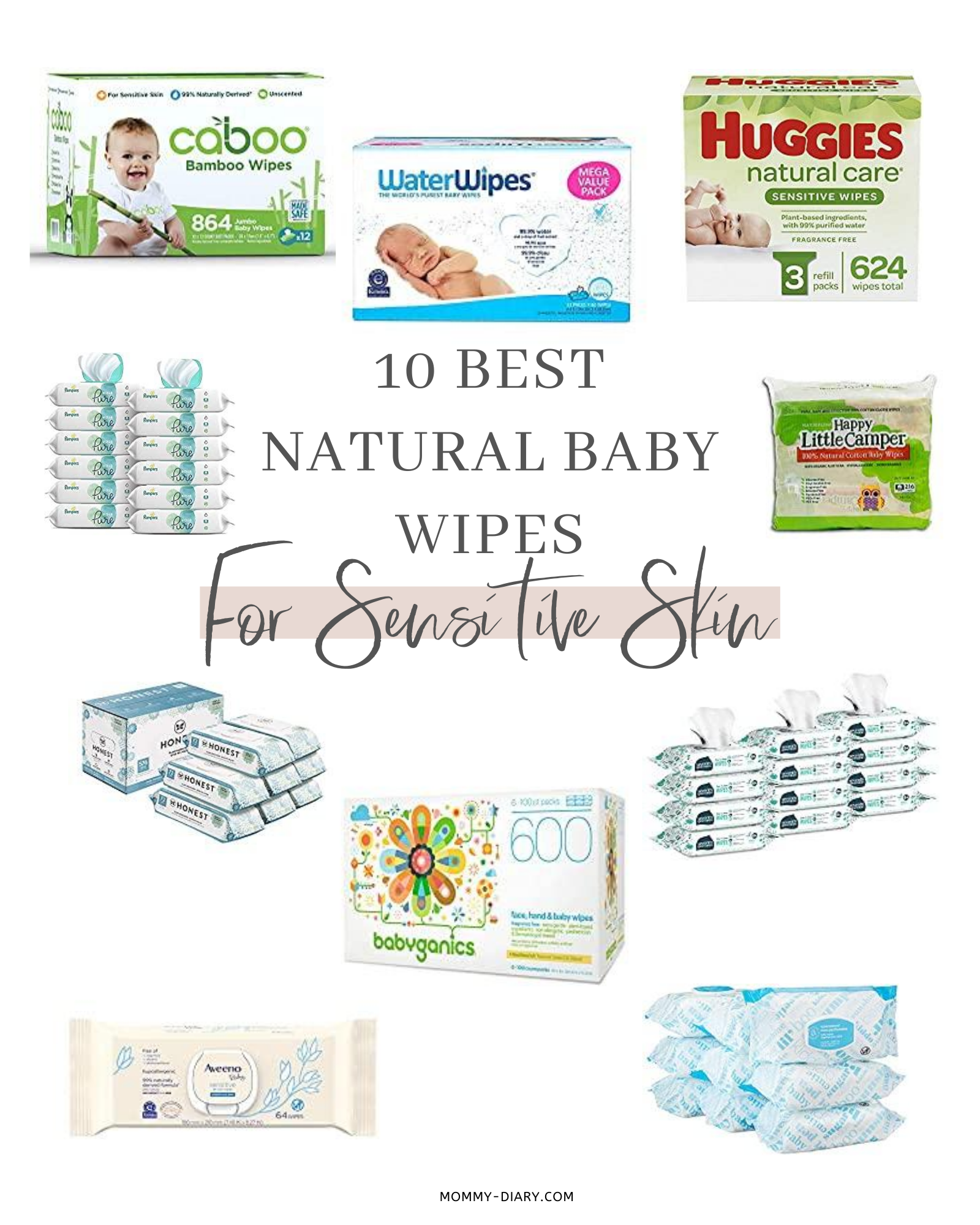 10 Best Natural Baby Wipes For Sensitive Skin
There are so many baby wipe brands out there to choose from. Some you've heard of, some you probably haven't. Some have been around forever, and some are new to the game. I've compiled a list of options that seem to have the most natural, gentle, and safe ingredients for babies. From my experience and research, these are all baby wipes for sensitive skin that I would feel good about using on my children.
If you really value using eco-friendly products in your home, you're going to love this wipe.
100% natural cotton

Marketed as the cleanest, greenest wipe on the market.

Contains aloe vera and vitamin E

Free from dyes, fragrances, non-woven synthetics, and other ingredients including alcohol, chlorine, and parabens

Packaging is made from 40% recycled materials, making it an eco friendly baby product
WaterWipes are unique in that they are awarded the National Eczema Association of America Seal of Acceptance. If your little one struggles with eczema or tends to chap up in cold weather, these wipes are a great option.
Water wipes have only two ingredients: they contain 99.9% purified water with just a drop of fruit extract, which is grapefruit seed extract

A blend of 80% polyester and 20% viscose, which makes 20% of the wipe biodegradable

Accredited by the Vegan society

Hypoallergenic and contains no parabens or sulphates

These natural wipes are awarded the national Eczema association of america seal of acceptance

Perfect to use for diaper changing, cleaning baby's hands and face, and even on adult sensitive skin
Where you can find them: Amazon, Walmart
When a company has been in the game as long as Pampers, you can pretty much guarantee that they've worked long and hard to create the perfect formula. Seek out the Aqua Pure version for the best results on sensitive skin.
Made with 99% pure water and a touch of premium cotton
Safe for use on newborn babies' skin as well as adult skin
0% alcohol
15% cotton
Where you can find them: Amazon, Walmart, Target, Buy Buy Baby
The Honest Company Baby Wipes just feel high-quality. And the best part? They're super affordable.
Honest wipes are super soft, thick, and durable

Hypoallergenic and plant-based

Contains more than 99% water, making them gentle enough for sensitive skin

Made without: Alcohol, parabens, chlorine processing or fragrances

They also come in various adorable package patterns!
Where you can find them: Amazon, Target, CVS, Walgreens, honest.com
If you're on the hunt for a very eco-friendly and totally natural product for your little one, these plant derived wipes are a great option.
Made with plant derived ingredients
Non-allergenic
This brand has many other sensitive skin products, such as bubble bath, body wash, and shampoo.

No Parabens, sulfates, phthalates, artificial dyes or fragrances
Where you can find them: Amazon, Target, Rite Aid, Buy Buy Baby, Walmart
Feel like your normal wipes are just too harsh? Opt for this bamboo take on the traditional wipe. Bamboo has a great, high-quality feel that can really make a difference when it comes to sensitive skin.
These eco friendly baby wipes are made from sustainably grown bamboo
Unscented and free from harsh chemicals
Made from safe ingredients that are 99.3% naturally derived
Where you can find them: Amazon, cabooproducts.com
These Huggies Wipes are among my favorite because they are pH balanced. Skin pH balance is important for a variety of reasons, including maintaining a strong immune system.
99% purified water and 1% skin essential ingredients

Hypoallergenic & dermatologically tested

Infused with aloe & vitamin E for extra moisture

pH balanced to help maintain healthy skin

Free of lotions, fragrances, parabens, and alcohol & dyes
Where you can find them: Amazon, Walmart, Sam's Club, BJ's, Rite Aid
I love a good multipurpose wipe, but many tend to be way to harsh for baby's skin. These Seventh Generation Baby Wipes are dynamic, yet gentle.
Thick and soft wipes, which will be helpful for more than just baby diaper changes

Fragrance free, alcohol free, paraben free, and phenoxyethanol free

Hypoallergenic and dermatologist tested

Bulk packs are created to easily stack and refill your wipe dispensers, and quickly throw into your diaper bags
Where you can find them: Amazon, Walmart, Target, Walgreens, CVS
Again, I love a good multipurpose wipe. When you're dealing with more than one little one at a time, having multipurpose wipes on hand can be a huge lifesaver. Not to mention, having just one set of wipes can save you some valuable space in your diaper bag.
Unscented wipes gentle enough to be used all over the body

Resealable package is great for on the go

A 99% naturally derived formula, containing aloe and natural oat extract
Where you can find them: Amazon, Walmart, Kroger, Target
If you're looking for good-quality wipes for a great deal, these Amazon Elements Baby Wipes will be right up your alley.
Available in unscented or scented
Flip top package
Made with naturally derived ingredients and purified water
Where you can find them: Amazon
If you're a soon-to-be parent, you may have to experiment with a couple different brands before you find the best product for your baby. Every child is different, and some will be more sensitive than others. So, take care when choosing baby wipes and eventually you will find the one that works best for your little one.
Changing diapers frequently, and keeping an eye out for any red bumps or rash will help. Some parents will even make their own baby wipes with safe ingredients such as essential oil, coconut oil, water, vitamin E, and aloe vera. Pinterest is filled with specific directions for this!
It's a tough choice, but I think the award for number one baby wipe would have to go to WaterWipes! WaterWipes are a great top pick, because not only are they good-quality hypoallergenic wipes with clean ingredients, but they're multipurpose as well.
So, if you're really struggling with baby's sensitive skin, WaterWipes might just be the perfect place to start. What's your favorite baby wipe for sensitive skin? Let me know in the comments.
This post contains affiliate links that help to support the blog at no additional cost to you. Thank you for your support that allows me to continue to create valuable content for families all around the world.