Decorating your fireplace mantel for Fall doesn't have to be hard. In fact, it shouldn't be hard! One of my favorite times of the year is Fall and adding a focal point to your mantel space that is themed for the season brings a nice touch to your home decor.
I like to keep it simple when decorating my mantel with fall decor. Here's a simple rule I follow.
Keep left and right sides balanced
Mix colors and texture
Play with height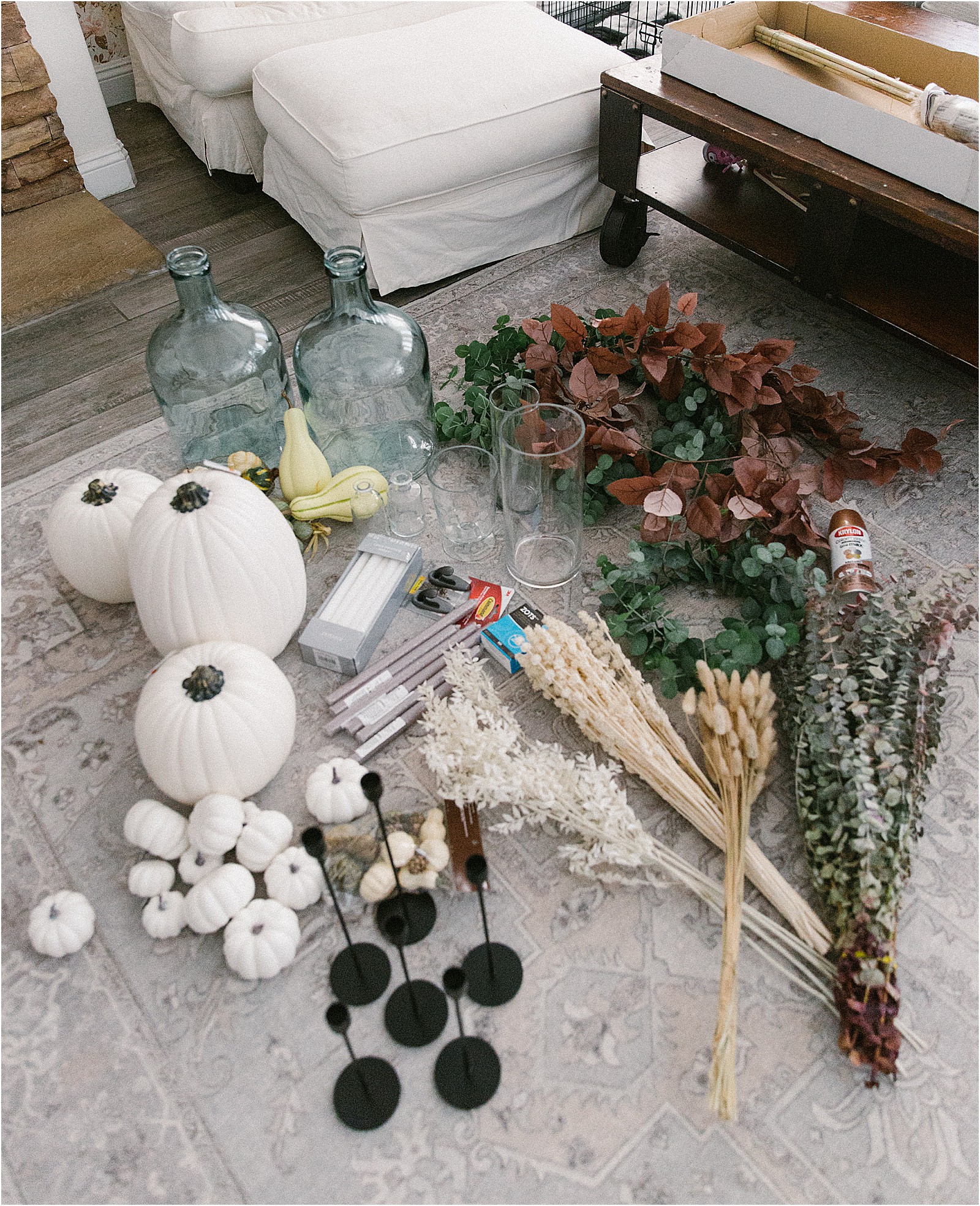 How To Decorate Your Mantel For Fall
This year I decided to keep the color scheme neutral and light, this way the decor can transition easily into Thanksgiving from Halloween. I love the way it turned out, especially the dried fall flowers, including the pampas grass!
Dried seasonal flowers are such a great use of texture, fall ones especially. You can use fall flowers, leaves, and dried pinecones to make a wreath as well. Plus, flowers typically come in different heights as well, which helps with sticking to the simple rules – balancing out the right and left sides of the mantel and playing with height and textures.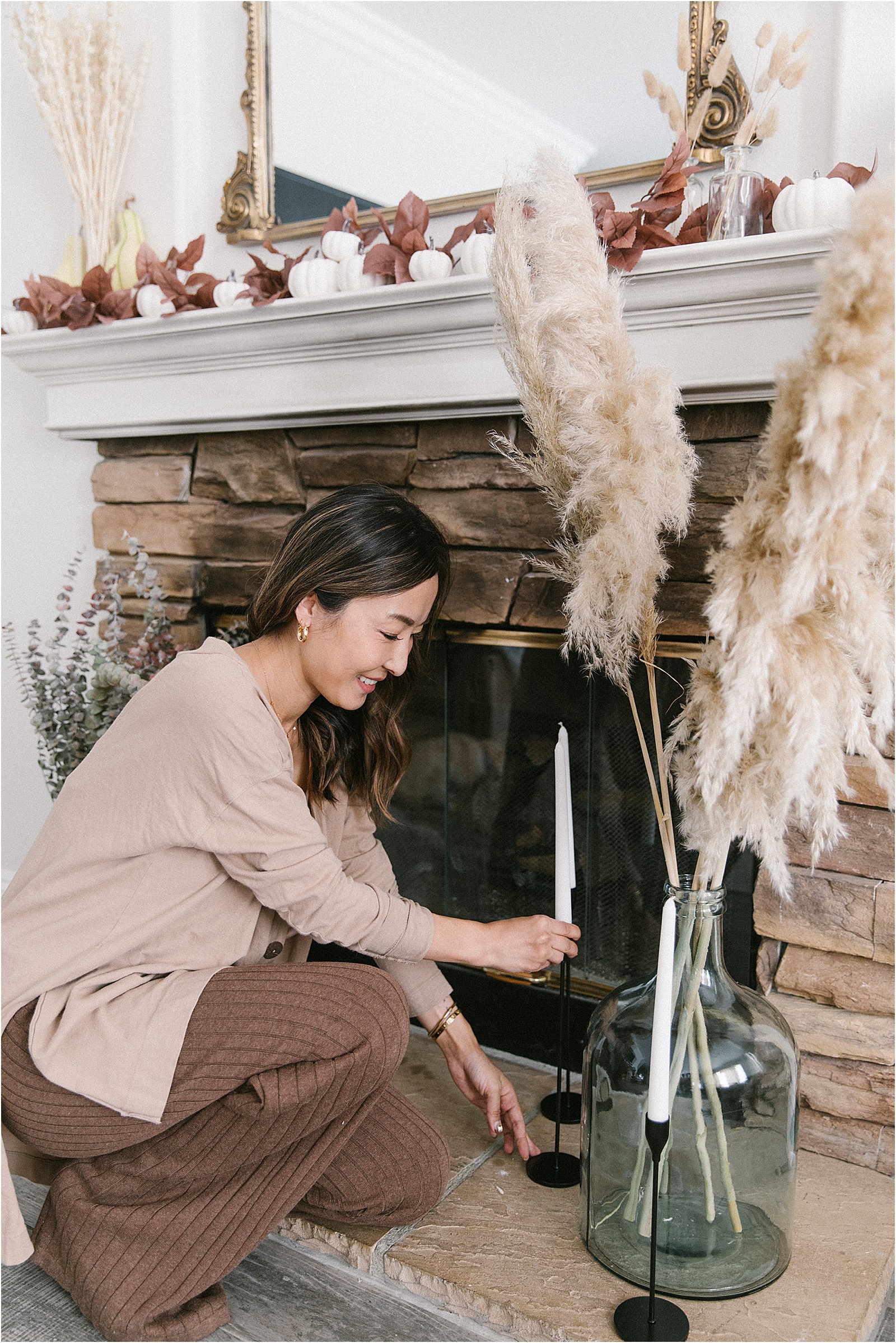 Here are a few of the fall decorations I used to create this mantel look.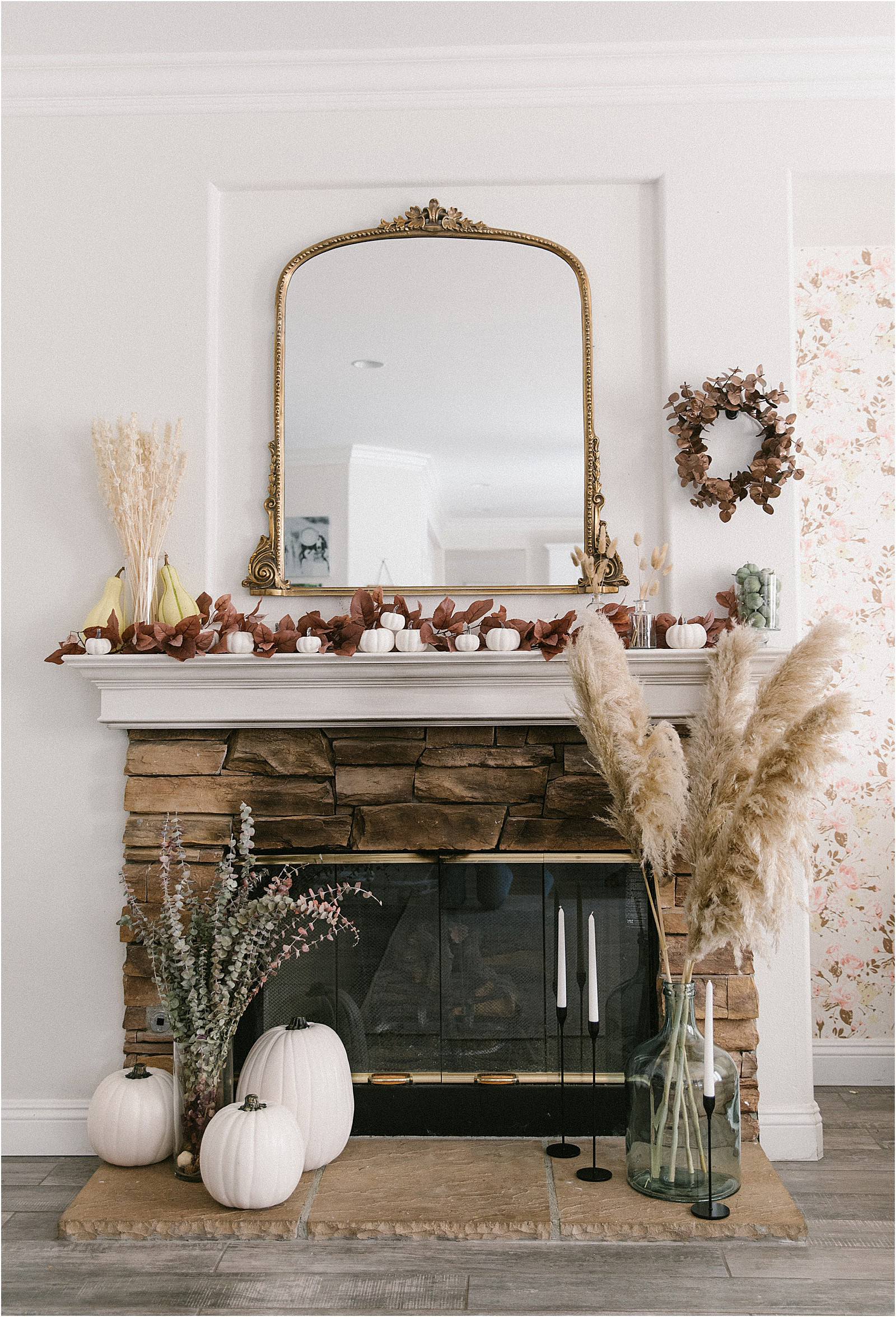 I like to stick with a neutral color scheme for a few different reasons. I don't have the time to re-decorate for each holiday, so I like to create a space that I can keep the same for a few months at a time. It also saves a lot of money to choose decor that transitions into different holidays. I used rose gold spray paint to create the look I wanted for the wreath.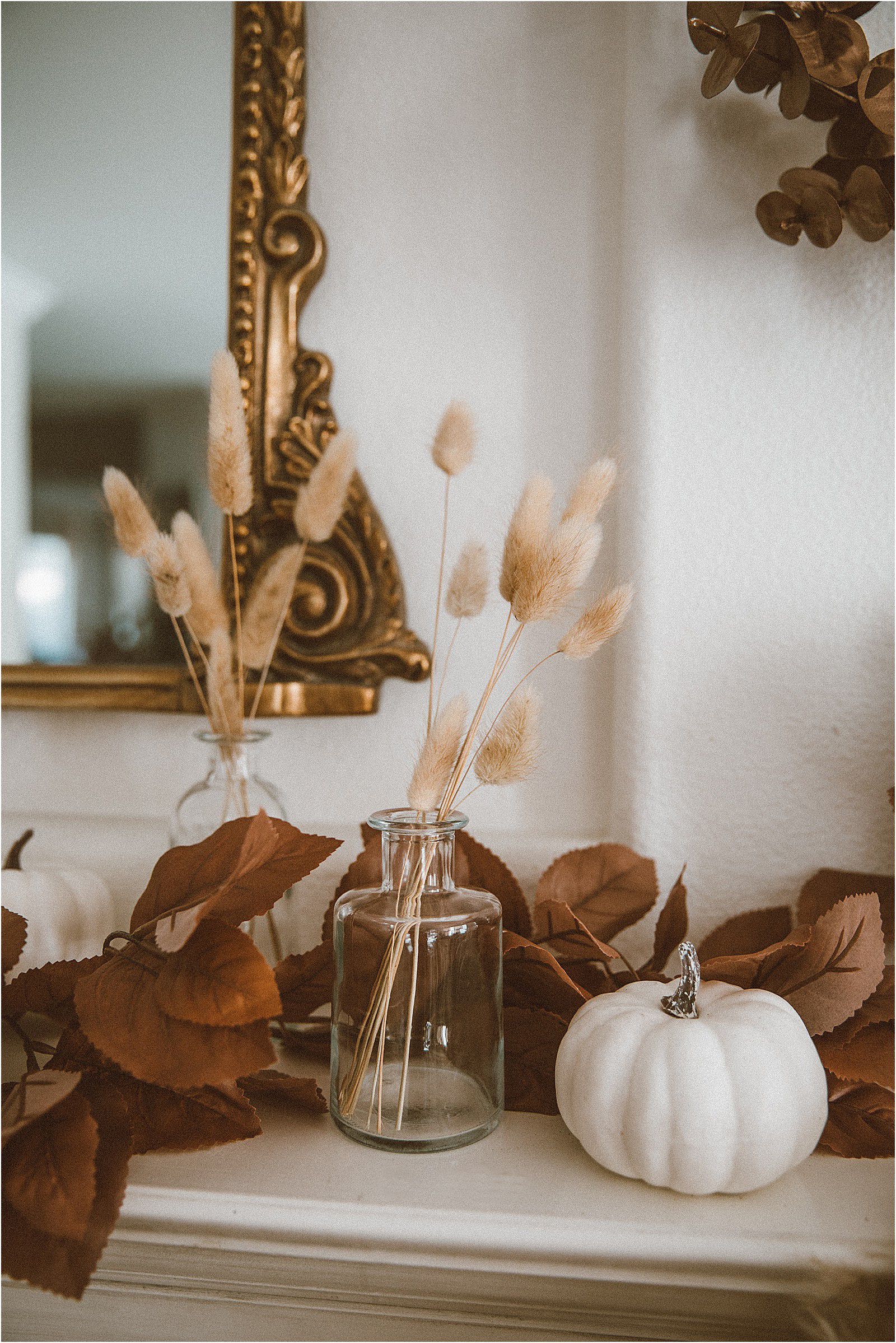 White pumpkins are such a fun way to brighten up an autumn-themed space, and they help transition between the Fall months easily. I will typically add pops of color depending on the holiday, so a little more black and white with orange for Halloween, and more earthy and natural colors for Thanksgiving.
These pops of color help to create a focal point on the mantel decor, without taking away from the overall scheme and design. Remember, we're going for an easy, simple look. No stressing over the mantel display.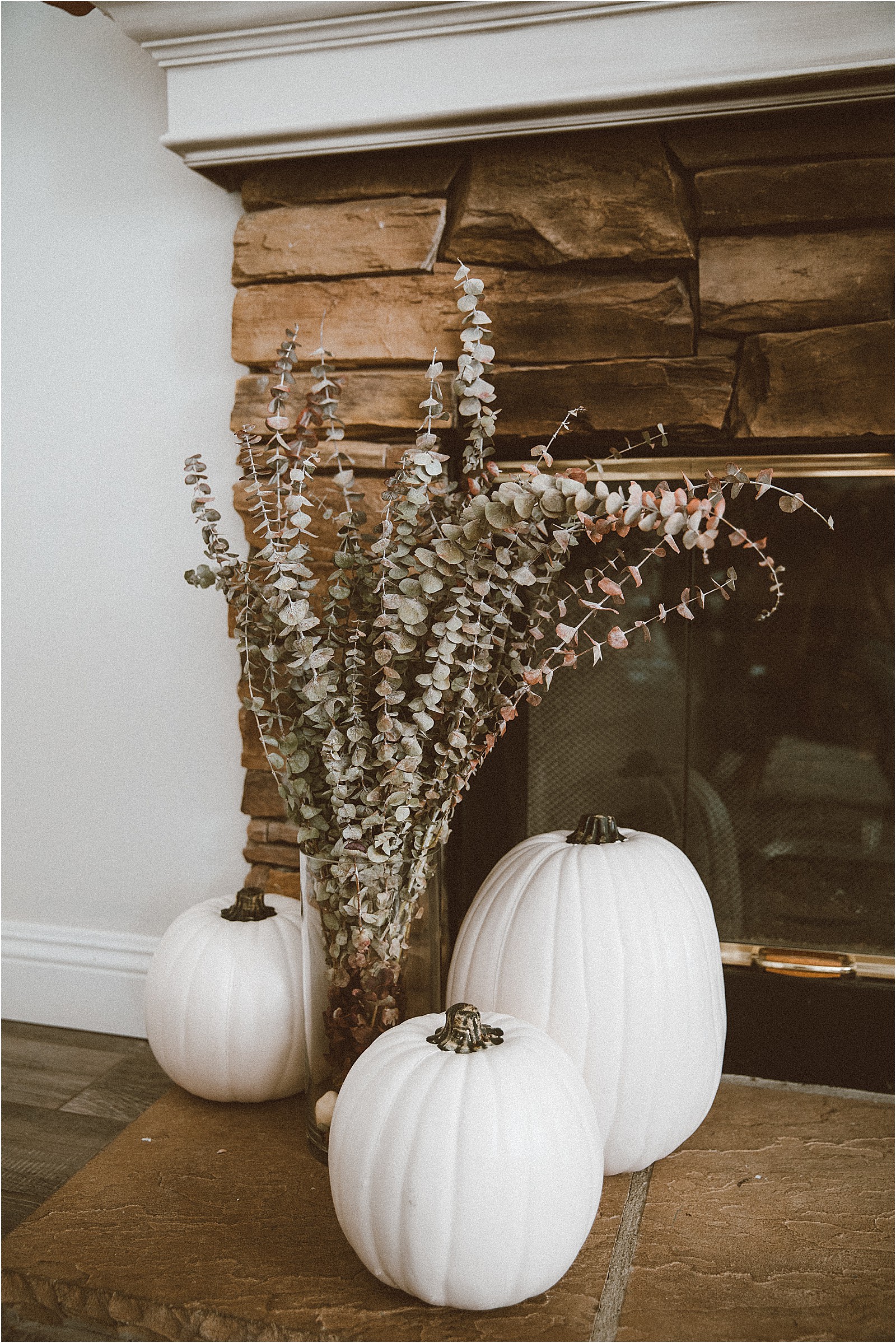 There's something so inviting and cozy about the browns, whites, and greens of Fall. I love how this dried eucalyptus looks next to the white pumpkins. Not to mention, dried eucalyptus can still smell so wonderful. It's such a unique and interesting foliage, I love using it in my display.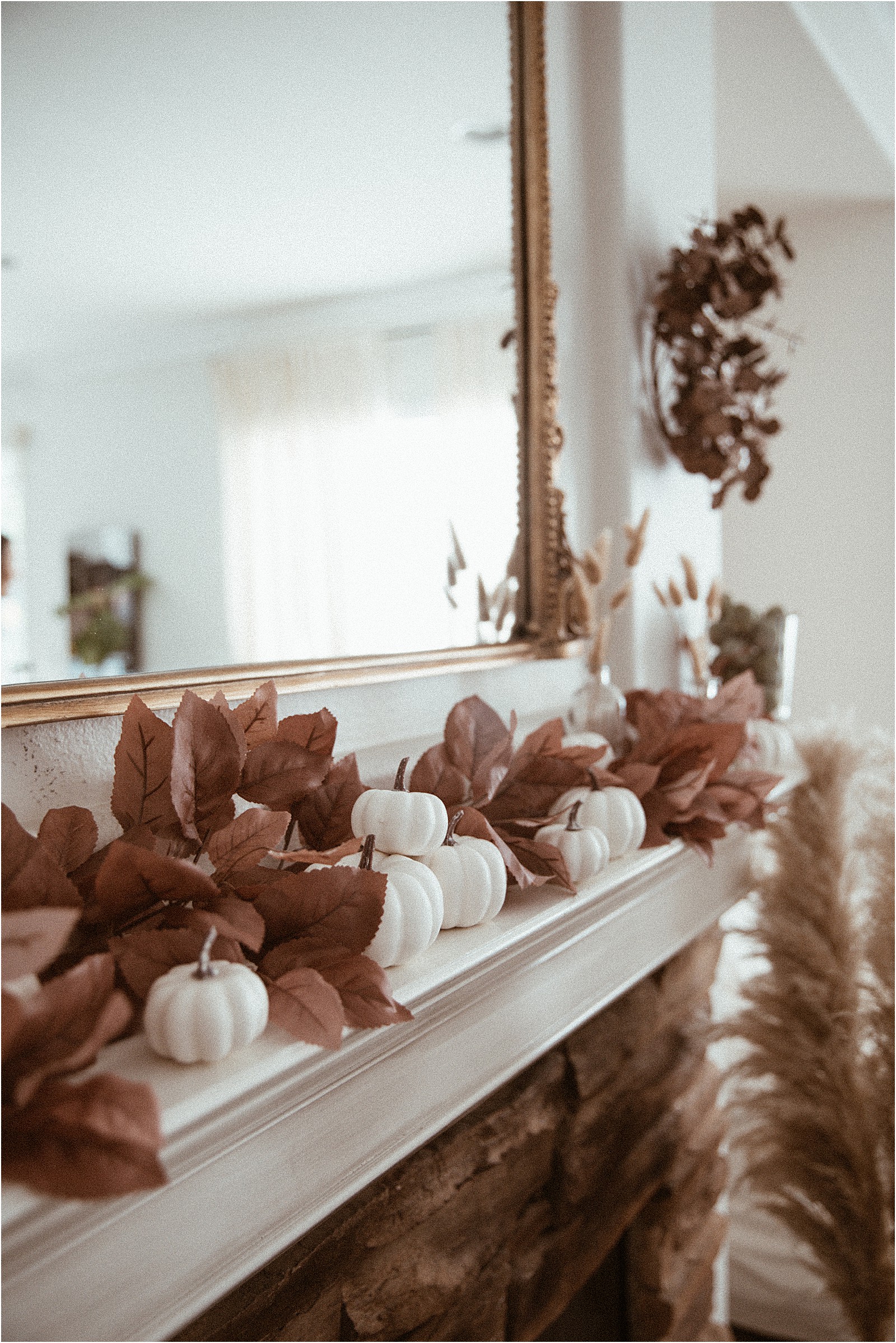 Mantel Ideas For Fall
As fall approaches and the crisp air fills our homes, it's time to give our mantels a seasonal makeover. Whether you're a fan of the traditional fall mantel idea or looking for a festive twist, there are countless options to create a cozy and inviting atmosphere in your living room.
For a classic and timeless look, start by incorporating fall leaves into your mantel decor. Gather colorful leaves from your backyard or local park and arrange them elegantly along the mantel. As the centerpiece, a fall wreath can add a touch of warmth and natural beauty. Consider a wreath made of dried wheat, which not only complements the fall foliage but also brings a rustic charm to your mantel display.
To add depth and texture, hang a leaf garland vertically on one side or drape it along the mantel's edge. This simple addition can instantly transform your mantel into a stunning focal point.
If you're in the mood for a bit of festive fun, why not create a Halloween mantel? Mix and match Halloween decor with traditional fall elements to strike the perfect balance. Place a few spooky props, like miniature pumpkins or witch hats, alongside your fall leaves and wreath. Consider incorporating Halloween-themed candle holders or string lights to add a touch of whimsy.
This playful blend of Halloween and fall creates a unique mantel idea that is sure to impress your guests. And as Halloween transitions into Thanksgiving, seamlessly transform your mantel by swapping out the Halloween decor for Thanksgiving decorations. Add a decorative turkey figurine, a festive fall-inspired table runner, or a thankful banner to capture the spirit of gratitude.
Get ready to create beautiful mantel memories this fall!
As we wrap up this journey of fall mantel decor ideas, I hope you're feeling inspired and ready to infuse your home with cozy autumn vibes. Remember, the key is to create a focal point with a mix of natural elements, seasonal decor, and personal touches. Whether you opt for a rustic farmhouse look or a modern chic aesthetic, the options are endless. So go ahead, gather your favorite pumpkins, candles, and autumn foliage, and let your creativity shine. And don't forget to savor the moments spent with loved ones around your beautifully adorned mantel, creating cherished memories that will warm your heart for years to come.
You can shop my mantel items below. What is your favorite way to decorate your mantel for Fall? For more Fall home decor inspiration, head to this post!