Now that the world is opening up, celebrations are picking back up. If you have a front lawn or back yard, here are 5 easy ways to transform your space into a garden party.
Backyard events are great because it's safer for guests and cuts the extra cost of renting a venue. It's also a great way to celebrate with friends and family without restrictions and service fees that often come with restaurants and other event venues.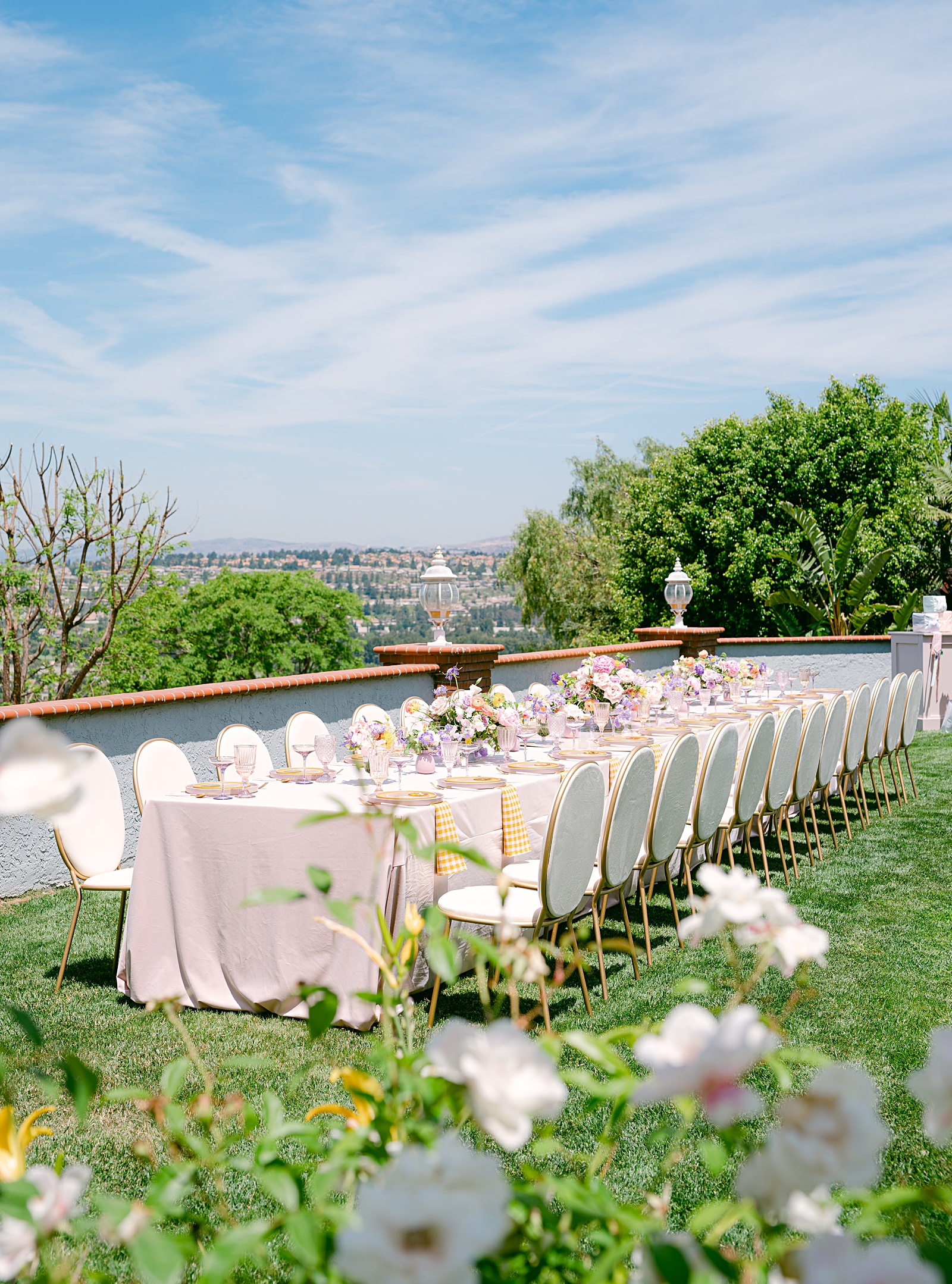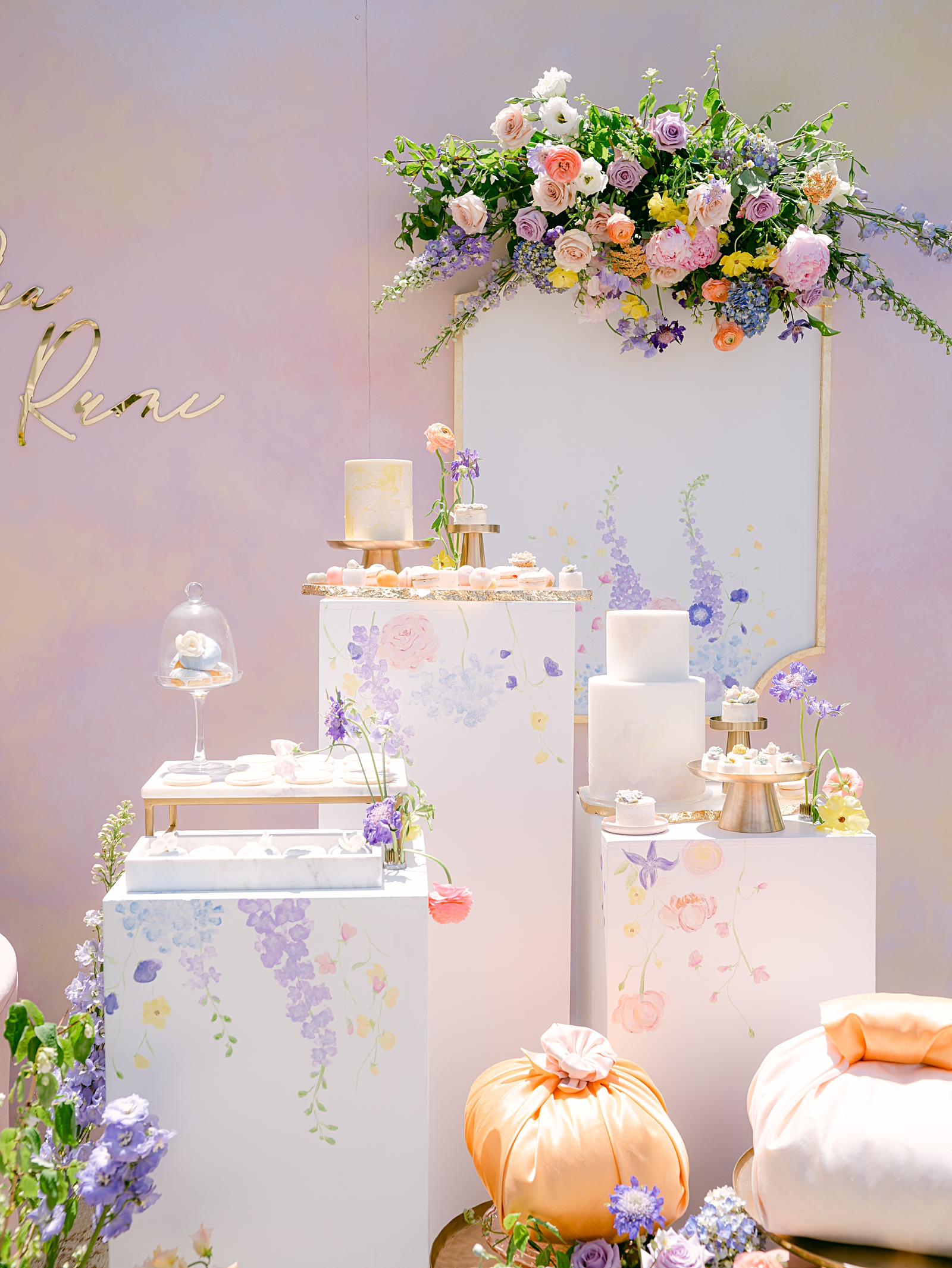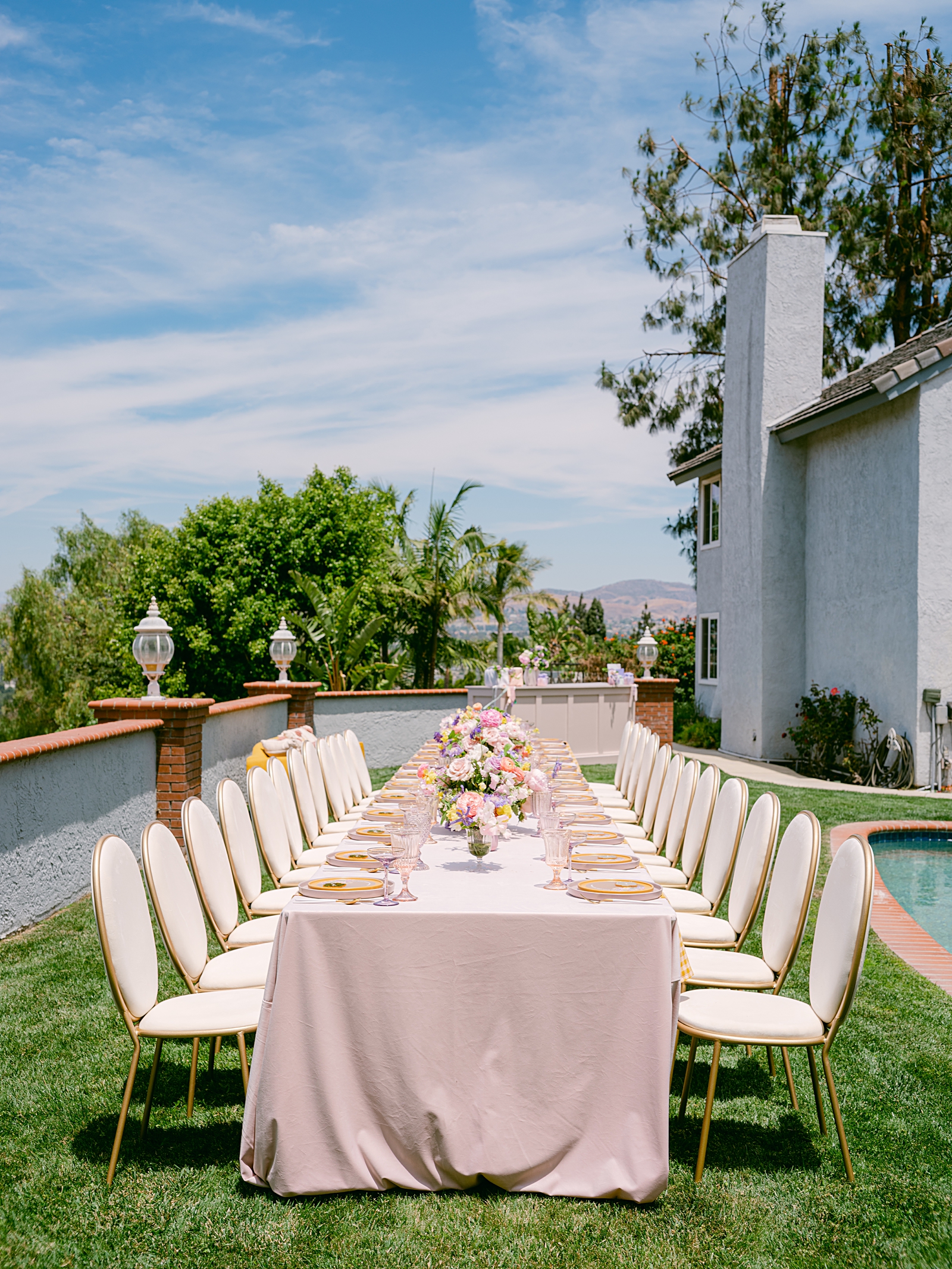 Today I am going to share how we turned our backyard into the perfect party space for our baby's Korean 1st birthday party. I worked with Nancy and Pae at So Happi Together to plan an intimate garden 1st birthday celebration for Rumi.
We started by picking a color palette of porcelain, pale golden wheat, blush pink, muted lilacs and ocean mist blues. Our mood board was inspired by Rumi – the luxe sunshine baby.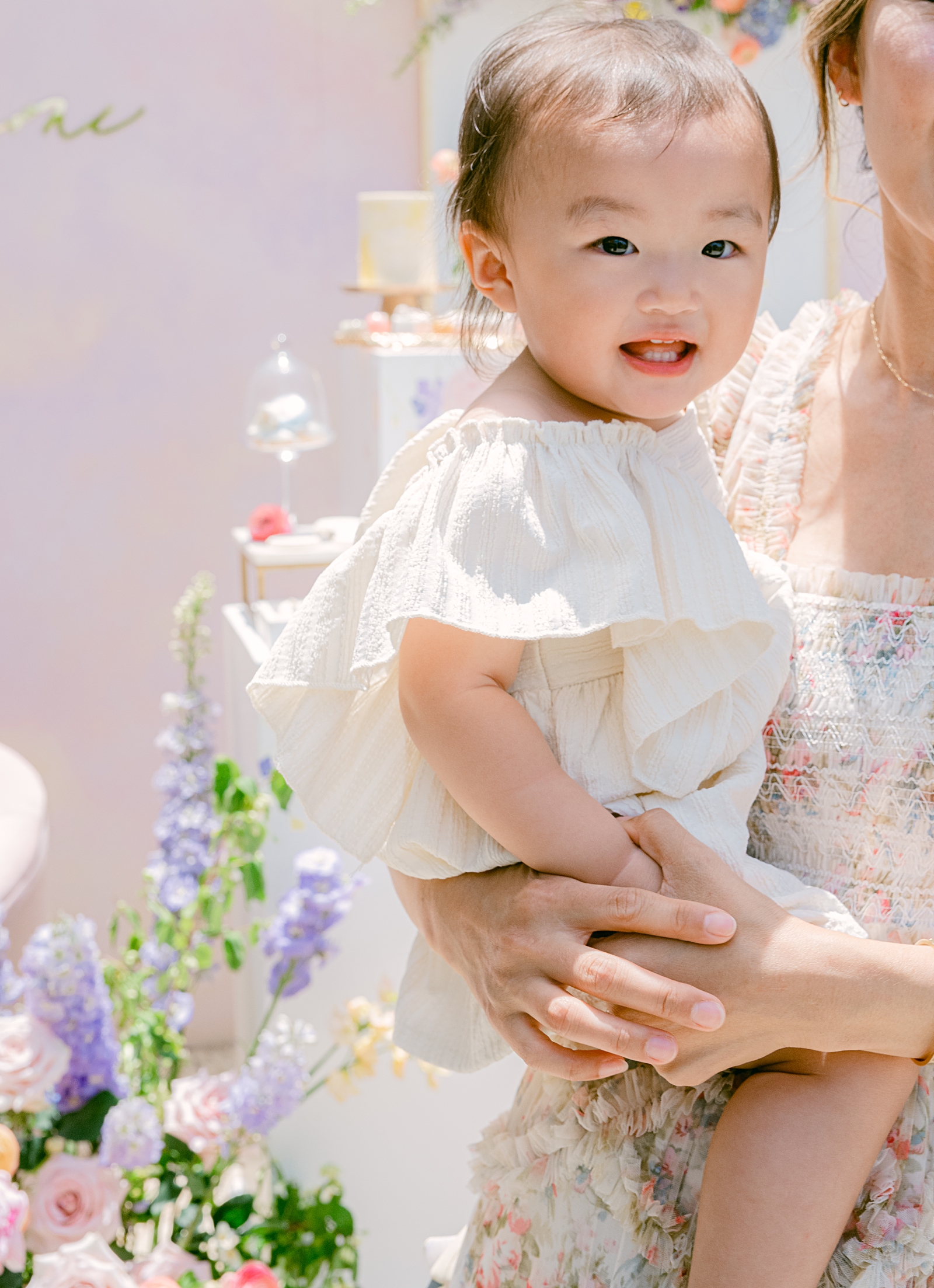 So Happi Together wanted to make it a fine art watercolor garden party and they did not disappoint. We had gold leaf and marbled watercolor accents with floral print touches. There were real floral accents growing out of floral prints, touches of velvet, acrylic and matte gold. It all tied together as an understated elegance, with a ton of beautiful details, which is right up my alley!
5 Easy Ways To Transform Your Backyard Into A Garden Party
Here are 5 steps we took to transform our backyard into a fine art watercolor garden party.
1. Dining Area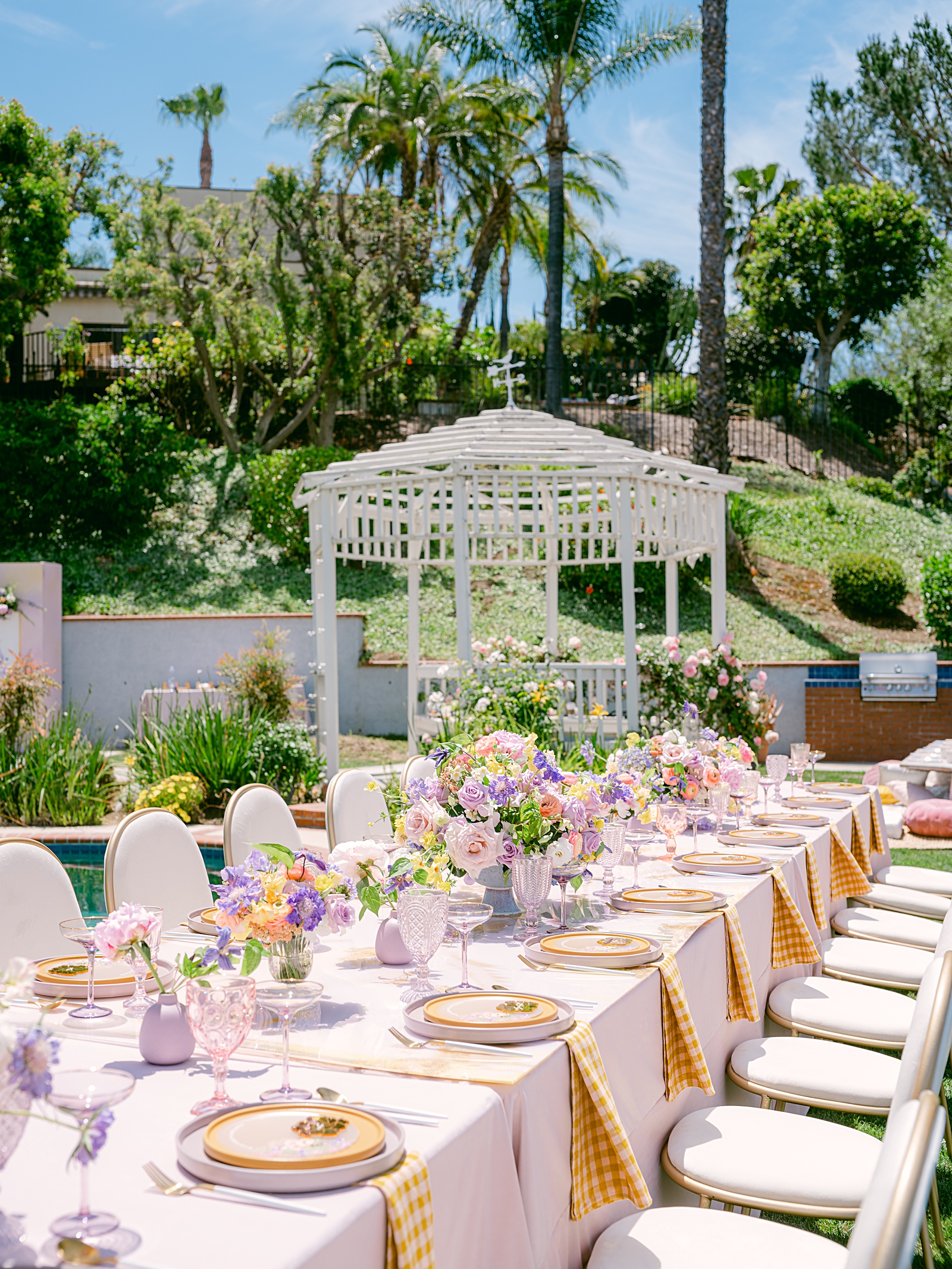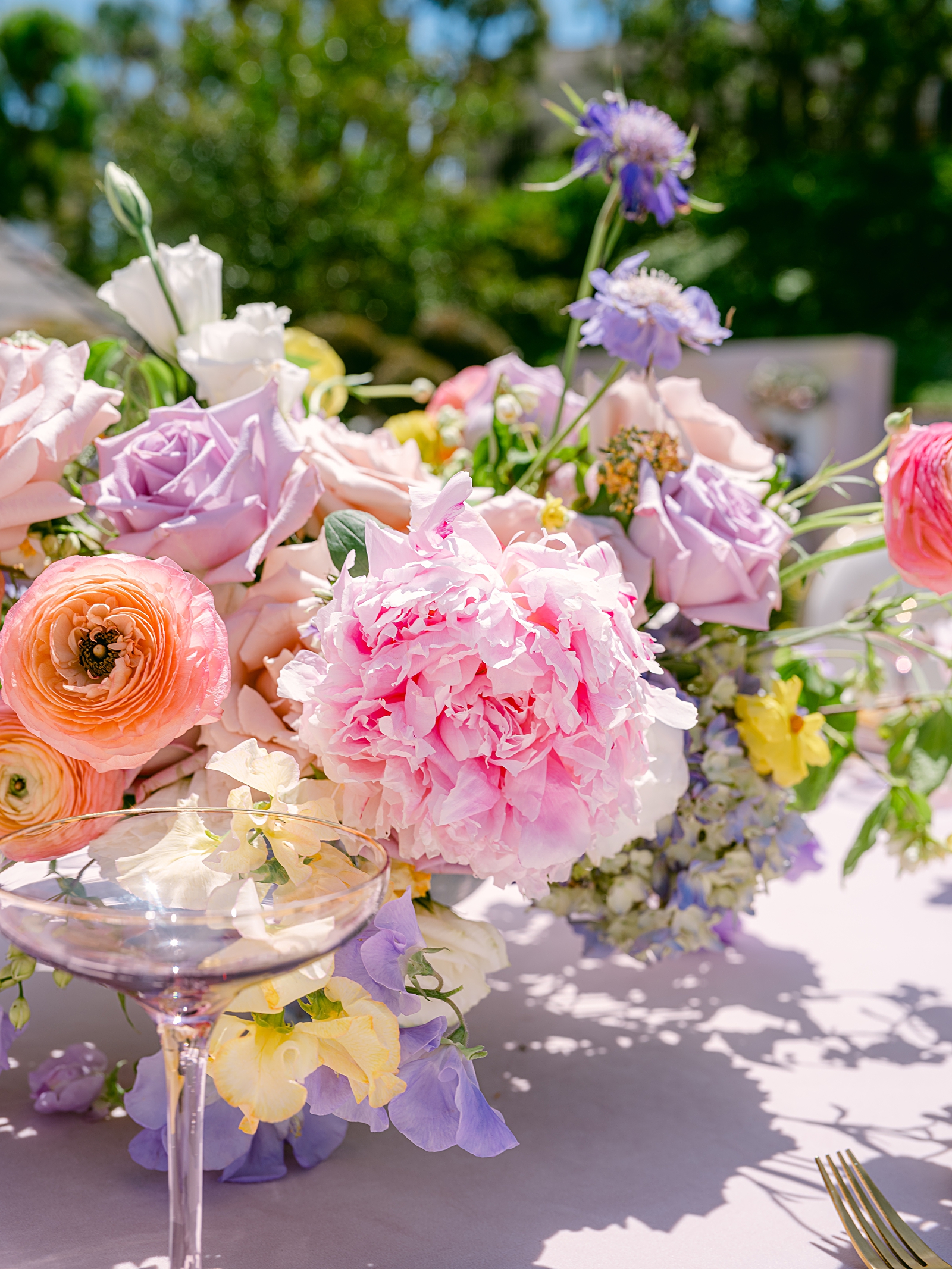 Set up a dining area for you and your guests. Tablescapes are one of my favorite things to include in a party, because this is where you get to have fun with the details.
For my dining area, I used gorgeous ivory upholstered chairs from Found Rental Co.
Light pink linens are from La Tavola Linen.
Place settings, glassware and napkins are from Hostess Haven. Hostess Haven's pieces were perfect for our color palette and design! Each place setting consisted of a lilac dinner plate, mustard yellow salad plate, gold and white flatware, a mauve champagne coupe and vintage lilac or blush water goblets. I was so surprised guests were actually drinking mimosas – I assume the pretty mauve champagne coupe had something to do with it. 😉 Our mustard and pink gingham napkins gave the perfect pop of color against the pink velvet linen, as they draped waterfall style under the plates.
No tablescape is complete without fresh florals. The center of the tables were lined with fresh blooms and arrangements by Bloombox Designs. I loved everything about the bright colors, especially the yellow, since that color reminds me of my sunshine baby. The flowers were romantic, yet fun and youthful, just like Rumi!
Here are more tips on how to dress up tablescapes:
Easy Pastel Holiday Tablescape Ideas
5 Tips for Edible Fall Holiday Tablescape
2. Lounge Area for both kids and adults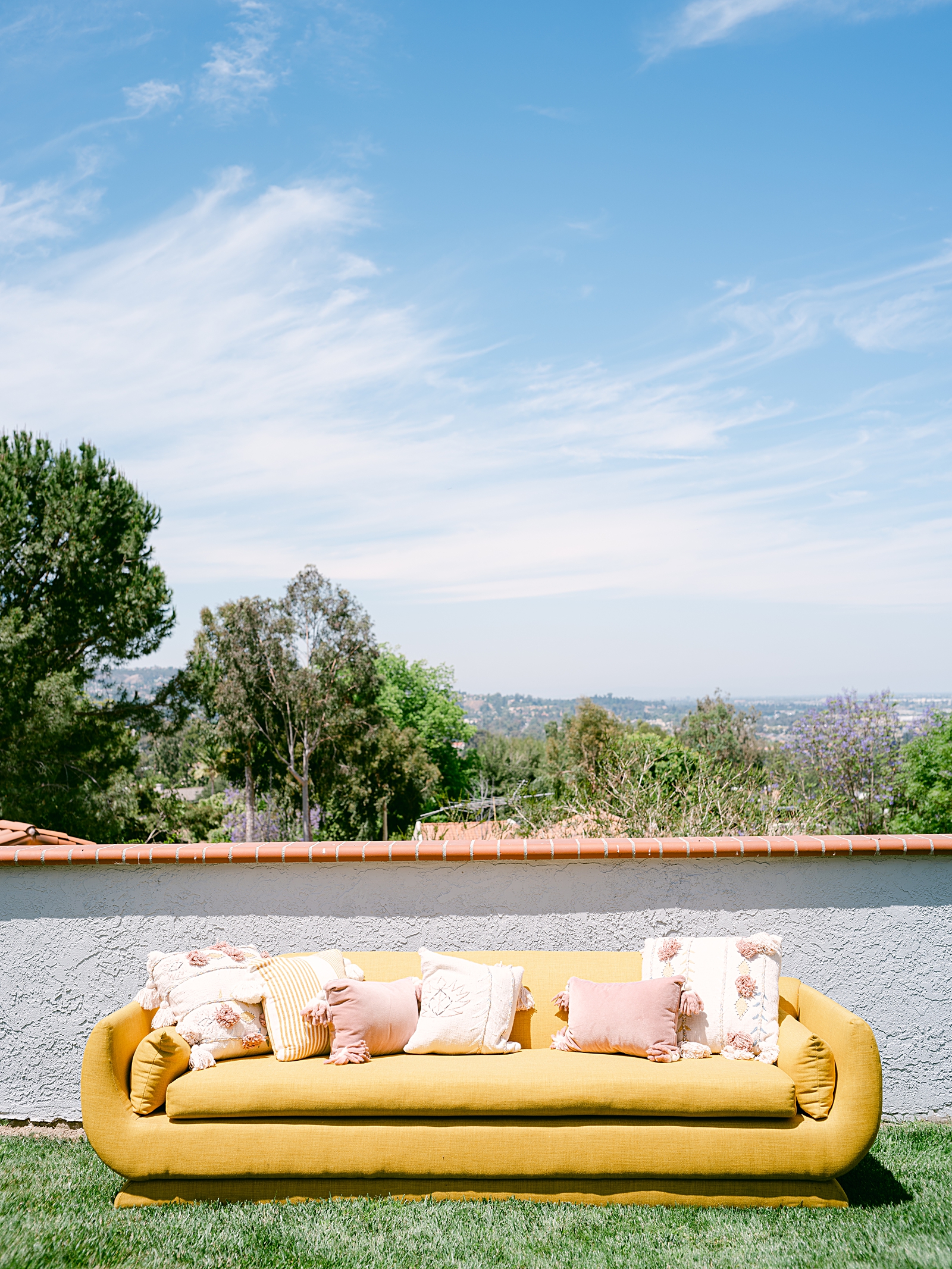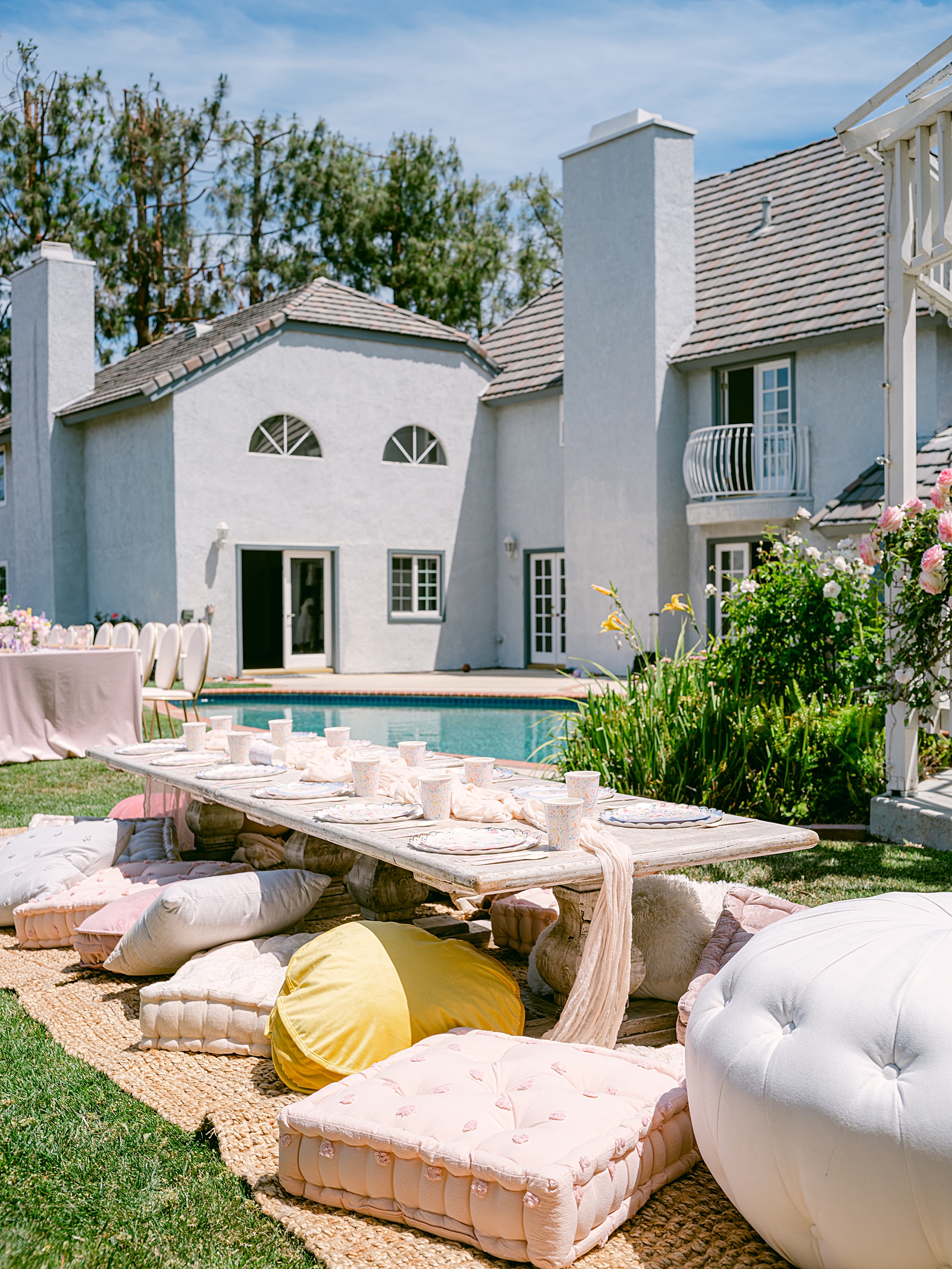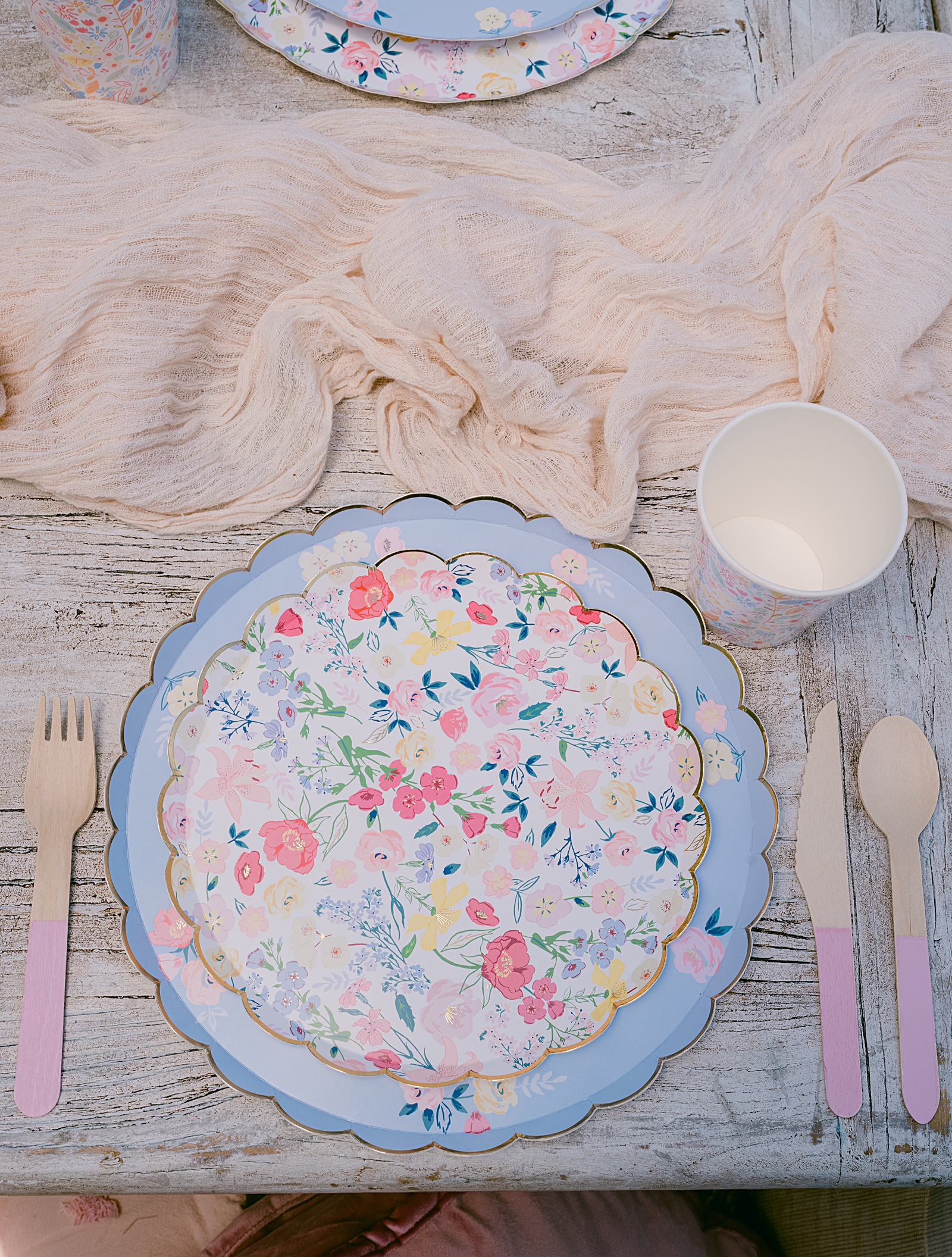 We created a kids lounge for the kiddos to to enjoy and give the parents a much needed break after over a year in quarantine. For the kids lounge, we used the following pieces:
Of course the adults need a lounge area too. We found the perfect yellow couch from Found Rental Co and coordination pillows in our color palette to set next to our Boba Bar so parents could relax as well. It also made for another perfect spot for families to take photos! I heard some guests saying their photo on the couch was going to be their 2021 holiday card photo.
3. Refreshments, appetizers and good food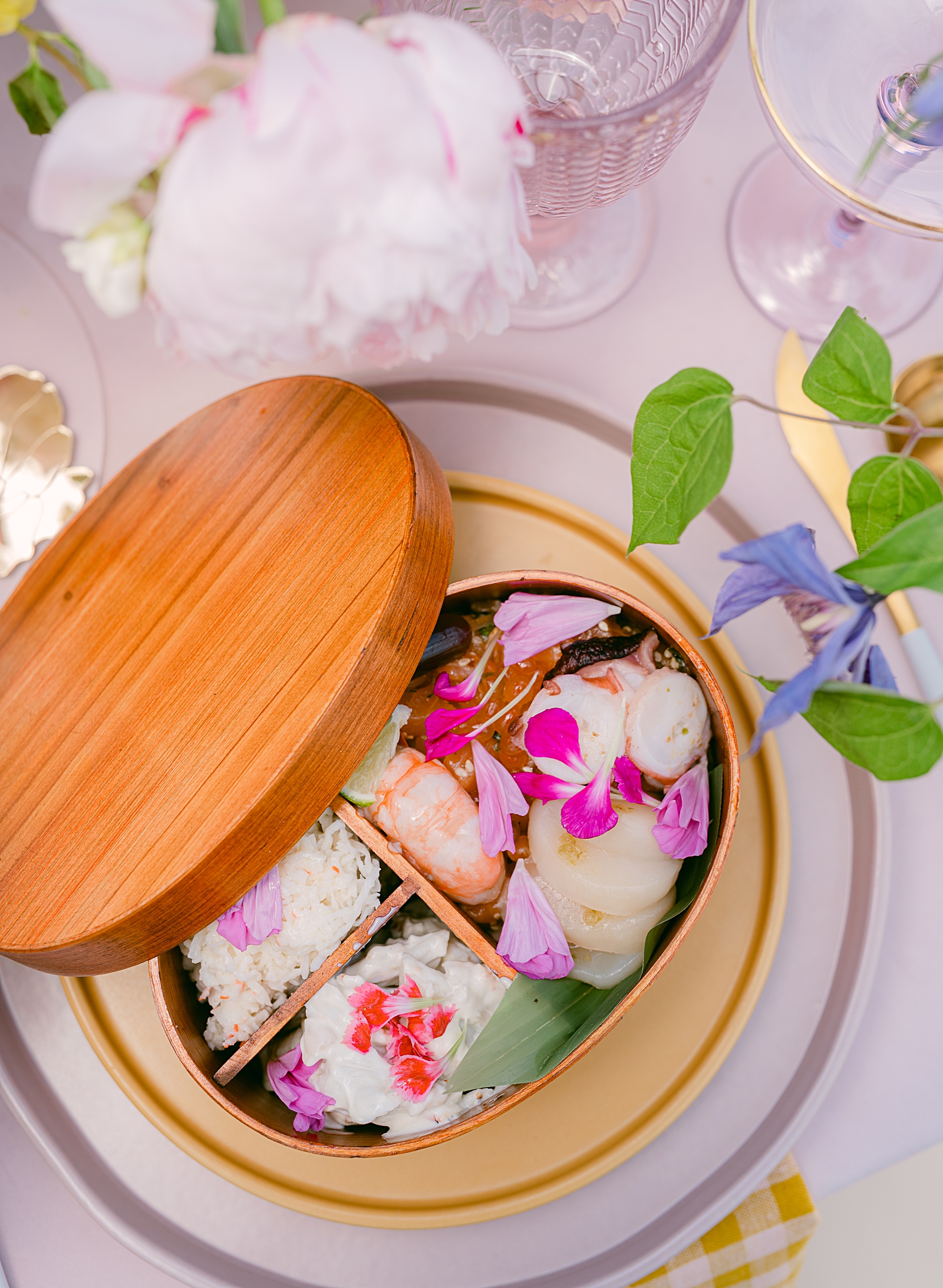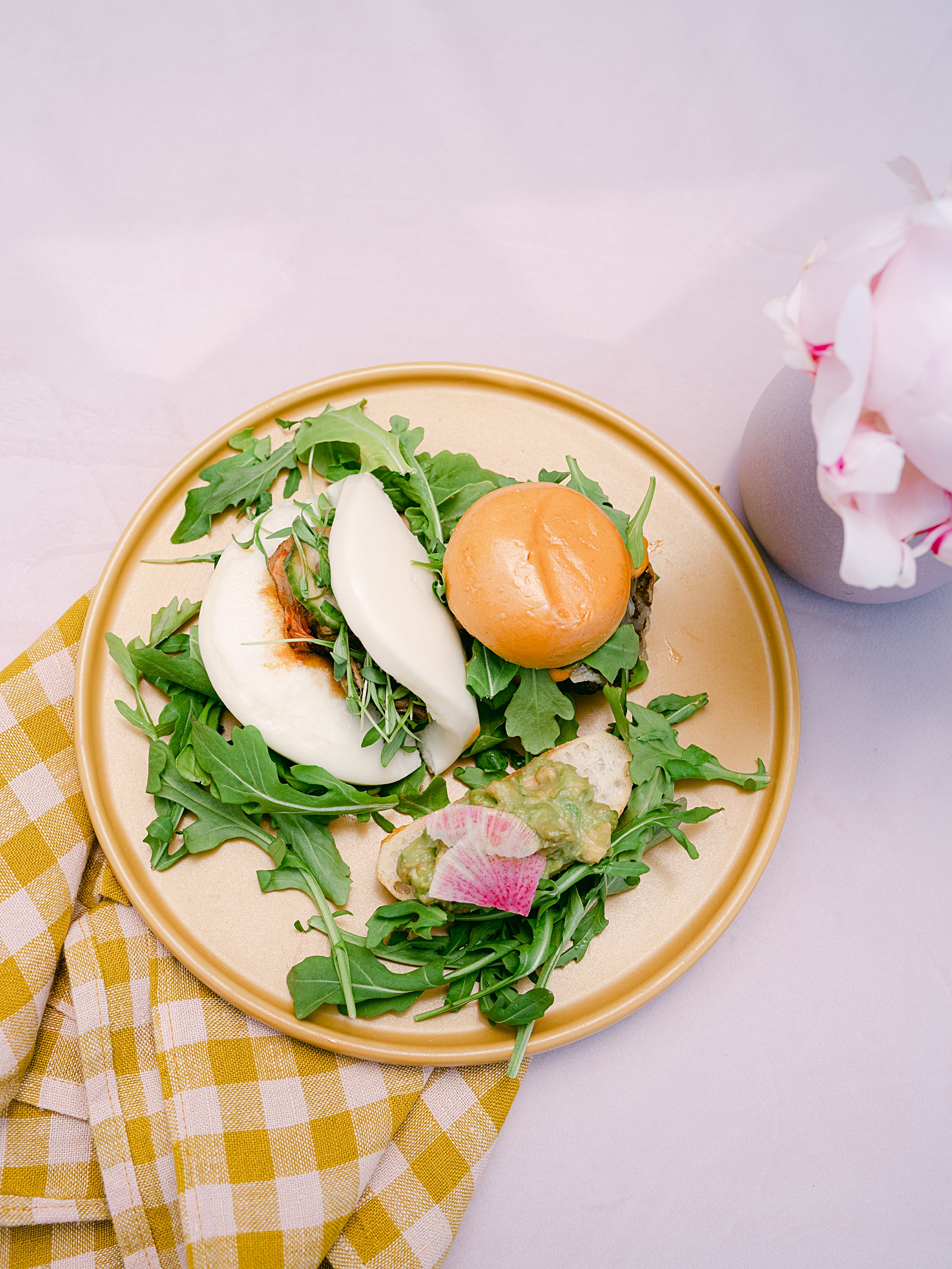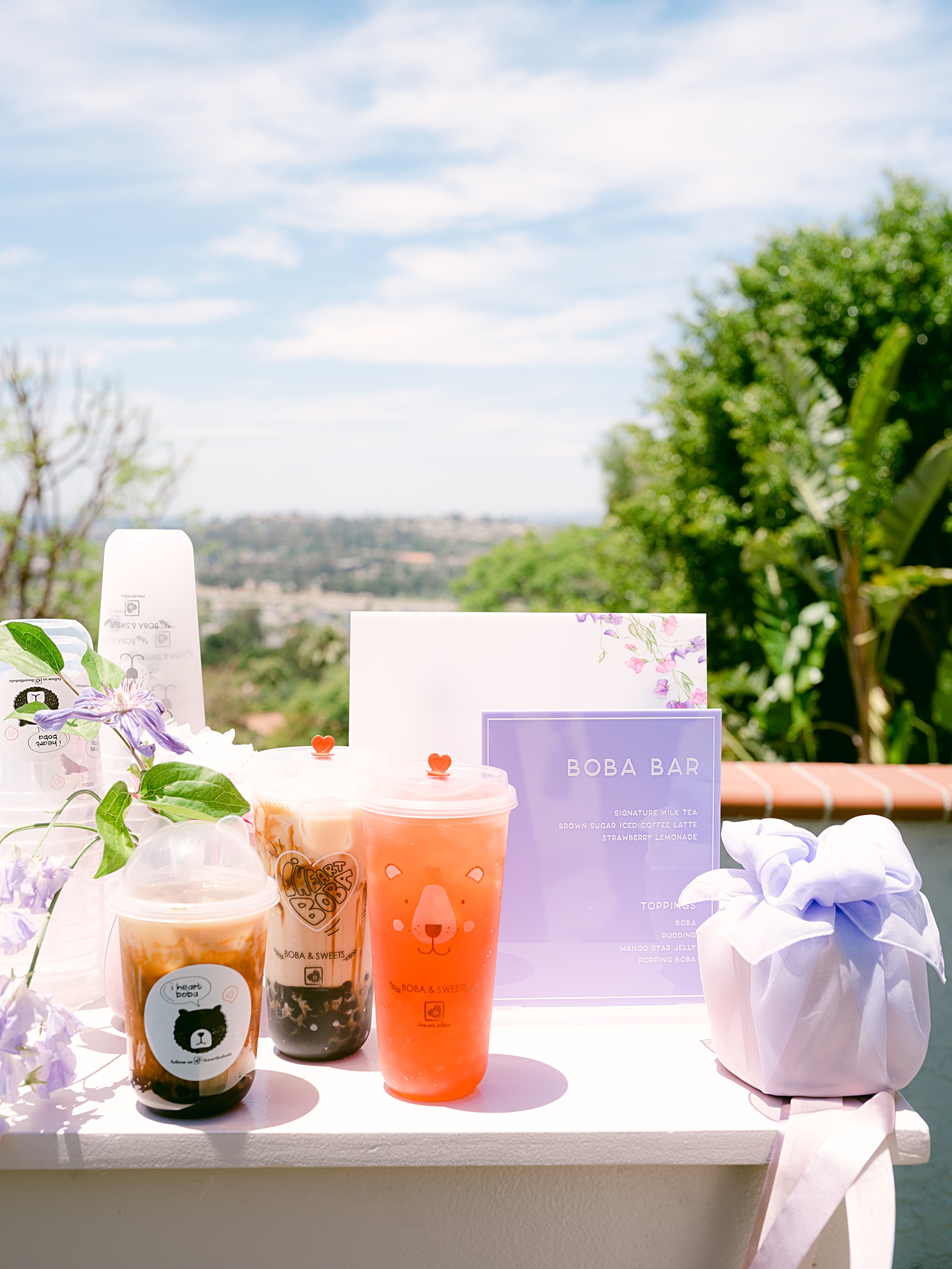 It's not a good party unless there's good food and drinks. Guests were greeted with a self serve drink station upon entering the space. This included iced water, boxed juices for kids, champagne and juice for mimosas and beers! Then we had individually packaged appetizer boxes made by Hungry Bear Catering filled with avocado toast, pork belly bao buns and a mini slider for each guest to munch on as they mingled and got settled.
For the lunch meal, guests pre-selected either an omakase sushi bento box or hot bento box with short ribs and miso black cod, also prepared by Hungry Bear Catering.
The kids received their own special kids bento filled with all the delicious fixings including chicken karage, grilled hot dogs cut to look like octopus, steamed rice and veggies.
For dessert, we had a spread of desserts made by my favorite gal, Sweetleemade. Rice Blossoms also provided traditional korean rice cakes, also known as dduk with hand piped bean paste flowers and another traditional korean dessert called songpyeons.
In addition to the desserts, we had a boba bar from I Heart Boba LA. The weather was warm, so the refreshing boba drinks were a huge hit! Our guests definitely went back for seconds – I'm so glad we added this dessert detail. They set up behind the perfect blush pink bar and we created custom signage with the menu so guests could conveniently order.
I Heart Boba LA has a storefront in Rowland Heights, but are able to service events in LA/OC. So many of my friends asked me where their shop was located and I cannot wait to use them for future events! I've already started recommending their boba to our friends.
4. Backdrop area for photos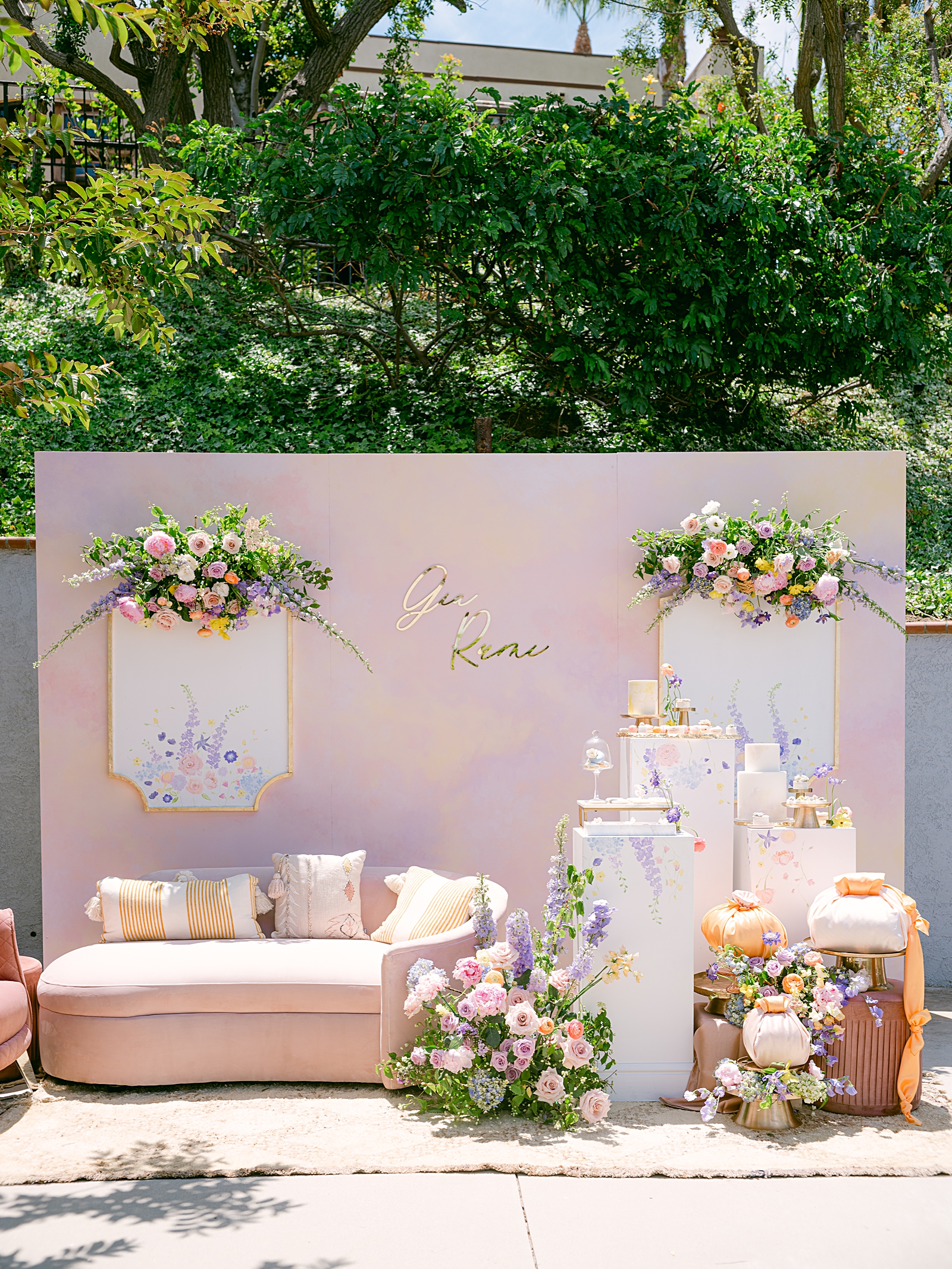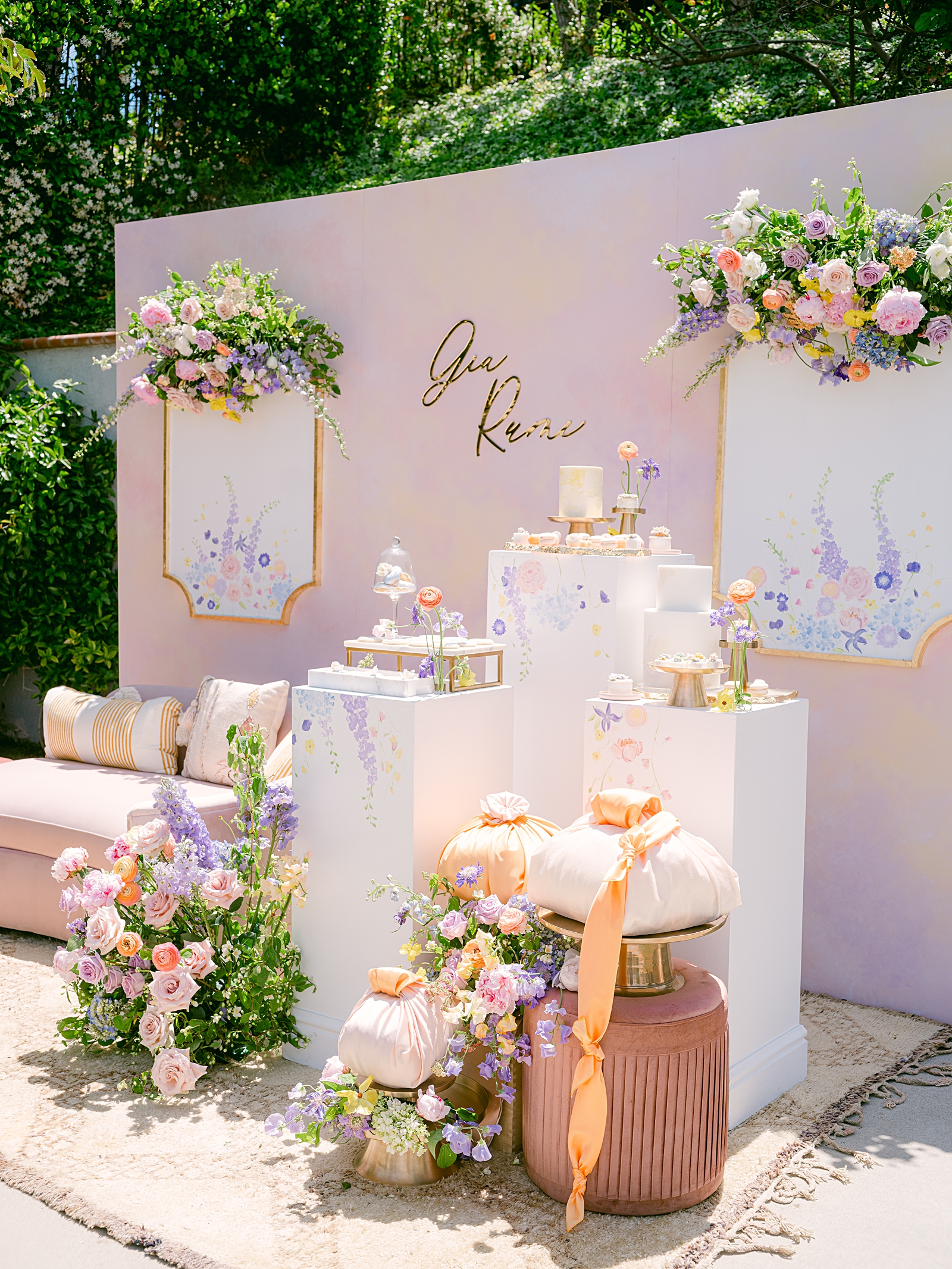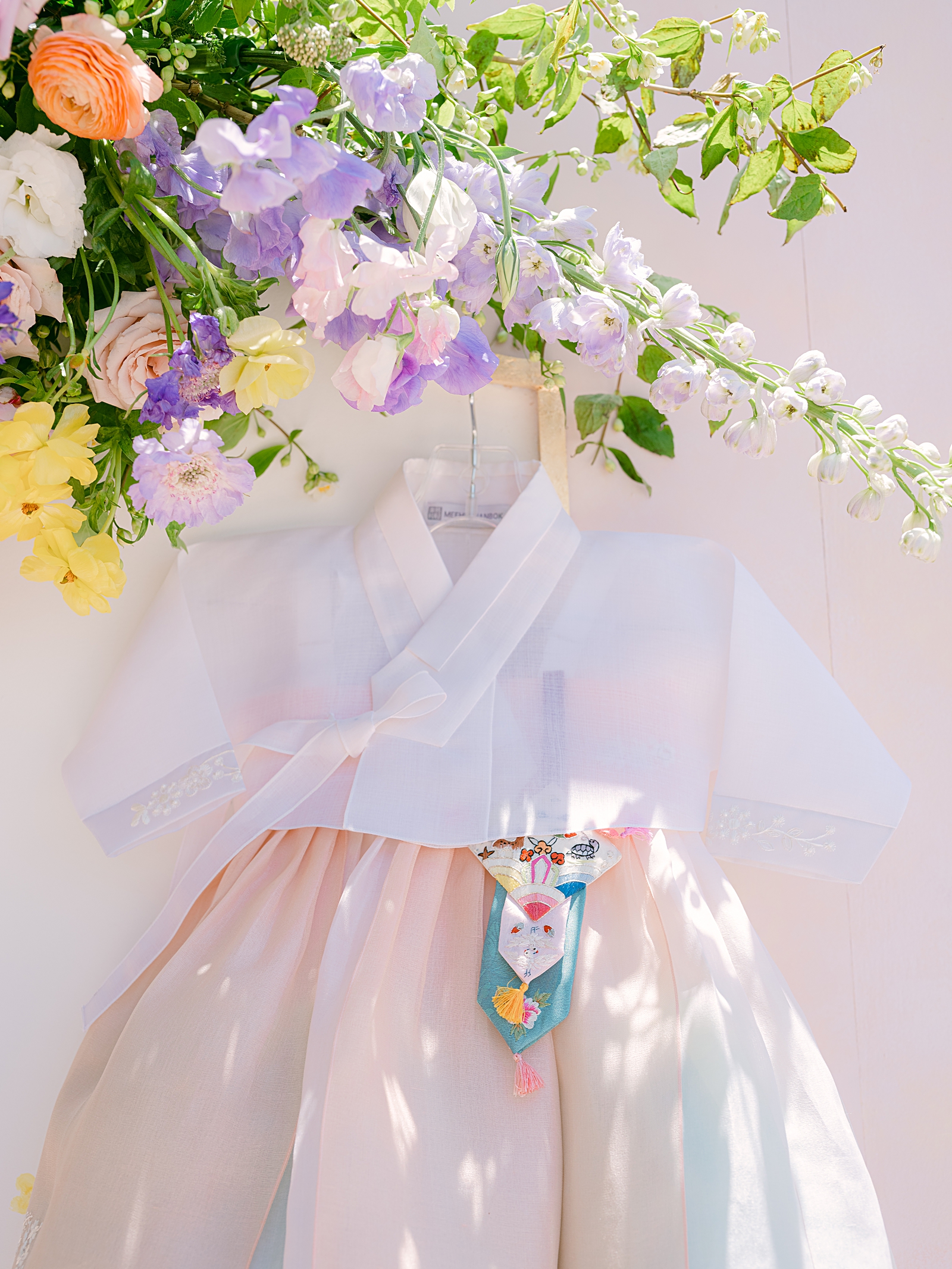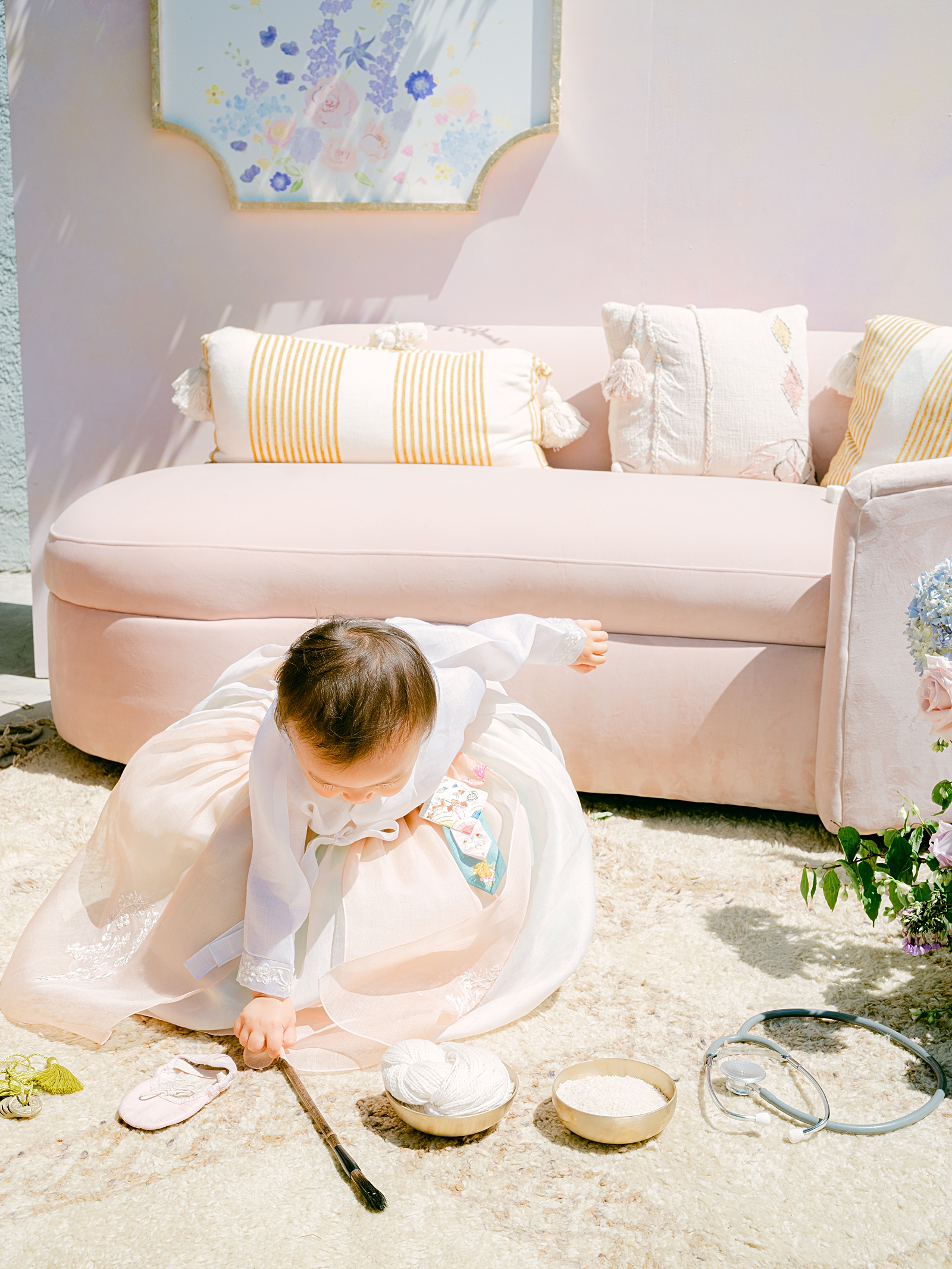 No Korean first birthday is complete without the main head table and backdrop. It's the area where all the photos of the family and baby take place. It also serves as a backdrop for when the baby chooses their future career.
Nancy from So Happi Together was inspired by watercolor and acrylic paint textures from our color palette in a more muted and understated tone. Bloombox Designs brought the backdrop vision to life with their custom painted watercolor backdrop and crown molding panels adorned with fresh flowers and painted florals. Instead of the typical dessert table you will see in front of a backdrop, we set up a mini lounge vignette with Found Rental Co pieces and custom column tables, also by Bloombox Designs. The bojagi statement pieces were one of my favorite parts of the backdrop – it tied in the orange and peach undertones of our color palette.
Once again, it tied in the traditional elements in such a beautiful way. To top it all off, we got a custom gold mirror acrylic name sign made by Wildhouse Ink – I love that I can reuse this in Rumi's bedroom as decor. Our family and friends really enjoyed taking photos in the lounge vignette and also said they would be taking photos there, a part of their holiday card!
Your backdrop doesn't have to be custom or fancy like mine. It's so easy to DIY your own backdrops these days. For last year's holiday card, we created a DIY backdrop that you can find the details for here. For a step by step tutorial setting up your own DIY backdrop, you can check out the At Home Smash Cake Photoshoot we did for Rumi's 1st taste of cake.
5. Dress it up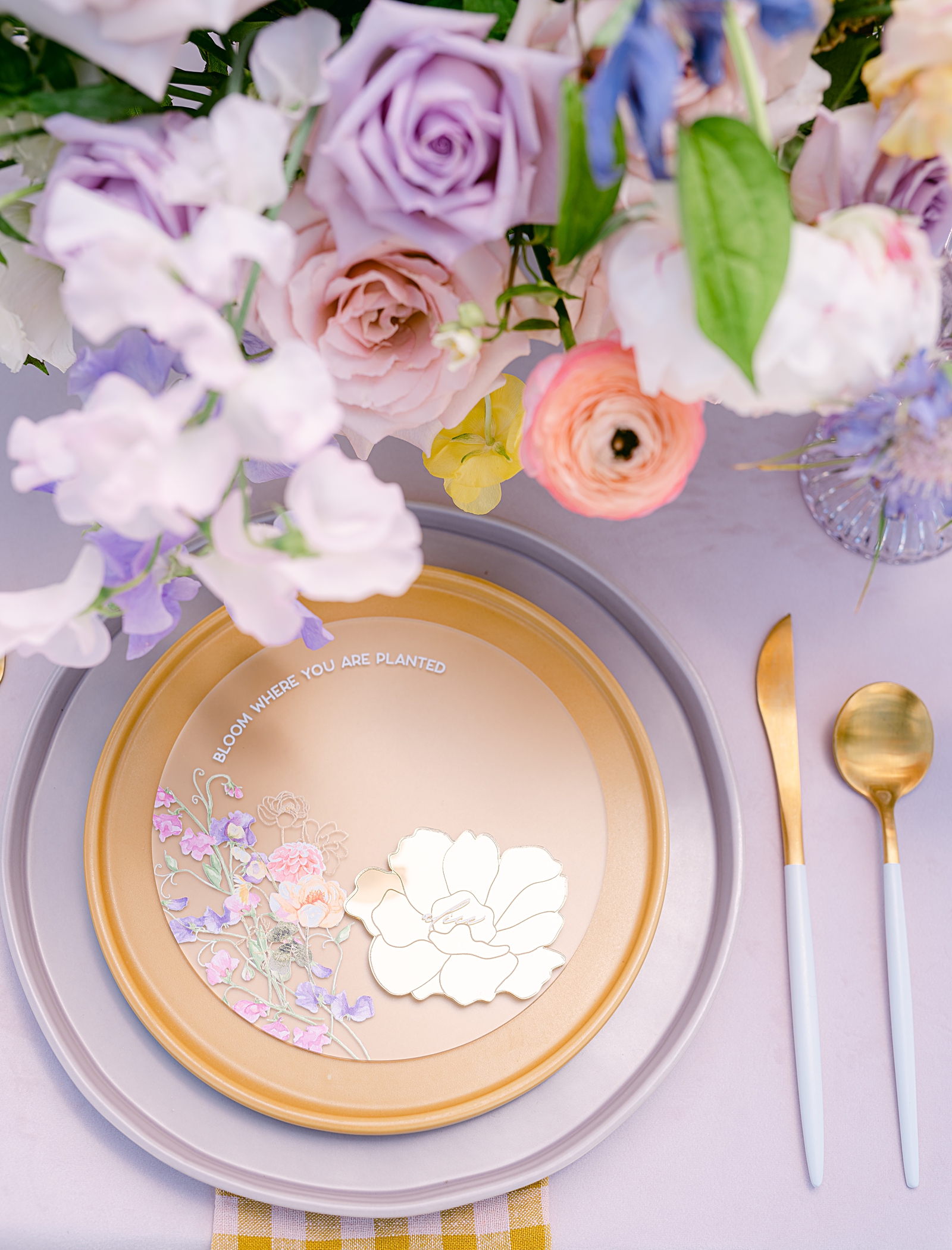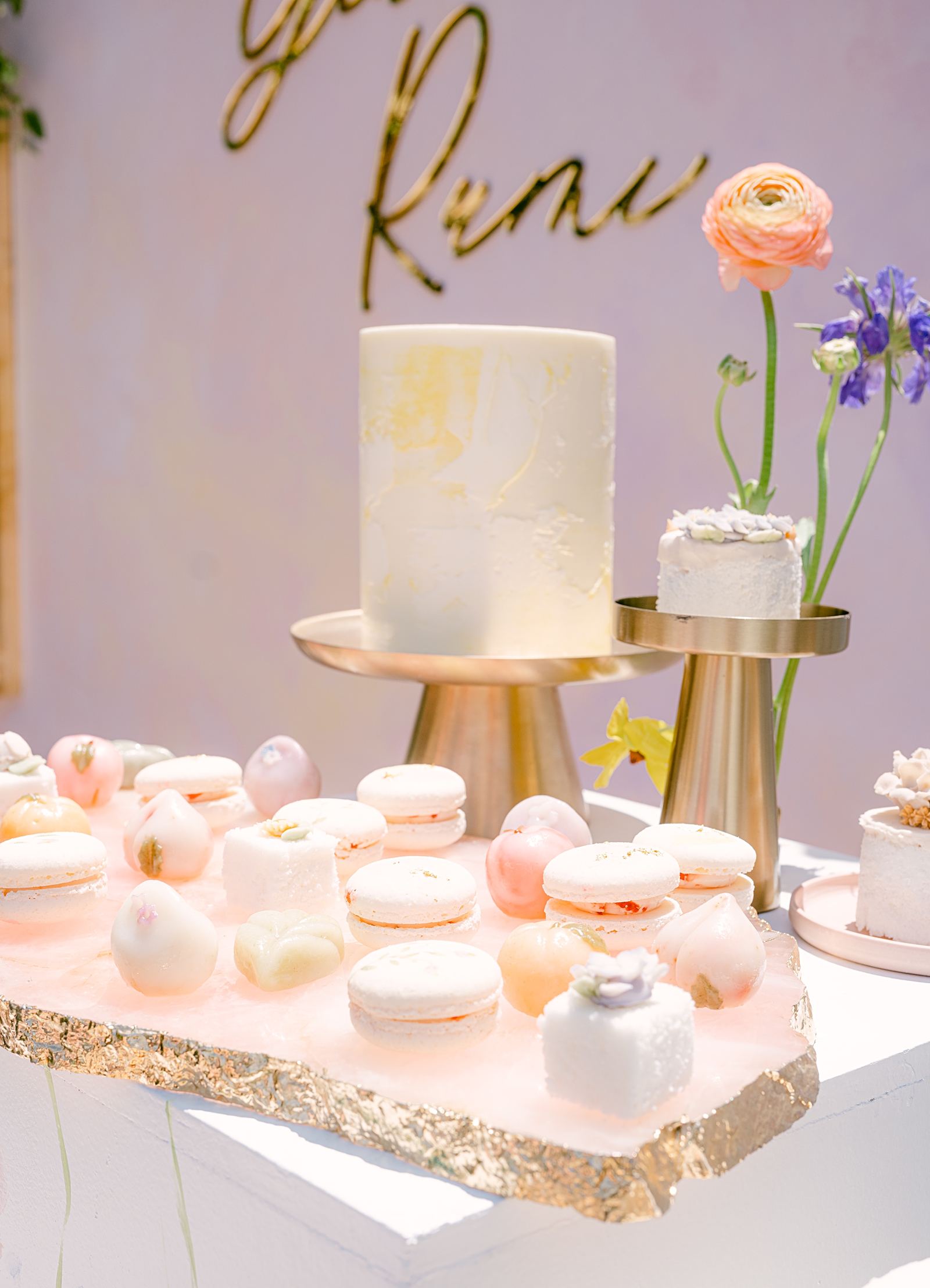 A fun party is all in the little details. For us, it was the acrylic signage and pieces that really tied everything together.
On our dining table, Bloombox created the perfect custom acrylic sheet with acrylic paint and gold foil to act as a tabletop for our center 8ft table. This elevated our tablescape in an understated way and helped tie in our backdrop colors and textures onto the dining tables as well! Each guest had an acrylic menu with a floral design that coordinated with our real florals. We printed the quote "Bloom where you are planted" on each menu, making it a piece that guests will want to take home! Place cards were gold mirror acrylic flowers that covered the actual menu verbiage. So when guests lifted their place card, they saw "맘마" time, which is how I tell Rumi and the kids it's meal time in Korean! One of my favorite details for sure.
There's always little ways you can tie in the details to dress up your design! Whether it be a simple napkin treatment, specialty place card or fun signage, it's really the little details that make a party fun and help to transform your space!
I hope that you found these tips helpful. A special thank you to all the vendors who helped bring Rumi's first birthday to life!
I'm so glad we waited for a safe time to throw the party so we could celebrate with family and friends. We will be sharing more about the party and vendor details in upcoming blog posts and on Instagram. Stay tuned!
Vendor Credit: