A baby's first birthday celebration (also known as a Dol) is a very important in Korean culture, similar to the 100 days. A large celebration is usually held to bless the baby with a prosperous future. We were going to have an intimate celebration with immediate family and a few extended family members only, but even that felt unsafe to do at this time.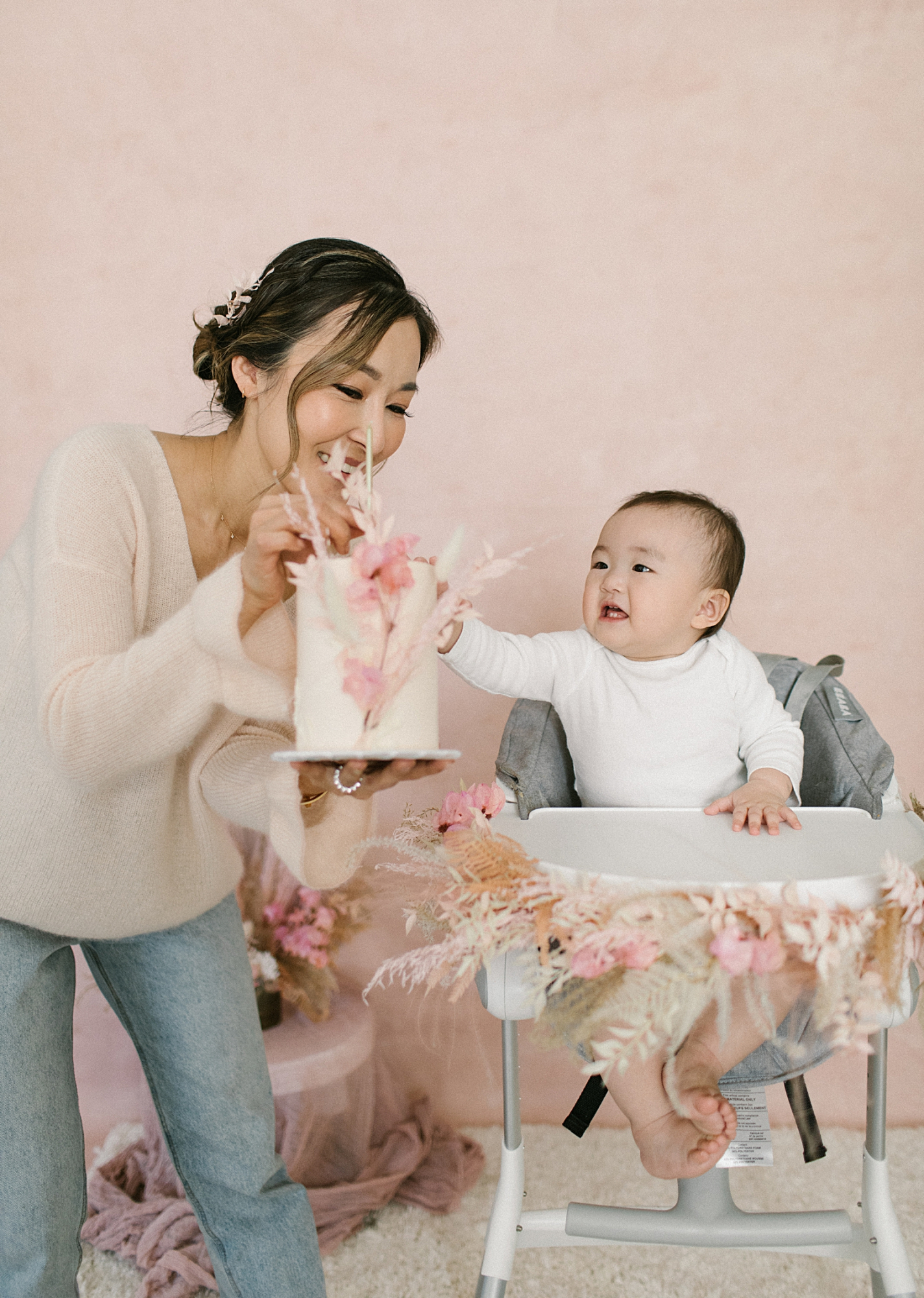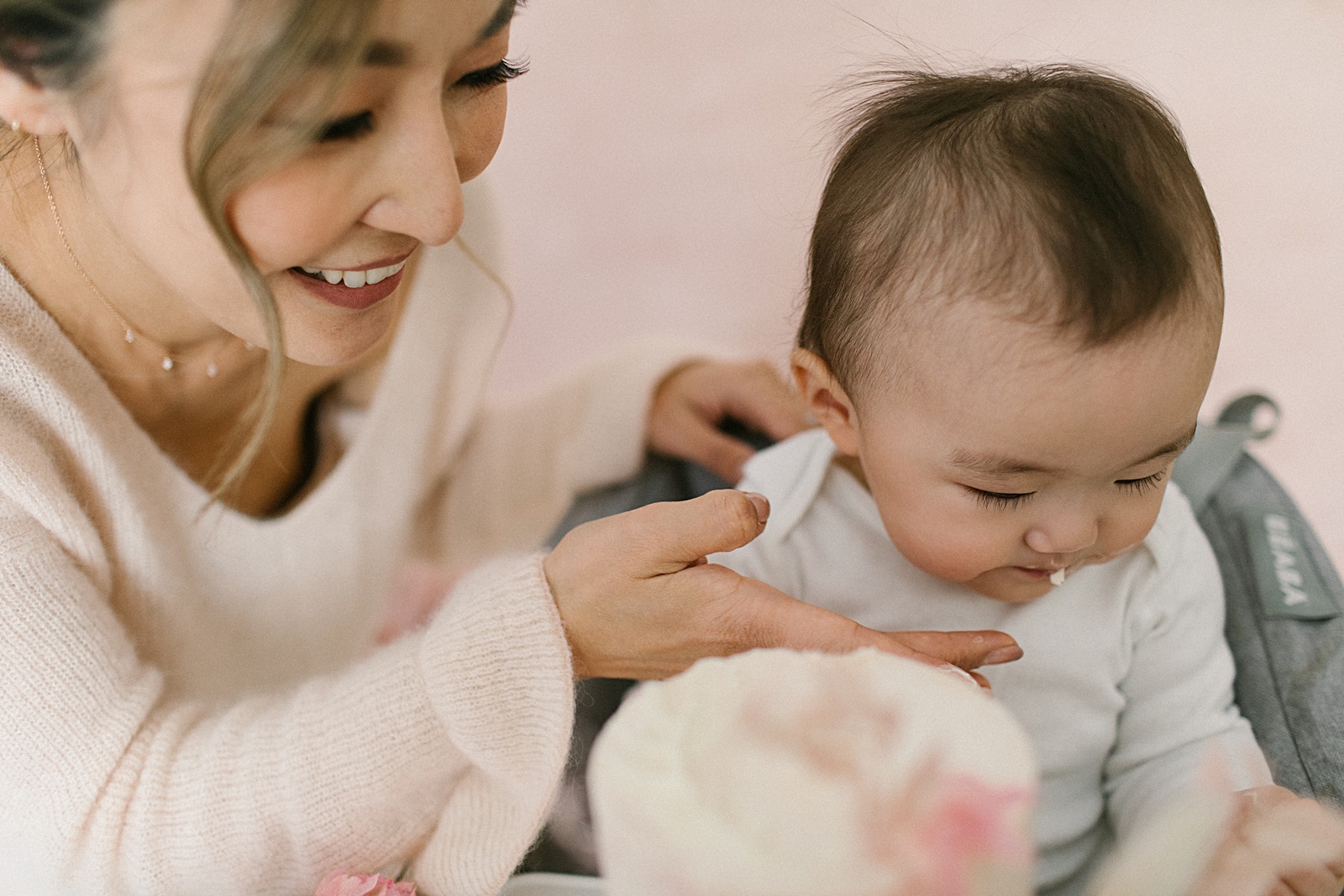 How To Do A Smash Cake Photoshoot At Home
Since we had to postpone her first birthday party, for obvious reasons (blame it on the rona!), we decided to get creative and create a special smash cake photoshoot for her at home!
To create this look, we used the following 5 main props:
1. Photo Booth Backdrop Frame
This is a very handy prop to have on hand. During the holidays we used the same frame to create an at home backdrop with cream linen sheets. You can find more inspiration for a simple DIY linen backdrop in my IG post

here

. Feel free to play around with hanging paper backdrops or even different colored or textured sheets like velvet linen for different looks and occasions.
2. Custom Pink Canvas Backdrop with a fuzzy white rug
Luckily, I had a close friend who had commissioned an artist to create this beautiful canvas backdrop in the perfect pink color. I understand not everyone has access to canvas backdrops like this one, so feel free to play around with hanging colored paper rolls as your backdrop, or even different colored and textured sheets. Something I considered was hanging the velvet linen we had, as it would look equally as beautiful and luxe as a backdrop. Any standard white fuzzy rug helps you create a seamless look in case your backdrop does not extend long enough.

3.
Dried Florals and Silk Gauze Runner
We used a dried floral arrangement from

Bloombox Designs

on top of an acrylic box and mauve silk runner for some height and texture. I love dried floral arrangements because they last forever and you can continue to reuse them with no issues. For some extra texture, I added the pampas grass that I already have at home in a large pink vase that I already had. It happened to be the perfect color and size vase to go with our overall look!
4. Acrylic Stand and Mini Wooden Stool
Ever since I discovered acrylic stands, I cannot stop using them. They allow you to play with different heights and depth in your photos, while keeping your images neutral, modern and clean looking. A mini wooden stool is perfect for photos like this because you can sit on it, or your baby can hold onto it for photos, and you can even use it as a stand for your floral arrangements.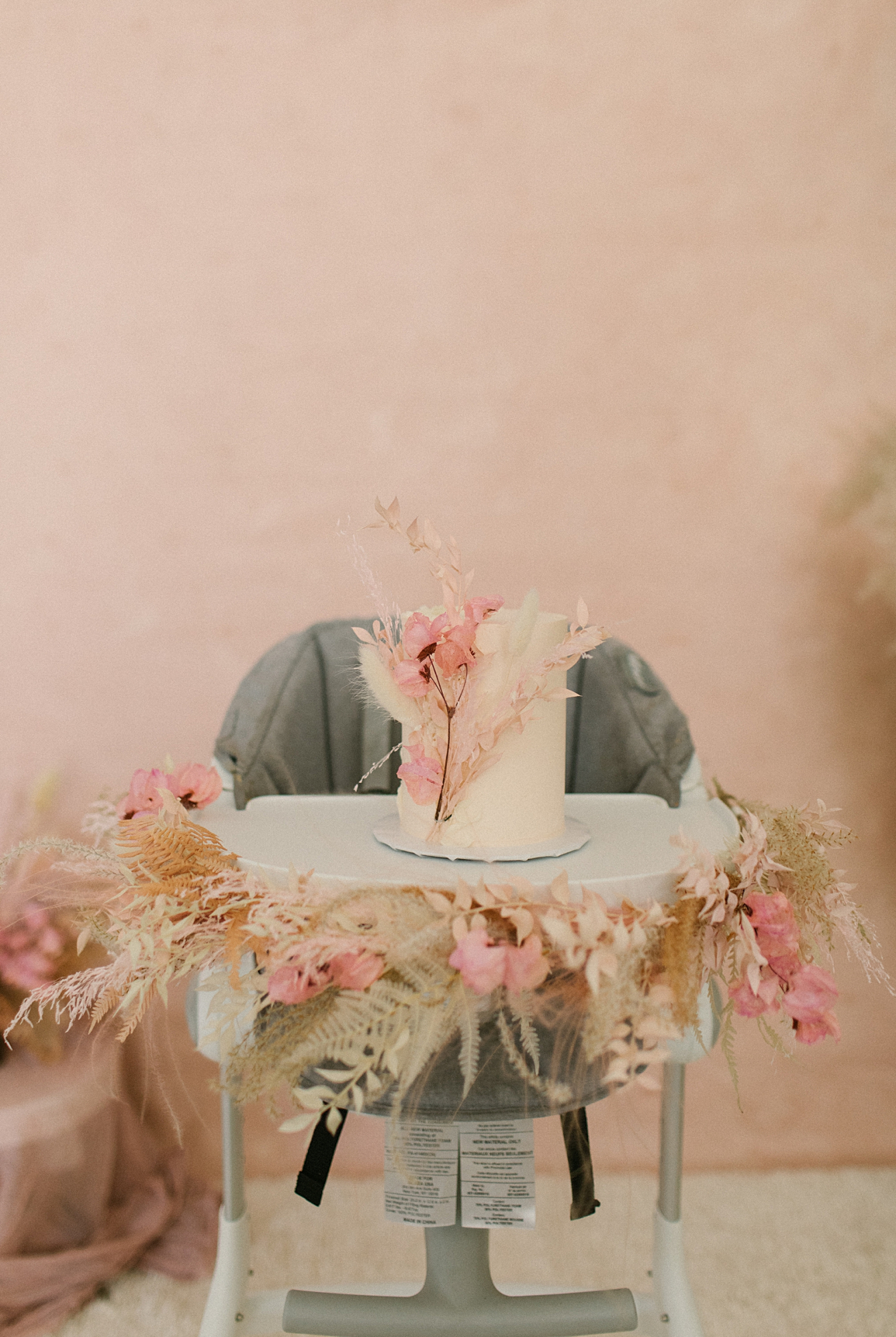 5.
Smash Cake and High Chair Decoration
Of course, this photoshoot was not complete without our smash cake! We ordered a double barrel sized smash cake from

Sweetleemade

and she decorated it with coordinating dried flowers. It was the perfect nude pink color and had just the right amount of buttercream texture mixed with the dried floral decorations. Something that is often overlooked is the high chair decoration. We had

Bloombox Designs

provide a high chair garland that coordinated with our main dried floral arrangement. This garland was the perfect final touch and the best part about it being dried, is that I can repurpose it as my mantle decoration throughout the year!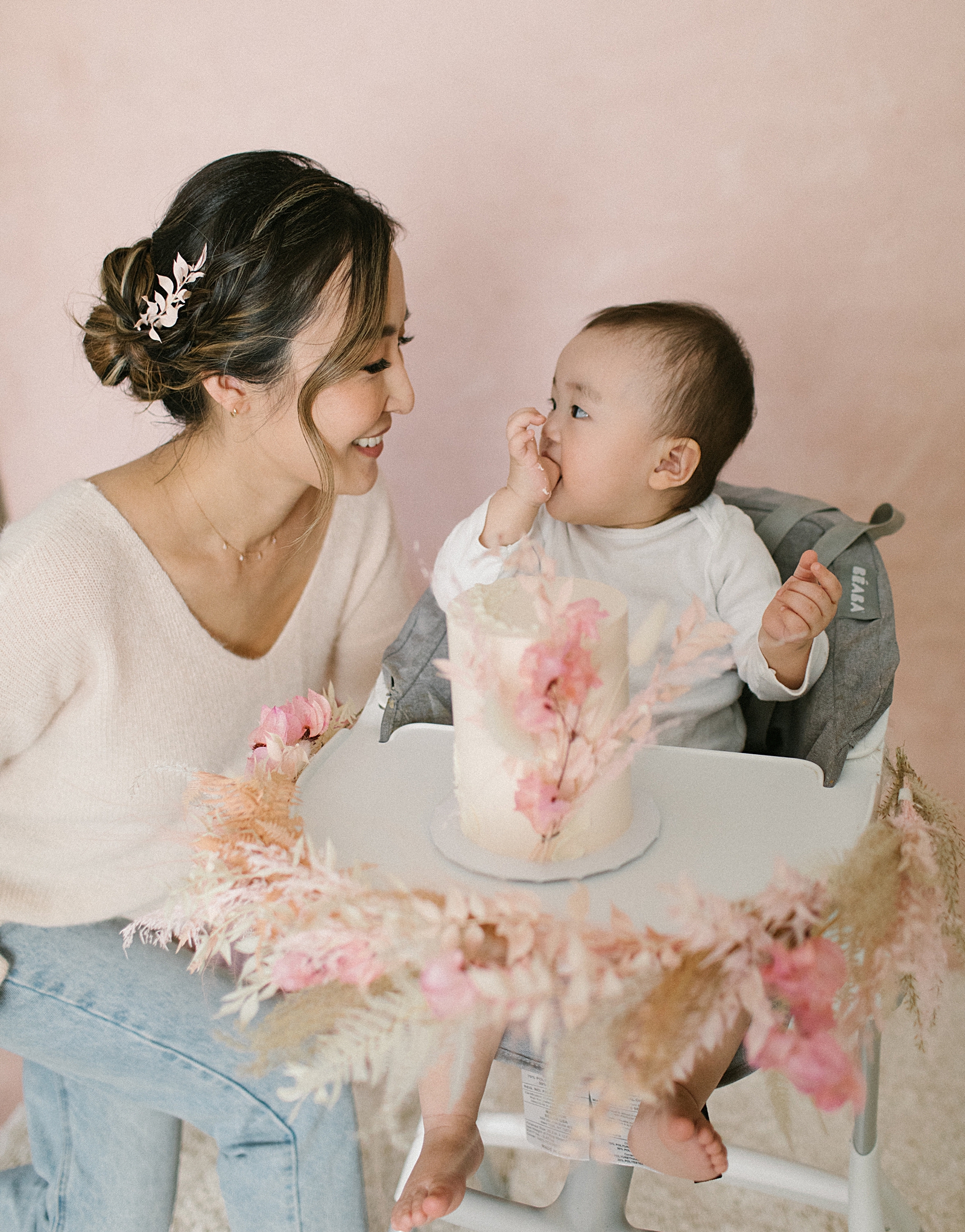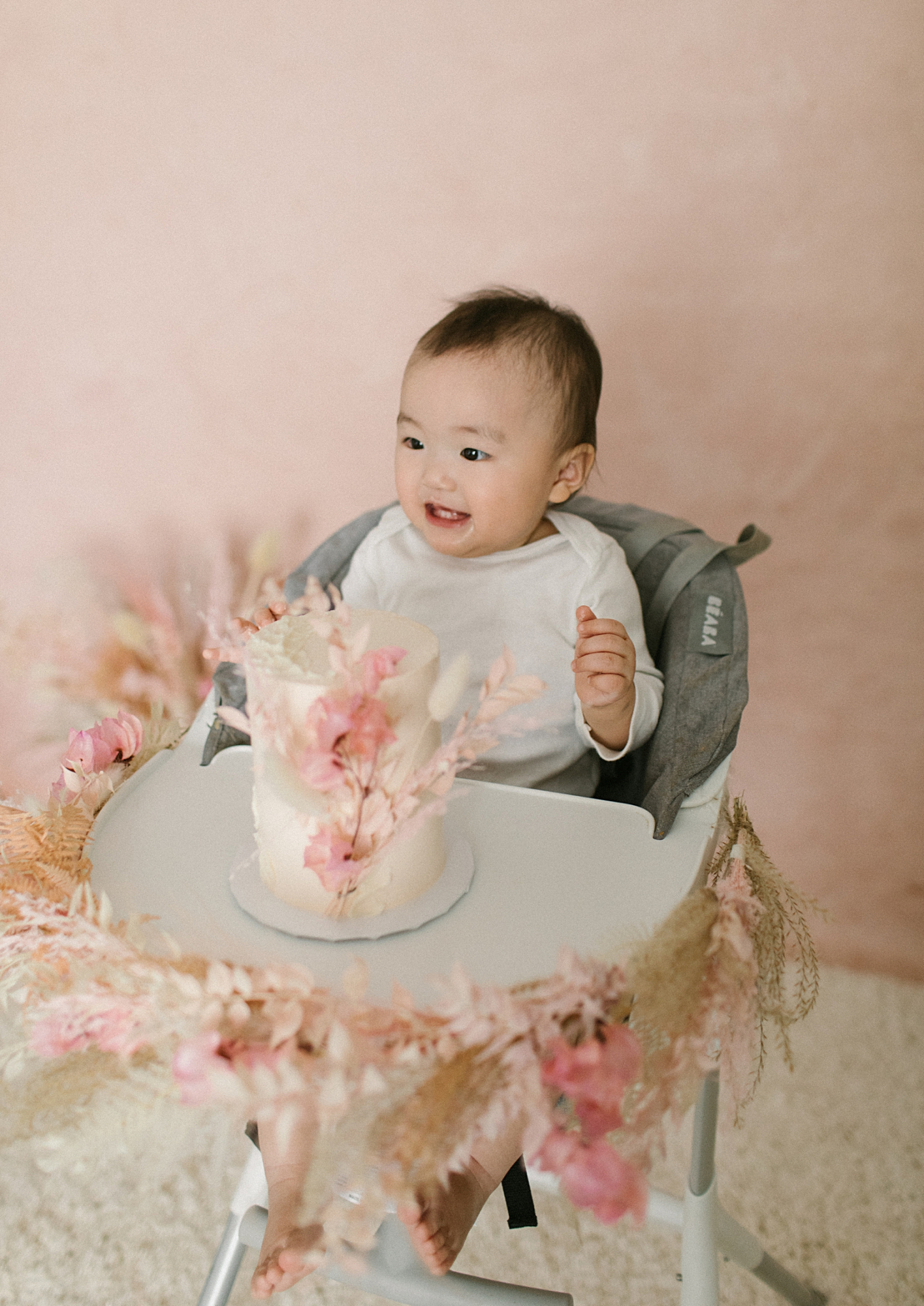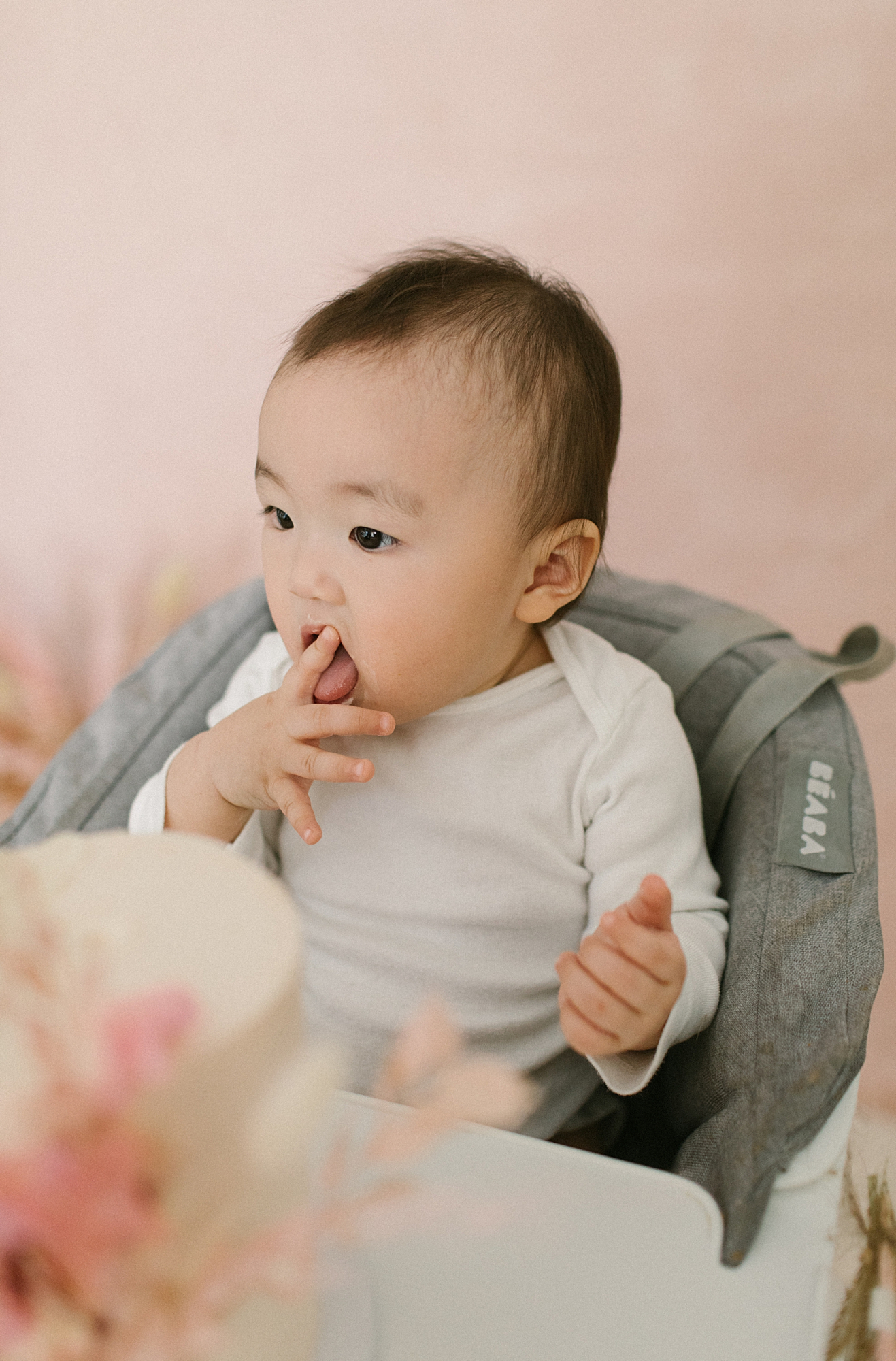 Even though it was unfortunate that we had to postpone her birthday party, I am happy we were able to celebrate through this fun and safe photoshoot. I love you my little Gia Rumi. You complete our family and brighten up our days. I will continue to love and cherish every moment with you. Happiest Birthday baby girl!
Vendor List:
Photography: Esther Sun
Design: So Happi Together
Hanboks: Meehee Hanbok
Florals: Bloombox Designs
Cake: Sweetleemade
Hair and Makeup: Kelly Zhang Studio