I decided to throw Tessa a large 13th birthday celebration last year, because I knew that with a baby on the way, I would not be able to have a large celebration for her this year. Little did I know, she wouldn't even be able to have a small slumber party with her girlfriends to celebrate turning 14 this year due to the pandemic. Nevertheless, I still wanted her day to be special, but knew we had to keep it to our immediate family only.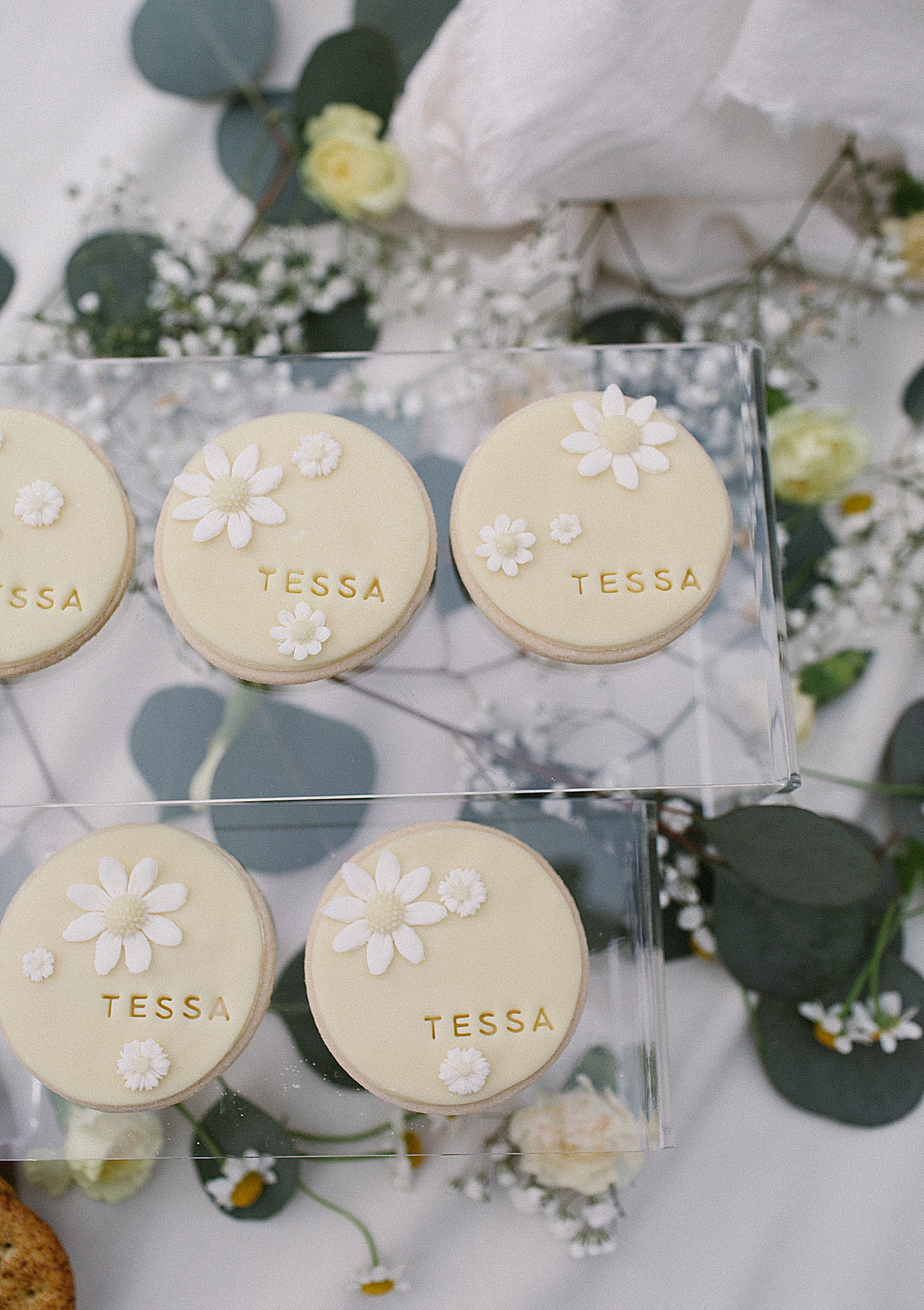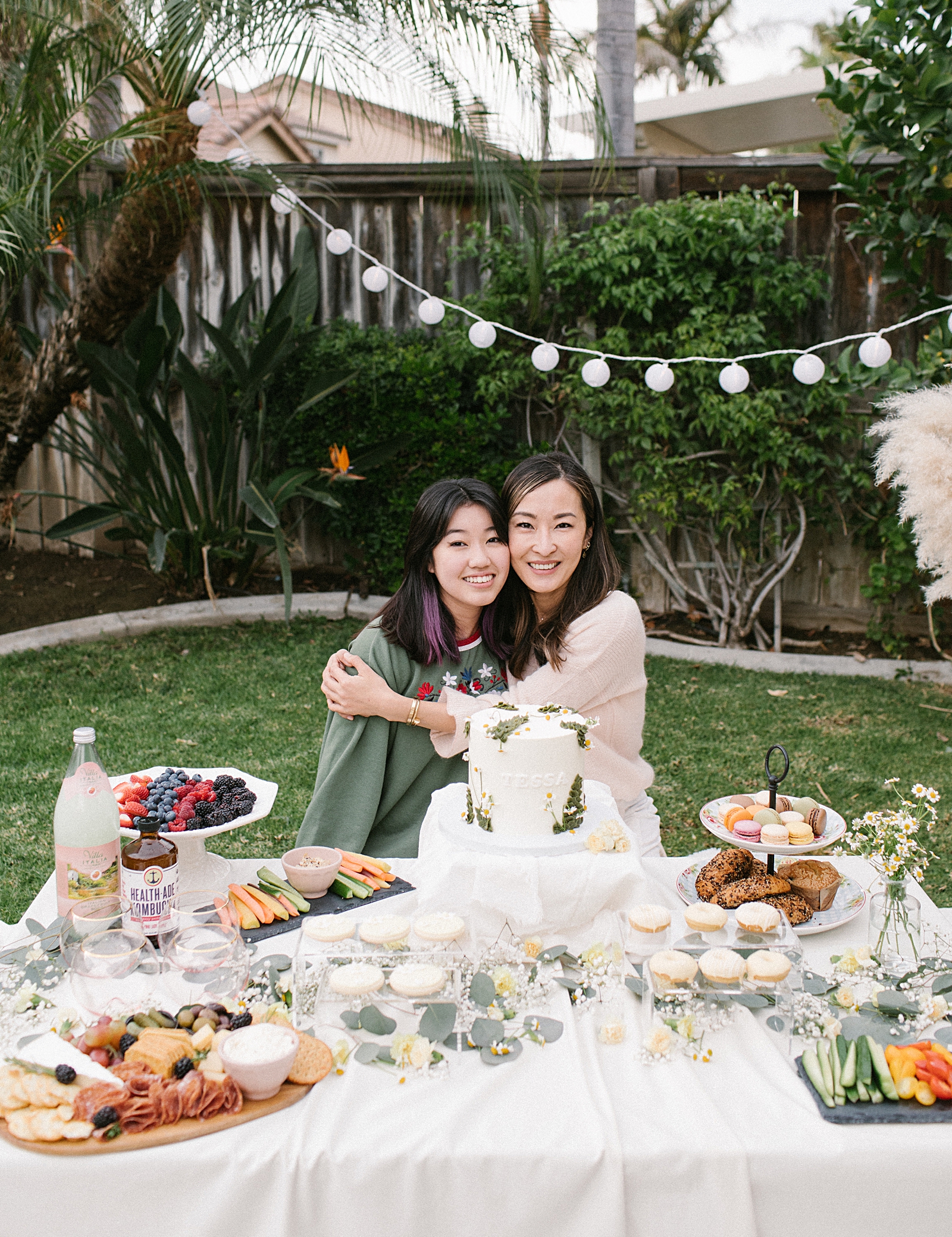 Dreamy Backyard Birthday Picnic
I did some digging and found her Pinterest board for some inspiration and decided to set up an intimate backyard picnic. Currently, her favorite color is yellow, so this design was inspired by the yellow center and wildflower aesthetic of the dainty chamomile flower.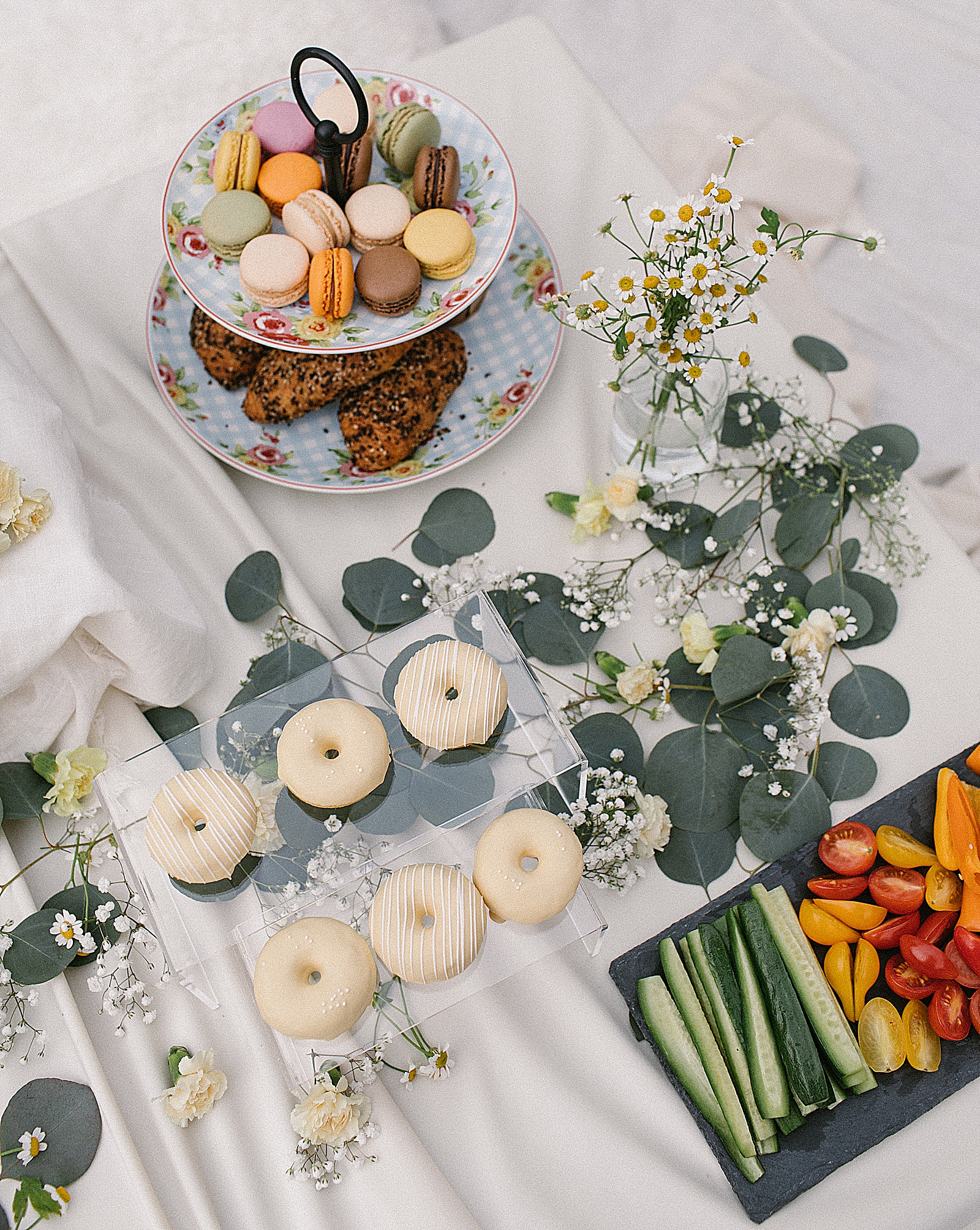 This chamomile flower reminds me of her bright personality and warm aura. I have been seeing them a lot at the grocery store lately and knew I had to incorporate them into the design. Luckily, she was in her room all day for virtual learning, so we were able to surprise her with this set up.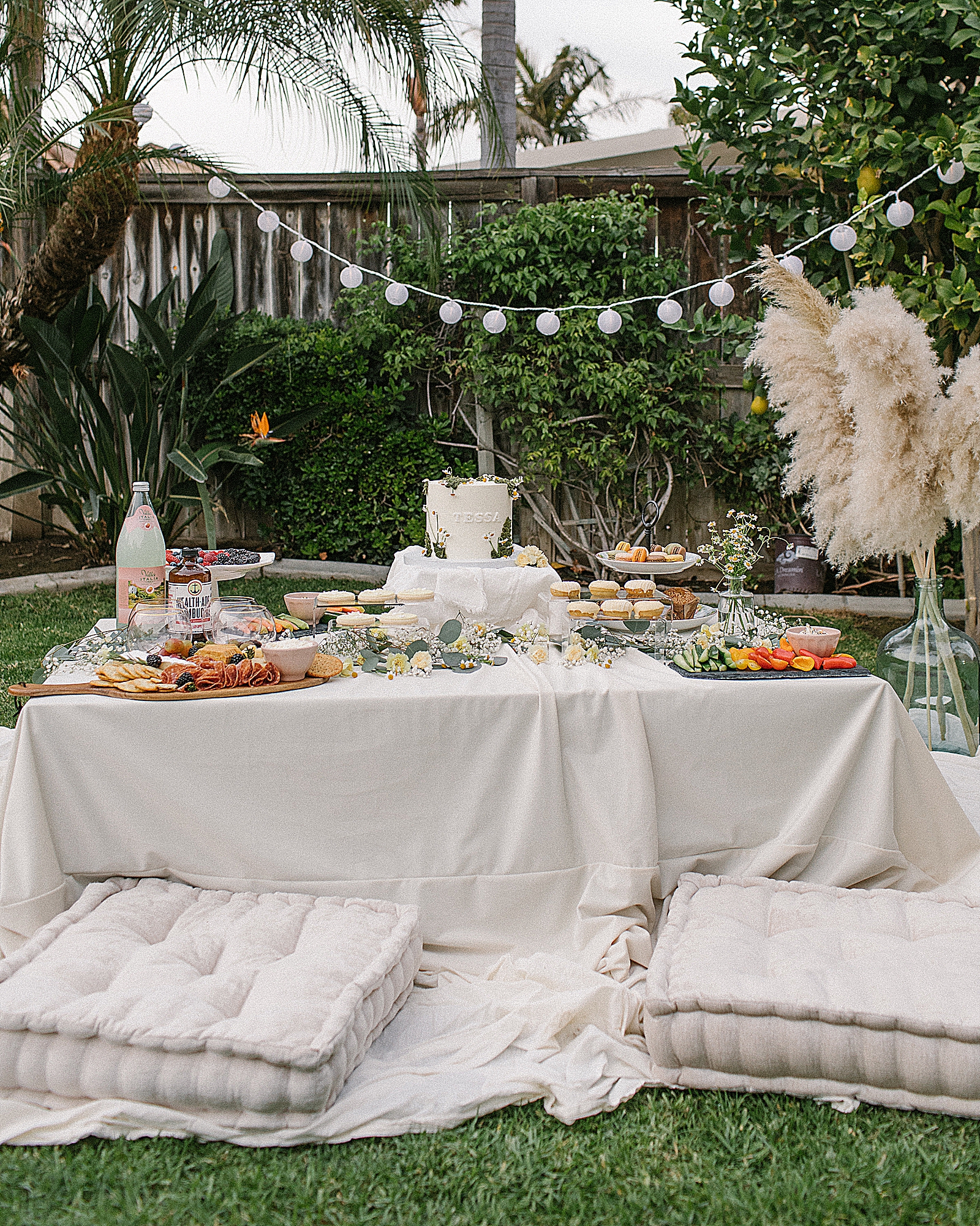 We started by laying tarp down on the grass to keep our linen sheets and coffee table dry. Yes, we used our living room coffee table for this – it happened to be the perfect size and height! We covered the tarp with regular white linen sheets. To create a more cozy look, we draped our velvet linen over the table and let it drape and wrinkle freely. I even bunched up the top so that it would look more organically draped and not so perfect.
To finish off our seating, we added floor cushions, but you can use any cushions from your couch or large pillows for this!
We completed the overall look with string lights and pampas grass that's usually a part of my mantle decor.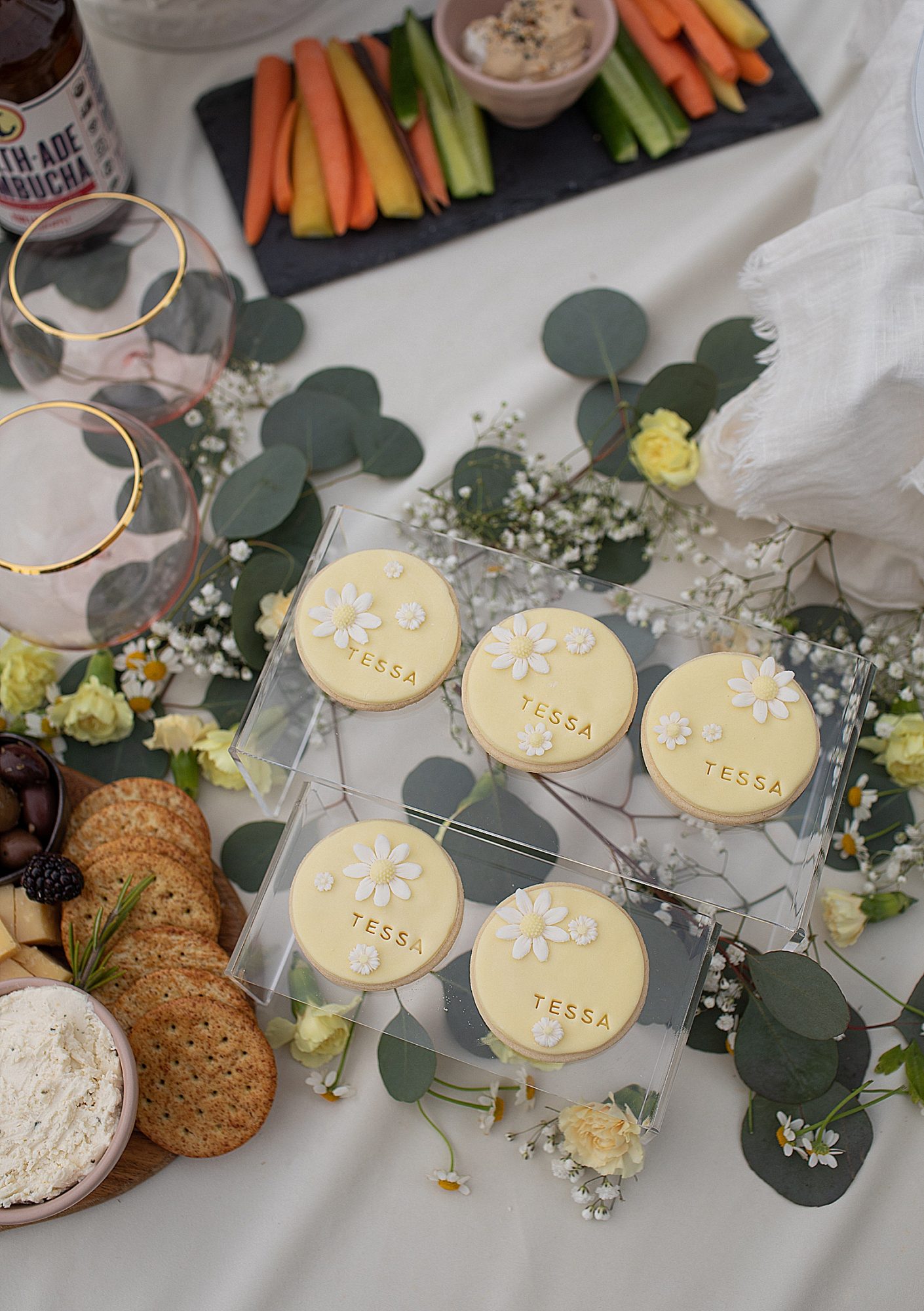 For floral decor, I used affordable flowers from the grocery store as a 'floral runner.'
My floral composition consisted of eucalyptus, baby's breath, chamomile, and 2 yellow shades of mini carnations. I started with the eucalyptus leaves as my base, then filled it in with the baby's breath and chamomile.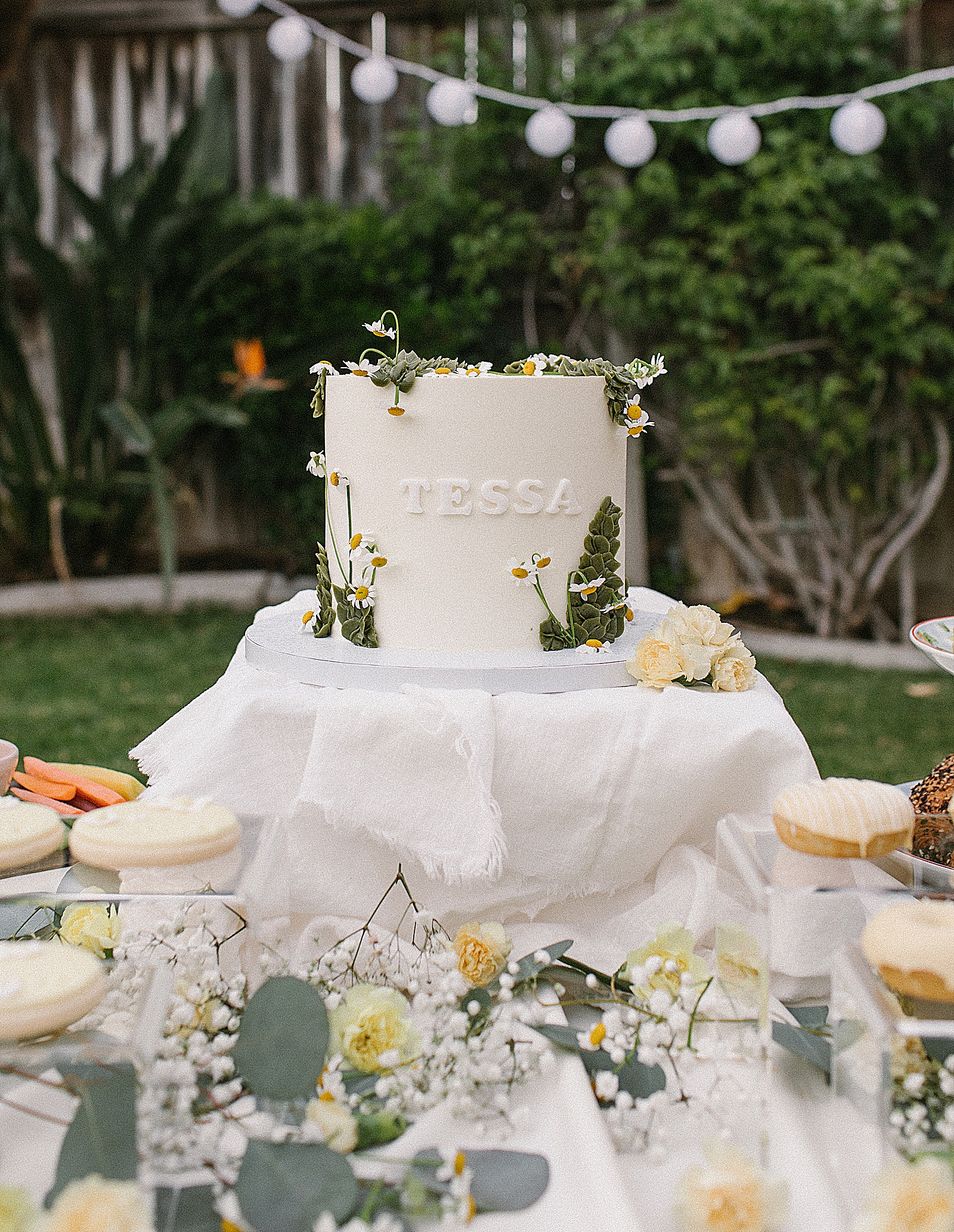 Finally, I sprinkled the carnations throughout and it made for the perfect combination to compliment the custom cake, cookies and donuts from Sweetleemade. I told Cindy from Sweetleemade that my inspiration for the cake was chamomile with a touch of organic greens and she did not disappoint! Tessa absolutely loved it and the coordinating yellow floral cookies and yellow donuts were the perfect addition.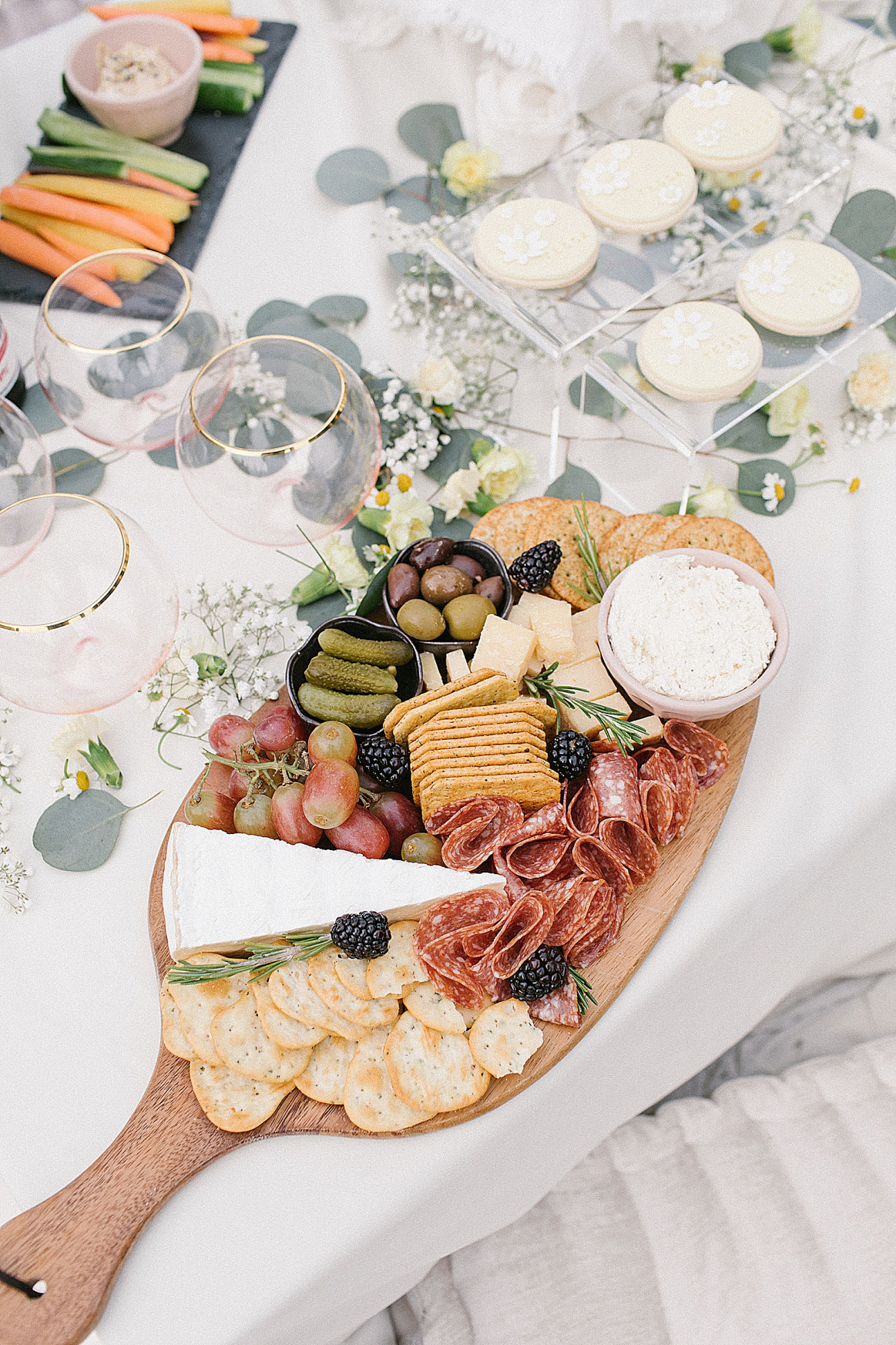 Besides the custom cake and desserts, we surprised her with her favorite foods like sushi, ramen, veggie crudite, a colorful fruit platter, cheese and charcuterie and assorted macarons. Of course, we had to throw in her favorite flavored kombucha. Lastly, D's gift to her this year was her favorite mango gummies from Trader Joe's. I don't know if it was really her gift though, since he seemed to devour half the bag within minutes.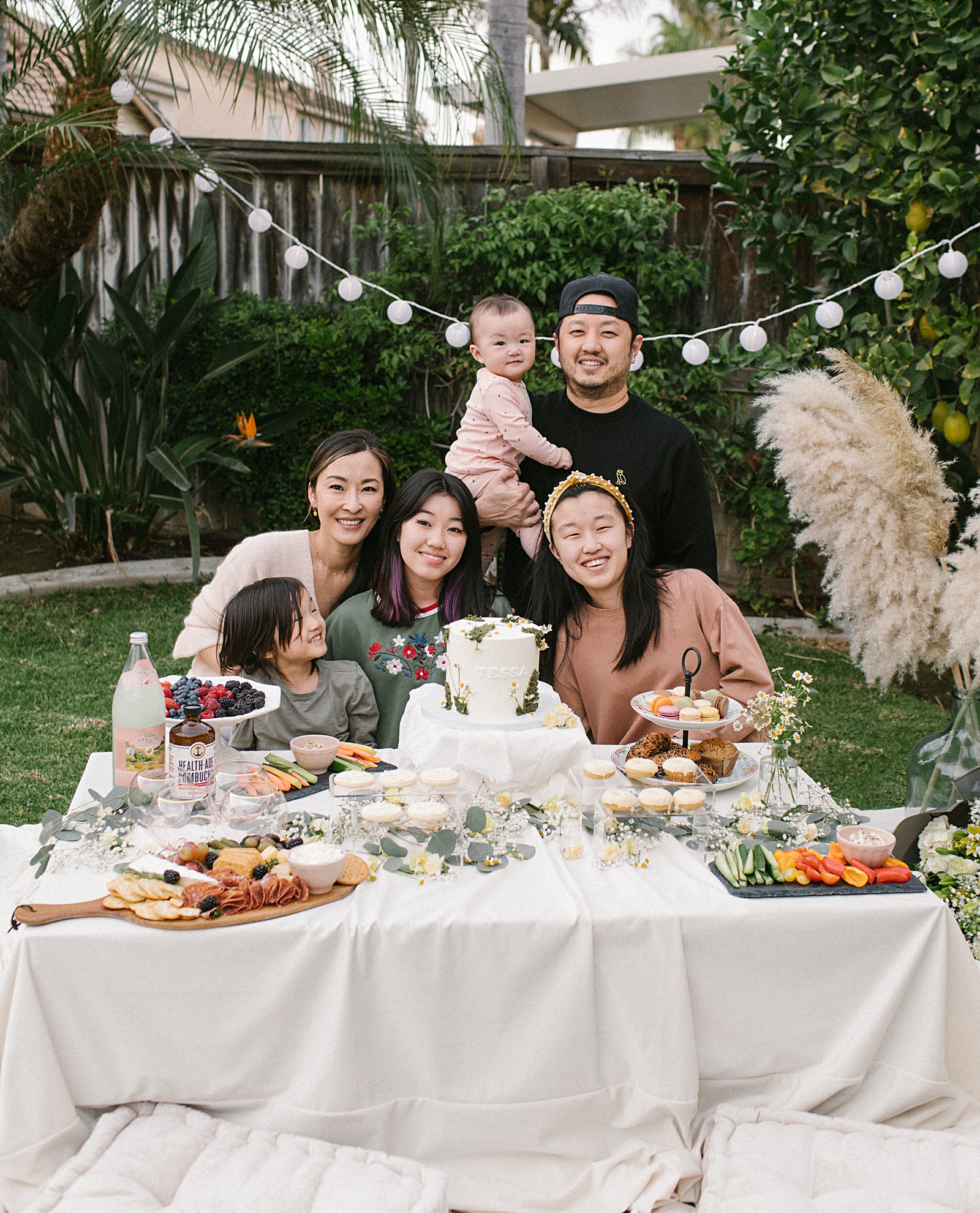 The family had such a special time celebrating Tessa's 14th birthday and I hope she always remembers how special and loved she is.
This setup was so easy to create and I hope it inspires you to do something like this for your friends or family. We were able to create this with most of the items we already had in our home. Just because the celebrations are smaller right now, it does not mean that they can't be curated and special.
Happy 14th birthday Sweet T. I love you so much and I'm thankful you're my daughter. Check out her Hollywood themed birthday party for her 9th birthday!
Additional links
Velvet linen:

Assorted acrylic boxes and stands:

Floor cushions:

Linen Sheets:
Cake Stands:

Tarp:

Wooden Cheese Board:

Slate Cheese Board:

String lights:

Extension cord:

Tiered dessert stand: