Since my Fall holiday tablescape involved moodier colors and seasonal fruits and florals, I decided that I wanted my Christmas tablescape design to be light and cheerful with little to no florals.
This year, I decided to use what I already had from my mantle decor and incorporate it with mini wrapped gifts that would also be given away. Virtually a no waste tablescape design!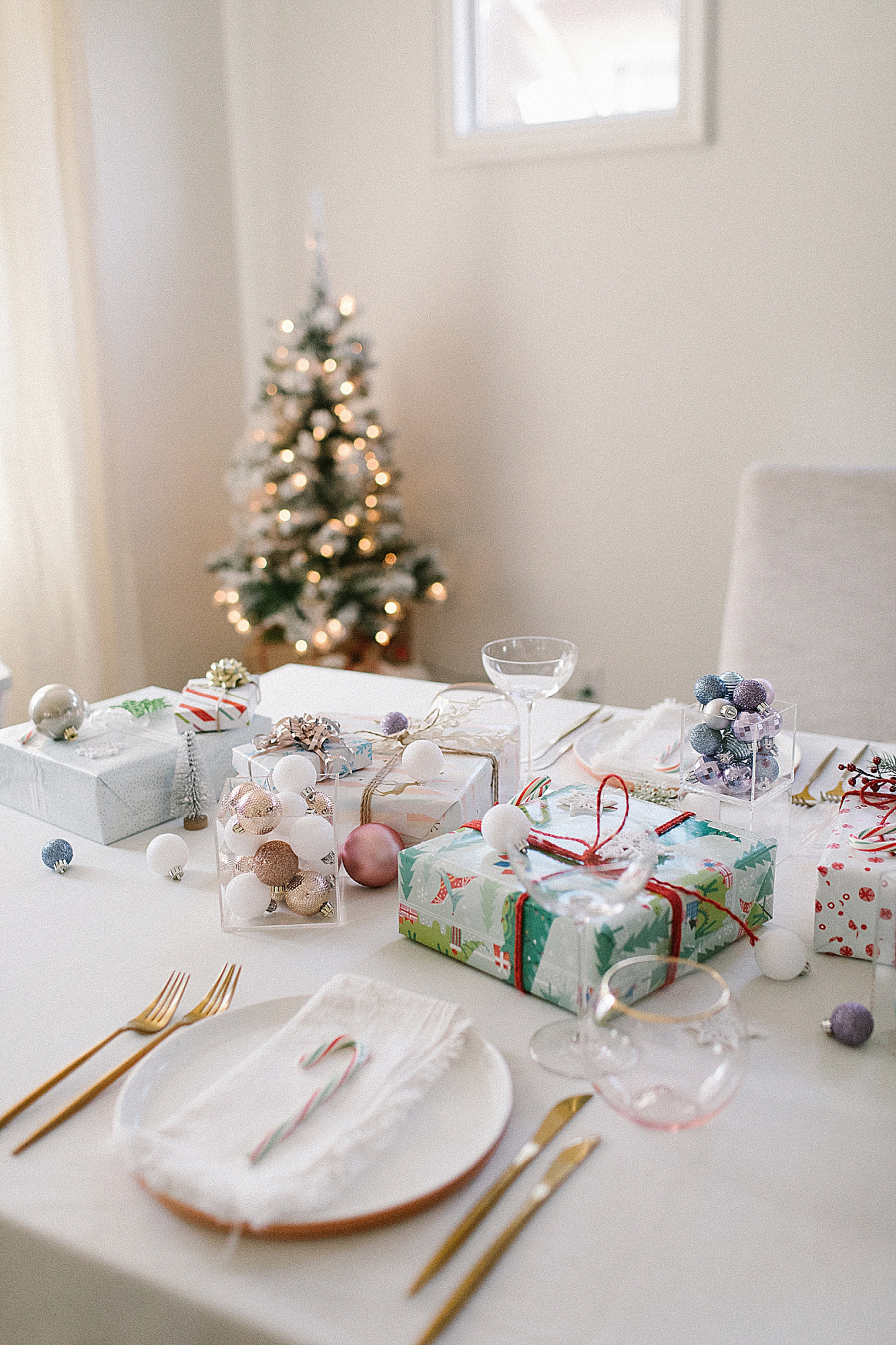 The end result was cheerful, modern, and very easy to create. I also love how the pastel mantle decor I have matches this tablescape so the design in my home looks cohesive and well thought out.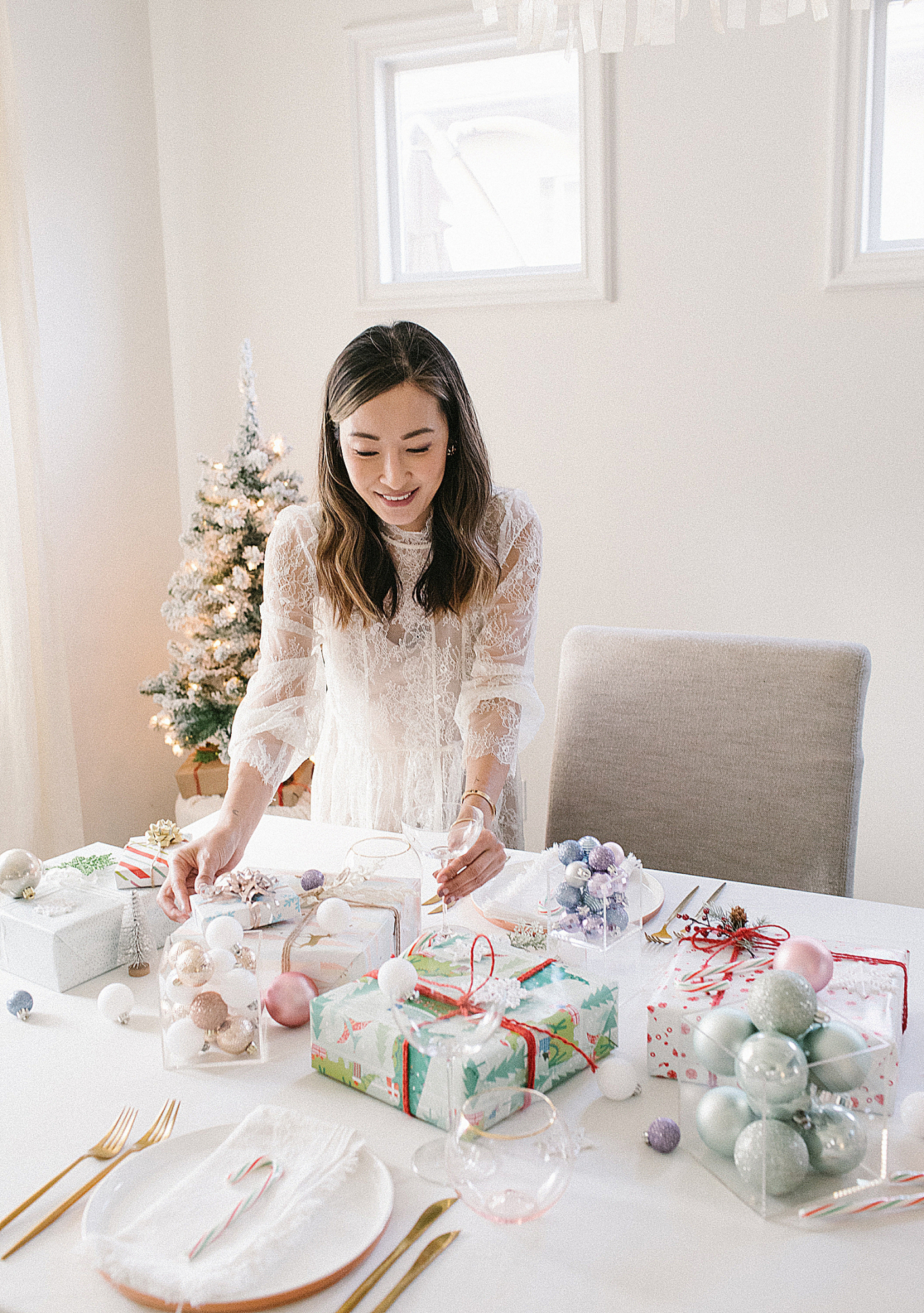 How to Create Your Pastel Holiday Tablescape
To achieve a clean, curated and modern look, I covered my farm table in a velvet ivory linen as a clean backdrop for the decor. The velvet texture gives a luxe feel, while still feeling warm and cozy.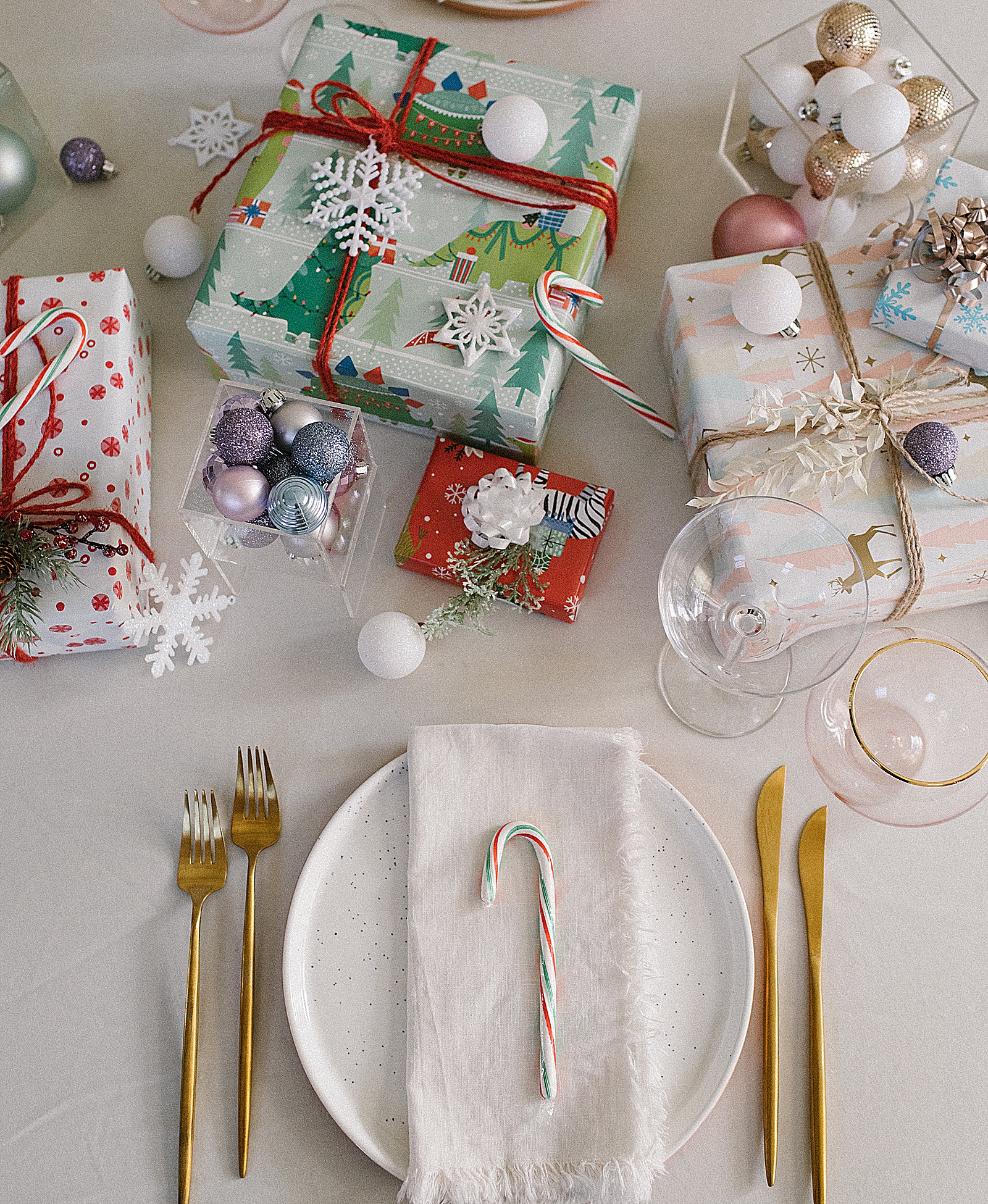 You can choose any color palette you want for your assorted-sized wrapped boxes, but I decided to go for light pastel colors with matte and glitter accents.

Some other fun color palettes you can consider include the traditional red, green and white, just red and white, or different shades of one color for a monochromatic look. I even considered dark forest greens and emerald greens. Ultimately, I chose the pastel colors because I'm a sucker for pastel pinks, greens, blues. No matter how hard I try, I'm always drawn to these colors.



It may look like I had to purchase a lot of different wrapping paper to create this look, but my secret was actually purchasing double-sided wrapping paper.
My pack of 3 rolls was essentially 6 rolls of wrapping paper. What I also loved was that one side had pastel colors and the other side had more traditional red, green, and white-colored wrapping paper. I was able to incorporate the pastel colors I love along with subtle touches of the traditional red and green colors we see during the holidays by utilizing the other side of the paper.
Feel free to have fun with the way you wrap twine and ribbon around your gifts. I also share tips on how I like to decorate my presents in this blog post about easy and affordable ways to DIY gift wrapping.



The mini boxes were amazon gift cards that I will be gifting to friends and the larger boxes had gifts in them that I had purchased for my family. These gifts were on the smaller side, so they fit perfectly in 8''x8'' literature mailers. This size worked really well on my table and showed juxtaposition next to the smaller gift card boxes.



Since I used acrylic boxes and stands with mini ornaments on my mantle, I was able to repurpose the items from my mantle and use them on the table. To add the final holiday touch, I scattered various sized ornaments throughout the center of the table along with a few candy canes.


Place Setting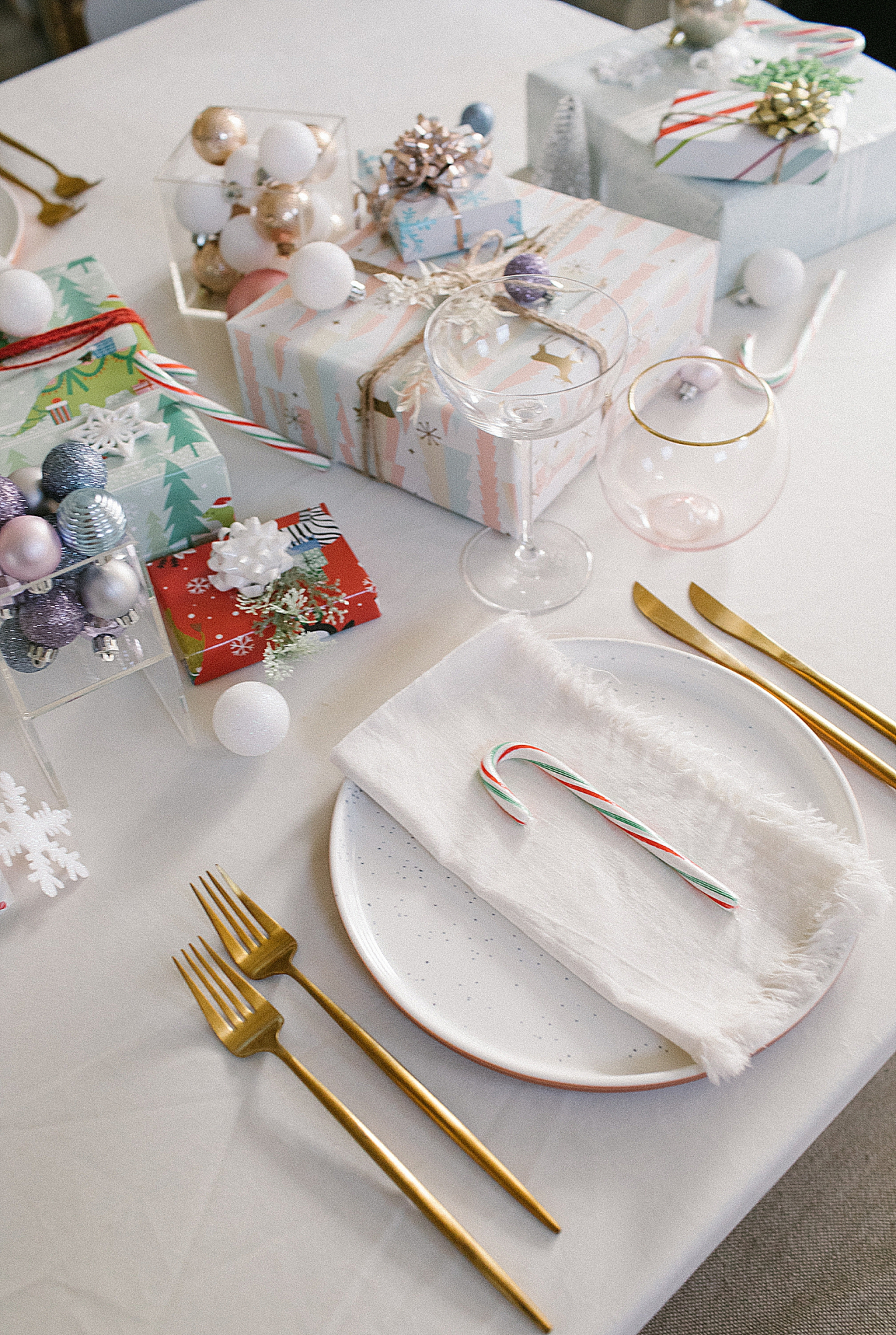 I kept my place settings simple with items I already had, and then added a stemless blush gold rimmed wine glass to add a subtle touch of the pastel tone to the place setting design. I used the same napkin from my Fall table, but folded it in a rectangle for a cleaner look. And lastly, because I am all about edible details, I added a candy cane to each place setting as a treat for each guest. You can consider tying a place card around the candy cane as a simple place setting idea.



You don't need to spend a lot of money on extravagant florals to create a fun and festive holiday tablescape! I hope you find these tips useful to create your version of this Holiday tablescape.