It's that time of the year again- a season of hosting dinners for loved ones and counting blessings. The holiday season may look different this year with smaller sized gatherings but that's no reason to NOT celebrate with loved ones right?
This year my team and I came up with a tablescape idea that's festive and cost-effective at the same time- using edible items as the table decor. This not only brings seasonable goodness to the table but also doubles as an edible tablescape that's pretty to look at AND delicious!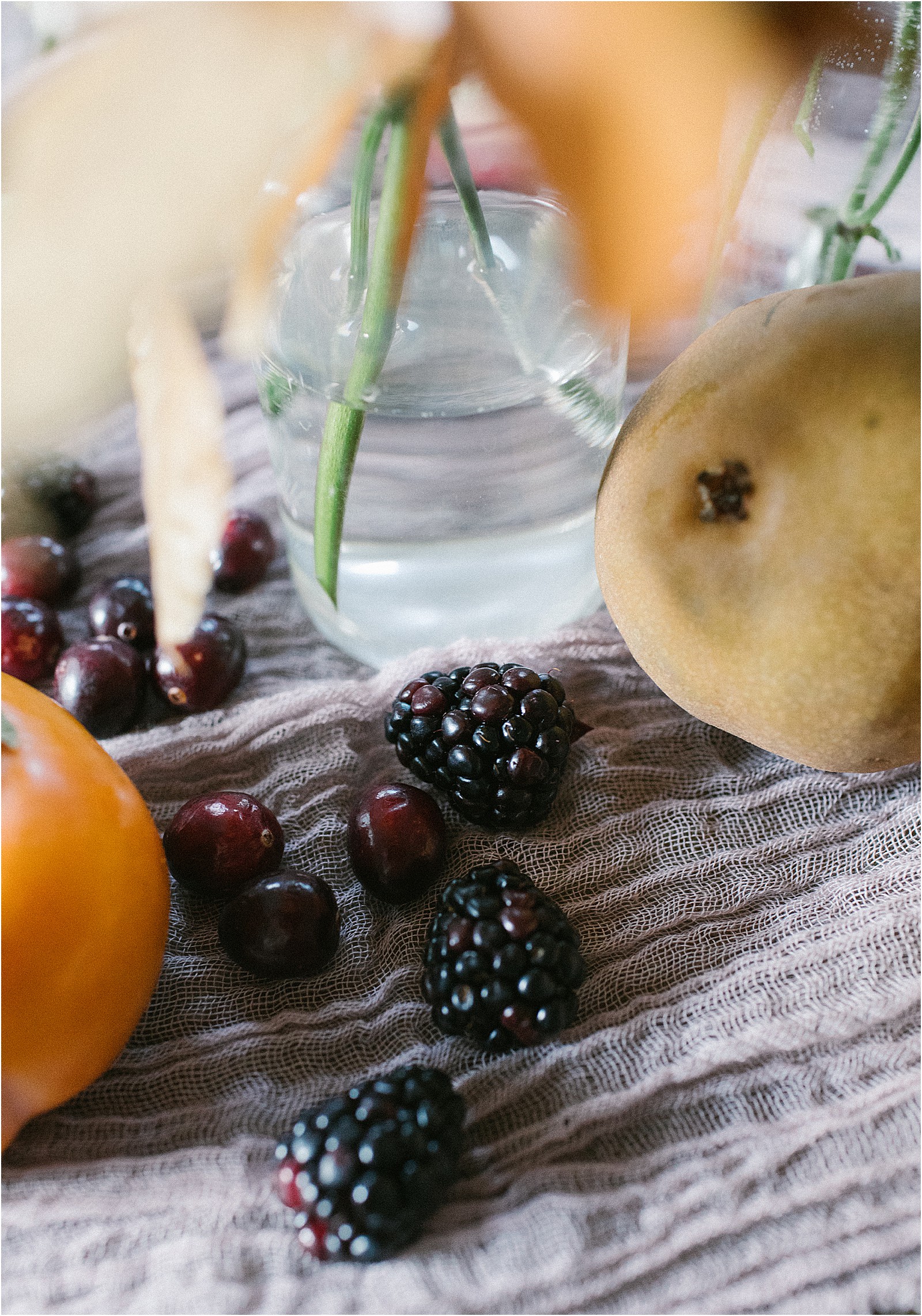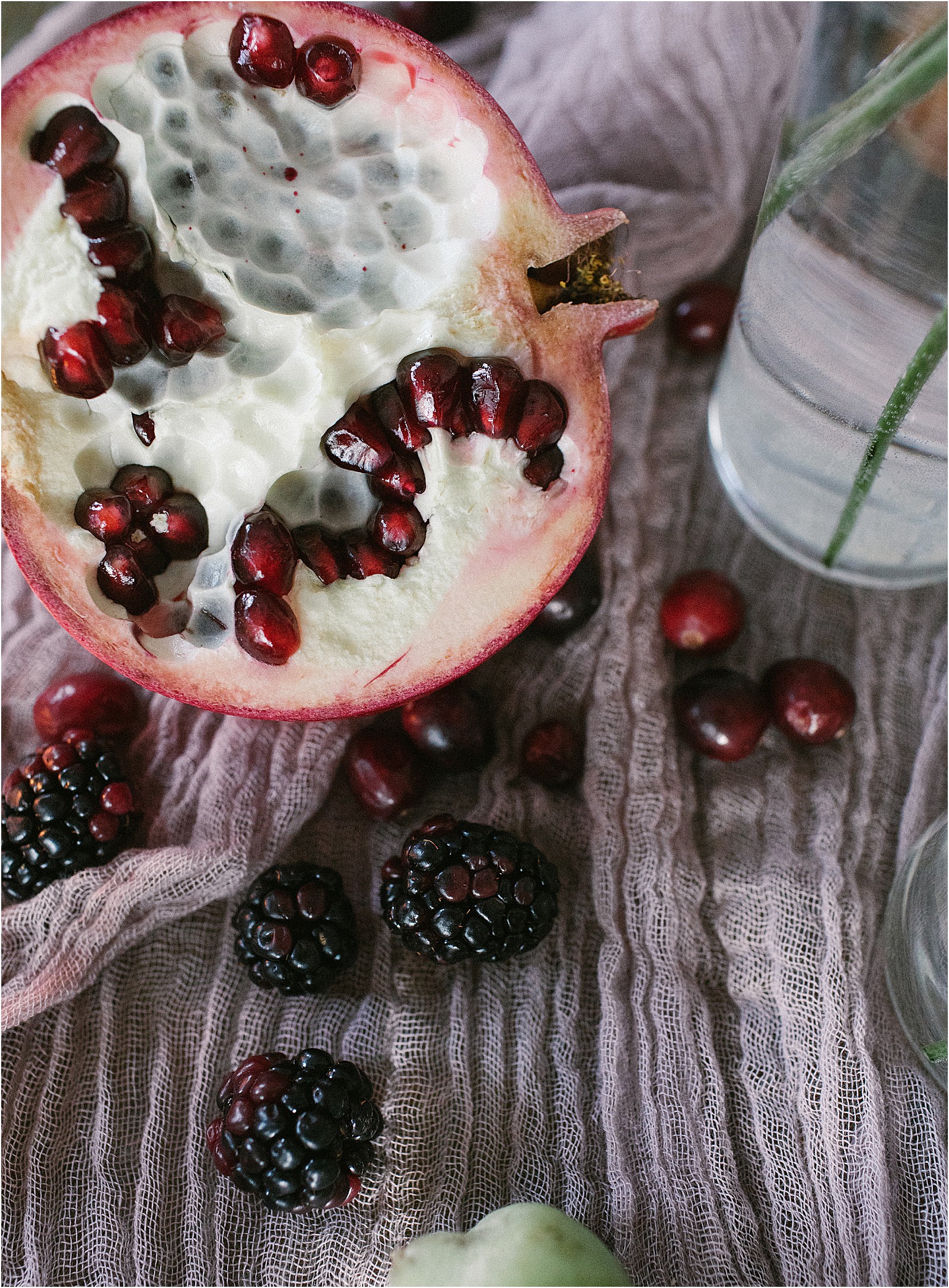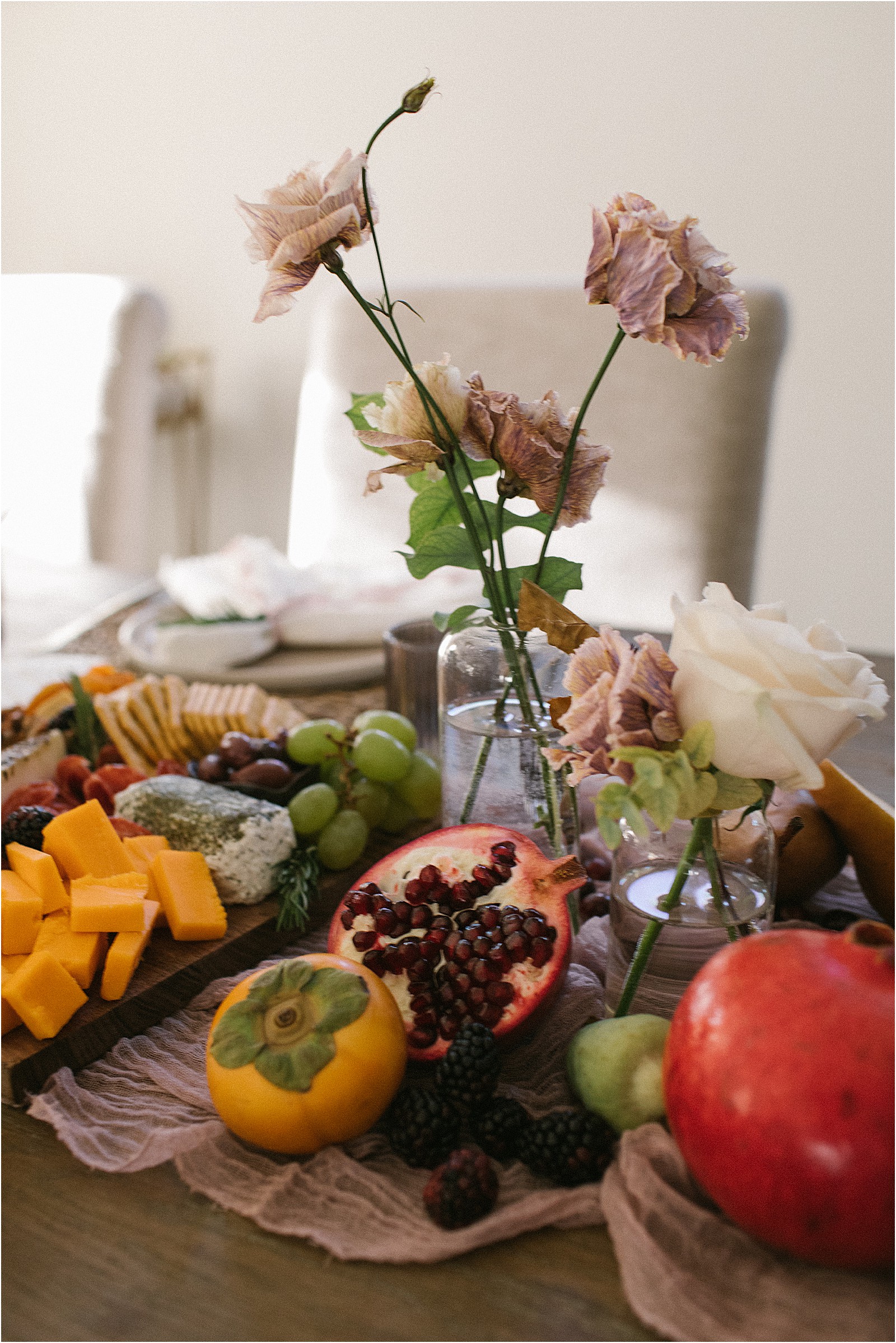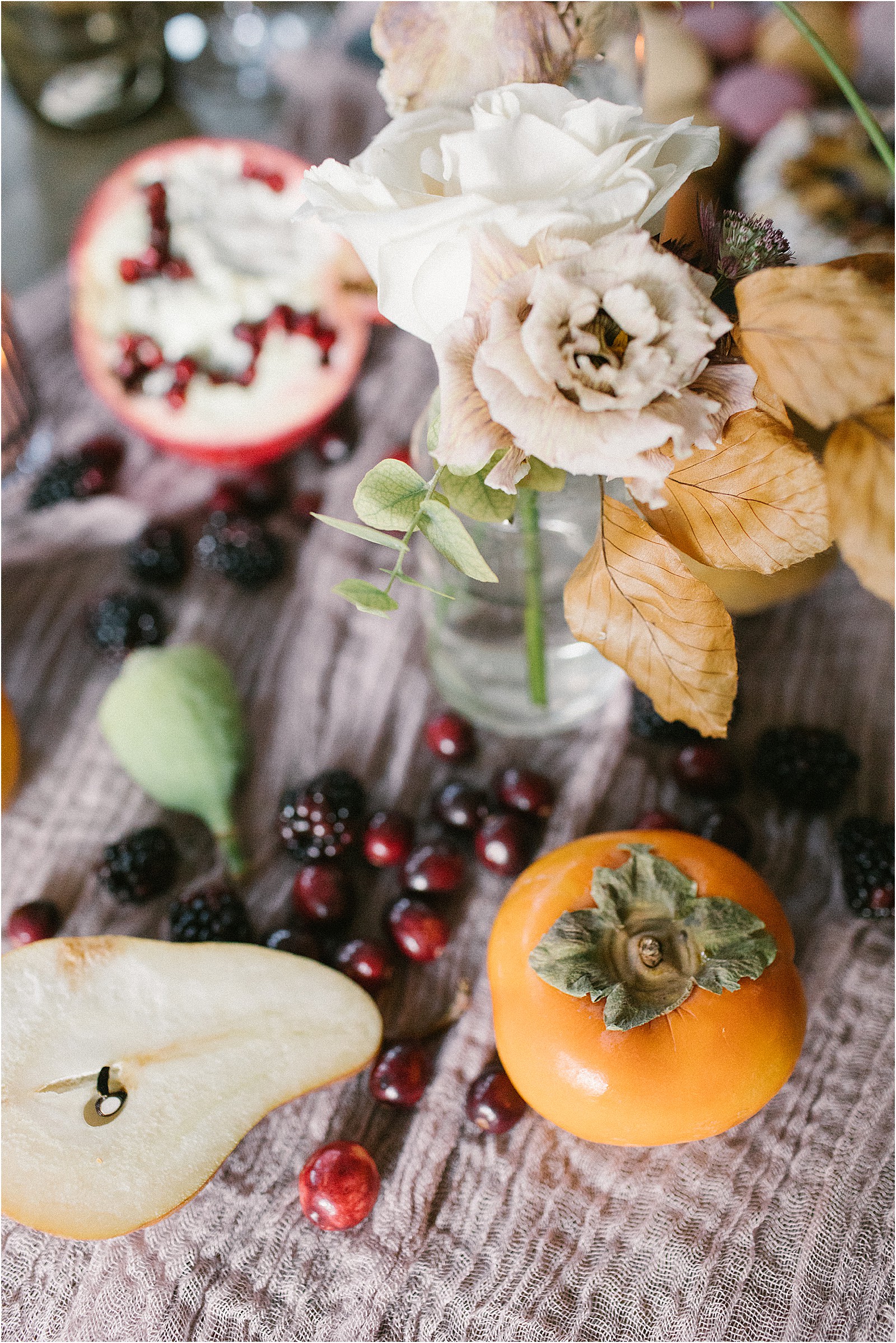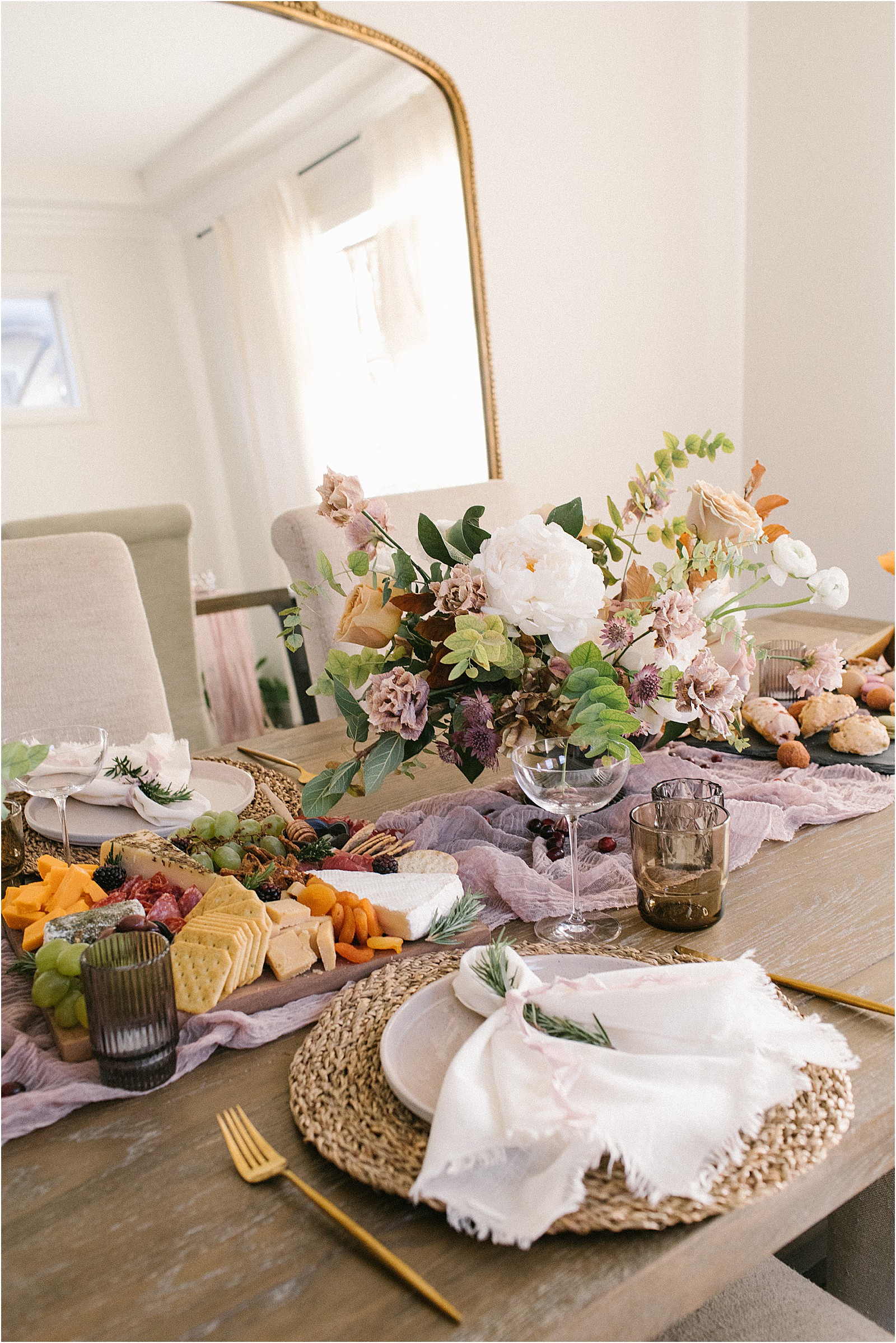 To give you ideas, we placed beautiful custom florals by Heavenly Blooms but you can use any flowers in neutral, fall colors to dress up your holiday table. Even simple floral arrangements from the grocery store will do!

5 TIPS FOR CREATING THE PERFECT EDIBLE FALL HOLIDAY TABLESCAPE
1. Use seasonal fruits throughout the decor
We picked up all the seasonal fruits to add more of the yummy Fall/Winter tones into our overall design. Not only does it add to the overall design, but it is also something your guests can enjoy . Our seasonal fruit included pomegranates, blackberries, assorted grapes, persimmon, and cranberries. Some additional fruits to consider include, but are not limited to figs and plums.
You can choose any kind of fruit that's on the same color palette as your design. Get creative and have fun with it!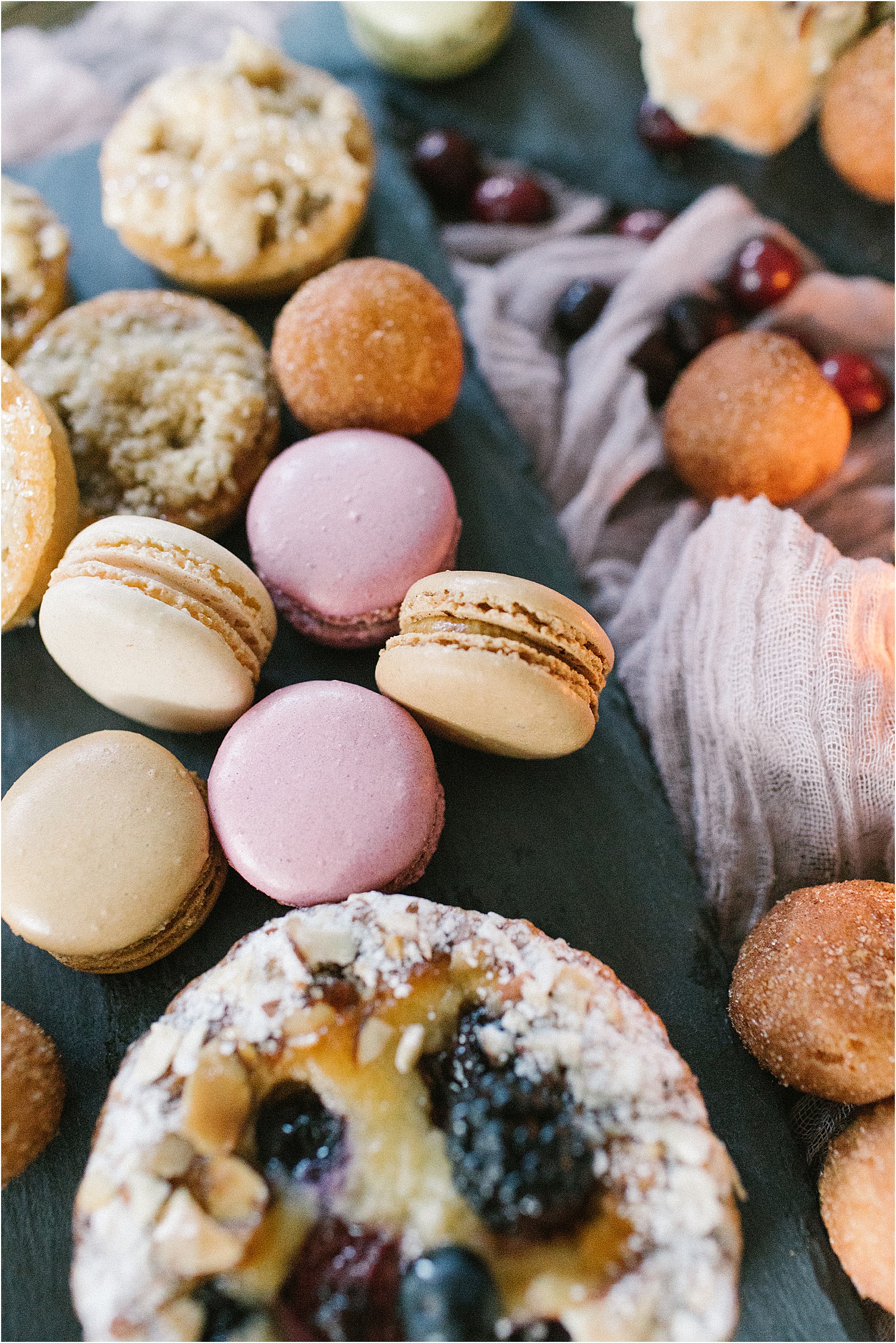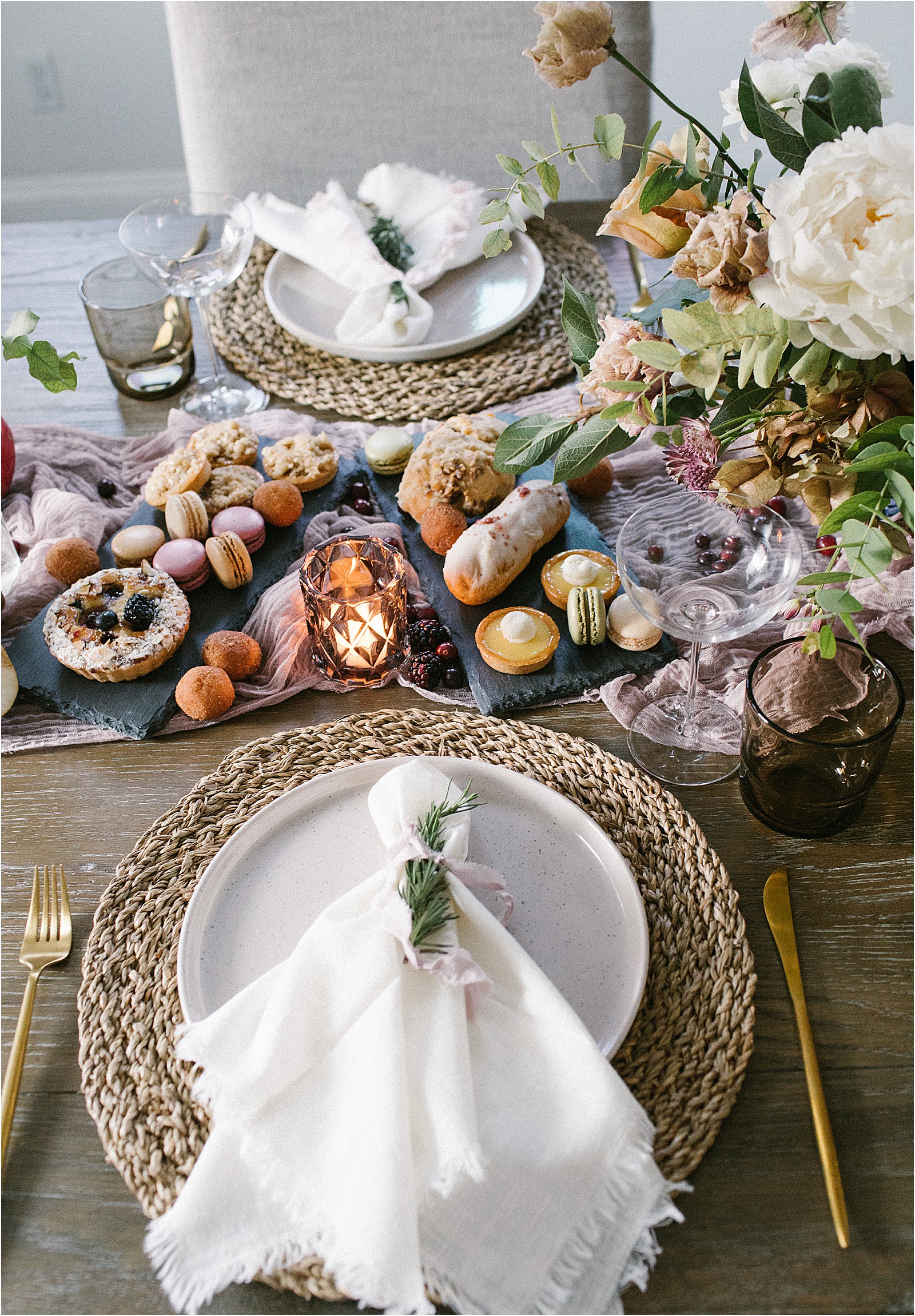 2. 'On the table' appetizers and desserts
It's always great to give guests something to nosh on as everyone gets comfortable at their seats, so why not incorporate that into the table setting design? A crowd favorite appetizer is a cheese and charcuterie board. You can use any sort of wood cutting board or cheese board that you prefer and it instantly adds another element of color and doubles as a tasty appetizer for guests to enjoy before diving into the main course.
And who says you can't have dessert before dinner?
You can consider adding a more traditional assorted bread bowl with butter – it's always fun to throw in some flavored butters that you can easily make like, honey butter or garlic herb butter. However, we decided to add a variety of mini desserts and treats. Guests can either enjoy a bite or two before dinner, or save it to enjoy after!
Either way, the desserts add to the color and design of the table, while also doubling as something guests can enjoy.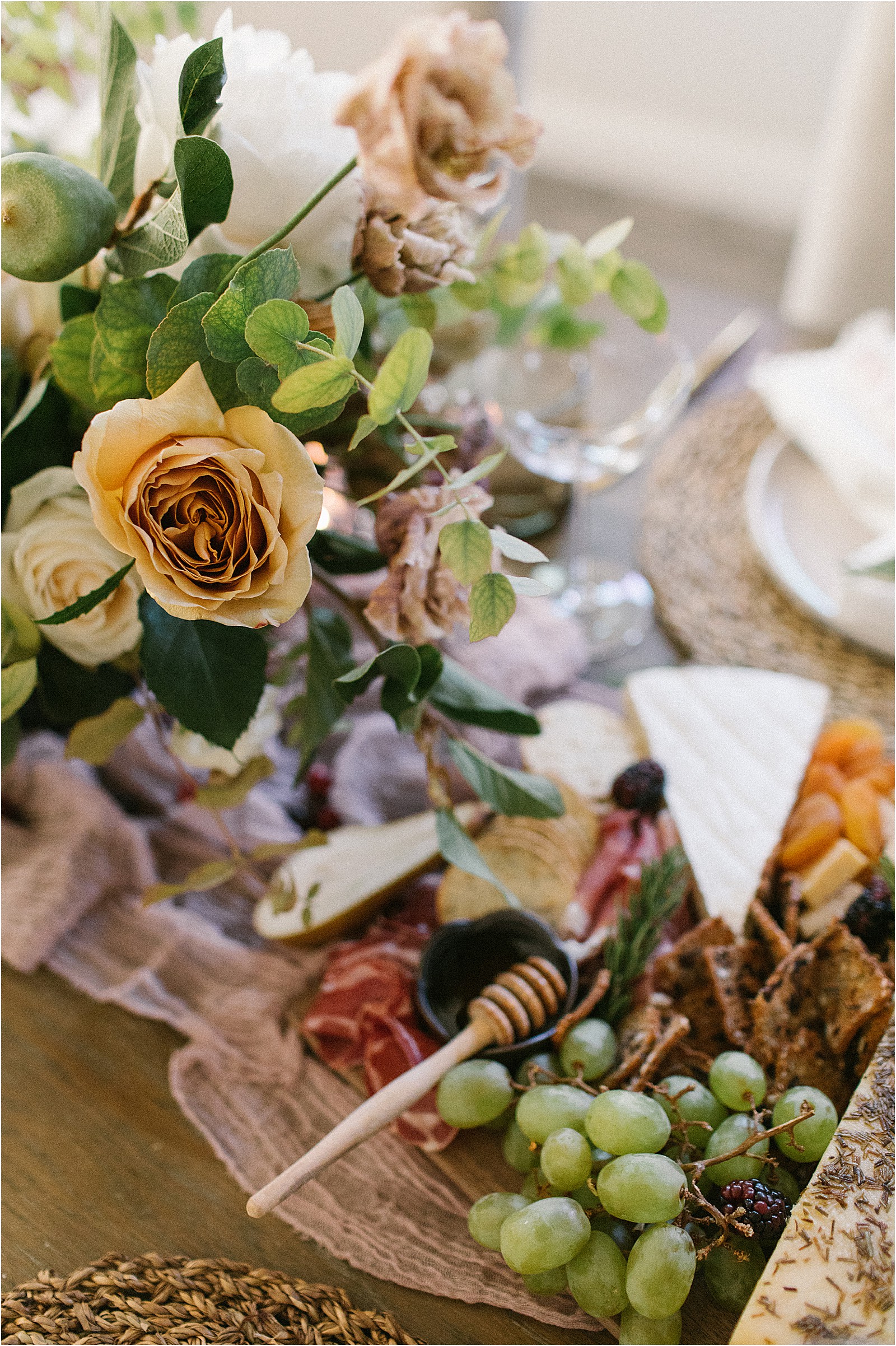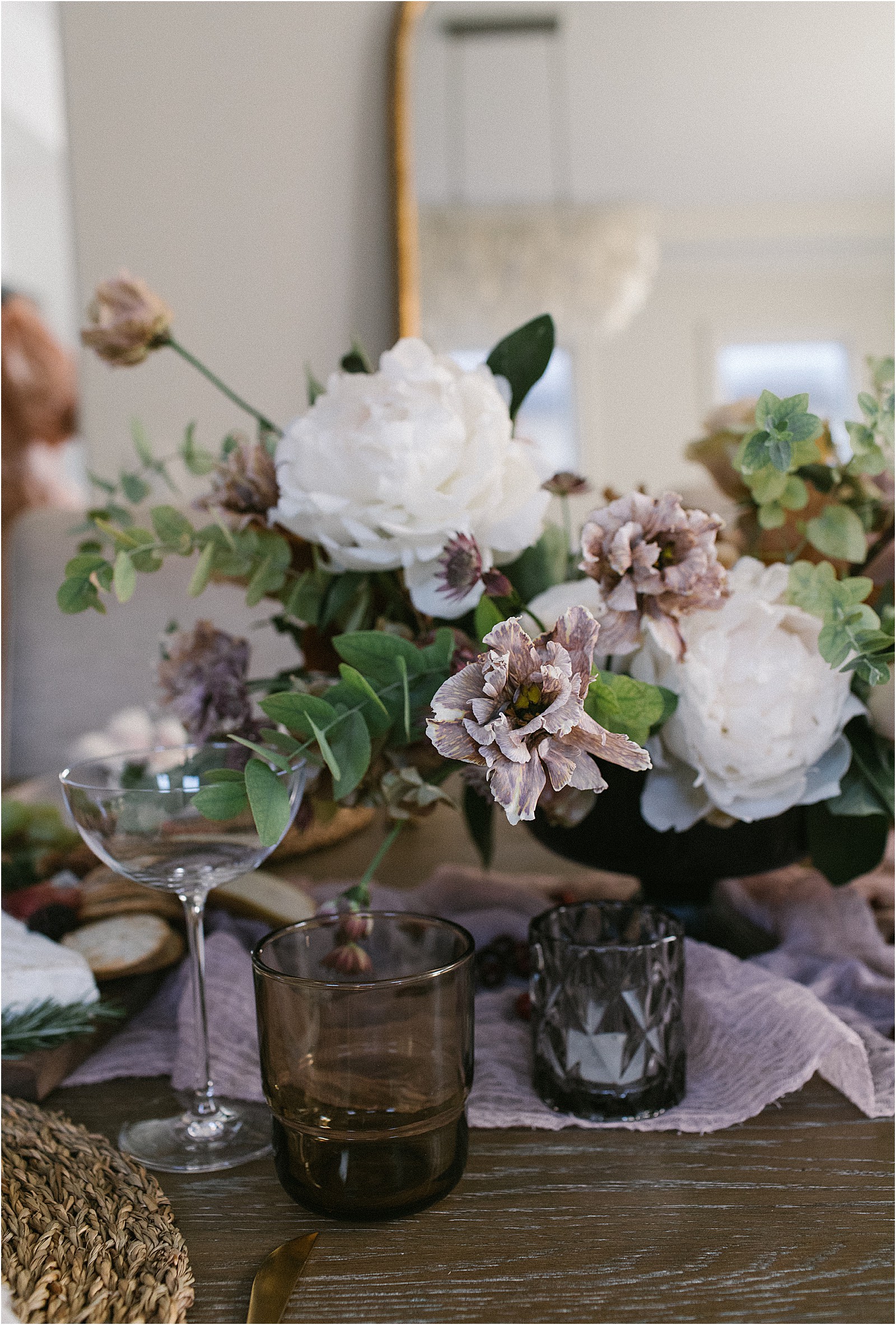 3. Start with the base of the design and build around it
To put together the design, I always start with my 'base' items and then add the details as I go. In our case, our 'base' was our silk runner, floral arrangements, 'on the table' platters and place settings. Once we got all of those items in place, it was time to play around with adding our smoke colored votive candles and fresh seasonal fruit to finish off the design.
Every design is different, so yours might look more like starting with a full table linen, followed by adding in floral arrangement(s), then finishing off with a mix of pillar and/or tapered candles.
The formula for starting with the larger 'base' items of your overall design then moving onto adding the smaller details is really helpful for pulling the design together.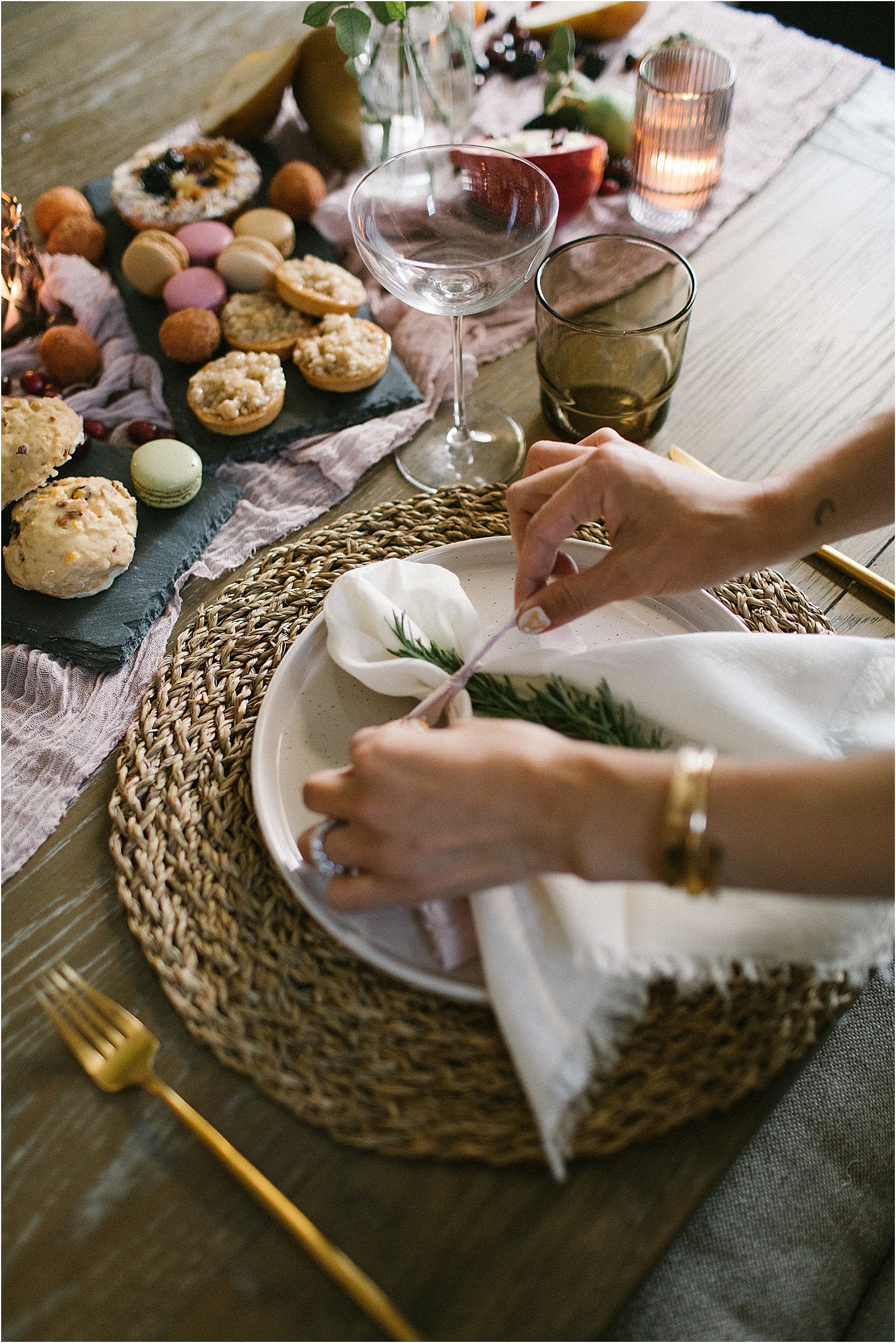 4. Dress up your place setting with a neutral place mat, napkin treatment and silk ribbon
You don't necessarily need fancy plates for your guests to feel like they are having a special dinner. Adding a place mat or charger under a simple plate to give contrast and add layers always makes your guest feel slightly fancier. Playing with the napkin fold and adding some sort of napkin treatment is also a great way to add some texture and depth to your place setting.
We used simple white napkins with frayed edges. What I love about these napkins is that they are a neutral white color and can be reused on multiple occasions. I am all about purchasing items that can be repurposed and used again, so nothing is ever just used once.
To make each napkin fold feel a bit more special, we added some fresh rosemary and tied it all together with mauve silk ribbon. This is a great way to incorporate place cards as well, if this is something you want to include. No one likes an awkward seating situation, especially if you are a couple who ended up with seats at opposite ends of the table!
You can easily tie a small tag with the guest name onto the napkin with the silk ribbon. Any sort of fresh floral, herb, or even dried floral sprig will work for the napkin treatment and you can also use twine or any ribbon you have at home to tie it all together.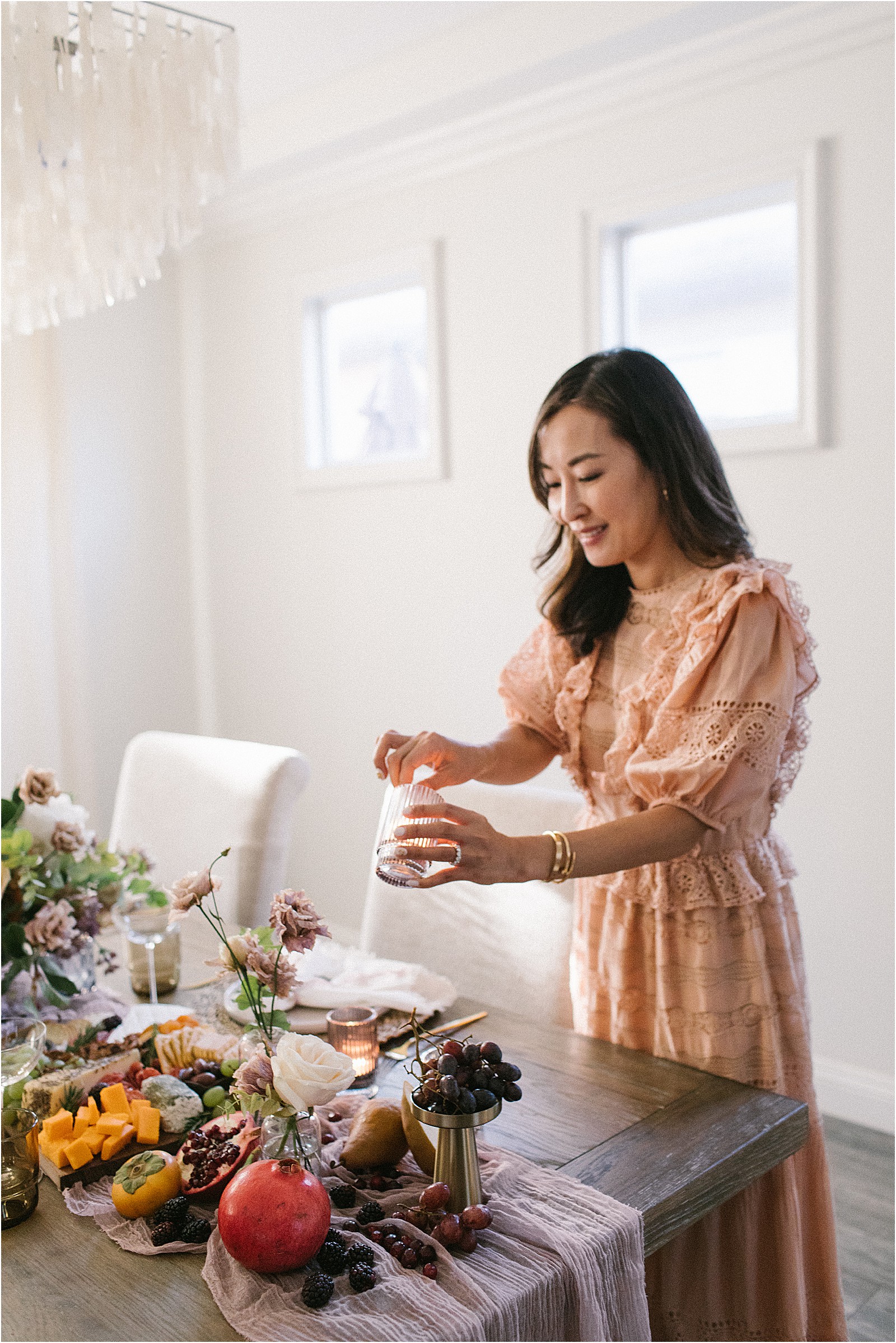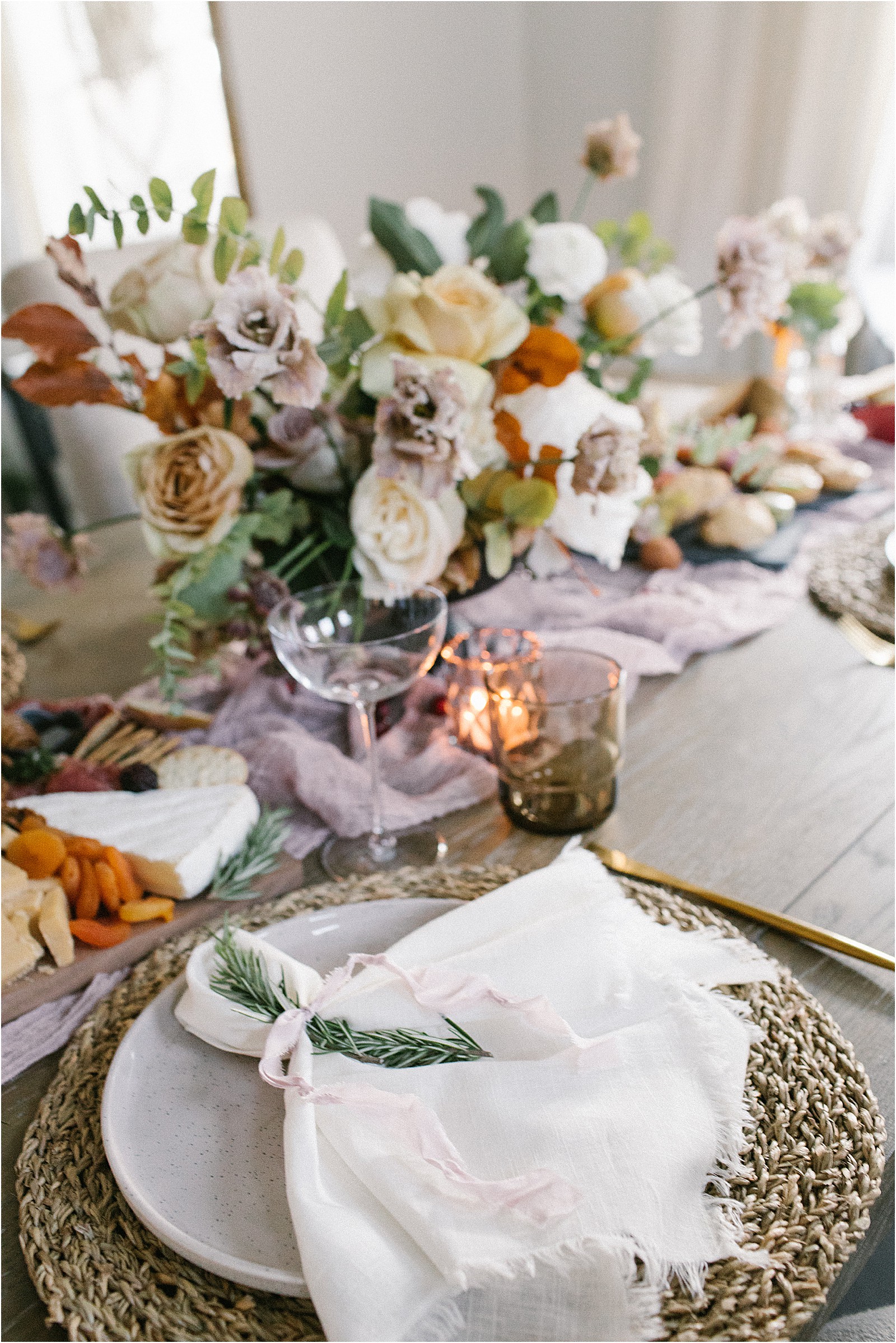 5. Coordinate glassware with votive holders
Although I went with the classic clear champagne coupe this time, I wanted to add some sort of moody element to the table. I decided that a smoke water cup would be the perfect touch. Incorporating colored glassware, is a great way to add a pop of color without being too overpowering.
Lastly, candlelight is always a good idea. The more candles the better! Nothing screams romance and intimacy more than A LOT of candlelight. I coordinated the smoke water glasses with our glass votive holders. The candlelight reflects so romantically off of the smoke color and really adds to the dinner ambiance.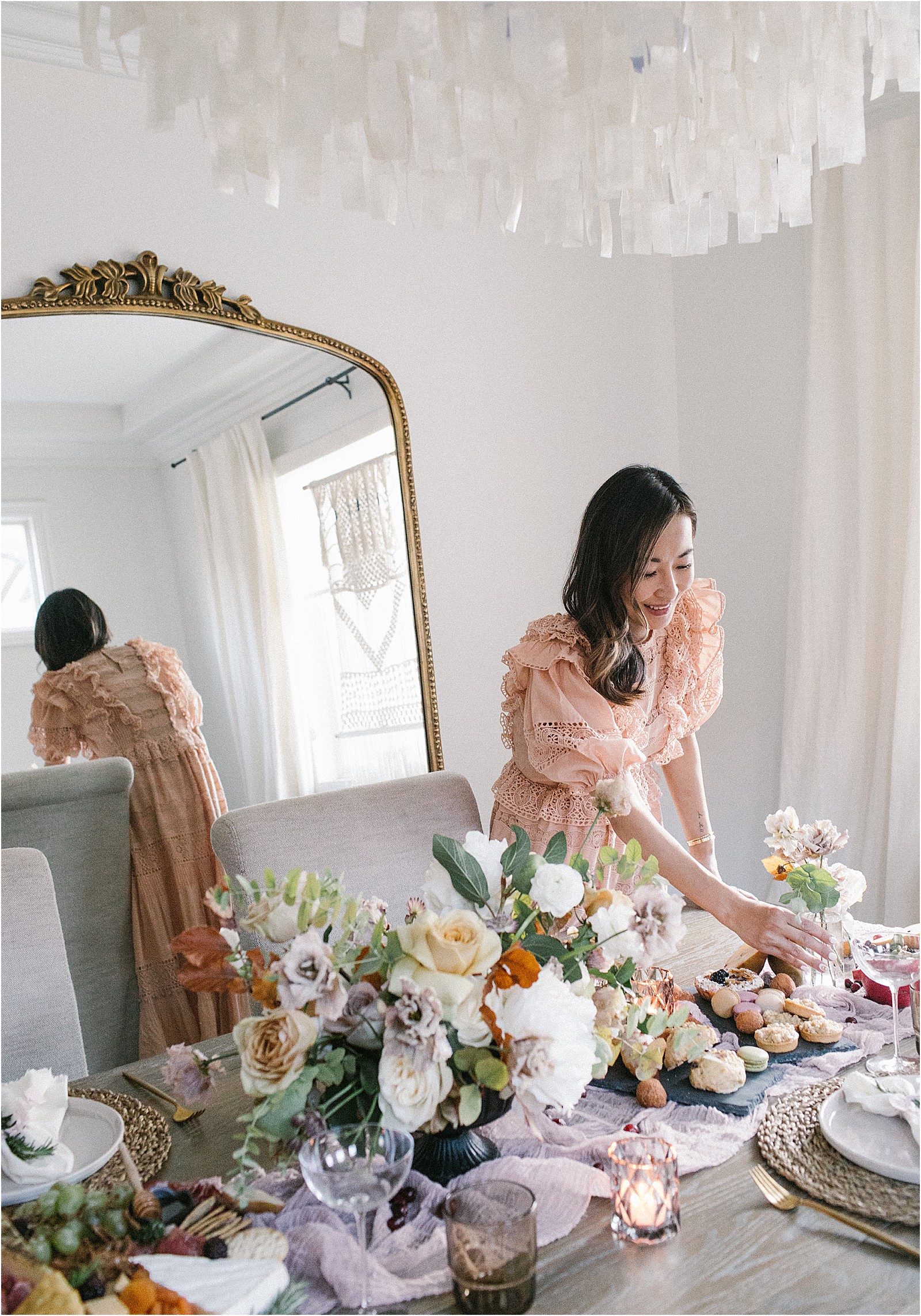 Cheese & Charcuterie board ingredient list
you can only use ingredients that suit your flavor profile, but we are listing a few ingredients we suggest
dried fruits like apricots, figs, or dates
olives
grapes
berries to decorate and garnish with
rosemary as garnish
honey
your favorite jam or preserve. Apricot jam/preserve goes especially well with cheeses
assorted crackers and breadsticks
assorted salami and prosciutto meats
-a 'pro' tip for the salami is to fold each slice in half once, then fold the half in half again. Once you add in more of these quarter folded salami pieces next to each other, you end up with a flowering salami section of the board. Much prettier than just laying slices of salami onto the board!
-another tip is rolling up the prosciutto slices for a cleaner look, since prosciutto can get messy and rip easily
a mix of classic and flavored cheeses is always good. I added a classic cheddar and brie cheese, and then I added some flavored cheeses. Some I included are rosemary olive oil asiago cheese, caramelized onion cheddar cheese and chevre herb goat cheese.
Dessert board ingredient list
once again, you can only use ingredients that suit your flavor profile, but we are listing a few ingredients we suggest
assorted macarons
mini lemon tarts
mini apple crumble tarts
cranberry scones
sugar donut holes
mini fruit tarts
eclairs
mini pecan pies
cookies
wafers
What do you think about my tips? I hope you find them useful to create the perfect tablescape this holiday season!