Fall is here, and I am all about it. I've been adding neutral fall decor around the house, which I'll be able to keep up through Thanksgiving. I think what people love most about autumn is the hint of crisp cool air hinting that it's the start of the holiday season. In addition, the chunky cozy sweaters and pumpkin spice lattes don't hurt either.
One of my favorite parts of this time of year is the fall scented candles. The sweet and spicy aromas of apple, cinnamon, and pumpkin create the perfect ambiance to stay at home and curl up on the couch. I am a huge homebody, so I jump on any excuse to make my home as cozy and relaxing as possible.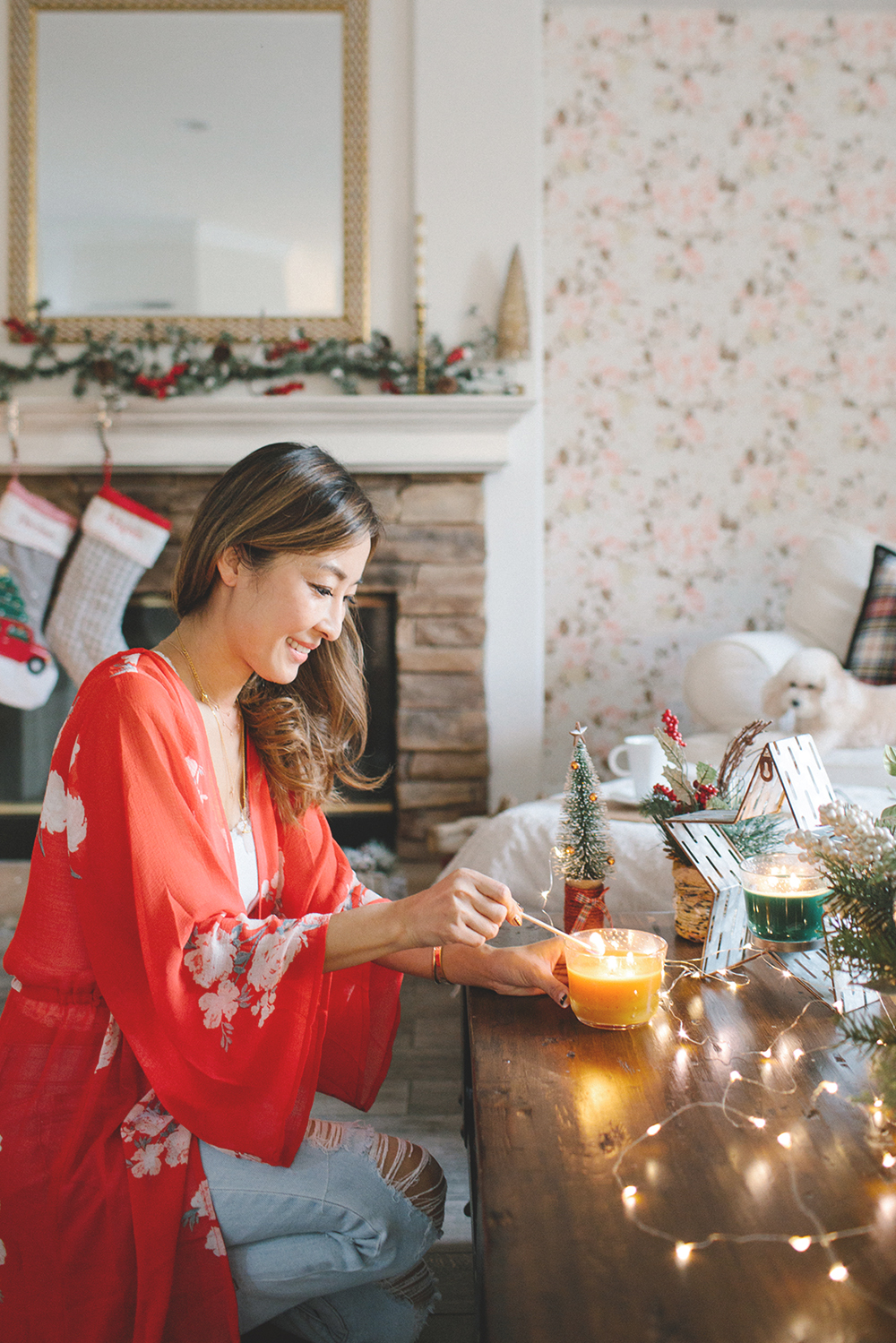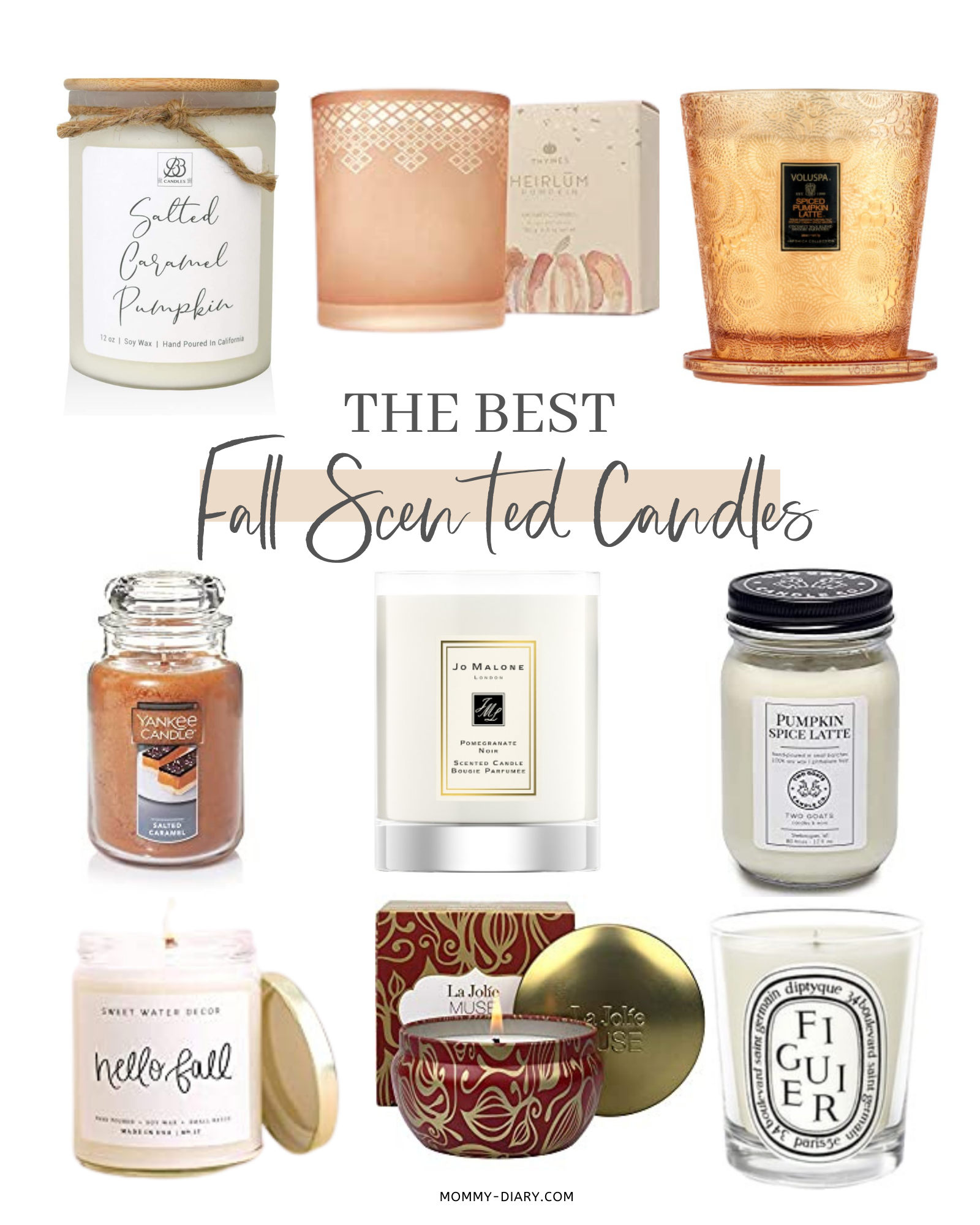 The Best Fall Scented Candles
Candles are something that I never truly appreciated until I became a home owner. Finding a candle with a scent you love is magical. Once the scent fills the house, it instantly puts me in a state of relaxation and happiness, don't you agree? So here are a few highly-rated fall scented candles available on Amazon now.
The name alone says it all. This soy candle by Sweet Water Decor is a mix of cider, nutmeg, cinnamon, and cloves. In fact, it is the perfect Fall scent without being overpowering. Sweet Water Decor also has an entire collection of seasonal candles with fun names and scents.
You can't celebrate fall without a pumpkin spice latte candle. This beautiful PSL candle is made by Voluspa. And in fact, is hand-poured with coconut wax.
Diptyque creates luxury candles that smell heavenly. This particular candle is described as having qualities of a fig tree, warmth of bark, and freshness of leaves.
This affordable candle is the perfect balance of cinnamon and pumpkin. It is vegan and made of 100% natural soy wax, with about 45 hours of burn time. It is smaller in size, and would also be great for your home office.
Candles can smell good and be pretty. I love the soft color of the jar. It has a light spiced pumpkin scent that makes it ideal for all day burning. This would also be a nice holiday gift for a friend or family member.
Sandalwood is a slightly sweet, yet warm scent. If you've never tried this scent, I recommend it. It is neutral enough to be loved by all in your family. This particular sandalwood candle comes in a beautiful glass jar that will coordinate with your fall decor.
Scents of apple and cinnamon will take you from Halloween through Christmas. This fall scented candle burns evenly and puts off a scent that will make your entire home smell delicious.
If you have a sweet tooth, this candle may be your new favorite. With over 7,300 reviews, it's a crowd pleaser. It will produce an aroma of vanilla, burnt sugar, sea salt, and caramel. The jar is large, and will give you over 100 hours of burning time.
Why not combine caramel with pumpkin? This is another sweet fall scented candle that is natural and slow burning in an attractive glass jar. It also comes in another design option with a label that reads Happy Thanksgiving.
A candle with the word bourbon in the name might even catch the attention of your significant other. This soy candle made by Rustic House is a unique yummy scent that would be a good pick for Thanksgiving day. Rustic House has lots of farmhouse style candles with various scents created for the holidays.
Do you have a favorite fall scented candle? Comment below and tell us about it! For more fall decor ideas, you can check out my posts How to Decorate For Fall Season and How to Decorate Your Mantle for Fall.