The first year of your baby's life goes by so quickly. This may be cliche, but the term don't blink or you'll miss it rings so true. Since you are with your child every day, it can be hard to notice the small changes they are making in their development and physical appearance from month to month. Taking monthly milestone pictures is one way to save memories for you to look back on years down the road.
Many people pay for newborn photography, but then life gets chaotic and the intentional baby photos from 2 months to 12 months get missed. Thanks to websites such as Etsy and Amazon, there are so many cute ways to consistently take monthly photos of pregnancy through one year old that you will treasure forever.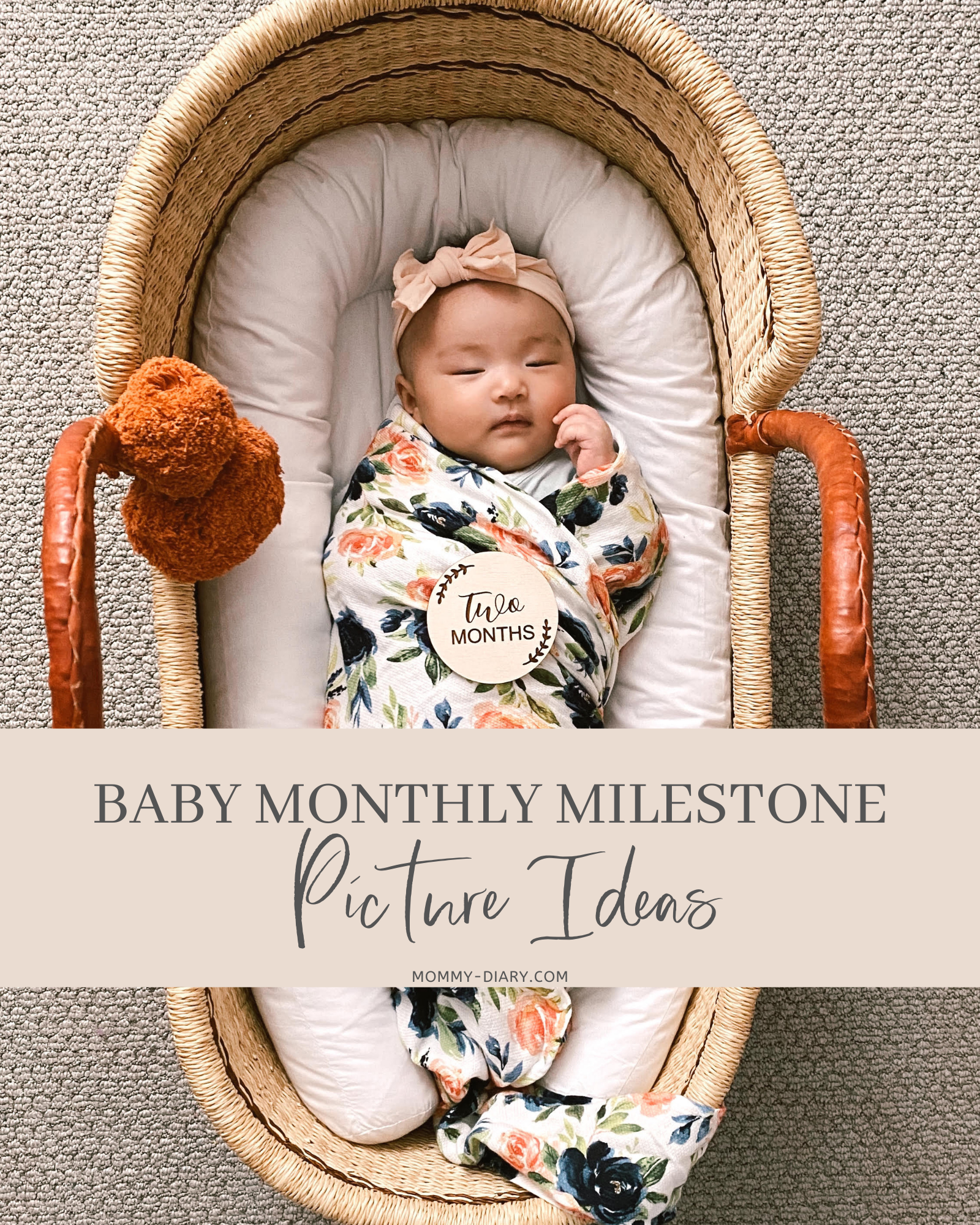 5 Baby Monthly Milestone Picture Ideas
The best thing about the ideas below is that you'll never have to go and search for photo ideas. They provide you with a prop that you can simply lay your baby girl or boy on, or place next to them, for a quick photo shoot. These monthly milestone pictures can be taken at home, or even while you are out of town.
Monthly Blanket
In my opinion, blankets are the easiest way to capture your monthly photos, while still giving you a nice looking photo. Most of these blankets have a side to place your baby, and numbers 1-12 are listed on the other side. They come with some sort of cute prop that you can place around whichever month it is. It's so easy and will only take you a minute to snap a photo! They also come in many different color, so you can even choose one to match your baby girl or boy's nursery.
View this post on Instagram
Monthly Cards
Monthly milestone photo cards come in a set, one for each month. There are many different kinds, but they have the month number on them so there is no prep involved for you. You can place your baby in their crib, or on a chair, with the card next to them for a quick and adorable photo. My favorite monthly cards are the wooden round ones. You can also get sets that are colorful, and include other milestones for later in life such as "my first lost tooth" or "my first Thanksgiving".


Monthly Milestone Chalkboard or Letterboard
You have probably seen families post monthly baby pictures with chalkboards. The great thing about the chalkboard is that you can write down monthly details about your baby and then post on social media for friends and family to see. Most of the chalkboards have space for things like the month, favorite foods, favorite book, dislikes, how many teeth, etc. When your baby is a newborn, you can prop it up next to them while they are in their boppy or bassinet. When they are old enough to sit up, it's cute to put the chalkboard next to them in a chair. A letterboard works the same way.
View this post on Instagram
You can purchase this letterboard from Felt Like Sharing here.
Monthly Onesies
Onesies with numbers on them are another quick way to document monthly milestones. A major bonus of this option is that you have a prop and an outfit in one!


Monthly Flowers
I saved my favorite monthly milestone picture idea for last. This is a DIY project, and will definitely be more time consuming, but the pictures you get are beautiful. One way you can try this is to get wooden numbers from a craft store, and hot glue fake flowers to the number. Either stick with the same flower each month, or switch it up to add variety to your photos.
View this post on Instagram
What do you think? Did you find some new ways to document your baby's first year of life? You can collect all the baby milestone photos and put them into a banner like this one to use as decor at their first birthday party! For more inspiration, head to my other post about baby milestone photos.
This post contains affiliate links that help to support the blog at no additional cost to you. Thank you for your support that allows me to continue to create valuable content for families all around the world.