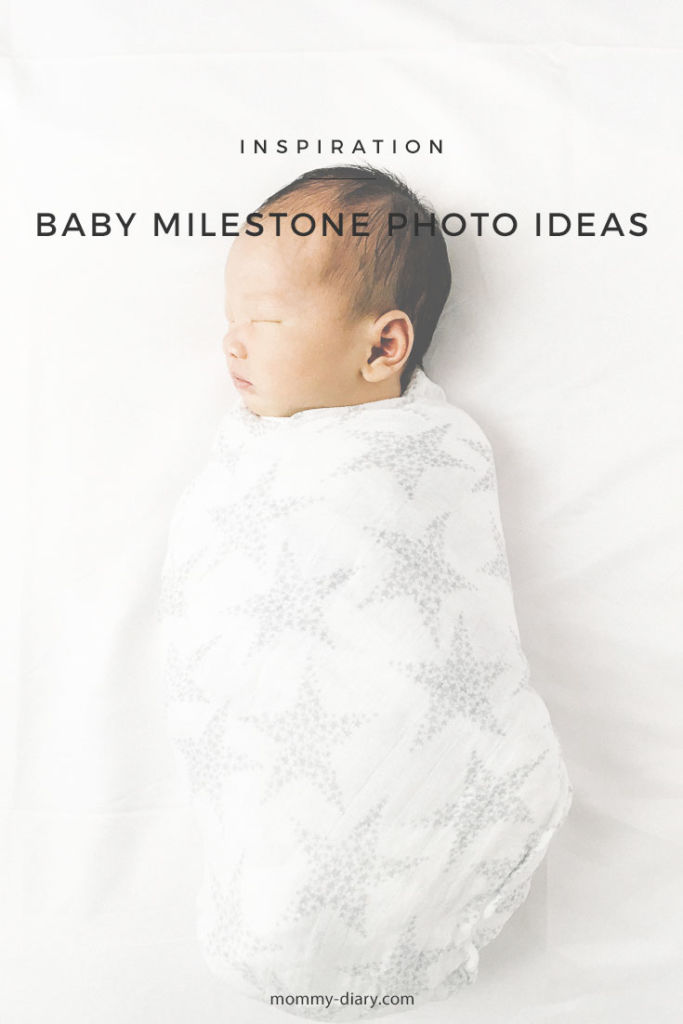 Today marks Baby D's 5 months birthday. As documented on my Instagram, he has changed my life for the better and taught me how amazing motherhood can be.
After suffering from postpartum depression after the birth of my second baby, I lost a lot of confidence as a mother. Even though I overcame it and life eventually got better, I still can't understand how I failed to see the beauty of motherhood with my two perfect little daughters. Yes I know there is a scientific and psychological explanation for postpartum depression and yes I know it's more common than we think but it still breaks my heart when I think about the deep sadness and loss I felt during what was supposed to be the happiest months of my life.
So now with my third and final baby, I'm much more mindful about taking regular milestone photos no matter how busy I am. It's too easy to get lost in the daily grind of busy motherhood but I know how fast these early years can be.
My older daughters are 11 and 9 and I really can't remember them ever being this small. It just feels like far distant memory, sometimes like someone else's story. Luckily I have some photos and keepsakes, but none that are detailed and organized. It's one of my biggest regrets so as a third time mom, I'm going to do my best to document every milestone, every month growth.
Here are some simple ideas I've gathered so far, I hope you enjoy them. This list will be updated regularly. All photos were taken with my iphone 7 and edited with VSCO.
1. Week 1-4:  The Swaddle aka "Baby Burrito"
These swaddle photos are a must in those early sleepless weeks. In my sleep deprived state, I didn't realize how perfect and adorable babies are around this time. This is when babies sleep the most so be sure to take advantage of this time to get those adorable sleeping baby swaddle photos!
Try to use blankets in various prints. Some of my favorites are from Aden and Anais and Little Unicorn. Here I kept it simple with an Aden And Anais swaddle blanket.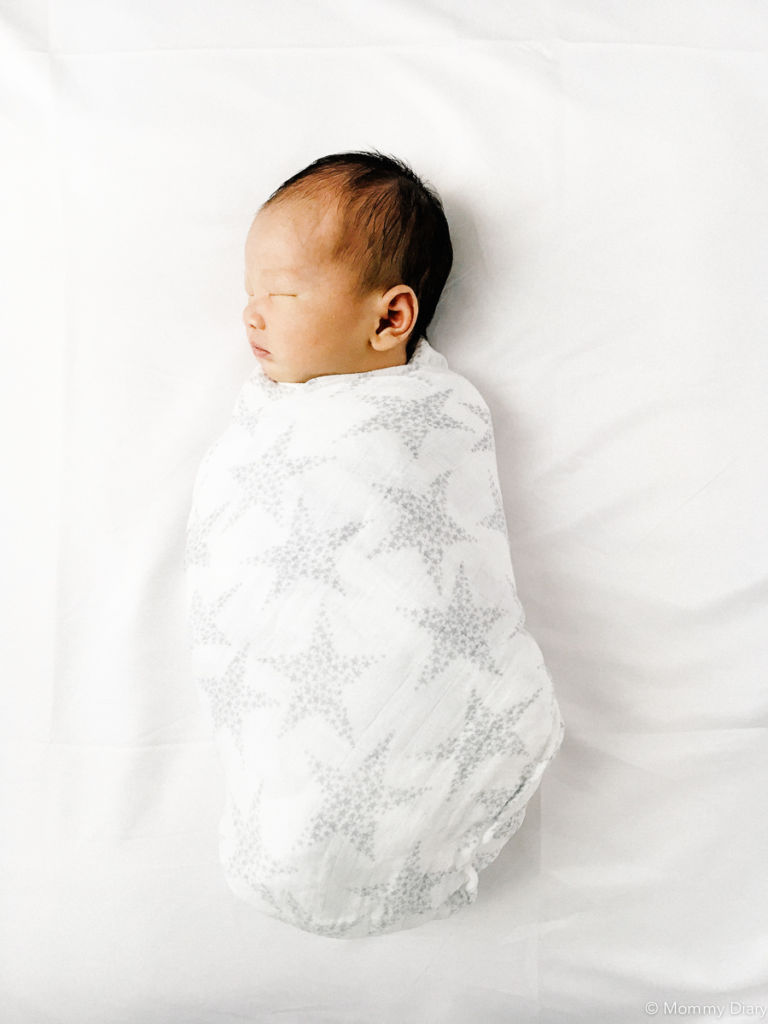 2. Personalized Milestone Blanket
I like using milestone blankets because it's super easy. No arranging or styling, you just have to dress the baby and put the baby on the blanket!
You can purchase cute personalized blankets on Etsy like this one from Hip Hip Gifts. You can get it personalized with your baby's name with various prints, designs and colors.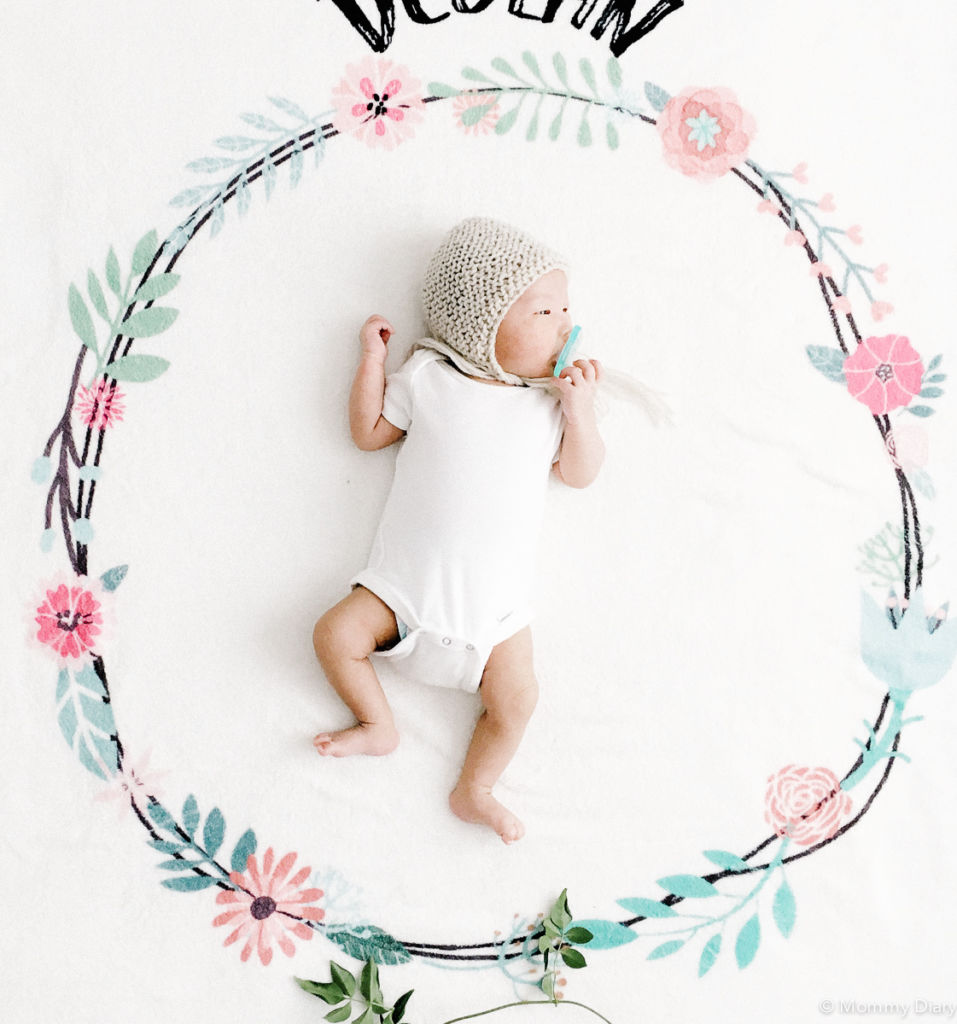 3. Milestone Cards
This is another simple way to document your baby's growth. I used the Milestone baby cards for this photo. You can read more about these milestone cards on this post.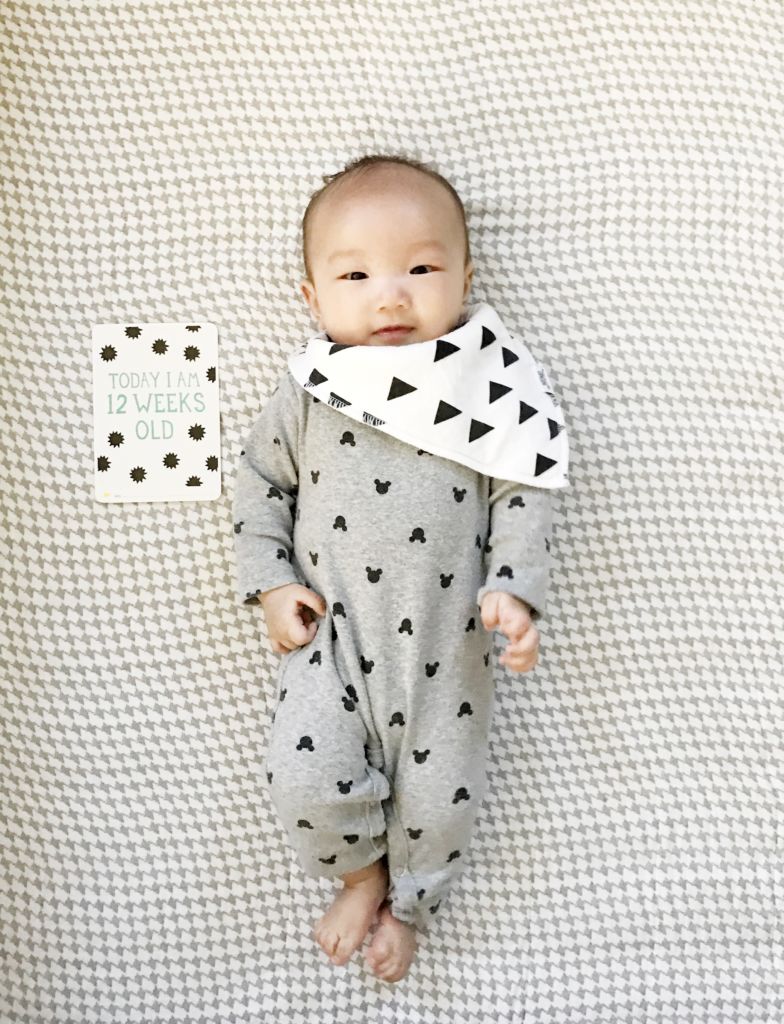 4. Flowers & Wreaths
Flower milestone photos take more effort but the results are stunning. I'm still experimenting with various flower positions and types and plan to do more in his first year. Depending on flower color and type, you can create various looks to capture your baby's first year.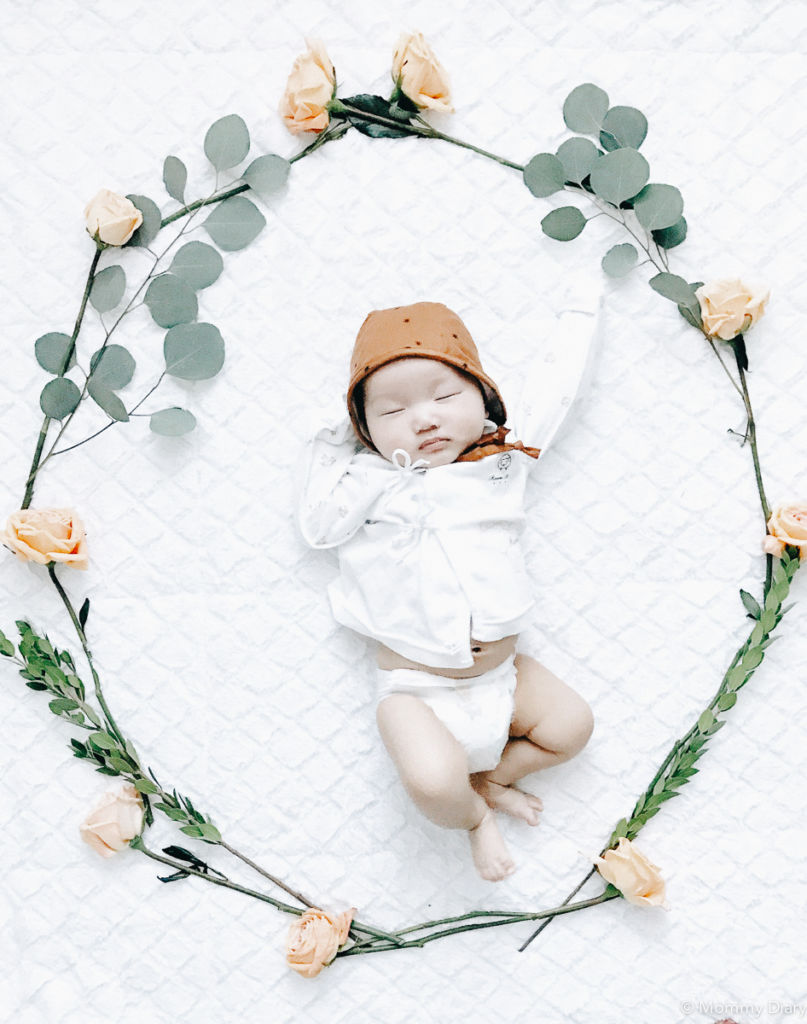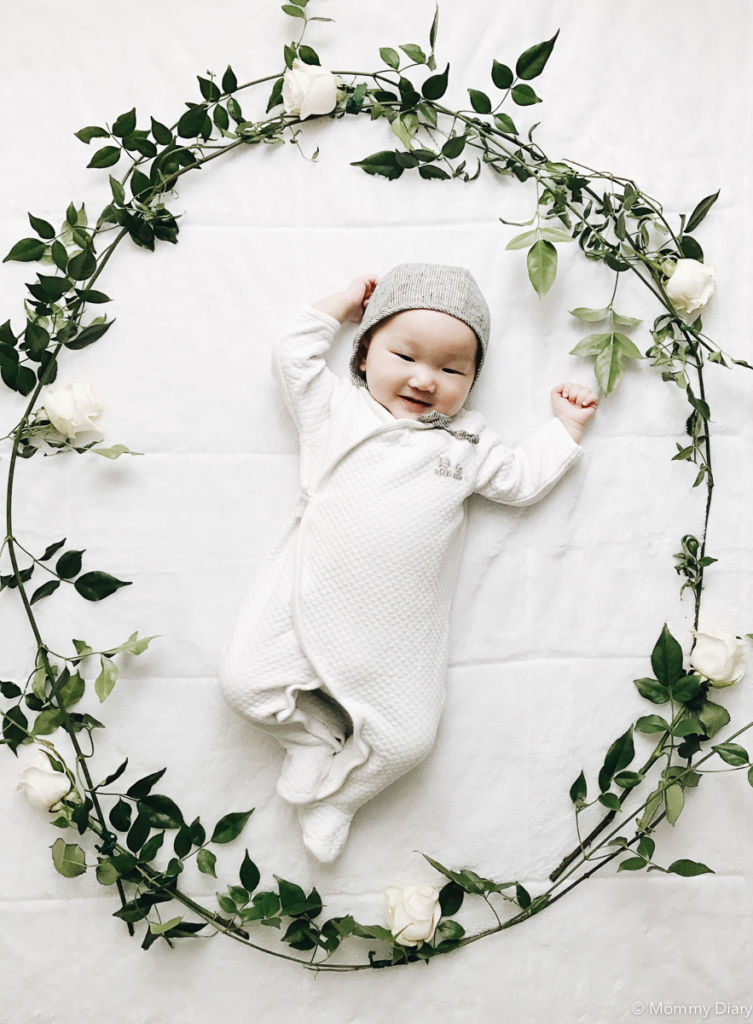 5. Seasonal props from around the home
This is the most fun for me because I get to be creative with things around the house. This photo was taken around Christmas with props I already owned. This Christmas garland is from Target at $3 each. The Santa hat was a gift. With these two things and a simple white blanket, I captured the cutest Christmas milestone photo of Baby D.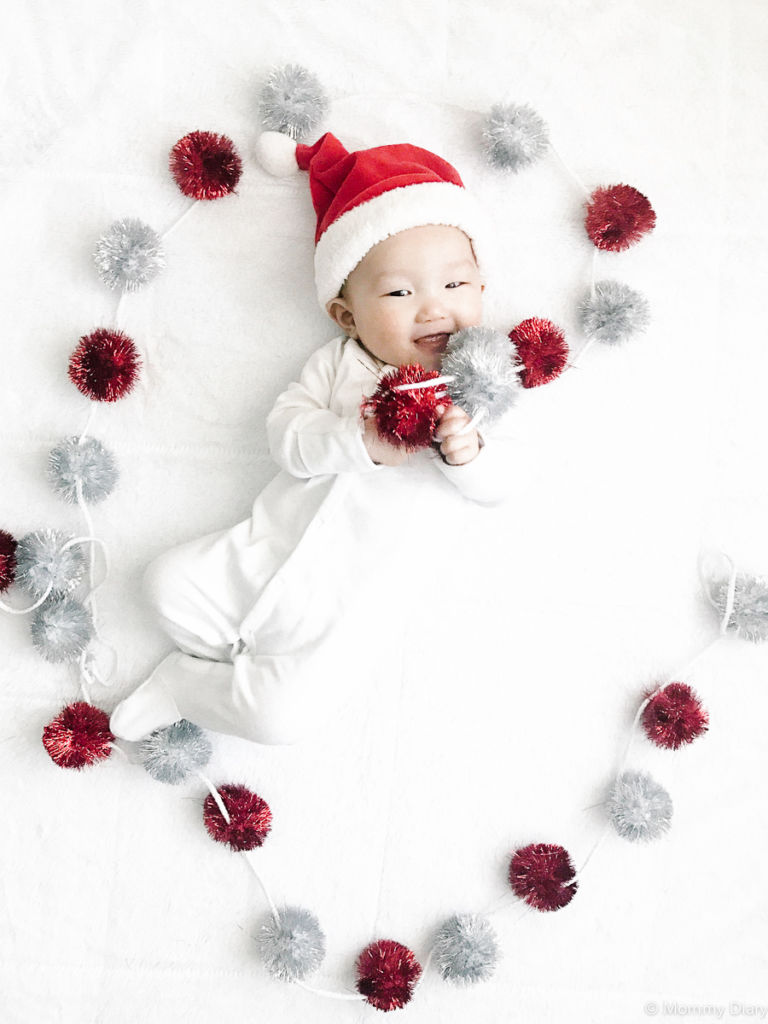 All photos were taken with my iphone 7 and edited with VSCO.
What do you think? Do you have any other ideas and tips for taking baby milestone photos? As always, please pin the photo below if you enjoyed this post!
Be sure to subscribe to my blog if you'd like to see more baby photo ideas.