Motherhood is an adventure that is full of ups and downs. It can often feel like for every heart-warming experience you enjoy, there's a challenge that you have to face.
As a busy mom, I'm constantly looking for ways to make those challenges easier to overcome. By talking to other moms and learning from their experiences, as well as learning from my own experiences, I've picked up numerous tips and tricks that have helped me tremendously.
There are mom hacks that are somewhat obvious, like having your groceries delivered to save time and make grocery shopping less daunting. But then there are hacks that only mom can really appreciate the value of. Those are the hacks that I can't wait to tell you about.
Here are some of my favorites tried and true mom hacks that can help lighten your load, give you some extra time for yourself and make life easier.
Best Mom Hacks I've Learned Along the Way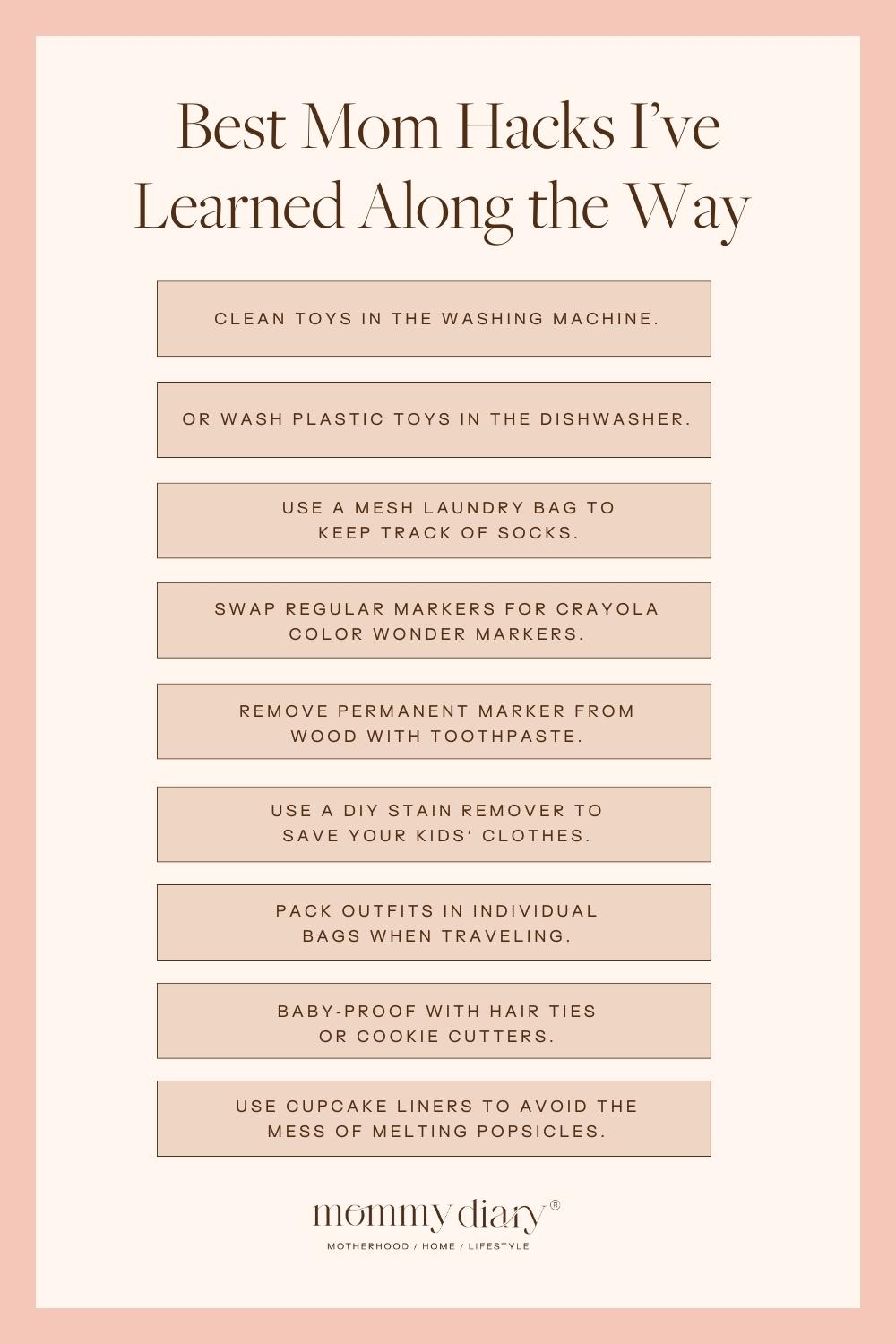 Clean toys in the washing machine.
When was the last time you washed your kids' toys? Rather than spending forever individually washing each toy, put them into a mesh laundry bag and stick them in the washing machine.
Or wash plastic toys in the dishwasher.
Who would have thought that your dishwasher could clean more than just dishes? For a quick and easy way to clean dozens of small plastic toys, just load them into your dishwasher.
Use a mesh laundry bag to keep track of socks.
When you're not using it to clean toys, a mesh laundry bag is also great for keeping track of socks. Throw all your socks in the bag, then toss the bag into your washing machine to prevent future frustration over missing socks.
Swap regular markers for Crayola Color Wonder Markers.
This is a great way to keep your child entertained without worrying that they will color all over the walls and furniture. Instead of regular markers, give them some Crayola Color Wonder Markers and a Crayola Color Wonder coloring book. They'll love creating colorful works of art and you'll appreciate not having to watch their every move.
Remove permanent marker from wood with toothpaste.
There are few things as terrifying as a toddler with a permanent marker. If your little one had a little too much fun with a Sharpie, reach for toothpaste. Scrubbing wooden furniture with a little toothpaste will make those marks disappear.
Use this DIY stain remover to save your kids' clothes.
Create a DIY stain remover by mixing hydrogen peroxide and Dawn dish soap into a paste. From your newborn's soiled bodysuit to your toddler's spaghetti sauce-stained t-shirt, there's not a stain in your laundry room that stands a chance against this stuff.
Pack outfits in individual bags when traveling.
When packing for a trip, put everything your child will need for the day into a plastic bag or packing cube. Pack one bag for each day of your trip. It'll not only help you stay organized, but it's a great space saver too.
Baby-proof with hair ties or cookie cutters.
Why spend a ton of money on pricey cabinet locks and baby-proofing gadgets when you can use items you probably already have on hand? Wrap one or two hair ties around your cabinet handles or use a cookie cutter to keep little ones out.
Use cupcake liners to avoid the mess of melting popsicles.
Slide a cupcake liner onto the bottom of the popsicle stick to catch drips as your child enjoys their frozen treat. This is a great, inexpensive way to prevent a mess and keep your child's hands clean.
Layer bedding to prepare for late-night accidents.
If you've ever had to change your sheets in the middle of the night, you know how frustrating the ordeal can be. Layering sheets and mattress pads make it so much easier to deal with late-night accidents.
When you make your child's bed, put on a mattress pad, then a sheet, and then add another mattress pad and sheet. This way, if your little one has an accident, you can strip off the top layer and get them right back to sleep. It's so much easier!
Seal the holes in bath toys with hot glue.
Using hot glue to seal the hole on the bottom of your child's bath toys will prevent water from getting inside them. This quick and easy trick will keep mold and mildew from growing inside the toys.
Use a laundry basket to make bathtime with your baby easier.
Once your baby is able to sit up on their own, you can use a plastic laundry basket to make bath time easier. The basket can help prevent slips and falls while also keeping their toys within reach.
Create a safe play area with an inflatable pool.
I love this idea for creating a childproof play space. Just set up an inflatable pool and let your child have a ball. It'll keep their toys confined to a smaller area while also protecting them from trips and falls.
Use a Pack and Play and a fitted sheet to protect your baby outside.
Whether you're working in the garden or reading a book on the patio, having a baby makes things much harder. To protect your baby from bugs and too much sun exposure, place them in a Pack and Play covered with a fitted sheet.
Use an egg slicer to cut food for your baby or toddler.
This is a great time-saving hack for moms who are constantly having to cut food into tiny pieces for their little ones. An egg slicer does the job in a fraction of the time.
Use sippy cup lids to make any glass more toddler-friendly.
These spill-proof silicone sippy cup lids can turn any cup into one that your toddler can easily drink from without making a mess.
Use a pacifier medicine dispenser to give your baby medicine.
Unless you're one of the lucky ones, your baby probably doesn't exactly enjoy taking medicine. A common method for giving a baby medicine is to squirt the medicine into the baby's mouth, and then immediately give them a pacifier. But that technique seems to only work half the time, at best.
A pacifier medicine dispenser uses that same method, in a much easier and more effective way.
Make a kid-friendly ice pack with marshmallows or a sponge.
Traditional ice packs are often too hard or too cold for young kids. DIY kid-friendly cold packs are cheap and easy to make. Fill a zip-top plastic bag with marshmallows or a wet sponge, then store the bag in the freezer.
The next time your child comes to you with a minor injury, this DIY cold pack can provide tolerable relief.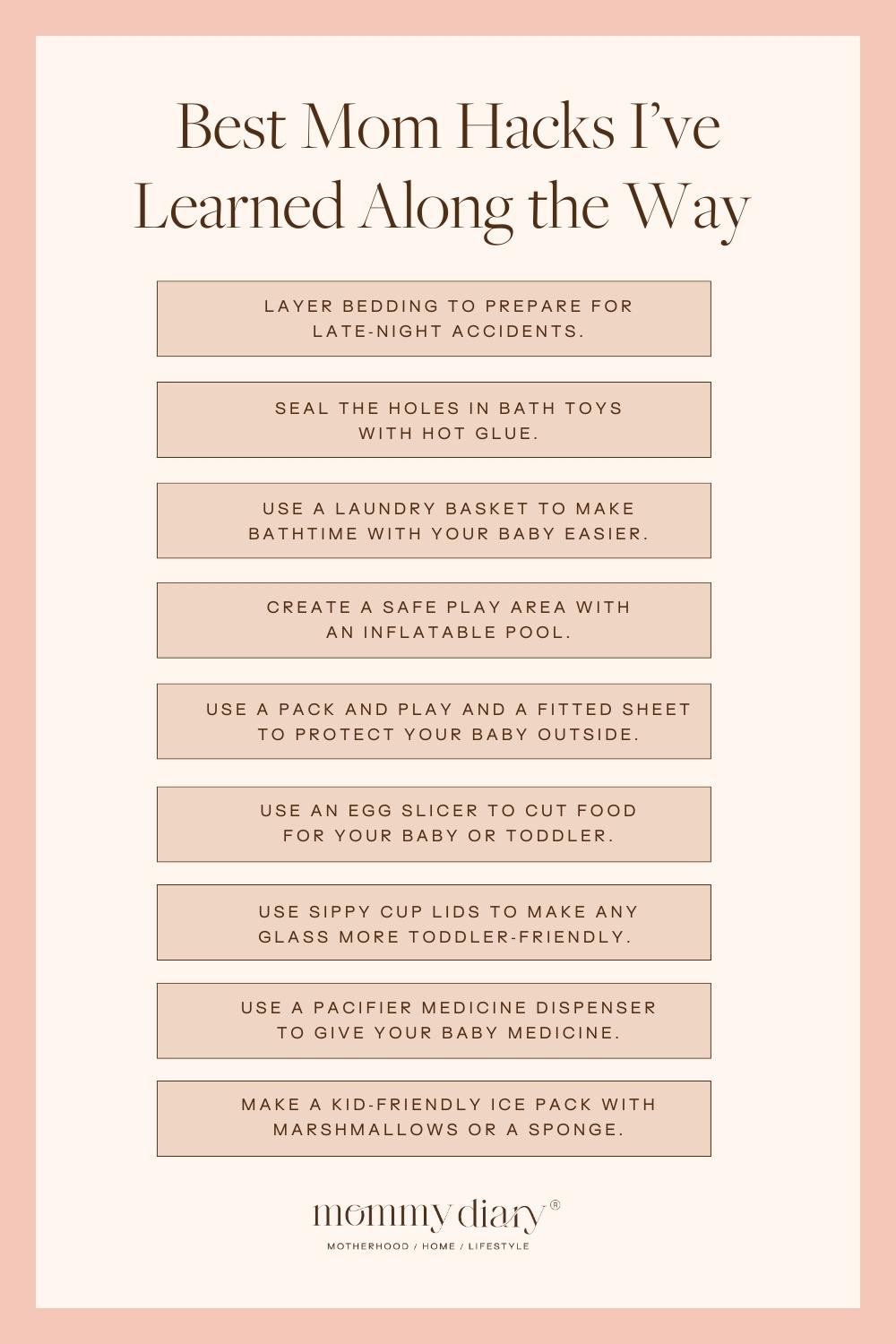 Use Vaseline to painlessly remove bandages.
Vaseline has earned a spot in our first aid kit for many reasons, but I was recently introduced to this hack. Applying Vaseline to bandages softens the adhesive and allows you to peel them off without any pain or discomfort.
Make a paintbrush holder out of a pool noodle.
The best life hacks involve using items you already have to solve a problem. This mom hack is a great example.
The next time you pull out watercolors, use a DIY paintbrush holder to keep the paintbrushes from rolling all over the table. To make a paintbrush holder out of a pool noodle, cut off a portion of the noodle, then slice it lengthwise. Slide the pool noodle onto the rim of a plastic container, then cut slits into the top of the pool noodle and slide your brushes into them.
Create a grab-and-go snack station.
Every time my kids come to me asking for something to eat, I have to choose between good nutrition and convenience. In a perfect world, I would put together elaborate, healthy snacks every time my kids wanted a bite to eat. But in reality, I often don't have the time or energy.
A grab-and-go snack station is a great solution. Rather than relying on convenient junk food, I keep several small containers filled with nutritious snacks that my kids can help themselves with.
Keep your bathroom smelling fresh with essential oil.
The more people you have using the bathroom in your house, the harder it is to keep it smelling fresh. An easy way to keep smelling clean and fresh is to add a few drops of essential oil to the inside of the toilet paper roll. Then, every time someone grabs some toilet paper, the scent will be released into the air.
Use a water bottle to keep your kid's lunch cold.
I love this hack for moms who pack their kids' school lunches. All you have to do is fill your child's water bottle half-full with water, then freeze it overnight. Before they head to school in the morning, fill the bottle the rest of the way with cold water.
This trick will encourage your child to stay hydrated while also keeping their lunch cool.
Put a trash can in your car.
I'm always amazed by how quickly my car turns into a disaster zone. With multiple kids and a full schedule, we spend a lot of time in the car. An easy way to help keep the mess to a minimum is to get a trash can specifically for your car and use it.
You can buy one or you can make your own mini trash can out of a plastic container and a grocery bag. Just be sure to empty it every few days.
Keep an emergency bag in your car.
Another thing I've started keeping in my car is an emergency bag. Having an emergency bag in your car at all times ensures that you'll always have what you need.
A well-stocked emergency bag should contain snacks, water, a change of clothes, wipes, and a first aid kit, as well as anything else that you or your family might need.
Load up on placemats for mess-free meals on the go.
Many restaurants use placemats to make clean-up a breeze. The next time you visit one, grab a few extras (or buy some online) and keep them in your diaper bag. You'll have a sanitary eating surface on hand whenever you need one (like at the park or the zoo). When mealtime is over, you can simply throw them away.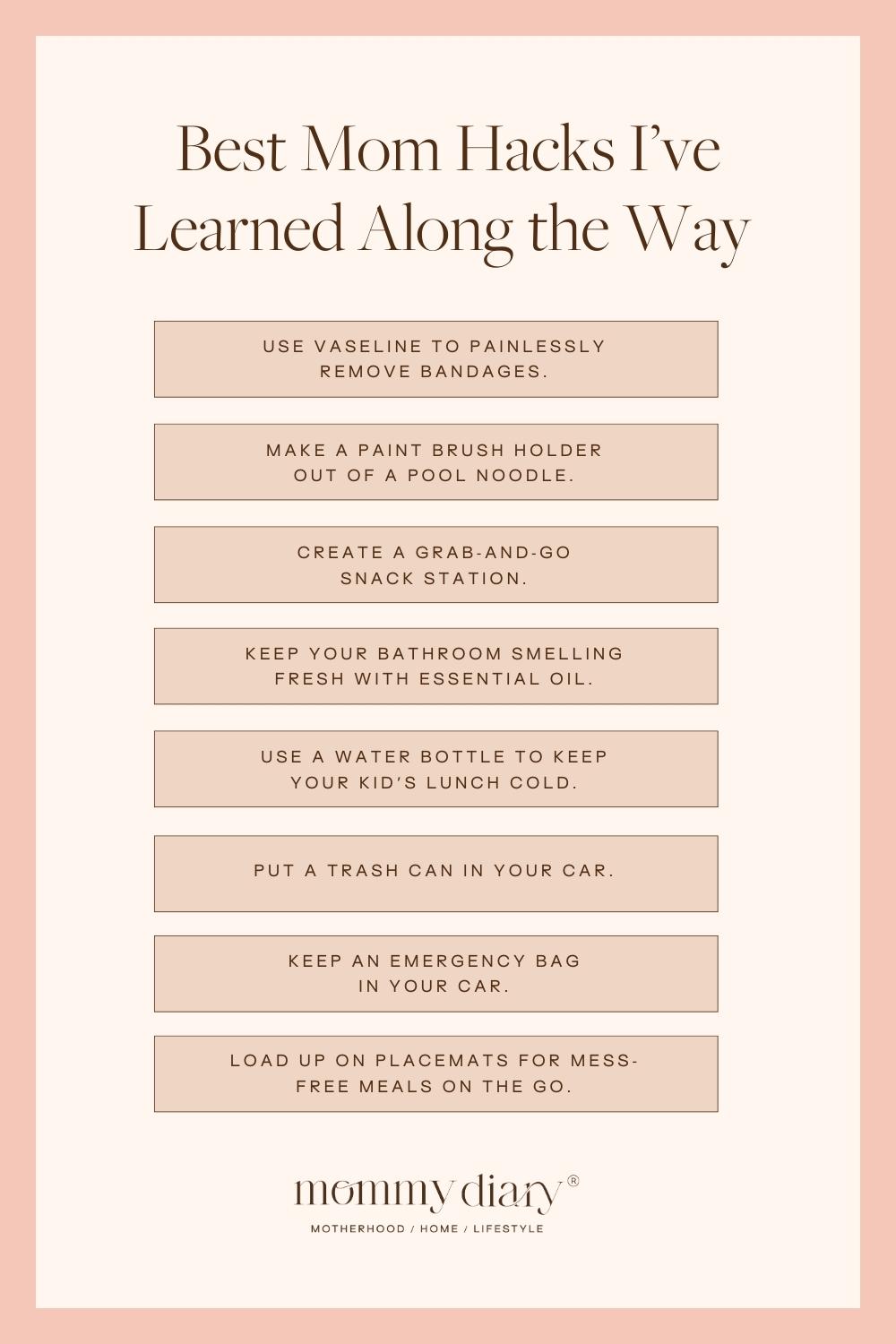 What mom hacks have made the biggest difference for you?
Which mom hacks have made your life easier? Share in the comments below!
Then, for more ways to make the most of motherhood, head over to the blog.