Play is the work of the child. This quote by Maria Montessori encapsulates the thinking behind the Montessori method. Play is essential for emotional and physical development in children, beginning at a very young age.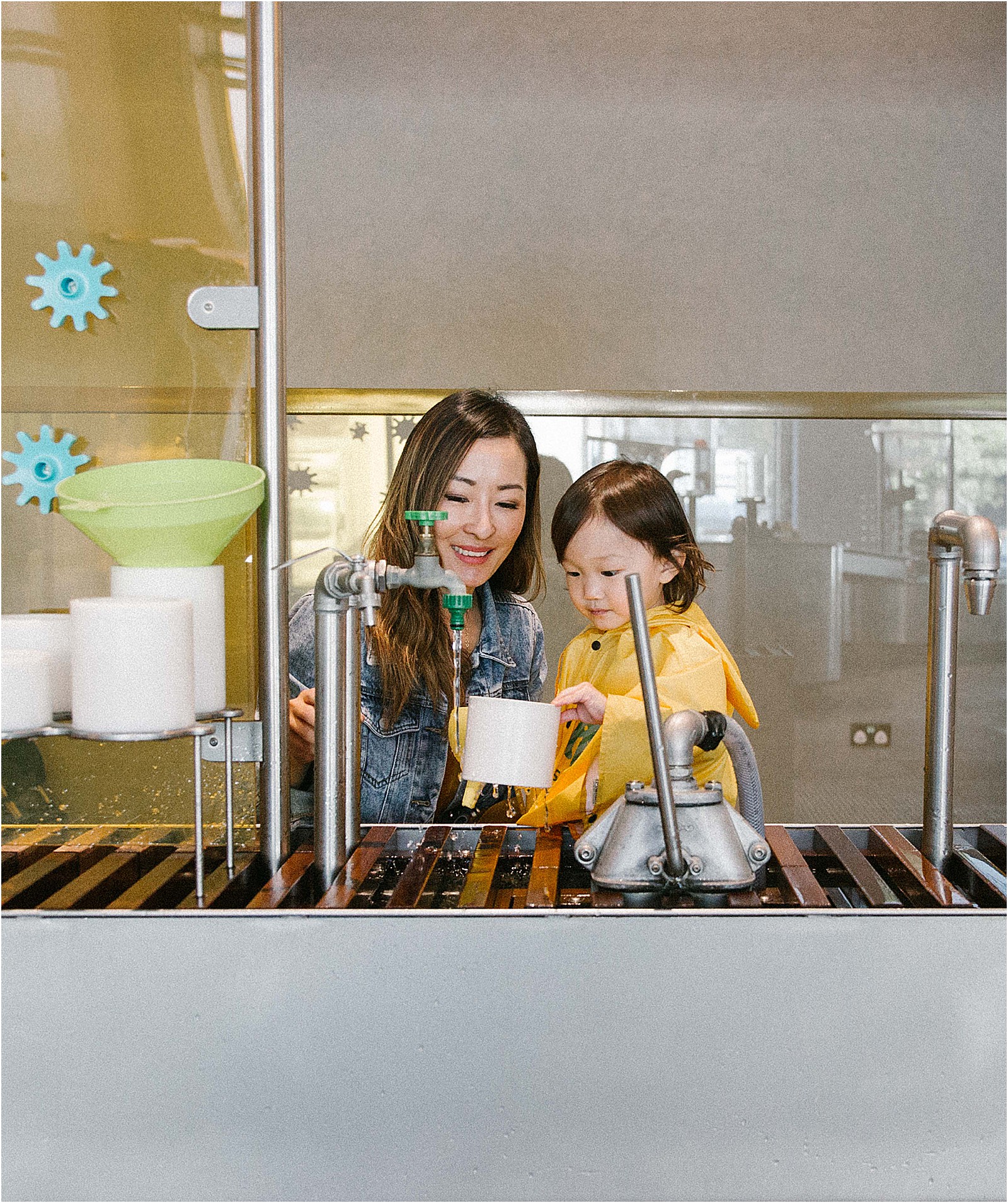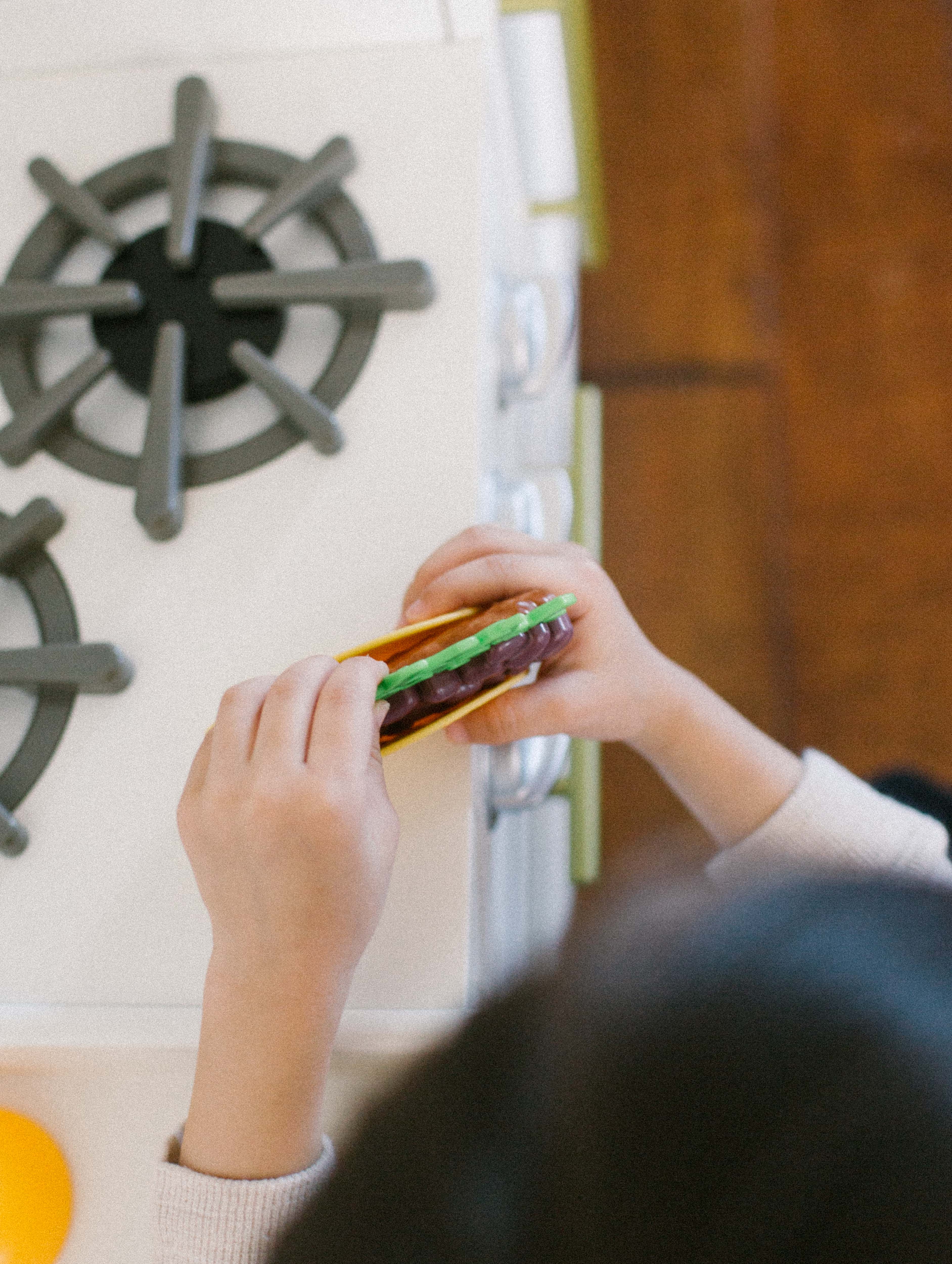 For a child, if play is the work then toys are their tools. Purposeful play, away from screens and other technology, allows children to grow in so many valuable ways. Montessori toys encourage children, as young as babies, to learn through play.
If you are not familiar with Montessori, it is a method of education based entirely around the individual child. Using the Montessori method, adults follow the child's interests and give them ample opportunity to make choices in hands-on, self-directed, collaborative, and exploratory play.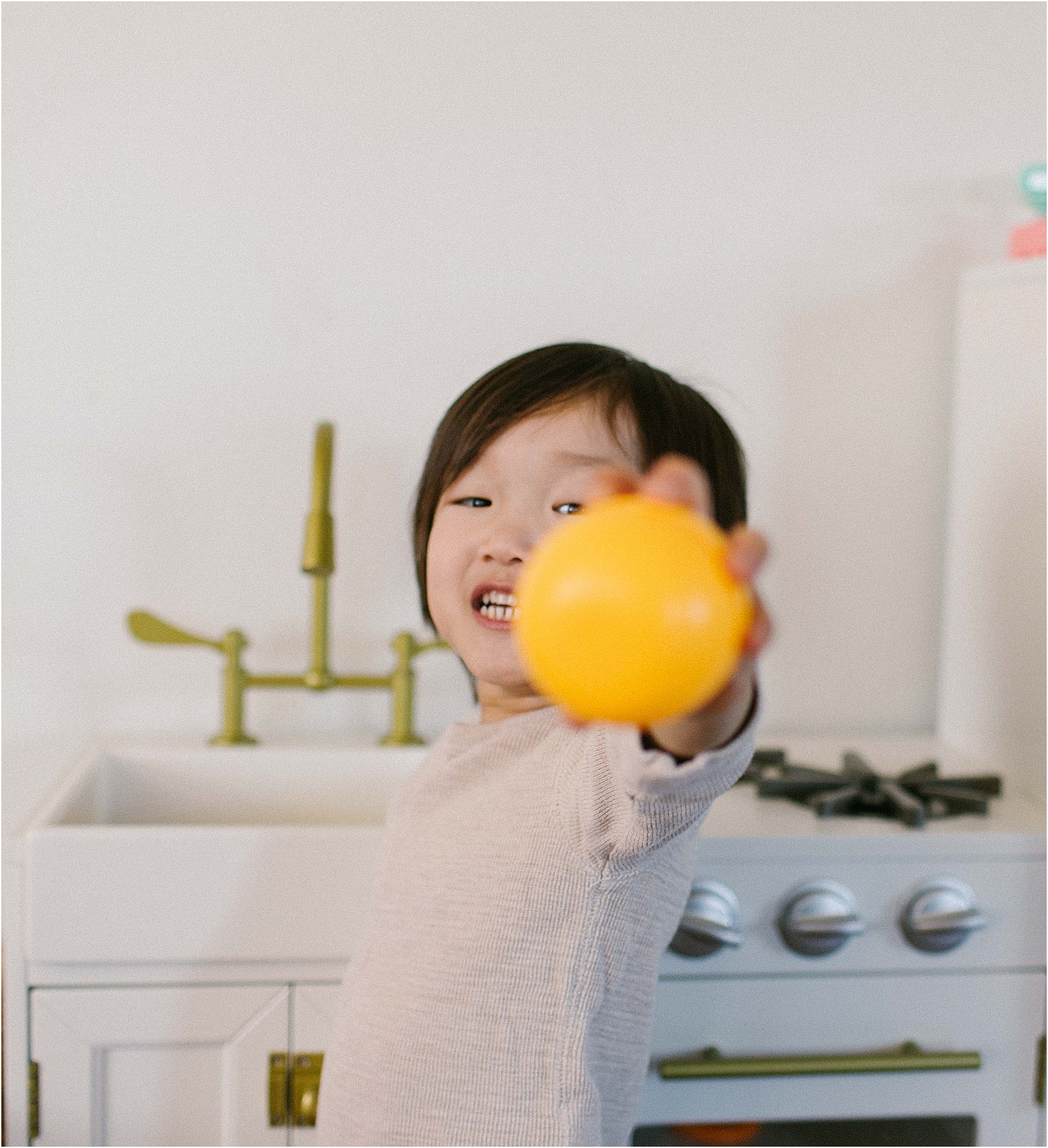 Maria Montessori was the founder of the philosophy behind Montessori, and she opened the very first Montessori school in 1907. Maria Montessori was an Italian educator, physician, and feminist who grew up with a thirst for knowledge.
When she began working with children, Maria found great success in creating a learning environment that was well-organized and allowed children to choose activities based on their specific interests. Despite young ages (0 months to 4 or 5 years), she allowed her students to practice real-life skills such as washing hands, setting the table, and filling up a glass of water. There are now thousands of Montessori schools based on these founding principles. You can easily incorporate Montessori principles at home through the use of Montessori toys.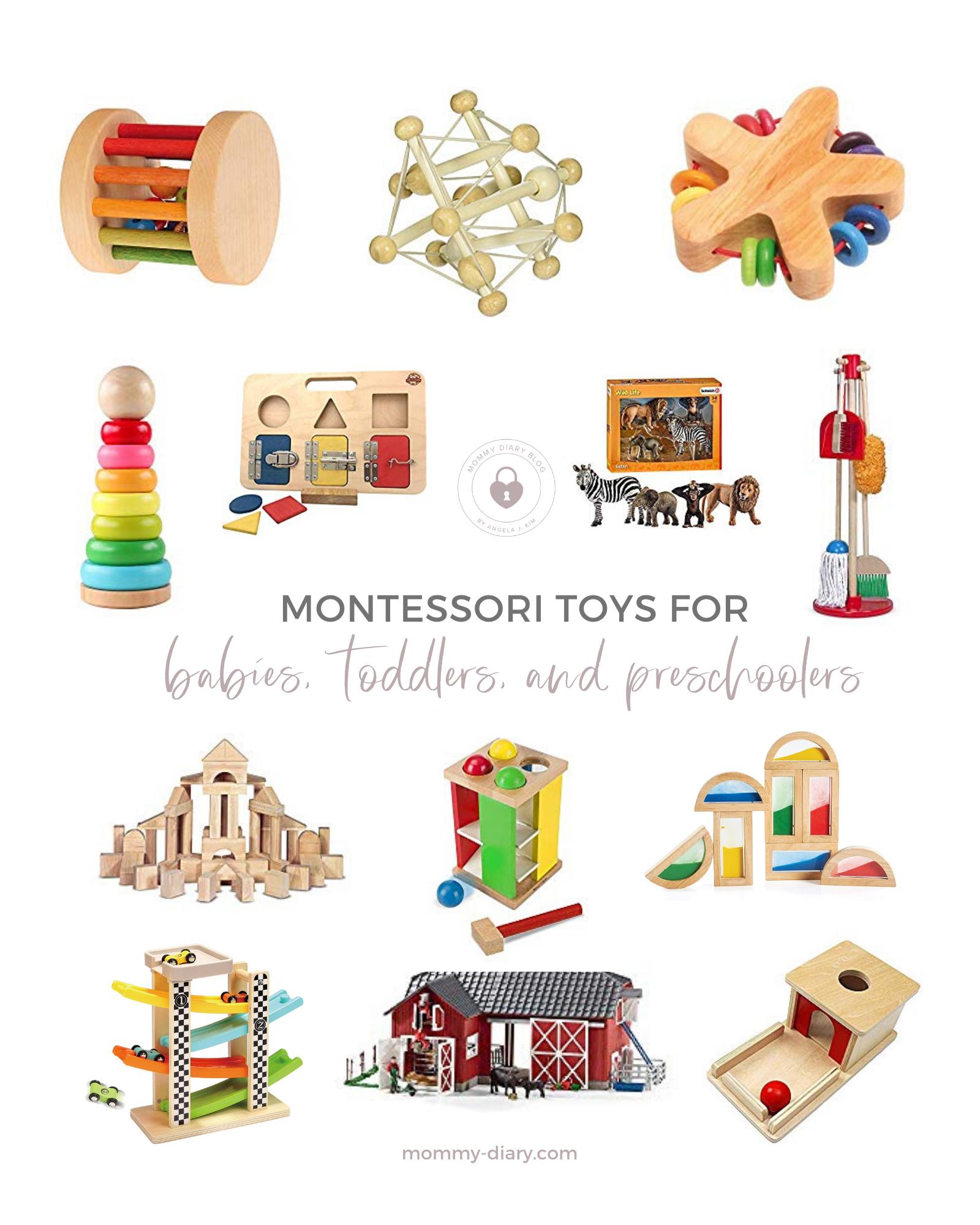 Best Montessori Toys for Babies, Toddlers, and Preschoolers
Montessori toys are designed to help young children understand the world around them, use their imagination, problem solve, bring joy, and encourage independence. In addition, Montessori toys are items that the child can hold, manipulate, and explore.
Montessori toys are wonderful for children as young as infants and babies because they align with their developmental needs and work on practical life skills such as hand-eye coordination, fine motor skills, and gross motor skills.
You'll find that most traditional Montessori-style toys are made from wood and natural materials. This is because wood is a healthy, safe, and overall appealing material for children. You will typically not find features such as flashing lights, sound effects, or cartoon characters.
A vital part of incorporating Montessori toys into the home is the way that they are presented. The idea is that less is more. You don't want clutter in your child's play gym. A large clutter of toys can quickly become confusing and overwhelming to them. The best way to present Montessori toys is to have only a few at a time, depending on your child's age. Storing the toys on an open shelf is a common way to present them. This also makes it easy for your child to get the toy they want and put it back in the correct space.
The list below will share several beautiful and engaging Montessori toy options categorized by the child's age.
Best Montessori Toys for
Babies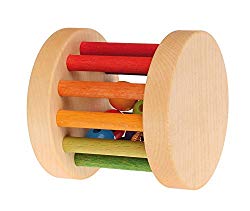 This Montessori toy has high-constantly bright appealing colors and is made with non-toxic materials. It will intrigue your baby as they roll it back and forth listening to the rattle sound, and help with early motor skills. Grimms is a trusted company that makes high-quality toys.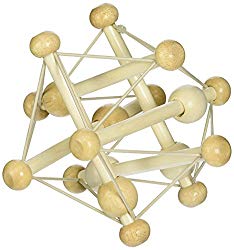 A skwish will be sure to be a favorite baby toy in your house. Its unique design captures the baby's attention instantly. As they move the toy, the beads will slide back and forth. When pushed down, it will collapse, and then return to regular size. A must-have!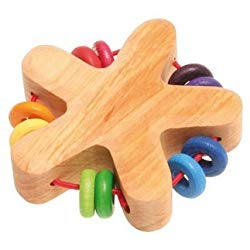 This star is a perfect first grasper and teething toy. It's safe for your baby to put in their mouth, and you won't have to worry about it breaking apart. The colorful disks make a soft sound when shaken.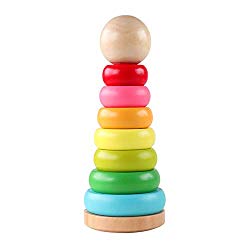 Rainbow stackers are classic baby wooden toys that never go out of style. This Montessori toy helps develop color and size recognition. The chunky pieces will make it easy for your baby to grasp, and they will love taking the rings off and putting them back on again and again.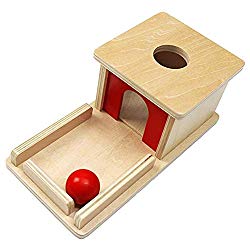 Object permanence boxes are a toy that you will see in most traditional Montessori classrooms. Putting the sensory ball into the hole in the box helps greatly with a baby's hand-eye coordination. The idea of object permanence is that an object still exists even when it cannot be seen, heard, touched, etc. Babies love dropping the ball in, watching it disappear, and then seeing it successfully come out onto the tray.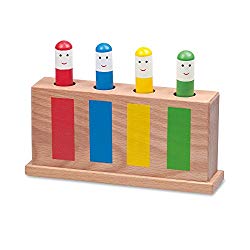 Simple Montessori toys have an amazing way of being the most engaging. I love this toy because it can stretch from young babies to older babies. At an early age, it's another great toy for hand-eye coordination as they take the peg people in and out of their spaces. An older baby can work on matching the people to the colors. Seeing the pieces pop adds to the fun.
Best Montessori Toys for Toddlers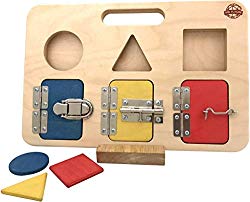 Any Montessori toy that introduces basic shapes is a great option for toddlers. This is a sturdy toy that can even be taken on the go. Toddlers will have fun problem-solving how to open and close each latch and match shapes and colors.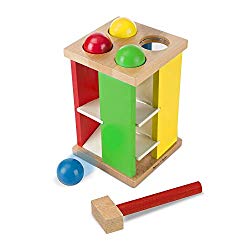 Melissa and Doug never disappoints. They are a well-made affordable option of toys that align with Montessori principles. I have seen several kids play with this pound-and-roll tower and love it. It's a playroom staple because it is so fun to use the hammer to hit the balls and watch them roll down the tower. What an engaging way to strengthen their hand-eye coordination.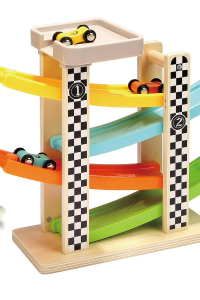 Toddlers will have so much fun placing the race cars at the top and watching them race down the colorful track. The benefits of this Montessori toy include developing fine motor skills and building attention span. This would be a fun toy to play with a friend or sibling while encouraging cooperation.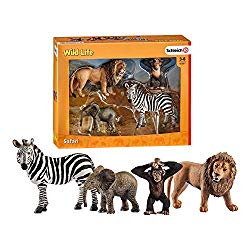 Schleich is a popular brand of animal figurines and landscape playsets for toddler and preschool play. This brand is incredible because of the realistic details of each animal. These animal figurines will keep your toddler happy as they use their imagination for pretend play. They are the perfect size, making it so easy to take with you in the car or out on the go. This particular set includes a lion, zebra, elephant, and chimpanzee. There are several other options available.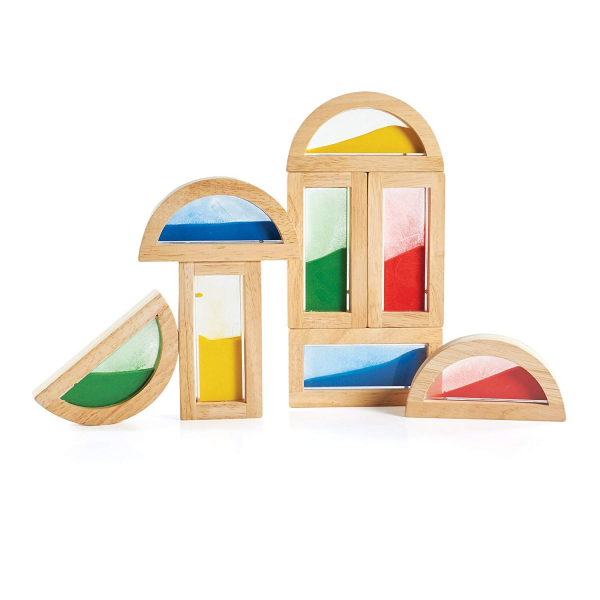 These are no ordinary blocks. The different shaped blocks with sand inside provide an experience for toddlers that allows them to explore color, light, and sound. You can easily mix this Montessori toy with other wooden blocks to create a fun design.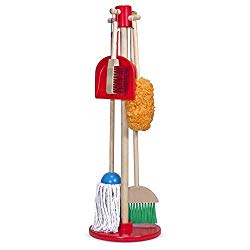 Toddlers love any opportunity to be independent and feel like they are helping mom or dad. This Montessori-inspired toy gives them the chance to enjoy dramatic play and practice important life skills.
Best Montessori Toys for
Preschoolers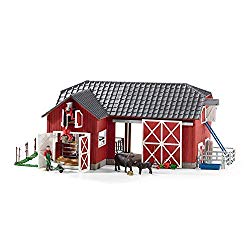 Another well-loved Schleich toy is this beautiful red barn. It includes so many realistic features that will captivate any preschooler. This Montessori toy will inspire your child to use their imagination every time they play.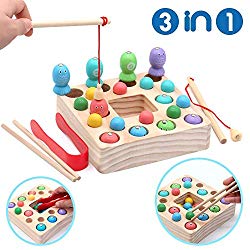 This is the ultimate Montessori-inspired game for strengthening fine motor skills. It comes with a fishing pole to catch magnetic fish as well as a clamp and chopsticks to grab colorful beads. An added bonus? The fish are labeled with numbers to practice counting and number identification. This is an excellent choice for an early-age multiplayer game.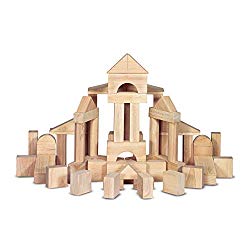 You can't go wrong with a solid set of building blocks. This set includes 60 blocks varying in shape and size. These shape sorters are appropriate for toddler-elementary school-aged children and help develop math concepts, patience, hand-eye coordination, and creativity.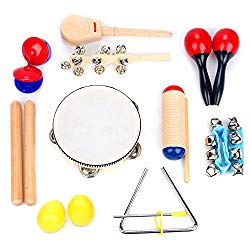 Giving the gift of music is always a good idea. Hand this instrument set to a preschooler and watch them explore the fun sounds they can make. Exposure to music at an early age is ideal for development and a great way to encourage creativity.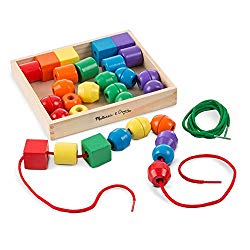 Lacing beads are ideal for ages 3-5. These large beads make it easy for your preschooler to grasp them and place them onto the thin string. This Montessori-inspired activity works on fine motor skills, colors, shapes, and patterns. Store these in a zip-lock bag to create a quick busy bag for on-the-go.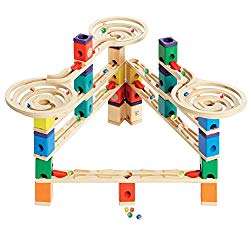 How fun is this? A marble run follows the Montessori method due to its open-ended possibilities. It's also considered a STEM toy, perfect for your little engineers. This is a Montessori toy that would be fun for the whole family. It does come with marbles, so it would be something to monitor with younger children. Hape is a trusted well-made toy brand that will last forever!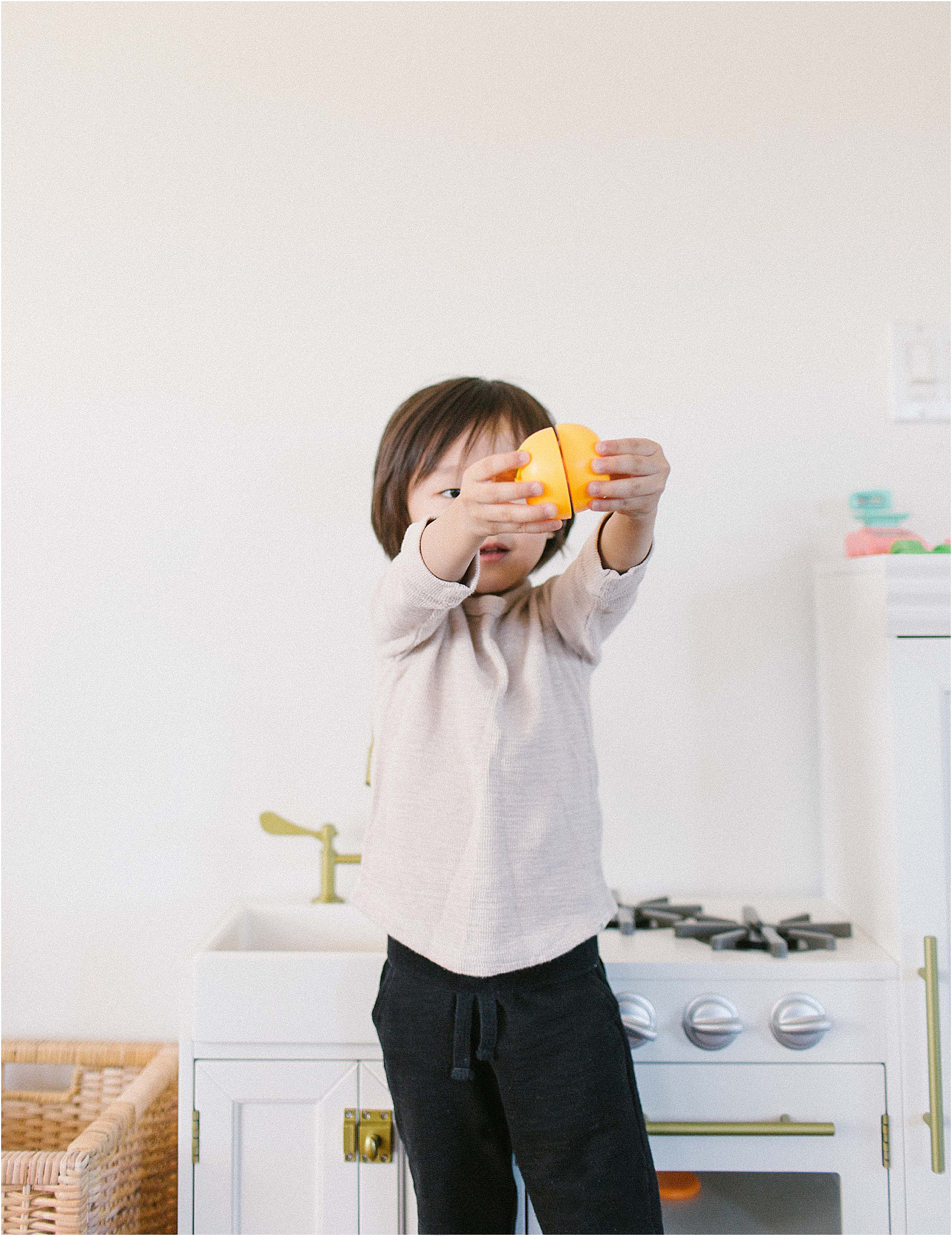 That is quite the list of Montessori toys, and I hope you're inspired to try some of them out with your little ones. Let me know what you love! Looking for more toy gift ideas? Check out this post for more inspiration. Thank you for reading!
This post contains affiliate links that help to support the blog at no additional cost to you. Thank you for your support that allows me to continue to create valuable content for families all around the world.