There are few things as important as the human connection, just as there are few relationships as important as the parent-child relationship. No matter how young they are, this connection is just as important for children. A parent-child connection is essential to maintaining a healthy relationship and setting your child up for success.
Meeting your child's need for connection can help them in several ways. Not only will it encourage them to become more patient, but it can also help them develop self-regulation and make it easier for them to follow rules.
As a mom of four, I understand that building daily habits of connection can be a daunting task, especially for busy parents. This is why I'm sharing a round-up of ways to help you connect with your kids meaningfully and on a regular basis.
25 Ways To Connect With Your Child
Talking And Listening To Your Child
Simply talking and listening to them is one of the most meaningful ways to spend time with your kids. You might be surprised to discover how eager your child is to chat with you about anything and everything. Give them your undivided attention and you never know what you might learn about them.
Taking An Interest In Their Interests
Sometimes all it takes to build a stronger connection with your child is for you to show interest in the things they care about. Whether it's a YouTube channel, a fashion trend, or even a social media influencer, if your children feel passionate about something, they would love to see you take an interest in it too.
Finding A New Hobby Together
You can never have too many hobbies. The same goes for your child. Why not find a new one you can enjoy together? Whether it's pickleball or jewelry-making, find something that you both can get excited about and then enjoy doing it together.
Laughing With Your Child
It's true what they say: laughter is medicine. Laughing with your child, no matter their age, is a great way to connect with them. Try telling jokes or sharing funny stories. Acting silly will not only make your child laugh, but it'll help you let loose and have a little fun.
Hugging Each Other
Laughter is certainly beneficial, but for many kids, physical touch is just as meaningful. If you don't have a touchy-feely child, you don't want to pressure them into giving hugs. But many children will literally welcome you with open arms. Especially when they're unexpected, hugs can put a smile on your child's face.
Asking About Their Favorite Things
Another easy way to connect with your child is to ask them about their favorite things. You can show your child that you're truly interested in making eye contact, giving them your undivided attention. You might even find that you have more things in common than you previously thought, which can encourage you to spend more time together.
Playing Games
There are countless games you can play with your child, no matter their age.
For younger children, find an age-appropriate game that you can play together. Hide and Seek is a great game for kids as young as 2. You can hide and have them try to find you or you can hide one of their toys or stuffed animals and look for it together. Be sure to celebrate when they find you or their toy!
For older children, I recommend giving them a few options to ensure you find something that piques their interest. Try a board game or card game.
Singing And Dancing
An easy way to connect with your child is through music. You can make music with a musical instrument set or play some music and dance with your kids. The good news is that you can pick whatever music you want to get your child moving.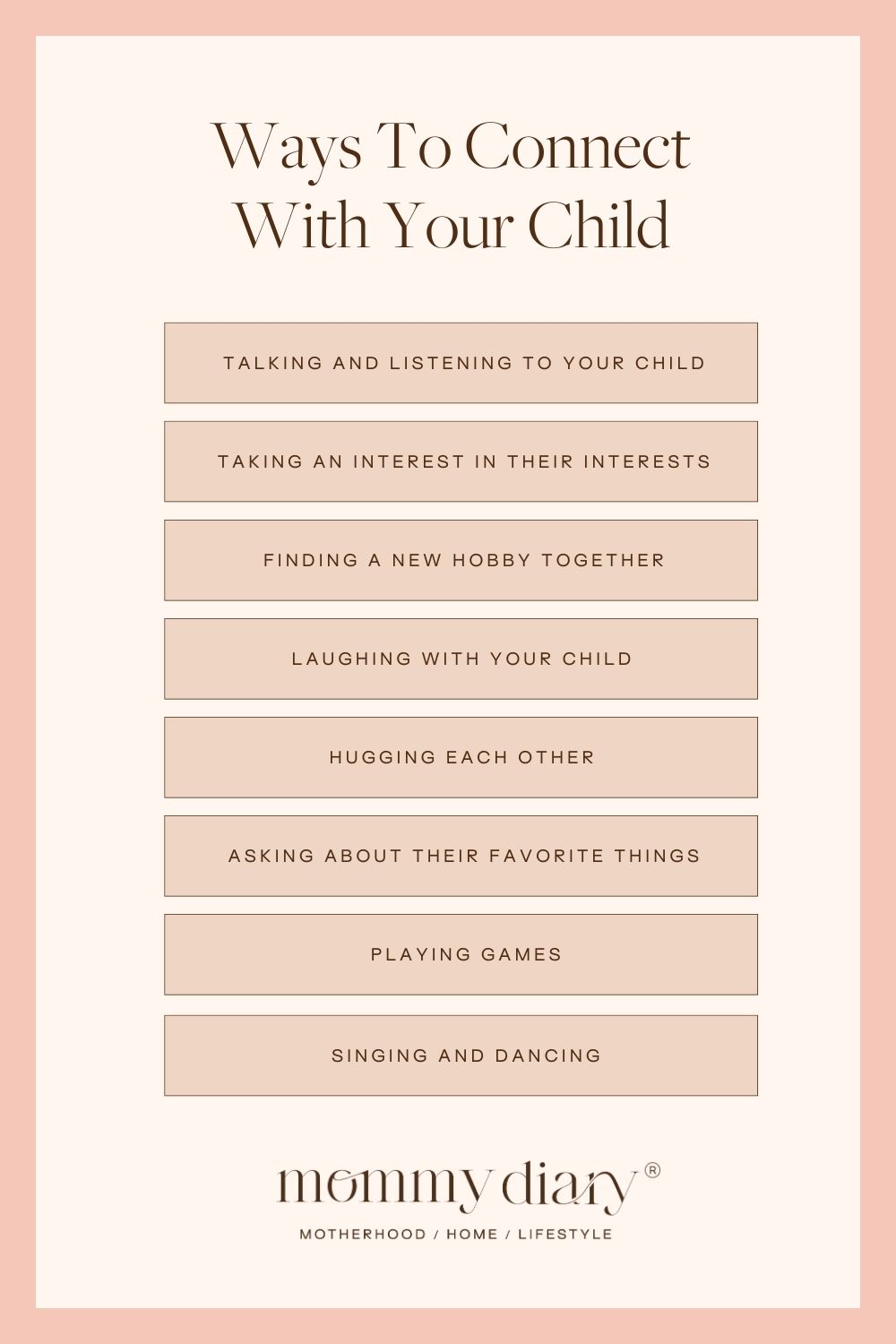 Looking At Family Photos Or Baby Pictures
Looking at photos together is a great way to build a stronger connection with your child, no matter their age. Pull out some old family pictures or pictures of your child when they were a baby. Maybe even show them some pictures of you as a baby. Talk to them about what life was like when the pictures were taken and let your child ask questions to create a meaningful conversation.
Doing Crafts Together
Crafts are guaranteed to be a fun activity with your child. There are so many different types of crafts you can do together. From painting (with this silicone painting mat) to collages to cardboard crafts. Don't be afraid to get a little messy, either. Remember, you're making memories and building connections that will last a lifetime.
Tickling
Tickling is a great way to get a few laughs out of your children. However, it's important to listen to your child and respect that some kids don't like being tickled. Even if your child doesn't enjoy being tickled, they might get a kick out of tickling you!
Walking Outside
Spending quality time with your child in the great outdoors is beneficial for both of you. You can go on a walk around your neighborhood or visit a nearby park. There might even be a nature trail that you haven't explored. Together, you can enjoy the fresh air and sense of adventure.
Playing With Playdough
Sensory activities are great for building connections with your kids. Playing with playdough is a great sensory activity that's just as fun for you as it is for your child. You can work together to create different shapes or even make your own game out of the things you create.
Bathtime Play
Another great way to connect with your child is to take advantage of opportunities to have a little fun. One way to do this is to turn bathtime into playtime. Of course, this only works for little ones, but you'd be surprised by how much fun there is to be had while they're in the tub.
You can play sing and dance while you scrub them clean or you can fill the tub with bubbles and blow them into the air. One trick that's always a hit with young kids is to add a bunch of glow sticks to their bathwater and then turn off the lights. Watch as their eyes light up with excitement!
Cooking Together
What better way to create family time than by getting your children involved in everyday activities? Young children especially love helping prepare snacks and meals. You can use a pre-made mix and bake muffins together or work together to make dinner for your family. Plus, measuring ingredients makes for a great learning opportunity.
Playing A Game In The Car
A car ride is another great opportunity to connect with your child. You can ask them a bunch of questions to try to get them to talk or you can have some fun by playing a game. Games like "I Spy" are perfect for car rides, both short and long.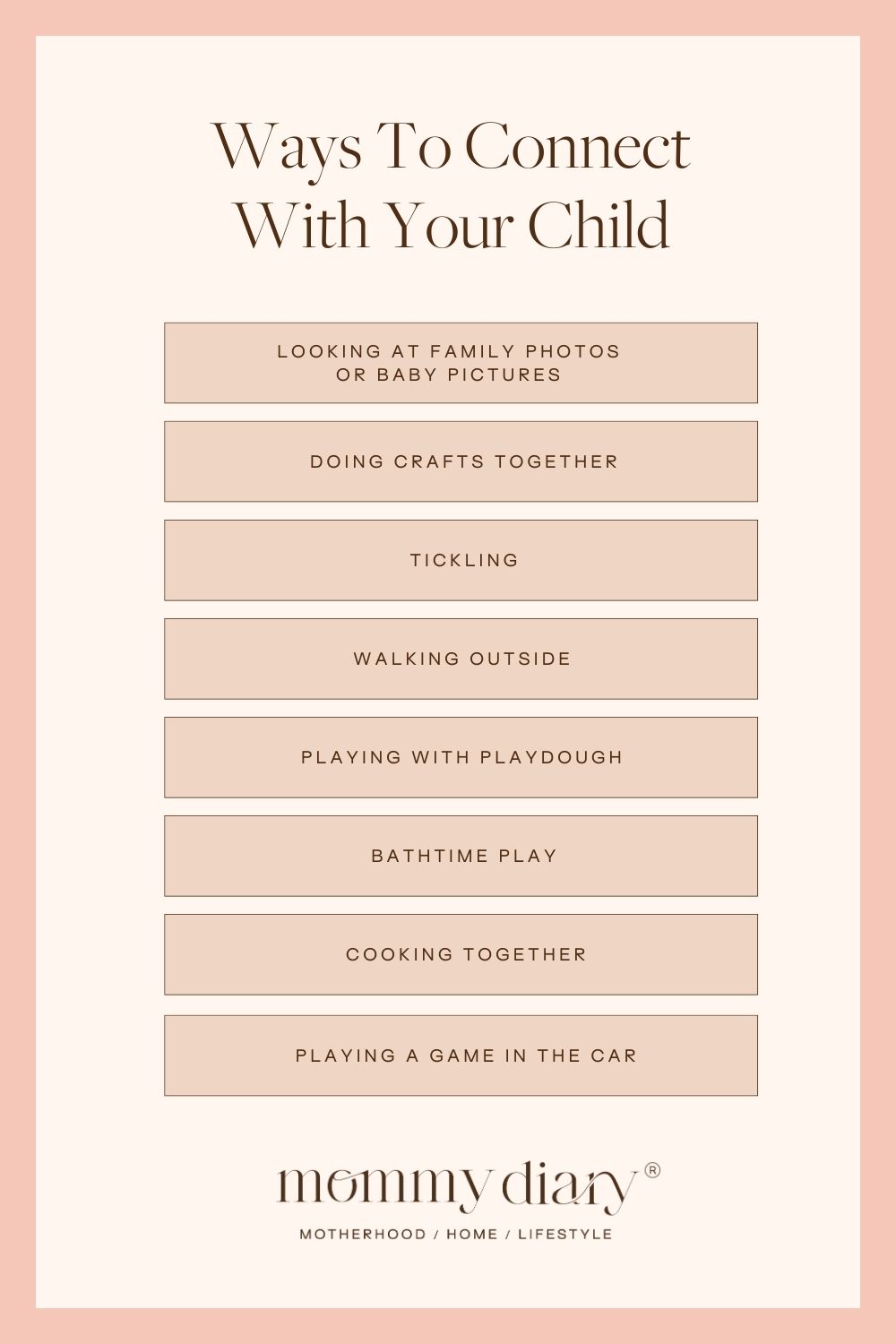 Playing On A Playground
There are a bunch of ways to spend quality time with your children at the playground. As tempting as it can be to sit to the side and let your child play on their own, connect with them by giving them your undivided attention.
Grab swings next to each other and swing together. Go down the slide together or hold them as they climb the ladder.
Reading
Reading is one of my favorite things to do with my kids. Even if your child isn't old enough to read on their own yet, reading to them can help them to feel connected to you. Once your child begins to learn to read, you can take turns reading back and forth.
Some of my favorite books to read with my kids include:
Having A Picnic
Having a picnic is a great way for parents and families to connect. Working together you can create a menu, shop for food, and pack for the picnic. You can even have your kids help you pick out a spot to picnic. Once you're there, you can focus on spending quality time together out in nature.
If you're looking for a fun rainy-day activity, you can even have a picnic indoors!
Shopping Together
Shopping together is a great way to bond with your child. For younger kids, you can take them grocery shopping with you. Older kids will love to be treated to a shopping trip at one of their favorite stores. You don't have to spend a lot of money to make a meaningful connection.
Playing With Bubbles
Bubbles are cheap and provide hours of fun. You can turn it into a game to see who can blow the most bubbles. Challenge your child to pop as many bubbles as they can before they hit the ground. There's so much fun to be had in just a single tube of bubbles!
Having A Pillow Fight
You can never go wrong with a pillow fight! The more participants, the better, so try to get the whole family involved. Young kids will really get a kick out of watching you pretend to be knocked over by their swings.
Building An Obstacle Course
There's no wrong way to build an obstacle course. Use whatever you have, whether it's couch cushions or sidewalk chalk. You can make it as difficult as you want, depending on your child's capabilities.
Going On A Scavenger Hunt
Scavenger hunts are so fun! You can create your own outdoor scavenger hunt by making a list that includes rocks, leaves, sticks, and flowers. Or you can have an indoor scavenger hunt. This game makes it super easy: Found It! Indoor Scavenger Hunt.
Pretend Play
We love pretend play in our house! It's one of our favorite types of play. Pretend play, or imaginative play, is especially fun for toddlers and preschoolers. There are several ways to engage your child through pretend play. Let your child take the lead, get on their level, and ask questions like "What should we do next?"
Here are a few of my favorite items for pretend play at home: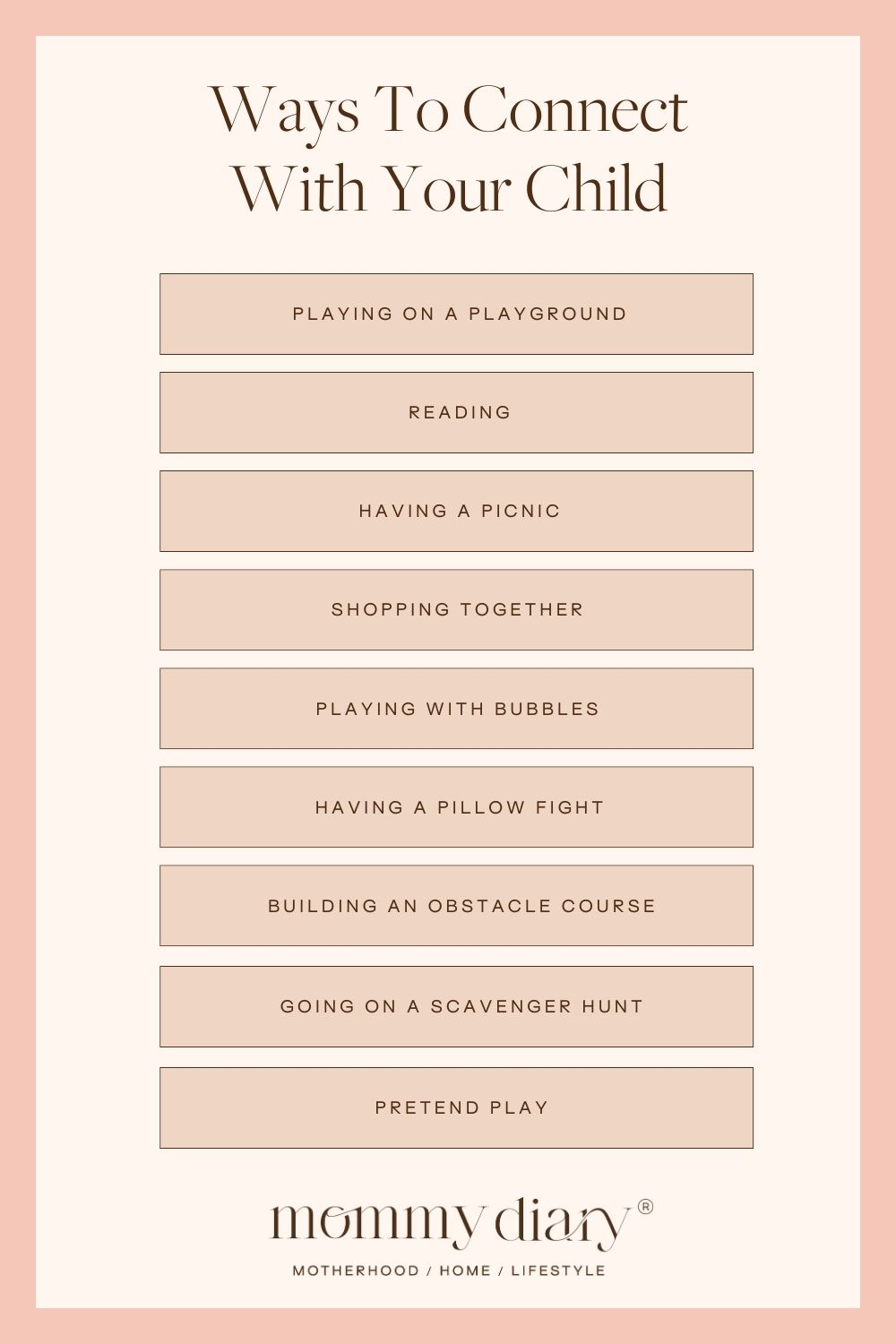 The Importance Of Spending Quality Time With Your Child
Builds Your Child's Confidence
According to Collett Smart, a registered psychologist, educator, and author of They'll Be Okay, "One of the key factors that builds resilience in young people is a sense of being connected to adults."
Building meaningful connections with your children, no matter their age, can boost their self-confidence and encourage them to become more resilient adults.
Helps Develop Fewer Behavior Issues
Children who spend more time with their parents are less likely to exhibit behavior problems. When a child feels like a loved and respected member of their family, they are less likely to have behavioral problems both at home and at school.
Additionally, children who frequently spend quality time with their families are statistically less likely to engage in risky behavior.
Strengthens Your Relationship
The more time you spend with your child, the stronger your relationship will become. But, it's not enough to simply be around them. Spending quality time getting to know your child on a deeper level creates an unbreakable bond that will stick with them well into adulthood.
Makes Kids Feel Loved And Appreciated
It's important for kids to feel loved and cared for. There's no better way to do this than to be present and spend quality time with them as often as possible. Regular attention and affection from parents contribute to mentally and emotionally strong children.
Encourages Healthy Development
There are physical benefits of spending time with your children as well. Numerous studies have shown that kids who spend time with their parents are physically healthier overall. This study found that poor quality mother-and-child relationships early in life put children at a 2.45 times higher risk of obesity.
There are countless, easy ways to connect with your child every day.
It doesn't take a lot of time or effort to build a strong connection with your child. Just a few minutes every day can strengthen your relationship and benefit your child in several ways.
For more ways to connect with your children and embrace all the ups and downs of motherhood, visit the blog!