Being a stay-at-home mom can be wonderfully rewarding, but also equally challenging and exhausting. As a mom of four, I love being able to spend all day with my kids and manage the household.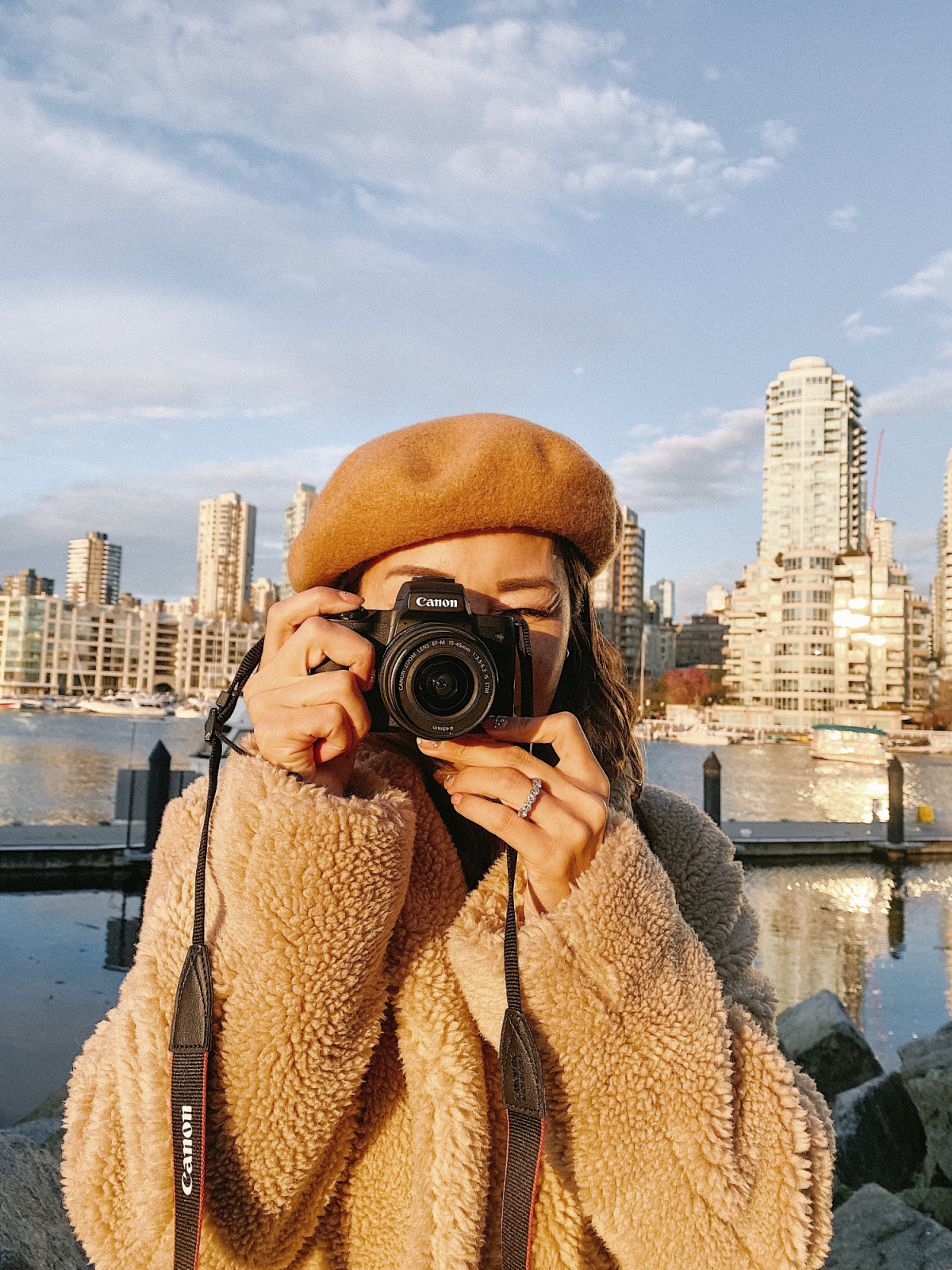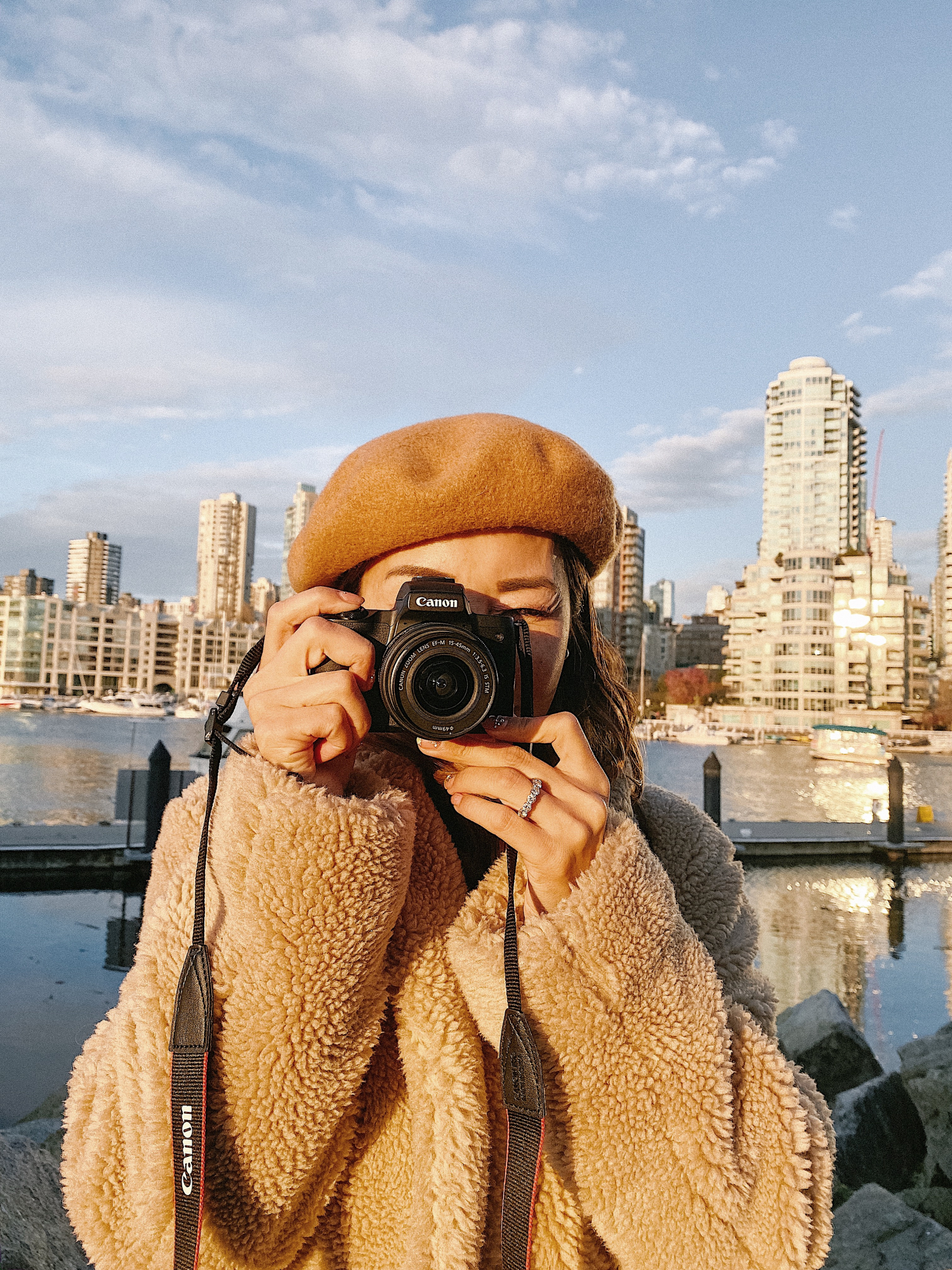 I also know that as a stay-at-home mom, it's important to make time to do something that you love and enjoy. It's easy to get wrapped up in the day-to-day and forget to take time for yourself.
A hobby can give you a sense of identity that is separate from being a mom. Hobbies can also bring balance, perspective, and fulfillment into your days. They are especially beneficial for your overall wellness, both now and in the long run.
I'm sharing a list of hobbies for moms who are feeling overwhelmed and need an outlet, as well as moms with free time who simply want to find a hobby.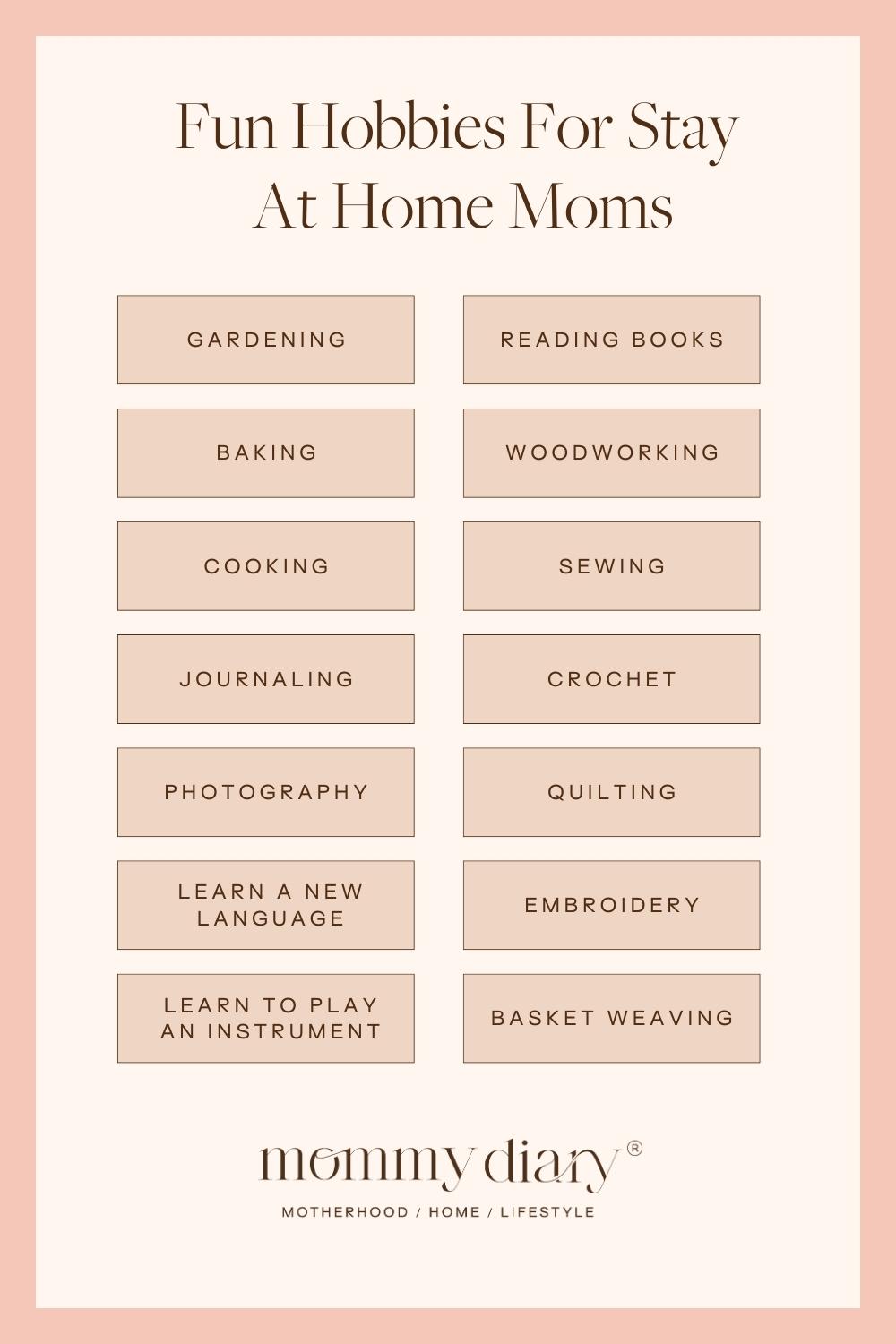 40 Fun Hobbies For Stay-At-Home Moms
Gardening
Even if you're new to gardening, this is a hobby that can be both relaxing and rewarding for stay-at-home moms. You can create a dedicated space in your backyard and start with just a few different seeds. You might be surprised to discover how much time you actually want to dedicate to your garden.
Baking
Baking can be surprisingly relaxing. It's a fantastic hobby for stay-at-home moms. You can even bake bread, cookies, and countless other goodies to share with your family, your neighbors, and more.
Cooking
For many moms, cooking feels like a chore. But if you find joy in preparing meals, you can turn it into a hobby. You can try new recipes and challenge yourself with more difficult recipes.
Journaling
There's no wrong way to journal. You can keep a daily gratitude journal or write down your thoughts in a blank journal, whenever you feel so inclined. It can be surprisingly therapeutic to get your thoughts out on paper. 
Photography
Photography is a fun hobby, especially when you have kids to photograph. You can invest in a DSLR camera or you can use the camera on your phone. Plus, there are a ton of photography apps available to enhance your photos.
Check out my beginner photography tips for mothers
Learn A New Language
It's easier to learn a new language now than ever before, thanks to many apps and videos that can help. By setting aside just a few hours a week, you can begin to pick up a new language in just a few months.
Learn To Play An Instrument
It's never too late to learn to play a musical instrument. There are numerous instruments to choose from, so you can pick one that appeals to you.
Playing an instrument is a great way to relax and take a break from the stresses of motherhood.
Reading Books
Reading is my favorite past-time activity. There's nothing like getting lost in a good book. You can read one of my favorite personal development books for women or pick out a work of fiction that will take your mind off everything going on around you.
Woodworking
Like several hobbies on this list, woodworking is a rewarding hobby that can also bring in extra money. Woodworking involves everything from carpentry repairs to building furniture. It's easy to learn and gets easier with every project.
To get started pick an easier project that requires minimal power tools, then work your way up to harder projects.
Sewing
There are several benefits to learning how to sew. Not only can sewing help you become more mindful, but it can also save you money.
You can learn to sew by hand or use a sewing machine. You only need a needle and thread to sew by hand. If you would prefer to use a machine, a beginner's sewing machine like this one can help get you started.
Crochet
Crocheting is a great hobby for stay-at-home moms. It's inexpensive and can help you relax. All you need to get started is a few crochet needles and some yarn. Or you can get one of these Beginners Crochet Kits. 
Crochet is easy to start and once you get the hang of it, you can learn how to make blankets, scarves, stuffed animals, and more.
Quilting
Even if you're new to sewing, you'll find that quilting can be a fun and rewarding creative outlet. You can quilt by hand or use a sewing machine like the one I linked above. You can also pick out your own quilting squares or buy pre-matched sets like these.
If you're new to quilting, you'll need pins, needles, batting, and fabric to get started.
Embroidery
Embroidery is another great hobby that requires a needle and thread. You don't have to know how to sew to get started; there are plenty of YouTube videos and reading guides that can teach you how to embroider.
To start, you need embroidery floss, a needle, and an embroidery hoop. Or you can buy an embroidery kit that is especially helpful for beginners.
Basket Weaving
Basket weaving is a great hobby for stay-at-home moms. You only need a beginner's basket weaving kit to get started, and in no time you'll be creating extravagant baskets that you can either keep or give as gifts.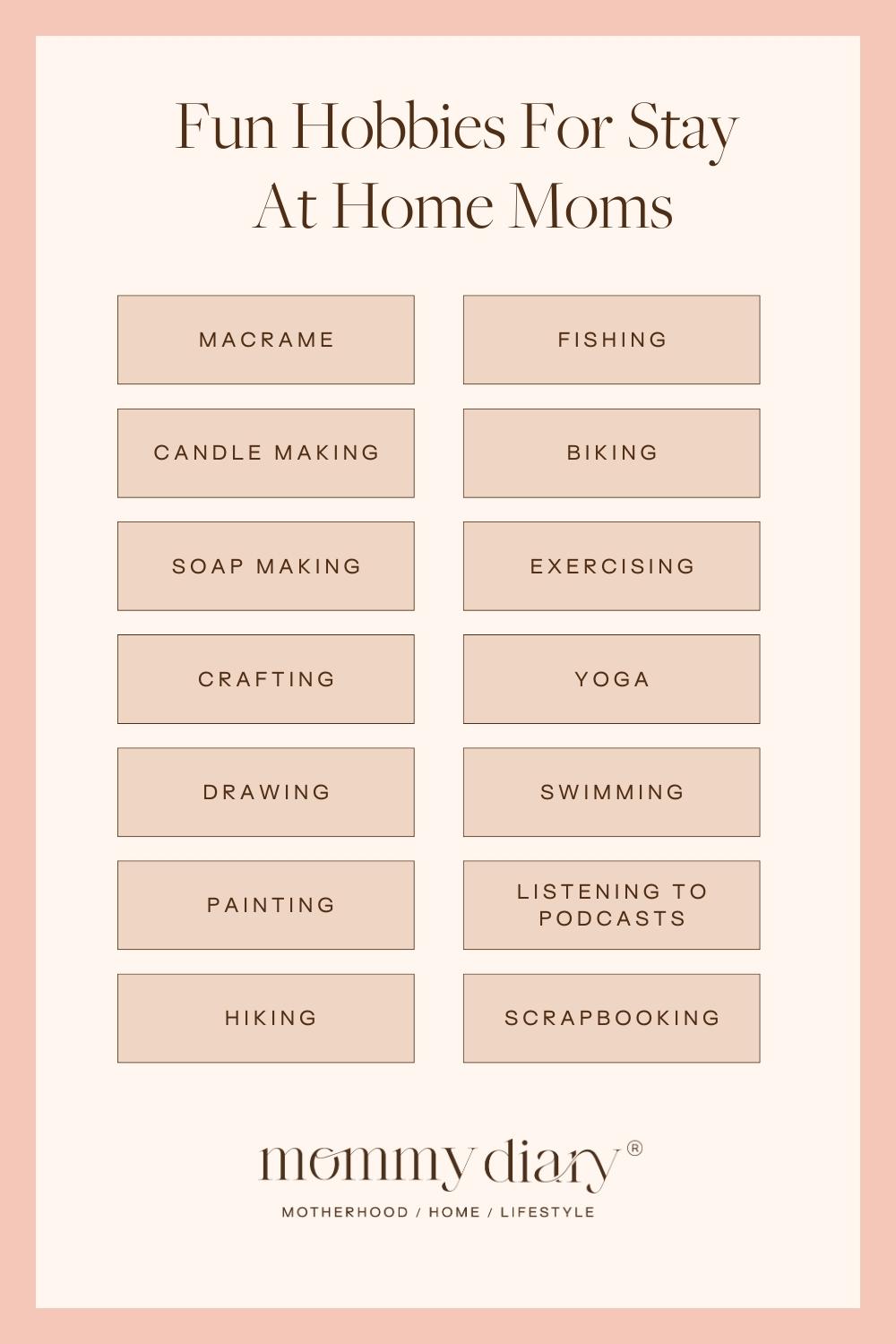 Macrame
Macrame is a great creative outlet for a stay-at-home mom. It uses different knots to create everything from wall decorations and plant handers to bracelets and necklaces.
All you need to get started is a macrame cord and a pair of scissors. You can also get a beginner's macrame kit to make it even easier to complete your first project.
Candle Making
Candle making is one of the many fantastic hobbies for stay-at-home moms that you can do for fun or as a side business. You can keep your homemade candles or gift them to friends and family.
To make candles, you'll need wicks, wax, coloring, and fragrance oil, as well as jars or other vessels to hold the wax. A candle-making kit like this one includes everything you need. 
Soap Making
Soap making is a traditional hobby that is pretty easy to learn. Using a soap-making kit to get started, you can create homemade gifts for friends, family, or even yourself.
Crafting
Crafting is whatever you want it to be. It's about making something with your hands, which means you can use whatever you have at home, or purchase items specifically designed for craft projects. A quick online search will yield hundreds of results for easy-to-follow, at-home craft ideas for stay-at-home moms.
It's up to you to decide whether you want to involve your kids or enjoy crafting alone.
Coloring
With dozens of adult coloring books to choose from, it's easier than ever to create colorful artwork. You can also find printable coloring pages online or download a coloring app if digital art is more your style.
Painting
Painting is another great hobby that you can do on your own or with your kids. Acrylic paints tend to be the best medium for beginners because they're inexpensive and much easier to clean than other types of paint. Here's a great beginner acrylic paint set.
Hiking
Hiking is a great way for stay-at-home moms to spend some time in the great outdoors. Letting that crisp air fill your lungs can work wonders for your mind and body. Hiking allows you to pick where you walk and how challenging it is. You can use hiking as a form of exercise or simply enjoy a leisurely walk in nature.
Fishing
If you're the outdoorsy type, when it comes to relaxing, it doesn't get much better than going fishing. All you need to get started is a fishing pole with some fishing line and some bait. From there, you'll need to find a spot near you where you can (legally) fish. 
Biking
Biking can be however challenging you want it to be. You can go for a slow, leisurely ride around your neighborhood or a local park, or you can take on a more challenging course for some endurance exercise. Either way, it's a great way for a stay-at-home mom to unwind.
Exercising
Exercise doesn't have to be a chore. There are plenty of ways to turn it into a fun hobby. You can join a fitness class at your local gym or follow a workout tutorial online. Plus, it's great for your health!
Yoga
Practicing yoga has physical, mental, and spiritual benefits. Not only will it make you healthier, it will help you relax and boost your self-confidence. There are a ton of online yoga tutorials, or you can find a yoga class near you.
Swimming
Swimming is an excellent, low-impact sport that benefits your entire body. Regular swimming can strengthen your muscles and relieve stress, all while burning fat.
Listening To Podcasts
Listening to podcasts is a great hobby that doesn't require any special equipment or extra time. You can listen to my podcast or explore the thousands of available podcasts to find one that appeals the most to you.
Scrapbooking
Scrapbooking is a fantastic hobby for stay-at-home moms. It allows you to create a keepsake that you will cherish for years to come. You can put together a scrapbook for your kids, your family, or yourself.
There are a ton of scrapbooking templates online. You can follow one of those, or you can start with a DIY scrapbook kit like this.
Jewelry Making
Jewelry making is another hobby that you can enjoy for fun or as a side business. It can be as expensive or as cheap as you want, depending on the supplies you use. You can make simple jewelry out of wire or thread, or more intricate pieces using various metals and stones.
To get started, consider getting a DIY jewelry-making kit like this one. 
Blogging
In addition to reading, blogging is one of my favorite hobbies. From the moment I decided to start a blog, I recognized it as a creative outlet that allowed me to connect with other moms. Whether you start a mom blog or one of a different sort, blogging is a rewarding activity that can potentially turn into a side business or even a full time career like me! Read How To Create A Successful Blog here.
Graphic Design
Whether you do it for fun or as a side gig, graphic design is another great hobby for stay-at-home moms. It's a creative outlet that you can utilize however you want. Whether you want to create things to sell or just make things to use around your house, graphic design can be just as financially rewarding as it is mentally rewarding.
Freelance Writing
If you have a knack for writing, like me, you can use your talents to make some extra money without ever leaving your house. There are a ton of sites with freelance writing jobs that you can apply for, including Upwork and Freelancer.
Gaming
Gaming isn't just for your kids. You are perfectly entitled to a bit of "me time" whether you're playing a game on your computer, your phone, or a gaming console. There are thousands of games to choose from, including hundreds of free games.
Volunteering
Volunteering is one of the most rewarding hobbies for a stay-at-home mom to consider. There are countless ways to volunteer, from getting involved at your kids' school to working with underprivileged children. It only takes a couple of hours a week to volunteer, so even the busiest moms can get involved.
Furniture Restoration
Whether you're updating your own furniture or transforming a found piece, furniture restoration is a great hobby for stay-at-home moms. You can completely transform chairs, dressers, tables, and more using various techniques.
This hobby is one that often requires the use of tools, paint, and other products, so you might have to work during your child's nap time. But not only is this a fun hobby, it's one that certainly pays off.
Puzzles
From crossword puzzles to jigsaw puzzles, there are a variety of puzzles to choose from. There are several benefits to focusing on a puzzle for even just a little bit of time every time, including boosting your brain health and allowing you to relax.
Couponing
Like many of the other hobbies on this list, couponing is a hobby that also has financial benefits. Many stay-at-home moms are surprised to find that couponing is just as fun as it is rewarding. From seeking out coupons to seeing how much money you can save, couponing is definitely a hobby to consider.
Dancing
Dancing is another fun hobby that can be social or individual. It's also great for your health. There are a ton of different types of dancing, including hip-hop, ballroom, ballet, line, tap, and more.
You can join a nearby dance class or follow an online tutorial.
Calligraphy
Learning calligraphy requires attention to detail and a bit of patience. But it also means learning how to create visual art with only a pen and some paper. To create stunning lettering, you have to slow down, be mindful, and focus on what you're doing. This is why it's a great hobby for stay-at-home moms who are looking for a mental escape. 
As you learn calligraphy, you can practice traditional lettering styles or create some of your own.
Heat Transfer Vinyl (HTV)
Heat Transfer Vinyl, or HTV, has become popular in recent years. HTV allows you to create custom t-shirts and other items, without ever having to leave home. Plus, it's much easier than you might think.
Using HTV, a vinyl cutter, and a heat press, you apply vinyl to fabric to permanently adhere it. There are dozens of easy-to-follow tutorials online. You can do HTV projects for fun or create items to sell.
There are a ton of different hobbies for stay-at-home moms to choose from.
There are practically limitless options for stay-at-home moms looking for a way to unwind and relax. These are just some of the many different hobbies that you can choose from. I'm curious to know which ones stand out to you.
Share in the comments below which hobbies you enjoy the most and which ones you're interested in trying.
Then, head over to the blog for more valuable info and advice from a mom of four.