Tis' the season for many things, especially gift giving. If you were able to get your holiday shopping done on Black Friday and Cyber Monday, I am slightly jealous (but also…go you!). I know there must be others who still have gifts for toddlers and preschoolers to cross off their lists. It never fails: every year I feel like I have so much time to prepare for Christmas. Then suddenly December 23rd comes around, and I still have shopping to do!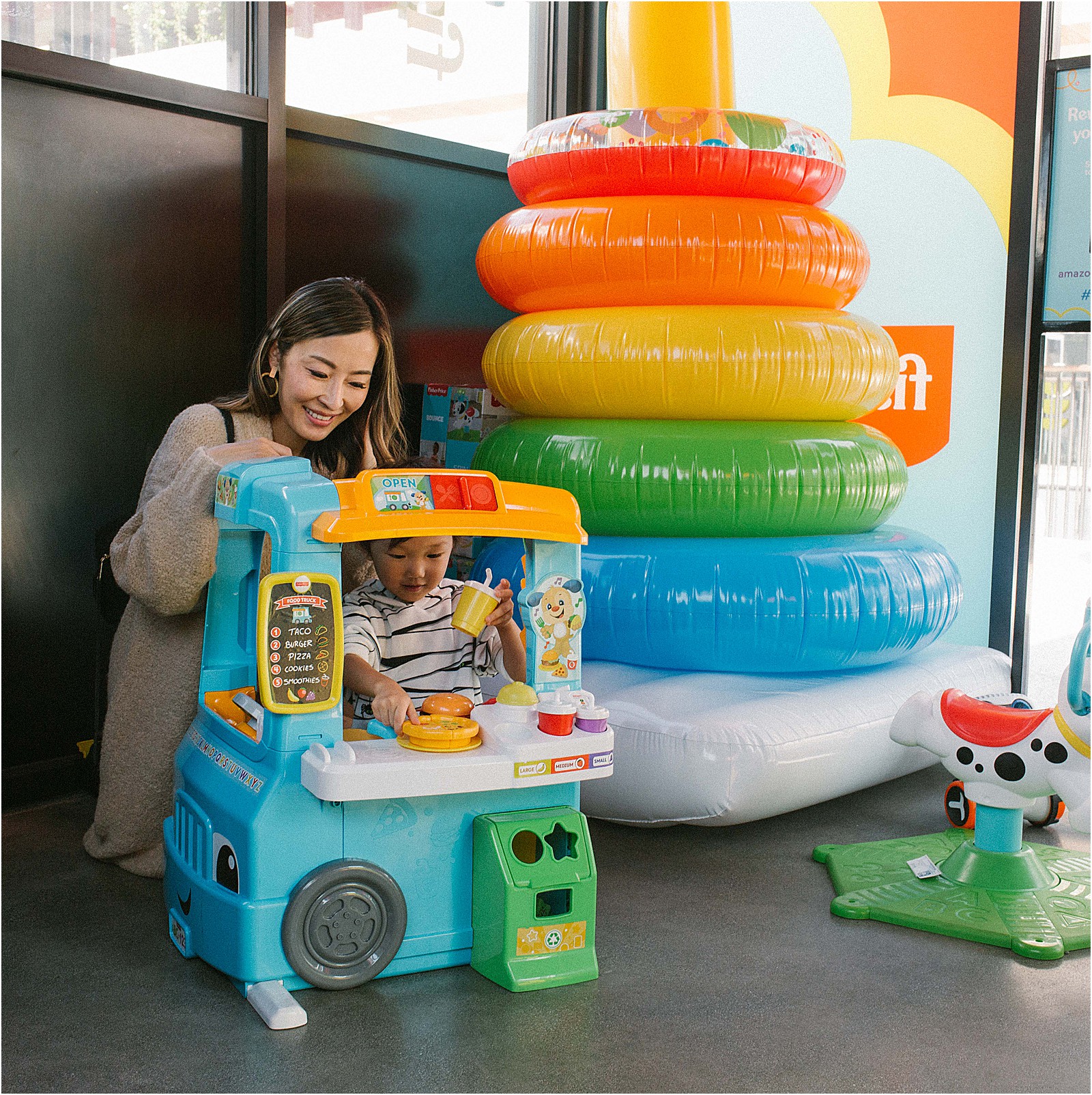 I must admit, shopping for toddler and preschool age kids is my favorite. There are so many unique and creative toys out there for this age group! The 2-4 year period is such a joy in itself. These are the years of independent and dramatic play. Their imaginations always amaze me, and I want to freeze time every moment that I see my son so engrossed in play.
In this post, I will share some of my recent favorite gifts for toddlers and preschoolers They would all make great gift options if you are looking for screen-free fun or for the toddler who has everything. The best part? Almost all of these are on sale right now on Amazon.
*Side Note: In my opinion, all of these toys could be used for children ages 2-5. However, I am splitting them up into gifts for toddlers and preschoolers for the purpose of this post.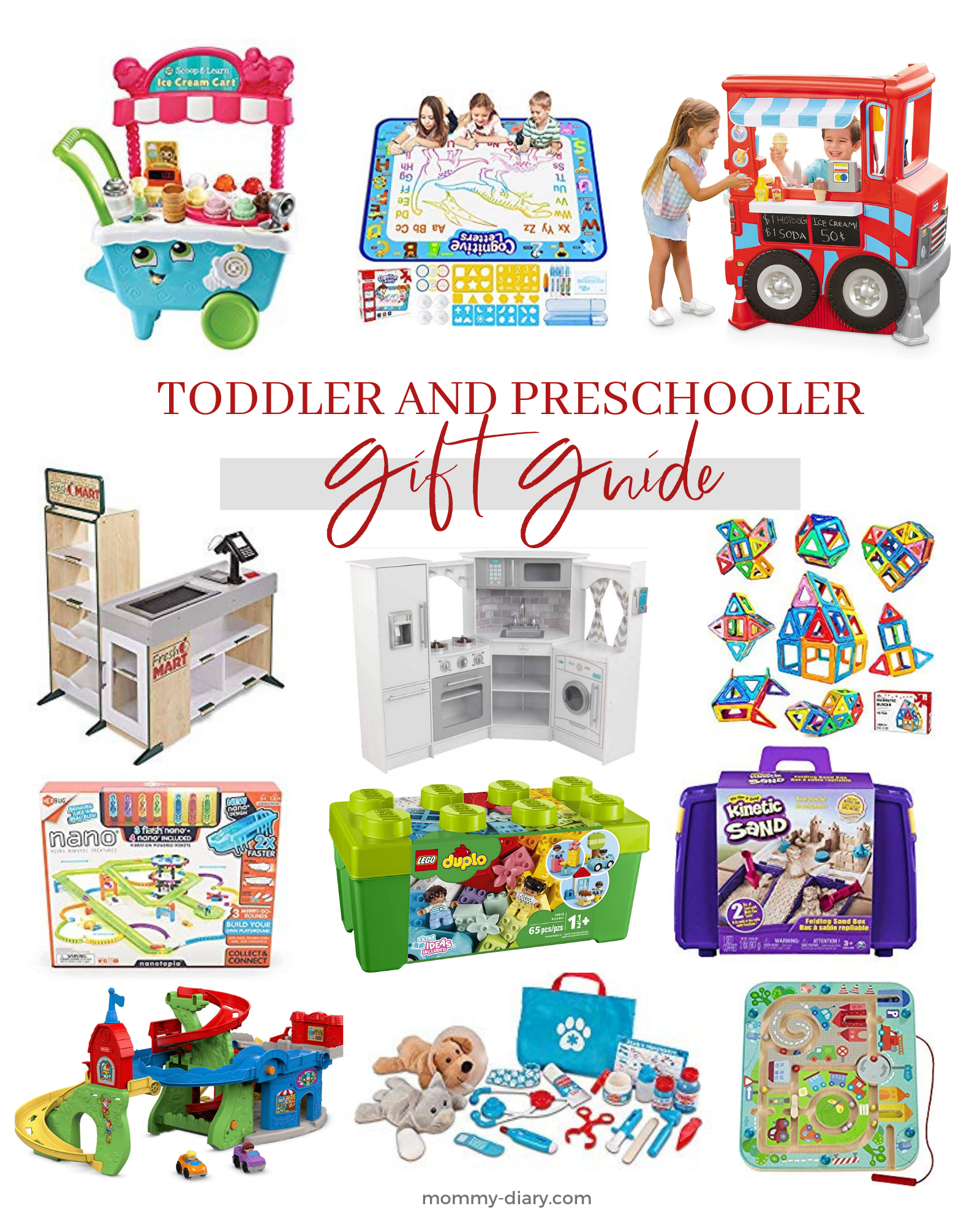 Best Gifts for Toddlers
You may have seen my son playing with this on my Instagram story. He instantly fell in love and it will definitely be a present from Santa this year! You'll love watching your toddler scoop and order different ice cream flavors.
If you have never seen one of these before, prepare to be amazed. I am all about arts and crafts type of activities that are mess free. This doodle mat is reusable, and includes pens, stamps, and stencils. Using only water, your child can create a colorful masterpiece, wait for it to dry, and do it all over again! My favorite thing about this magic mat is that it's huge when layed out, but then easily folds up into the size of a piece of paper to be stored out of sight.
Building is another activity that toddlers are attracted to. Duplo blocks are a great alternative to regular legos, as they are larger and easier for little hands to put together. This particular set is a good option to begin, and there's additional sets that you can add to it!
I've always loved all of the Little People play sets. They do the job of holding a toddler's very short attention span. These playsets are by far the toys that we've gotten the most use out of year after year.
I've never met a toddler who doesn't love playing with toy food. Unintentionally, it seems to be one of the first types of dramatic play that toddlers try. This toy is similar to the ice cream truck, but it's a food truck that serves food such as hamburgers, hot dogs, and snacks. It also includes a cash register, steering wheel with horn, chalkboard menu, fridge, and soda fountain. Too cute!
6. Kinetic Sand
Kinetic sand is a fun activity for all ages (including adults). If you've never played with it before, it feels like soft wet sand without any hint of stickiness. It is totally mess free. The best part about this, unlike play-dough, is that it doesn't dry out when left uncovered. Add the tools included, and It makes for a wonderful sensory bin for your toddler. Did I mention it's non-toxic?
Best Gifts for Preschoolers
Nanotopia is a build your own playground playset. It includes over 130 snap together pieces and obstacles. After building your playground, you can let the included toy robots (powered by vibration technology) free to race around your creation.
I've had my eye on this set for years. Melissa and Doug makes the most fun and well-made toys ever. I especially love that their toys focus on sparking the imagination. This grocery store has fantastic reviews and allows your child to play while experiencing the steps of grocery shopping, from choosing groceries to paying for their food.
A list of gifts for toddlers and preschoolers isn't complete without a play kitchen. I strongly believe that investing in a play kitchen will be well worth your money. This kitchen is unique for a few reasons. It includes all the bells and whistles: a stove, oven, microwave, refrigerator, and even a washer/dryer. It fits perfectly into any corner, which would make great for small spaces.
I had to include another Melissa and Doug favorite. This vet set gives your preschooler the chance to play doctor on the included cat and dog. It even comes with a little cone to put around their neck! If you want to take it a step further, Melissa and Doug recently came out with this animal care center. It includes a vet section on the front, and a grooming section on the back. How fun is that?!
This magnetic maze is another STEM option. Using a magnetic handle, kids can use problem solving to drag the colored balls to their assigned spaces. This activity helps strengthen fine motor skills and is so easy to take on the go.
So many parents have recommended these magnetic tiles to me, and I'm excited to try it out in our house. This STEM activity lets you build 2D and 3D shapes, patterns, structures, and whatever else you can dream up!
There are thousands and thousands of toy options online, and it can be overwhelming and so time consuming to sort through them. My hope is that this will act as a helpful guide for gift giving, not only during the holidays, but all year long.


Which gifts for toddlers and preschoolers did I miss? Let me know in the comments!
This post contains affiliate links that help to support this blog at no additional cost to you. Thank you for your support that allows me to create valuable content for families all over the world.