Toddlers can be some of the most picky eaters. This is the age where they begin to develop food preferences. They've likely had a taste of sweets and junk food, so getting them to eat healthy can be a challenge. Small snacks throughout the day are an excellent way to provide nutritious options, so long as your toddler will actually eat them!
Whether your toddler is picky or not, it's important to give them a variety of snacks you can feel good about throughout your week. To take the guess work out of it, I'm sharing plenty of healthy snack options for toddlers who are picky eaters!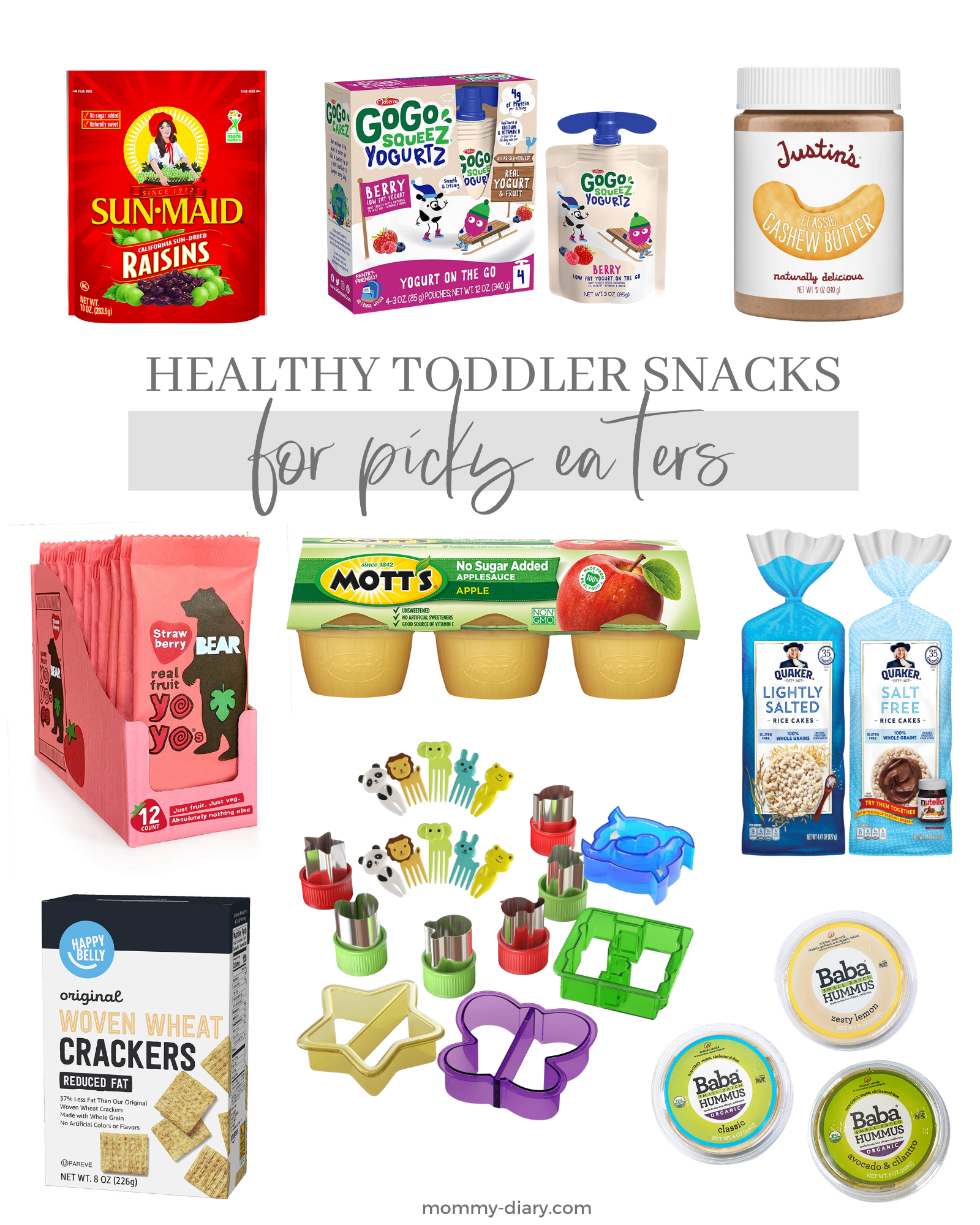 Healthy Toddler Snacks For Picky Eaters
You can create all kinds of healthy snacks that will encourage kids to eat, and love, healthy foods. The goal is to create positive eating habits that will stick with them as they grow. Many of these healthy snack ideas for picky eaters are also gluten free and allergy-friendly. I look for tasty snacks that have no (or limited) added sugar and minimal ingredients. Here are my favorite healthy snacks for my picky eaters:
Apples and Peanut Butter
This snack is a classic, and for good reason. It adds a little more excitement to a piece of fresh fruit. For a healthier or allergy-free option, you can trade peanut butter for other types of butter such as almond butter, sunflower butter, chickpea butter, or cashew butter. In addition to apple slices, you can also use other fruits or veggies that kids love like bananas or celery.
Raisins
Dried fruit like raisins are a fun snack that can be eaten alone or combined with other snacks, such as pretzels or fruits and veggies. Toddlers also love the individual snack size raisin boxes! You can also use raisins to make your own trail mix.
Yogurt Smoothies
Not all yogurts are created equal. Many of them are loaded with hidden sugar, making it just as unhealthy as a cookie or donut. However, there are many healthy options some of which are even dairy free and/or have probiotics. The bottled smoothies are great for convenience, but making your own smoothie is another fun option your children will surely enjoy.


Rice Cakes
Rice cakes made with brown rice are a great gluten free option and have a nice crunchy texture. You can use spreads like nut butter, jelly, or cream cheese on top, and even add fruit. With a little creativity, you can use rice cakes to create several variations of healthy snacks for picky eaters.
Hummus
I know, I know. You may be thinking, there is no way my toddler will eat that. Give it a try! Experiment with different hummus flavors and allow your toddler to spread it onto crackers, veggies like carrots or celery sticks, or a wrap. Hummus is full of healthy fats children need to grow big and strong.
Unsweetened Applesauce
You cannot go wrong with applesauce if you opt for the kind with no added sugar. I prefer the squeezable pouches because they are easy to take on the go, but you can also buy the cups.
Bars
Lara bars and cliff bars have a special line just for kids, some of which include chocolate chips your children will love. What I love about them is that they have very minimal ingredients. These are another great store bought option for snack time on the go.


Fruit Rolls
Traditional fruit snacks are full of added sugar. However, now there are many options that offer real fruit without the extra sugar. There are even fruit roll options that have veggies like sweet potatoes.
Veggie Sticks
Veggie sticks are a fun snack that mimic chips. They are usually a crowd favorite among toddlers (and even some adults).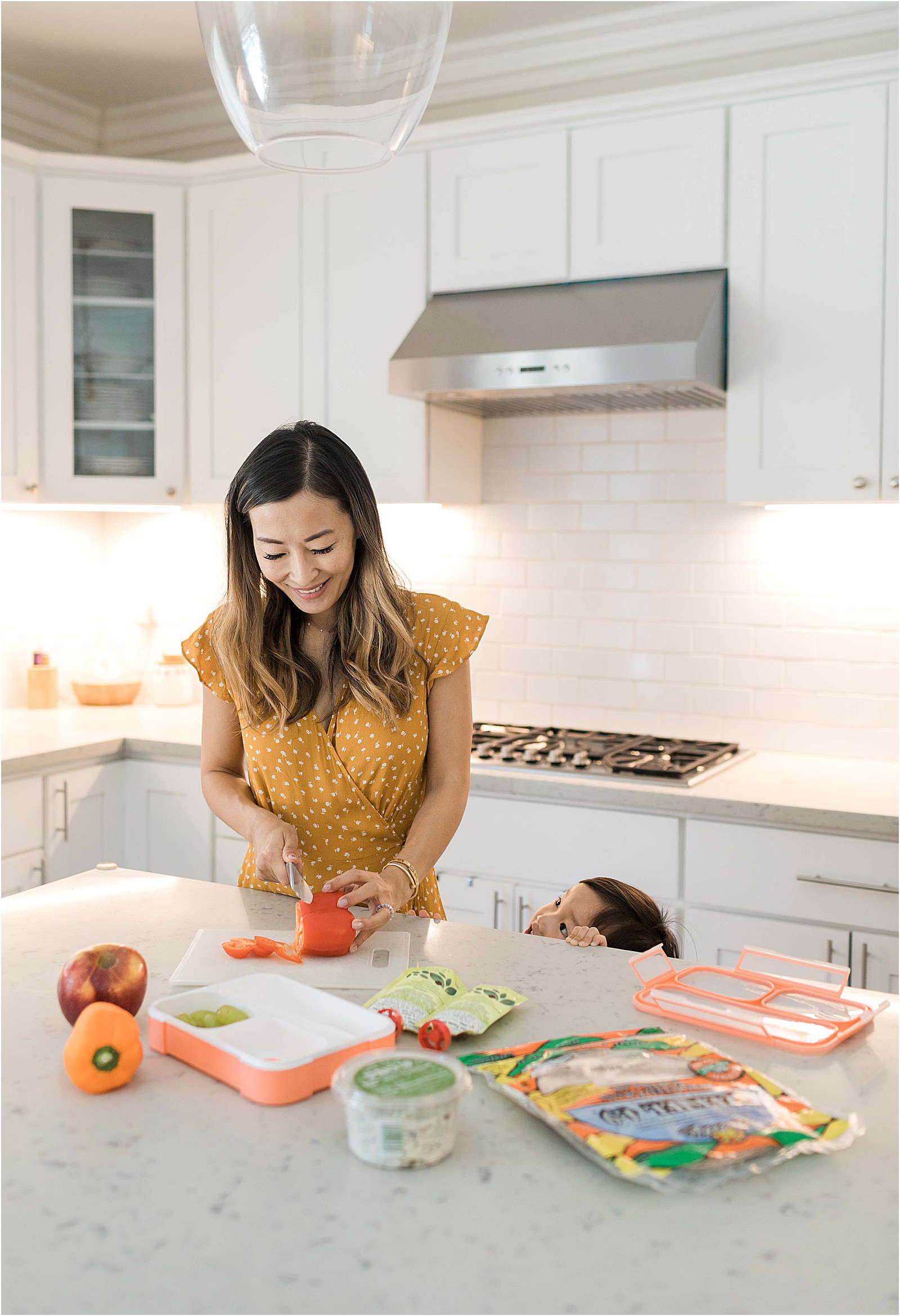 7 Healthy Tips For Picky Eaters
1. Let your toddler pick out their fruits and veggies at the store
Getting your picky eaters involved in the food shopping experience is a great tip that can increase their willingness to eat healthy meals. Bring them along to the grocery store and give them the opportunity to pick out their fruits and veggies, put them in bags, and put them in the cart. Some grocery stores even have child-size carts that your kids will love!
2. Serve snacks in small sizes
Your toddler doesn't need huge snacks throughout the day. It's important to remember that after growing so much in their younger years, a toddler's appetite slows down, so it's common for them not to eat large meals. Giving them very small portions can be especially helpful if you are introducing a new snack to them that they aren't excited about. Seeing a small amount will be less intimidating for them. This tip can apply to all toddler meals.
3. Offer choices
Stubborn toddles like to make their own decisions! Give them 2-3 choices of what they can have for snack. This is my favorite tip because it's a win-win for both parties. As the parent, you can choose a few healthy options, and your toddler ultimately gets to feel like they are in control.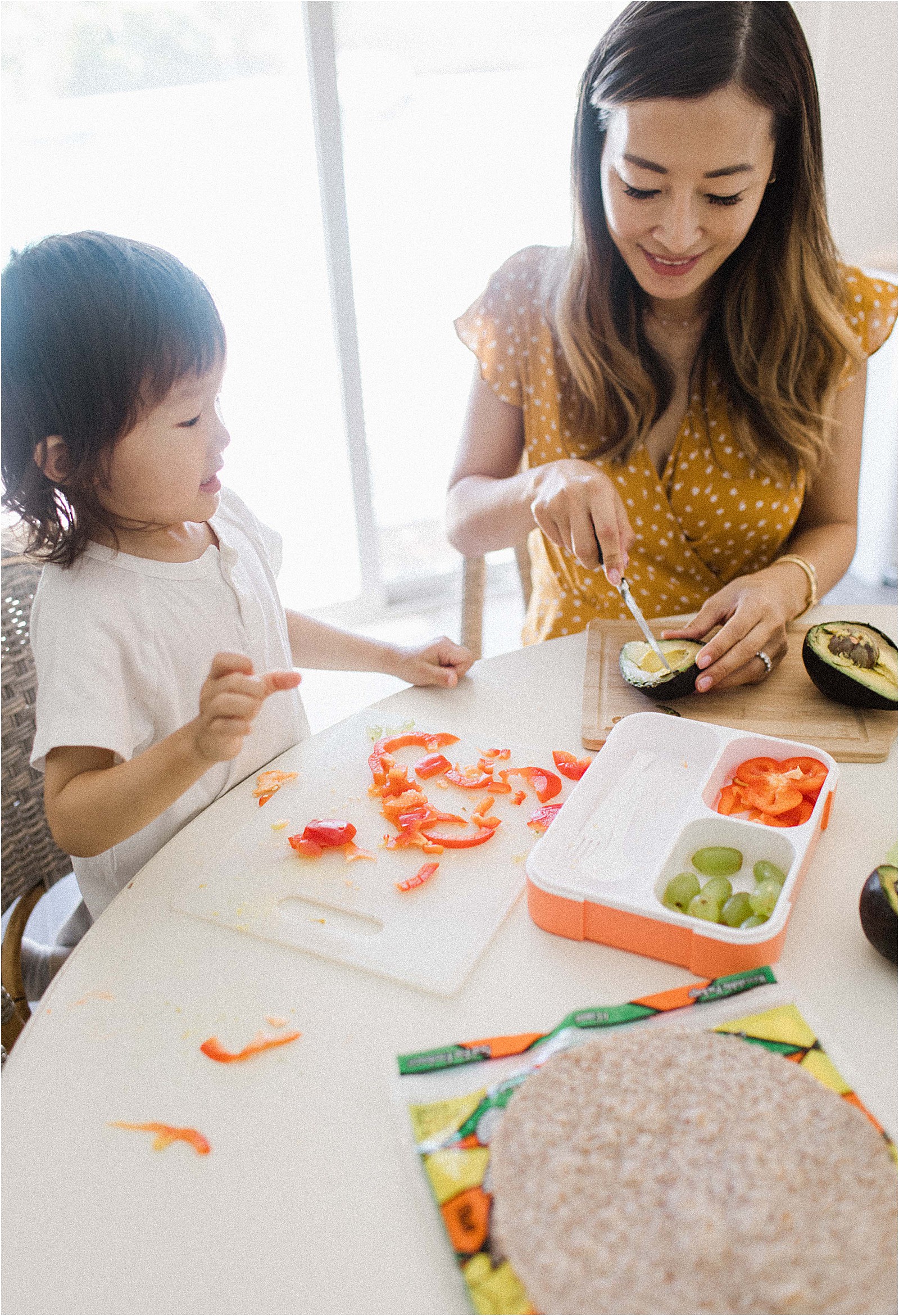 4. Let them help prepare their snacks
Continuing with the theme of independence, allow your toddler to help you prepare their snacks and other healthy meals. You can do this together at the table, or use a counter-height helper chair like this. Tasks like putting a snack into a bowl, spreading peanut butter, or opening an apple sauce pouch are all small ways to let them help.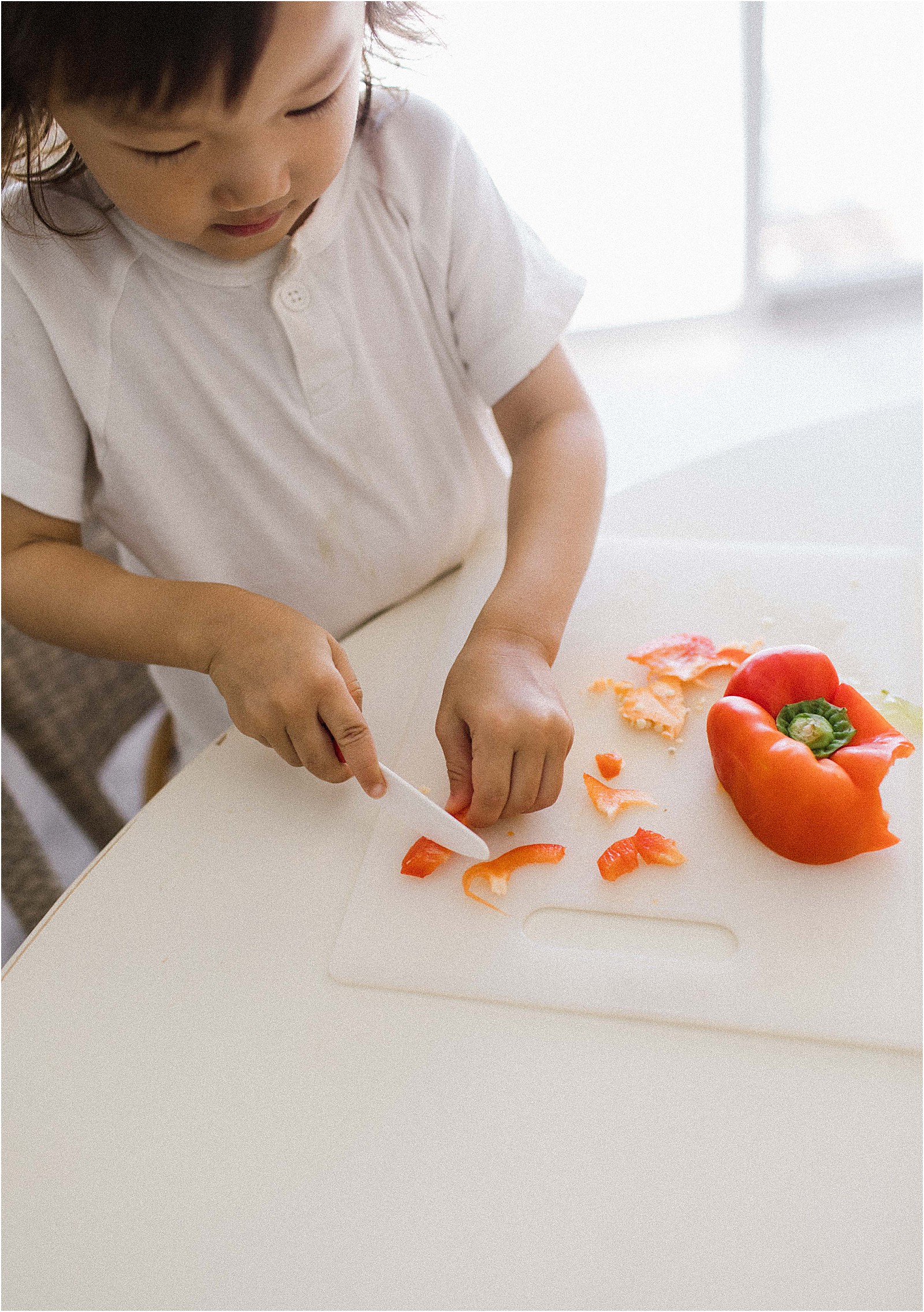 5. Make snacks fun
If you are having a difficult time getting your toddler to eat healthy foods, I recommend spicing things up! Amazon has all kinds of fun and inexpensive tools to help with picky eating. You can use cookie cutters to make foods into different shapes. There are also smaller tools to cut fruits and veggies into fun shapes.
Many of these kits include colorful silicone containers for small snacks and plastic kid-friendly toothpicks with shapes on the end that your toddler can use in place of a fork. Adding some fun to their food can go a long way!
6. Eat meals as a family
While you might immediately wonder "how much of a difference will this really make?", the answer is: a big difference! Eating meals as a family reinforces good eating habits as your little one will watch and learn from other members of the family. When your toddler sees mommy or daddy, along with other siblings eating their food, they will follow suit and further develop healthy eating habits now and in the future.
Eating meals as a family also promotes connectedness, positive family dynamics, and greater self-esteem in both children and adults. For more information on the importance of eating meals as a family, see this research from Stanford University.
7. Consider the concept of "food bridges"
Expanding a toddlers diet can be challenging, especially if they've gotten used to having their favorites over and over again. If you're struggling to get your toddler to try new foods, consider the concept of "food bridges".
Simply put, your toddler is more likely to try a new food that looks similar – either in color or texture – to other foods they already like. For example, say your child already loves sweet potatoes but not carrots. If you would like to introduce carrots to your child's diet, consider mashing them up to look like mashed sweet potato. The consistency in color and texture will make this new food less daunting for your toddler because to them, it will be more familiar.
One last tip is this: the more exposure, the better. It may take your child many times of being exposed to a food before they will try it. Try not to feel frustrated if you've given your child something new several times and they still won't eat it. Keep trying!
If you have a baby and are interested in making your own baby food, you can check out yummy recipes here.
This post contains affiliate links that help to support the blog at no additional cost to you. Thank you for your support that allows me to continue to create valuable content for families all around the world.