As the years go by, more and more people are beginning to work from home. When you mix work life and home life, it's important to create an office that is cozy, welcoming, and has everything you need in one place. Having a space you are comfortable in helps with productivity and your overall happiness day to day. If you know someone who works from home, why not purchase them something for the holidays that they'll love and actually use? Here are 10 gifts for the work from home parent that will support a calm and healthy home workspace.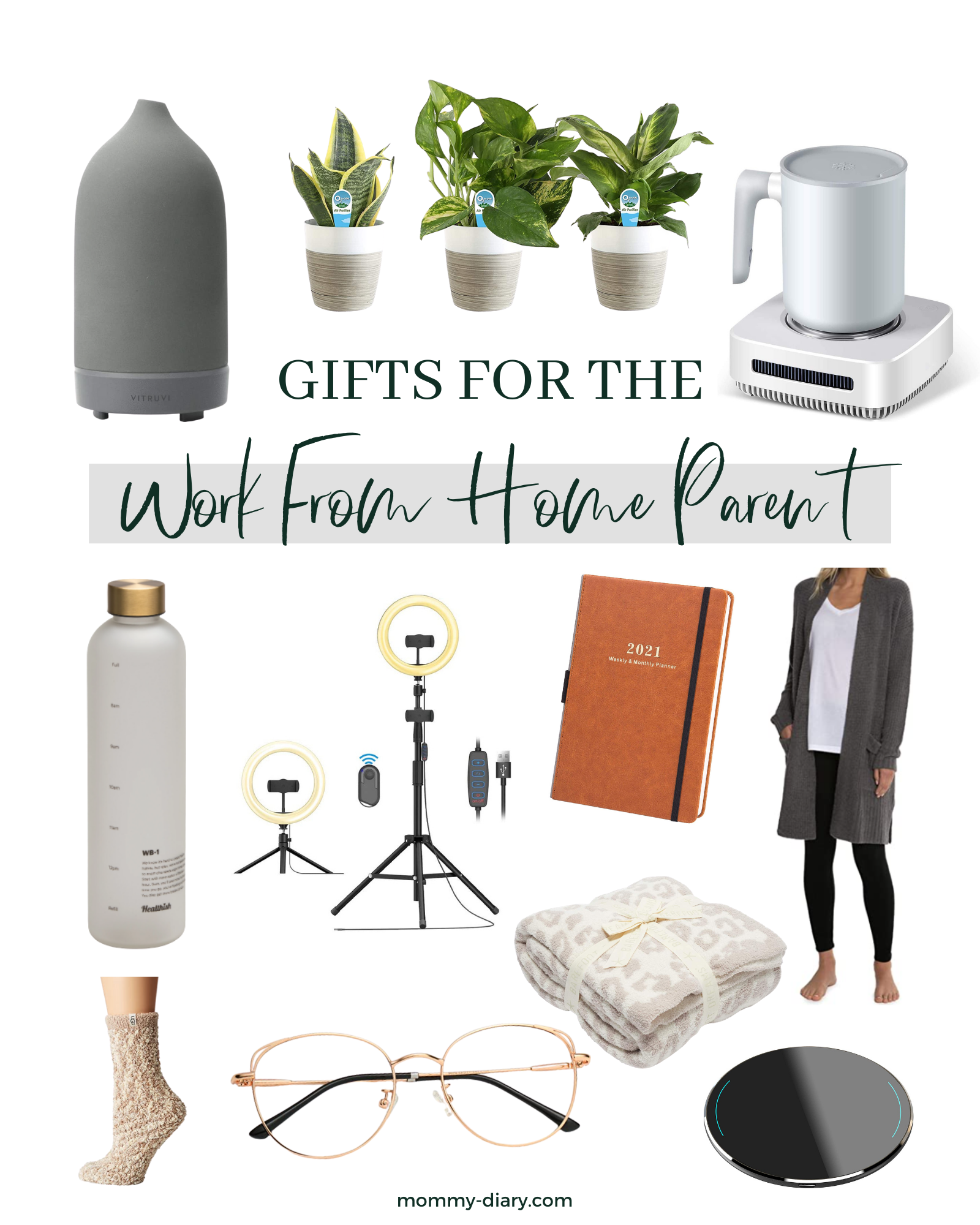 10 Gifts For The Work From Home Parent
1. electric coffee warmer
I'm confident that any parent who works from home microwaves their coffee multiple times each day. This gift is so practical for any working parent. It's sleek design means that it won't take up much desk space. These coffee warmers have adjustable temperature controls, auto shut off, and are easy to clean. Some of the options below even have the ability to keep beverages hot or cold.


2. water bottle
Working from home can lead to unhealthy habits like snacking all day and not getting enough movement. One easy way to lead a healtheir work-from-home lifestyle is by drinking enough water. Right now I love these water bottles by Healthish. They are pretty, simple, and well made. Indicator marks on the bottle lets you know how much water you need to drink throughout the day. Similar options are below.


3. diffuser
A diffuser with essential oils is the perfect gift for a work from home parent. Essential oils can create a calm environment to lower stress levels and create a lovely smelling work space. If you prefer candles, check out this post to see my holiday favorites.


4. house plant
Did you know that there are many benefits to having indoor plants? Studies show that house plants clean indoor air, reduce stress and fatigue, and boost your concentration and creativity. I say, the more house plants the better!



5. planner
While there's many ways to keep an electronic calendar, many people still prefer paper and pencil. A planner is a useful gift for any professional. For more detailed planner options, check out this post.



6. blue light glasses
If you or someone you know is a work from home parent, blue light glasses are a must. Looking at screens all day puts so much strain on our eyes, and these glasses can help.


7. ring light
Work from home life almost always involves virtual meetings via zoom or another similar platform. Ring lights are an amazing tool that gives you flattering light for video chats. There are several different types and sizes. Many can clip onto your desk or computer, and some even have a tri-pod.


8. wireless desk charger
Convenience is key. Desk chargers are the best way to ensure you don't lose battery on your devices. The best part about these chargers is that you don't have to worry about another wire hanging from your desk. They are thin and don't take up much space.
9. blanket
No matter what season it is, it tends to get chilly indoors. I suggest having a soft blanket in your office for easy access.


10. loungewear
One of the biggest perks of working from home is getting to wear whatever you want, don't you agree? Most days it's loungewear for me. I'm sure most work from home parents would appreciate this gift! Consider a jogger set, cozy socks, or slippers.


If you work from your home, what's your number one must-have essential item? Let me know in the comments or tag me on Instagram @mommydiary!
For more holiday shopping inspiration, check out this post for mom gifts and this post for children's gifts!
This post contains affiliate links that help to support the blog at no additional cost to you. Thank you for your support that allows me to continue to create valuable content for families all around the world.