If there's one thing I try to avoid around the holidays, it's collecting junk that we'll never use. Years ago, we would find random things to put in the kid's stockings, and it always drove me crazy to see it go to waste. Now I focus on purchasing essential items that they'll actually use. As you know, I always seek out companies who create products using the cleanest ingredients possible. I've created a list for stocking stuffers by age group, including your fur babies!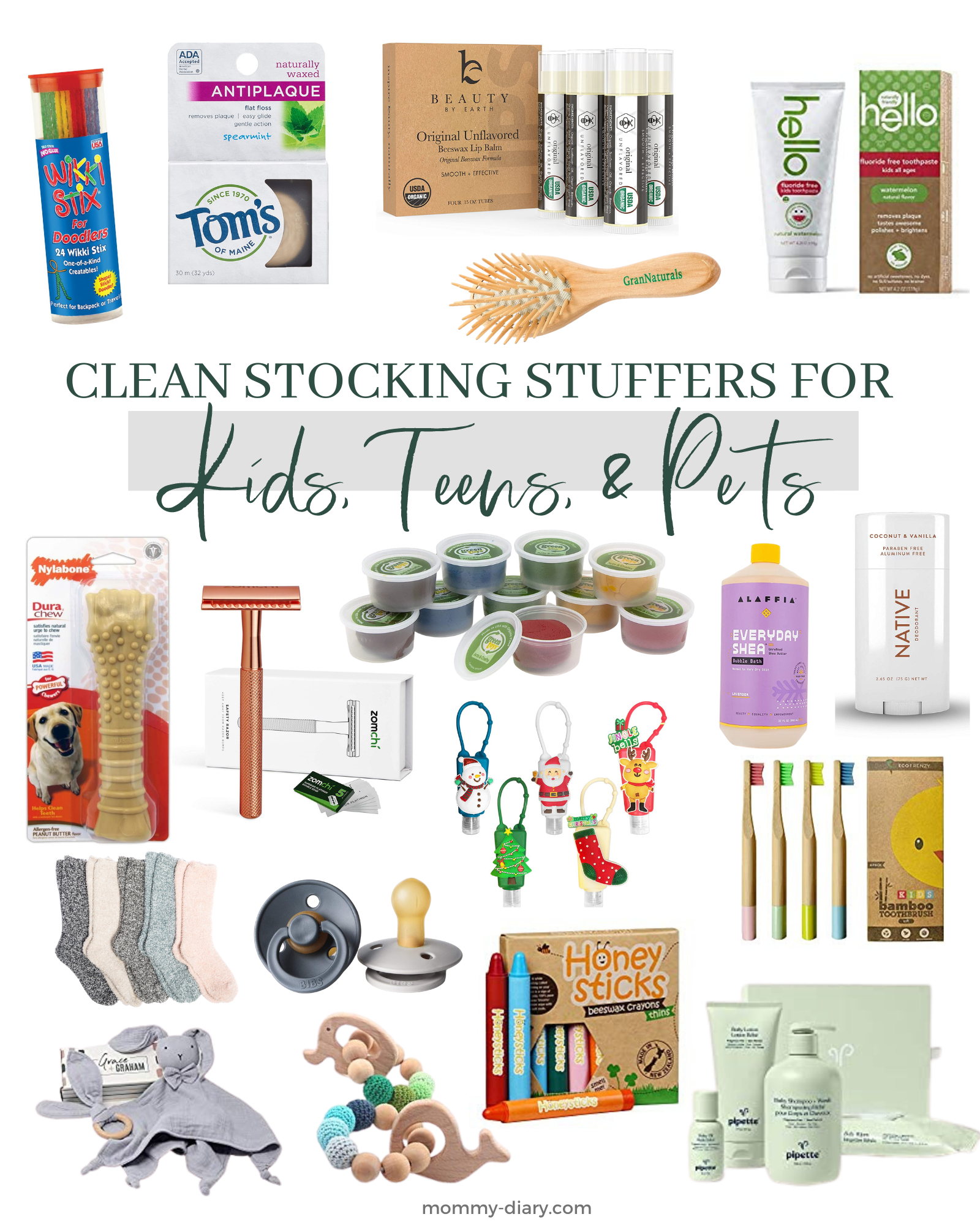 Clean Stocking Stuffers For Kids, Teens, and Pets: Safe and Useful Stocking Stuffer Ideas
Babies
I don't go crazy with stocking stuffers for babies, because they are so young. However, it's nice to have a few sensory items that they can touch and play with on Christmas morning. Stick with items that you know you'll need in the near future for your baby.
organic wooden teethers
soft lovey
small security blanket
BPA free pacifier
amber teething necklace
travel set of clean baby products (lotions, baby oil, shampoo, soap)
bath toys
Toddlers and Preschoolers
This age group is beginning to really learn about the world around them, and take on small responsibilities that are part of their daily routine. I believe toddlers and preschoolers learn best by play, so for this reason, I choose stocking stuffers that are creative items and for daily self-care.
bamboo toothbrush
SLS-free kids toothpaste
Mini hairbrush
Alaffia shea bubble bath
beeswax crayons
natural play dough
Melissa and Doug wooden mini craft sets
Elementary Schoolers
By this age, kids have taken on more responsibility, but still enjoy play. They are also starting to increase personal hygiene, so I would include things from the preschool list such as toothbrushes, toothpaste, and hair brushes.
Tom's natural waxed dental floss
BPA-free water bottle
Wixi Sticks
refillable travel-size hand sanitzer
reusable no-mess color pads
Tweens and Teens
By this age, your tweens and teens need many of the same items that we do as adults. This is a good time to swap out old everyday items for eco-friendly ones.
deodorant
reusable straws
organic chapstick
cozy barefoot dreams socks
eco-friendly razor
Pets
Many of the holiday-themed treats for pets are extremely dangerous for them. Kong and Nylabone are two great brands for chew toys. Here are a few pet-friendly treats and toys that you can feel good about giving to your fur babies.
grain-free treats
kong
laser light toy
appropriately-sized fabric toys and balls
rope chew toys that are tied on both sides
new ID tags
Does this list give you some good ideas? I feel good knowing that a lot of these products are eco-friendly, clean, and reusable! What are some of your favorite stocking stuffers? Let me know in the comments!
This post contains affiliate links that help to support the blog at no additional cost to you. Thank you for your support that allows me to create valuable content for families all around the world.