As much as I love traveling, I don't really enjoy flying. Airplane rides are stressful, especially when you're traveling with kids, and they can often leave you feeling exhausted and hungry.
Snacking is a great way to tackle one of those issues, but the snacks served in-flight often aren't exactly tasty and satisfying. I've learned not to rely on them to curb my hunger, or my kids, until our next meal. The next option would be to load up on snacks at the airport before you board, but have you seen the prices of airport food lately? Yikes!
That brings me to the one solution that has made a huge difference for my family: packing our snacks. Whether you're traveling domestically or somewhere further like Japan or South Korea, going this route can help keep you and your kids happy and satisfied as you travel to your next destination.
However, there are certain TSA rules to consider when it comes to choosing what snacks to pack. To save you the trouble of trying to figure out what you can and can't bring with you, I'm sharing a round-up of snack ideas for your next airplane trip.
20 Snacks To Take On A Plane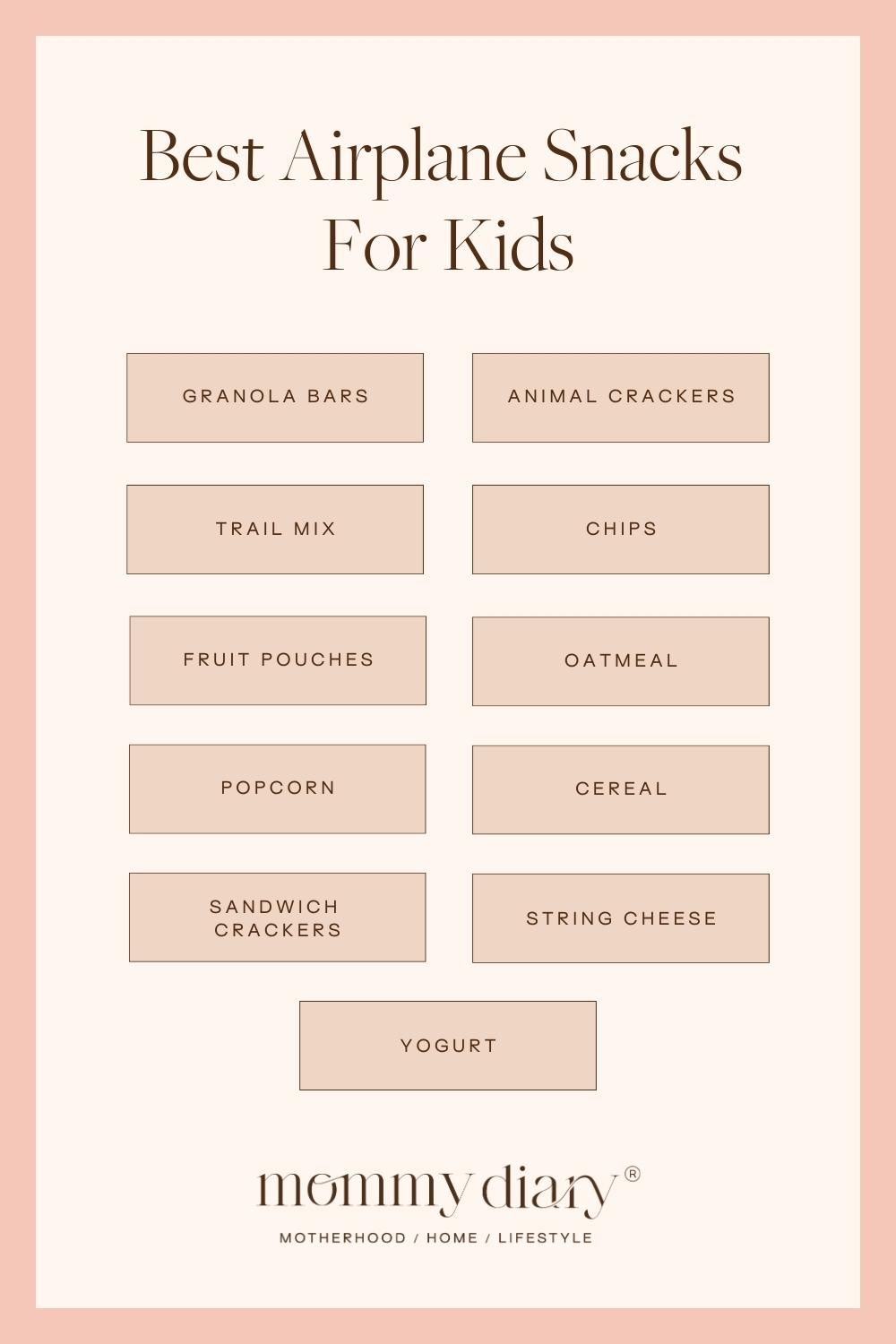 Best Airplane Snacks For Kids
Granola Bars
Granola bars are a great airplane snack that is easy to pack. Protein-packed options like LARABAR Kid and CLIF Kid Z Bar curb hunger and keep your kids satisfied for longer. This is especially useful if you have to sit through a long flight. 
Trail Mix
Who doesn't enjoy a flavorful snack mix? You can make your own or save yourself some time by buying a premade snack mix. Power Up Kids Mickey and Friends Power Packed Trail Mix contains sliced almonds, pumpkin seeds, cashews, and raisins. It's a great travel-friendly snack that's just as tasty as it is nutritious. 
I highly recommend using one of these fun snack containers. They're specially designed for kids and can help relieve some travel day stress. Some great snack containers for kids include:
Fruit Pouches
Fruit pouches are another convenient and healthy snack for kids on the go. Some great options include:
Just remember that any spreadable (pastes) and liquids, including fruit purees, have to meet the 3-1-1 liquid rule to be TSA-compliant. According to this rule, each item has to be 3.4 ounces or less, and they all have to fit into one quart-size, clear, plastic, zip-top bag. Each passenger is allowed to carry one of these bags.
Popcorn
Popcorn is a snack that can be devoured practically anywhere – no microwave necessary! Both kids and adults love Skinny White Cheddar Popcorn and Smartfood Popcorn.
If you prefer to use microwave popcorn, you can make it at home and then pack it in a snack bag to take with you. (Reusable snack bags are one of my most-used flight essentials.)
Sandwich Crackers
Sandwich crackers are a more convenient way to serve your kids crackers with a spread like cheese or peanut butter. You can make your own using regular crackers or graham crackers. There are also several varieties of pre-packaged sandwich crackers for an even more convenient option. 
Animal Crackers
My kids love animal crackers. It probably has just as much to do with the fun circus-themed snack box as it does with the crackers themselves. I love that I can throw a couple of boxes into my carry-on bag and not worry about my kids going hungry. 
Chips
Chips get a bad rap, but these days there are enough healthy options to consider them a nutritious snack option.
Veggie Straws, Hippeas Chickpea Puffs, and Popcorners are a few of my favorites.
Oatmeal
Oatmeal isn't often thought of as a travel-friendly snack option, but it's surprisingly easy to eat on airplanes. Put some instant oatmeal packets or convenient oatmeal cups in your carry-on bag. When your kid is ready to eat, ask one of the flight attendants for some hot water, and voila!
Cereal
Cereal is another food that parents don't usually think of as an airplane-friendly snack option. But if your little one loves munching on cereal like Honey-Nut Cheerios, Lucky Charms, or even Frosted Mini-Wheats, fill a few snack bags to satisfy your kid.
String Cheese
String cheese is a go-to convenient, healthy, and kid-adored snack. Pack a few or several depending on the duration of your flight, and grab one when your children get hungry.
Yogurt
Yogurt pouches make great snacks for kids on the go. GoGo Squeez YogurtZ pouches are one of the best healthy toddler snacks, even for picky eaters. They're dairy-free and don't need to be kept cold. 
For yogurt that does need to stay cold, consider freezing it to keep it colder for longer. Then, pull it out of the freezer right before you leave the house.
Another way to keep food cold for airplane travel is to pack it with an ice pack. As long as the yogurt and ice packs are completely frozen when you bring them through security, you don't have to include them in your TSA-compliant zip-top bag.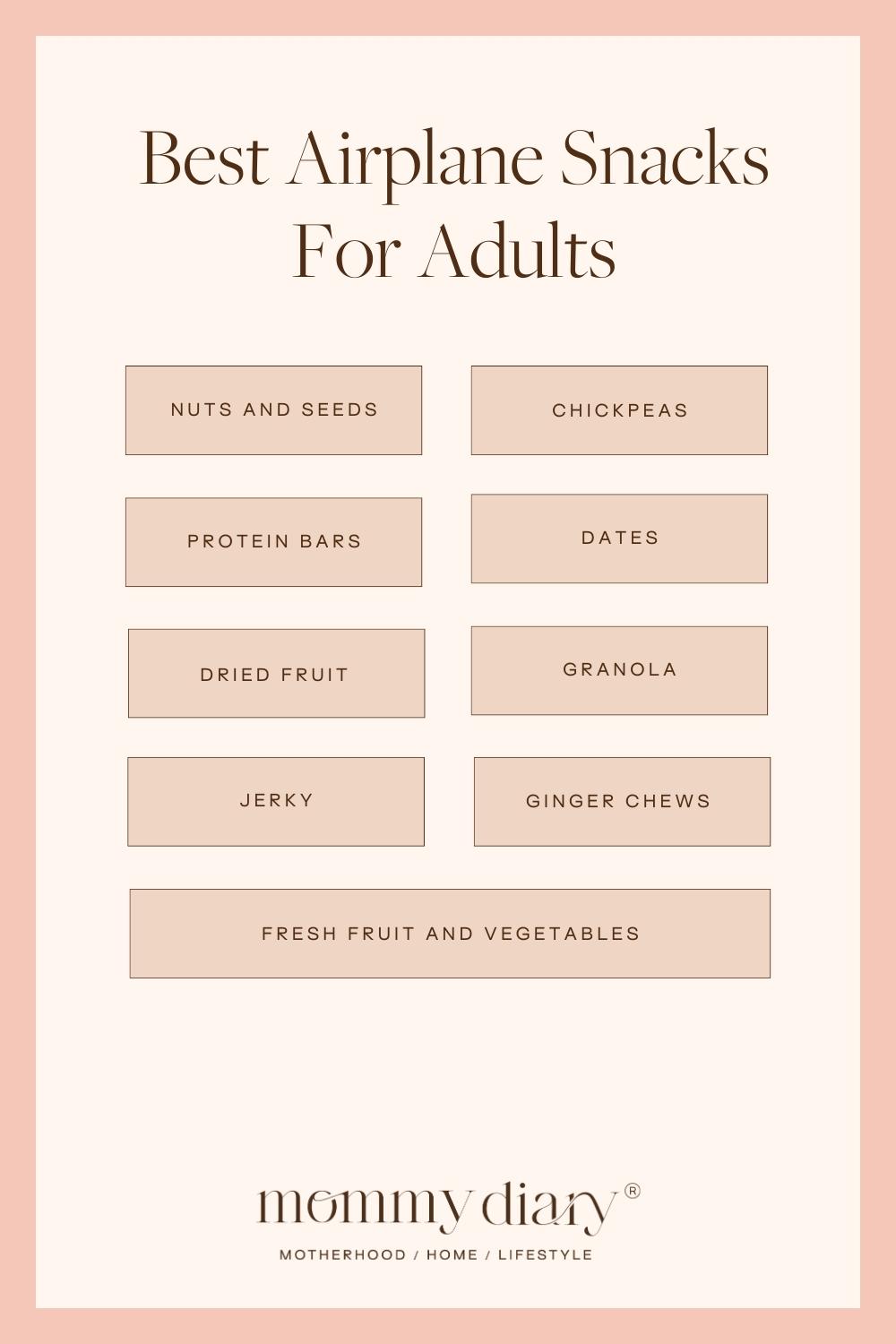 Best Airplane Snacks For Adults
Nuts And Seeds
Nuts, like almonds, peanuts, and pistachios, and seeds, like sunflower seeds and pumpkin seeds, make great airplane snacks. They're perfect for curbing hunger in a super healthy way. Just be sure to grab nuts and seeds that don't contain added oils or sugars.
You can buy pre-packaged, snack-sized packs or buy them in bulk and fill a few snack-sized storage bags for easy cleanup.
Protein Bars
For a super convenient snack that instantly curbs hunger and keeps you satisfied for longer, reach for a protein bar like CLIF Bars or LARABAR. I keep several of these on hand wherever I go!
Dried Fruit
Dried fruit is another great snack for adults on the go. Just a handful of dried fruit contains an abundance of fiber, vitamins, and minerals.
There are a ton of different dried fruits to choose from, like apple chips, pineapple bites, dried cherries, and raisins. Try to avoid any options with added sugar, oil, artificial ingredients, and preservatives. 
Dried fruit is also delicious when mixed with other ingredients. Grab some trail mix or snack mix that includes nuts, seeds, and dried fruits for a tasty, airplane-friendly snack.
Jerky
Jerky is a fantastic, protein-packed snack that travels well. It's lightweight and non-perishable, plus it comes in a wide variety of meats, flavors, and packages. Some great options include turkey jerky sticks, beef jerky sticks, venison bars, and chicken jerky bites. 
Make sure to grab jerky that contains zero sweeteners, antibiotics, nitrates, and artificial ingredients. For beef jerky, look for grass-fed options. 
Chickpeas
Chickpeas are another nutritious and delicious snack option for adults. You can pack homemade roasted chickpeas or pre-packaged roasted chickpeas.
Dates
For a healthy way to satisfy your sweet tooth, pack a handful of dates for your airplane ride. Their soft, chewy texture and sweet caramel flavor will remind you of the most indulgent treats, but without the guilt.
Granola
Granola, whether homemade or store-bought, is perfect for convenient snacking. It's super filling and you can choose from a bunch of different flavor options and add-ins for the ultimate airplane snack. 
Ginger Chews
Ginger chews are wonderful if you suffer from motion sickness. They're also a tasty, healthy snack even if your stomach doesn't get upset on airplanes. 
Fresh Fruit And Vegetables
For a healthy snack that you can eat anywhere, it's hard to beat fresh fruits and vegetables. Some great options include carrots, cucumbers, pears, grapes, and apples or celery with peanut butter.
To keep your fruit and veggie snacks from getting bruised or squished, pack them in durable disposable containers. This way you don't have to carry around empty food containers when you land. 
Bonus Tip: Bring An Empty Water Bottle
Although it's technically not a snack, an empty, refillable water bottle is a must-have for snacking on the go. Everyone in your family can have their own water bottle to pack in their carry-on. Make sure it's empty when you go through security, then you can fill it up before you get to your gate.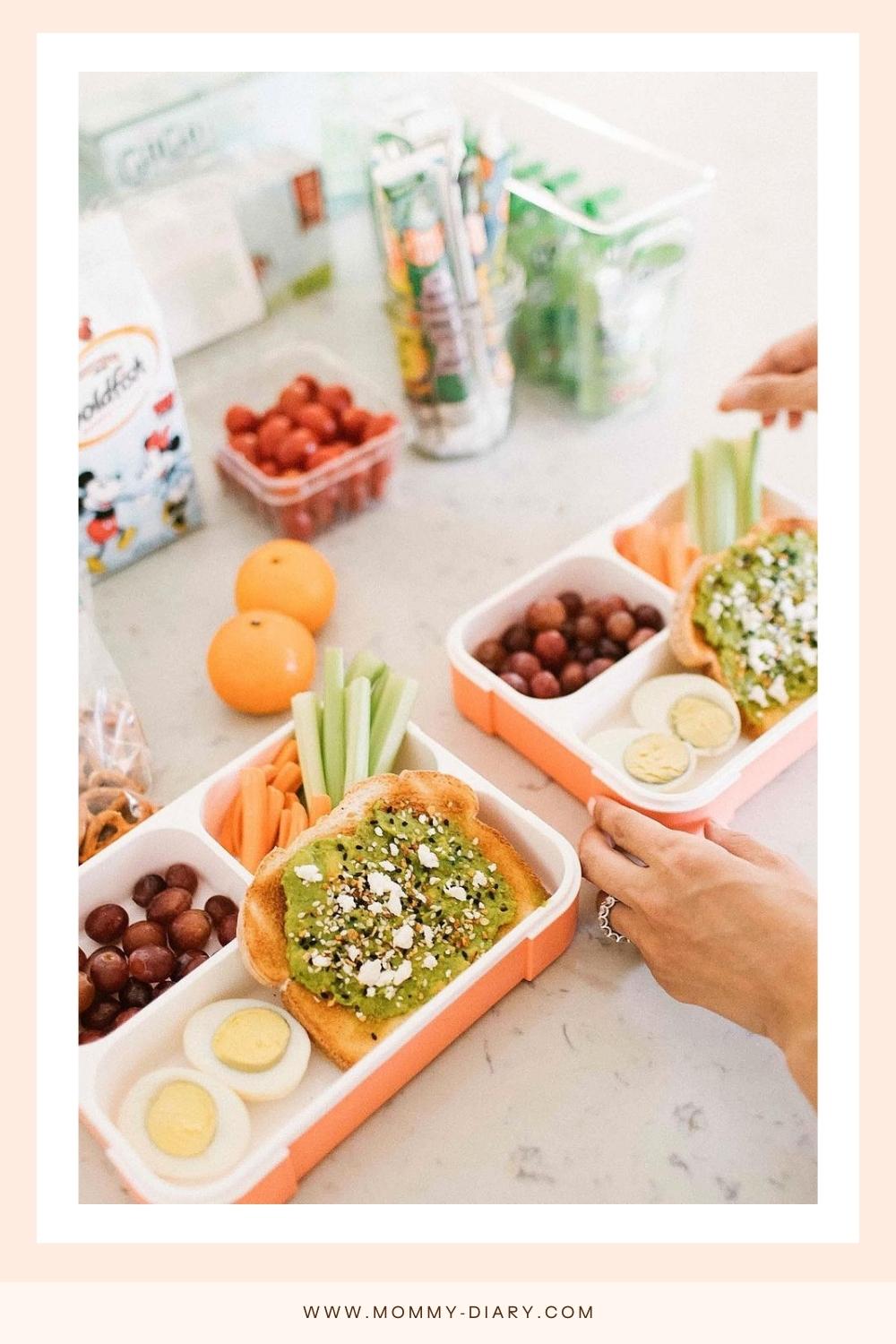 For a happy and stress-free flight, pack a few of these convenient snacks.
Traveling is stressful, especially with kids. But, you can make it easier by packing snacks that everyone in your family can enjoy.
What are some of your favorite airplane snacks? Share in the comments!
Then, head over to the blog for more tips on traveling, motherhood, and making the most of every moment with your kids.