To some, loading all of your kids into the car for a lengthy road trip might sound like a nightmare. But for me, I cherish the memories we make every time we hit the road on our next adventure. Road trips are such a great way to spend time with your family and explore different places. (Check out my write-up on our road trip to Palm Springs!)
Whether you're heading somewhere a few hours away or embarking on a cross-country trip, road trips always at least feel like they go on for hours. One sure way to guarantee a miserable experience is to leave your kids, your spouse, and yourself unfed. The term "hangry" was coined for a reason!
Keeping healthy snacks on hand can help everyone stay full and energized throughout the trip. But rather than just grabbing whatever is most convenient, I learned that packing healthy snacks made for a much more pleasant experience. I'm sharing a round-up of healthy snacks you can bring on your next road trip adventure to keep everyone in your vehicle as content as possible.
21 Best Healthy Road Trip Snacks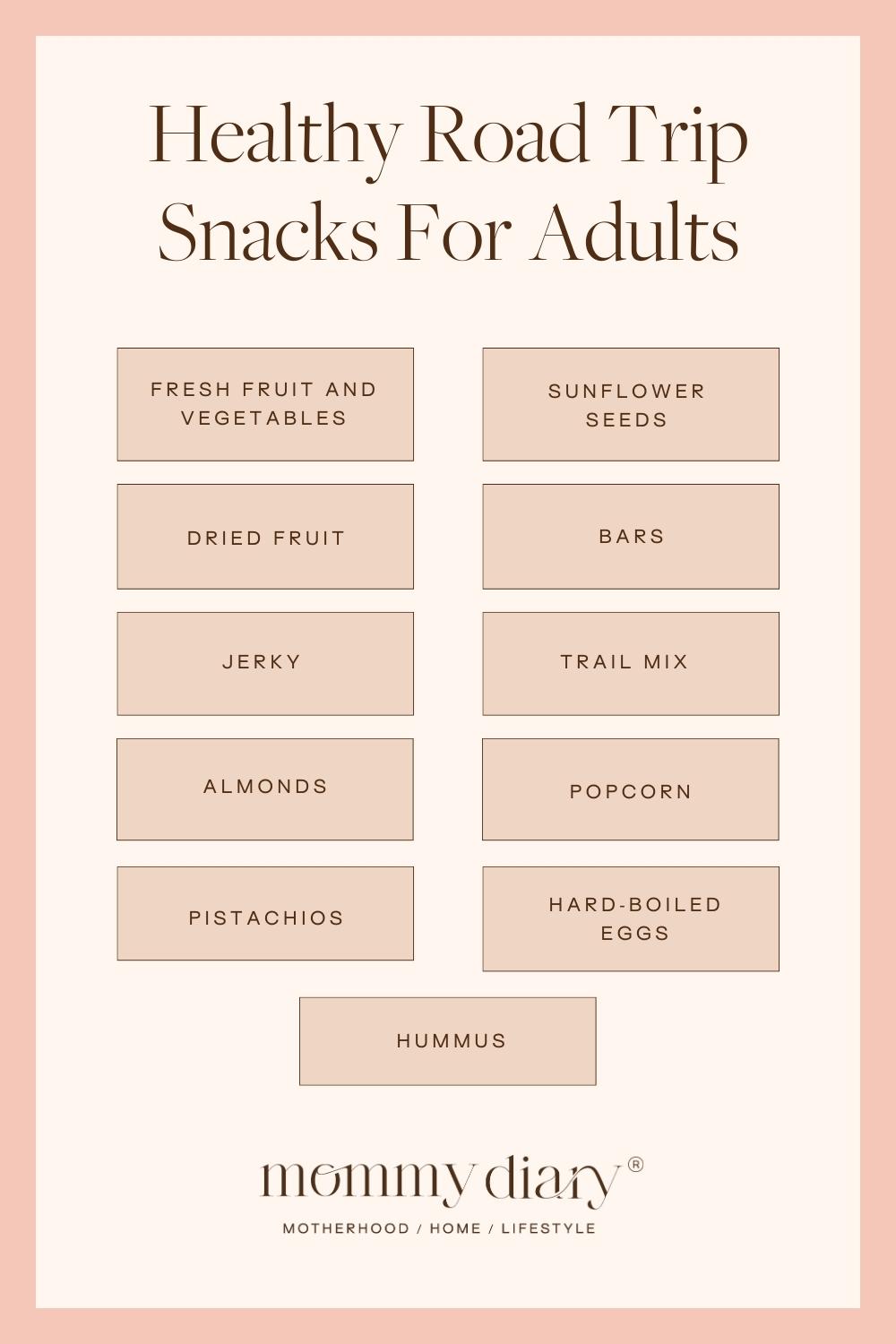 Healthy Road Trip Snacks For Adults
Fresh Fruit And Vegetables
Fresh fruit is always a great snack option. In addition to being easy to eat, fresh fruit like apples, bananas, grapes, and berries are bursting with flavor and valuable vitamins and minerals.
Pre-cut bell pepper, celery, and carrots offer a tasty and nutritious crunch. You can eat them on their own or with a dip like hummus or nut butter.
Dried Fruit
Dried fruit is another great option if you want all the benefits of fruit in a longer-lasting package. Plus, you don't have to worry about it getting bruised or squished. Just make sure to check the nutrition label before you buy any dried fruit.
This brand of freeze-dried fruit is a good option because it doesn't contain any added sugar or high fructose corn syrup. It's 100% fruit.
Jerky
Jerky is a popular travel snack because it lasts for a long time and is easy to eat on the go. Plus, it's loaded with protein so it doesn't take a lot to satisfy your hunger.
I recommend avoiding packages of jerky you can get at the gas station. It's often full of preservatives and ridiculous amounts of sodium. Instead, buy some before you go. I recommend packing something like these brands of beef jerky, turkey jerky, and chicken jerky.
Almonds
These individual packs of almonds are delicious, filling, and perfect for road trips. They're loaded with vitamin E, dietary fiber, and magnesium.
No matter how nutritious they are, not everyone can stomach plain almonds. But with flavors like Wasabi and Soy Sauce and Smokehouse, what's not to love?
Pistachios
Pistachios are jam-packed with antioxidants, protein, healthy fat, and fiber. They're available in several different flavors and the pre-shelled snack packs make them easy to take on the go.
Sunflower Seeds
Sunflower seeds are also good for road trips. They come in portable packs and a variety of flavors. Plus, they're full of healthy fats and magnesium, which makes them a heart-healthy snack.
Bars
Granola bars are another snack that I like to keep on hand when we're on the go. LARABAR and Clif Bars are two great options because they're made with real, plant-based ingredients and they taste great. Just one bar is enough to satisfy your hunger and your craving for something sweet.
Trail Mix
Trail mix, whether homemade or store-bought, is a great option for adults that many kids will also enjoy. Look for varieties with no added sugar and you'll have a tasty snack loaded with fiber, healthy fats, and plenty of protein.
Popcorn
Some people are surprised to learn that popcorn can be a healthy snack. It's packed full of fiber, vitamins, and antioxidants.
While it's better to make it yourself so that you can control how much salt and butter you use, there are some healthy packaged options like Smartfood White Cheddar-Flavored Popcorn or SkinnyPop Original Popcorn.
Hard-Boiled Eggs
For a quick and easy protein-packed snack, consider packing some hard-boiled eggs. You can make them at home before you go or you can pick up some hard-boiled eggs from the grocery store.
Hummus
If you have a hard time eating fresh vegetables on their own or prefer to eat them with a dip, hummus is a wonderful option. For a road trip, you can pack hummus singles and pre-cut veggies like carrots, celery, bell peppers, and cucumber.
Healthy Road Trip Snacks For Kids
Applesauce
Applesauce is one of my go-to kids' snacks. I always grab the kind with no added sugar.
The cups are great when your child can sit down to eat but the Squeezable applesauce pouches are perfect for road trips. They're an easy on-the-go snack, they're resealable, and they (usually) make less of a mess.
Raisins
Raisins are also a great road trip snack. They can be eaten on their own or mixed with other snacks to make a tasty snack mix. You can grab the individual snack-size boxes for easy, healthy toddler snacks.
Nut Butter Packets
Nut butter is another snack I love to pack for road trips. Packets of nut butter, like almond butter squeeze packs, cashew butter pouches, and peanut butter packs, are easy to take with you and delicious enough to eat on their own. Or you can eat them with another healthy snack for an even more satisfying bite.
Bars
Bars are a great option for kids too. I like to keep a handful of granola bars on hand whenever we're on the go. They're super convenient and much healthier than a candy bar. Two of my favorite snack bars for kids are Lara Bar Kids and CLIF Kid Zbar.
Animal Crackers
What kid doesn't love animal crackers? They're delicious and they're so fun for little ones to eat. The adorable packaging is a bonus too.
Fruit Snacks
Fresh fruit will always be the best option, but sometimes kids will downright refuse to eat it. Fortunately, there are some great packaged fruit snacks that are made with whole fruit. You can keep them happy with these snacks and know that they're still getting a decent amount of fiber and vitamins.
Some great fruit snack options for kids include Annie's organic fruit snacks, Bear Real Fruit Snack Rolls, and these extra fun Peel-A-Parts fruit snacks.
String Cheese
String cheese is just as good for your kid as it is fun to eat. It offers nutritional benefits like healthy fat and protein and it'll keep young kids busy, at least for a few minutes.
Yogurt
Yogurt is a fantastic healthy snack for kids. It's a good source of protein and calcium. Yogurt pouches or yogurt tubes make it easier to take yogurt on the go.
Smoothie Pouches
Another great road trip snack idea is Toddler smoothie pouches or superfood smoothie pouches for older kids and even adults. There are several types of smoothie products to choose from, so be sure to look out for the ones that are loaded with sugar.
Veggie Sticks & Veggie Chips
You can't go wrong with Veggie Straws or Veggie Chips. They mimic classic potato chips and are beloved by kids of all ages.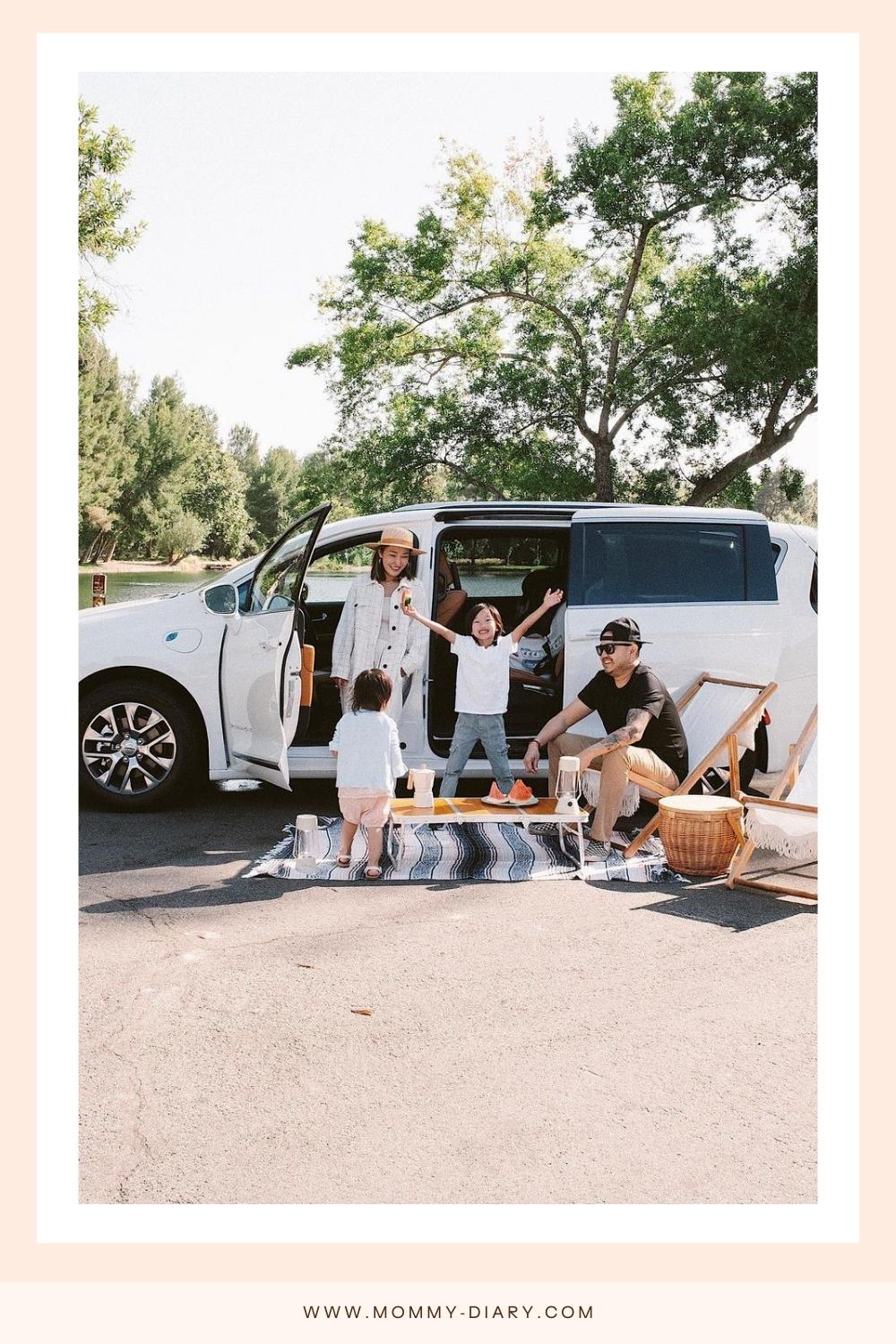 No matter where you're heading, packing healthy snacks is a great way to make your next road trip a success.
What are your must-have snacks for road trips with your family? Do you have a go-to snack for keeping your kids content? Share in the comments below. I'd love to hear from you!
Then, head over to the blog for more tips, tricks, and insight into motherhood from a truly authentic point of view.