I'm a planner, or at least I try to be a planner, as much as this crazy wonderful life will allow me to be. Planning and preparing for things is my way of ensuring that things run as smoothly as possible. To be clear, I'm not just talking about planning a trip or an event. A well-planned day can help you stay focused and productive.
Most people plan their week, month, and even year, but fail to plan for each day. Daily tasks and habits add up over time. Prioritizing a daily planning ritual can help you achieve your long-term goals sooner. So today, I'm sharing practical strategies that can help you plan your day and stick to it.
How To Plan Your Day And Stick To It
Plan at least one day in advance.
A physical planner or calendar makes it easy to plan your days in advance. A planner is a great task management tool that allows you to map out your daily schedule, keep up with appointments, and stay on top of tasks. I recommend planning ahead, by at least one day.
A physical, paper planner is a useful project management tool for daily planning. It's important to find a system that works for you. Bullet journaling is a popular method for creative types, but as a busy mom with little free time, I prefer planners like the ones below.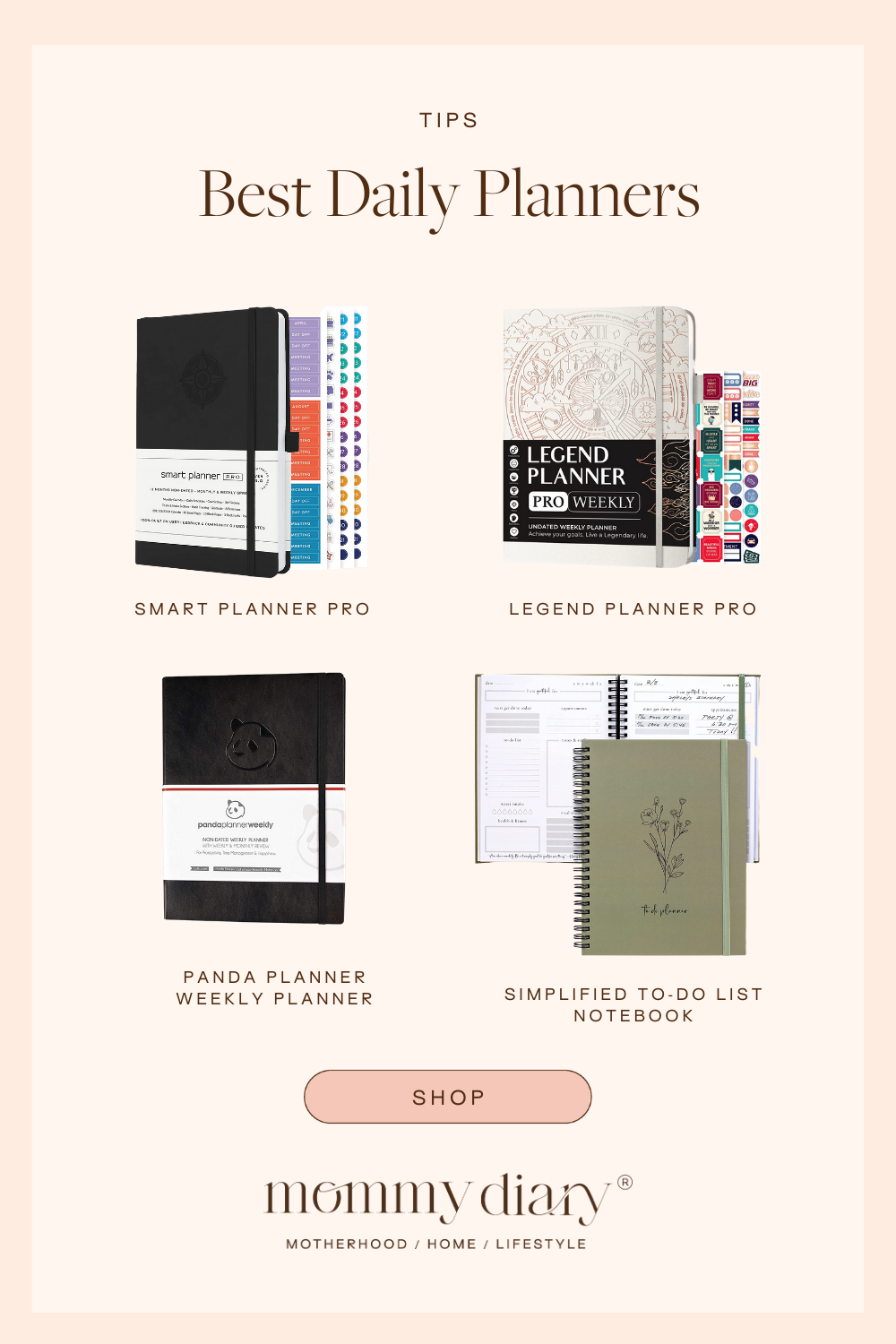 Best Daily Planners
The Smart Planner Pro is a faux leather, undated, day and month planner. This planner first caught my attention when I was writing about planners for the new year. It's a top-rated planner that is touted for its simple design and smaller size. It's available in ten different colors, including sleek black, navy blue, and rose gold.
Each planner includes monthly calendars and daily schedules, as well as goal setting, weekly scoring, notes sections, gratitude affirmations, habit tracking, and to-do lists. It does have everything you need to effectively plan each day. Plus, the thicker pages ensure that ink won't bleed through the paper.
The Legend Planner PRO is another top-rated, undated planner with an elegant faux leather cover. With the Legend Planner PRO, you get 12 months' worth of planning, separated by 52 weekly spreads.
Three colorful bookmarks make it easy to flip between spreads. The pages are made of heavy-duty pearly white paper that helps to prevent bleed-through. Also included are a pen holder, elastic band place-keeper, an illustrated user guide, and three sticker sheets.
The Panda Planner is an excellent weekly planner that can improve your productivity. It's larger than the two planners above (8.5 x 11") so you can be sure you have more than enough space for all of your planning needs.
This soft-cover planner provides weekly planning, monthly calendars, and spaces for journaling and daily gratitude. The weekly layout gives you two full pages to plan for all seven days of the week. It's available in two colors: black and turquoise.
If you prefer a more simplified planner, I highly recommend the Simplified To-Do List Notebook. This daily planner makes it easy to organize your tasks so that you can be more productive. With this undated planner, you can plan 120 days' worth of tasks and activities.
This spiral notebook can lay flat and you can tear out pages as needed. There's also an elastic band to help you keep your place. Plus, because it's smaller than a standard notebook, it's easy to stow away when not in use. The To-Do List Notebook is available in three colors: beige, dark green, and soft pink.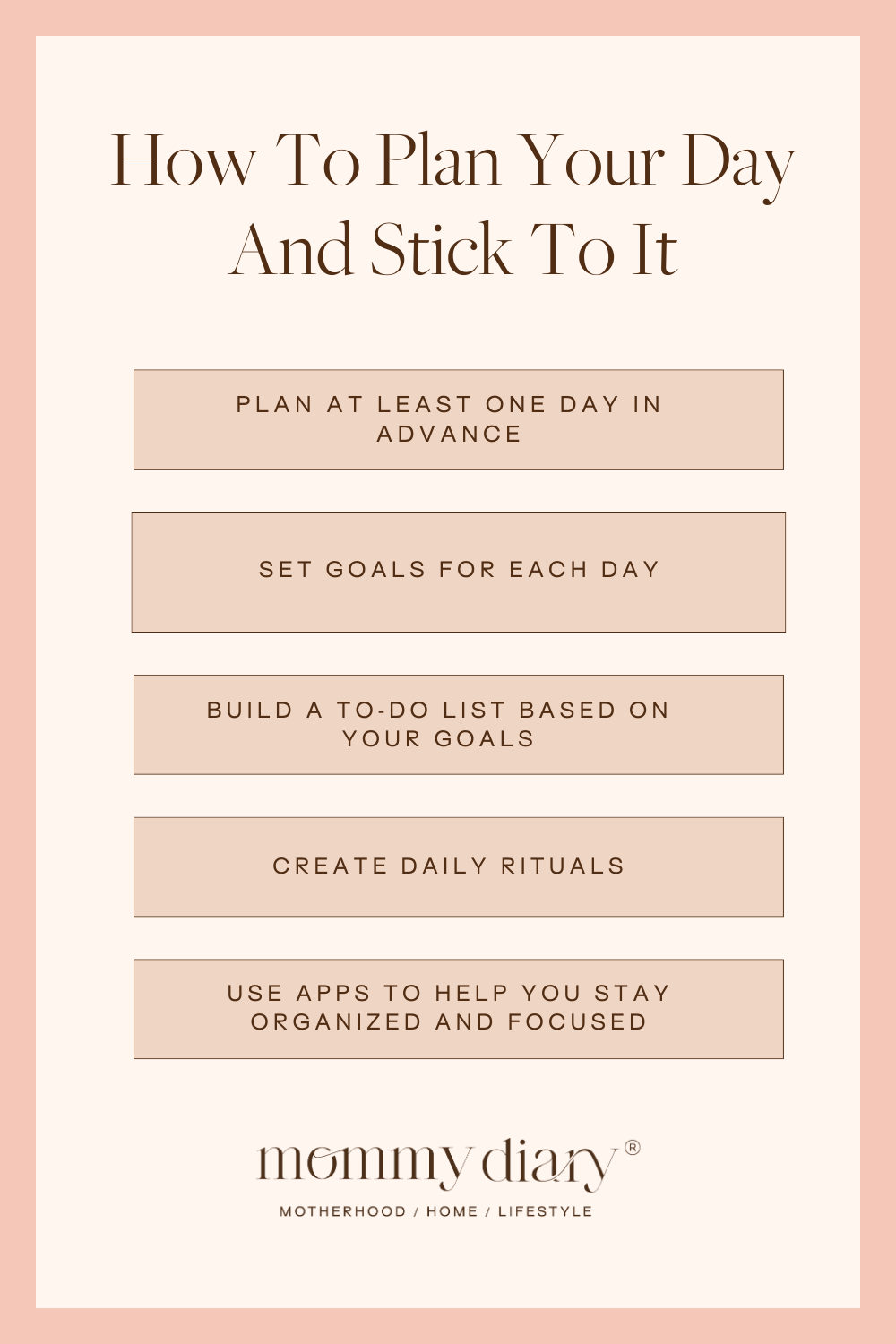 Set goals for each day.
Goal setting is a crucial part of planning your day. Think about both short- and long-term goals so that you can plan effectively. You can then make sure that your activities for the day align with your goals and help you make progress toward accomplishing them.
Establishing your goals is also a useful way to avoid distractions. Goals give you purpose and provide motivation.
Build a to-do list based on your goals.
I recommend waiting until after you've established your goals to build a to-do list. This way you can be sure you're working on things that will bring you closer to those goals. Personally, I appreciate the visual aspect of a physical to-do list with tasks that can be scratched off once they're completed. Being able to see how far you've come and what all you've accomplished in real time is a great motivator!
Create daily rituals.
Creating daily rituals is an effective way to promote mental and physical well-being. Set aside time each day for this ritual so that you can stay consistent. I recommend choosing a ritual that you can practice every morning or evening to start your day on a more centered and positive note. Plus, starting your day with a healthy ritual, like exercising or meditating, can give you the burst of energy you need to start your day.
Use apps to help you stay organized and focused.
Using digital tools like a mobile app to plan your day can help you stay organized and focused. Apps are great for helping you manage your time effectively. The best productivity apps offer features like reminders, calendars, and to-do lists. With the right app, you can feel better prepared to tackle upcoming commitments.
Best Productivity Apps
Forest is a fantastic productivity app that can improve your focus and help you waste less time on your phone. Personally, I think Forest is one of the best free apps for moms.
Freedom is a useful productivity app that can block social media, streaming, shopping, and more (whatever you decide) across all your devices. Then you can stay focused and be more productive.
Trello is a task management app that makes it easier to tackle your to-do list. With Trello, you can break down your day, as well as various projects, to make them easier to accomplish. This app is convenient, simple, and flexible – everything you need a task management app to be.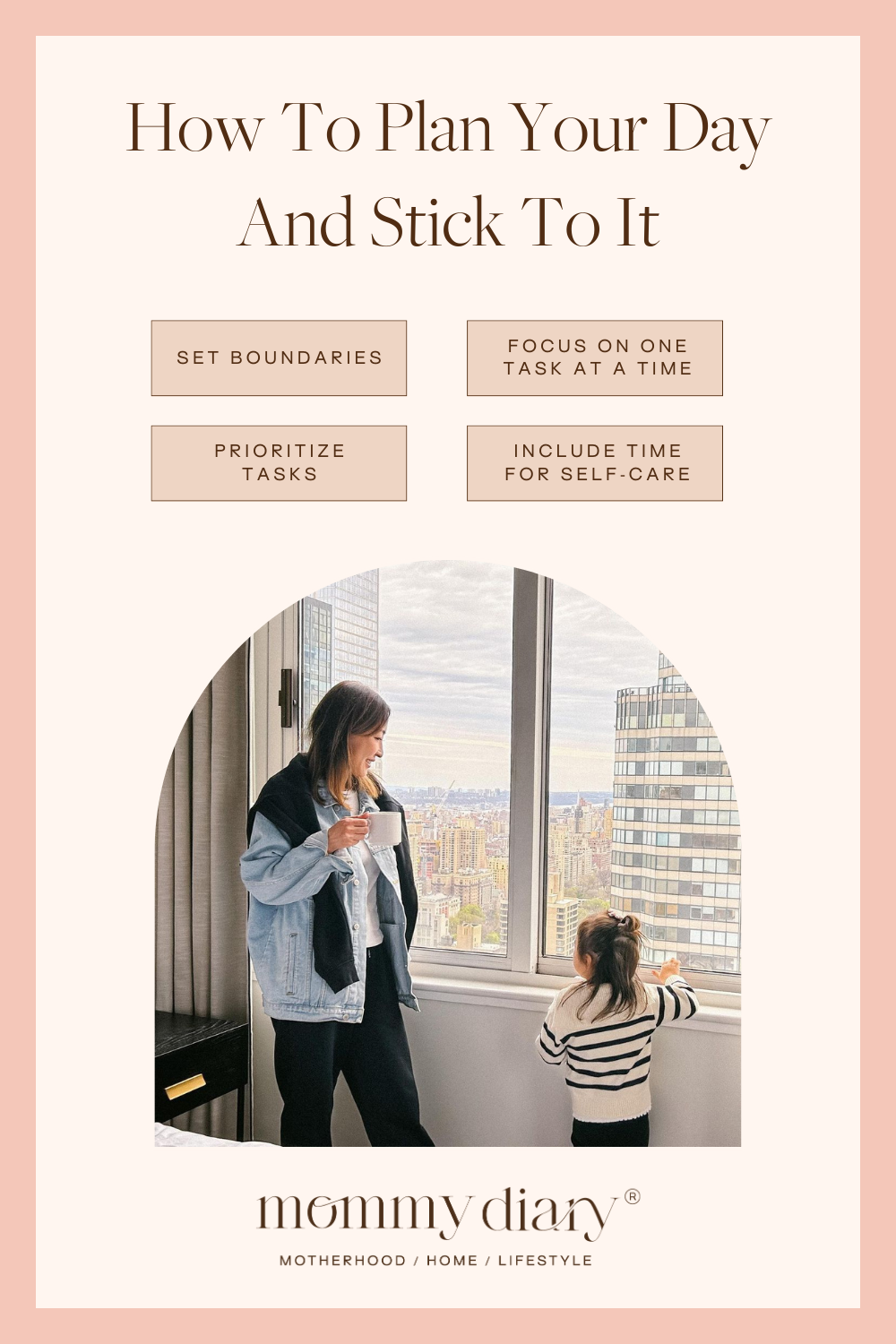 Set boundaries.
Setting boundaries with yourself allows you to accomplish more and make better use of your time. An effective way to set boundaries is to give yourself a set amount of time for each task. Once that time is up, move on to the next task. It's better to fall behind on a single task than to be behind schedule on your entire plan for the day.
Establishing boundaries with your time also motivates you to make the best use of your time. Boundaries encourage you to work more efficiently.
To stick to the boundaries you set, I recommend using an alarm. Once that alarm goes off, give yourself a couple of minutes to reset your mind and body, then move on to the next task.
Prioritize tasks.
Prioritizing tasks is an important part of effective planning. Consider your goals and then decide which tasks will help you get closer to reaching them. You'll also want to weigh the urgency and importance of each item on your to-do list to make sure that you'll meet deadlines or commitments. Be sure to consider how much time and how many resources you have available as well.
Tasks that are the most time-sensitive and contribute significantly to your goals should be your priority. This way, you can focus on the most important tasks first and then use any leftover time or energy on less important ones. However, make sure you're being realistic about how much you can accomplish within a set time. You don't want to overload your schedule.
Focus on one task at a time.
Focusing on one task at a time not only helps you to stay focused but also increases productivity. Although it might seem like you're getting more done when you're multitasking, it's counterproductive.
Instead of multitasking, focus on completing a single task, then move on to the next one. Minimize distractions and track your progress on larger tasks. Practice mindfulness as much as possible so that your current task can have your full attention. If something else comes to mind while you're working on a different task, write them down and address them later.
Focusing on one task at a time improves your efficiency and allows you to do the best possible job each time.
Include time for self-care.
Don't forget to include self-care in your schedule. As parents, we often put ourselves last and sacrifice our well-being to care for others. Over time, this can lead to more stress as well as burnout and even unhappiness. To ensure you take care of yourself, include self-care in your schedule, even if it's just for 30 minutes each day of the week.
Some easy ways to practice self-care include taking a bubble bath, reading, going on a walk, or engaging in a hobby that you enjoy. Self-care is an important part of maintaining a healthy work-life balance. It can also improve your happiness and productivity, and give you the patience and energy you need to get through the day.
Planning each day is a great way to stay productive and these tips can help you stick to your plan.
Planning, in general, is crucial to my sanity. As a busy mom, I've found that planning out my days keeps me on track and allows me to accomplish more in the long run. Daily planning is easily the most effective task management and organization strategy.
That said, I'm curious about the strategies that you've found most useful. Are you a planner like me? Or maybe you've found a different way to stay on track and meet your goals? Tell me about it!
For more lifestyle tips, parenting advice, fashion inspiration, and so much more, check out my blog, as well as my podcast!