Going to the beach is one of my favorite family activities during the summer months. It's a fantastic opportunity to relax, unwind, and spend some time in nature. A trip to the beach can also be beneficial for your health, as well as your kids' health.
Parents and caregivers need to take extra precautions when bringing their kids to the beach. A lot of things can happen at any moment, in just a matter of seconds. So, it's important to be prepared and remain vigilant to stay safe.
No matter whether you have young children or teenagers, practicing beach safety will help keep any untoward incident at bay. Here are my top tips: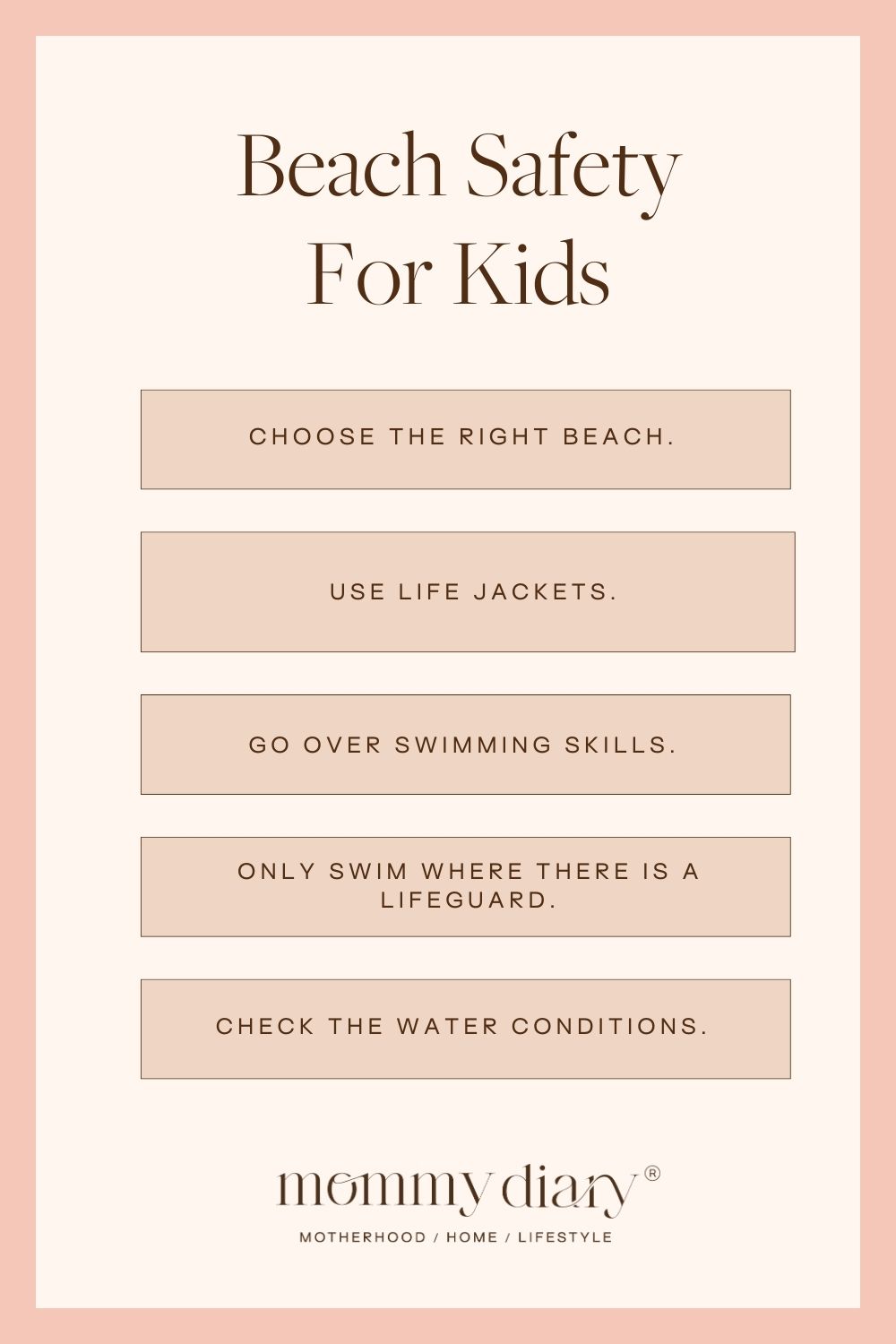 Beach Safety For Kids
Choose the right beach.
Choosing the right beach is a crucial part of staying safe at the beach. Whenever possible, choose a beach that has lifeguards on duty, as well as ample parking. Also, opt for a beach with a reputation for being family-friendly.
Use life jackets.
The American Red Cross recommends that children 5 years old or younger wear US Coast Guard-approved life jackets anytime they are near or in the water.
However, just putting on a life jacket isn't enough. Keeping your kids safe in or near the water requires life jackets to be worn properly. Make sure the straps are pulled tight and secure.
Best Life Jackets For Kids
The Child Classic Series Vest from Stearns is frequently recognized as one of the best kids' life jackets on the market. This US Coast Guard-approved life jacket is intended for children weighing 30 to 50 pounds.
The Stearns Child Classic Series life vest is made from nylon and PE flotation foam. It has three adjustable buckles and a leg strap to ensure optimal fit.
The Stohlquist Fit Youth Life Jacket is another top-rated, US Coast Guard-approved life vest. It's available in three sizes, to fit children weighing 30 to 125 pounds.
This popular kids' life jacket features three buckles on the front as well as an adjustable crotch strap. It also has a convenient grab handle on the top of the back panel. Each of the six available colors offers high visibility.
Here's a great option for little ones weighing less than 30 pounds. It's designed to fit infants weighing 15 to 30 pounds.
The Airhead GNAR Infant Kwik-Dry Neolite Flex Life Jacket is US Coast Guard-approved. It features closed sides, two sturdy belts, and a quick-grab handle.
The Airhead GNAR Infant life jacket is made of durable, quick-drying fabric that is comfortable enough for a full day in or on the water.
Go over swimming skills.
Swimming in the ocean is vastly different from swimming in a pool. It takes a lot more effort, energy, and skill to swim in an ocean. Even more, children are often intimidated by the waves and lack of visibility.
I recommend preparing your child beforehand by going over the different aspects of swimming in the ocean. If possible, have them practice their swimming skills beforehand.
Only swim where there is a lifeguard.
The ocean is unpredictable and can be dangerous. Stay in an area that is being watched by a lifeguard. Don't allow your children to go in the water if there's no lifeguard present, regardless of how strong your swimming skills are.
Check the water conditions.
Before you leave, check the water conditions at the beach you're going to.
Once you arrive at the beach, ask the lifeguard about the current ocean conditions. Almost all beaches have flags to indicate the weather conditions. If you see one red flag, it means the water is too dangerous to enter. Two red flags means that beach is closed.
Also, keep everyone out of the water if the current is bringing jellyfish close to shore.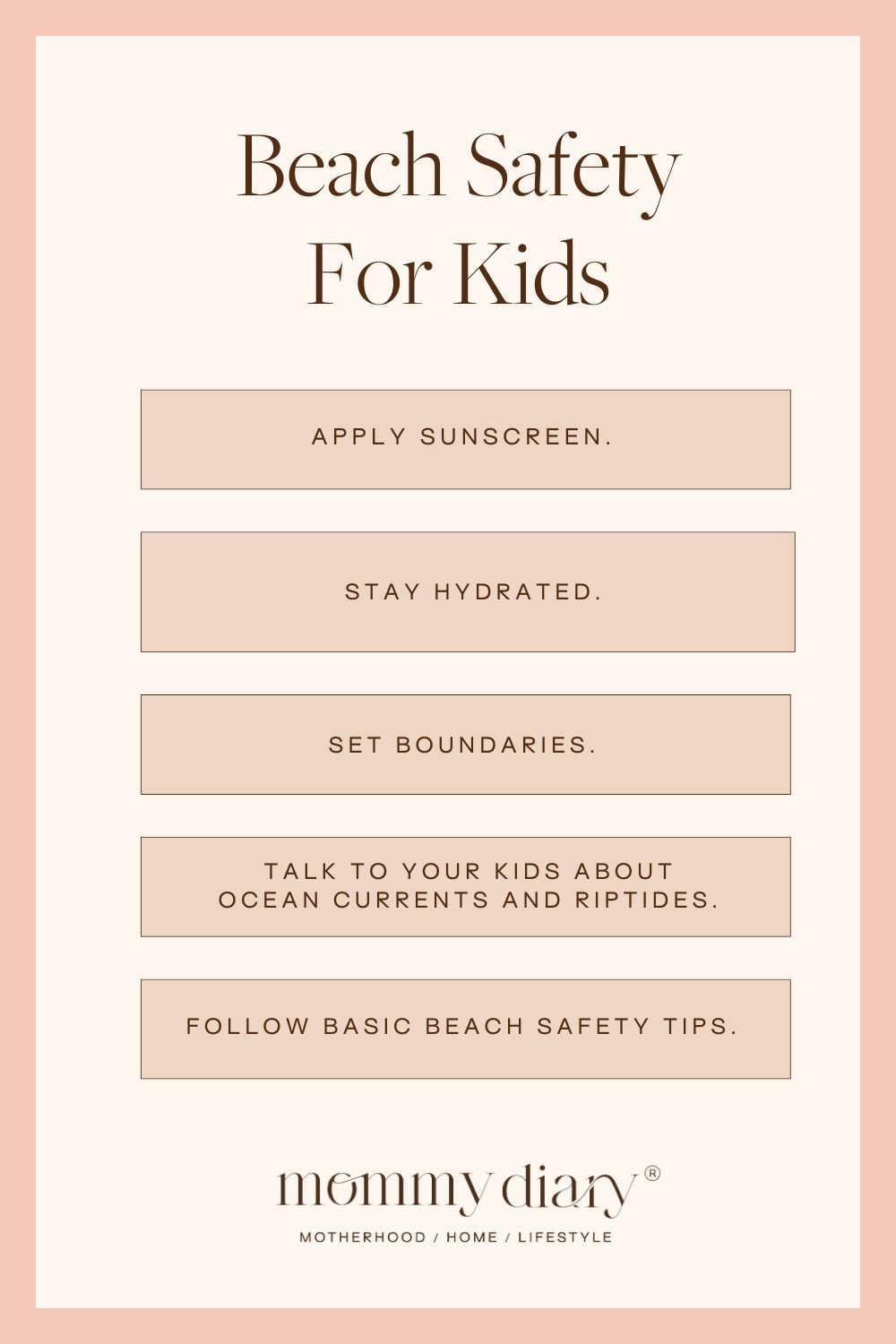 Apply sunscreen.
A reliable sunscreen is one of the most important beach bag essentials. I know it can be a little hectic trying to get everything together and get out the door, but I try to remember to put sunscreen on my kids before we even leave. Young children, especially, are often so excited to play that it can be hard to apply sunscreen properly once you're at the beach.
Remember to reapply sunscreen every two hours, even if it's waterproof. I recommend using lotion instead of spray. It provides a thick layer of protection from the sun and it's better for the environment.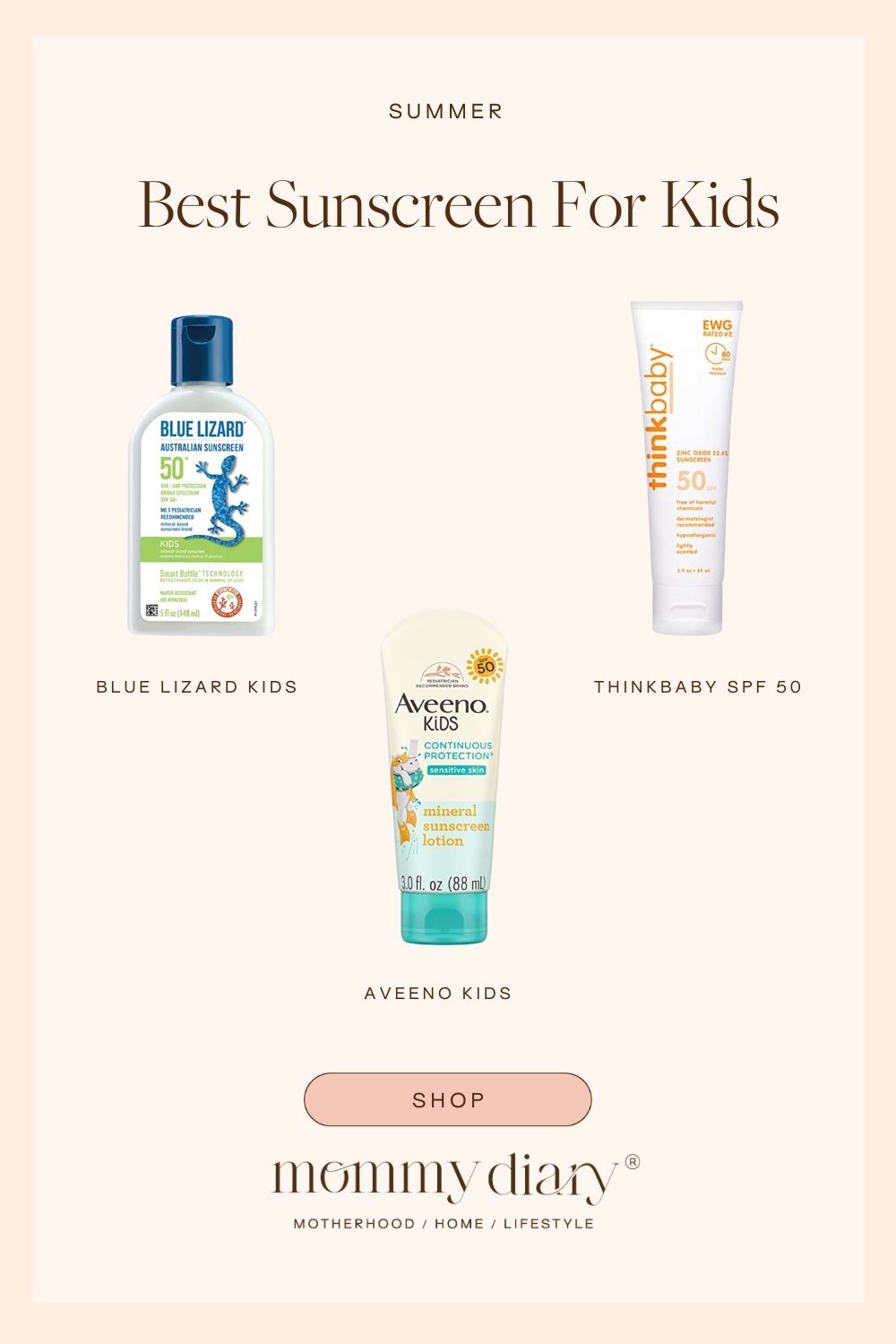 Best Sunscreen For Kids
Blue Lizard is a top-rated, pediatrician-recommended, mineral-based sunscreen brand. The Blue Lizard Kids mineral-based sunscreen offers broad spectrum UVA/UVB SPF 50+.
This kids' sunscreen is water and sweat resistant. Your kids will be protected for up to 80 minutes. It's also paraben- and fragrance-free, which makes it ideal for sensitive skin.
Thinkbaby SPF 50 baby sunscreen offers broad-spectrum protection from UVA and UVB rays but is gentle enough to use on infants' sensitive skin. It's absorbed quickly and won't leave your little one's skin feeling oily or sticky. This water-resistant formula provides up to 80 minutes of protection.
Thinkbaby is a Leaping Bunny-certified sun cream that was the first sunscreen to pass Whole Foods Premium Care Requirements. This sunscreen contains no PABA, parabens, phthalates, BPA, oxybenzone, avobenzone, petroleum, gluten, dairy, or toxic chemicals.
Aveeno Kids Continuous Protection Mineral Sunscreen Lotion for sensitive skin is another top-rated sunscreen. It offers broad spectrum SPF 50 for protection from UVA and UVB rays.
This kids' sunscreen from Aveeno is sweat- and water-resistant, offering up to 80 minutes of protection. It's a hypoallergenic sunscreen lotion that is non-greasy, paraben-free, phthalate-free and fragrance-free.
Stay hydrated.
Proper hydration is one of the most important aspects of beach safety, yet one of the most overlooked. Make sure everyone is drinking water throughout the day.
I make sure to pack at least one reusable water bottle for each person. This YETI Rambler Jr. is great for kids. The top-rated IRON °FLASK Sports Water Bottle is a great reusable bottle for adults. Both bottles are designed to keep your drinks colder for longer, even on a hot, sunny beach. You can fill it with ice water before you leave and pack extra ice and water in a cooler.
Set boundaries.
Once you get to the beach and get set up, and especially before you let anyone wander into the water, set some boundaries. It's a good idea to set boundaries for your kids, regardless of their age, to help keep them safe.
For older children, tell them how far out into the water they are allowed to go or give them two landmarks to stay between. The boundary you set will depend on their maturity, swimming skills, and current water conditions.
Talk to your kids about ocean currents and riptides.
Talk to your kids about ocean currents and riptides before you get to the beach, then go over both again once you get there.
A rip current is a terrifyingly strong type of water current that can happen close to the shore where the waves break. A rip current is a narrow channel of water that flows away from the shore. In just a matter of seconds, a rip current can pull you out to sea.
Make sure your child knows NOT to swim against a rip current if he's caught in one. Even the strongest swimmers can't swim against it. If you or your child is caught in a rip current, stay calm. Swim parallel to the shore until you are out of the current, then swim to shore.
Follow basic beach safety tips.
Follow these basic beach and water safety tips to keep yourself and your family safe at the beach:
Always stay close to your young children. Don't rely on someone else to watch the kids.
Teach your kids to float on their backs if they're too tired to swim back to shore.
If you notice someone in the water who is in distress, immediately get the attention of a lifeguard. If possible, throw a flotation device at the person, but don't try to rescue them on your own if you haven't had lifeguard training.
If someone is stung by a jellyfish, immediately see the lifeguard for help.
Make sure your child knows that if he gets lost and can't find you, always go straight to a lifeguard.
Have everyone use the buddy system. Whether visiting swimming pools or swimming in the ocean, always swim with a buddy.
Remind your children that they should never approach or touch marine life, even if they think it needs help. Get the attention of a lifeguard instead.
Always keep a first-aid kit handy.
Beach safety is an important part of enjoying time with your kids at the beach.
Some of my most treasured memories have been made at the beach with my kids. The beach offers so many excellent opportunities for families to have a great time together. Safety is a major part of ensuring your kids have the time of their lives and ensuring that you have peace of mind. Stay vigilant and keep the information from above in mind when your feet hit the sand and you're sure to make memories to last a lifetime.
For more ways to make the most of your time with your family, check out my blog, my Instagram, and my podcast.