How to practice self-care at home during covid-19
This post is sponsored by Pantene. All thoughts are my own.
Now that I am a mom of four, my time is more limited than ever. Sometimes I barely have time to shower and when I do, I don't have time to dry my hair. I feel like I do so much everyday- for my family, my work and my new baby- but it never seems enough.
So these days I'm making it a priority to take care of myself too. Date nights are hard to come by and social life is practically non-existent, but I can still take care of myself at home, right?
In this post, I'll share 3 easy ways you can take care of yourself at home even if you don't have time to leave the your home.
3 Tips For Self-Care At Home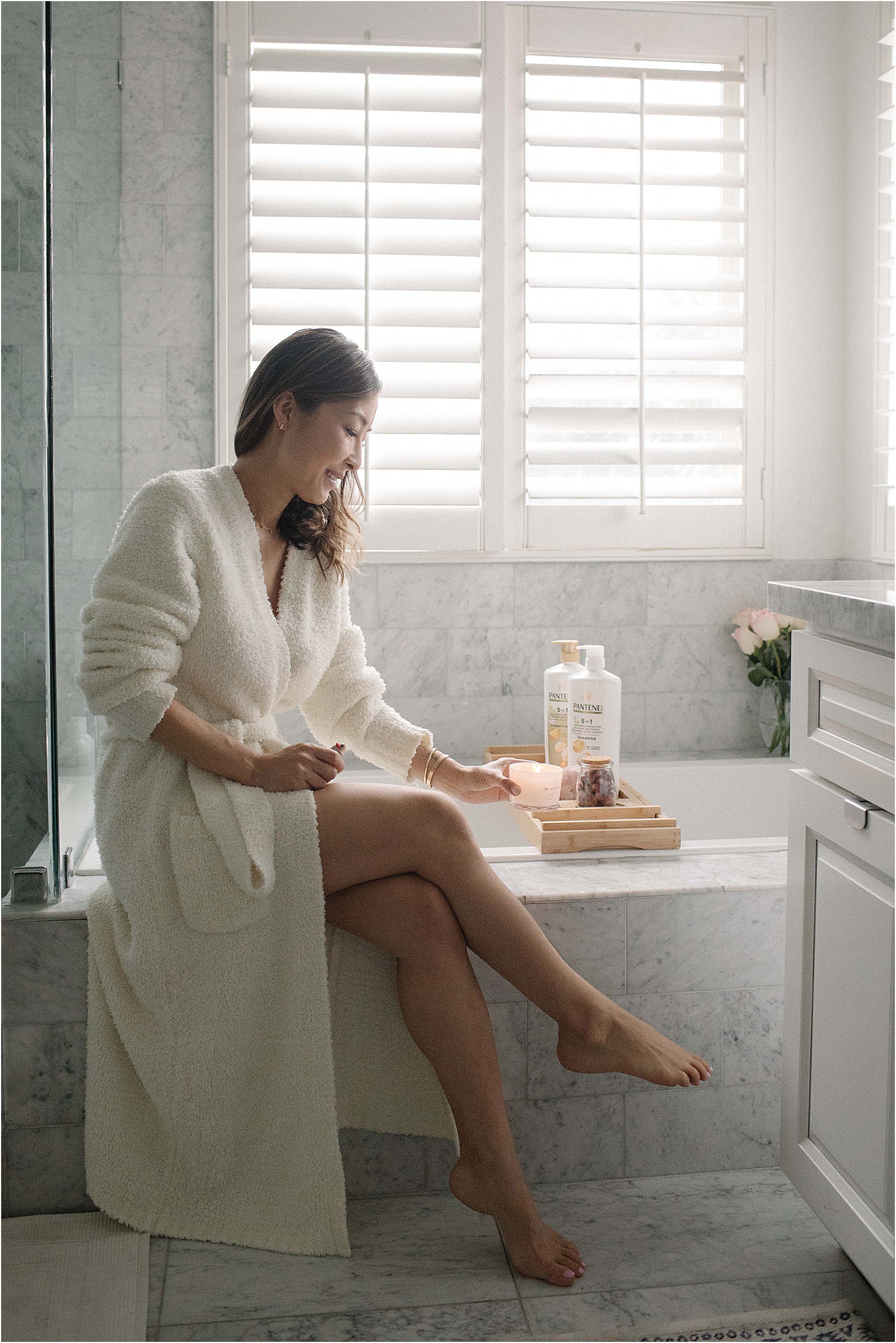 1. Meditate
I know everyone talks about the importance of meditation but really, how DO you meditate?
Meditation should be easy and simple. You may want to meditate with an app, a guided meditation on YouTube or with meditative music. Or you can simply meditate in silence by closing your eyes and focusing on your breathing.
It doesn't matter which method you use, but I recommend starting your day off with even 5 or 10 minutes of meditation BEFORE you open your email, social media or messages. This allows you to set a positive tone early in the day with a clear intention.
2. Read a real book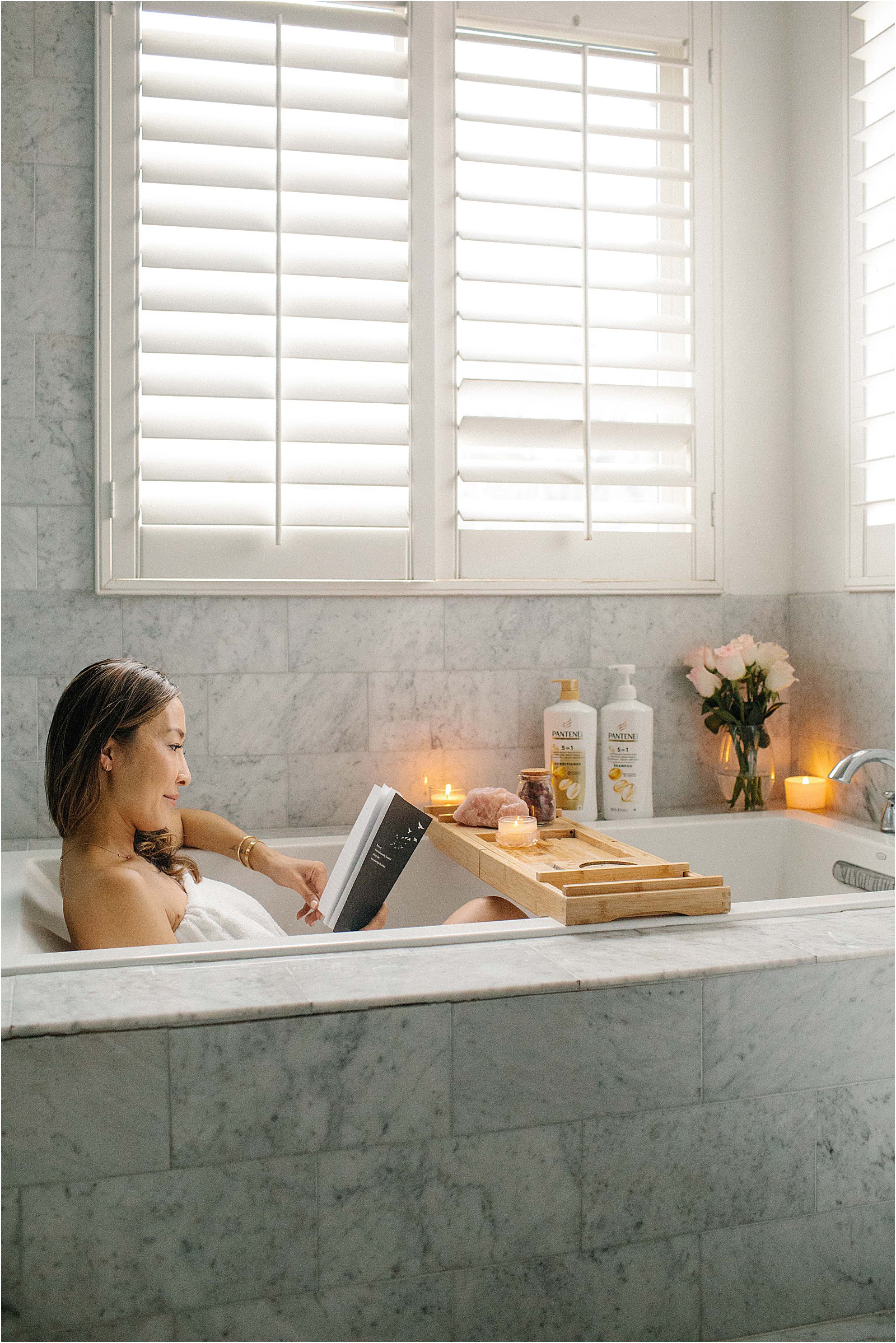 I like podcasts and audible but there's nothing like reading a real book like we did back in the days. To me, reading is a sensory and tactile experience and there's something about turning the pages or the smell of new paper that makes me feel calm and restored.
I also love reading in the bathtub while soaking my body with bath bombs, soaking salts and essential oils. Take a bath- even during the day!
Who says bath time is only for night time? If you're able to squeeze a bath during the day while your baby is napping, do so because it's better than missing this golden hour of quiet time.
In addition to essential oils and bath bombs, I like to choose a shampoo and conditioner that is moisturizing and paraben-free. After all, the key to healthy hair is using the right shampoo and smoothing conditioner.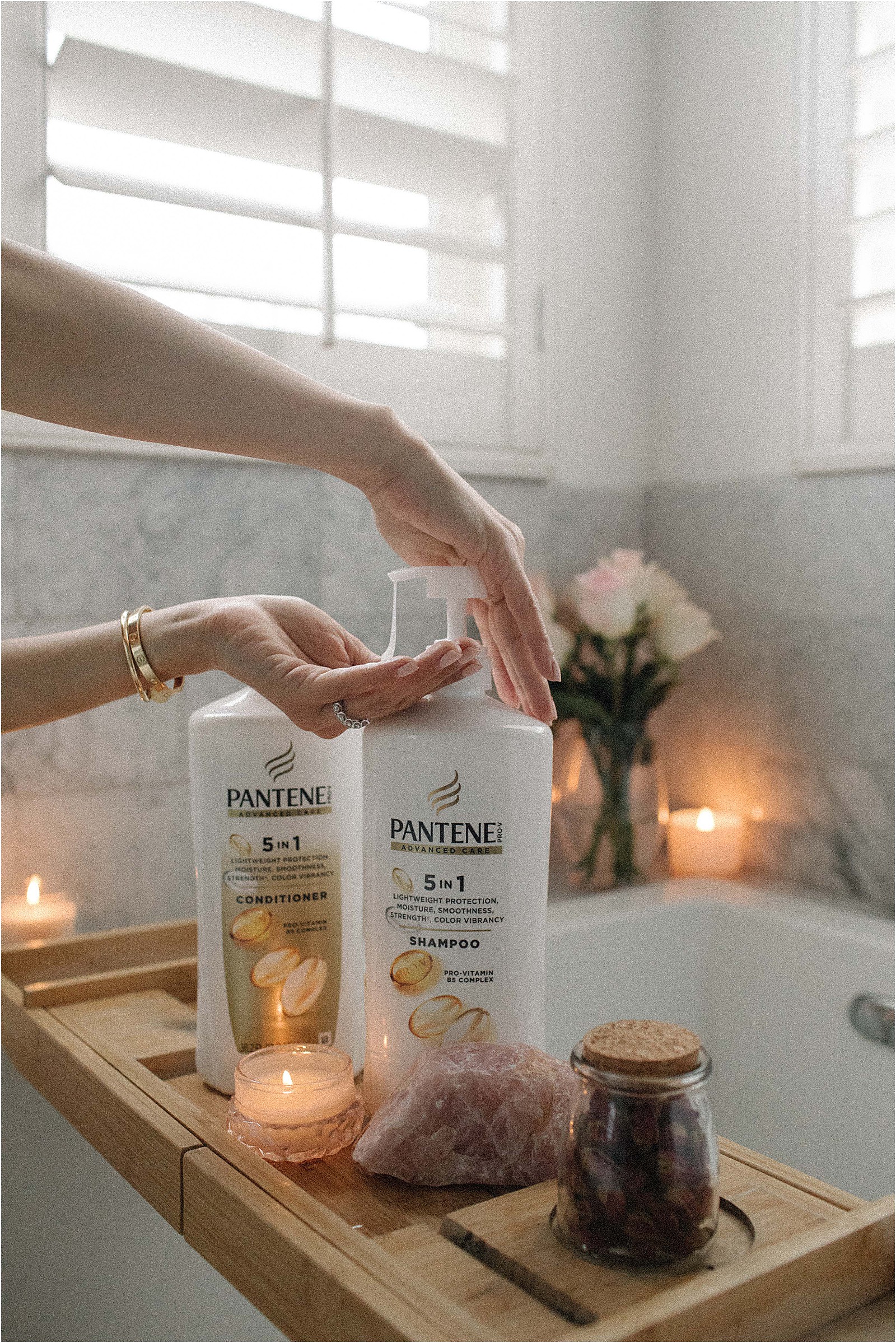 Why I like Pantene Advanced Care Collection
I like using Pantene's 5-in-1 Advanced Care Collection shampoo and conditioner because it contains Pantene's Pro-Vitamin B5 Complex. This collection was designed to provide your hair with 5 benefits in 1 system, which is perfect for busy women. This collection is made for Costco members, and is available in warehouse and online.
Even better, it now contains 3X more antioxidants, even more protection from sun/UV damage, improved color vibrancy and is gentle enough for color-treated hair.
This collection was designed to provide your hair with 5 benefits in 1 system:
Moisture – provides lightweight moisture so your hair is not weighed-down

Strength – antioxidants to help strengthen hair against damage

Smoothness – helps to keep frizz away

Lightweight protection – protects hair's natural structure

Color vibrancy – reveals vibrant color by adding a pop of shine
It's also more natural and free from of parabens, mineral oil, dyes, gluten and phthalates.
Are you washing your hair right? Here's a recap.
Step 1. You can use Pantene Advanced Care Collection shampoo as normal by focusing the lather at the scalp and roots of the hair.
Step 2. The Pantene Advanced Care Collection conditioner was formulated to be light enough that you can use it from the mid-lengths of your hair down to the tips. It's even better if you use the conditioner from your crown to the tips!
Step 3. Be careful not to over-rinse or the conditioner loses its power. No more than a 30-second rinse should do the trick!
3. Unplug from social media
And lastly, unplug from all devices and just hang out with your loved ones by watching a movie, playing board games or even cooking delicious meals. As a blogger and content creator whose work relies on social media, it's really hard for me to truly unplug. But these days, especially with all the uncertainties of the world, I'm reminded of what really matters in life, which is – family and self-care.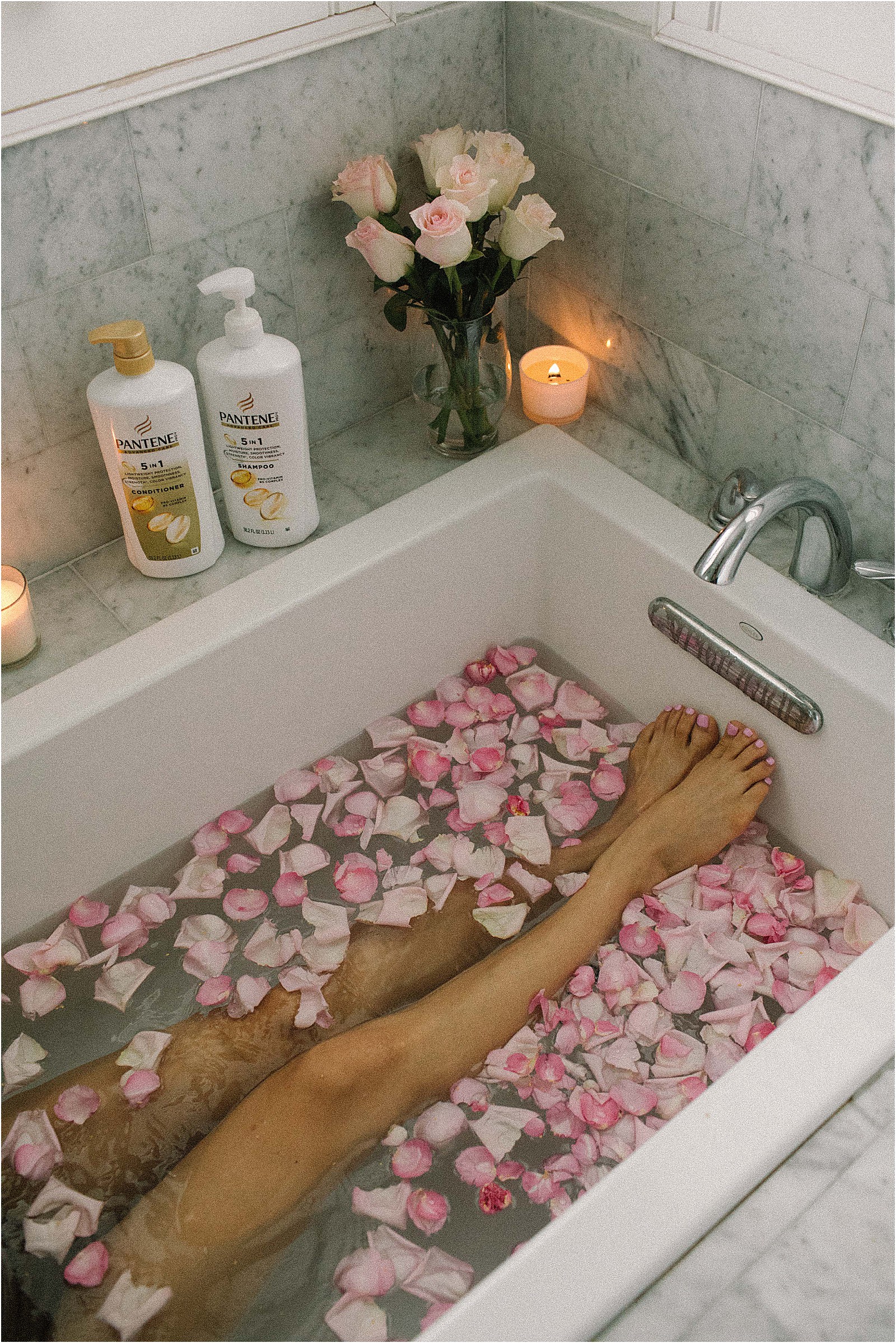 Because at the end of the day, what is life without our loved ones, including love of self, right?
So the next time you're in shopping online, be sure to pick up this club-sized bottle of Pantene Advanced Care Collection: shampoo and conditioner duo at Costco.com. From now through March 29, 2020, you can receive $2 off the Pantene Advanced Care Collection. Shop the shampoo and conditioner online here.
Who doesn't love a special deal online at Costco? I hope you love it as much as I do!