I think we all would love a Pinterest-perfect, decluttered, and organized home. And, if you're like me, tidy spaces bring a sense of peace, calm, and spark joy. There's no better feeling than spending an afternoon organizing a space. (Thanks, Marie Kondo!) By the time you're finished, you feel like you're decluttering your life.
The problem is, especially if you have kids, that a space never seems to stay clutter-free for long. No matter how neat of a person you are, things like mail, school supplies, toys, and clothes always seem to pile up over time. Staying organized is something that you have to intentionally keep up with. Today, I'm sharing decluttering tips for your home to help you reclaim your living space.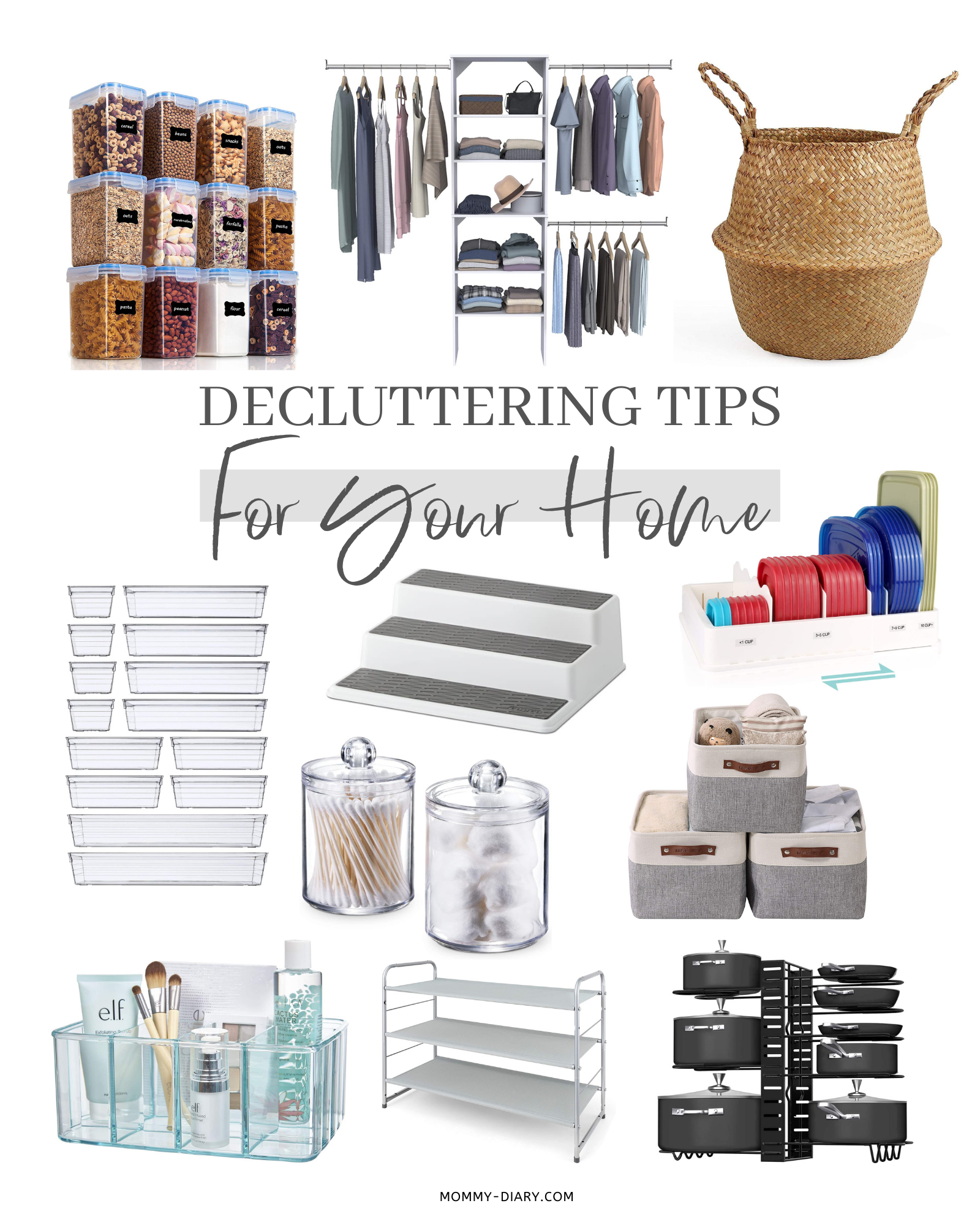 5 Decluttering Tips For Your Home
1. Make a plan
When you are ready to go all-in on decluttering your home, the first step is to make a plan. Think about when the best time would be for you to do this. Is it during the week while the kids may be occupied elsewhere? Or maybe it's on a weekend when you'll have the help of your spouse. You may need to purchase things like baskets or bins to help you bring your plan to life. You can find these types of items for great prices, so don't buy expensive containers and storage that may bust your budget just for the sake of having them. I'll link some storage solution ideas for this later on in this post.
2. Go room by room
I find that tackling one room in your home at a time is the best approach to a decluttering session. This way you can focus on what should be in that space, and what doesn't belong. There's no right or wrong answer to which room to start with. However, I prefer to begin on the main floor, as that's where we spend most of our time and where guests will be. If you're unsure where to start, I say declutter your bedroom or kitchen first.
3. Sorting is key
Decluttering is all about sorting. Gather a few trash bags (or recycling bin) to gather the things you no longer need or want. This is especially relevant for closets, whether it's your kitchen pantry, coat closet, linen closet, or bedroom closet. Literally, look at each item or each piece of clothing and ask yourself: Do I need this? When is the last time I used or wore, this? Be realistic here. If it's a sweater that you've had since high school, and you're now 35 years old, maybe it's time to get rid of it.
I go through my bedroom closet 1-2 times per year and do a huge purge. If I haven't worn a piece of clothing in the last year, it usually goes into the giveaway pile. Then you can make the decision of whether it's something you can sell, or something you can take to Good Will. Either way, you'll be getting rid of clutter. If you're ready to begin, tackle season's clothes as a starting point.
4. Make changes
At this point, you have focused on one room and sorted through what you no longer need. The next step is to determine what changes you may need to make to your space. If it's a space with shelves or baskets, is there a more organized way that you can store your items? If so, decide which changes you want to be made and then implement them. This may require you to make a bit of a mess before it's the way you want it, but that's okay. It will be well worth it. A tip, drawer dividers, and removable cabinet drawers are great for maximizing storage space.
5. Maintain
Of all the decluttering tips, this is the one most people neglect. If you've gone through the hard work of organizing your home, you want to keep it that way. Don't allow things to build back up again by taking a few minutes at the end of each day to sort through any new mail, hang up clothes, and put dishes away in the kitchen. Talk with your family members about this plan so all hands are on deck. I believe this is the secret to keeping a clutter-free home.
Home Organization Essentials
Sometimes the best decluttering tips come with just having the right organizational tools. I find that the kitchen and bedrooms are the places to become cluttered the fastest. Here are a few items that will make your decluttering process a breeze. You'll be a professional organizer in no time.
Drawer organizers
These are some of the best helpers for decluttering your home. Many drawer organizers are expandable so you can make them larger or smaller based on the size of the drawer. In the kitchen, you can use them to organize silverware and other utensils. I also like to use them in our bathrooms to organize things like hair ties, cosmetics, and toiletries.
Tupperware lid organizer
Tupperware is one of the most difficult things in the kitchen to keep organized. It's always a search to find the right lid for the container that you have. This tool allows you to store your lids in a simple way.
Wall Mount Holder
These wall mounts can hold items that always seem to be falling down like your broom, mop, or vacuum. I like storing these in the laundry room. You can also use them in the garage for rakes and other tools.
Pots and Pans Organizer
Similar to Tupperware, pots, and pans can easily become cluttered. Here is a solution for that.
Pantry Organizers
Have you ever done a complete pantry makeover? It feels so good when you're finished! You can check out this post on decluttering tips for your pantry.
Mail Holder
Designating one space for your mail that is close to your door is the best way to avoid paper piling up on your kitchen table or in your living room. If you are handy, this could make for a good DIY project.


Closet Solutions
When it comes to your bedroom closets, there are many practical decluttering tools to help you create more space. They come in all shapes, sizes, and price points. From full-blown closet organizational systems, to shelf dividers, to simply adding a hanging rack, there are many options.


Bathroom Organization
In addition to using drawer organizers in bathrooms, adding more shelving and hooks are ways to declutter towels, washcloths, toilet paper, etc. For under the sink, try a hair tool organizer. Use jars for smaller items such as q-tips and cotton balls. To avoid cluttering your medicine cabinet, don't allow any loose items to be in there.


Home Office Essentials
Your home office desk is where small items become cluttered. Pens, pencils, ear buds, and if you're like me….essential oils. They never seem to have a designated space. Wire and metal containers are great for your office space because they are heavy-duty and easily accessible.


Baskets and Bins
My last decluttering tip is this….when all else fails, use baskets and bins. These are especially wonderful in a child's bedroom or playroom.


Are you ready to go and organize your home and your life? I hope these decluttering tips have been helpful! What's the most challenging room in your home to keep clutter-free? Let me know in the comments! For more organizational tips, check out my posts on organizing baby clothes and organizing my closet.
This post contains affiliate links that help to support the blog at no additional cost to you. Thank you for your support that allows me to continue to create valuable content for families all around the world.