If you're looking for tips, ideas and inspirations to organize your pantry and turn it into a space that sparks joy in your life, this post is for you.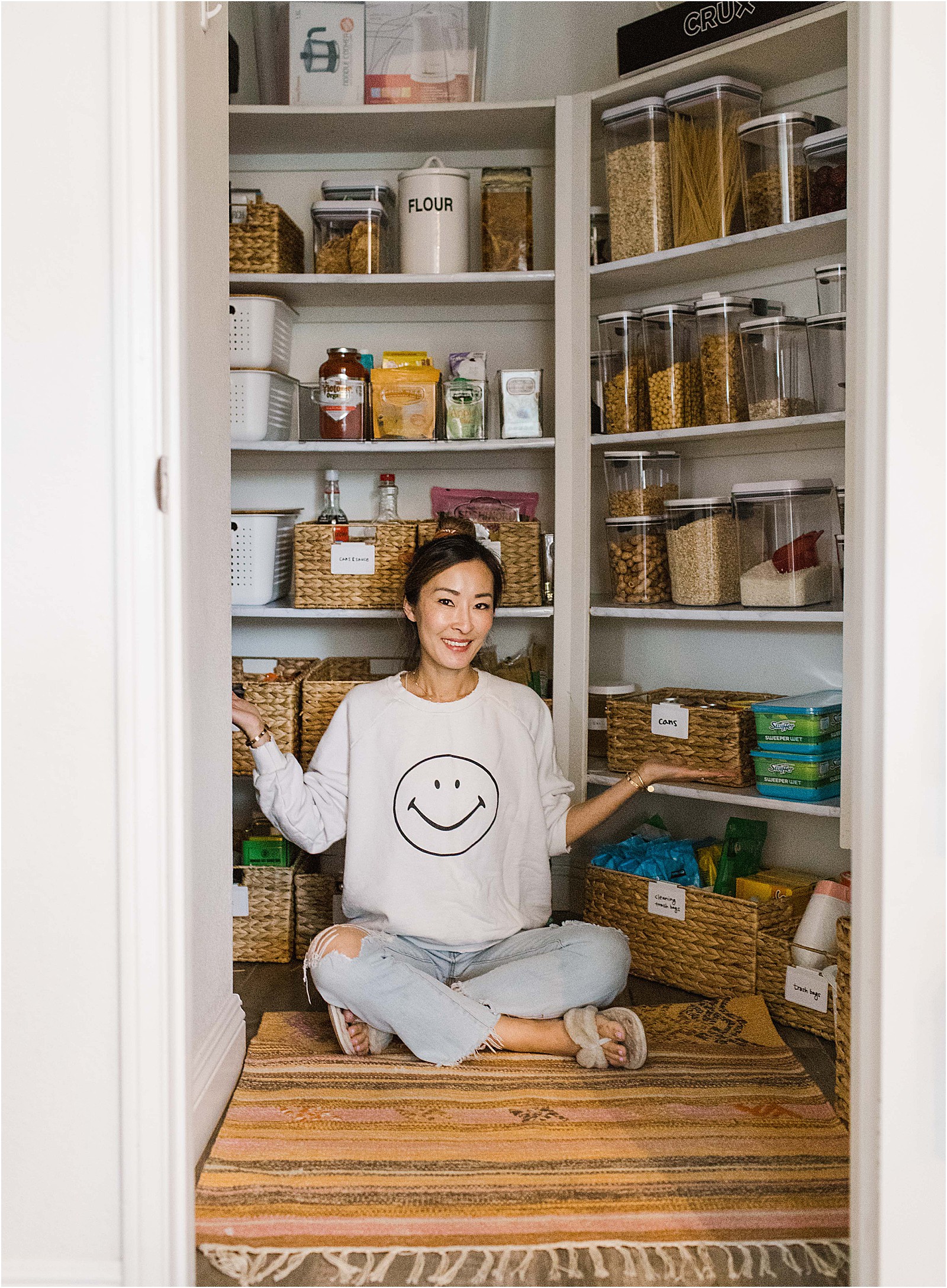 What is the most frequently visited space in your home besides the bathroom? For us it's the pantry. With 5 hungry people in the family, there always seems to be a person in here looking for snacks. Even though the pantry is the most used space in the home, I always thought it would be impossible to keep this area tidy and organized due to the amount of visitors throughout the day.
Thanks to kitchen essentials and storage solutions available at The Container Store, the most neglected and messy space in my home is now my favorite. Before I go into detail about how you too, can turn your pantry into a space that sparks joy in your life, here is the before and after photo of my pantry.
Save 25% on over 900 solutions during our Kitchen & Pantry Sale!
Kitchen pantry makeover before and after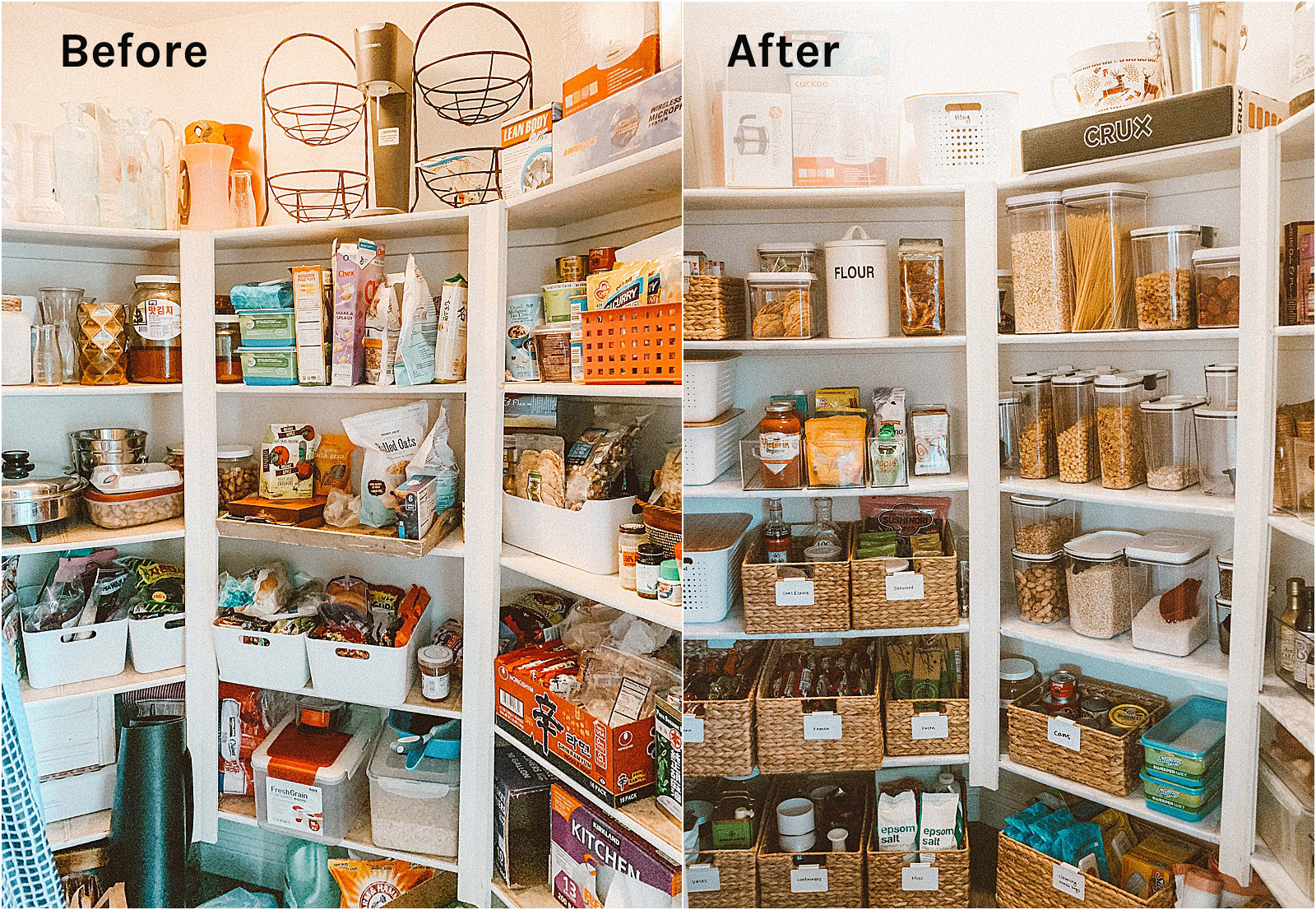 Isn't the transformation amazing? Before this makeover walking into this space felt like such a chore and now I can't help but to keep looking at it because it brings me so much joy!
Now you too, can have this dream pantry if you set aside some time, energy and money to declutter and bring more joy into your daily life. It's the best gift I gave myself and you deserve it too.
1. Joy Check your pantry
Before you do anything else, the first step is going through your pantry to "joy check" the items you have. This means you go take everything out by category and go through the selection process.
Why do I have to take everything out?
Until I began tidying up my home using the KonMari method, I didn't understand why I had to take everything out before organizing. It seemed to make the entire process longer and harder. But after going through several spaces using this method, I now understand why.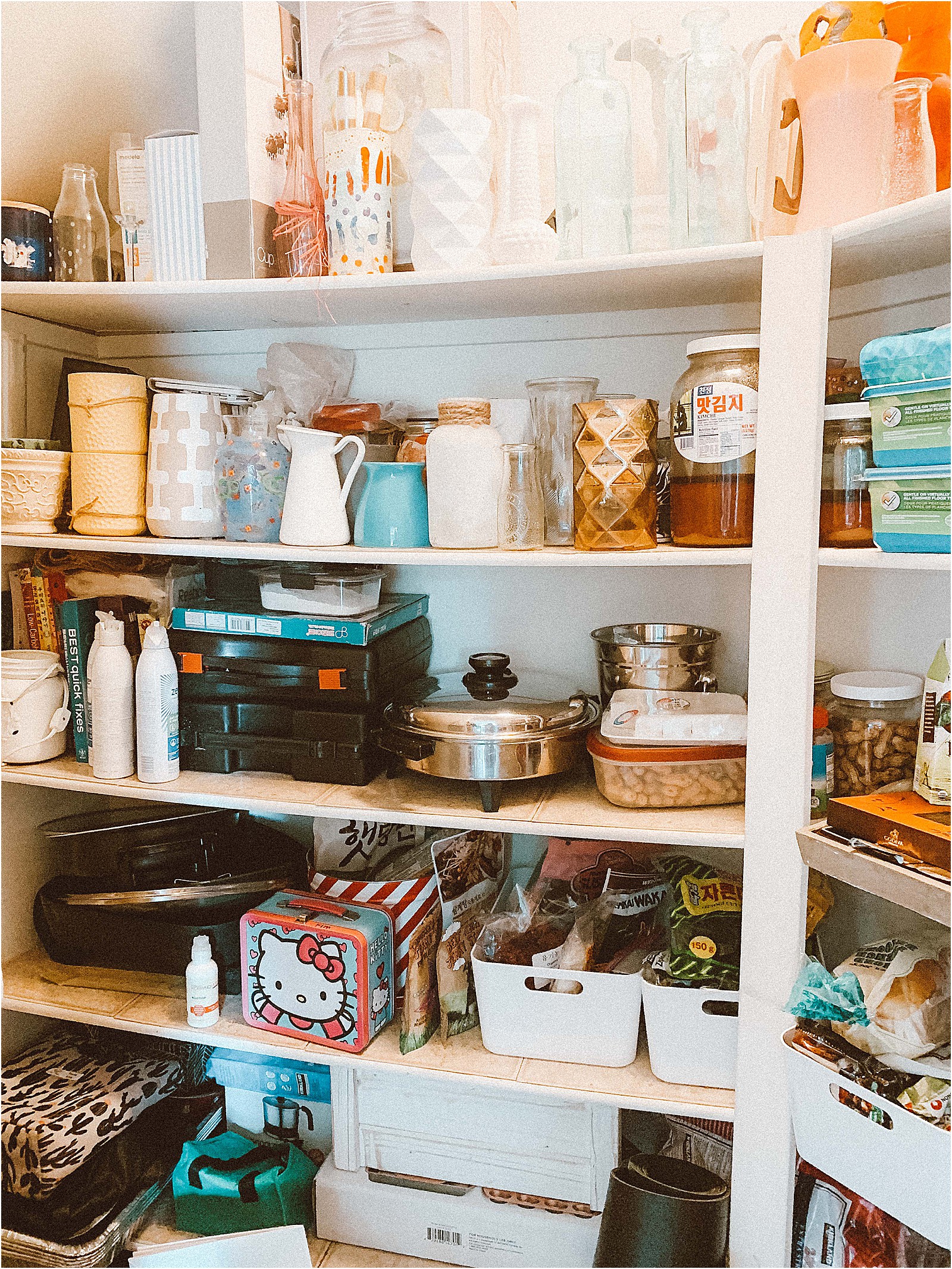 Taking everything out allows you to see just how much unwanted items you have in your home. It also makes it easier to let go of items you no longer need or want, which can actually speed up the selection process.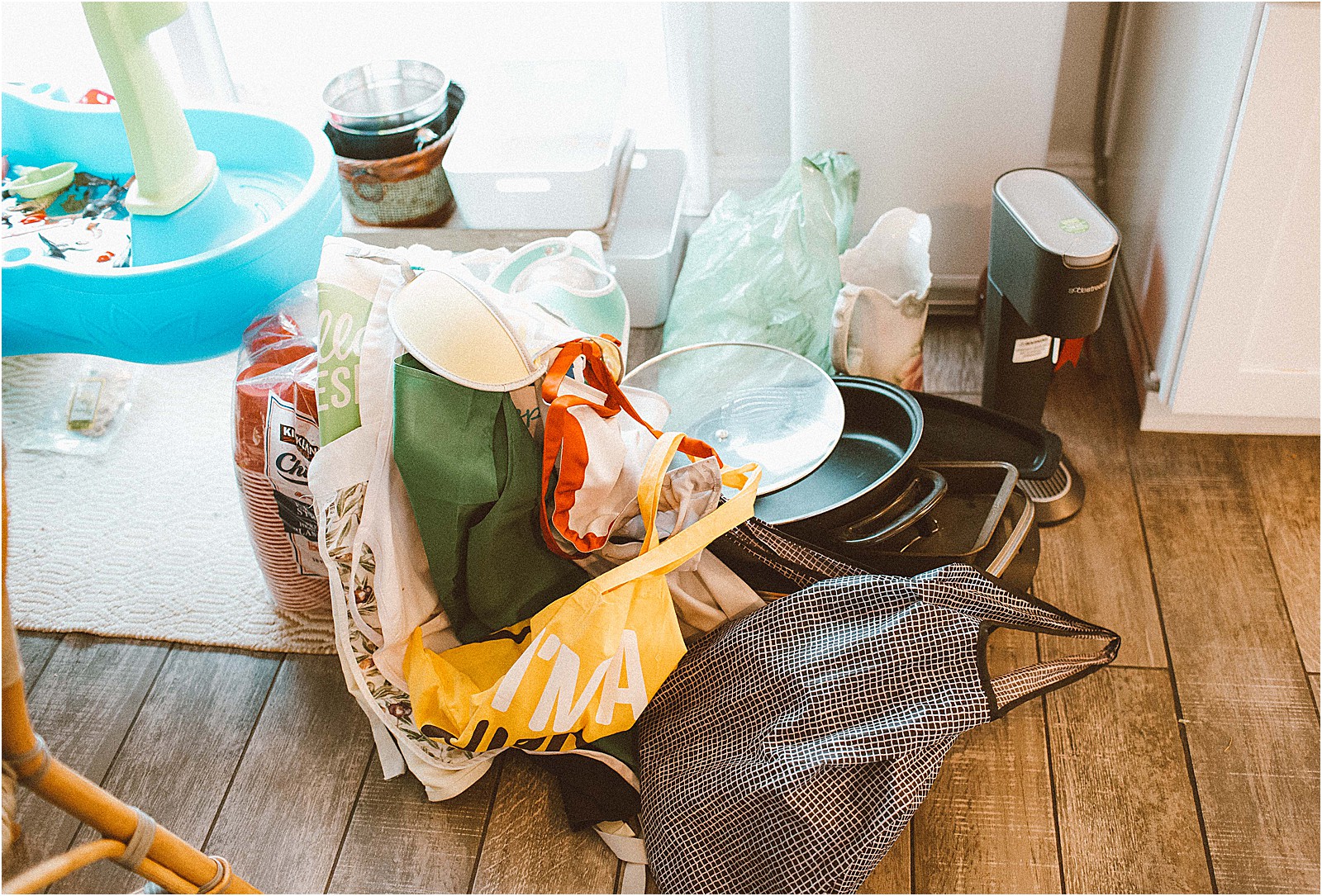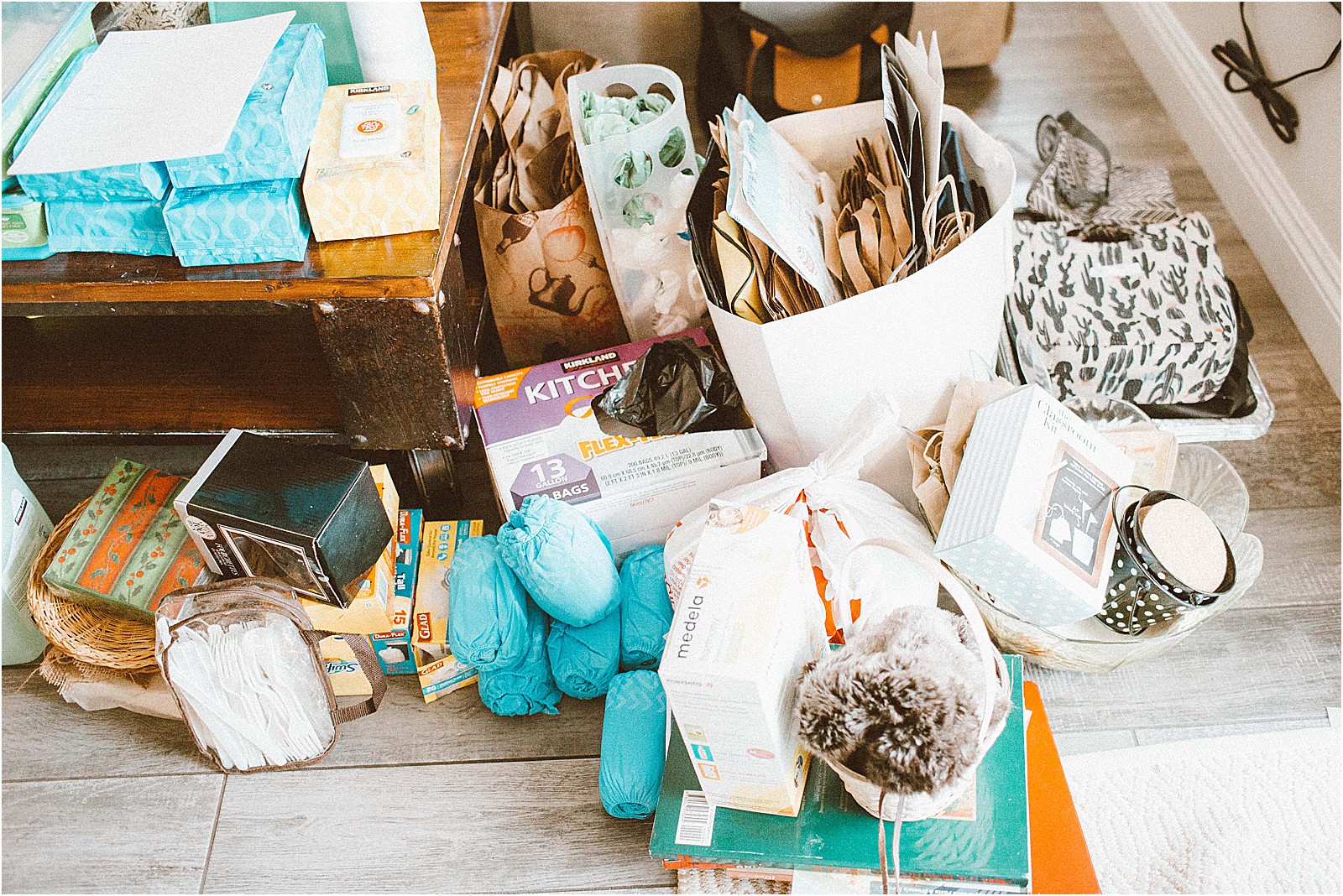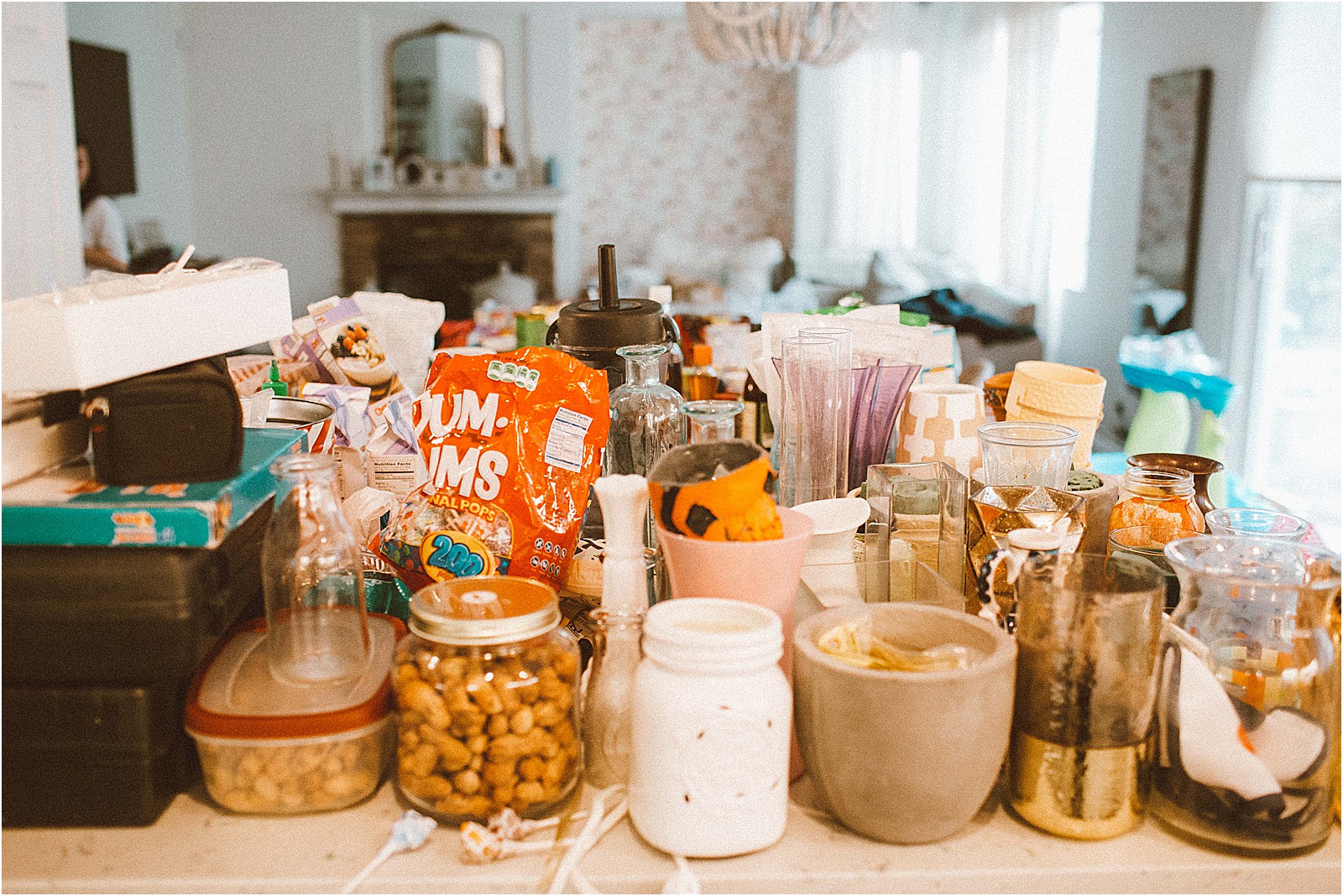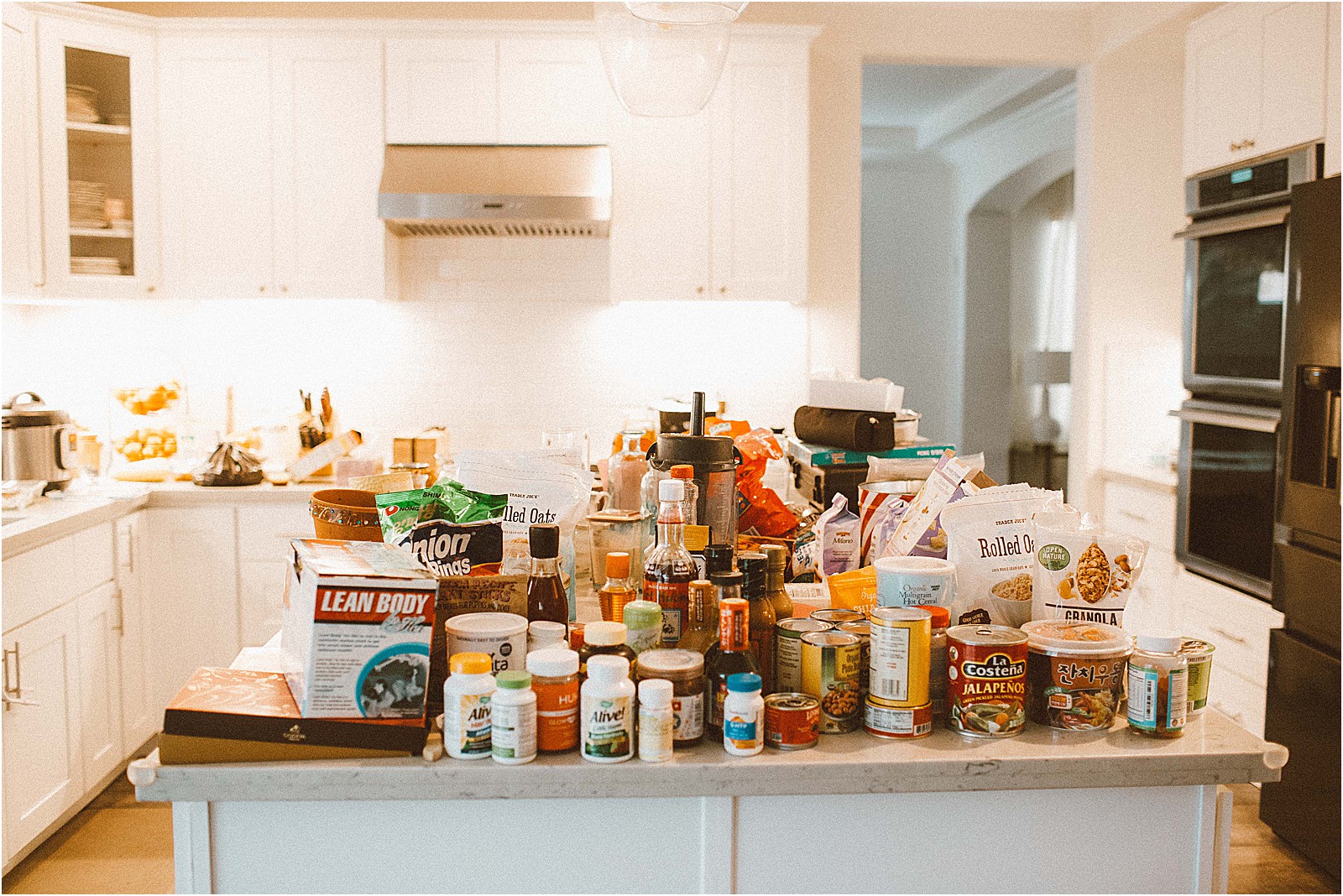 Once I took everything out I couldn't believe just how much stuff I had in my pantry. So many of them were expired and no longer wanted and needed. I went through each item to see if it sparks joy or not following the KonMari method.
If the item or product didn't spark joy, I thanked it and let it go.
2. Clean, wipe, disinfect- use contact paper if needed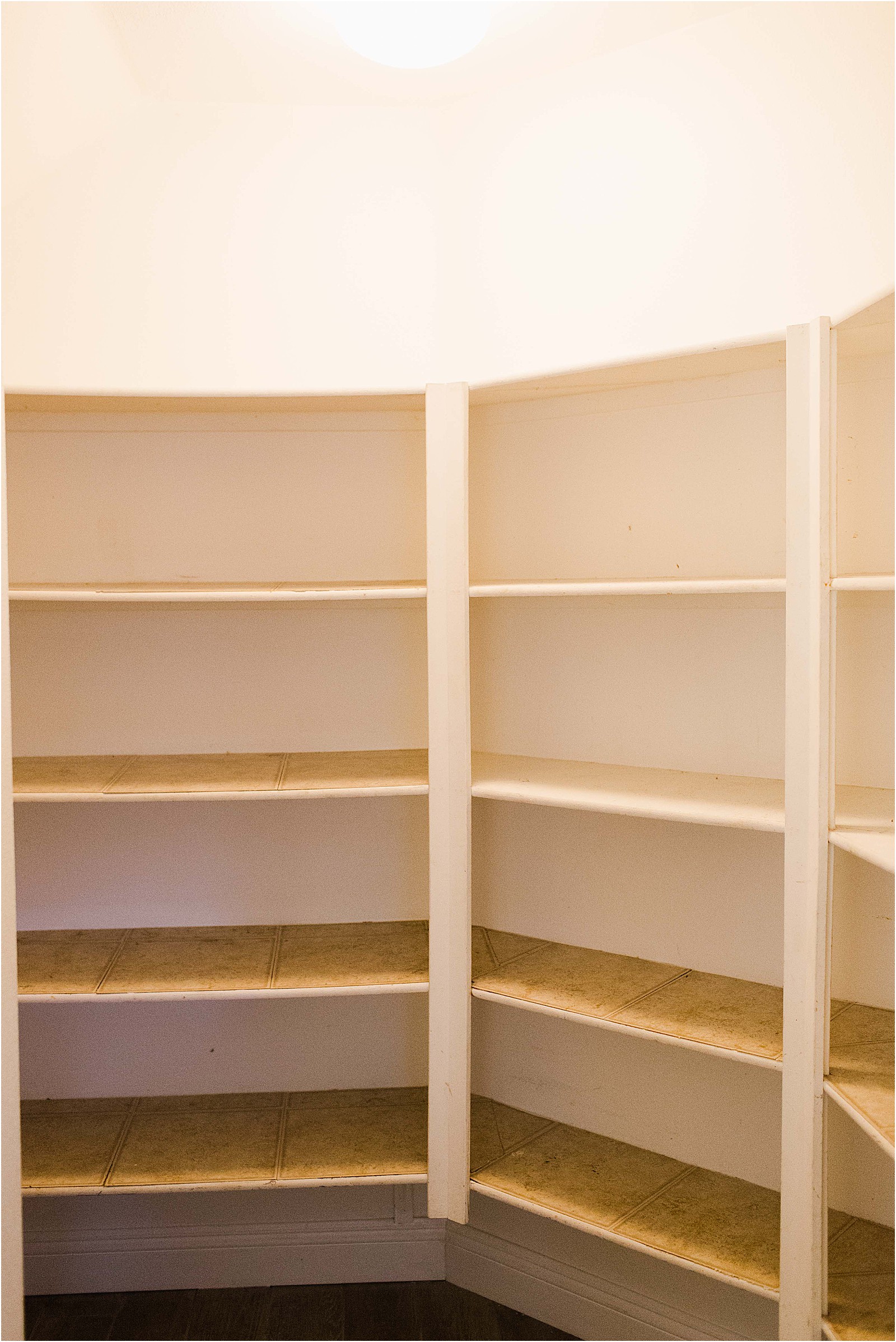 Once I took everything out of the pantry, I cleaned and disinfected every shelf and corner. The shelves were still dirty so I used contact paper to give them a facelift.
3. Buy storage solutions from The Container Store
Once you know how much items you want to keep, it's time to buy storage solutions. For me this was the most daunting part because I didn't know which storage to buy and how many of each.
Here are some tips to make the buying process easier.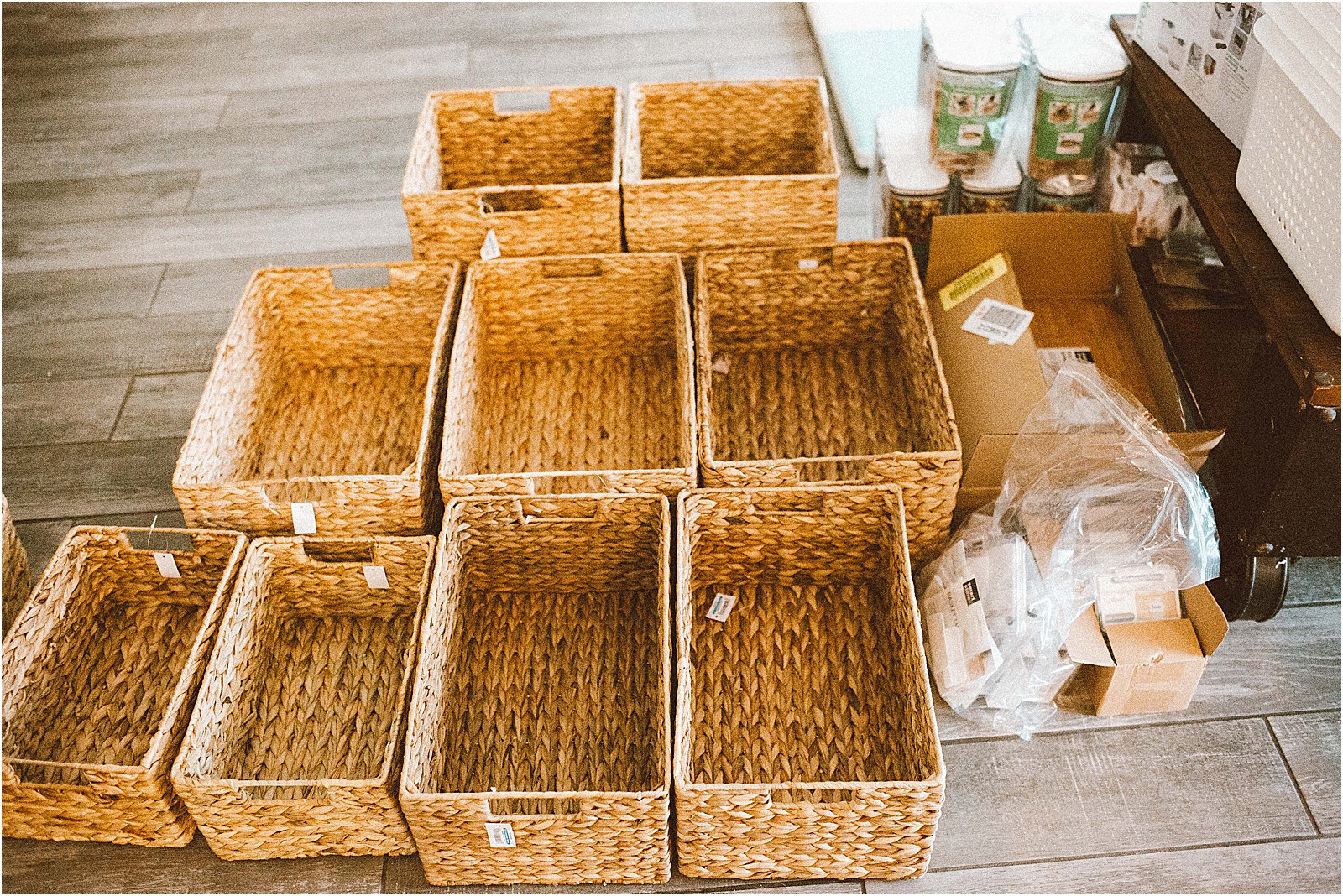 I mixed up Water Hyacinth Storage Cubes with regular baskets in assorted sizes. I purchased the cube as well as the rectangular baskets in size small, medium and large. You can choose to mix up the sizes or make it uniform but I personally like the versatility of mixing different sizes for various uses. I think it also gives your pantry a more personalized look.
4. Organize according to category and size
There are many different ways to organize and display your storage solutions. For me, I tackled this by thinking about how I normally use my pantry.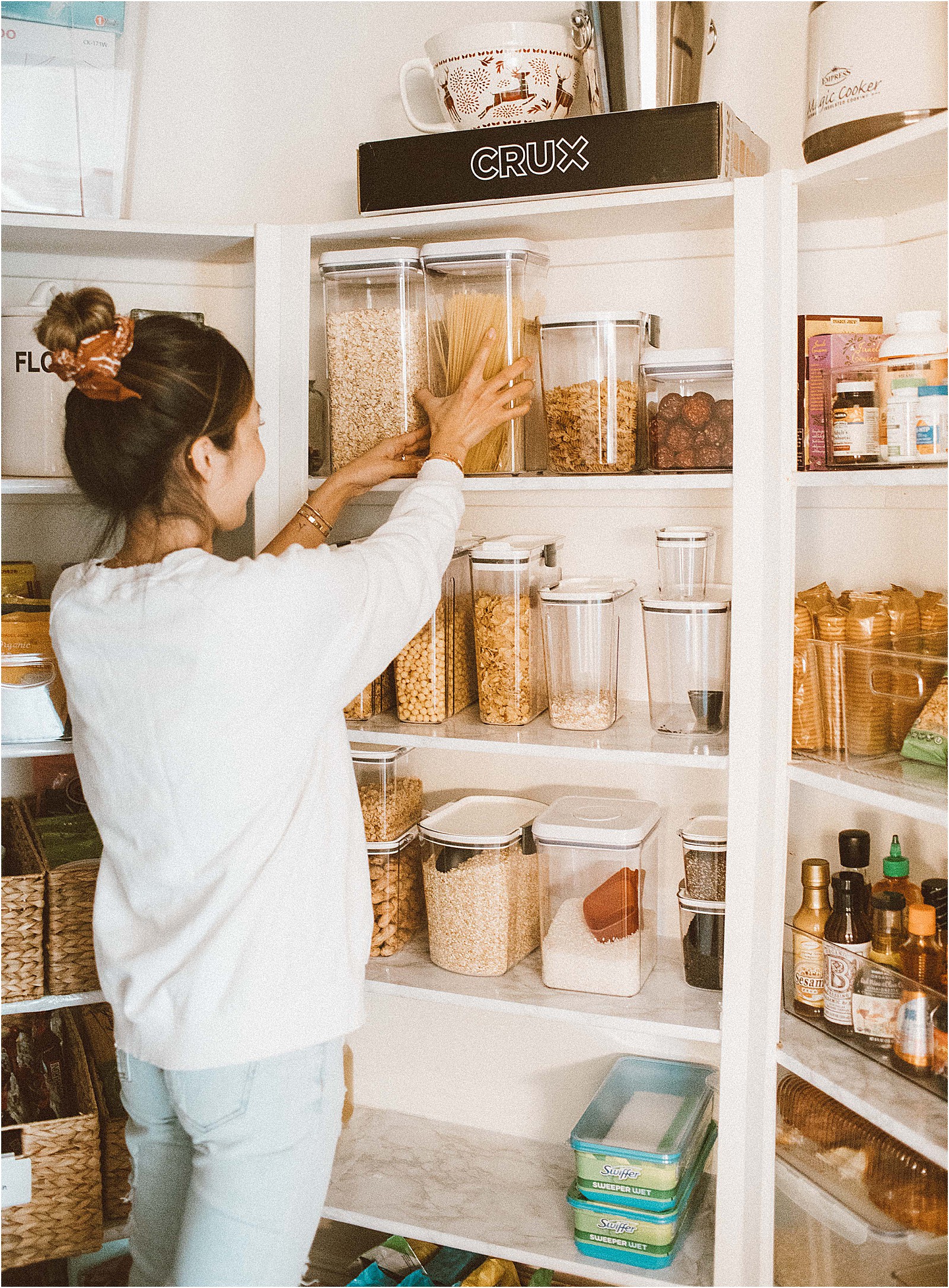 I was using the right side for frequently used goods like sauces for cooking, cereal/snacks for kids and cleaning products that I access regularly. I kept these on the right side because this is most natural for me.
For larger items that are used less frequently, I stored them on the left side inside wicker baskets and white nordic basket with lids. These are items I use weekly and some even monthly and don't need immediate access.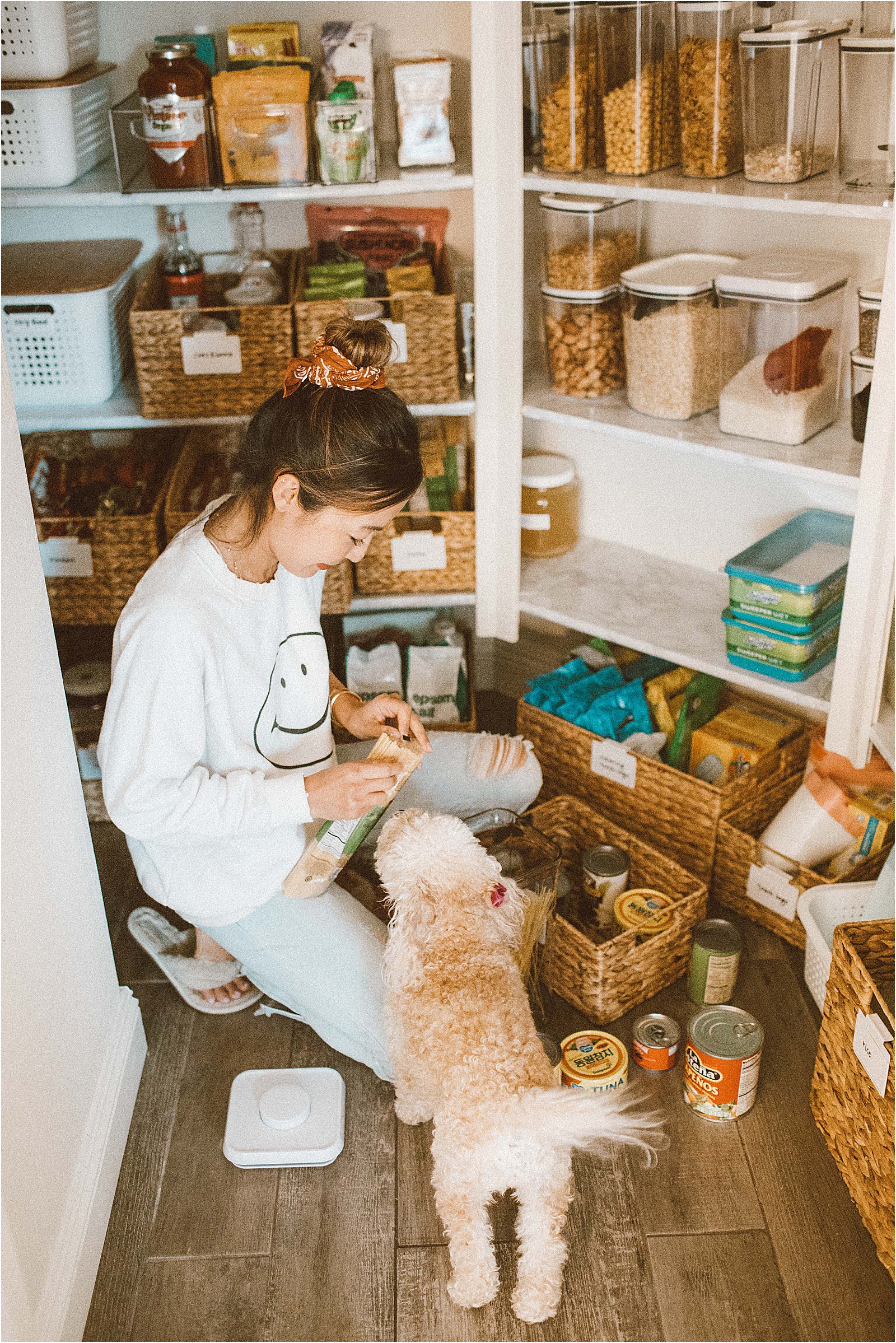 5. Utilize space-saving options
One of my favorite finds from the Container store is this White Elfa Utility Pantry Door Rack . It took my husband about 15 minutes to install this rack behind the pantry door and I'm in love with this system.
This behind-the-door wall rack is sturdy, attractive and holds a lot of household essentials within reach. I love that it keeps everything in one place and it can be used for a variety of things including kitchen essentials as well as personal care and cleaning products.
This is a must-have storage solution in your kitchen that'll save a ton of space, time and money on the long run because you now know exactly what you have and what you need.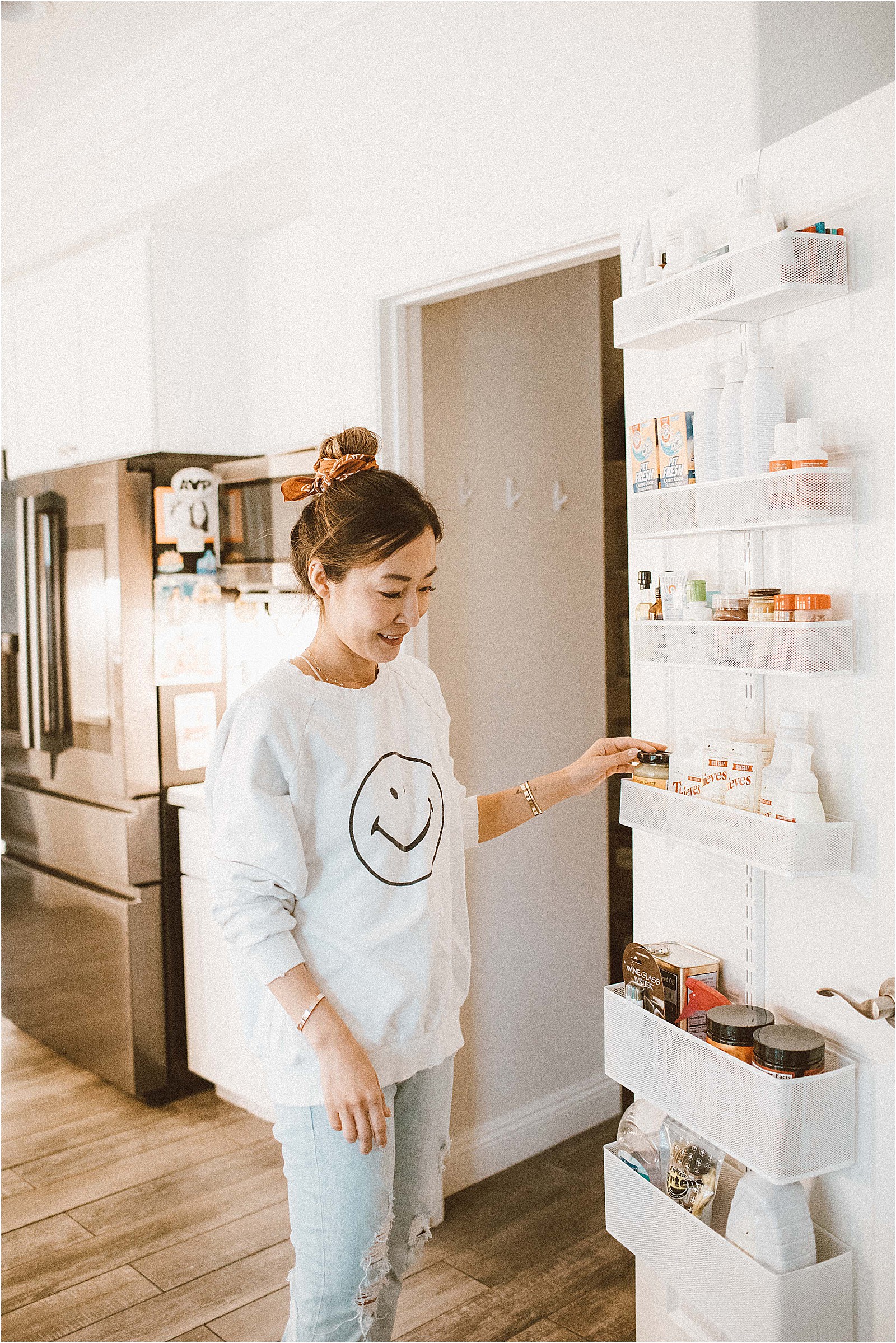 The entire pantry makeover project took about 4-5 hours over a few days from the initial joy check, sorting, organizing and throwing away. I know it's not easy to commit to a huge project like this with work, kids and other household responsibilities but I would highly suggest committing to it if your pantry bothers you like it did for me for the longest time.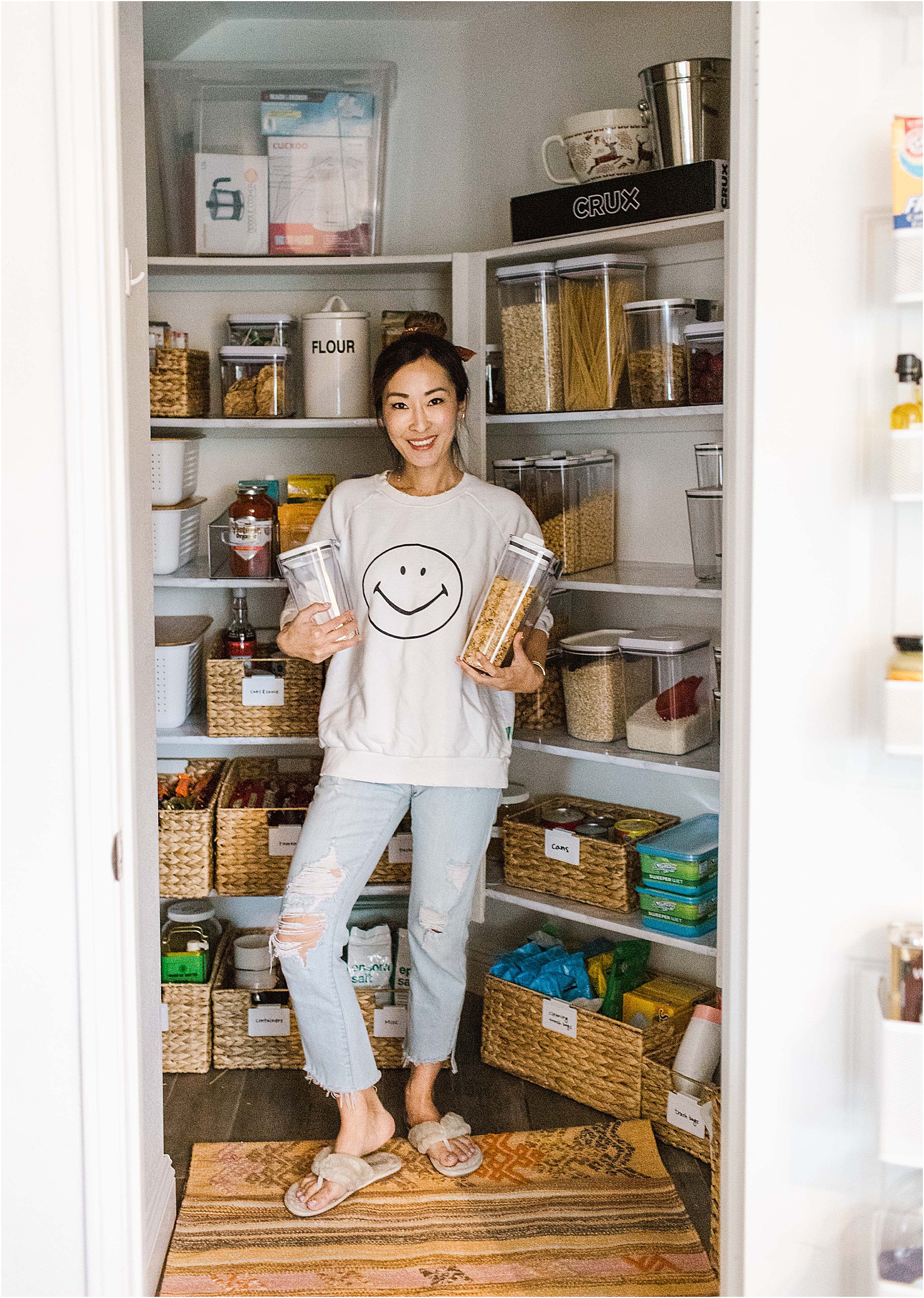 If you're feeling uninspired, cluttered and just tired of life I would highly recommend giving organizing and tidying up a try. It's life changing in so many ways for the entire family and now is the perfect time during the 25% off Kitchen Essentials sale from the Container Store.
Join me and take your first step to declutter and simplify your life so you can feel joy in your everyday space!
Next up: a simple refrigerator storage makeover
Recommended kitchen storage solutions
1. White Elfa Utility Pantry Door Rack
2. White Hyacinth Wicker baskets (Small, medium, large)
3. Water Hyacinth Storage Cubes (for larger items)
4. White nordic storage bins with lids
6. Prokeeper flour, grain and cereal container
9. Black Bin Clip Labels (chalkboard)
What do you think about my pantry makeover tips and storage recommendations? Please leave your comments and questions below!