I began my KonMari journey in early 2019 as a way to feel more productive in my own home. As a busy working mom of three, going through old belongings- whether clothing, books or linen- became a much dreaded task that always got pushed back on the to-do list.  Over the years things began piling up all over the home and I found my space to be cluttered, uninspiring and a place that sparks little joy.
In order to move forward with my personal resolution of making tidying up + organization a priority, I decided to hire a certified Konmari consultant Tiffany from The Tidy Teacher. I knew I needed support and help in completing this goal because doing it alone would be too daunting which means it will most likely not get done.
If there's one thing I've learned over the years as a working mom, is the value of outsourcing and hiring help as needed. Instead of pinching pennies and remaining stuck in your unhappy old lifestyle, invest in yourself and a happier future whether it means healthier body, a more organized + cleaner home, or a sacred space or home office that makes you more balanced and productive. I know this is easier said than done, but once I began thinking bigger about my goals and taking actionable steps toward them, my work life grew as well as my sense of overall well-being. One day I'll dedicate a blog post to this topic.
In this post, I'll share with you some key concepts I've learned on my Tidying Up Journey and how you too, can KonMari your own home.
Marie Kondo Tidying Festival: Decluttering the closet / clothing
1. Set concrete goals and imagine your ideal life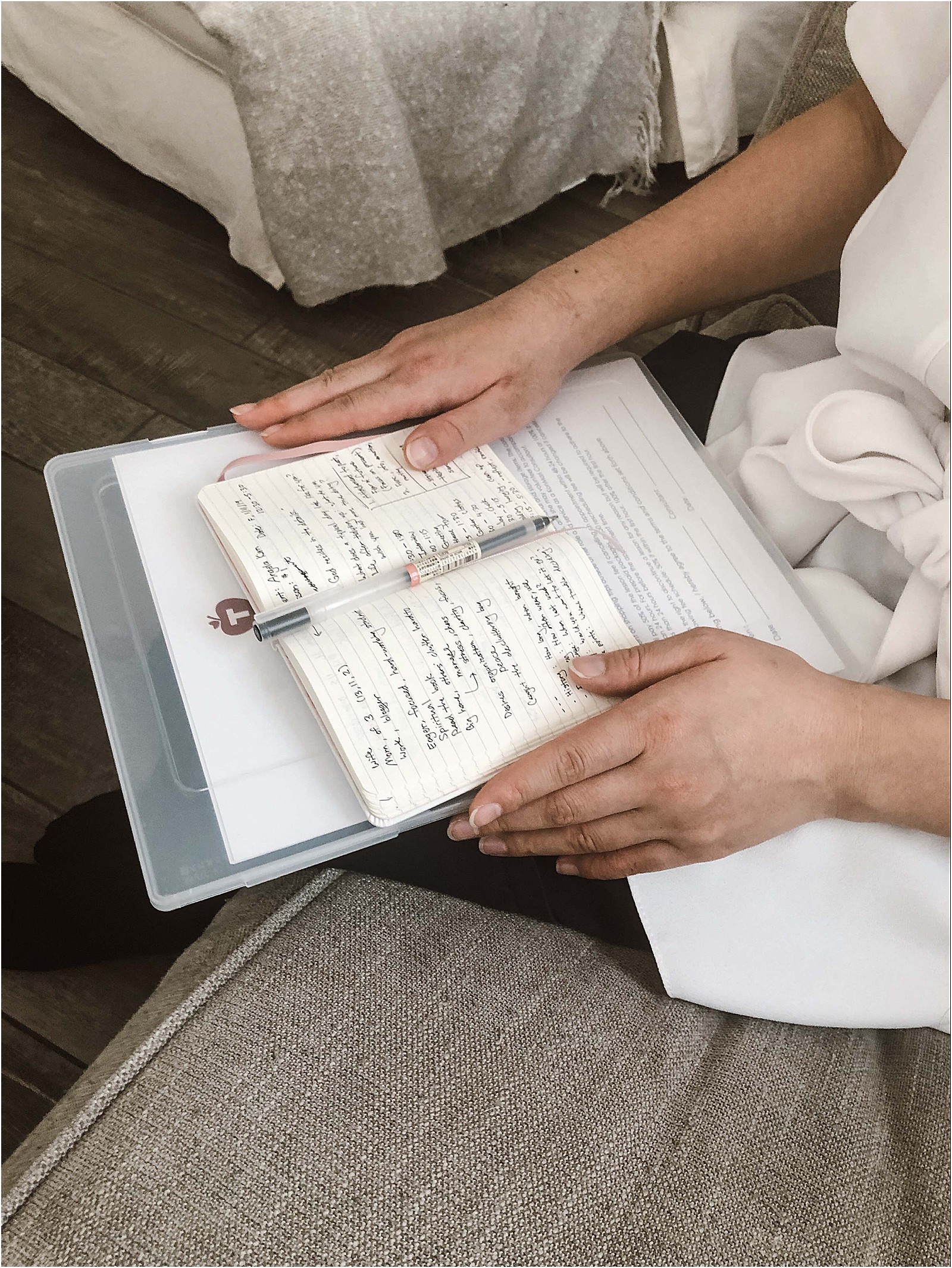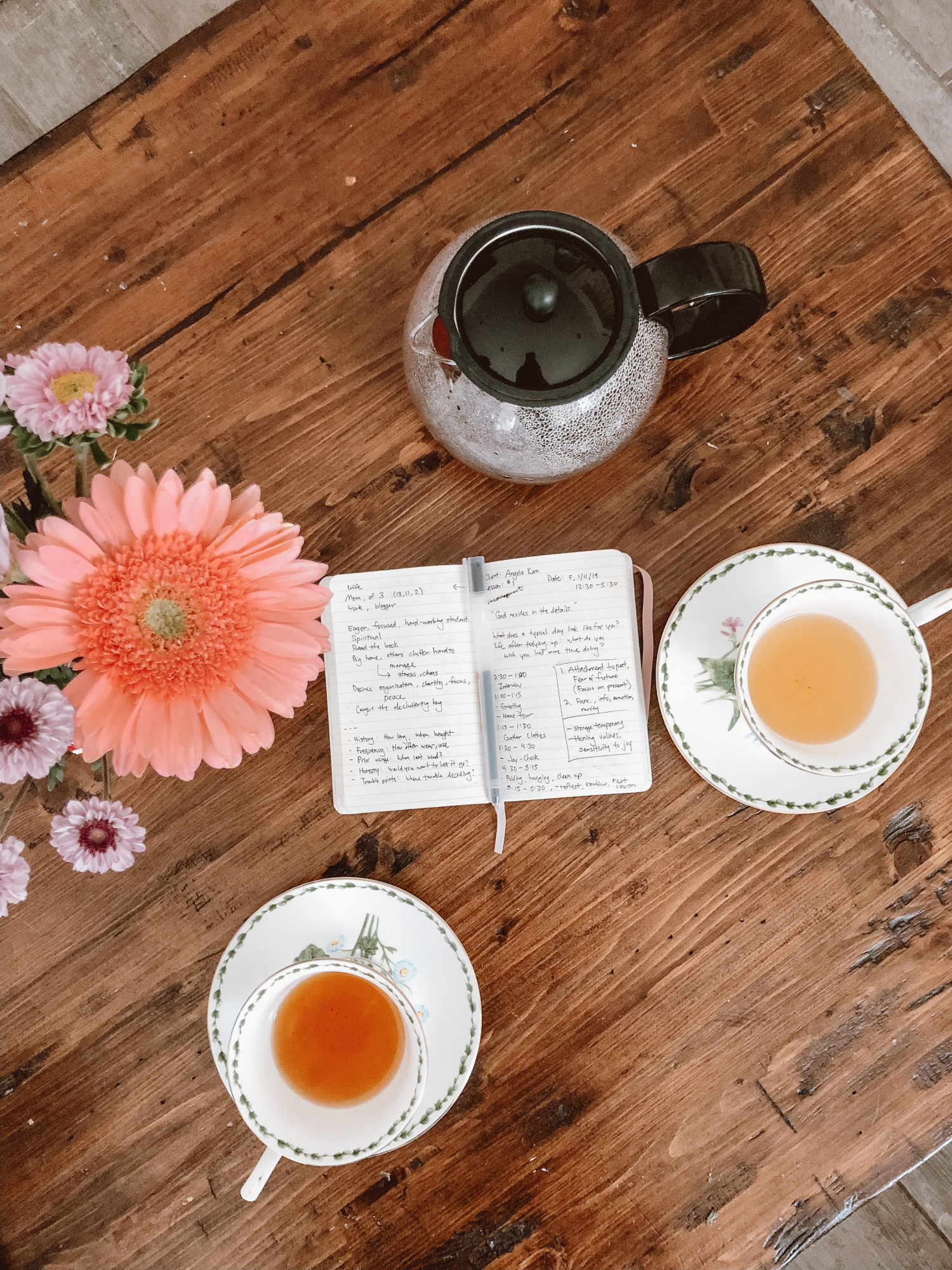 On our first day, Tiffany brought me a handmade flower bouquet which instantly lifted my spirits. Then we sat down over tea and discussed my goals for the Tidying Festival.
To begin, ask yourself honest questions such as
Why do you want to tidy up?
What is your favorite space in the home and why?
What is your least favorite space in the home and why?
Does your home spark joy? Why or why not?
What is the hardest item to let go of? Why?
What do you want to accomplish at the end of the tidying festival?
Why I wanted to tidy up
I wanted to own less and feel freer from my belongings
I wanted more space to breathe in the home
I wanted to pass on my unused items to others who may find it useful
I wanted my current belongings to reflect my newer aesthetic
I wanted to get rid of things that no longer spark joy
I wanted to create room to buy new things that spark joy
2. Give thanks and ask for guidance before you start
Tiffany and I come from a Christian background so we kneeled on the floor and prayed for guidance before we began. Regardless of your religion or background, you can partake in a short ritual that honors the process of decluttering. Give thanks for the opportunity, give thanks to the items for serving your needs, honor the process as a sacred act.
3. Know how to categorize your clothing
Our first step was to tackle my clothes. As a blogger I'm far from a minimalist in the clothing department and I had so many clothes I no longer needed or wanted.
First, you sort clothes into following categories:
Tops
Bottoms
Dresses
Outerwear
Activewear
Sleepwear + loungewear
Seasonal wear
Swimwear
Socks + stockings
Underwear
Scarves
Bags + purses
Hats + belts
Jewelry
Shoes
Other
4. Take everything out of your closet and spread them out in one place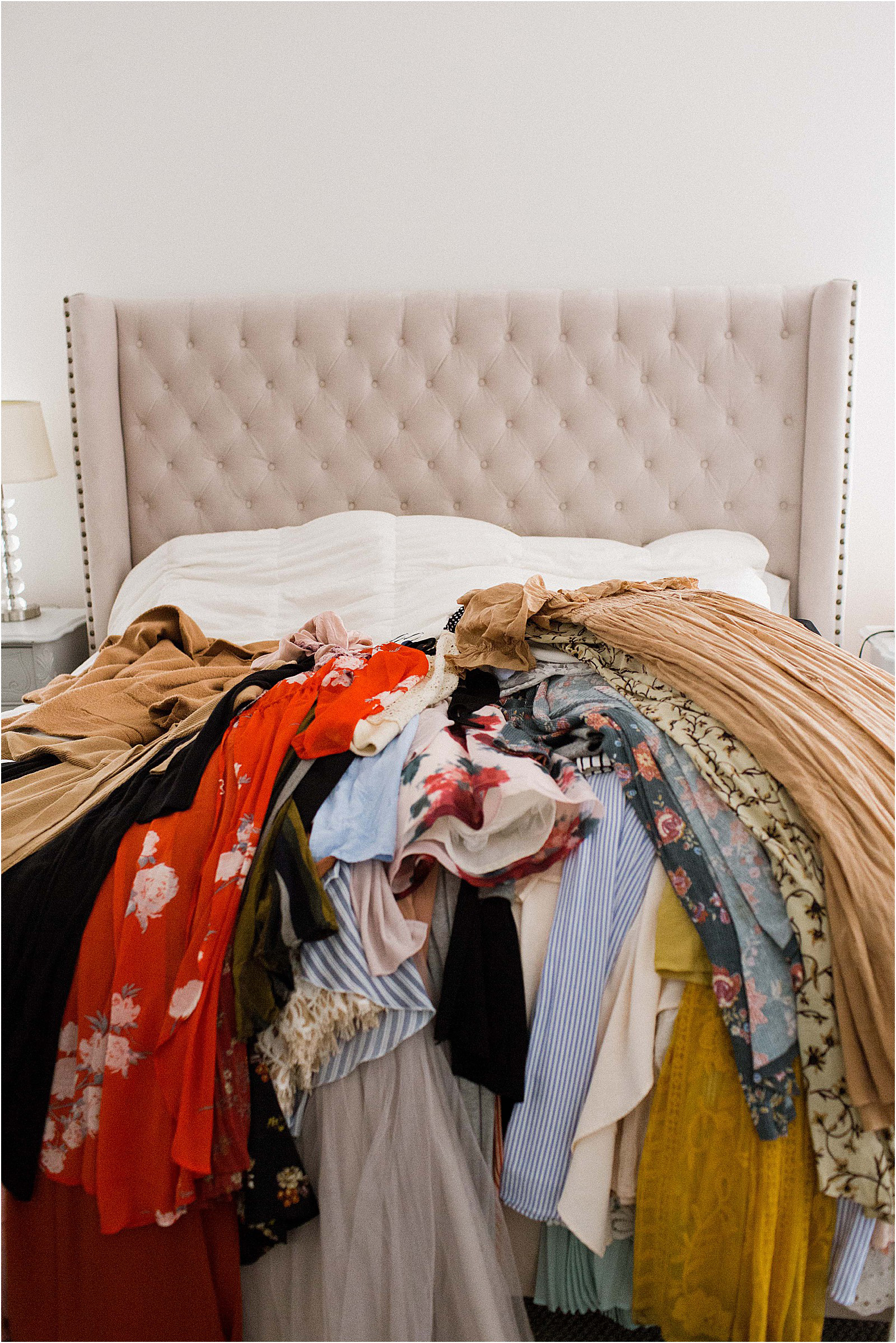 This is probably the most daunting and anxiety-inducing part of the entire process. My immediate response was- you're saying I have to take out EVERYTHING from the closet? Why? 
Prior to this, I always organized my clothes without taking everything out. Taking everything out seemed too time-consuming and energy-draining. But after partaking in the process, I realize why this is such an important step.
Taking everything out allows you to see firsthand just how much stuff you own and makes it easier to let go of items you no longer need.
Taking everything out allows you to see firsthand just how much stuff you own and makes it easier to let go of items you no longer need.
Also by laying out the items in one spot, you can also compare items that are similar in design, making it easier to decide whether you want to keep them.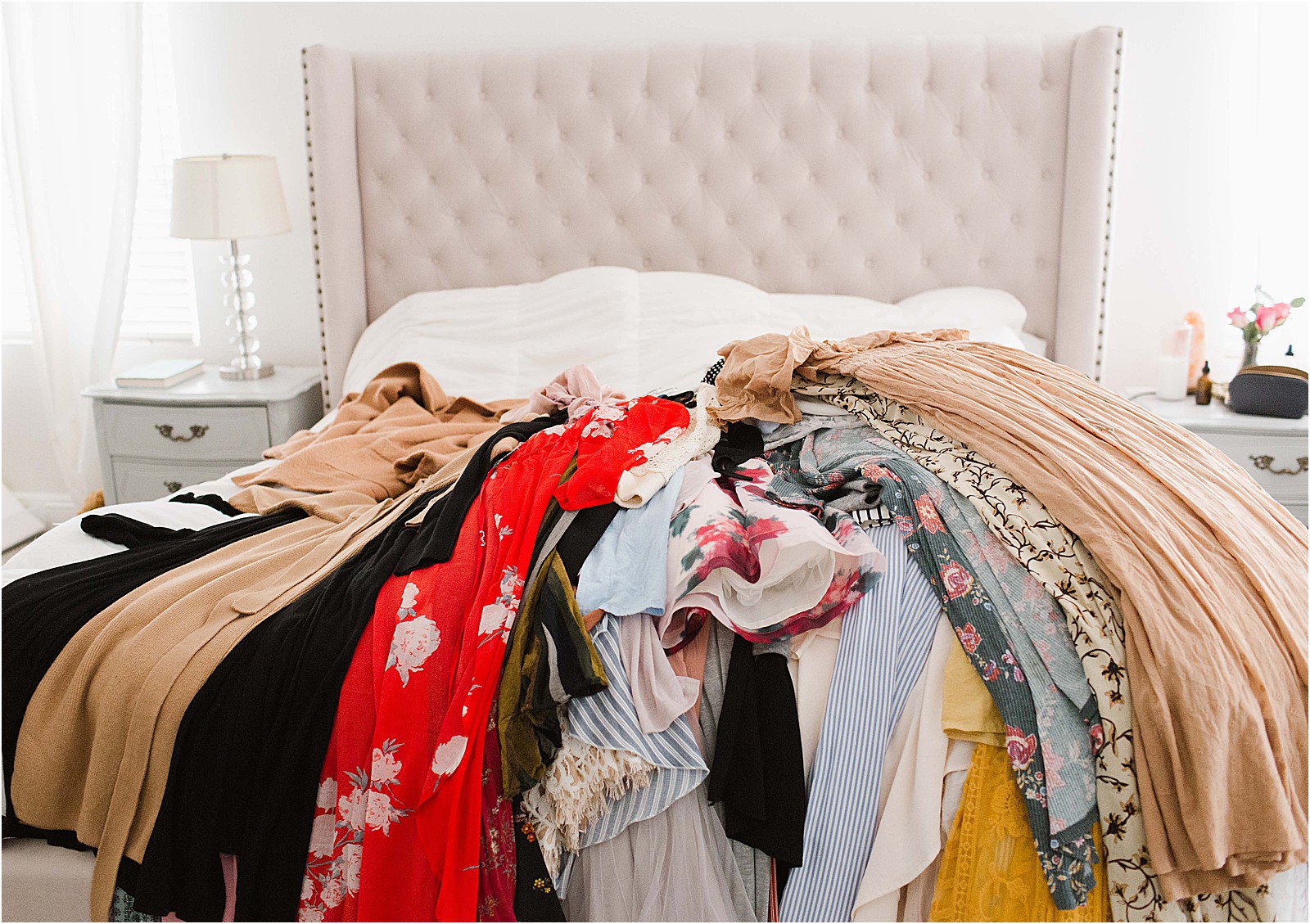 5. Go through each item and ask yourself, "Does this spark joy"?
I love the question of "Does this spark joy?" because it makes the decision-making process so much easier. In contrary, asking myself questions like "Will I ever wear this again?" "Did I wear this enough?" "How much was this dress?" stifles my decision-making process and makes the already-difficult process even more difficult.
6. Tap into your intuition. Don't overthink.
As I began the sorting process I aligned myself with my inner voice aka intuition to guide me with the decision-making process. In short, make decisions with your gut, not with your head.
Make decisions with your gut, not with your head.
I reminded myself not to overthink the process because the noise of our busy minds can block our intuitive decisions. Simply ask yourself "Does this spark joy?" and pay attention to your inner voice. When following your intuition, the tidying up process becomes surprisingly easy and free. I was surprised to learn that I intuitively knew whether or not an item sparked joy or not within couple seconds.
If you still find yourself struggling to make your decision, you can feel, touch and smell the clothing to see if it sparks joy in your heart. You can also create a "maybe" pile and go through them again at the end.
7. Sort into different categories.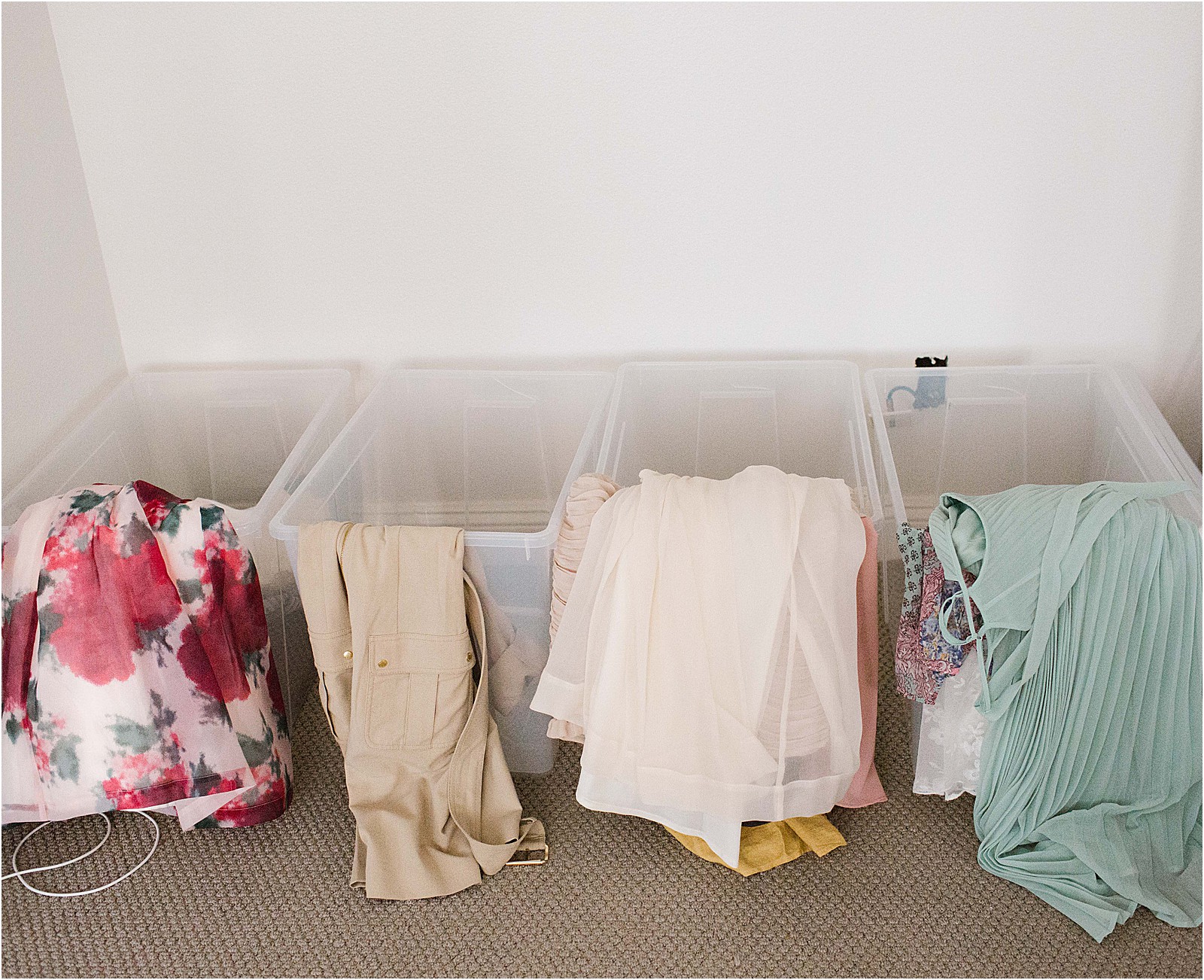 I had some empty storage containers to use for the tidying festival so I sorted the unwanted clothing into different categories: 1) To donate 2) To store away 3) To give away (to family or friends) and 4)unsure.
I had a pile of nicer clothing I knew my friends and family can use (especially for kids), a pile of maternity clothing I can use for my photoshoots and a pile of clothing to donate to charity. I also made a separate pile for special occasion clothing such as costumes and hanboks (Korean traditional clothing) that I didn't need in my closet but wanted to keep.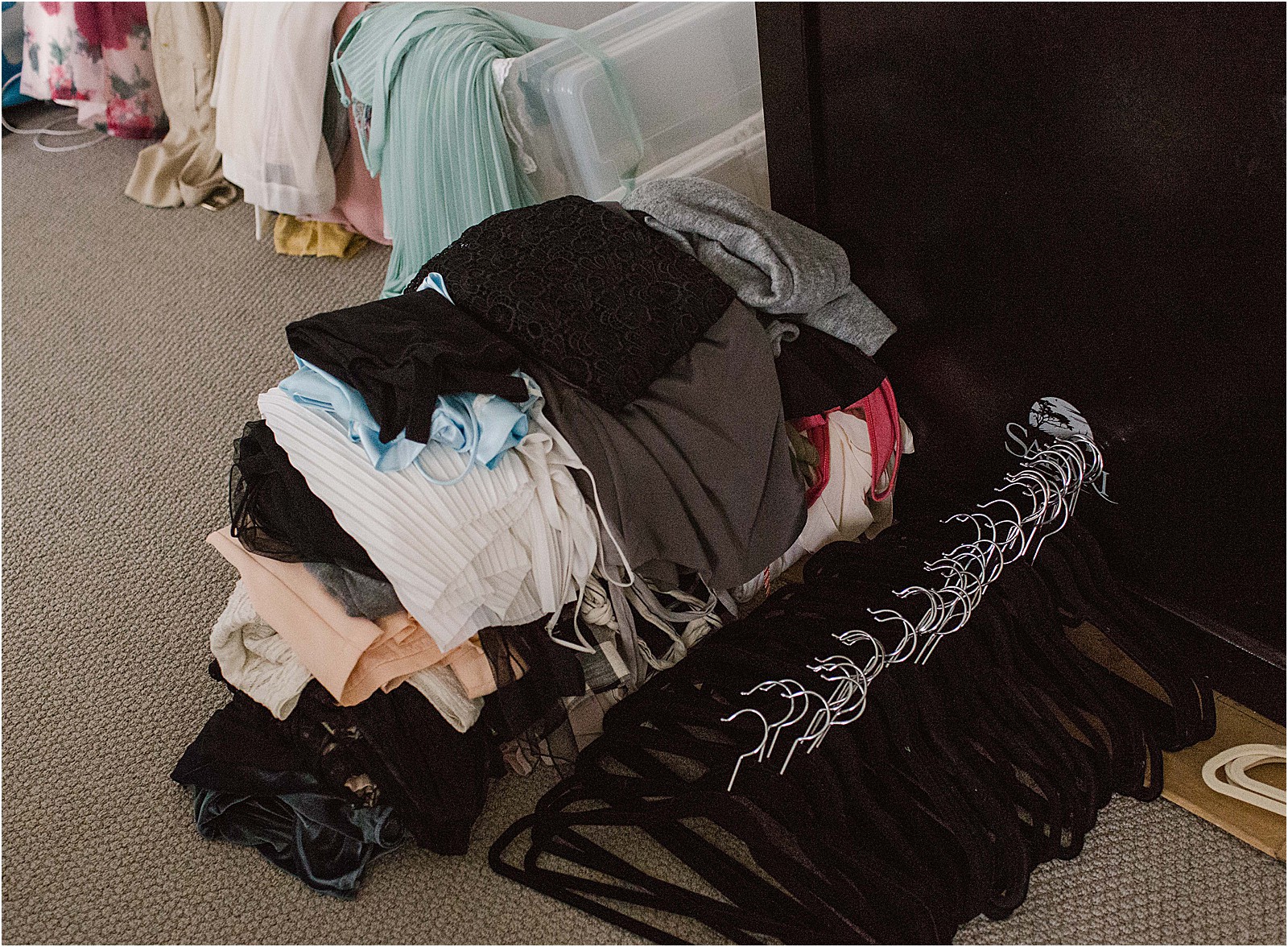 8. Put back into the closet with intention and organization
My closet is not quite where I want it to be, but I was able to sort through a lot of items and re-categorize them.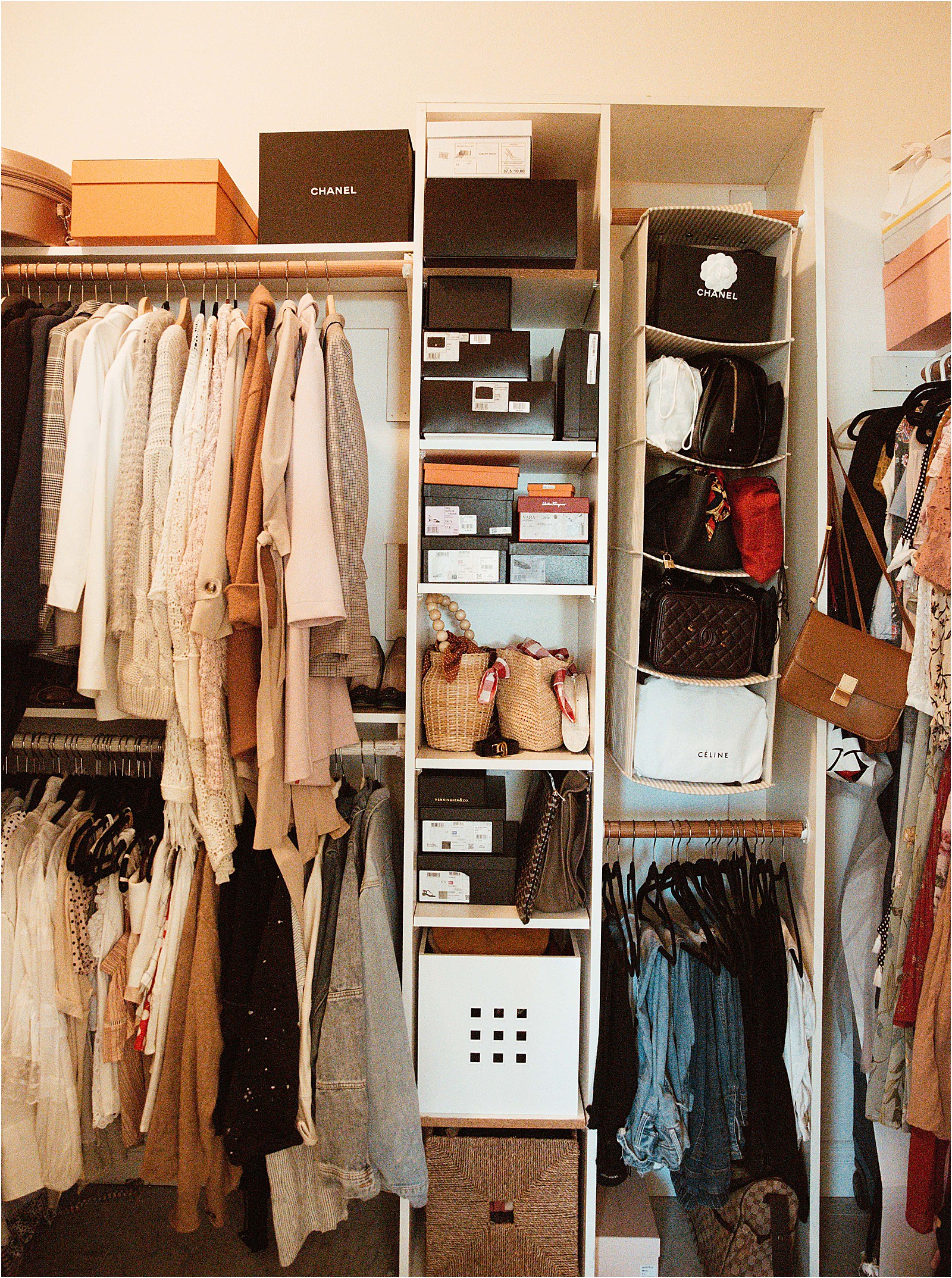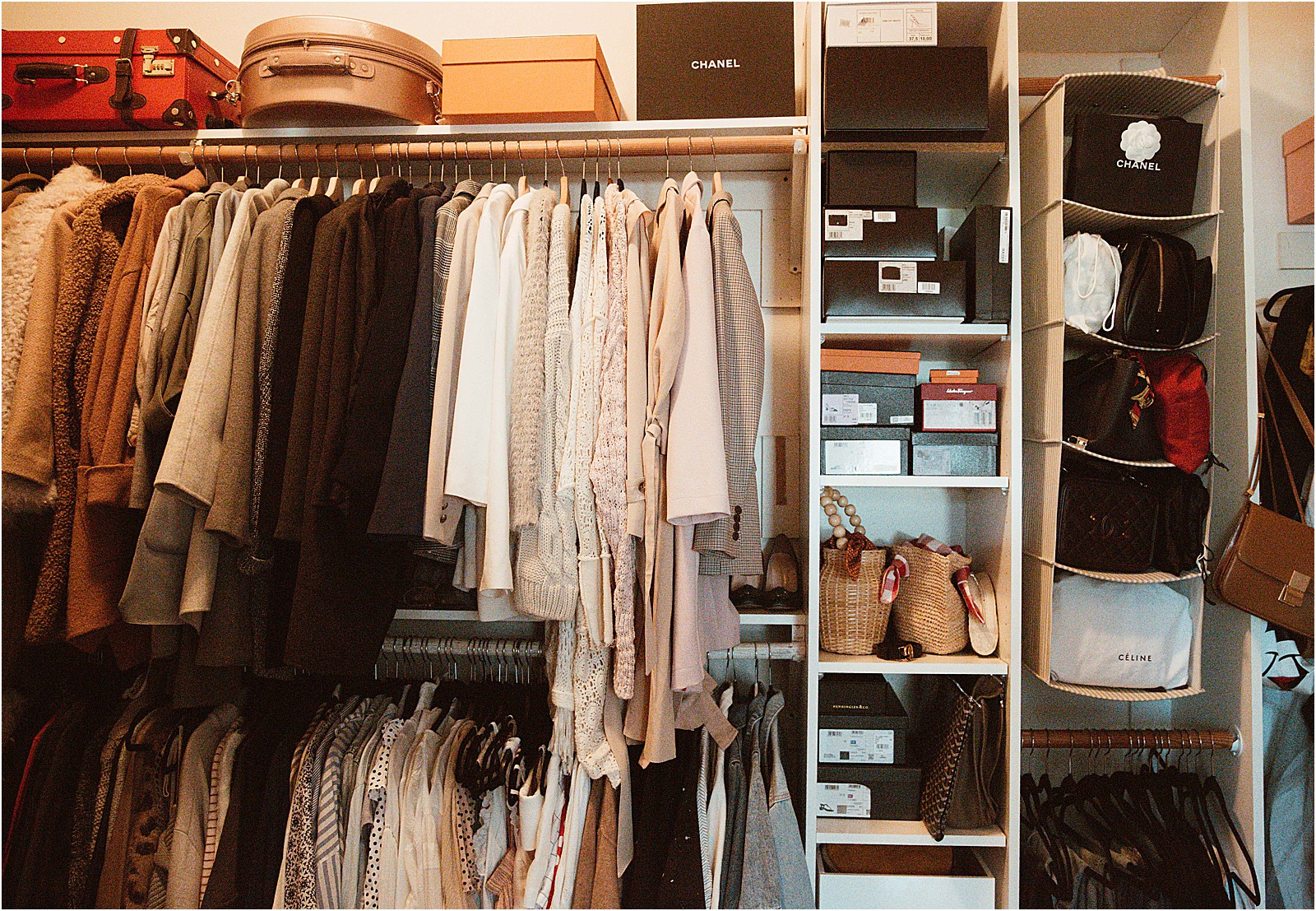 I donated about 5-6 trash bags full of clothing & bags and downsized my denim collection by more than half.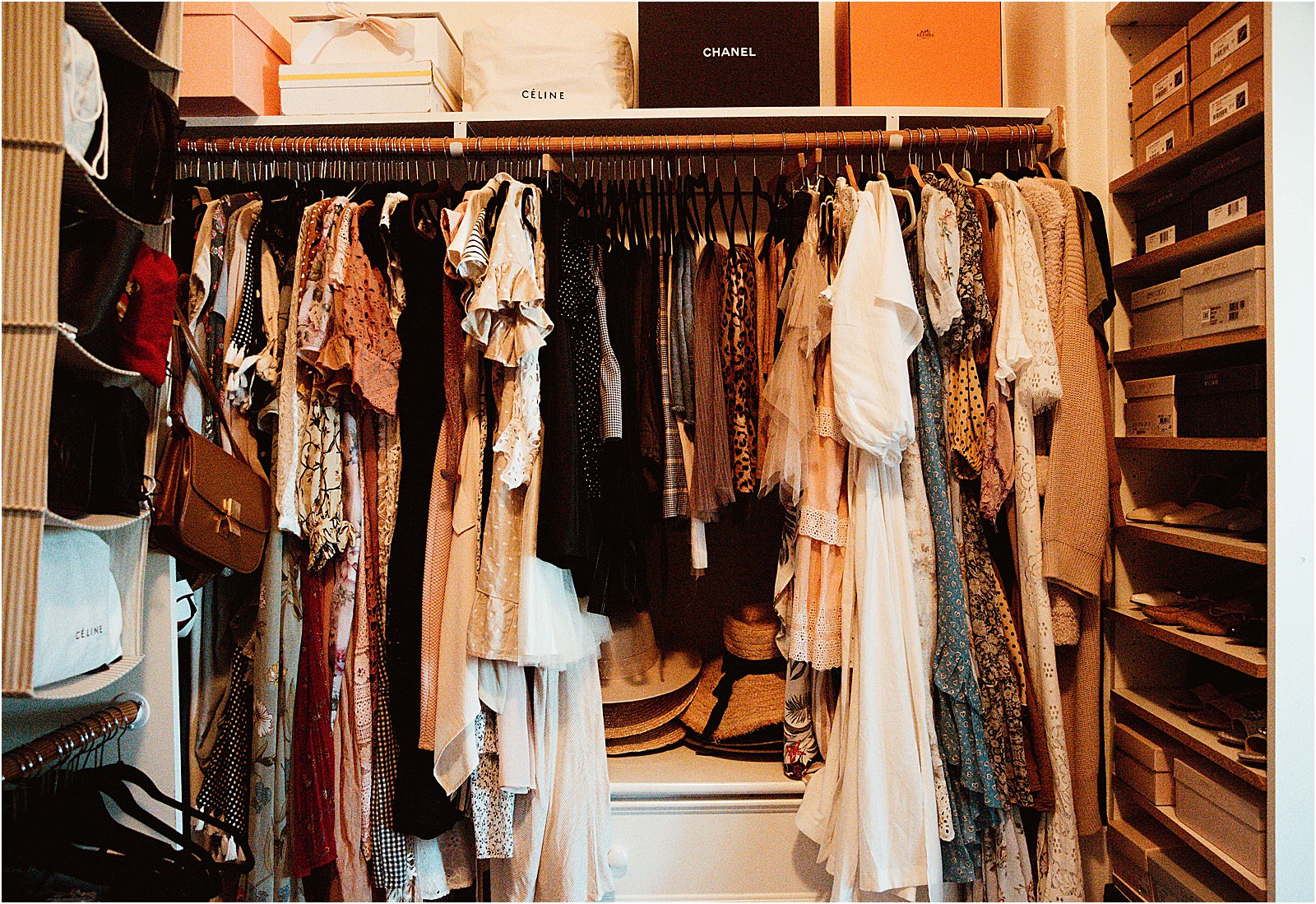 I divided my dresses to two sections: ones that I wore already (left) and ones to wear in the future (right). And I also hung frequently worn clothing such as robes and sweaters to the very right for easy access.
Because I have a dresser in the middle, I hung my pants & skirts in the middle section as a visual divider. I stored my t-shirts, active wear, shorts and other miscellaneous clothing in the dresser.
9. Next project
I want to build a new walk-in closet more suitable for my clothing where I can display my shoes and bags. Currently, everything stays in boxes because I don't have ample room to display my collection.
Benefits of the Konmari method of organization
Konmari method is different from minimalism. You can keep as little or as many items as you want as long as the item sparks joy.
You categorize by items. Not spaces.
You only keep items that speaks to your heart. And you let go of the rest.
You "thank" the items before letting them go, which leads to less psychological pressure and guilt.
Konmari method seems more of a spiritual practice, rather than a mindless act of decluttering and organizing.
What do you think about my Konmari- Tidying festival so far? Next up- decluttering and organizing my books & paper!
Meanwhile check out how I decluttered and organized my pantry with simple storage solutions.