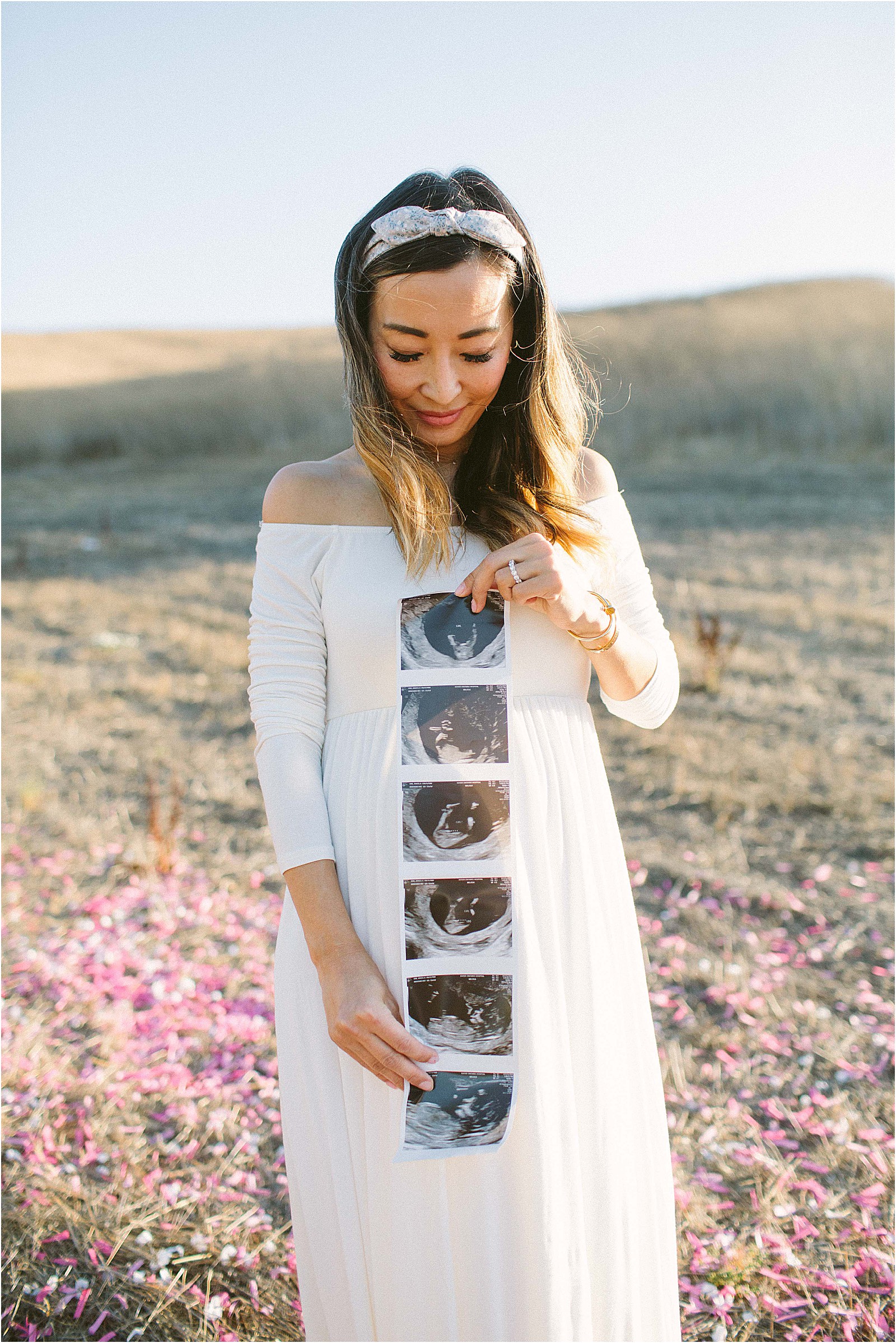 If you are reading this post, you may be expecting a new baby shortly.  If so, congratulations mama! This is such an exciting time. Your baby shower is an event to celebrate what will be one of the most important events in your life, the birth of your baby.
I'm sure at some point in your pregnancy, there have been days when you didn't feel beautiful.  Morning sickness, swelling, and back pain tend to have that effect! Your baby shower is a day when you want to look and feel your best while showing off that baby glow (which you do have, even if you can't see it).
What To Wear To A Baby Shower
Baby showers (especially virtual baby showers) typically have a more casual dress code than a wedding. So you have endless options of fun outfits to choose from. However, like most events, you may end up standing in your closet for hours wondering what to wear. Luckily, there are many affordable and timeless options out there. There are a few factors that can help you narrow down your decision. Some of the things to consider are time of day, weather, and if the party is an indoor or an outdoor baby shower If you know the gender of your baby, I think it's always fun to have a touch of pink or blue in your outfit.
If not, you can't go wrong with floral prints and timeless accessories. Dresses are my go-to baby shower pick. It's the perfect way to show off your beautiful baby bump, which by the way will be rubbed hundreds of times during your shower!
What NOT to Wear to a Baby Shower
Similar to rules that apply to a wedding, there are certain clothing choices to shy away from.  Even if you want your baby shower to be a casual event, you probably don't want to show up in sweatpants and an old T-shirt.
Whether you are attending a shower as a guest or a mother-to-be, think about the location. Is it at a country club? If so, it's probably best not to wear jeans at all. Is it at someone's house for an outdoor barbeque? Put on a pair of nice jeans, like a stylish pair of wide leg jeans, and dress it up with a gorgeous top, jewelry, and ankle boots.
As far as textures go, I would stay away from sequins unless it happens to be a New Year's Eve baby shower. I have never attended one of those, but that's something I could get excited about! A baby shower is a day of celebration, and while we all love black, I suggest wearing some sort of color to represent the joyous occasion. I prefer soft feminine colors and have several great options for you.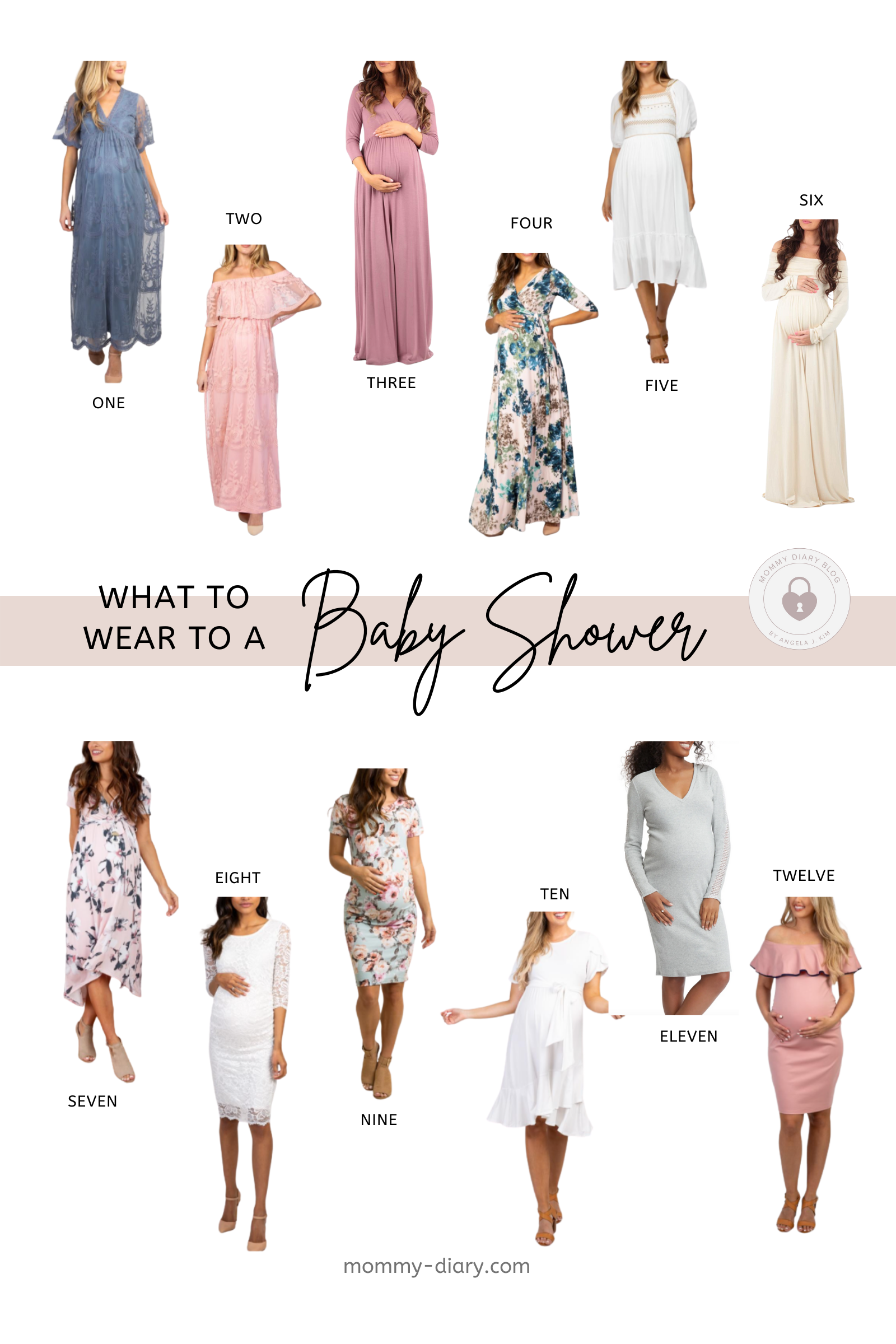 Baby Shower Outfit Ideas
I prefer long dresses for baby showers because they make me feel maternal and feminine.  The longer dresses keep me covered when sitting down to open gifts! They also usually cover my feet, which makes it easy to slip my shoes off if my feet are swollen.  Of course, if you're throwing a spring baby shower or something more in the middle of summer, a mini dress or cocktail dress may be your best bet. I hope the variety of baby shower outfit ideas below helps you to find a style that you love. 
This is a beautiful classic dress from Pink Blush.  I love the floor length and the lace details.  This dress would be beautiful if you are celebrating a baby boy.
This is the perfect dress if you are having a baby girl. The same style also comes in several other gorgeous colors. The off-the-shoulder style gives it a very feminine, goddess look.   
This is a great baby shower dress from Amazon. The color is beautiful and could be worn for both a girl or boy shower.    
If you are looking for a long, bright, feminine dress to show off your excitement about having a girl or boy, you've found it. This is another dress that comes with a second print option. 
This midi dress is a lovely choice for a gender-neutral baby shower.  The style will accentuate your baby bump perfectly!
Another solid floor-length dress from Amazon is perfection. It is off the shoulder, and the beige color with long sleeves would be a good choice for a fall baby shower. 
This high-low floral dress is a great pick for a summer baby shower. Pair with a cute set of wedges or heels, and you are good to go.  This dress is also nursing-friendly for after the baby has arrived.  
If you are in-between seasons for your baby shower, this beautiful lace dress is a perfect compromise in length and even has quarter-length sleeves.  It comes in a pretty navy blue color as well. 
Having a more casual baby shower? This dress has a soft floral pattern that you will love. It also comes in tall and petite size options. You can't go wrong with a cute printed dress. This is form-fitting and could easily be worn postpartum as well.
This knee-length dress is speaking my love language! The scalloped hem of this midi skirt, cinched waist, and 3/4 sleeves are perfection. I'm in love. Pair this one with some nude heels. If you are having a baby shower brunch, this dress would be picture-perfect.  
If you're throwing a fall or winter baby shower, this maternity sweater dress from Nordstrom would be gorgeous with knee high boots and accent earrings or a necklace. 
This short-length dress can be worn with heels for a semi-formal baby shower.  I'm loving the ruffled neckline!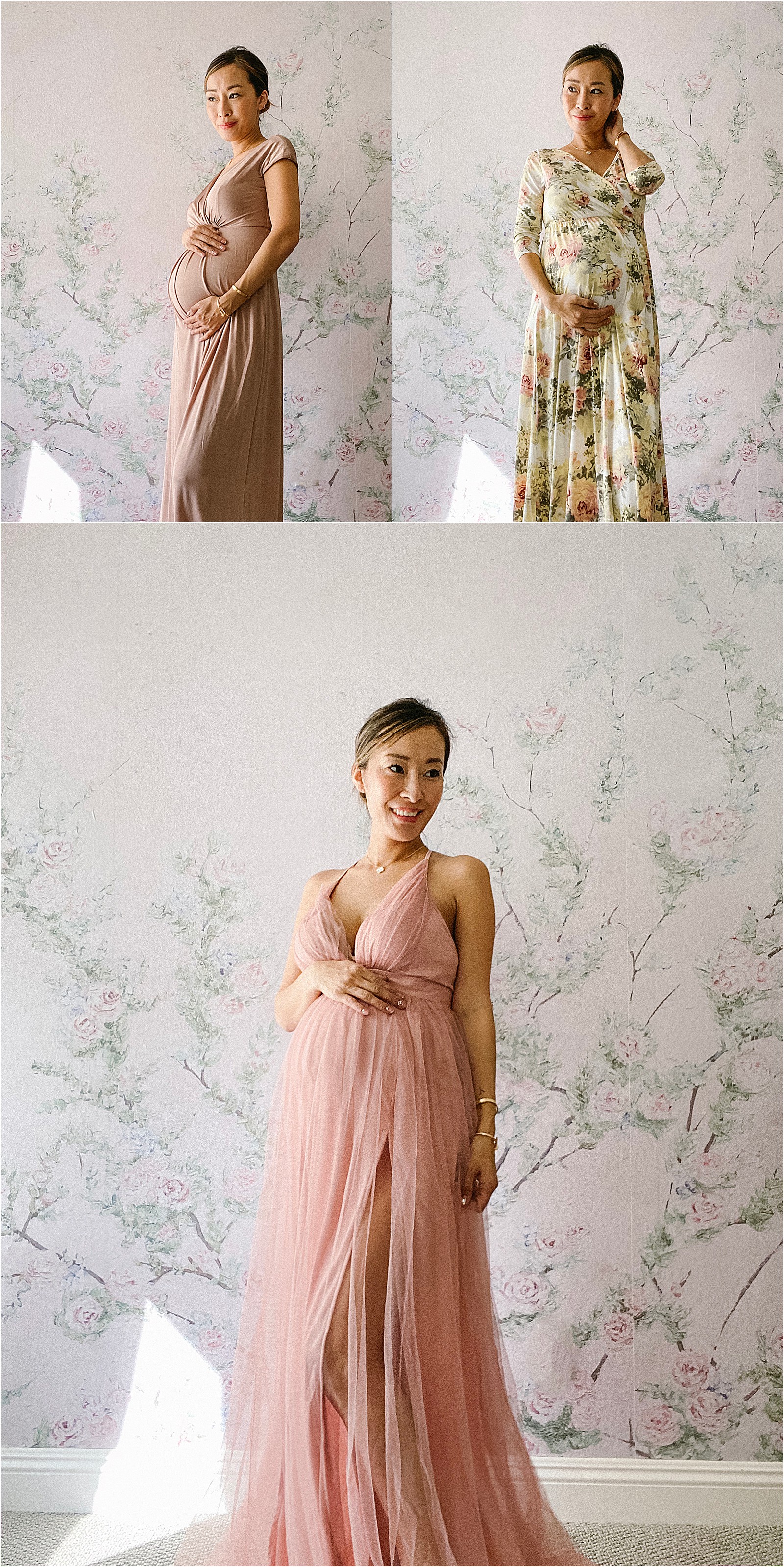 1. Francesca Maxi Dress (more colors available) l 2. Maxi Floral Dress (similar dress linked as the one I am wearing is sold out currently.) l 3. Tulle Dress (more colors available)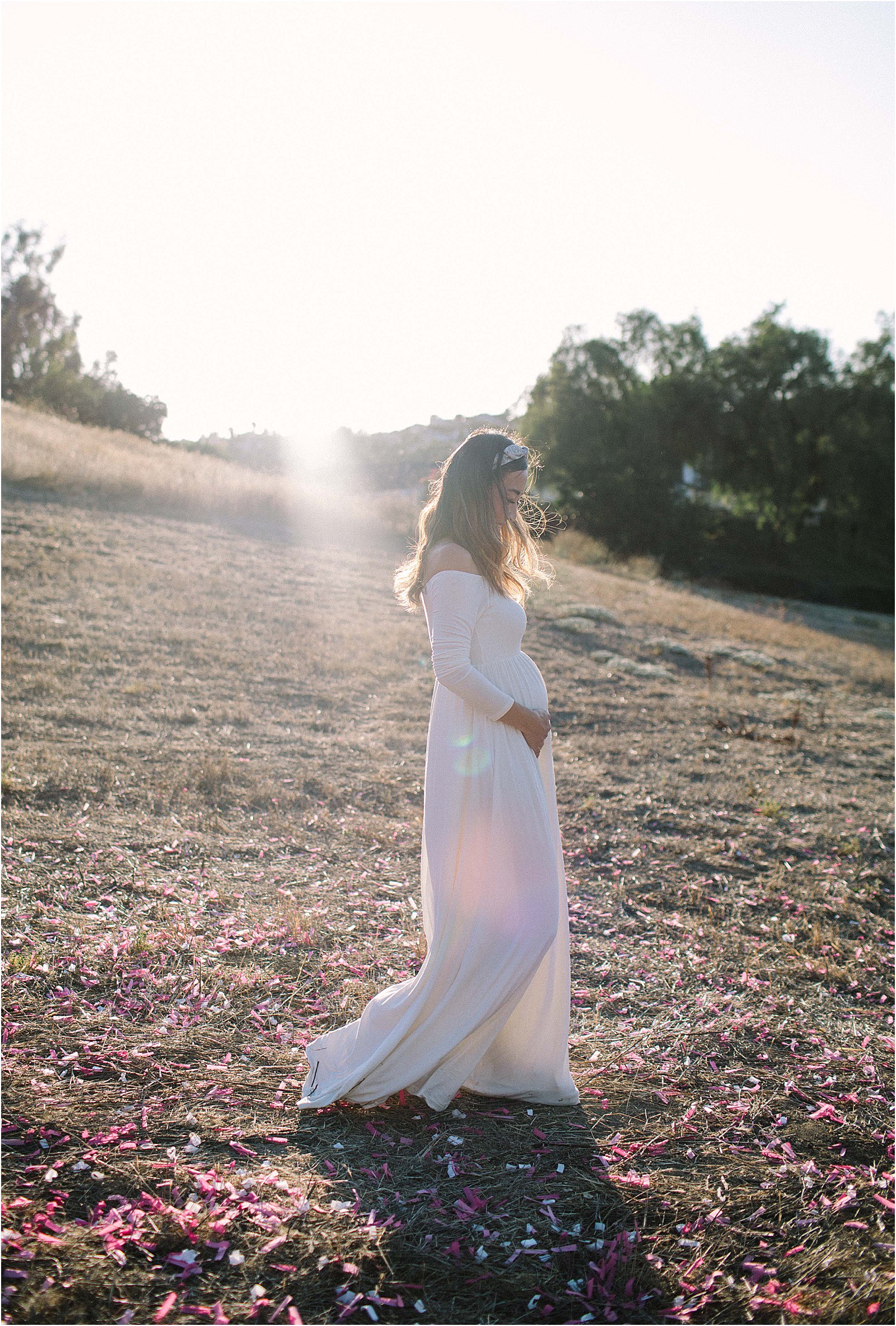 I hope this gives you inspiration for the dress of your dreams for your baby shower.  It's always good to plan so that you aren't scrambling for the perfect outfit for a baby shower at the last minute.  I've had my share of baby showers, and the last thing you need on the day of your shower is stress. The most wonderful part about wearing a dress to your shower is that you don't have to worry about much else besides shoes and jewelry. Whatever you decide to wear, I know you will look beautiful.  Enjoy your day spent with those that you love! 
*This post contains affiliate links that help to support this blog at no additional cost to you. Thank you for your support that allows me to continue to create valuable content for families all over the world.