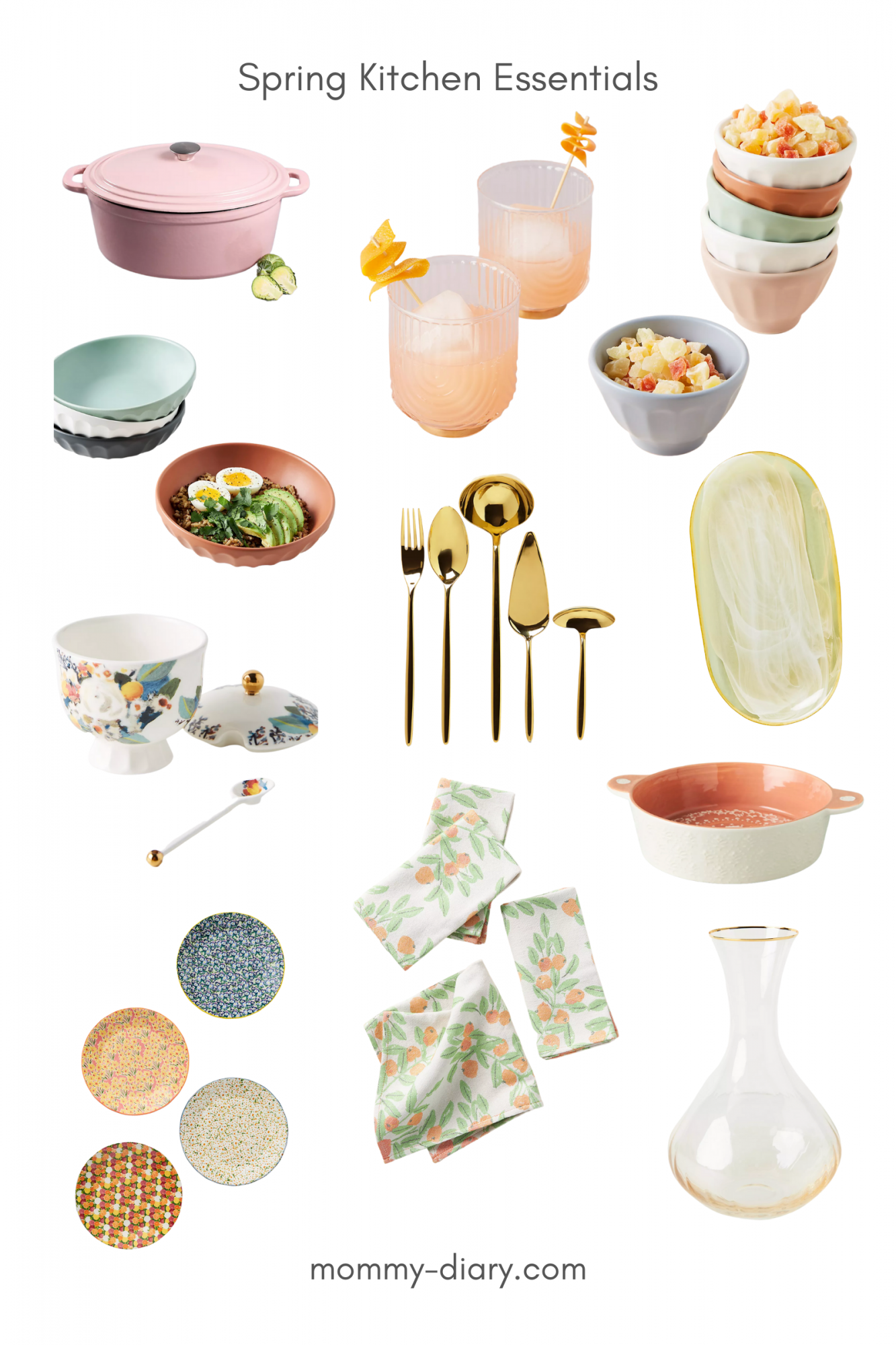 As the beautiful and fresh flowers continue to bloom this Spring, there's an innate desire to refresh your kitchen and dining accessories. So, if you're looking for ideas to help give your kitchen and dinner decor a beautiful spring vibe, read on. 
First, when buying new kitchen decor, whether it be in the springtime, summertime, or wintertime, I always look for versatile pieces that will work throughout the year. Second, I look for pieces that are timeless and match my kitchen, dining, and current aesthetic. Although I love seasonal pieces, I am also all about versatility and staying timeless. Anthropologie is one of my favorite places to shop for kitchen and dinner decor and/or supplies. I've gathered a few of my favorite pieces from Anthropologie to share with you. 

Spring Kitchen Decor Ideas
Spring is the perfect time to refresh your home decor, and your kitchen is no exception. By adding a few simple decor pieces, you can bring the beauty of a fresh spring feeling into your kitchen and create a fresh and inviting space. From charming egg crates to versatile serving bowls, there are plenty of spring kitchen decor ideas to choose from. Whether you prefer vintage-inspired pieces or modern designs, there's something for every taste and style.
So why not give your kitchen a touch of spring and enjoy a fresh and beautiful space this season? Here are a few ideas for simple Spring kitchen decorations:

Perfect for your floating shelves:

Floral Spring Kitchen Decor:

Spring Tablescape Decor: 

Family Style Serving Pieces: 
Bring the beauty of Spring into your kitchen with these decor ideas!
So there you have it! Whether you prefer vintage or modern designs, there are plenty of options to choose from. By incorporating some of these simple decor ideas, you can bring the beauty of spring into your home and enjoy a space that is both functional and beautiful. So why not give it a try and see how you can transform your kitchen into a lovely spring oasis?
I hope that you enjoyed looking through my recommendations from Anthropologie to refresh your kitchen and dinnerware! What is your number one must-have essential item from this list? Let me know in the comments or tag me on Instagram @mommydiary!
For spring tablescape ideas, check out this post and for a DIY Spring Flower Arrangement tutorial, check out this post.