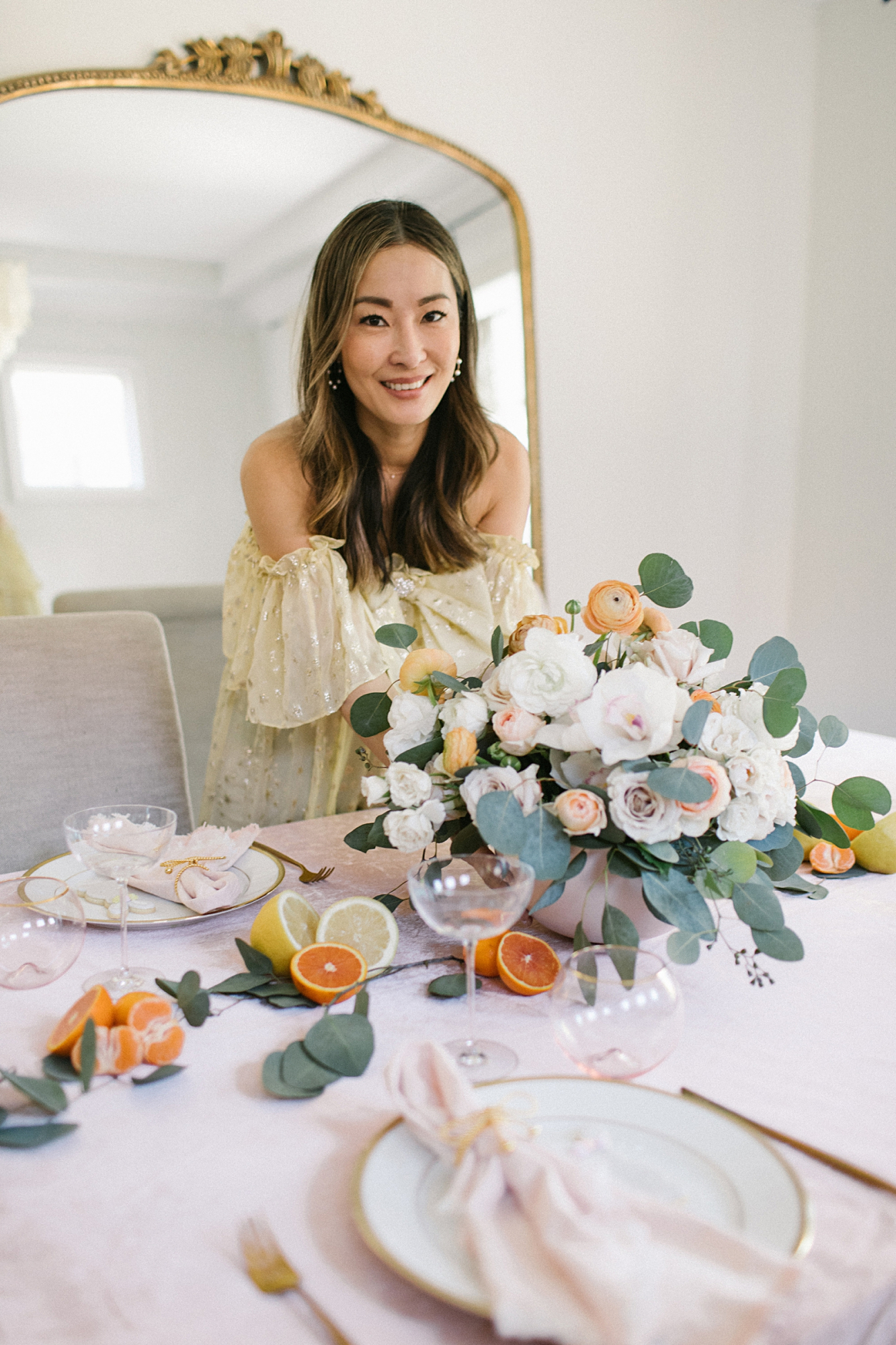 One of my favorite seasons is spring, because of all the beautiful flowers that bloom during this time. I love that you can find fresh, fluffy flowers at your local grocery store. Today, I will be sharing how to make a spring arrangement at home with grocery store flowers. Creating an arrangement at home is surprisingly therapeutic and much easier than you might think! 
DIY Spring Flower Arrangement
Follow these 5 easy steps if you want to make your own spring arrangement from grocery store flowers.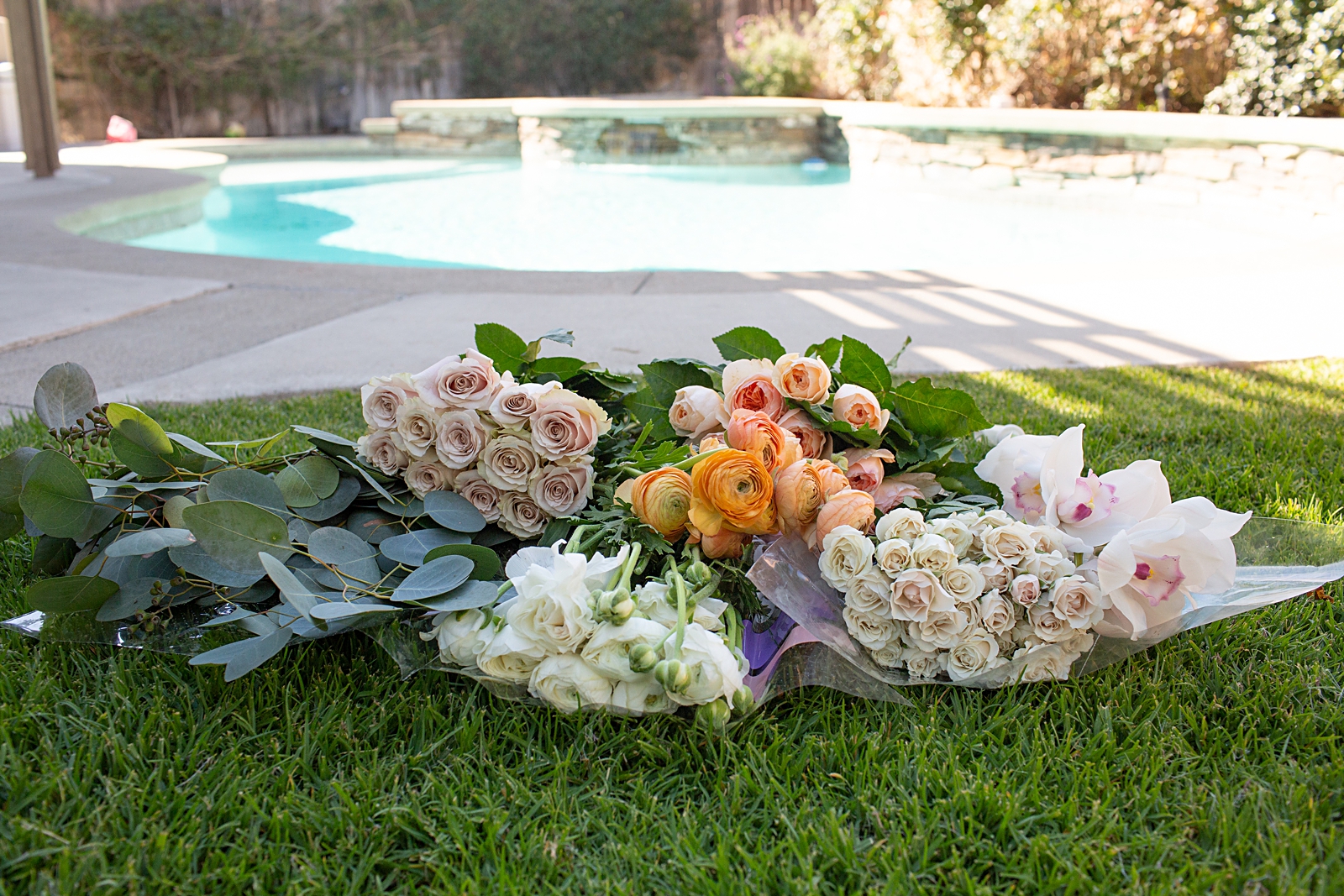 1. Pick a color palette.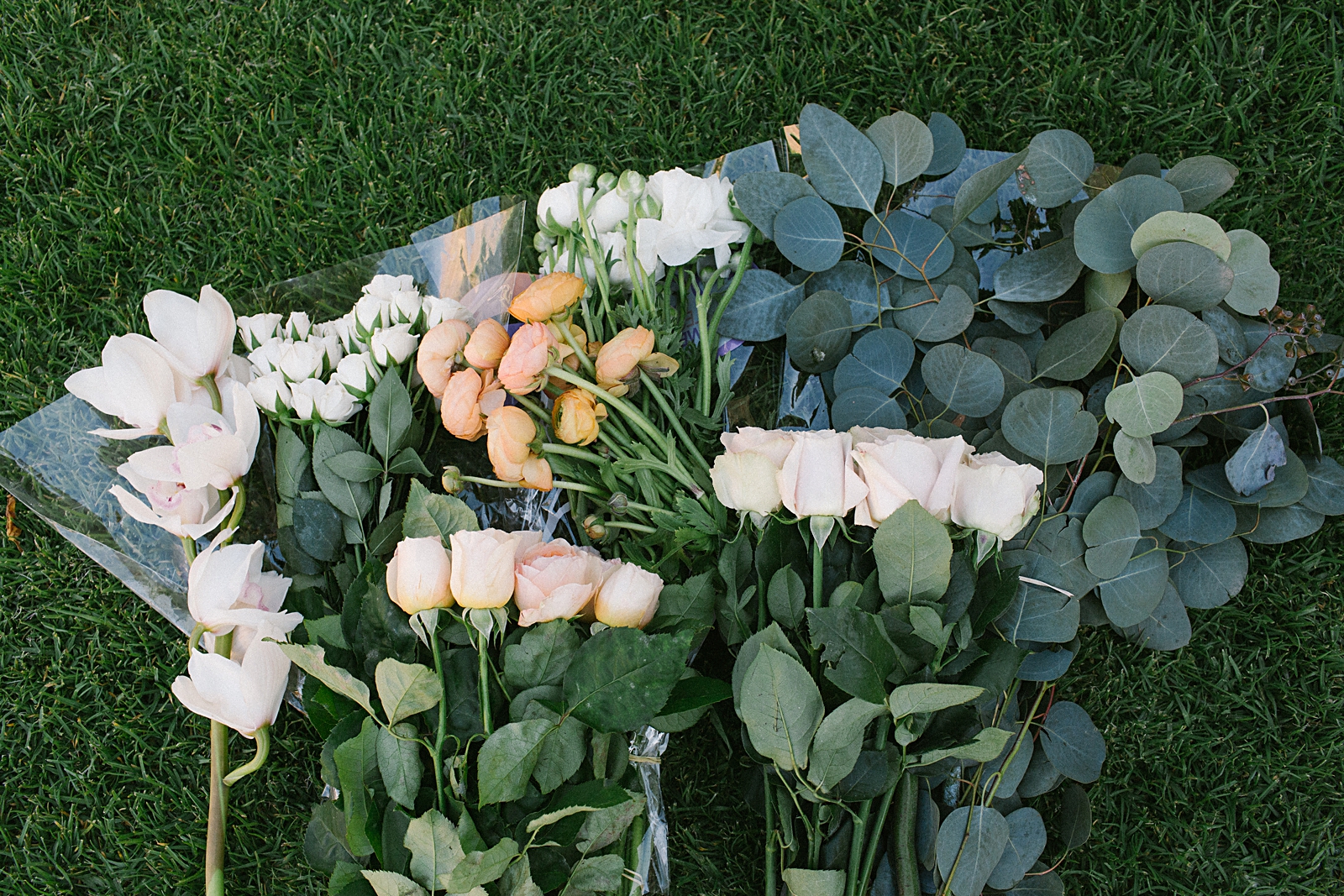 I originally wanted to make a pink, white and blush arrangement.
But after seeing what looked the freshest and prettiest at the grocery store, I ended up with a blush, white, peach and green arrangement. This is ok and part of the beauty of making your own arrangement. You have the freedom to play around with colors and get creative.
2. 
Buy a variety of 4-6 different bundles of flowers and 1-3 types of greenery. 
I used the following: 
Ranunculus in white and yellow/orange

Garden roses in muted blush

Juliet roses in peach

Spray roses in white

Cymbidium Orchid 

Silver dollar eucalyptus
3. Prep your vase.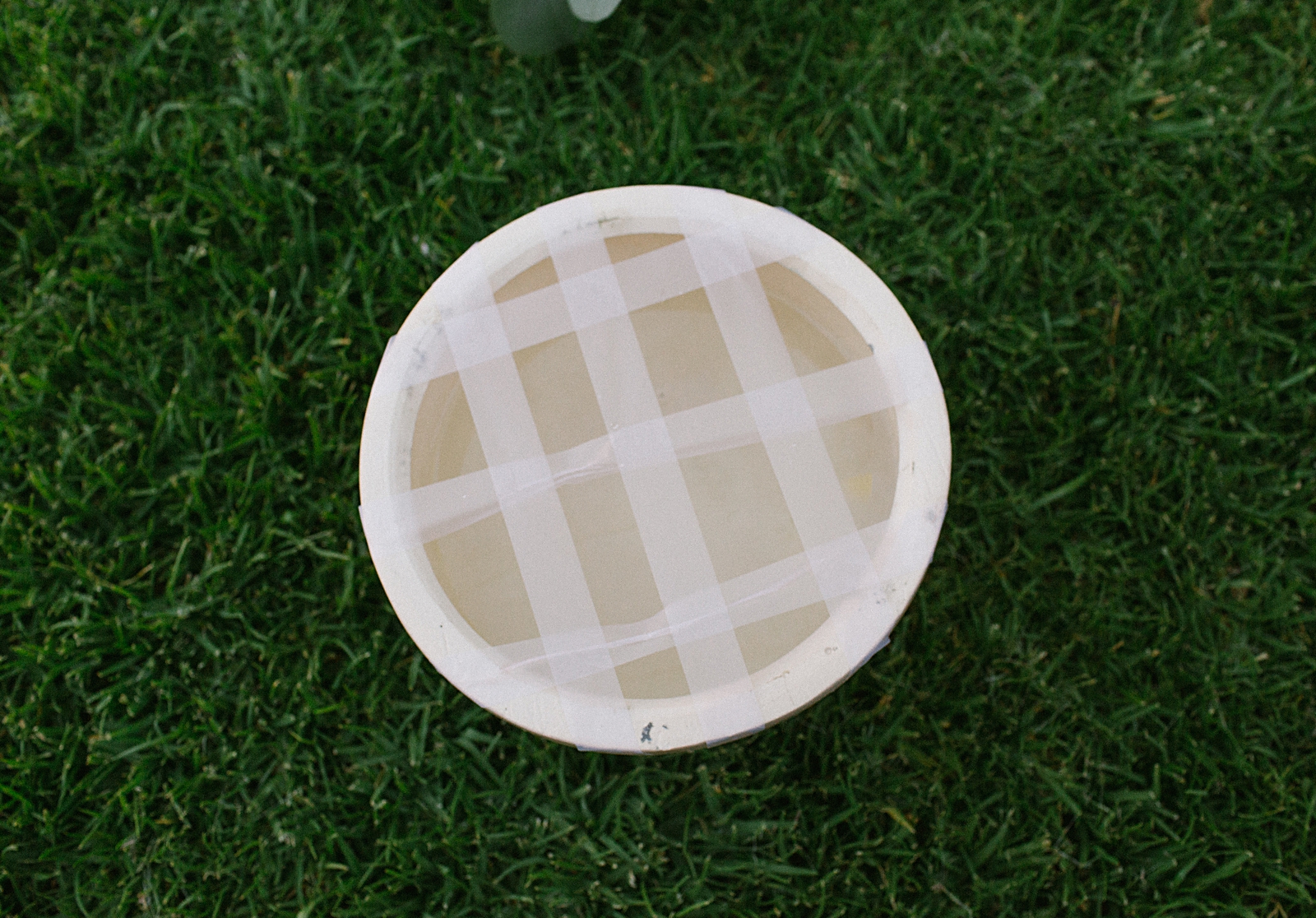 Pick a vase of your choice. I used a low, wide, ceramic vase. Fill it with water and flower food. Make a grid on top of the vase with tape or floral tape, by sticking tape horizontally and vertically on the top of your vase so there are square holes left for you to stick flowers into. I just used regular scotch tape! It works like a charm and I always have some laying around the house.
4. Start with your greenery and larger flowers.

I started by trimming my eucalyptus and filling it into random areas. It looked floppy and messy in the beginning, but don't worry! Once you fill more florals into the grid, it will start to form into a beautiful spring arrangement. Then start plugging your larger flowers. In my case, it was the garden roses and juliet roses. If you are using this arrangement for an event, you can consider opening up the roses a bit more by lightly pulling the petals back. Pro-tip – I learned is to always trim your floral stems diagonally. I also like to prune my roses by cutting off most of the green leaves and picking out any wilted petals. 
5. Finish off the arrangement with your smaller delicate flowers and/or accent flowers, then add additional greenery to fill in any gaps. 
After the roses, I went in with my white and peach ranunculus throughout the arrangement because they are a smaller, more delicate flower. Ranunculus adds an airy and whimsical feel to arrangements, because they have a flexible, curved stem compared to roses. I put some closer into the center of the arrangement, but also left the stem longer on a few so they could stick out. 
I also added more eucalyptus to ensure all of the gaps in my arrangement were filled. You might be able to skip this step if you were generous when you were initially building the arrangement. Instead of adding greenery in this step, you may want to rearrange your greenery to best match the aesthetic you are going for.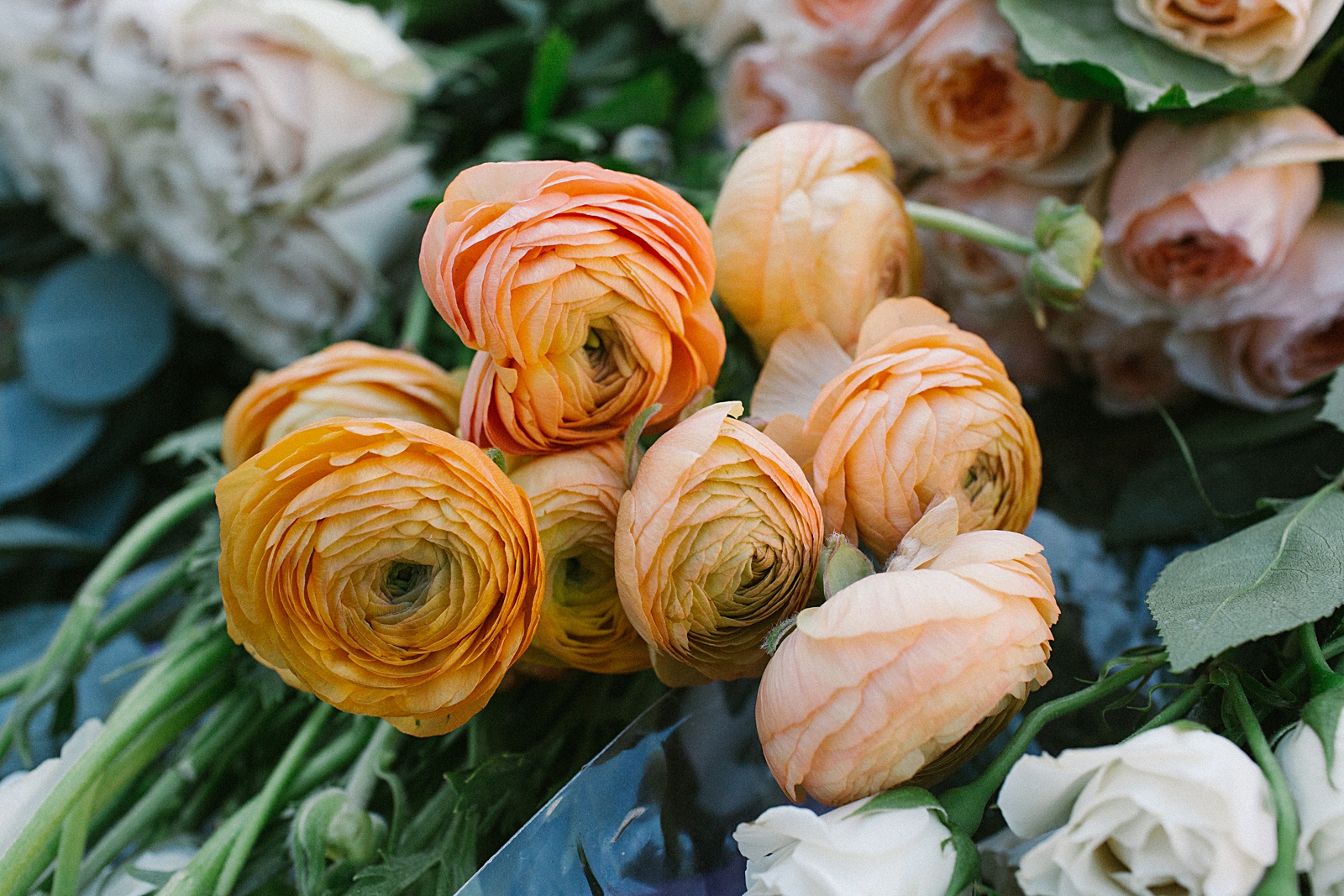 If you are going for a more traditional curated look, you can pull the greenery in. If you are going for a more organic and wild look, you can pull the greenery out like I did. The final touch for my arrangement was my orchid stem. The stem I bought had a good amount of orchid flowers, so I cut it into two pieces and stuck them on opposite sides of the arrangement.

This made my arrangement look wider and gave the final touch of floral texture and variety to complete the look. I loved the way the color of my orchid complimented the blush, pink and white colors in my roses and ranunculus. It went perfectly with the organic greenery and gave it the final touch that I honestly didn't know it needed! 
Overall, feel free to play around with your flowers and greenery when building the arrangement.
The beauty of making this at home is that you can do whatever you want with it. 
3 Types Of Flower Arrangement
Flower arrangement is one of my favorite ways to pass time and really let my creative juices flow. I also just love the look of floral decor in everyday decoration and themed tablescapes. And especially at special events like birthdays.
There are so many unique types of flower arrangement, from minimalist to maximalist and every design, shape, and size in-between. Here are a few floral arrangements I've created or displayed in the past that I hope will provide inspiration for your next occasion, event, or simply your next day of self-care. Remember, whether you're using store-bought flowers and floral foam or picking fresh spring blooms for your unique vase, you can still have a great deal of fun and relaxation with flower arranging.
Your spring centrepiece can be anything you want it to be. An idea I particularly love for this time of year is citrus. The colors are just so vibrant, and they make the perfect backdrop for a beautiful spring flower arrangement. Use the steps above to create your own version, or see my spring citrus tablescape for inspiration!
Ikebana (生花) means living flowers. Words most often used to describe this type of flower arrangement include minimalist, subtle, sensitive, and sophisticated. With a minimalist design like the one I used for my mauve fall tablescape, you can add a pop of color to truly highlight the beautiful blooms on your dining table. The same goes for your spring florals.
Ever thought of creating a bouquet in a cardboard or wooden box? I hadn't either until my husband purchased a beautiful Valentine's Day Flower Box for me, and I thought "with a little creativity and planning, I can make this myself!". If your interested in surprising a loved one with flower box for any special occasion, see my tutorial in the link above. You can stick with fresh blooms of white tulips and pink roses, or change up the types of flowers to make it your own.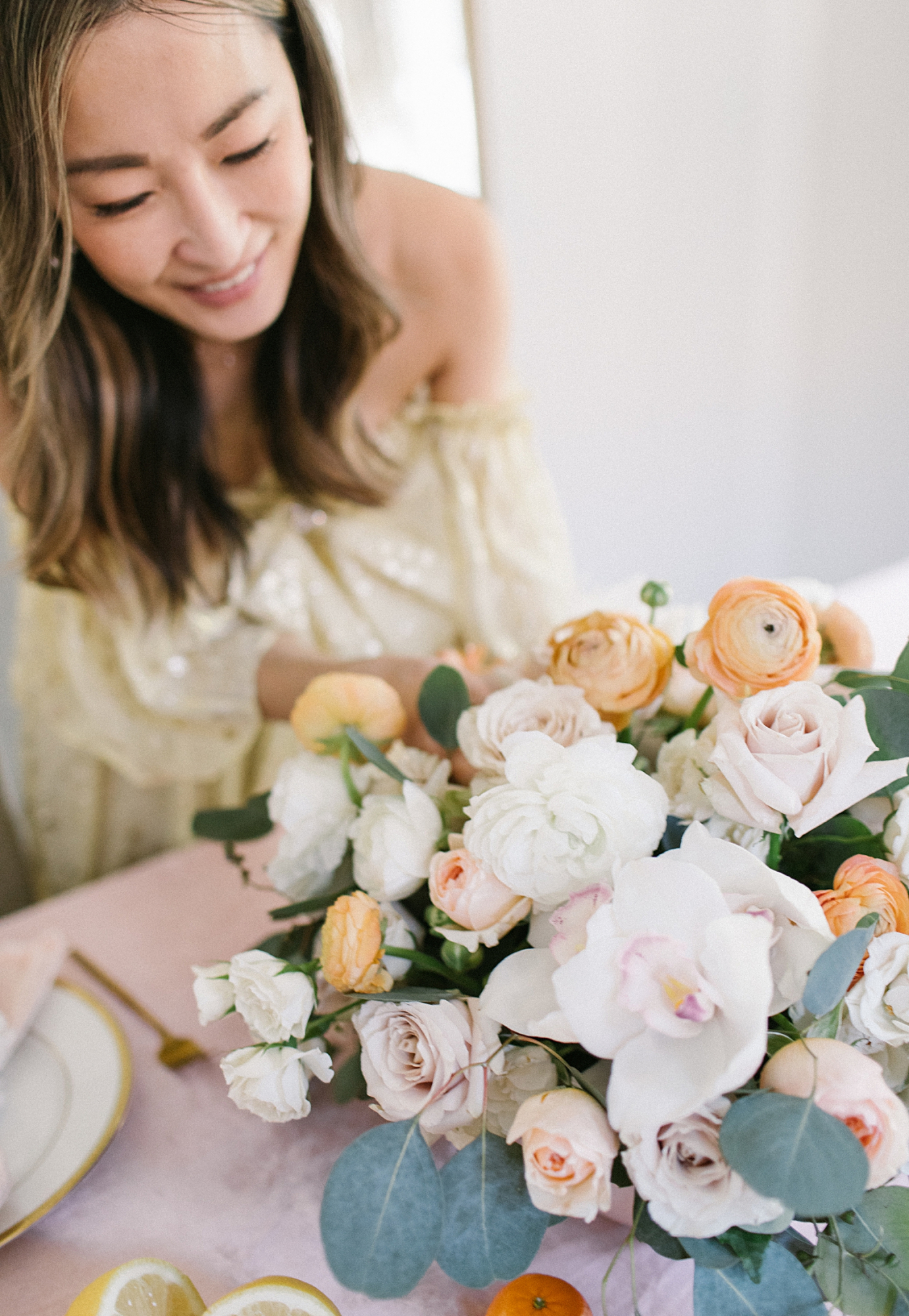 Having fresh flowers in my home brings me so much joy! I hope that you find some time to make your own floral arrangement this spring season and that it lifts your mood every time you see it too.