We've been remodeling our home room by room for the past year and I've learned so much along the process. One of my favorite rooms that we remodeled is the downstairs powder room, which is the bathroom our guests use the most.
Because this bathroom is rather small, I knew I wanted to make it extra special, unique and pink. 🙂 Luckily my husband doesn't mind the color pink and had no qualms about the Parisian vision of this space.
To begin, this is the design mock-up created by Jenny from Loteria Lifestyle. I love the vintage-inspired aesthetic of this bathroom with feminine accents. The rich velvety curtain dresses up our tiny window and the simple, minimalist design of the vanity is perfect for a small space.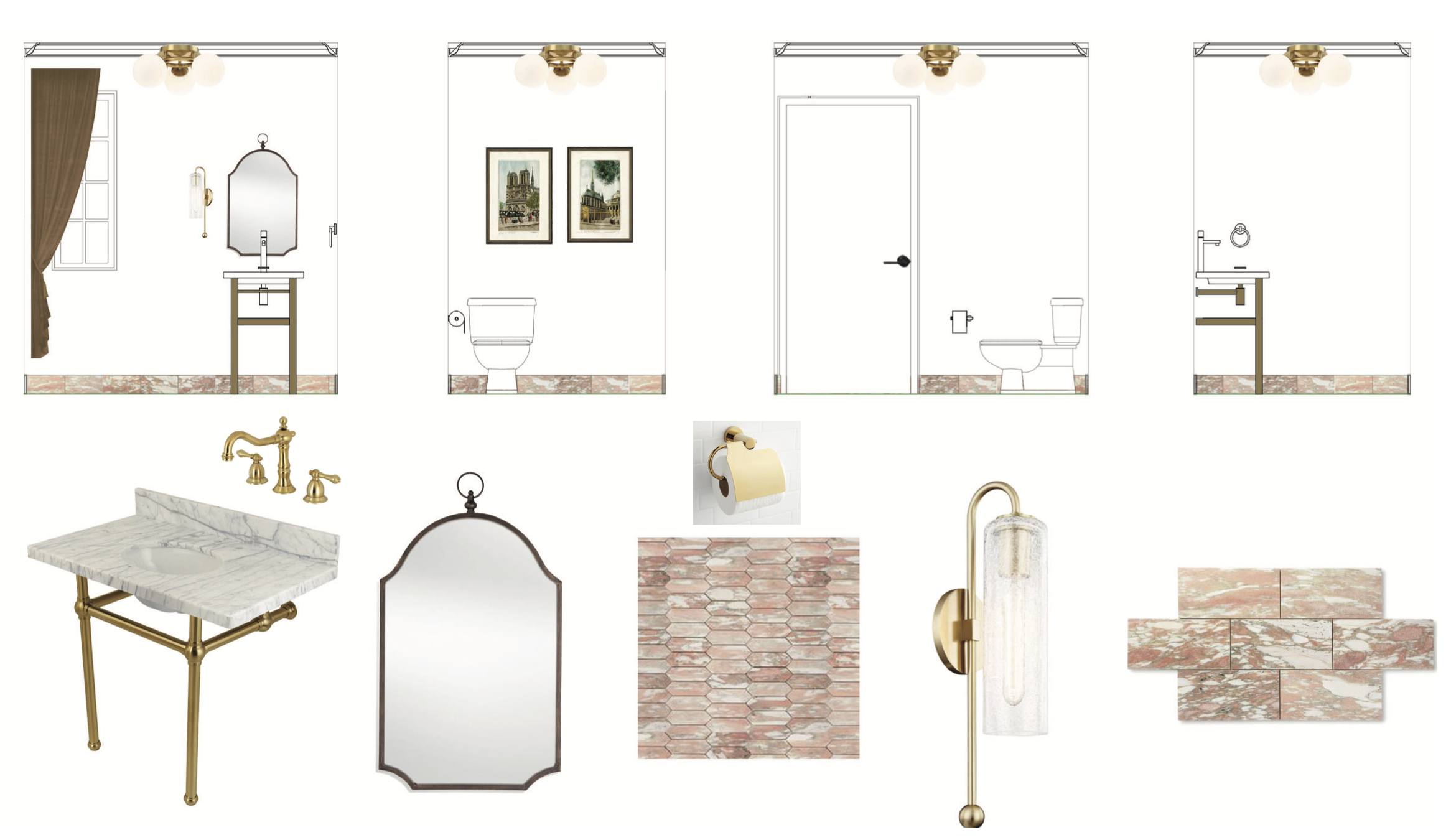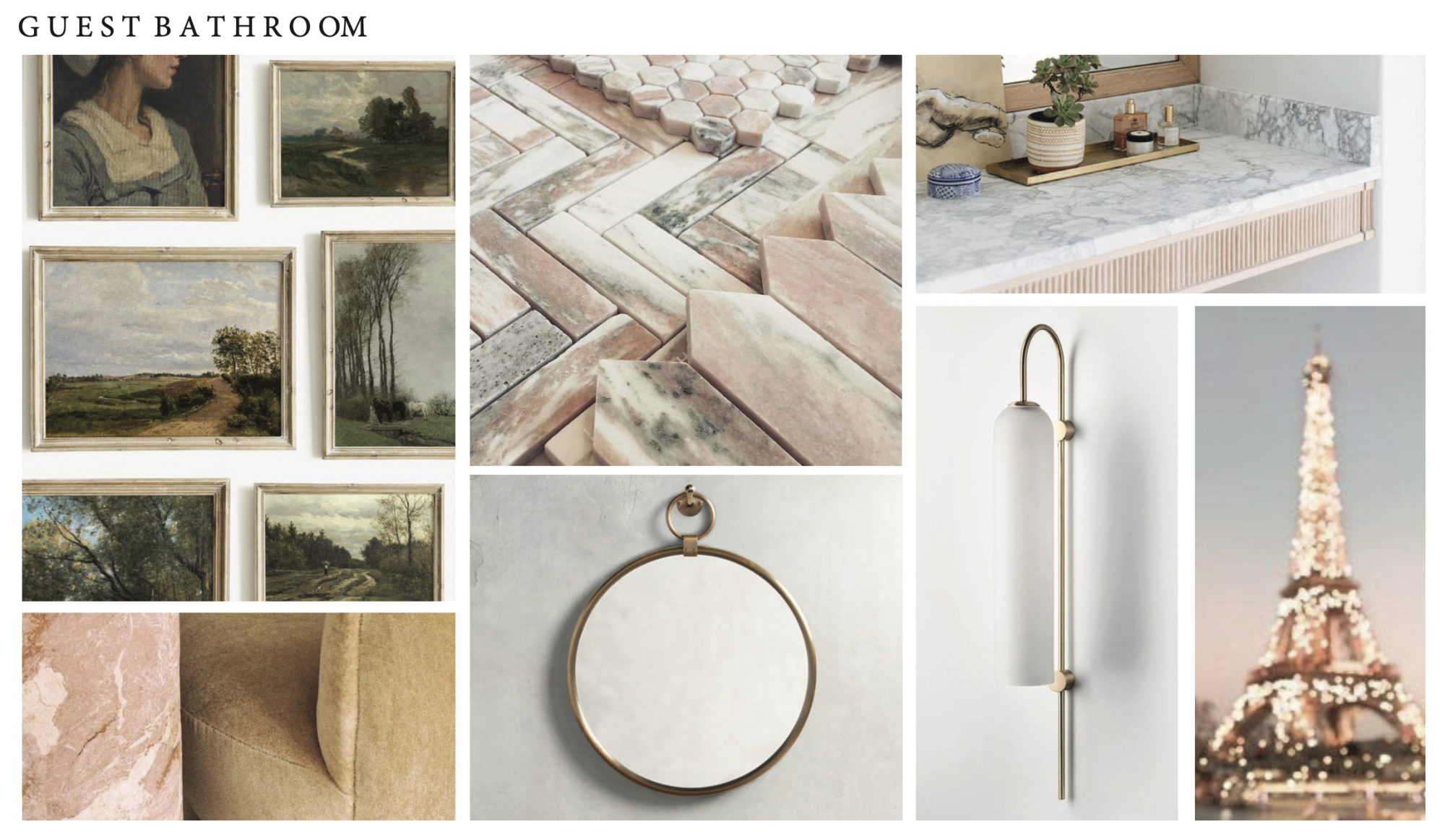 Here are some before and after photos of the remodel, as well as a full cost breakdown and links. I think we did a pretty good job bringing the original vision to life!
Small Bathroom Makeover: Before and After
1. Floor – Norwegian rose honed marble – $700 ($19.95 per sq ft)
Norwegian rose honed marble from Riad Tile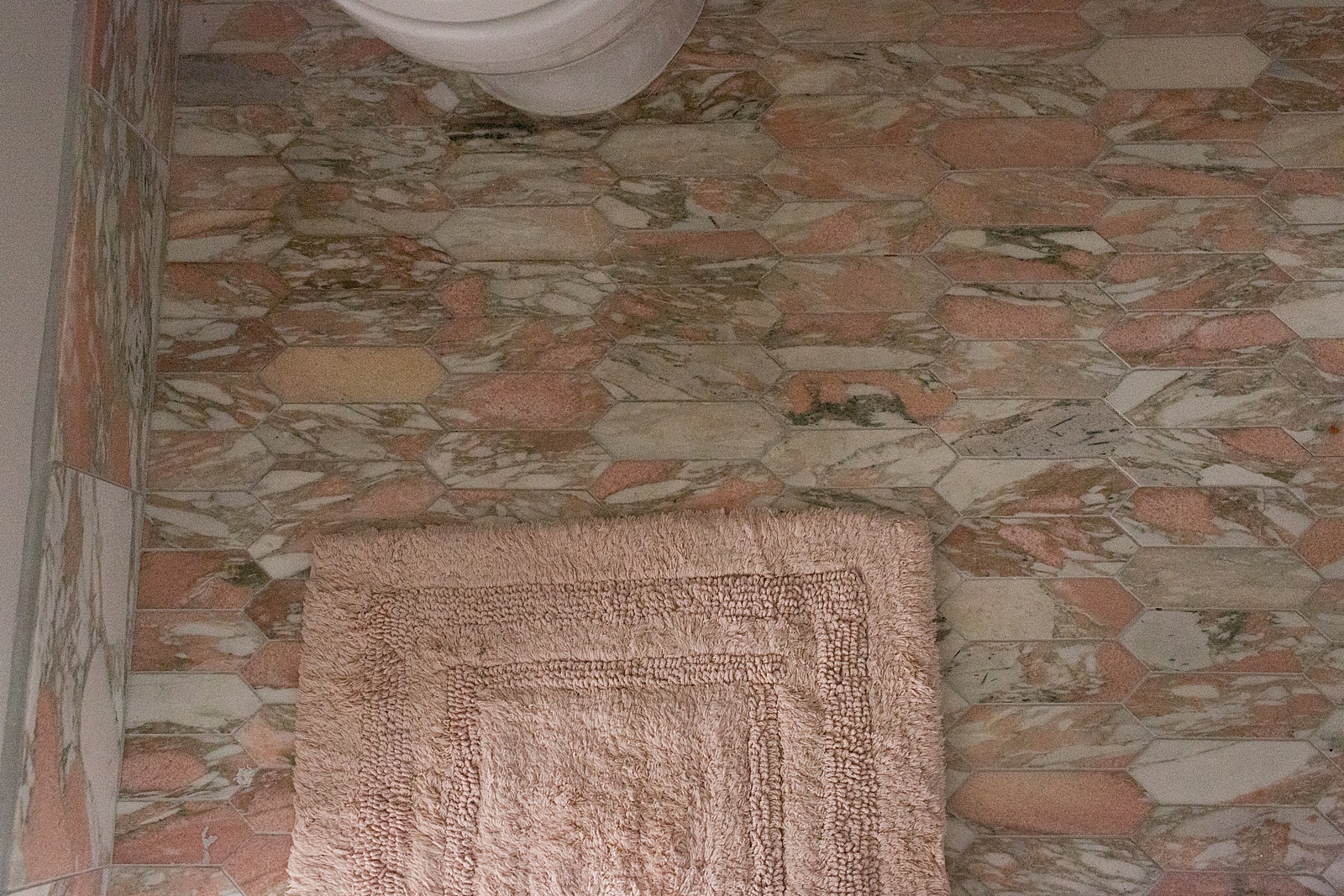 I love this floor so much. Since this is a small space, I had more room to be creative and unique. Instead of an accent wall, we made the floor a focal point. I love the way this Norwegian rose marble looks with its natural pink, white, grey and beige veining.
2. Paint
Paint: Sherwin Williams (Snowbound)
This wasn't a difficult decision because we used the same paint color throughout the whole house. Paint color was recommend by our designer Jenny at Loteria Lifestyle.
3. Sconce – $168
I love the details of the glass that makes it look aged. The shape is also very unique and makes a big impact on the wall. This style sells out fast, so I suggest you buy it fast before someone else does.
Aged brass wall sconce from Lamps Plus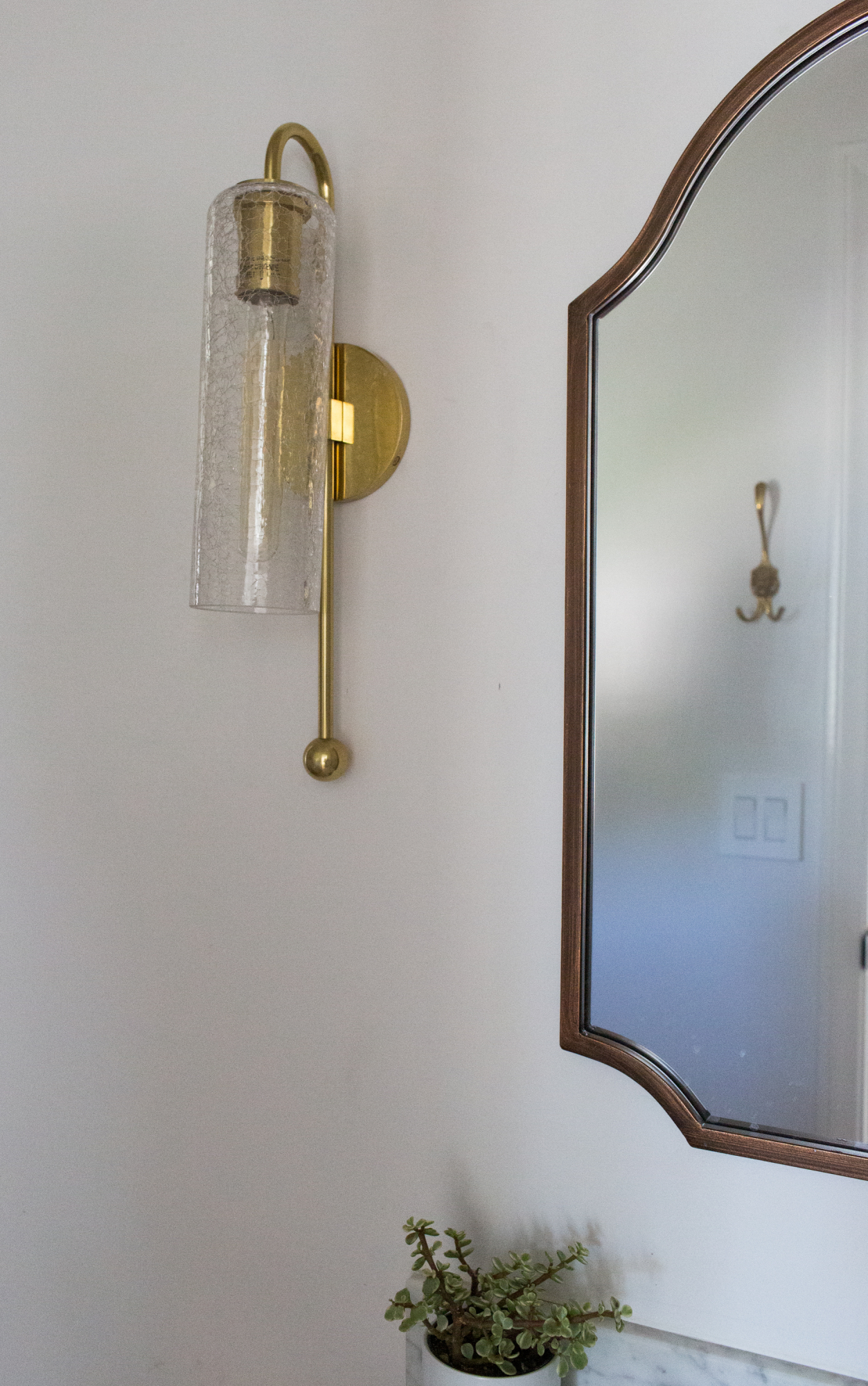 Mitzi Skye 19″ High Aged Brass Wall Sconce from Lamps Plus
4. Faucet – $260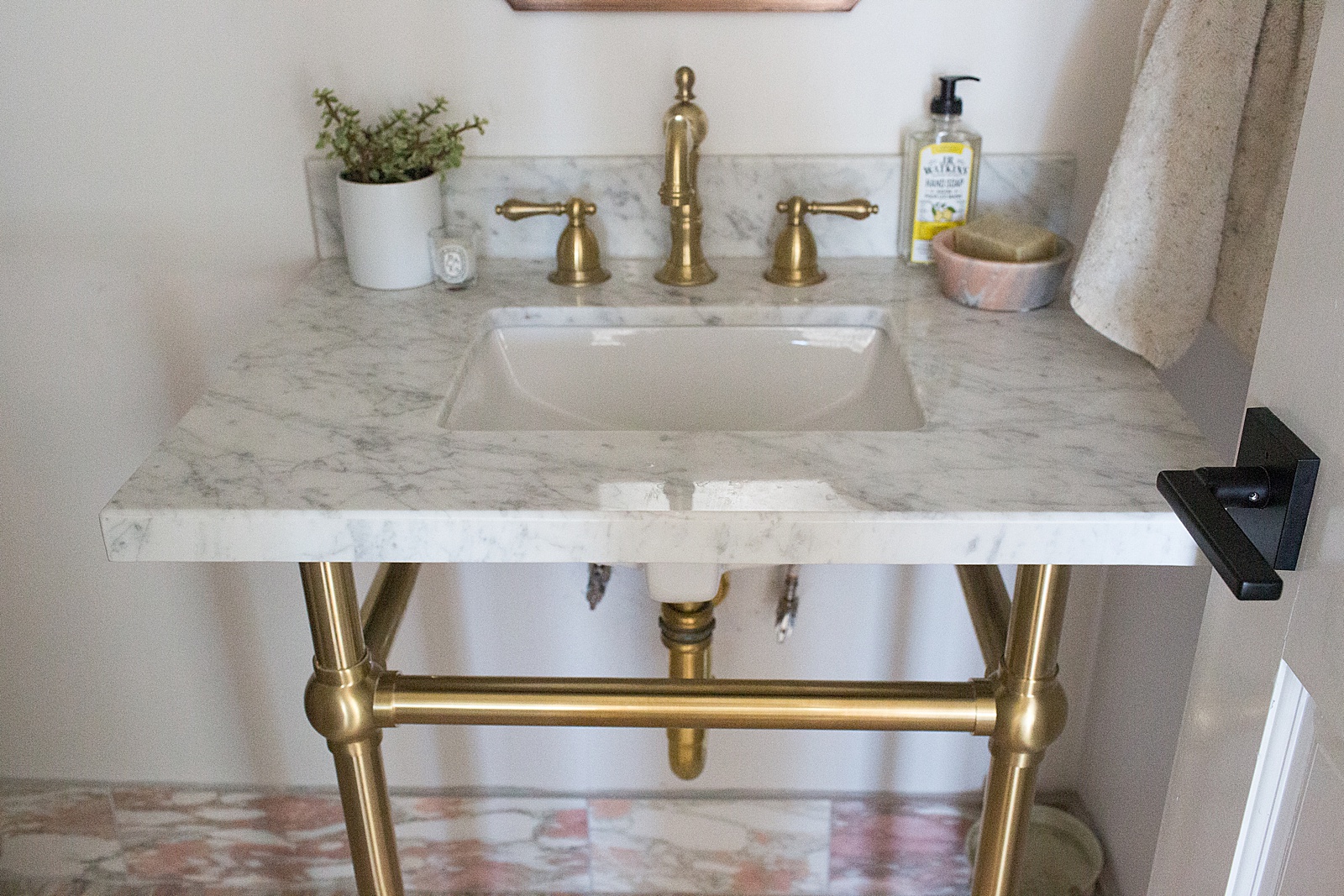 I love this widespread brass fixture for its victorian inspired look.
Kingston Brass widespread brass fixture
5. Sink – $960
This sink is minimal in design which is perfect for a small space.
Kingston Brass Templeton 30″ Wall Mounted Marble Lavatory Console with Brass Console
6. Toto washlet – $1100
This bidet is the best investment we made for this bathroom. It opens automatically when someone walks into the bathroom and cleans itself after each use. The seat warms up and it comes with a remote control with various cleaning settings. It's a splurge we don't regret!
7. Wall mirror – $105.99
This mirror is inexpensive and well made. Love the design and price.
8. Ceiling light – $340
Annetta semi flush mount light from Lulu and Georgia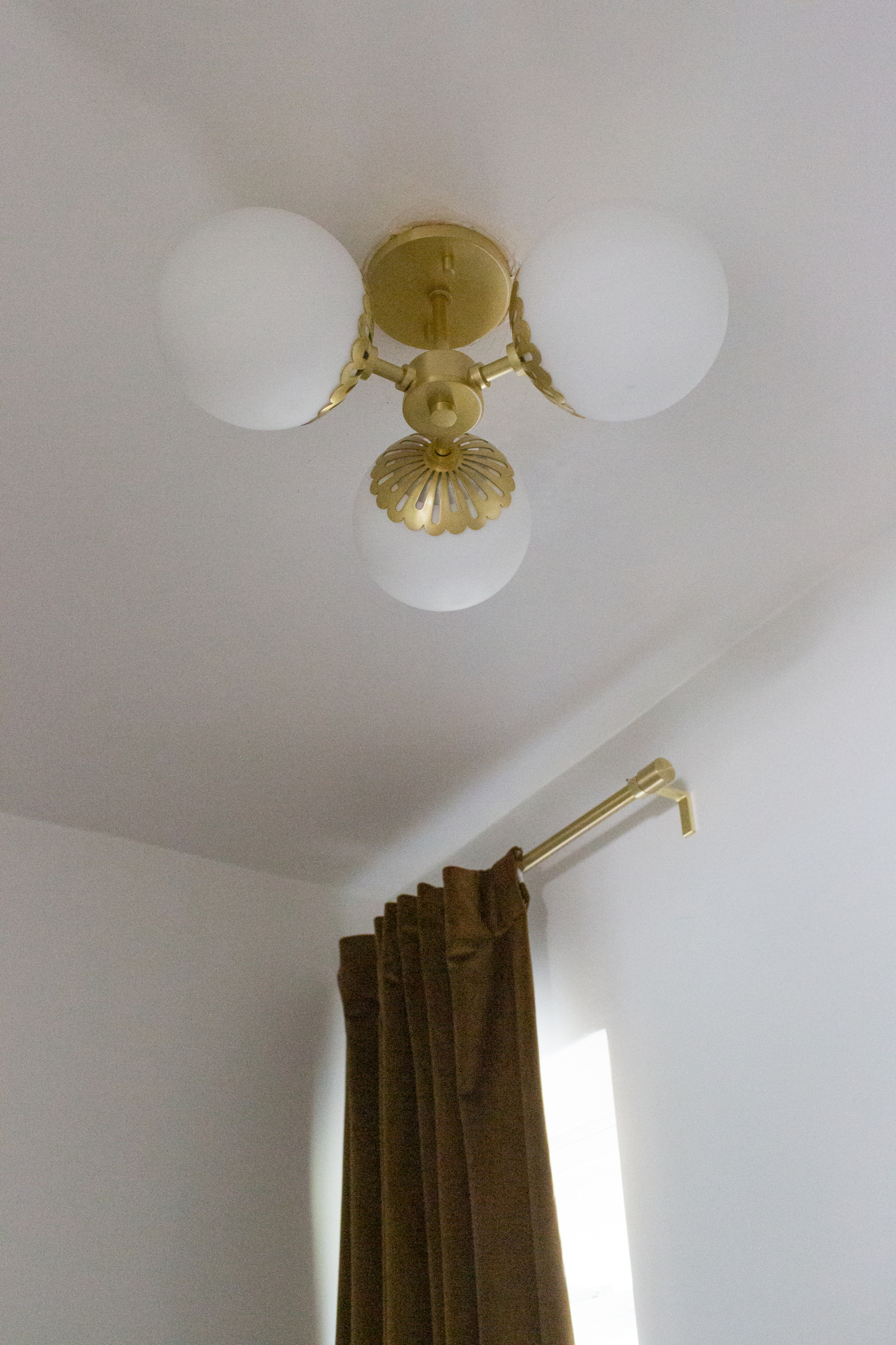 The scallop detail gives this flush mount a unique twist. This particular light popular and sells out fast.
9. Toilet paper holder – $30
Toilet paper holder from Signature Hardware
Simple gold toilet paper for that extra touch of sophistication.
10. Curtain rod – $30
Brushed brass cap 28-48" rod from CB2 (currently on sale for $24!)
I like the idea of using a single panel curtain to dress up a boring old window.
11. Curtain – $80
Plush velvet curtain from Half Priced Drapes.
The rich mustard color of this velvet curtain is so lovely. It also complements the brass in the room.
Similar from CB2.
12. Wall painting – $200
Vintage inspired painting $200 from Lulu & Georgia (multiple sizes available)
I chose this painting of a sunset because it's representative of the favorite part of our home. We get the most epic sunset view in the backyard!
13. Waste basket – $20
Threshold Waste basket from Target
This waste basket is small and has removable plastic inserts for easy cleaning. I love the natural woven exterior to bring some warmth to the space.
14. Candle – $114 for a set of 3
This small candle is part of a gift collection and smells amazing! I like using candles instead of air refreshers in bathrooms.
15. bath mat – $18
Simple pink one from Target.
Grand total: $4011.99 not including labor & paint
https://www.instagram.com/p/CSXO2Rtpbsa/
What do you think about the design? Please share your thoughts below!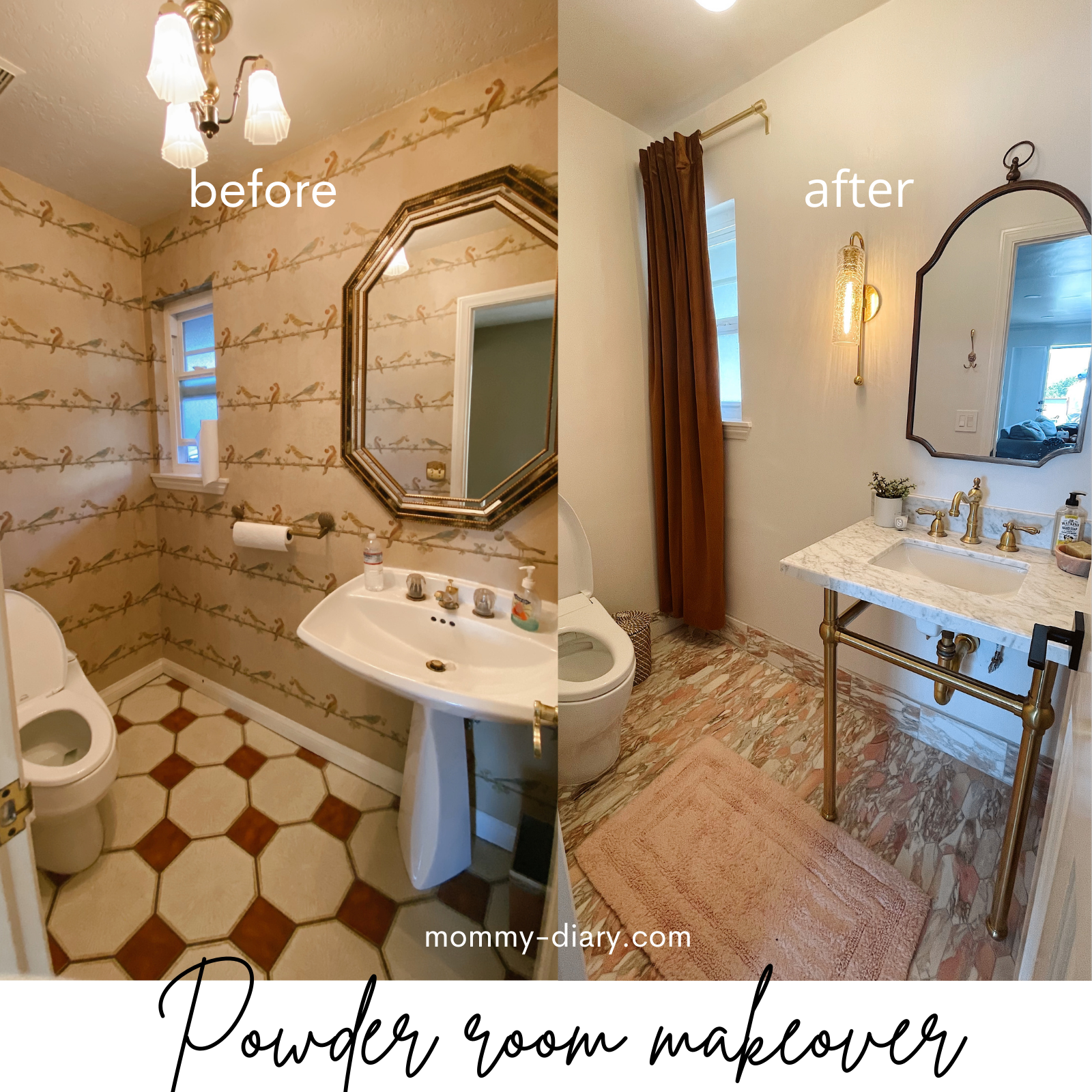 Vendor credits
Bathroom design by Loteria Lifestyle
Lighting provided by Lamps Plus
Rose marble by Riad Tile

quick links