After my recent move, I wanted to refresh some kitchen gadgets in my home. I've used them for many years and they were in need of a refresh! I made a quick roundup of my recent favorite home kitchen gadgets from Amazon in case you too, are in need of a refresh.
I've learned from the Konmari method that the best way to stay organized is to get rid of the original packaging and find proper storage for each item. The following list will help you stay organized and feel elevated in your everyday space.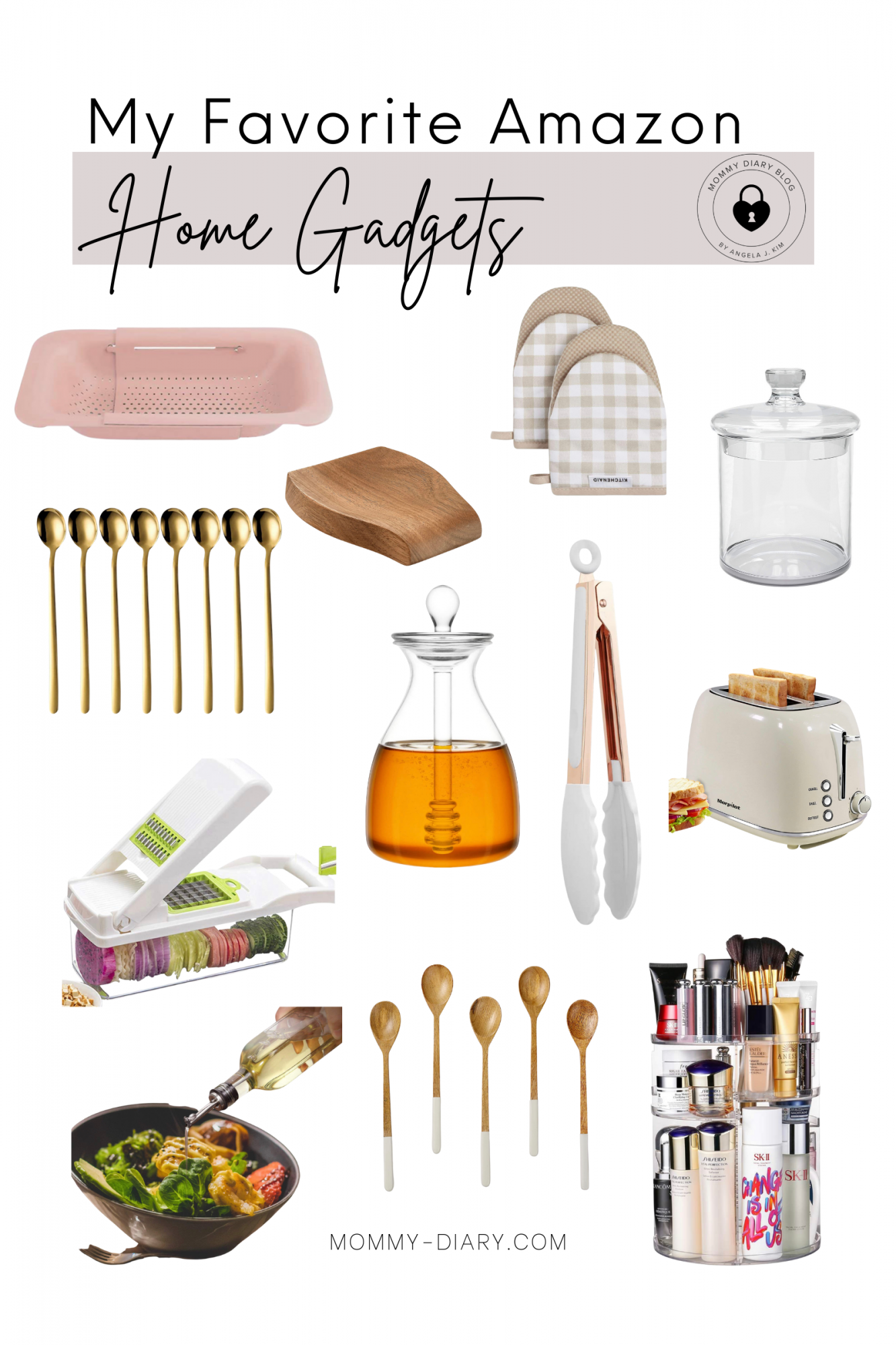 Favorite Amazon Home Kitchen Gadgets
I use oven mitts daily in my kitchen, so it's important to have cute ones. I love the neutral color and the size that's not too big.
I love the retro aesthetic of this toaster. I've already gotten so many compliments! This is a great dupe for the

Smeg

toaster which is over 4x the price.
Our new kitchen has delicate stones in the kitchen, so this spoon rest saves me mess and stress when cooking.
Even simple cooking items can be beautiful! These tongs come in a variety of colors and the rose gold accents add a unique touch.
There's something chic about having glass olive oil dispensers on the counter rather than the store-bought ones. This is one of the easiest ways to elevate your kitchen decor.
This goes hand in hand with the olive oil dispensers. Plus the dipper stick makes for easy drizzling in teas, smoothies and granola bowls!
These jars are perfect for all around the house. Cookies, cleaning supplies, decoration… the possibilities are endless and it comes in a variety of sizes.
I cook a lot of soup for the family, and these mini wooden spoons are perfect for both cooking and eating. They also look beautiful for styling different tablescapes.
With 4 kids, efficiency in the kitchen is key. Since I ordered this heavy duty vegetable chopper I haven't been able to live without it.
This collapsible colander is a must have for your sink. I like that it's not bowl shaped like a typical strainer, plus it comes in fun colors. You can use it as a colander to rinse vegetables and fruits, drain pasta and even as a drying rack.
I'm a culprit of using the same makeup products every day and forgetting so many items in the back of my drawers or cabinets. With a makeup organizer like this, I'm able to see everything I own so nothing goes to waste!
These long gold spoons are so chic and beautiful. They look great on a bar cart or for making cocktails and are sure to impress at a holiday party. I also use it every morning for my latte.
What did I miss? What are some of your favorite Amazon home and kitchen gadgets? Please share them below!
This post contains affiliate links that help to support this blog at no additional cost to you. Thank you for your support that allows me to create valuable content for families all around the world.