This past week, we traveled back to one of our favorite family destinations, Oahu. My family and I discovered so many great vacation essentials on this trip. I'm going to share some of my favorite vacation essentials, along with some packing tips for your next summer getaway!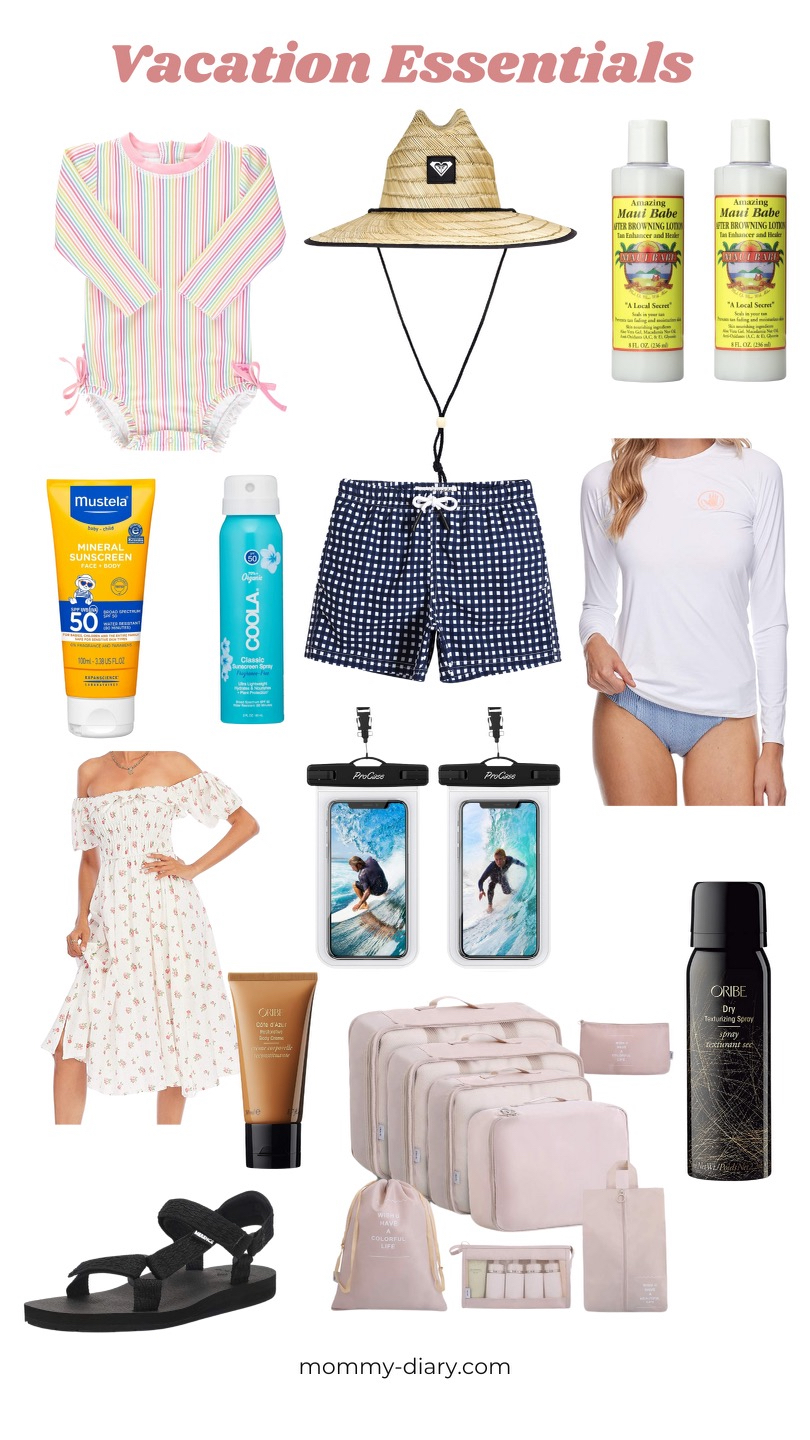 Top 5 Packing Tips for Vacation:
Get organized with packing cubes and other organizational bags! I almost never put any loose clothing or cords into my luggage and bags. Everything has its own bag in my luggage and you can even assign a color to each kid. This helps me easily locate things I need and keeps me organized throughout the trip.
Some additional packing bags I like to use are:
My hair is always a tangly mess after the pool and beach, so I love investing in travel sized high quality products for both my hair and body. There's something so refreshing about the post beach shower in your hotel and smelling your luxurious products linger on your body for the rest of the day. Therefore, I love investing in Oribe's travel set. Some additional Oribe products I like to use are their texturizing spray and body creme.
My favorite travel sized first aid kits are by Welly. They have a large variety of different kits you can buy that all come in a high quality tin container. I always throw one in my bag in case the kids have any small casualties while playing. For this trip, I used the waterproof bandages the most!
As a family of 4, we go through water quickly in the hotel room. We stock up on large jugs of water for the hotel room and rental car. For instance, I like to fill up our reusable insulated water bottles with ice and water from the hotel so the kids can stay hydrated throughout the day.
One of our first stops after checking into our hotel is always the convenient store and/or grocery store. We stock up on snacks that we can take on the go. Afterwards, I put them into our reusable storage bags so the kids can always have something to snack on in between our activities and meals!
Top 5 Tropical Vacation Essentials:
My older daughters and I all got a pair of these shoes and they were one of the only shoes we wore for the entire trip. They are comfortable, waterproof, lightweight and you can even go hiking in them.
This is the only browning lotion I use and I buy one as soon as I land in Hawaii. You can find it on Amazon or at most stores in Hawaii. This gives you the perfect sun kissed glow after a day out by the pool or the beach.
I love their fragrance free scents and their tropical scents! It automatically puts me in the mood to go to the pool or beach. I also like that it doesn't leave that white residue on your face.
These waterproof phone cases are the best. I was able to strap this on my neck during all of our water activities and not worry about my phone getting wet. Without this, I wouldn't have been able to get some of my favorite family photos and videos!
This hat gives great coverage and I can conveniently hang it around my neck when I don't want it on. It also secures around your neck so it doesn't fly away on windy days. It got pretty windy at the beaches so this was the only straw hat I was able to wear on some days.
You can find a full Amazon shopping list of the rest of my favorite vacation essentials here.
I hope that you found these tips helpful and that it helps you stay organized for your next vacation!