Hi, mama! Are you expecting a baby in the near future? You've probably begun thinking about what to pack in your hospital bag. I have created a list of hospital bag essentials to make this process a little less stressful for you.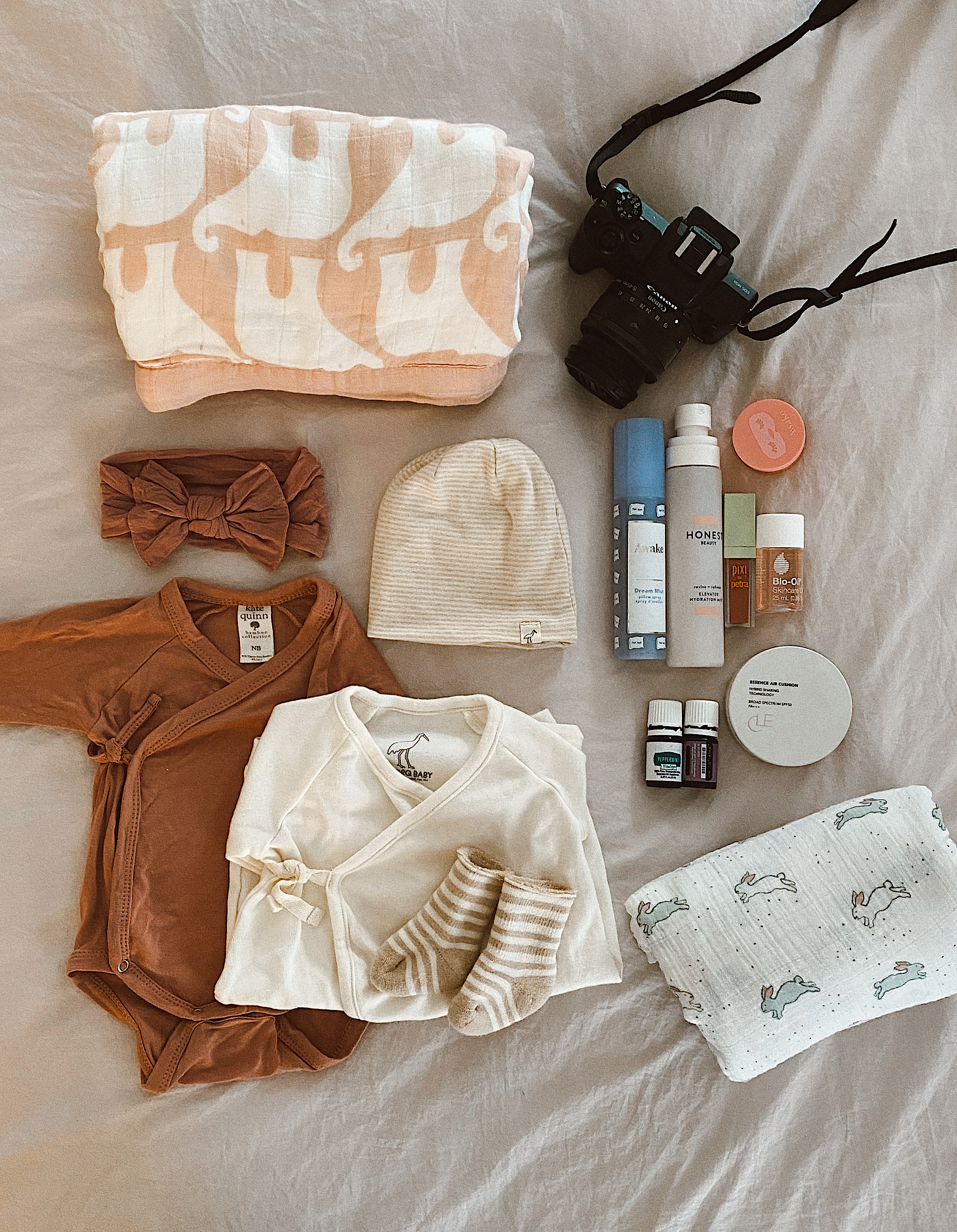 It's so easy to over-pack. As women it's in our nature! I consider most of the items below to be essentials for your hospital bag. I've included a few items that could be considered wants, but that I truly feel will make your labor and stay at the hospital so much more comfortable. After giving birth, comfort is something that you most definitely deserve.
Hospital Bag Checklist: The Must Haves
I've separated these hospital bag essentials into two categories: things you will need while in labor and things you will need after labor. There is one very important item that you must pack in your hospital bag: your ID! Take it from a woman who forgot mine while in labor with my third child! I won't make that mistake again.
In Labor Must Haves
Hospital air is known to be dry, so having chapstick with you will help keep you comfortable. This Hanalei chapstick from Amazon is amazing. It heals cracked and dry lips almost instantly.
This is definitely a hospital bag must have. You will be spending a lot of time in your hospital bed, so you want to be comfortable. This set includes a hospital gown and matching pillow case, so you can choose your favorite pillow. The gown is perfect for labor and even button downs to allow skin to skin when baby is born.
While in labor, you won't be allowed to eat. Drinking water will seem like the next best thing. This Bubba water bottle comes with a large rubber straw, which will make it easy to drink even while laying down.
Sorry mama, while in labor the snacks will be for your hubby, or whoever is there to support you. You'll want to partake in them after labor though! This bag is a great place to keep snacks from home. Don't forget some cash for vending machines as well.
I absolutely love essential oils. I use them every day in my home office and bedroom. It calms me, energizes me and raises the vibrations in my space. This essential oil diffuser is portable, making it easy to pack in your hospital bag. I recommend lavender as a calming scent. Peppermint is wonderful to help with any nausea that you may experience.
Staging a calming environment will help you feel less anxious while in labor. This portable Bluetooth speaker can be used to play relaxing music.
Socks are a hospital bag must-have for a couple reasons. Hospitals tend to be chilly, so they will keep your feet warm. You also may want to walk around while in labor to help things get moving. Grips will prevent you from slipping. These socks from amazon are a fun choice.
At some point in labor, you'll most likely want to put your hair up. You'll regret not having these!
labor can be a slow process. All of your family and friends will want constant updates, and you may want to scroll social media to pass the time. Running out of phone battery is not fun. You never know how far away an accessible plug will be from your bed. That's why this 10 foot phone charger is a hospital bag essential.
I know that most people use their phones to capture photos during and after labor. However, this is a super easy to use mirrorless camera that also captures amazing quality video. Using this will allow mom to keep her phone at her side and have her partner take care of the filming. You'll also get great use out of it once the baby comes!
After Labor Must-Haves
These are helpful to pack in your hospital bag to use in the shower. Your feet may swell, so flip flops will be ideal over close toed shoes while walking around the hospital.
Just like anytime you travel, a space always feels more like home when you have your home shampoo, conditioner, lotion, etc. It's no secret that you won't feel 100% after giving birth, so a hot shower with toiletries that you love will be a small detail that might make a big difference.
In case you may not feel up to taking a shower, dry shampoo is a life saver and will help you feel refreshed. Living proof is an incredible brand, and comes in a travel size.
This is a hospital bag essential that will be for you and your baby. Boppy pillows will make breastfeeding much more comfortable, especially in the first few weeks. Using this pillow at the hospital will help support you right away.
Yes, the hospital will supply a breast pump for you. However, I recommend packing the breast pump that you will be using at home. This is so you can become comfortable with using it, and allow the hospital staff to help you with any questions that you may have.
A robe is one of the number one items I recommend packing in your hospital bag. I stayed in a robe most of my time in the hospital because it's comfortable, loose, covers you up easily, and is perfect for nursing. I suggest choosing a dark color. This 3 piece robe set is perfect to have waiting for you at home. It is exactly what you want to be lounging around the house in with a newborn thanks to its comfort and nursing accessibility.
I have these slippers, and love love love them. If you are giving birth in one of the colder months, this is a hospital bag must-have.
Many people may not care to bring any makeup, and that's perfectly ok. A little under eye brightener, lip gloss, and mascara may make you feel a little more like yourself after a couple sleepless nights.
It's always good to pack a pumping bra in your hospital bag in preparation of possibly pumping after your baby is born. If you plan to breastfeed, there's the chance that it will be difficult in the beginning, and pumping can help get some of your colostrum to the baby.
Breast pads may not be something you think of to pack in your hospital bag. There are disposable ones, and the hospital most likely has these for you. However, some people can be allergic to them. A rash is the last thing you'd want to deal with after giving birth. Reusable pads are also better for the environment and will save you money over time.
Comfort is key. You may see celebrities in white dresses or jeans going home from the hospital, but I opt for comfy clothes. This Barefoot dreams lounge set is a heavenly addition to your hospital bag.
Baby Must-Haves
This is where people tend to way overpack. If this will be your first birth, just know that your beautiful baby will spend most of their time swaddled in a blanket. You really don't need much.
Swaddling blanket: You may have a specific swaddle blanket picked out for that first baby picture. This set comes with a matching hat and name tag. Too cute! Copper Pearl makes the softest swaddles.
Nose Frida: some may find this gross, but I know I'll be packing a nose Frida in my hospital bag. This contraption is so helpful to get out extra fluid and drainage from your baby's nose.
Pacifier: Packing pacifiers in your hospital bag can be a controversial topic. If you are pro-pacifier, it may be a good idea to bring one with you.
Items that the hospital will (typically) provide for you
Do not panic if you forget an item that you think is super important. Most likely, the hospital will have anything that you actually need. They will also supply you with some super crucial supplies. Word of advice? Take them. And ask for extras. Labor and delivery nurses are angels, and I'm sure they will be more than happy to send you home with additional supplies. You will want them later, mama.
Breast pump

Towels

Pads

Postpartum mesh underwear

Bottles

Nipple shield

Nipple cream

Diapers and wipes

Baby hat

Baby blanket

Newborn hair brush

Formula

Pacifiers

Diaper rash cream
If you are preparing for the birth of your baby, congratulations! Good luck with your hospital bag packing and I wish you a safe delivery. Share pictures of your newborn with me on Instagram @mommydiary! For some tips for labor and delivery from a third (almost fourth) time mommy, read this post. It will help you feel a little more prepared for the unknown!
This post contains affiliate links that help to support the blog at no additional cost to you. Thank you for your support that allows me to continue to create valuable content for families all around the world.