Looking for festive and timeless winter baby shower ideas for a girl? This post is for you!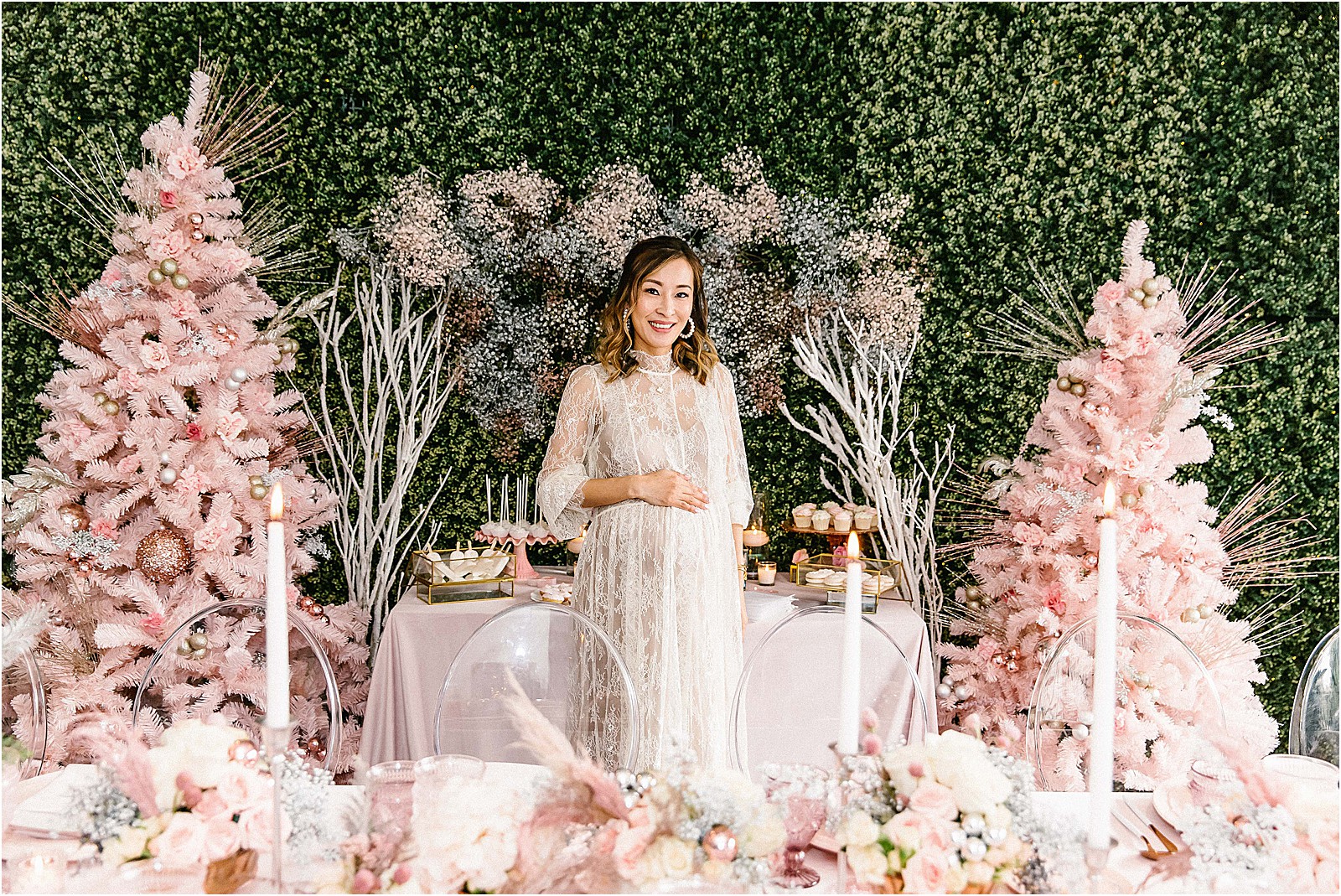 I always dreamed of hosting a pretty & pink all-ladies event for my close friends and family. Event styling is my jam and one of my favorite creative process besides blogging. Yes it's a lot of work but I love seeing guests feel happy and special at a memorable event I host and seeing my vision come to life brings me great joy!
I have a variety of ideas I want to execute for special occasions & milestones and my 4th baby's baby shower was the perfect opportunity to make my vision come to life. I was hesitant to ask others to plan a baby shower for me since I'm on my fourth child and I felt I had already been given so much over the years. The solution? A baby shower hosted by me for the baby girl and my intimate group of friends where I give back instead of receiving.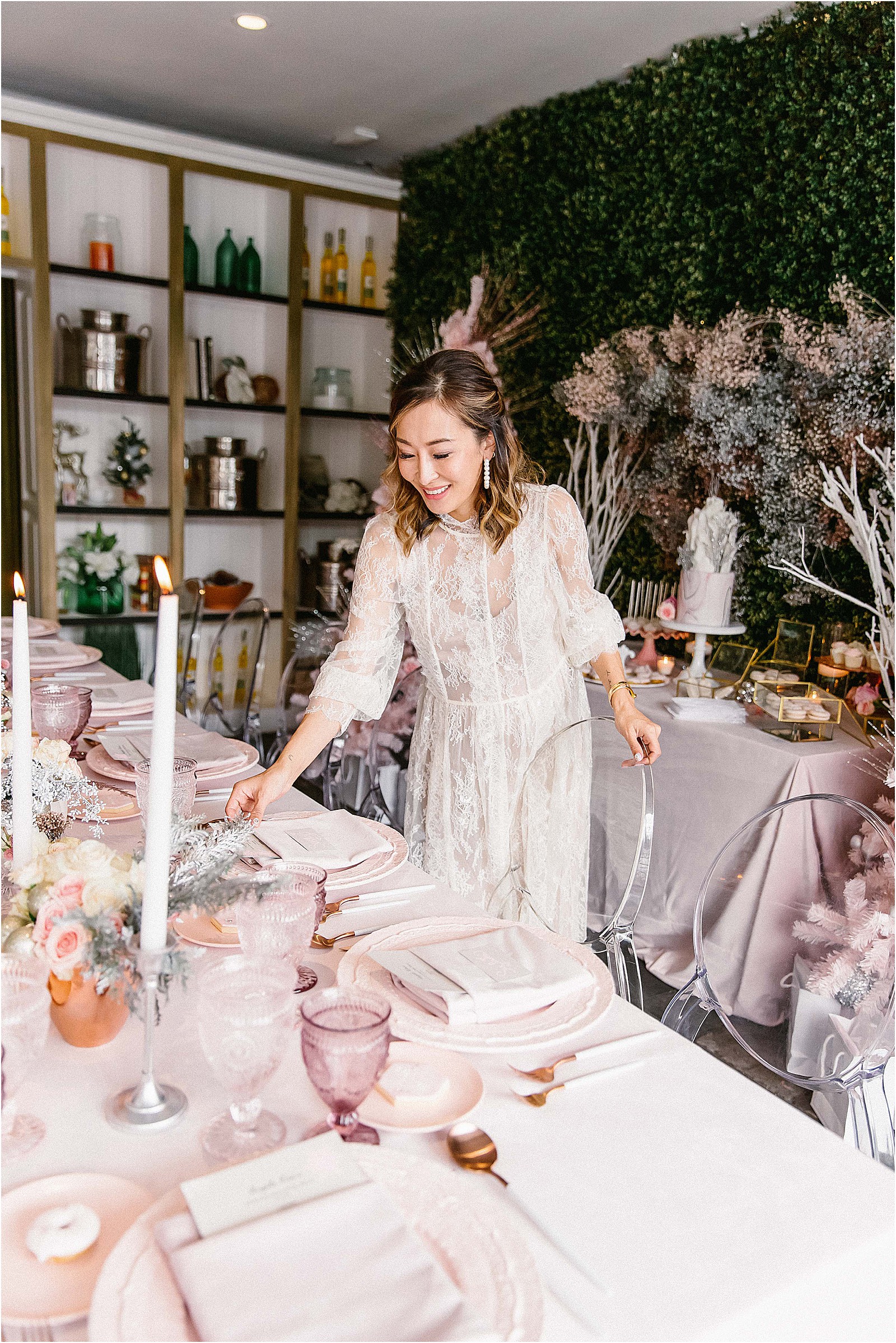 Theme: Pink Winter Wonderland
Since the baby is due in January and the baby shower takes place in December, I came up with the theme Pink Winter Wonderland. Can it get more magical and girly than this? This theme was so fun to work with especially because it was an all-ladies event during Christmas time.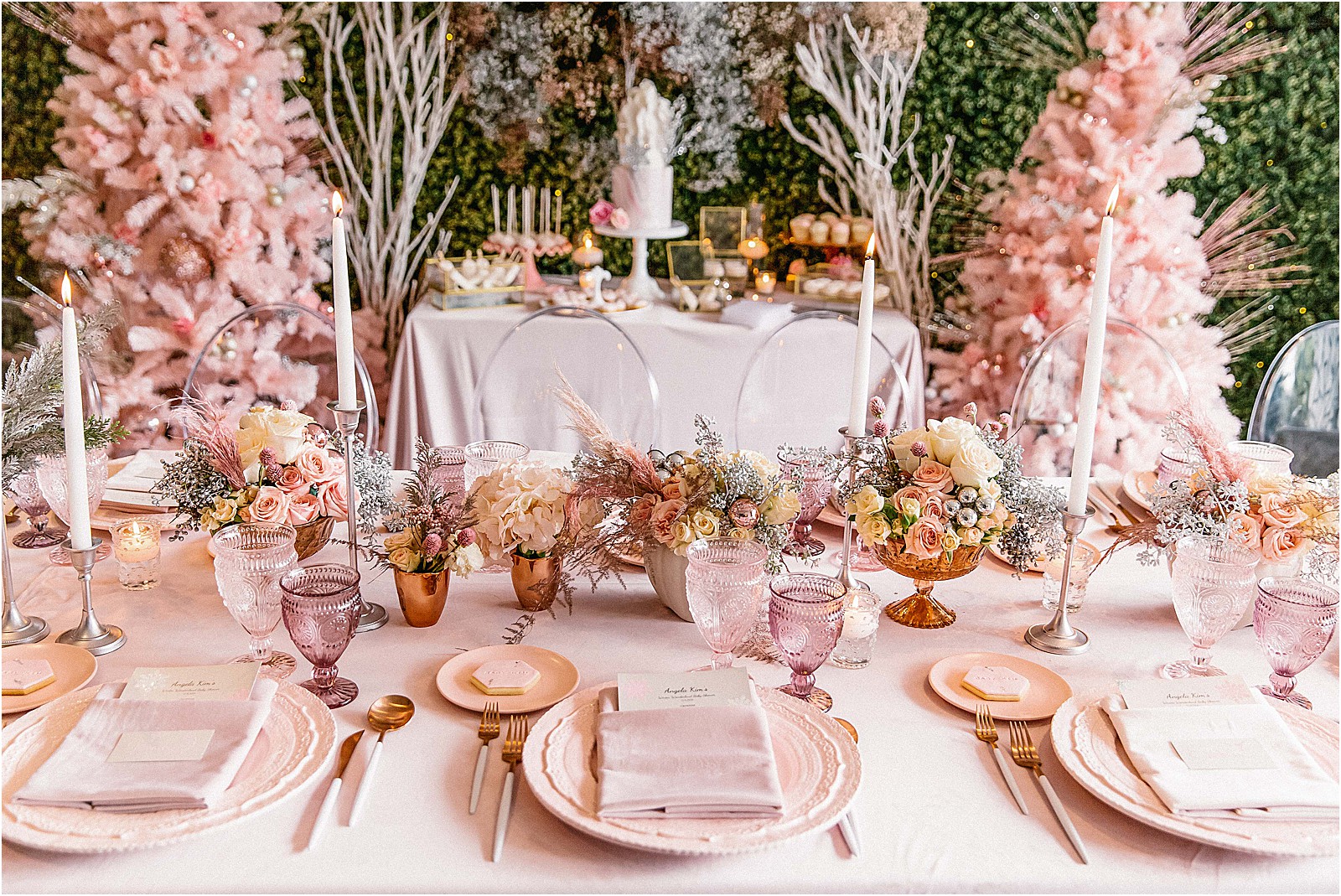 Colors
Light pink, blush, mauve, silver and some gold/rose gold
Venue: Fig and Olive, LA
It's always hardest to choose the venue because there are so many factors to consider such as food, location, flexibility, room and light. After going back and forth for weeks, we finally decided on this Garden Room at Fig and Olive in LA.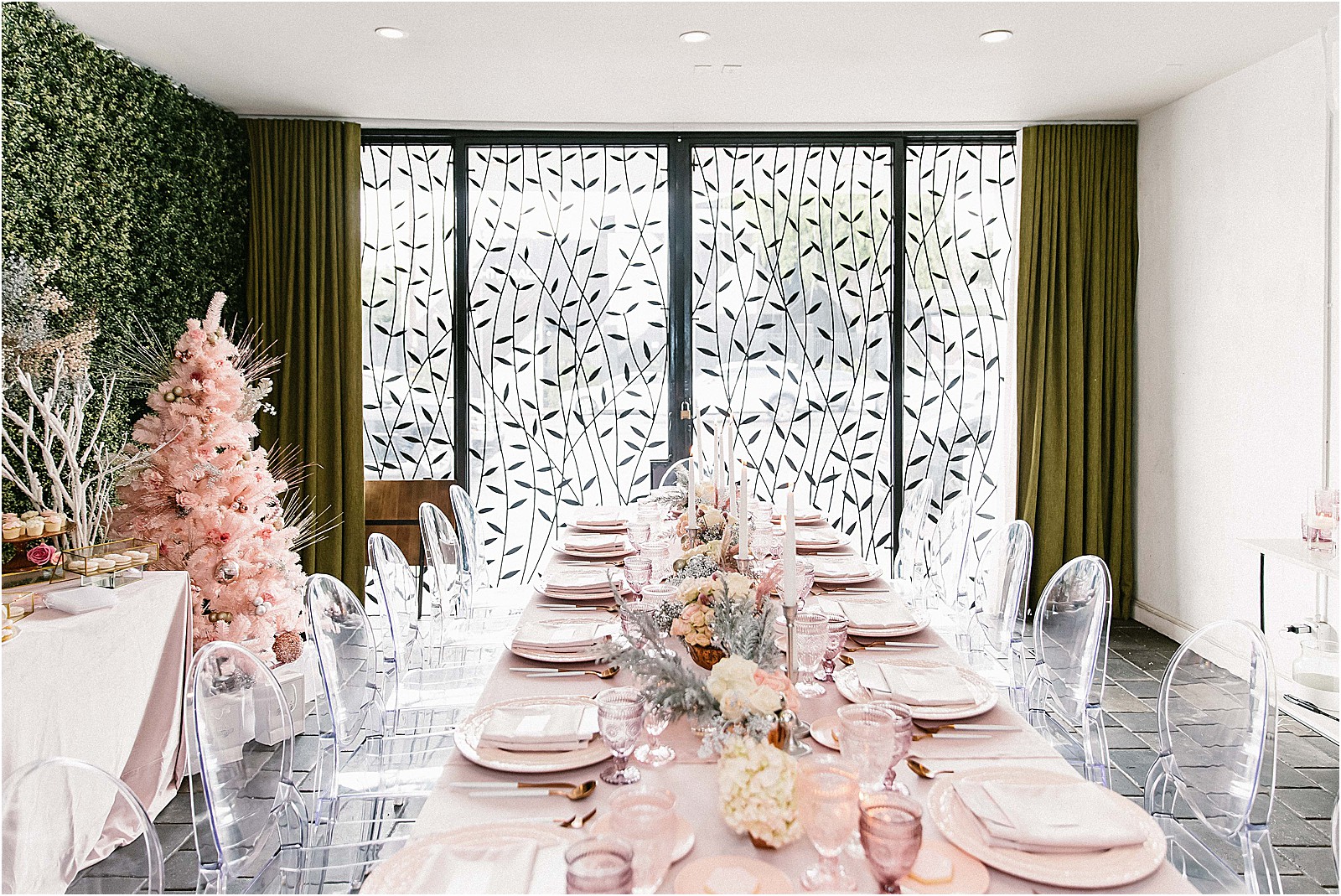 This room is perfect for smaller intimate gatherings with plenty of natural light. Light was important for me for this event because I envisioned a bright and airy space contrary to the darker and masculine hip-hop vibes from my husband's 90's hip hop birthday party.
*Tip: When choosing an event space, be sure to pay attention to light in the space because it makes all the difference in the overall vibe and photos.
One side is entirely covered in hedgewall so this posed a design challenge. How can we soften the green and make it fit the Winter Wonderland theme? My planner Anita from Anita Gohari Events decided to soften the green with spray painted baby breath and two pink Christmas trees, which created an enchanted winter forest look.
Tablescape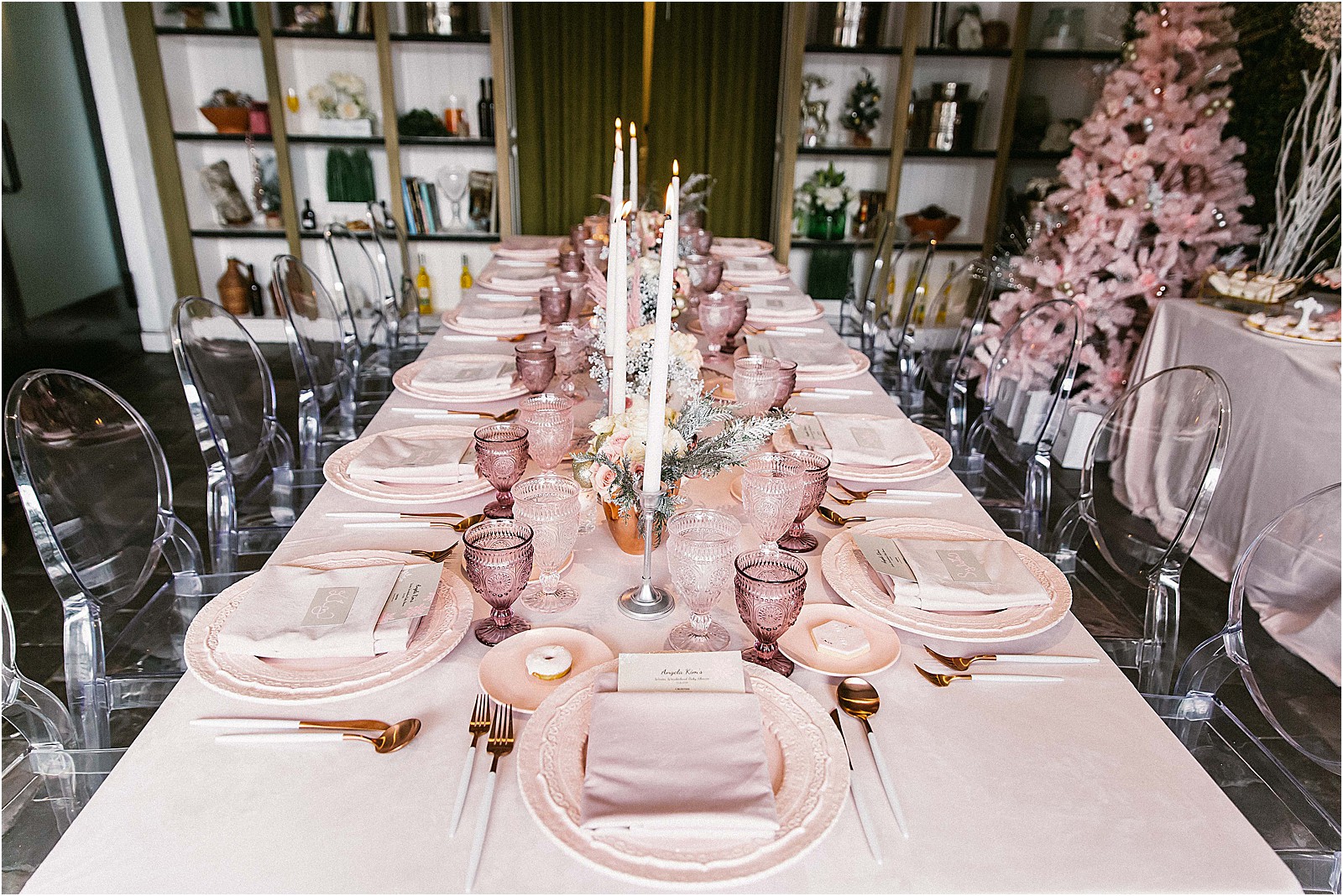 When it comes to designing a party, no detail is too small. From velvet linens, napkins, pink florals to ghost chairs, Anita did an amazing job pulling together all the details to reflect the theme.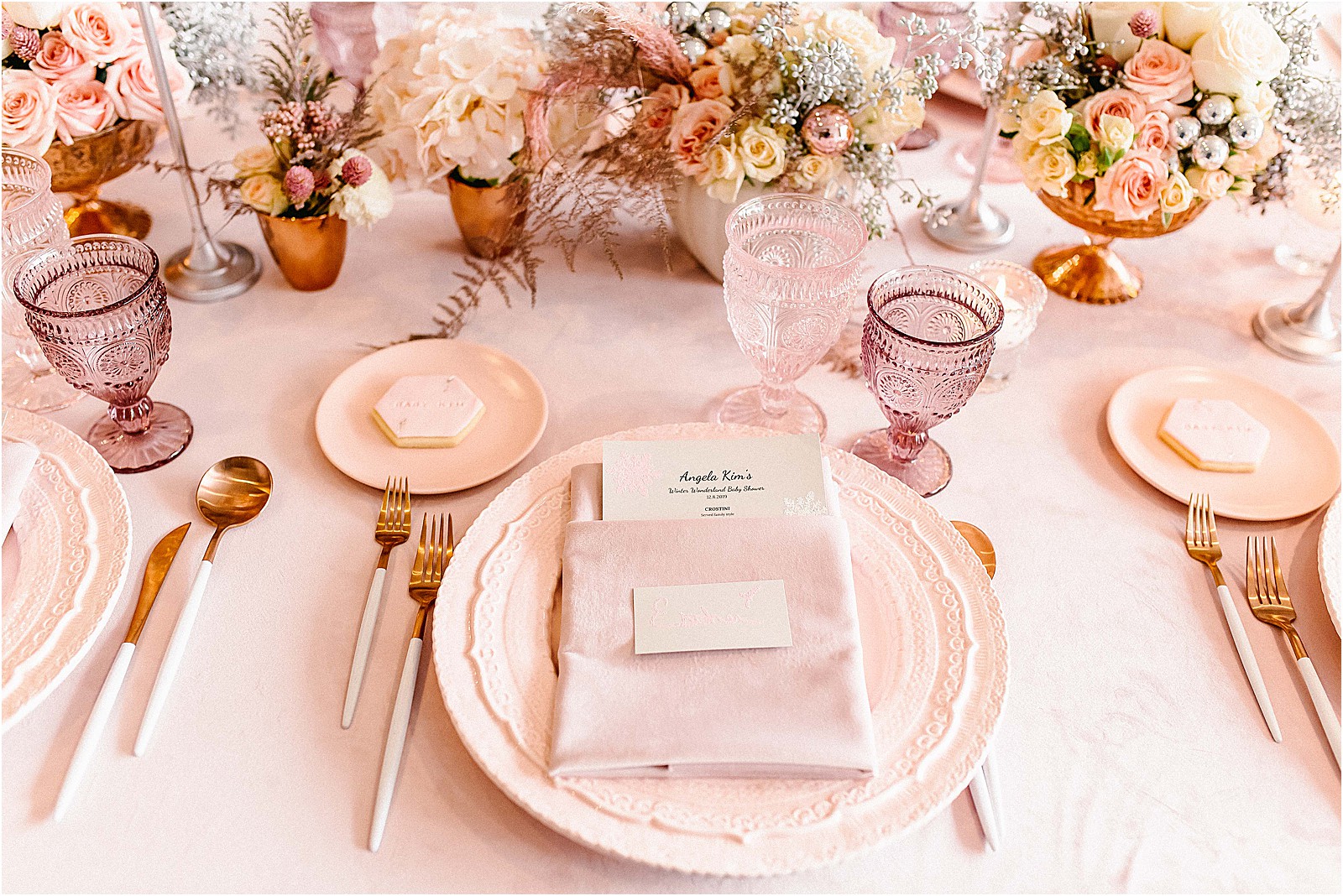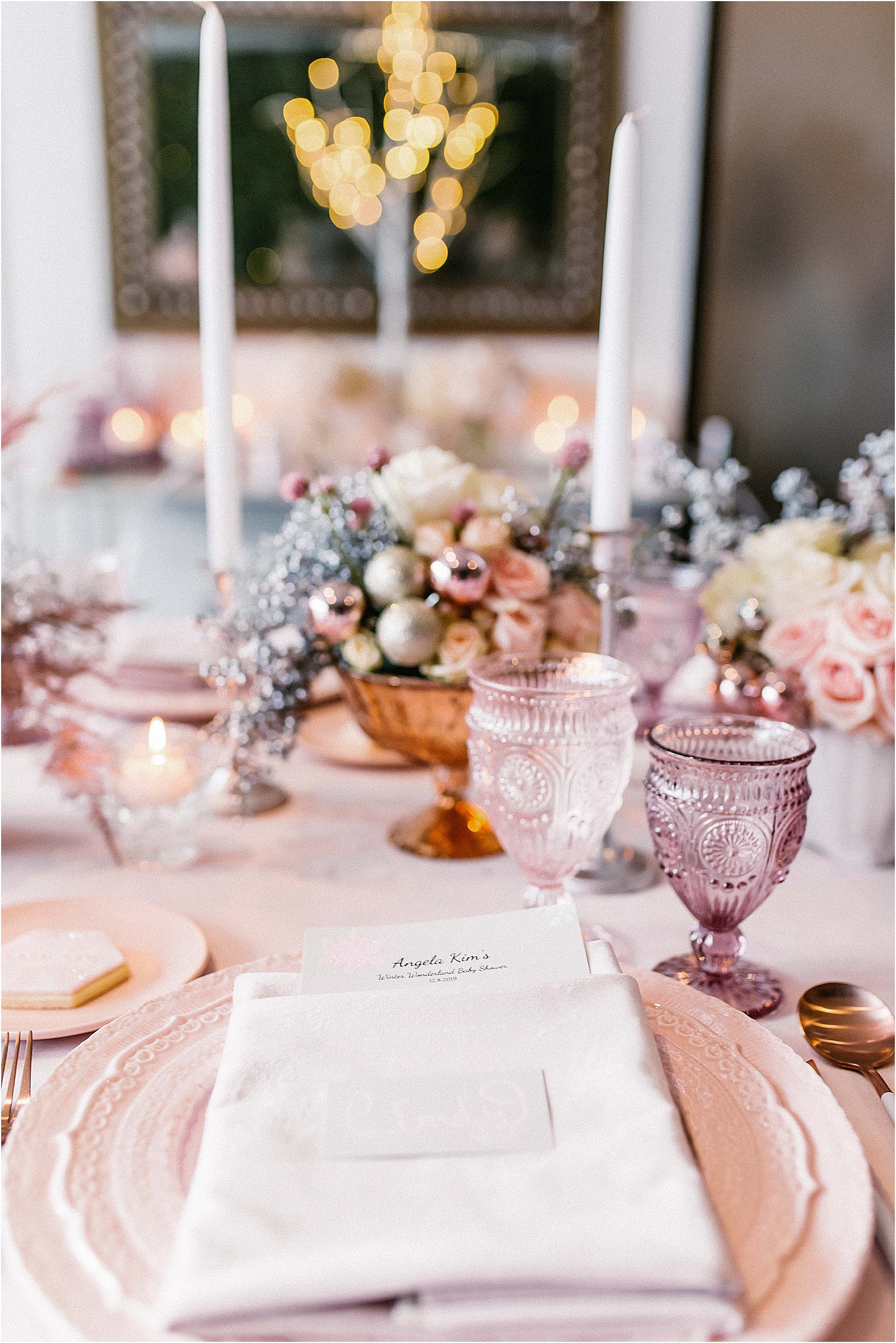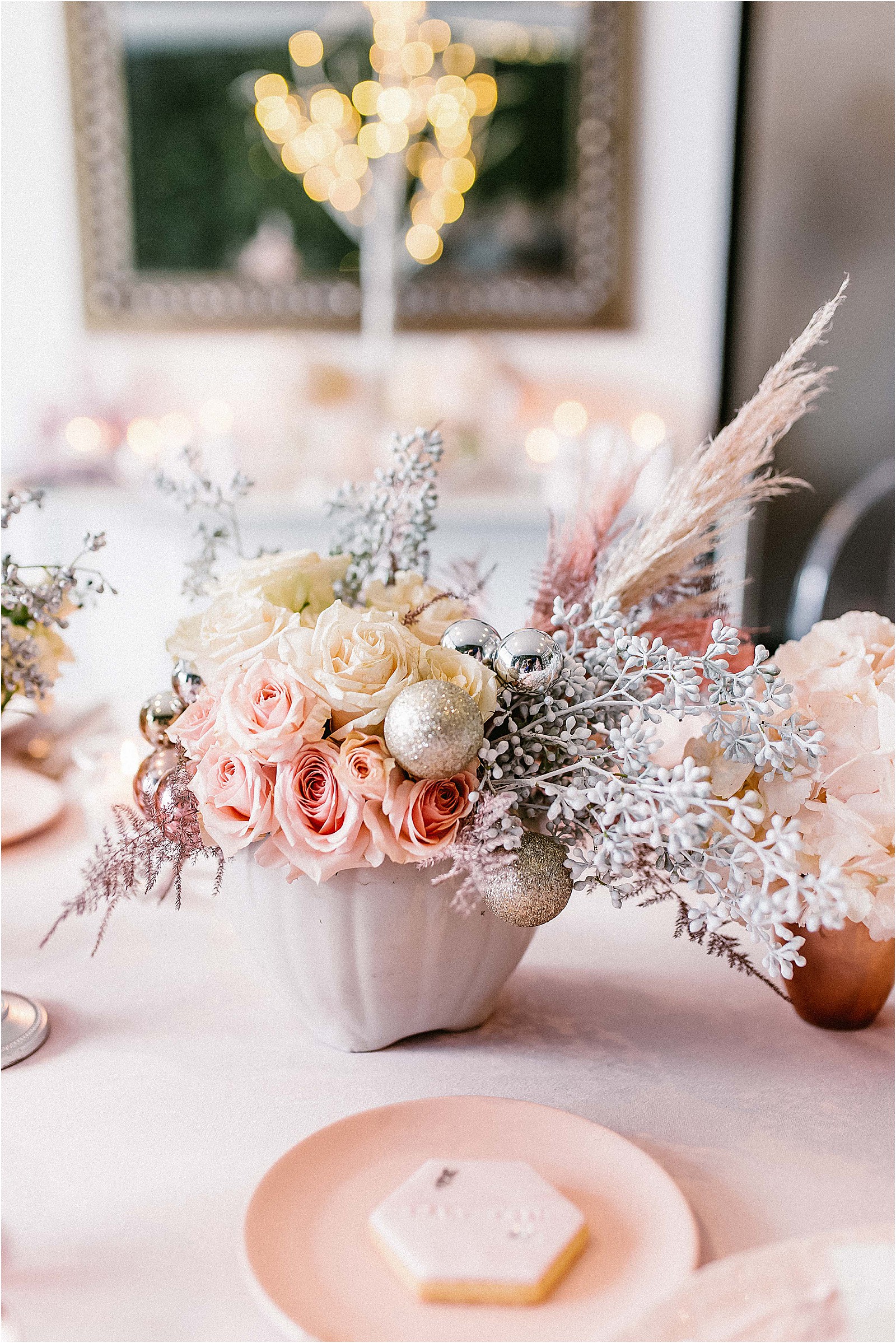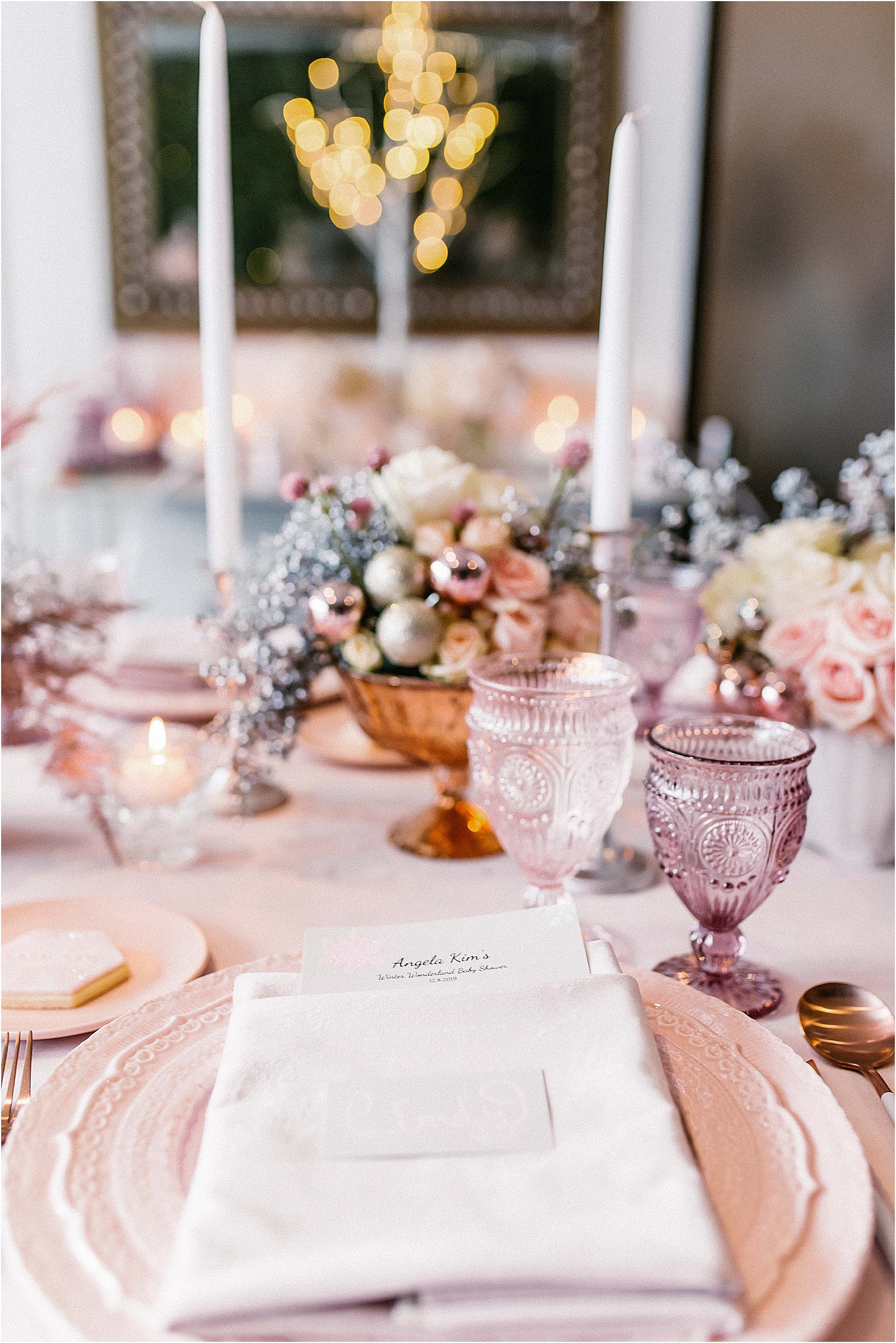 Dessert table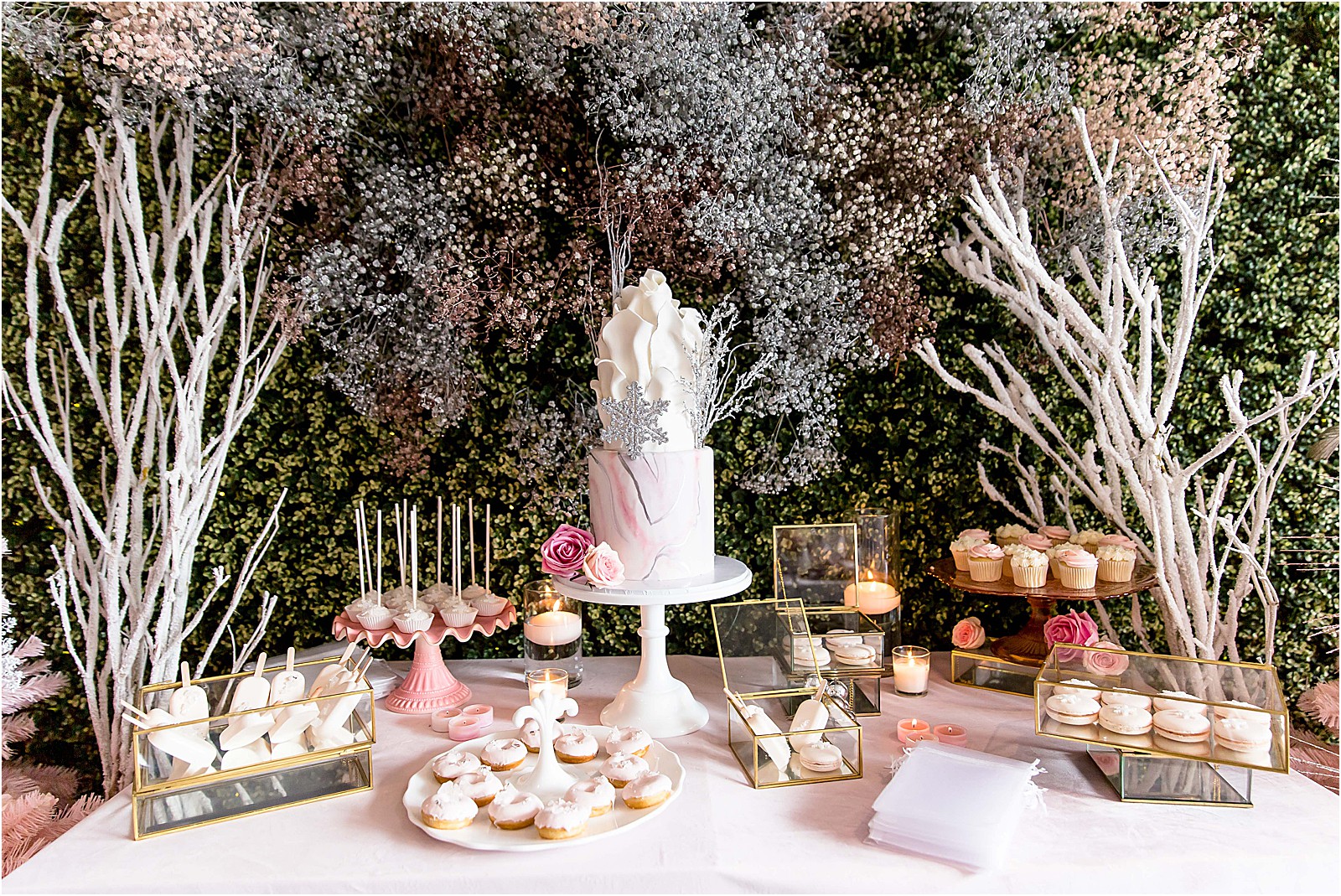 Talented baker Yvonne from Yvonnes Vegan Kitchen created the cake for this event. I love chocolate so she made a chocolate cake with chocolate buttercream. Yvonne created 2 6-inch cakes in the bottom tier and 3-layered 4-inch cake for the top tier. She created white, pink and mauve marbled cake with touches of silver and for the top tier, an abstract white, flowery, snow-capped, cold wind piece. She bedazzled the cake with silvery frosted branches and finished with a silver snowflake to complete the Winter Wonderland look. The cake tasted delicious and look how amazing it came out.
She is a talented vegan cook and baker- be sure to check out her business for your next event!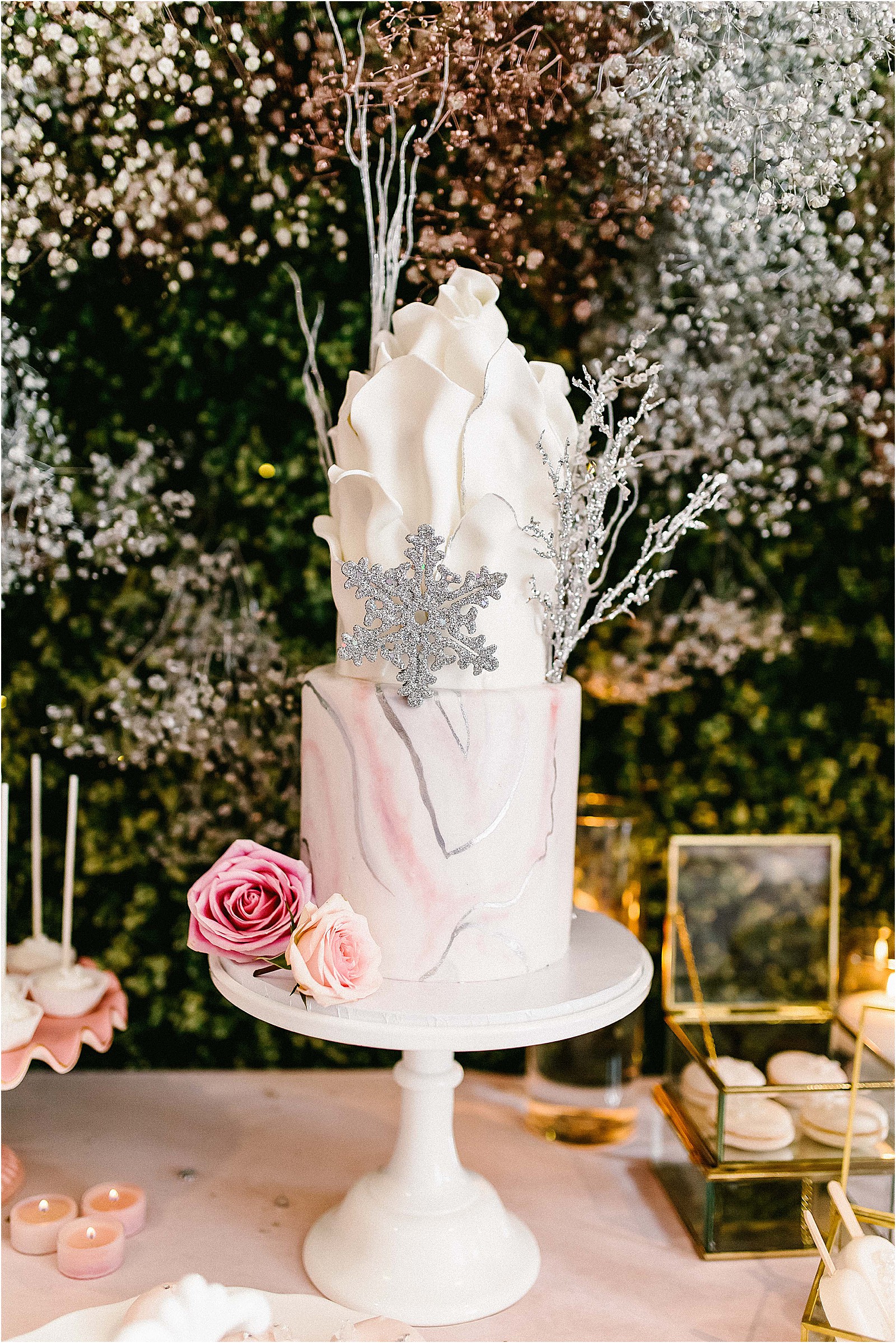 Desserts by Sweetleemade
All other desserts were created by Sweetleemade. The dessert table included 13 hexagon sugar cookies with pink and dark pink marbled with silverleaf, stamped with Baby Kim, light pink paddle bars with rock candy and silver leaf, light pink donuts with rock candy, medium cupcakes with assorted frosting in light pink, silver and white glitter and light pink macarons with snowflakes.
The guests were invited to take them home as part of their party favors!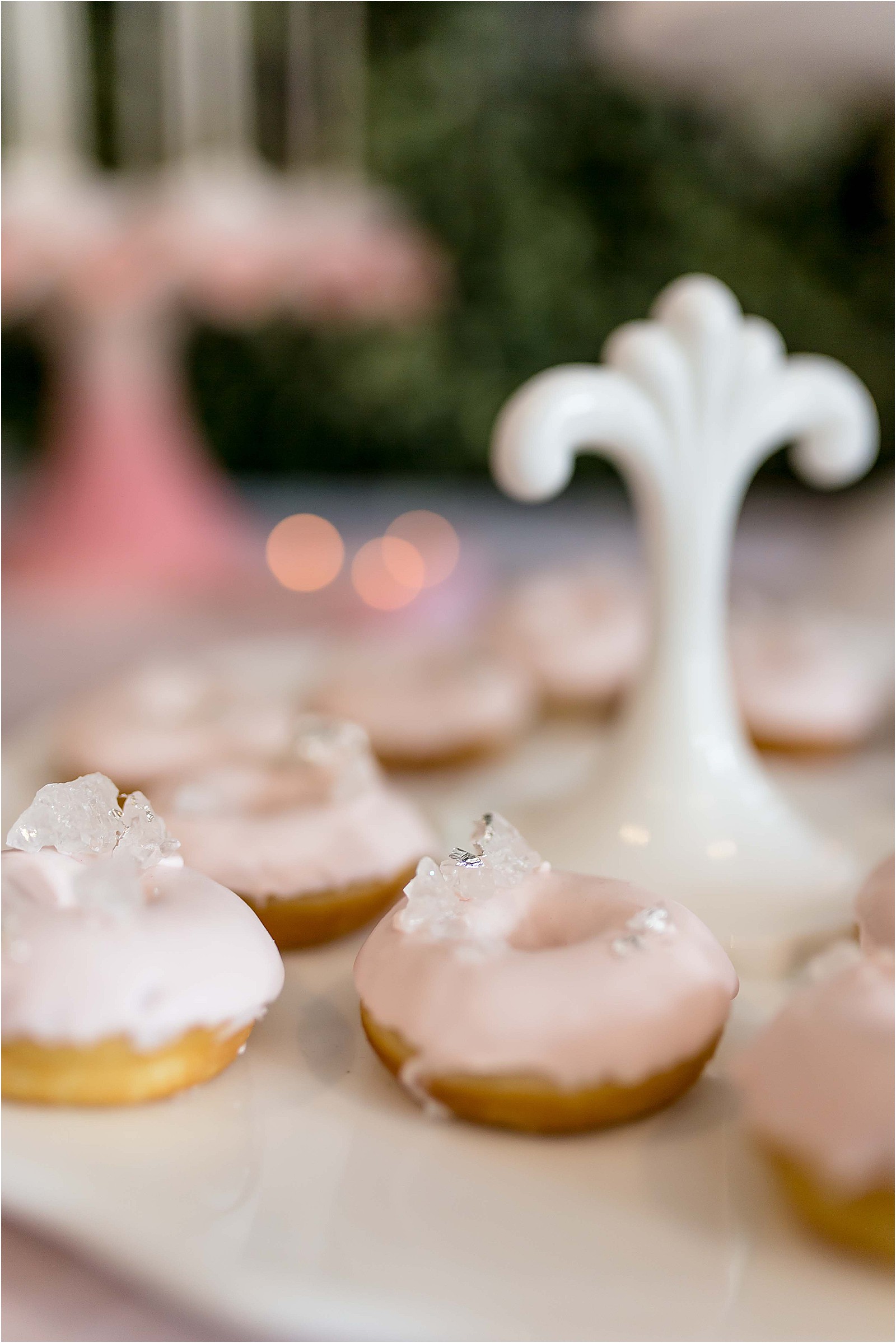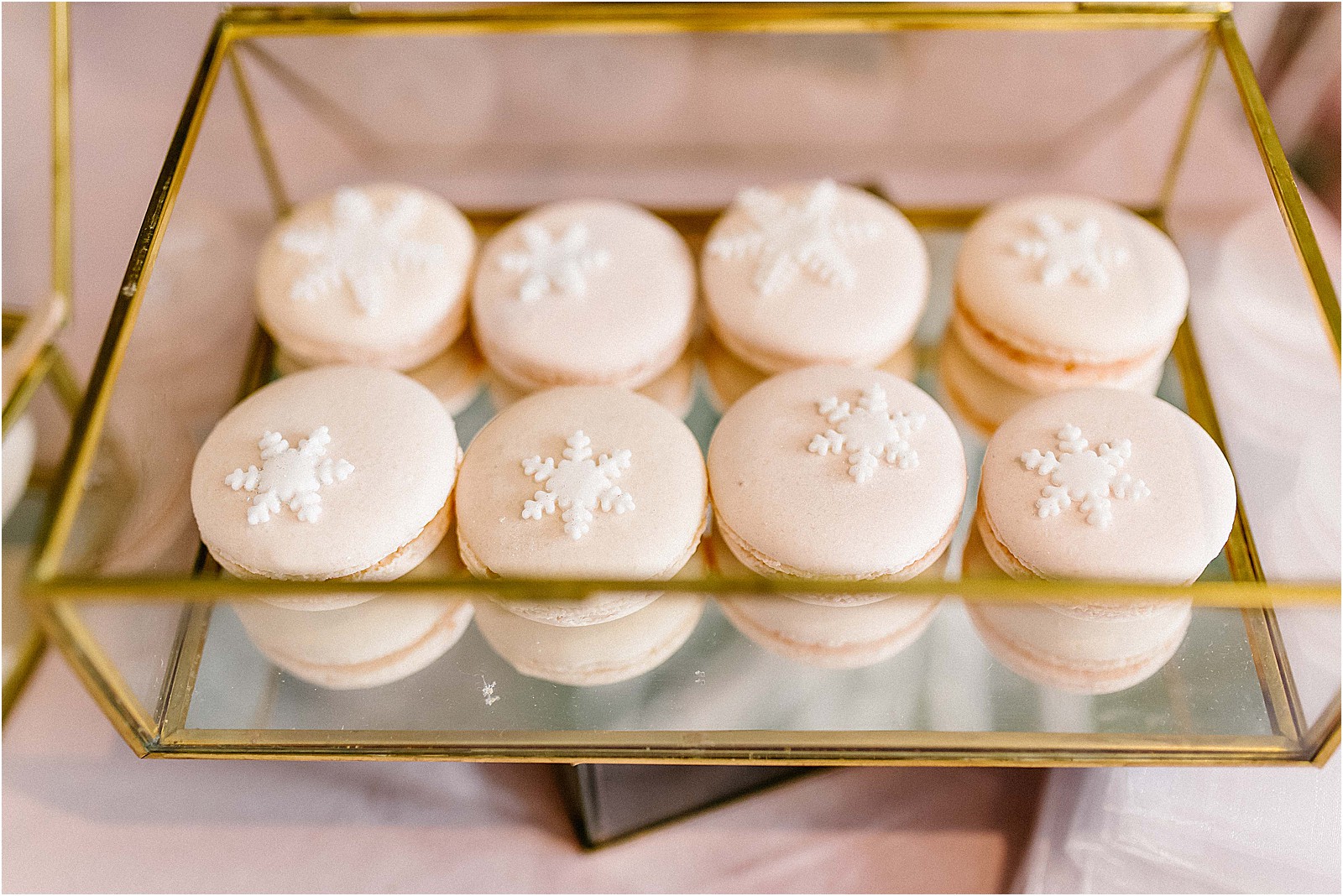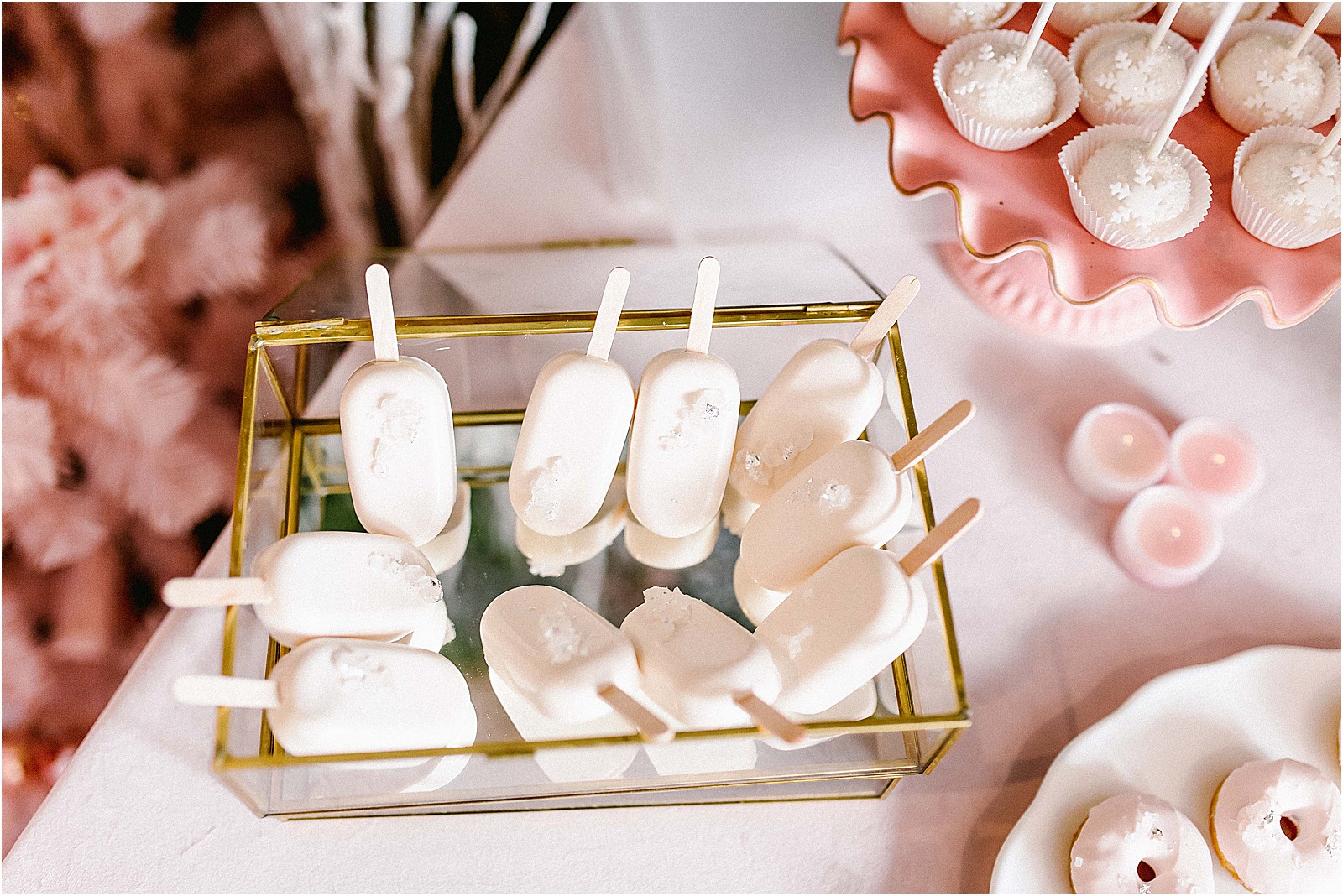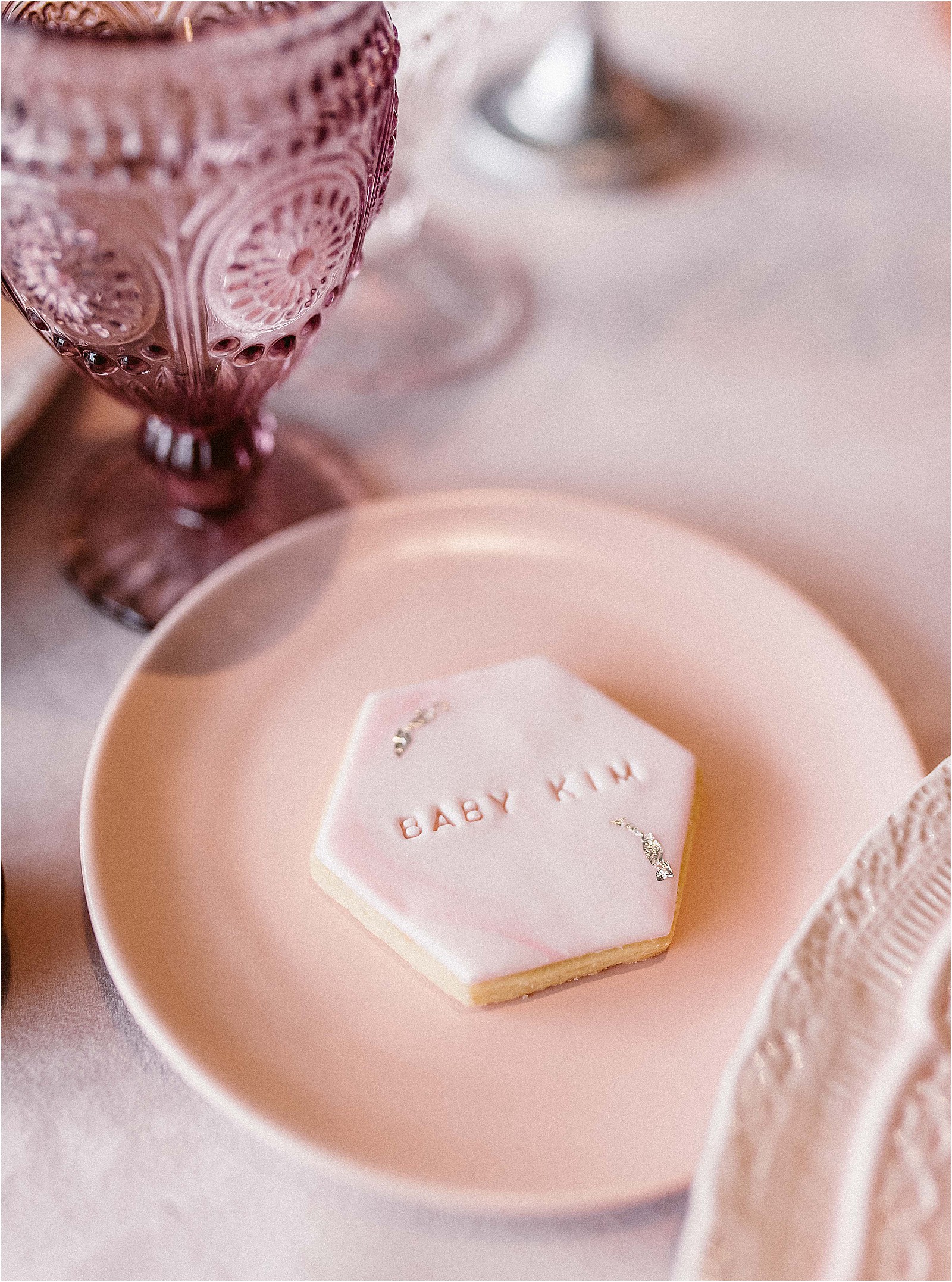 Gifts for Guests
I asked the guests to forgo gifts for the baby and make a donation to AmazonSmile instead. But that doesn't mean the giving ends there! I gifted my guests with two of my favorite beauty products- Petite N Pretty and Cle Cosmetics.
Petite N' Pretty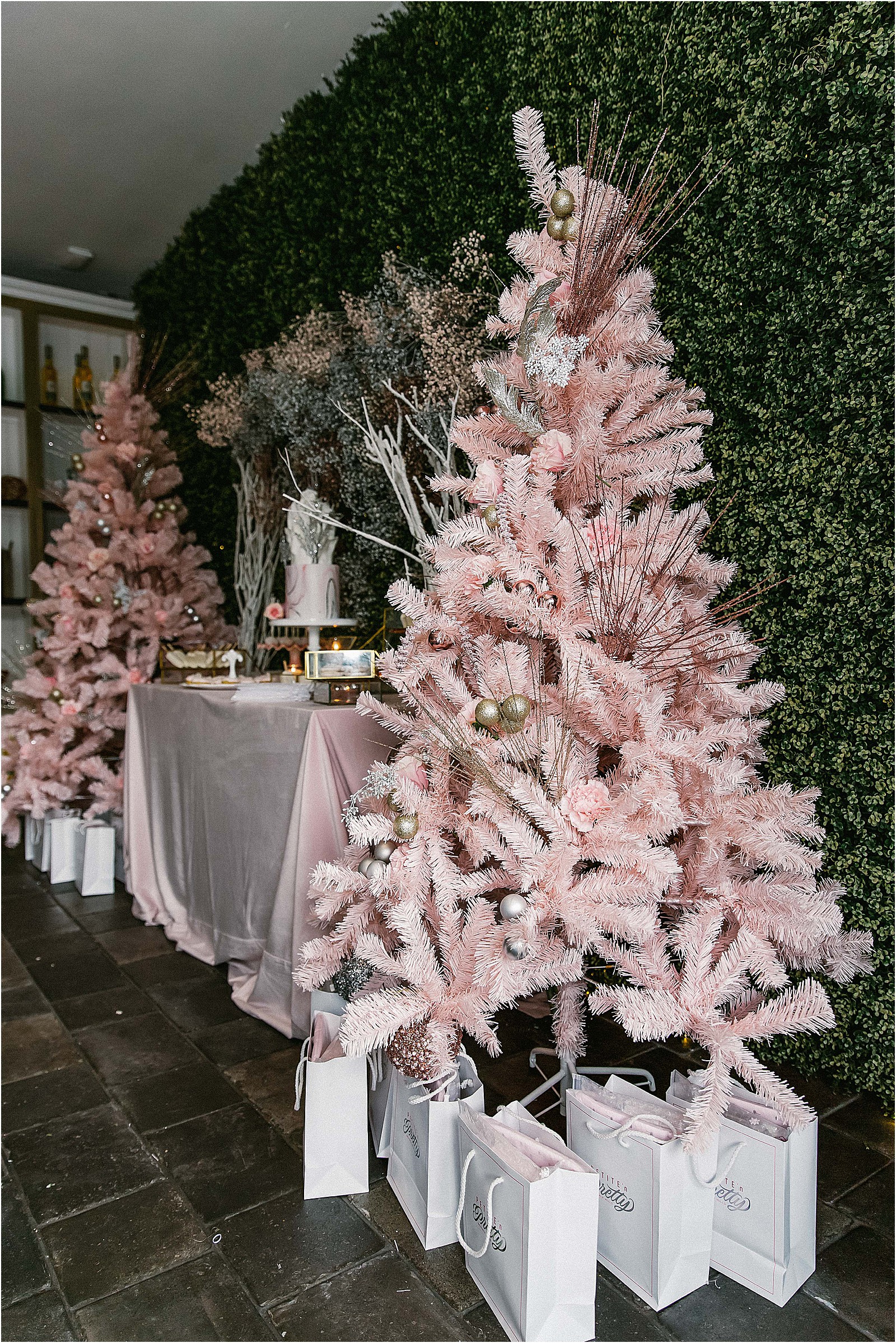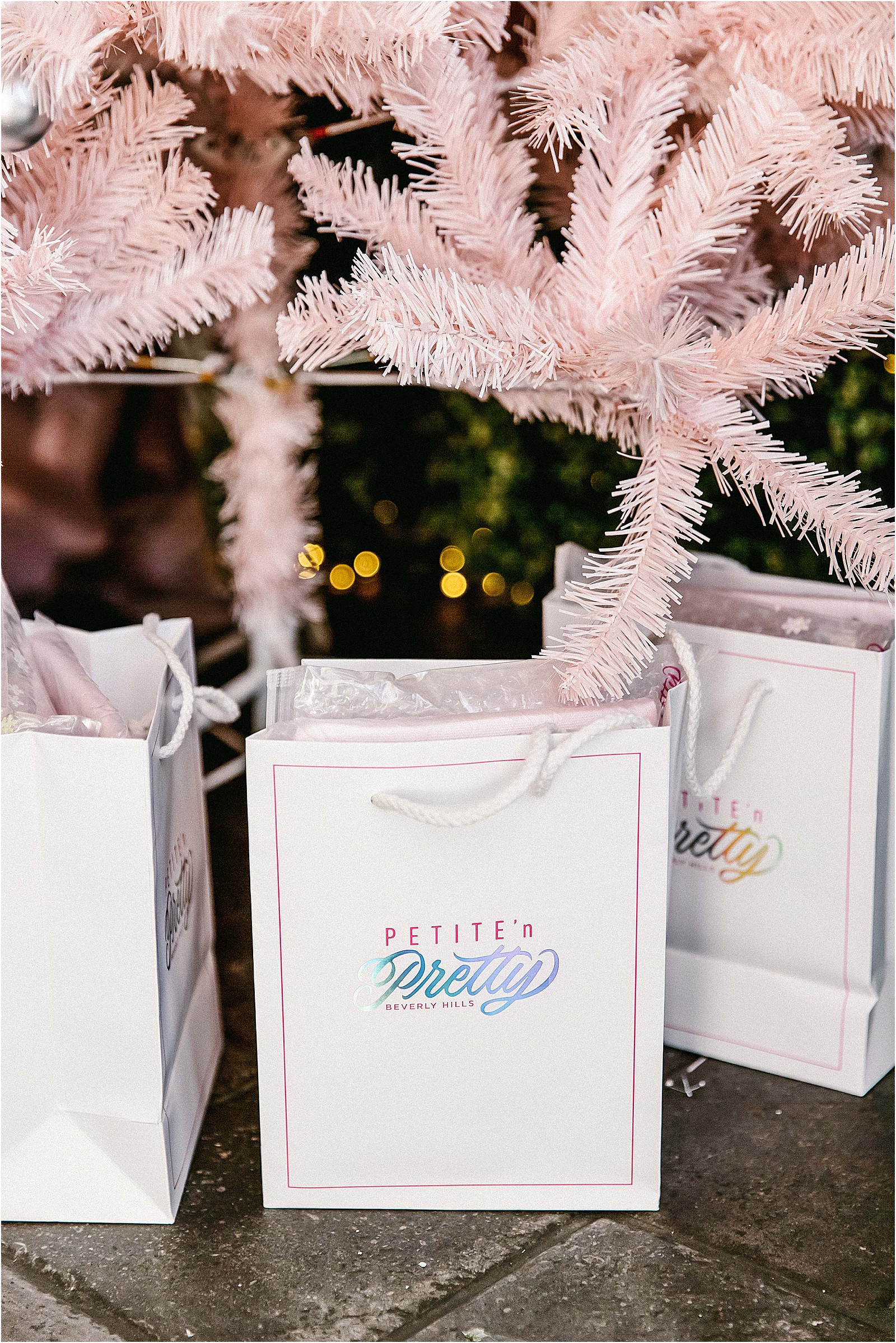 Petite' N Pretty's entire line of make up is created with safe ingredients and age appropriate for the younger generation like tweens and teens. The colors are lighter and girlier- some even glittery! It's one brand I don't mind my daughters wearing and I love using it on myself too. It was the perfect gift bag for a Winter Wonderland baby shower.
Cle Cosmetics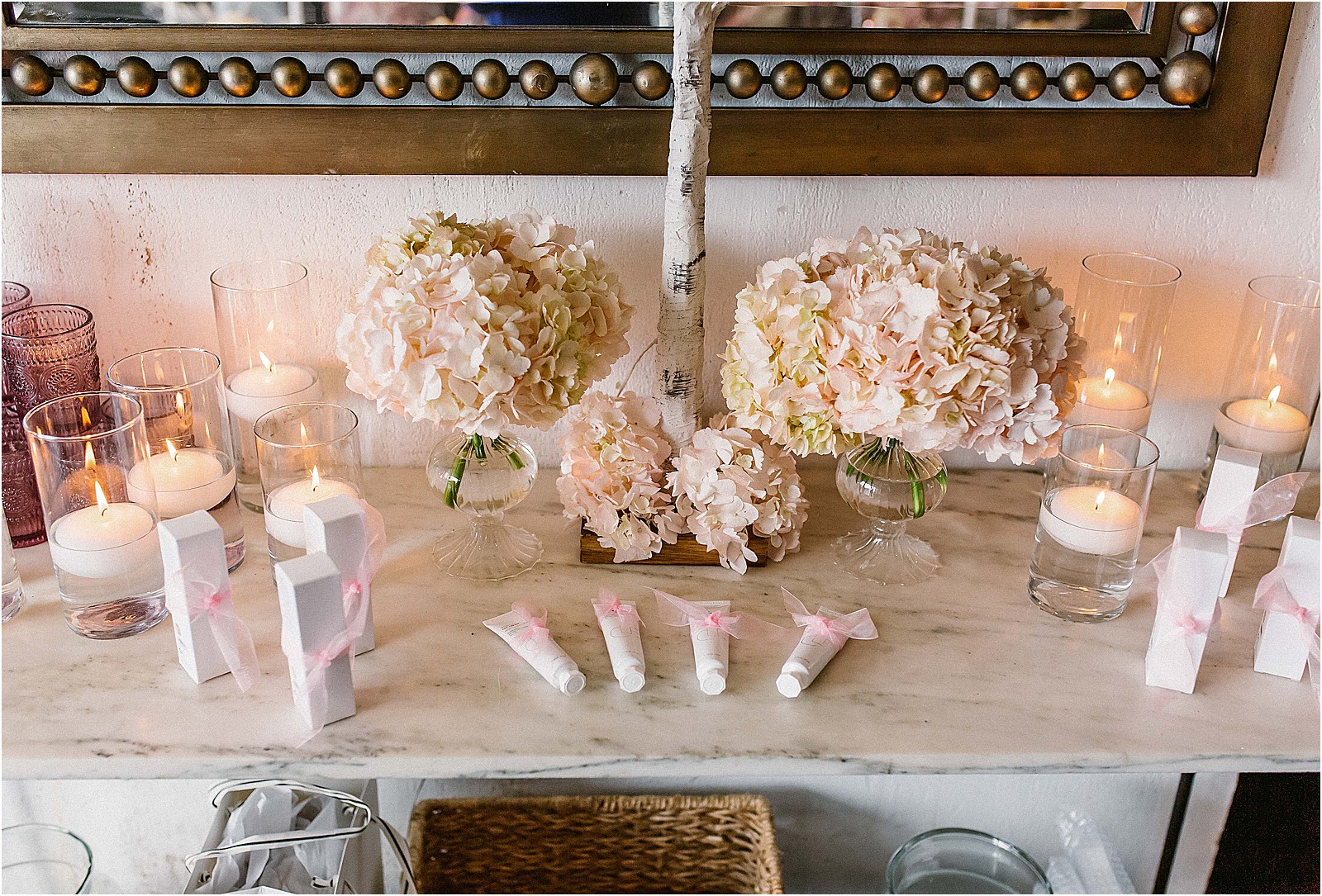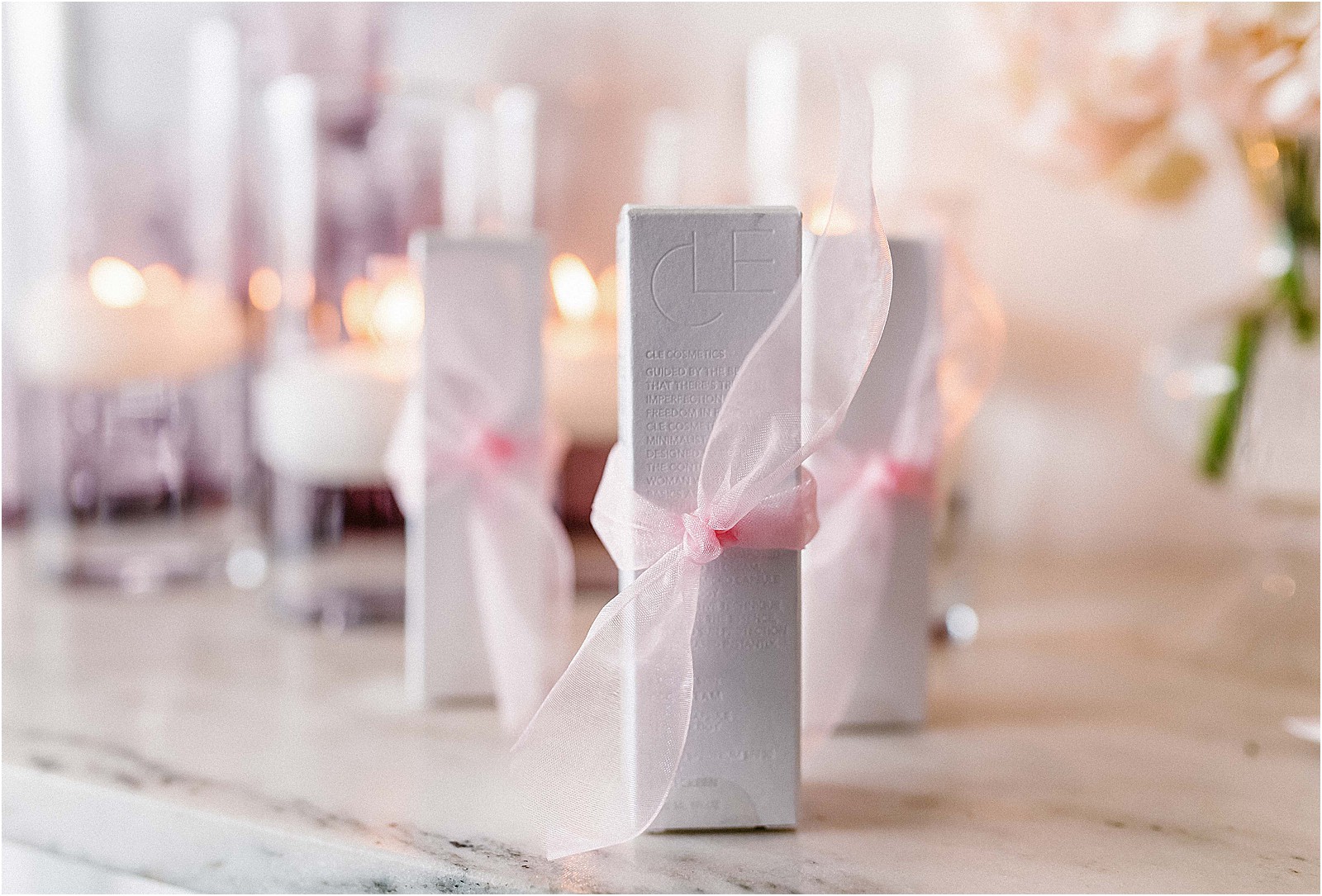 Another favorite beauty product of mine is CCC cream from Cle Cosmetics. CCC cream is also known as Color Control & Change cream, which is a lightweight all-in-one primer and foundation that contains SPF 50 PA+++. It's similar to a tinted BB or CC cream but provides more coverage, and it uses micro capsule technology to blend in with your skin tone. I love its dewy and moisturized finish and I use it daily!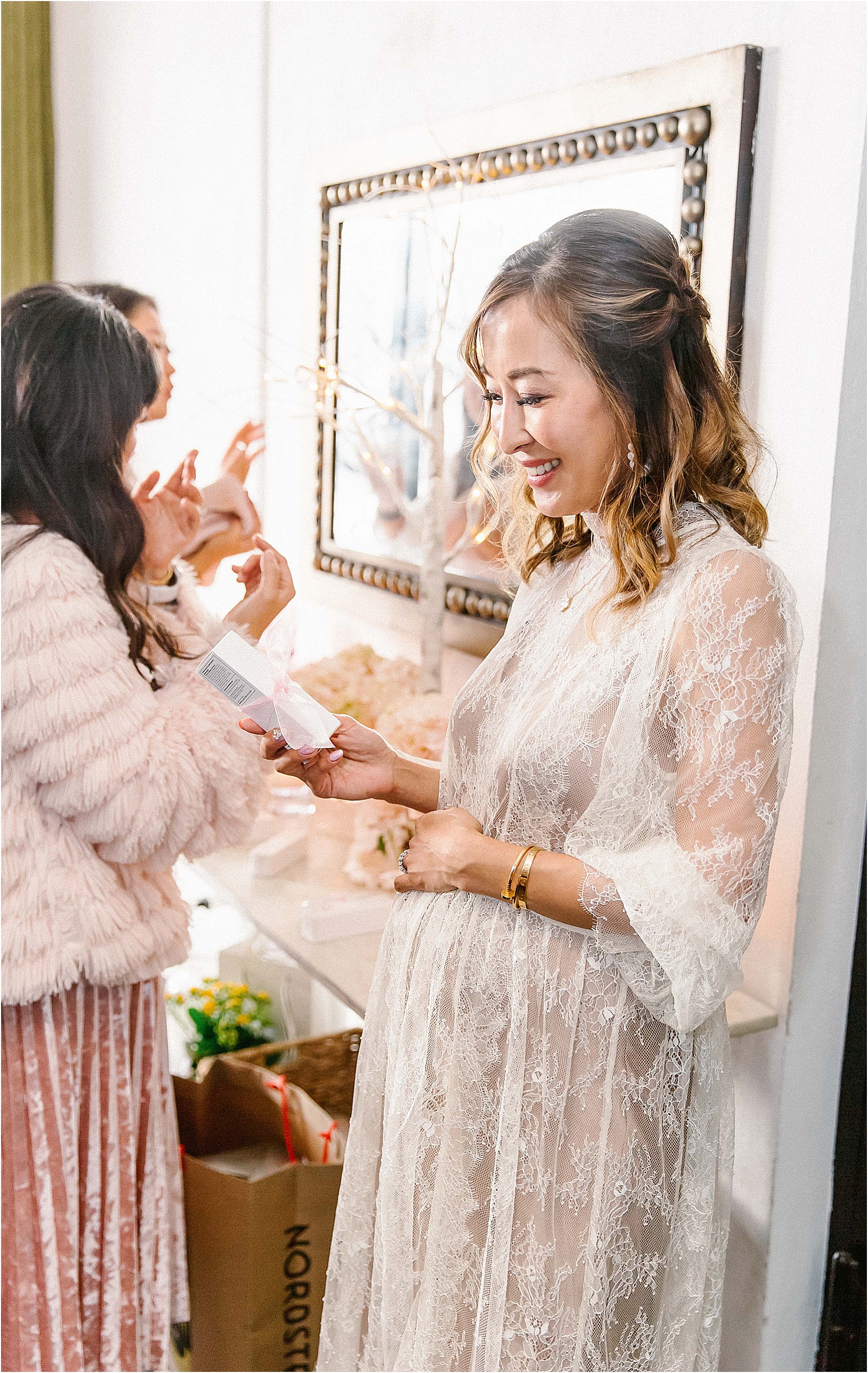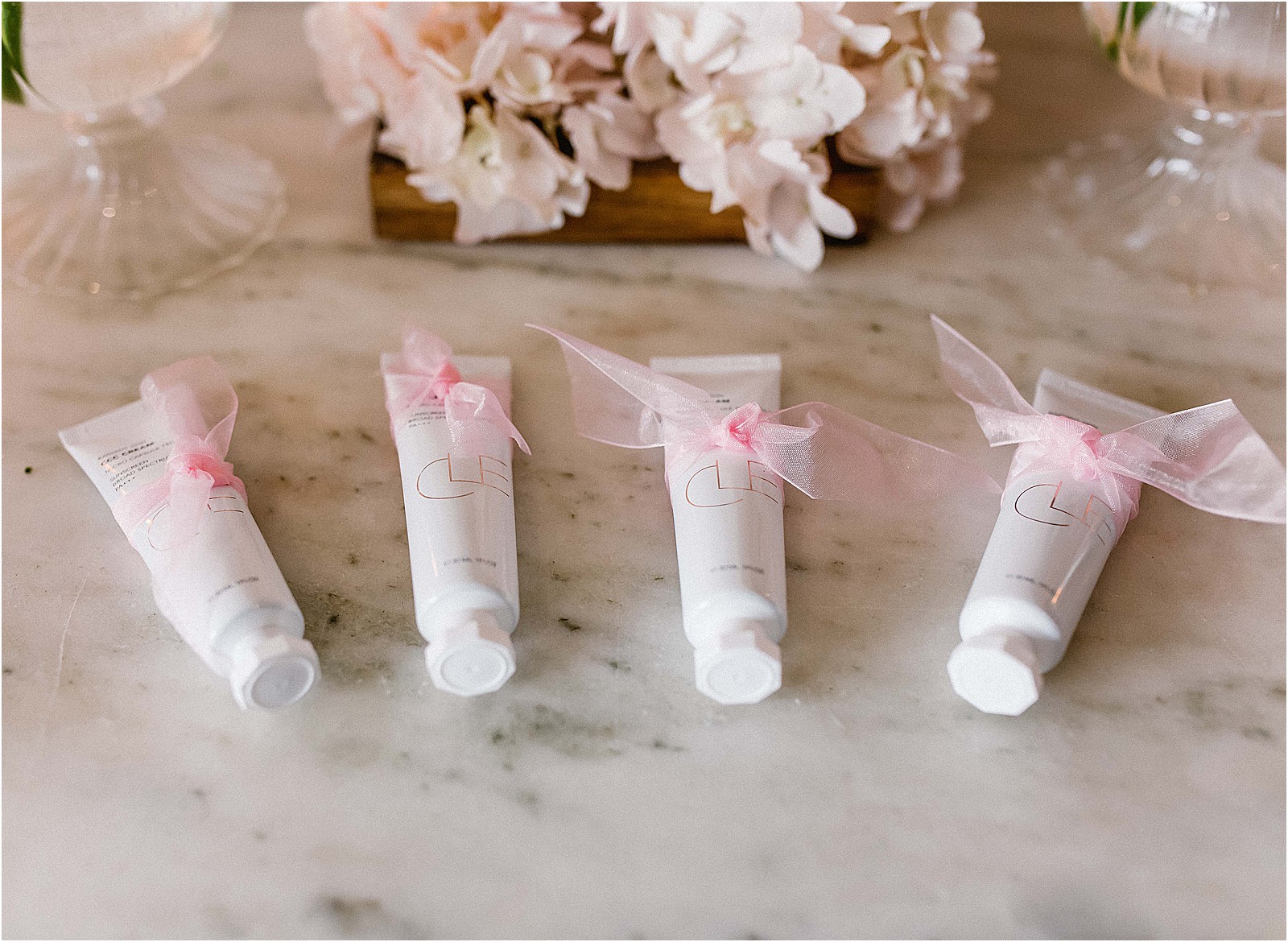 Food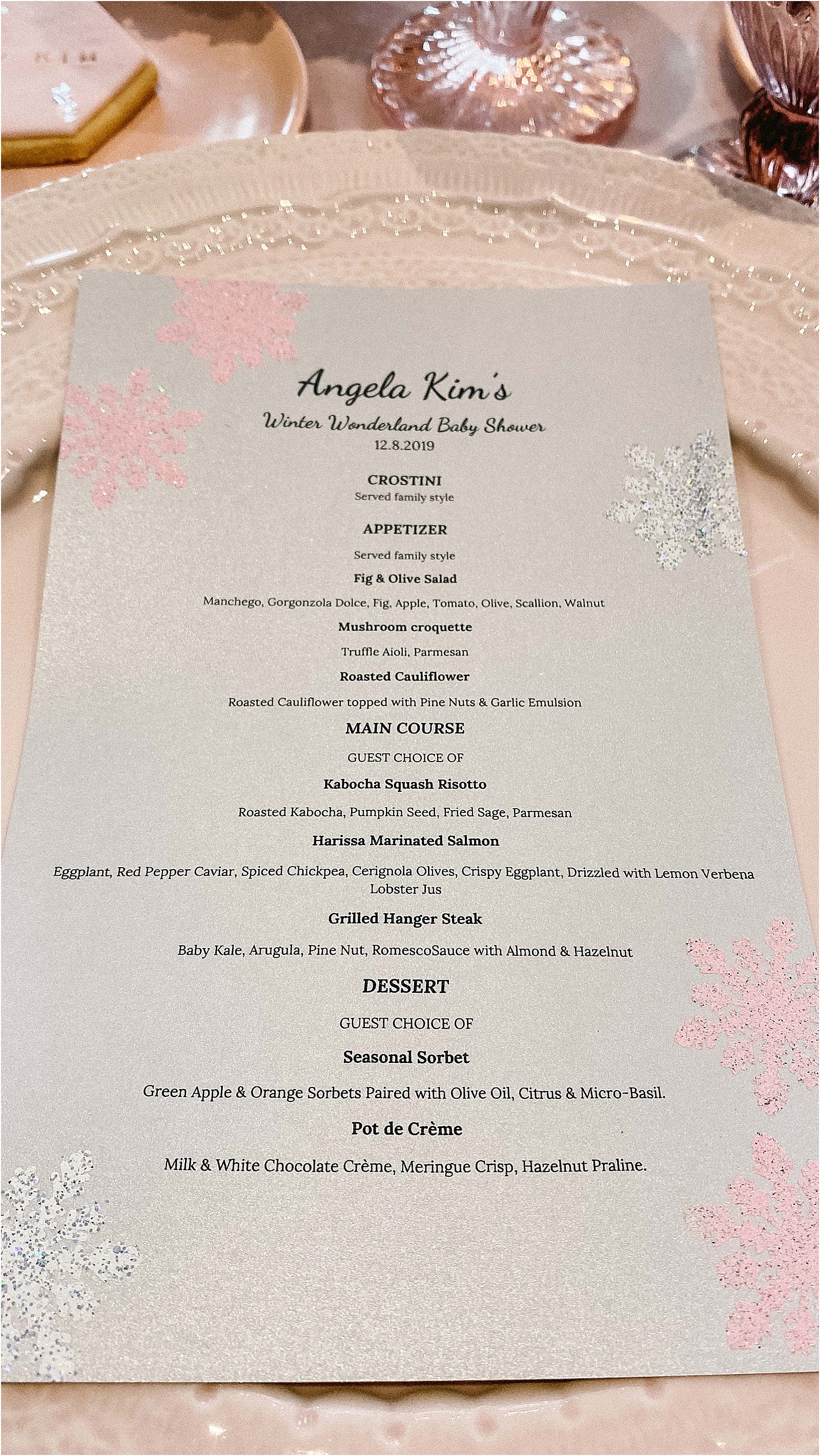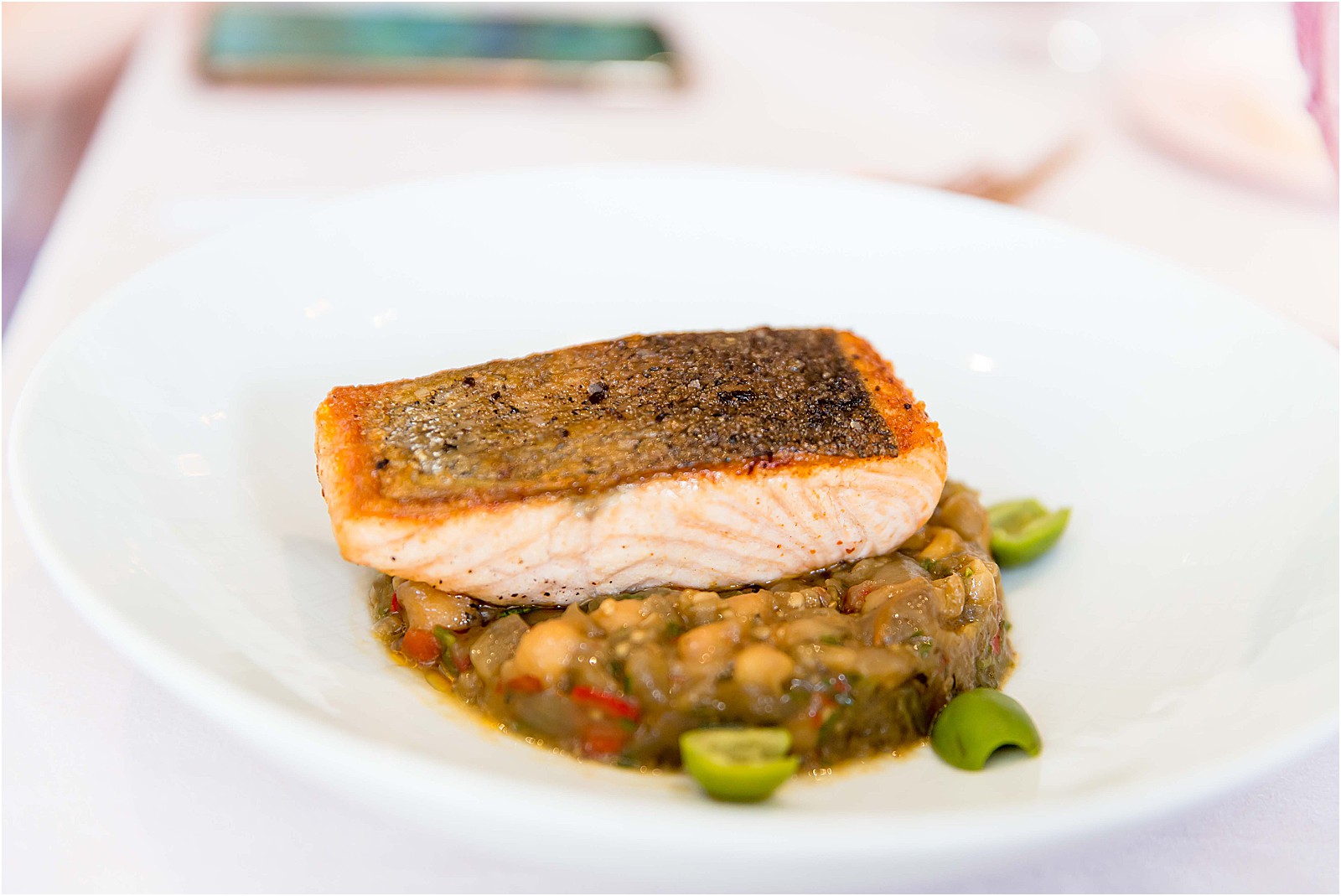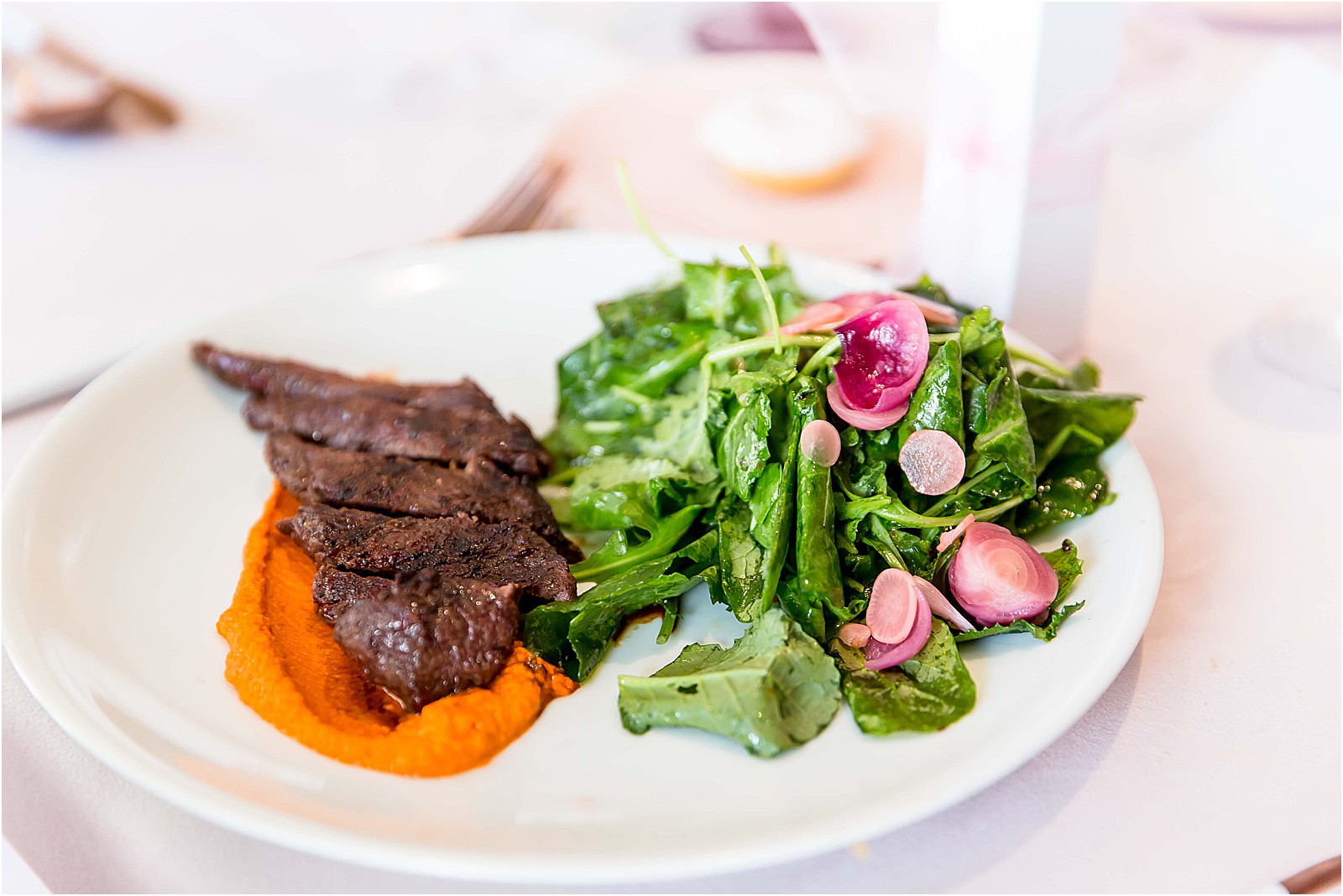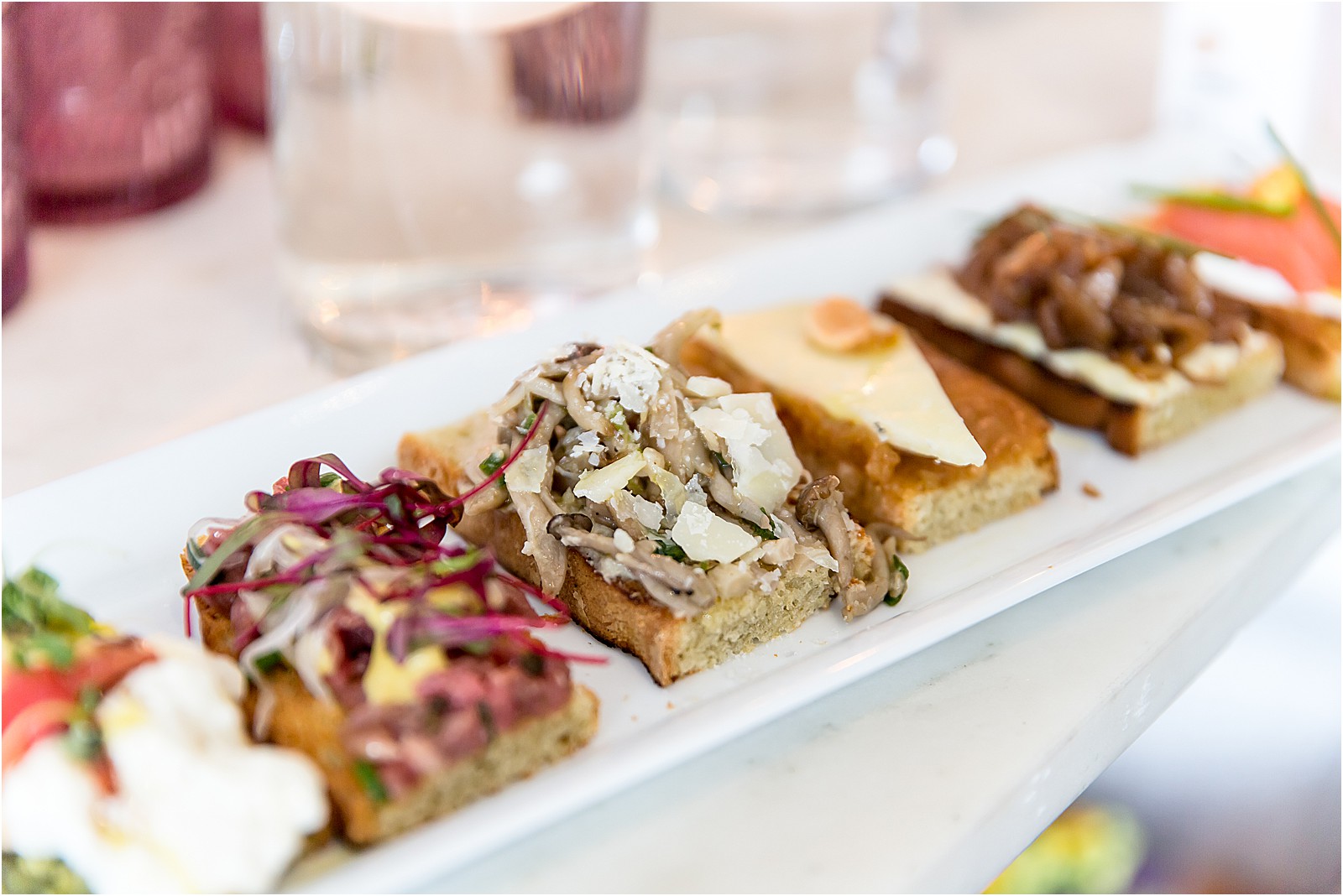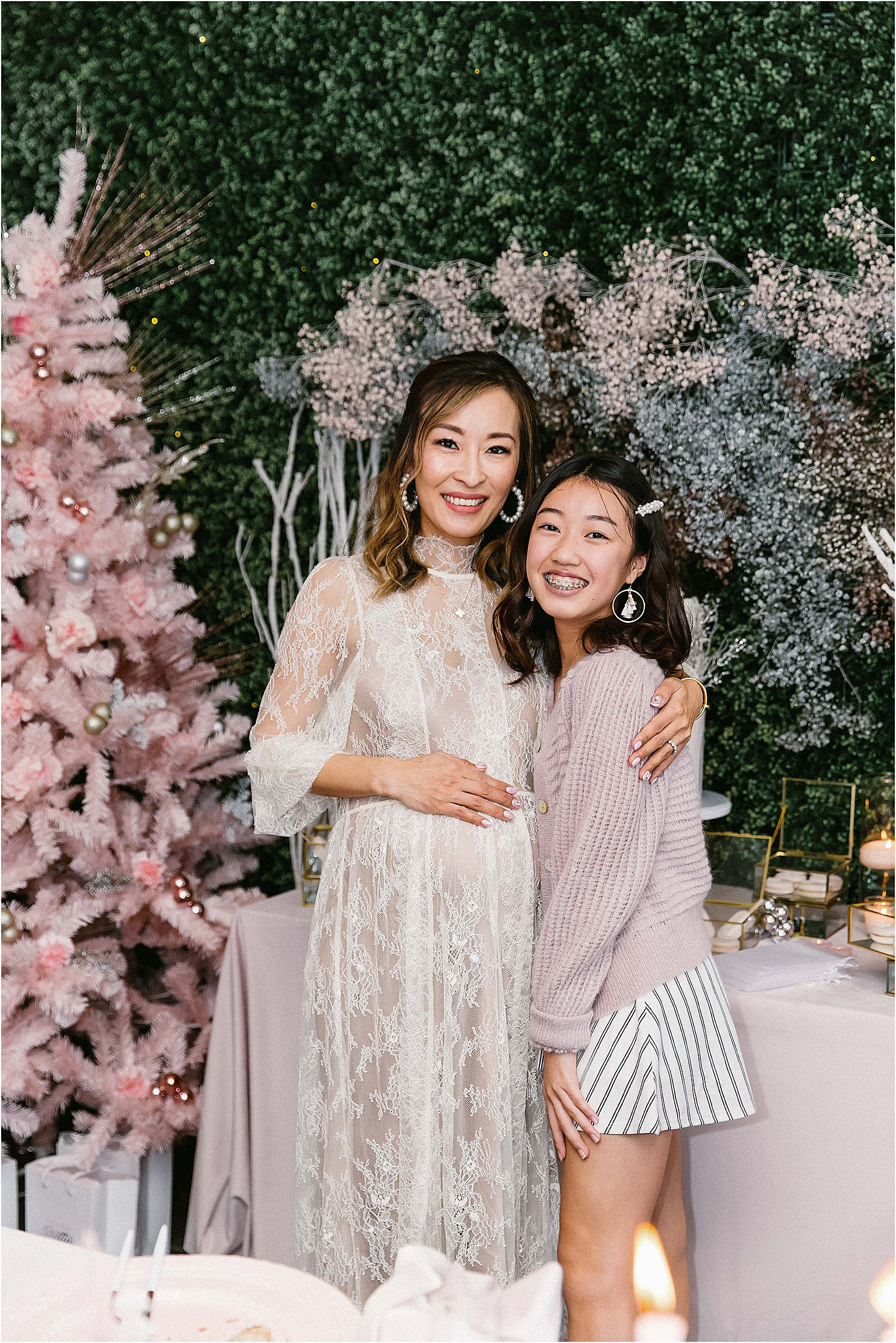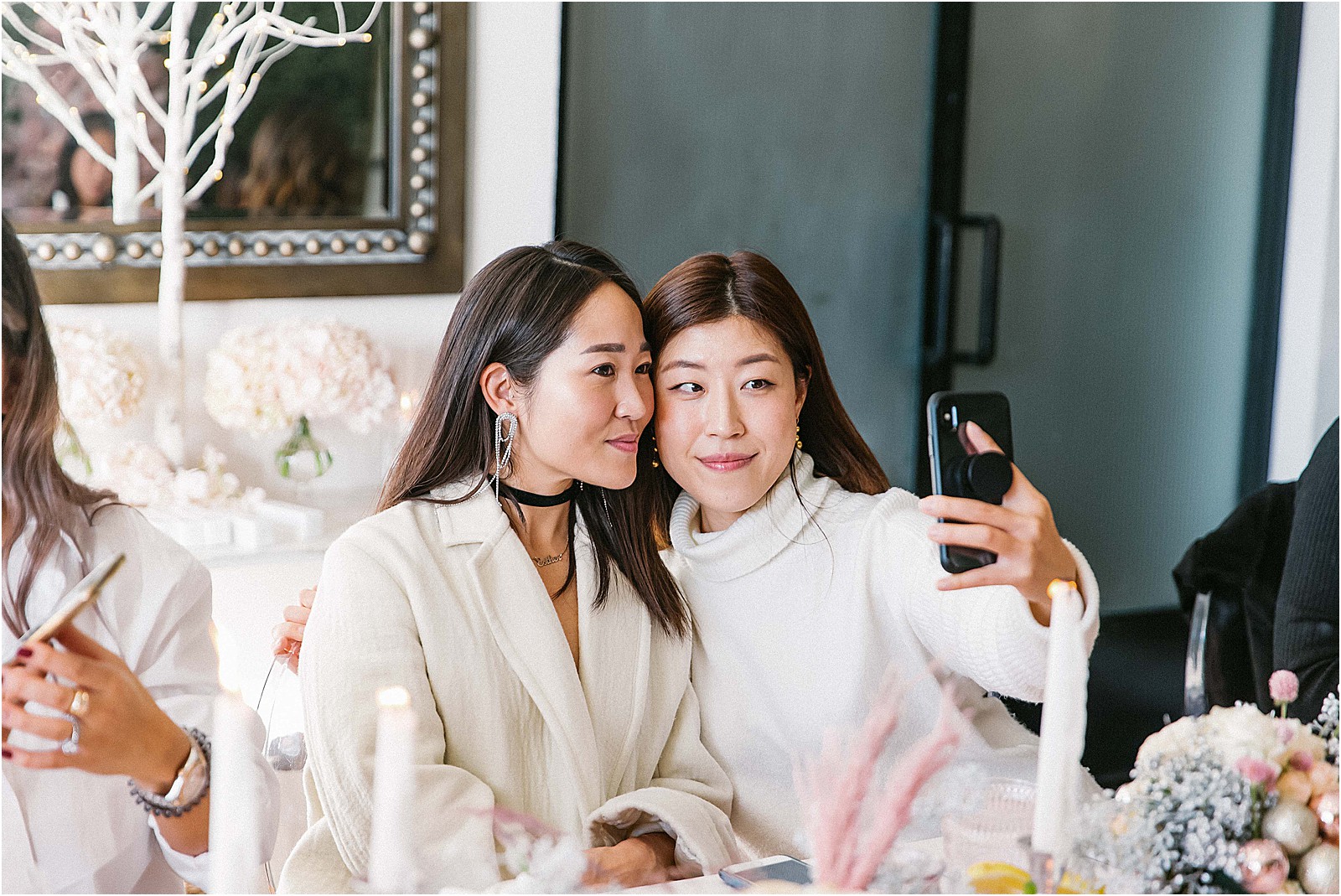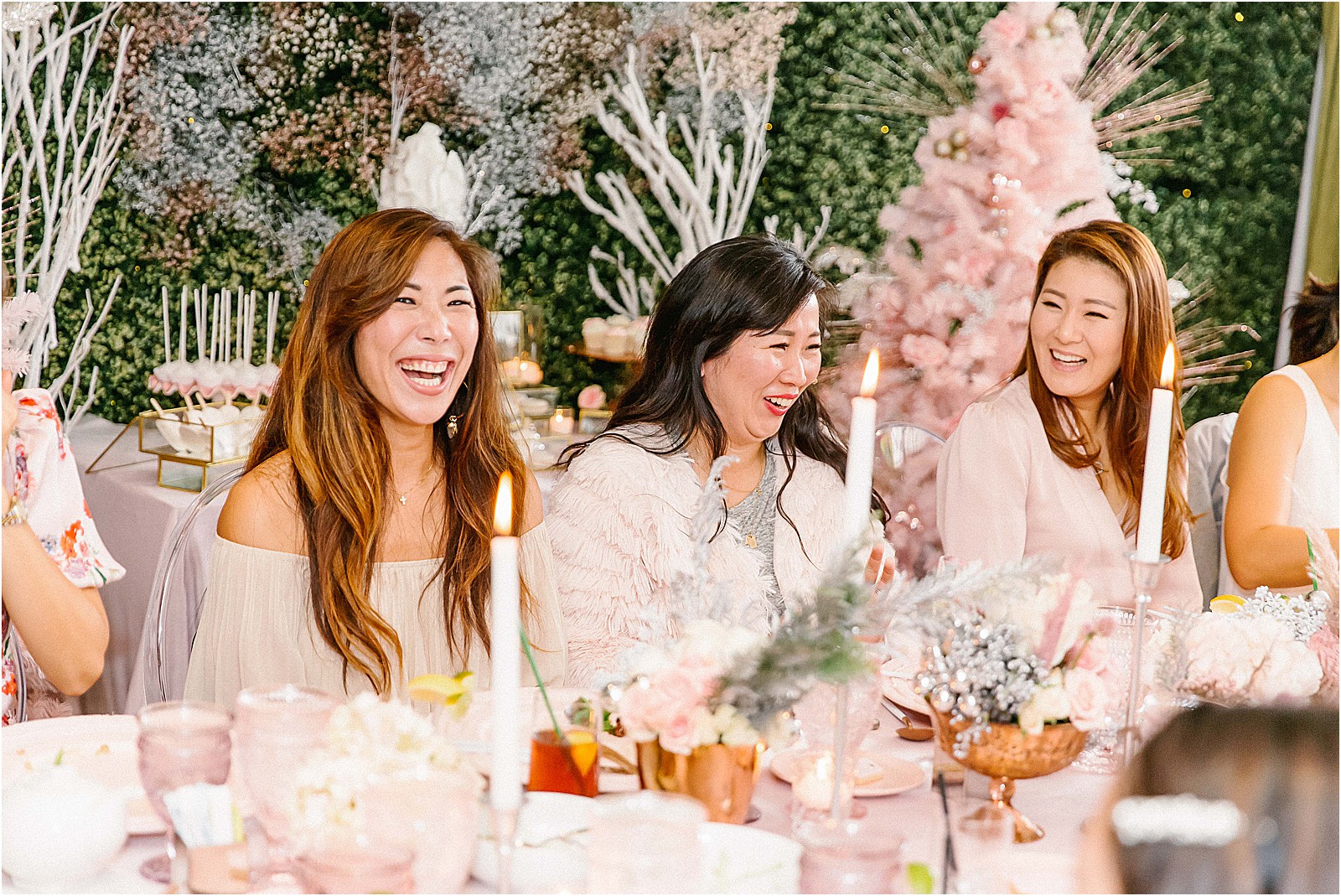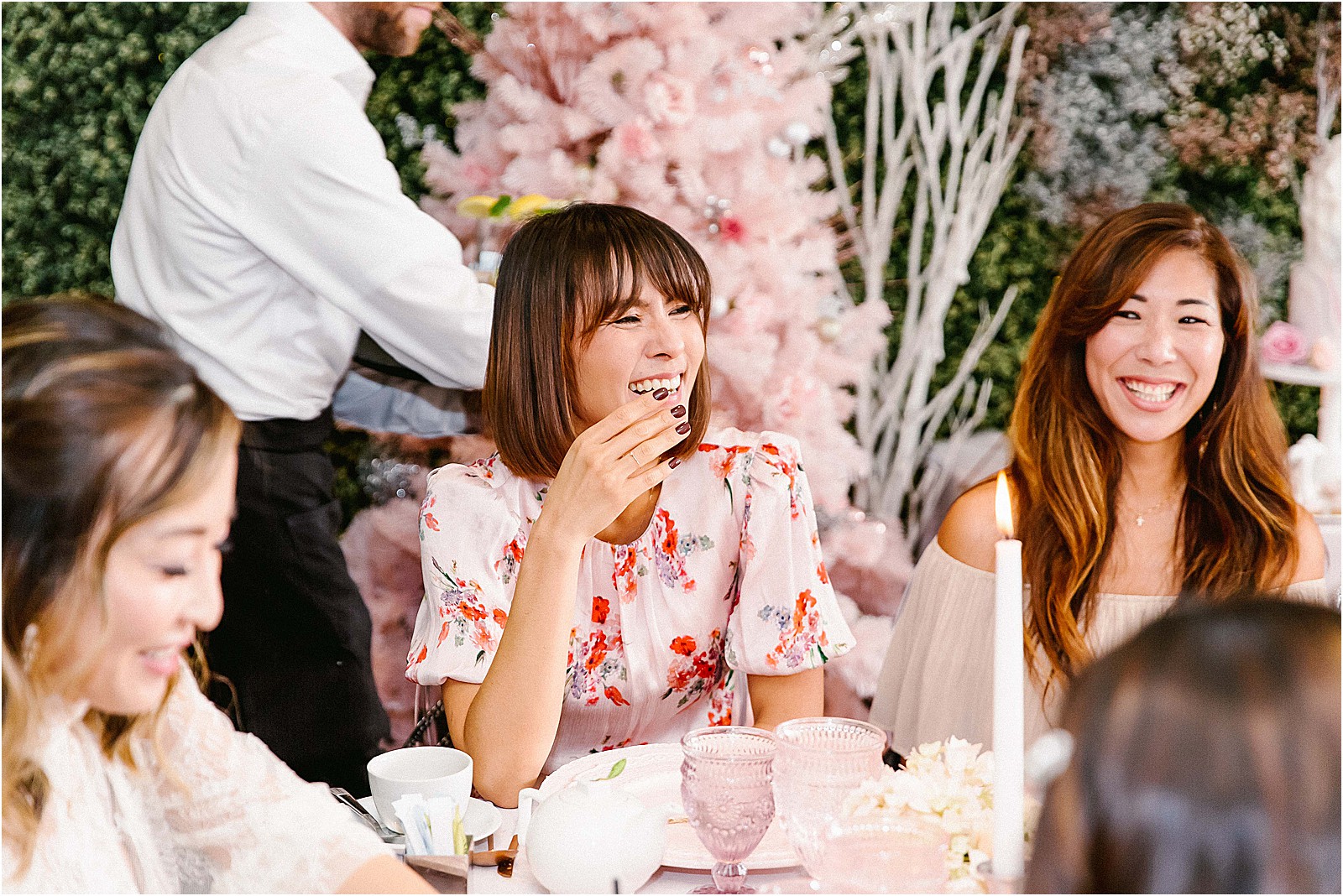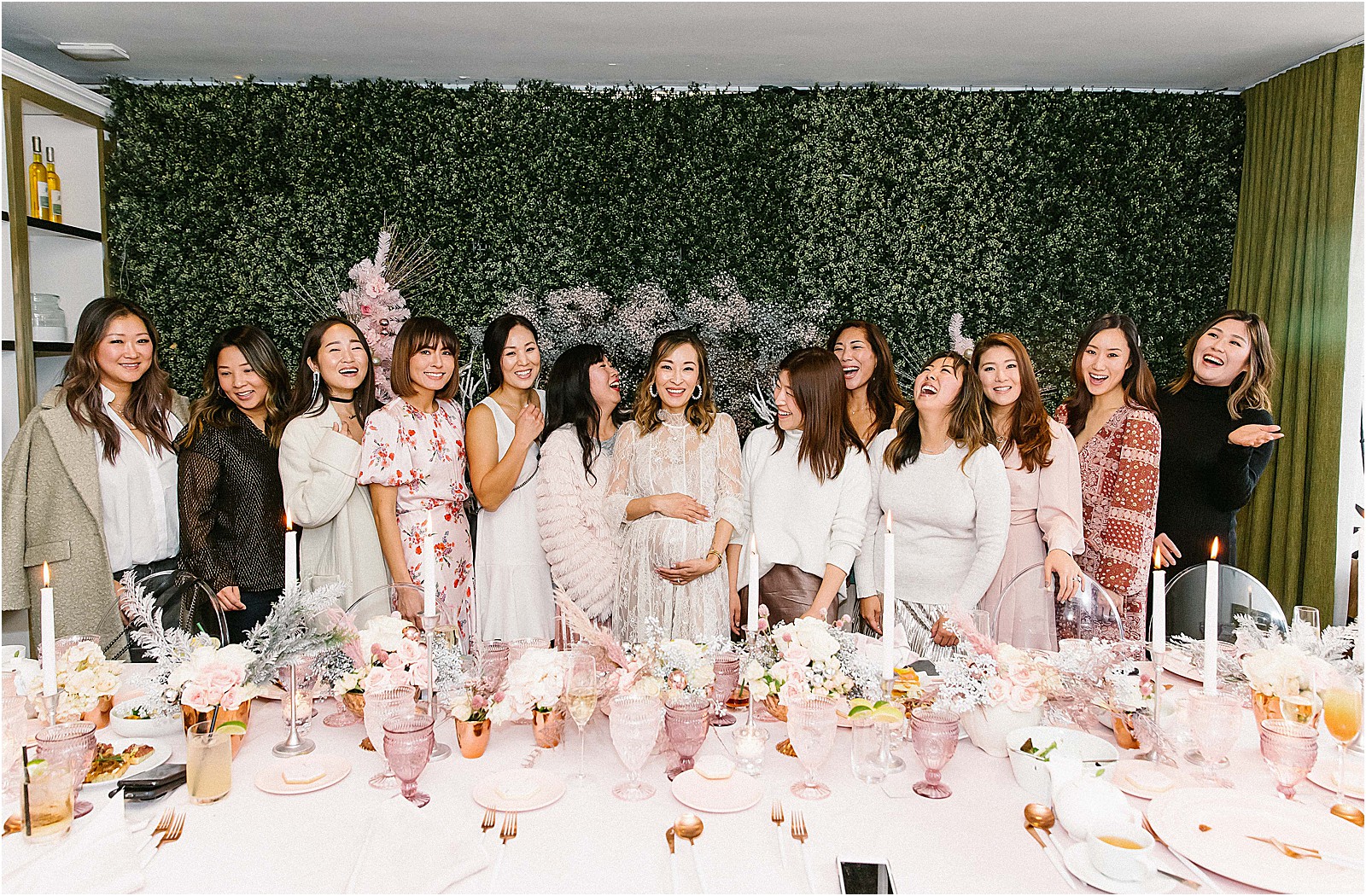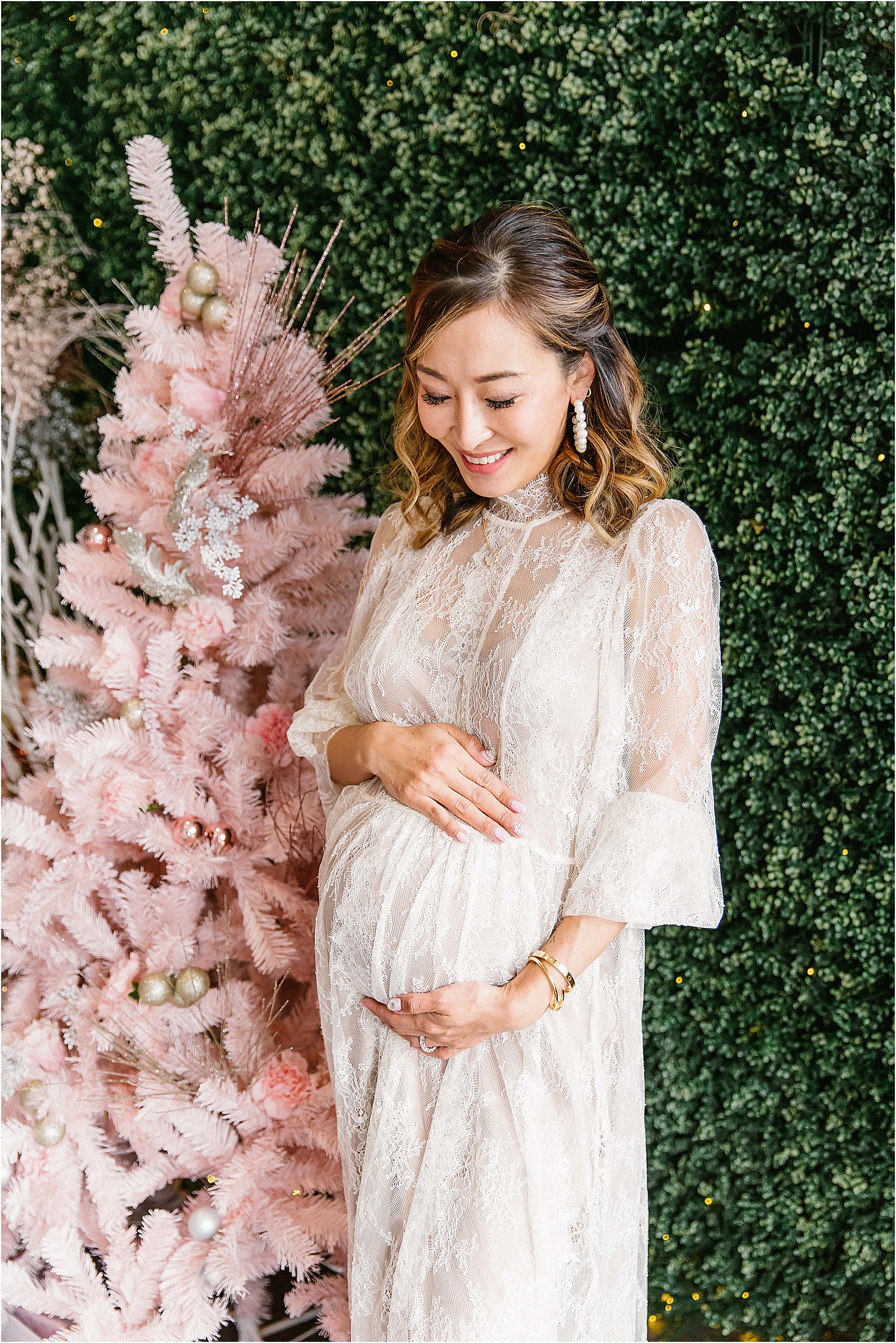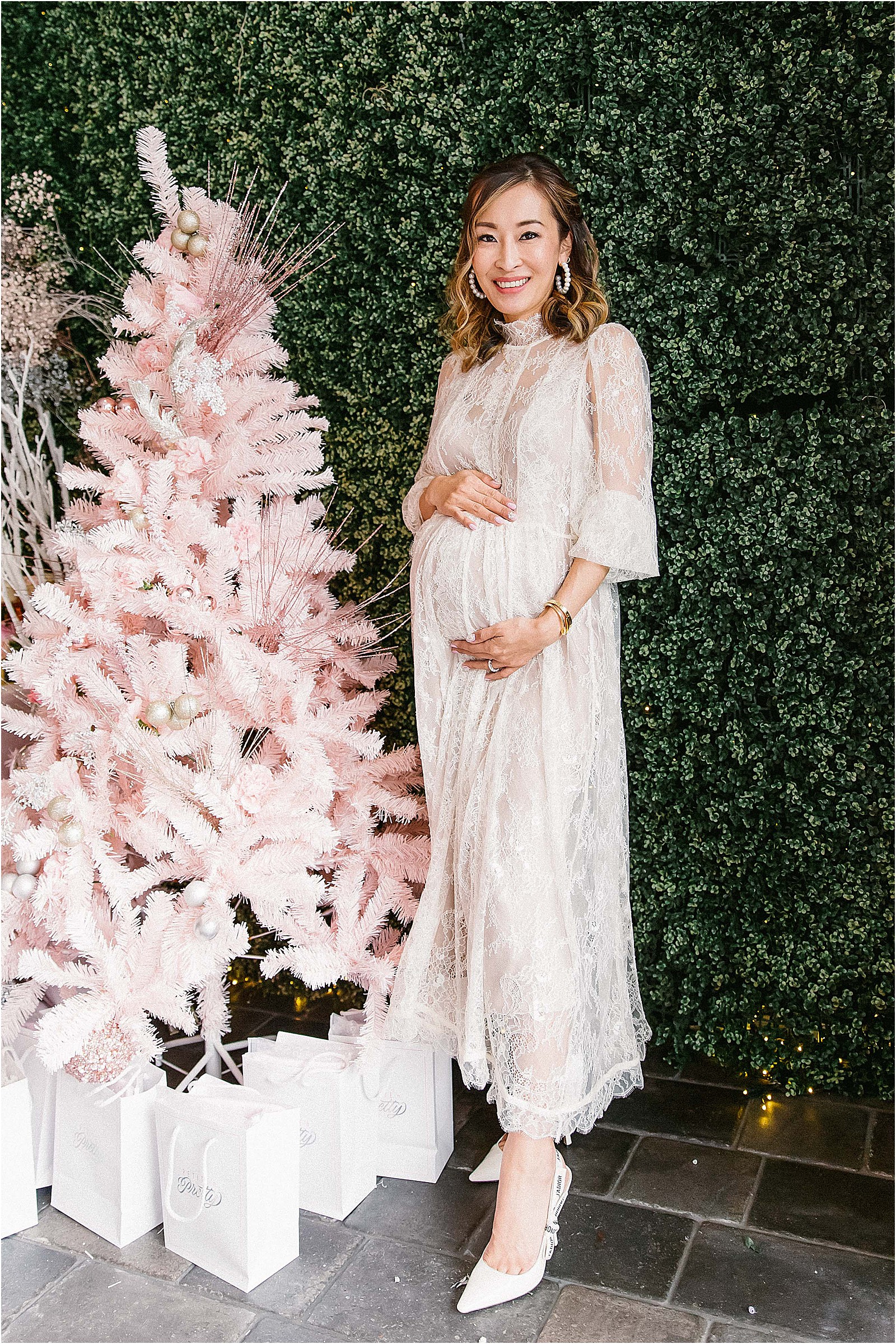 Overall, it was a beautiful afternoon of intimate conversations, quality time, good food and lots of laughter. I'm glad I kept the event small, as everyone got to truly connect and enjoy this special time of celebrating the birth of Baby Kim. What do you think about this intimate event? Which is your favorite part?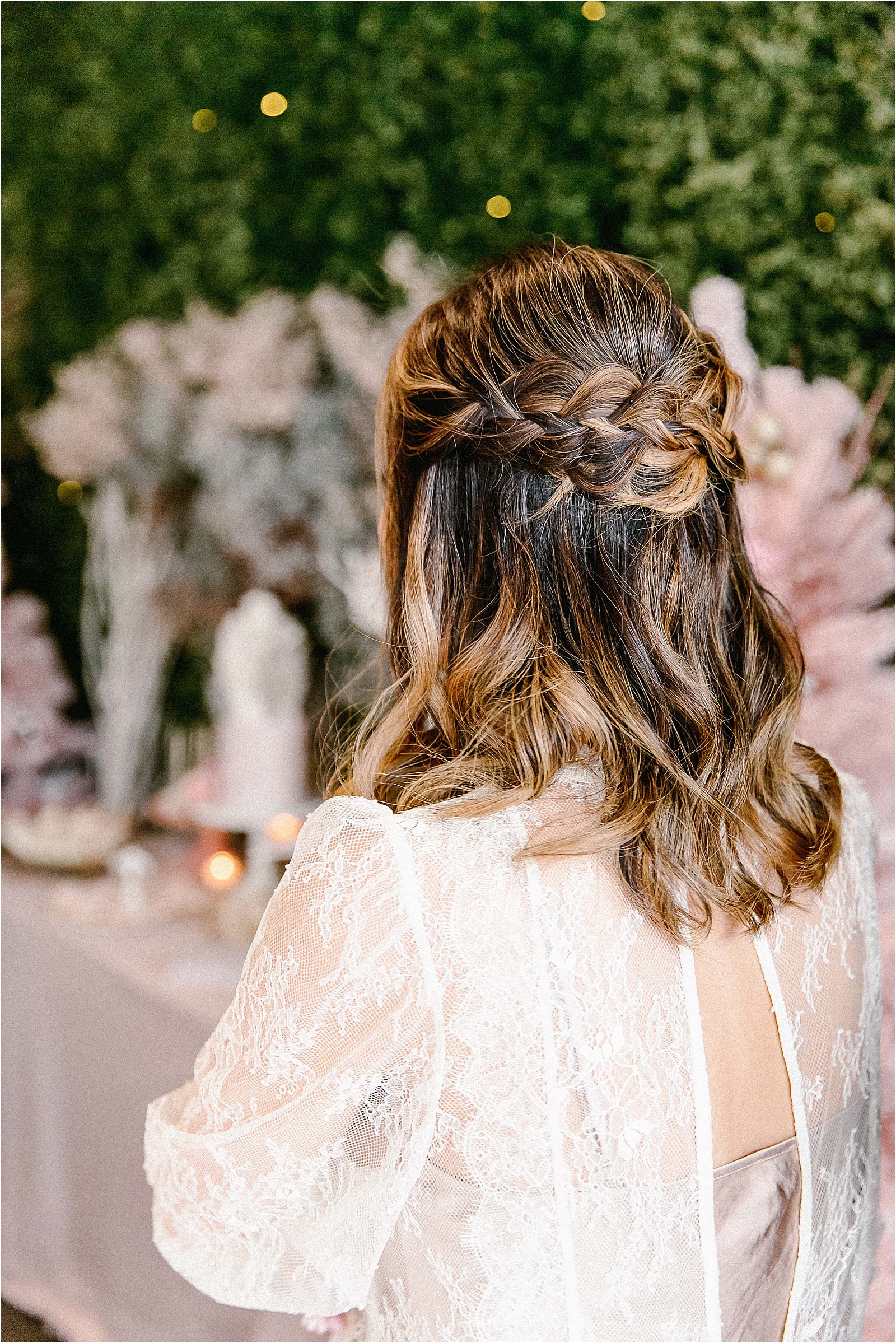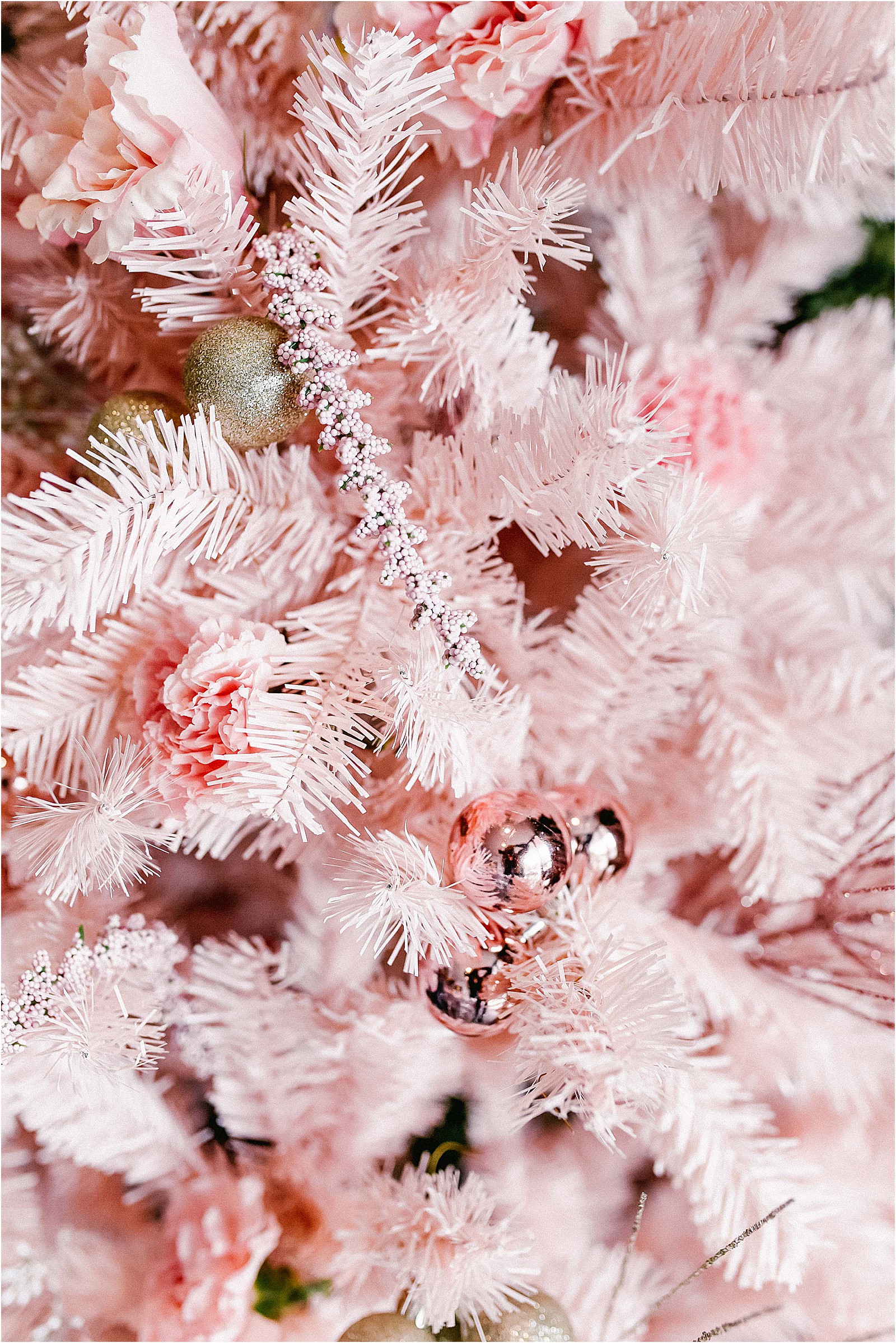 I'm now less than 4 weeks away from my due date and nesting symptoms are kicking in. It's time to prepare for this baby! If you want more baby shower inspirations, you can check out the posts here.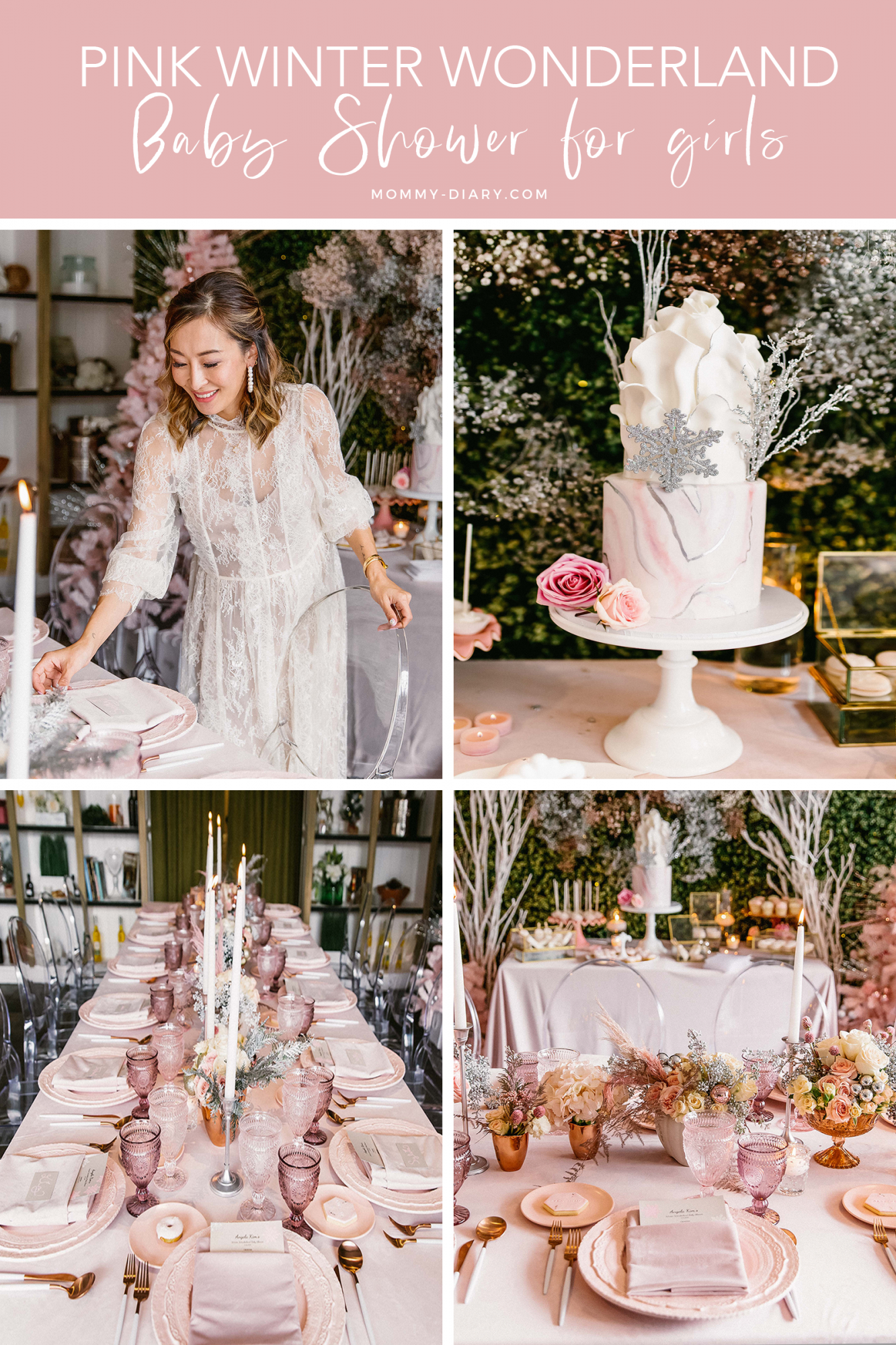 Vendor Credits
Planning by Anita Gohari Events 
Photos by Stephanie at Ographr
Cake by Yvonne's Vegan Kitchen
Desserts by Sweetleemade
Gift bag by Petite 'N Pretty / Cle Cosmetics 
Venue Fig and Olive, LA 
Dress by Aritzia 
Hair by Karen Salazar