The list of people to shop for during the holiday season is endless. Kids are always easy…there's almost too much to choose from! If you haven't yet, head here to find gift ideas for toddlers and preschoolers. For some reason, gifts for men are always the tricky one for me. My husband is a fairly simple man. So why does simple end up being complicated?
I've tried things like a Fit Bit or an Apple watch (which my daughter now wears) but they never end up getting used. In other words, I want to gift items this year that he will actually use and love. I took a good look at some practical holiday gifts for men this year that I haven't tried before. If you have a husband, brother, father, uncle, or any other man in your life, read on to check out this holiday gift guide for all the hard-to-shop-for fellas out there.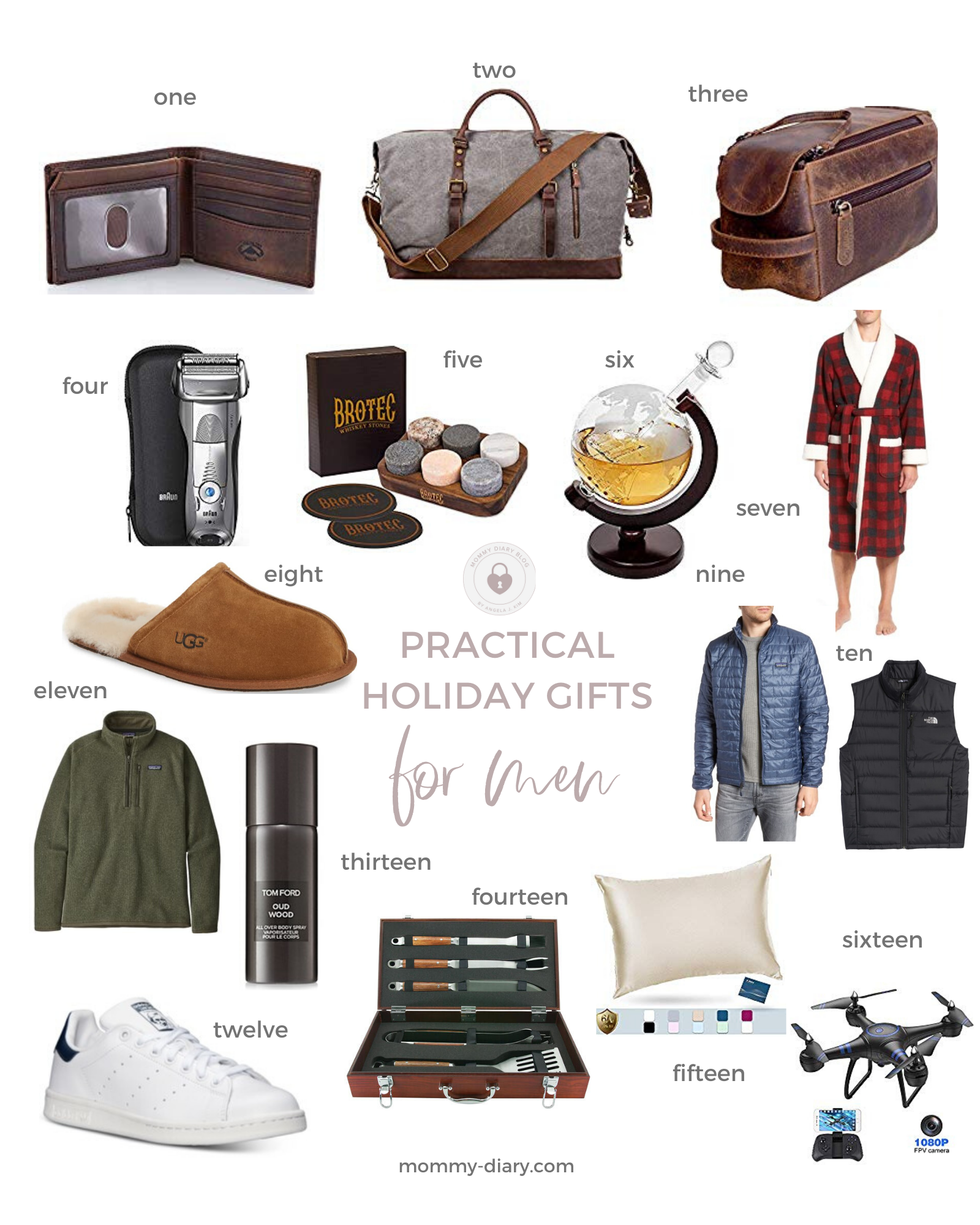 Practical Holiday Gifts for Men
A wallet is one of those items that are used almost every day, but don't get replaced very often. This makes for a great gift for men who are in need of a wallet makeover. The color of the leather will be perfect for any man.
This leather and canvas bag is beautiful. All men need a bag for their quick weekend trips. Its measurements are suitable to be used as a carry on bag for flights. There are several color options as well.
There's something about brown leather that is timeless and suits men to a tee. There are two sections of the bag: one for smaller items and one for larger. This toiletry bag will be a great match with the duffle bag above.
This may be the ultimate gift for men. This super-tech razor can be used wet or dry and is waterproof. It has technology that reads and adapts to your beard. How is that even possible? It has fantastic reviews, and comes with a travel case.
Nothing says gifts for men like anything whisky related. These whisky stones will keep their whisky cool without watering it down. The men may not care, however I love that they are stored in a wooden tray and each stone has a different attractive design.
If the man you are shopping for is a whisky drinker, this decanter may be a wonderful gift option that he doesn't have yet. The decanter is in the shape of a globe and would love lovely in a home office.
I love a comfy robe as much as the next woman. Men should get one too! This robe from Nordstrom has a few different patterns and men will love putting it on in the mornings or fresh out of a shower.
You'll need some slippers to go with that robe. This is a cozy option, also from Nordstrom. They are uggs, so you know they will last a long time. These have amazing reviews and are perfect for everyday around the house.
This half-zip sweater is my favorite style for men. I am a fan of the green, but there are several other color options. This is a purchase that you can feel good about making because the quality is high. This is a piece of clothing that will last!
While we are talking about Patagonia, this is another nice cold weather clothing option. I think it's a great gift for men because although it will keep you warm, it is super lightweight and water resistant.
We all love North Face. This vest is a great gift for men because it goes well with anything and is perfect for layering.
I will always love a good white sneaker. They are casual, yet still stylish and go with everything. This is a top gift for men because they can pair it with jeans, shorts, or lounge clothes.
This scent is masculine and clean without being overpowering., which makes it a wonderful pick for any man. If he doesn't love wearing cologne, body spray is a great alternative.
Let me tell you why this is one of the most perfect gifts for men. Most men tend to run very warm, especially when they sleep. This natural silk pillowcase will keep you cool at night, and the material is actually good for your skin and hair. My husband loves using mine, I think I'll get him his own!
Do you have a griller in the family? If so, check out this grilling set that includes tongs, spatula, knife, a meat fork, and a basting brush. All pieces are stored in a hand crafted wooden case. Any man receiving this set will be looking for opportunities hit the grill and cook up a delicious meal. So I'd call that a win for everyone.
Men love their toys! When it comes to gadgets, many are still kids in an adult's body. So, who wouldn't love a drone to play with? This is a great gift for men who are beginners when it comes to the drone world. Your phone can hook up to the controller, and allows you to see from above and take pictures. So fun!
Regardless of a man's hobbies, skills, or interest, this guide suits the everyday guy. If you've been racking your brain for ideas of what to gift that special man in your life, I hope this list gives you some suggestions of gifts for men.
Comment below and let me know what you are gifting the men in your life this year!
*This post contains affiliate links that helps support this blog at no additional cost to you. Thank you for your support that allows me to continue to create valuable content for families all over the world.