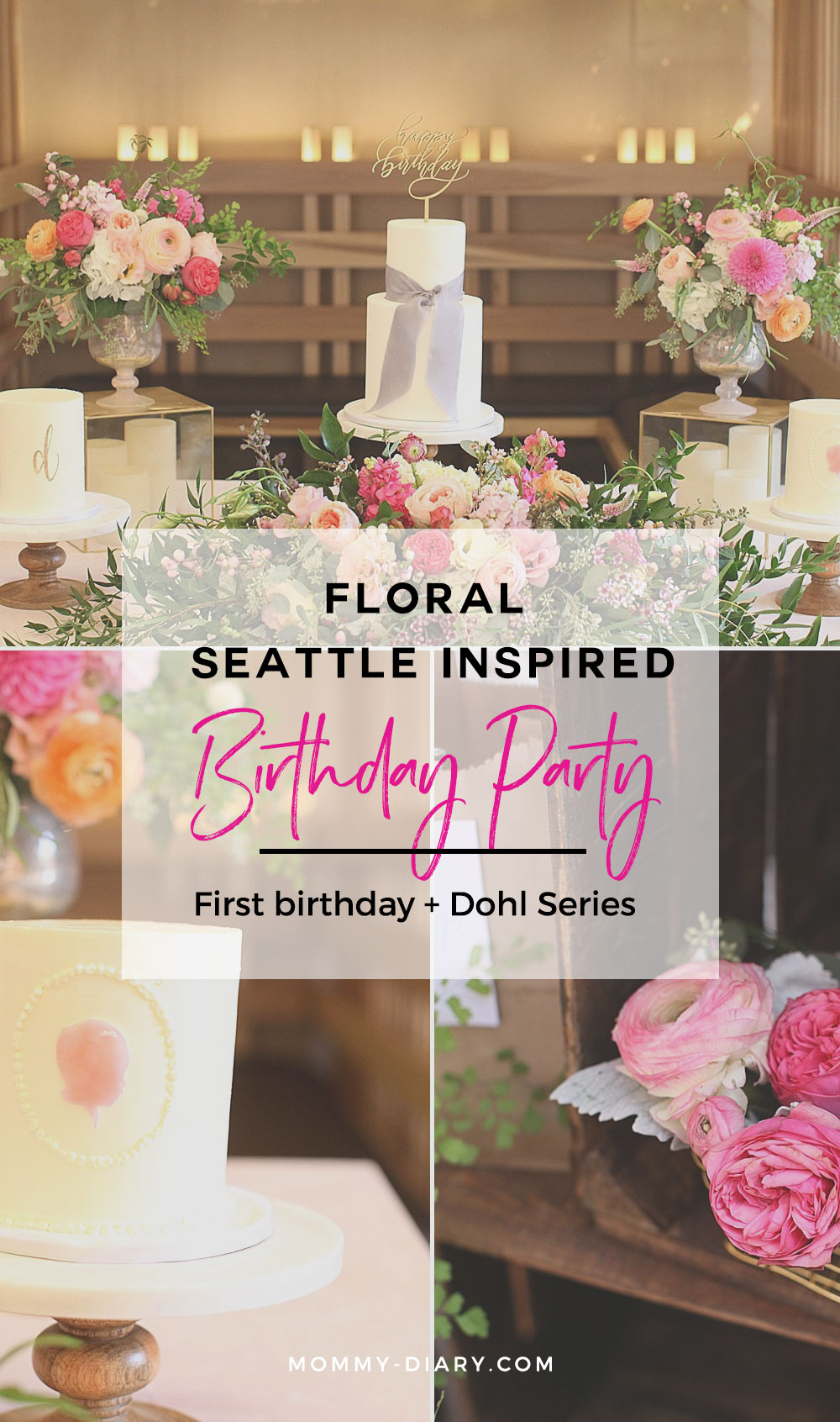 For part 4 of the Baby First Birthday series, I want to share this gorgeous Seattle-themed floral birthday party for Devyn, styled by her mom Jane Chong from Jane Events. Jane is a talented event coordinator who found out about her pregnancy while she was living in Seattle. She was inspired by Pike Place, the iconic outdoor farmer's market of Seattle (and also one of my favorite travel destinations), to put together this beautiful first birthday (dohl) for her daughter Devyn.
Style: floral, Seattle-inspired, Anthropologie, farmer's market
As you can see from the photos, this party is beautifully and professionally executed with much attention to detail. I love the beautiful floral greenery behind the head table and the name sign on a stained wooden board that departs from the common gold painted name plate.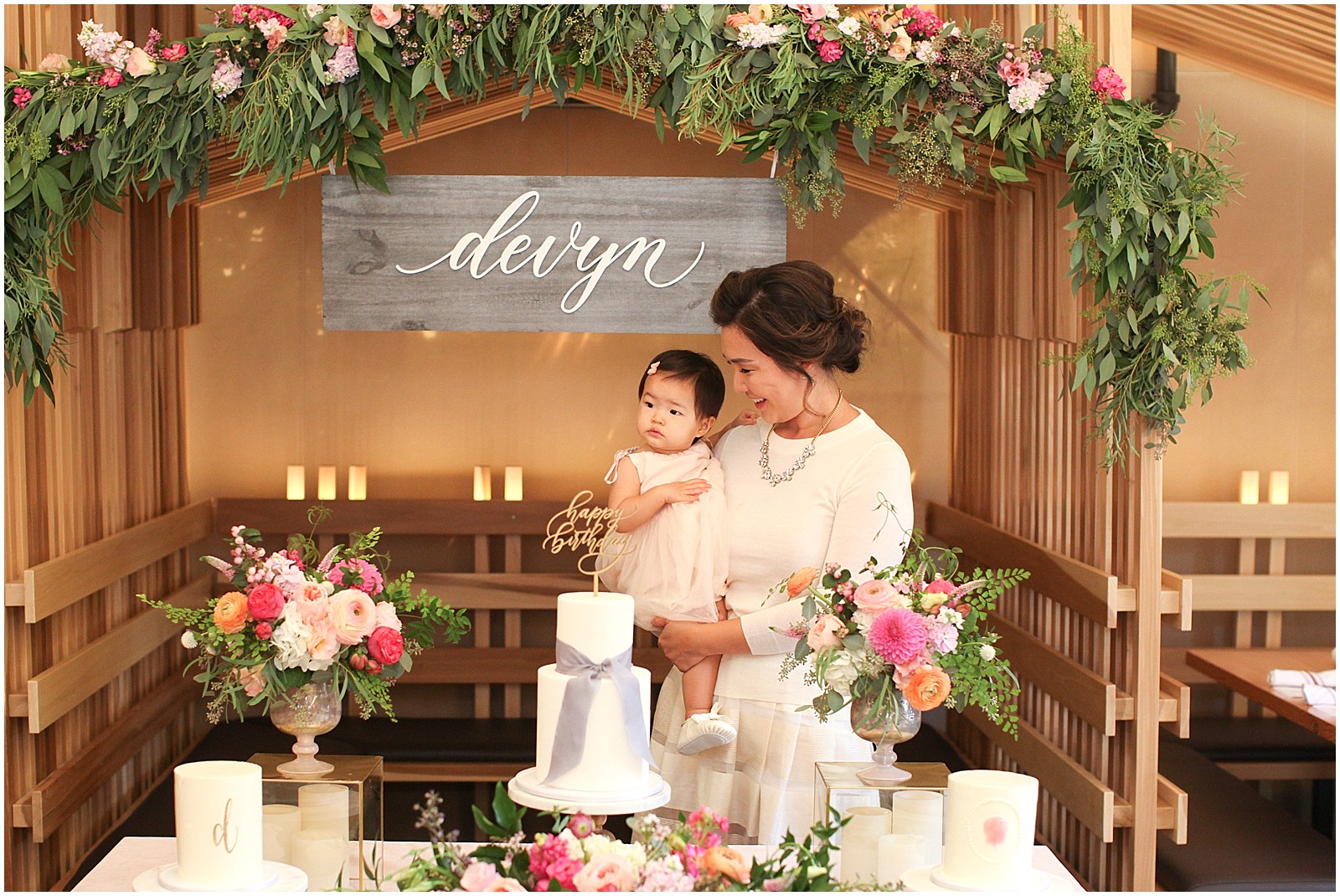 Words from the mom:
I discovered I was pregnant with Devyn at the tail end of 2014, after an arduous year with many emotional ups and downs, both personally and professionally.  We had been trying to conceive our second child for over a year at that point, and decided to take a break since our family had just moved back to my husband's hometown of Seattle.  Through God's grace, we found out we were pregnant during Christmas of that year.  She was just what my heart needed after a long, tough year of many hardships our family had faced.
Fast forward to her dohl, our family relocated back to my hometown of Los Angeles and while I was planning her 1st birthday, I wanted to incorporate her birth roots of Seattle.  What better way than to give a nod to Seattle's iconic outdoor farmer's market, Pike Place?  We decided to do a loose theme around an Anthropologie inspired farmer's market with gold wired baskets with silk ribbon for the doljabi and a mini market place with vintage crates, florals, fruit, and farm animal donuts for the kids' entertainment area.  

I'm in love with this whimsical, farmer's market-inspired details.
Head table / Dolsang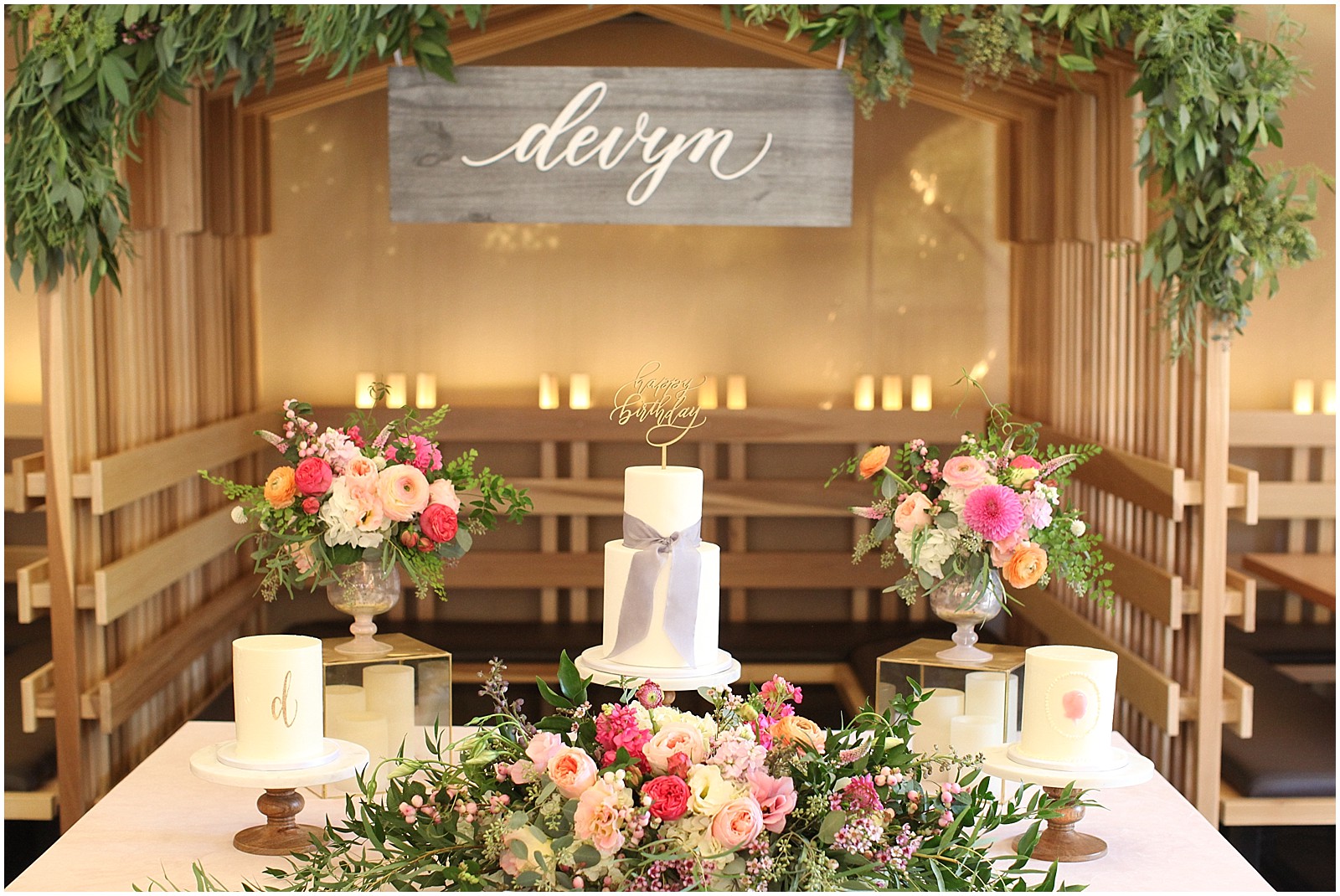 For the head table, I wanted to do something unique and utilize the venue's natural wooden elements.  We discovered Communal Food & Drink in South Pasadena through one of our date nights while checking out local restaurants in our neighborhood, and the venue just speaks for itself.  
It had an amazing wooden structure that we wanted to highlight, so instead of making a traditional backdrop, we decided to add some leafy greenery with flowers to enhance the wooden beams.  I also wanted to do something different with the beautiful laser-cut wooden name signs that are ever so popular these days, so I asked Jane of Red Letter Day to mount Devyn's name onto a wooden stained board to hang for the backdrop.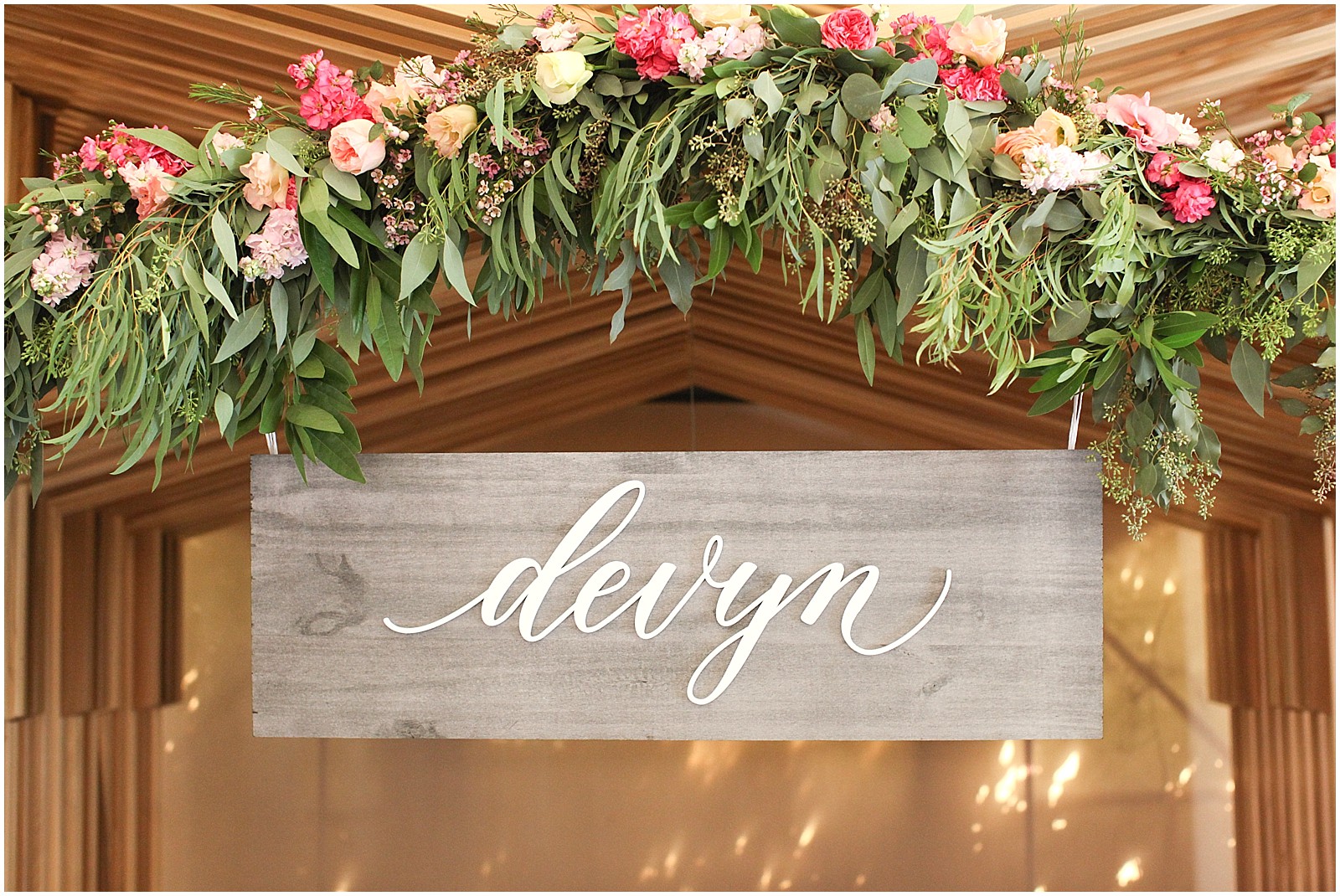 Dolsang (or dohlsang) Inspiration
I wanted to keep the head table simple and classic with a cake trio and lots of lush flowers. Hannah Koo of Milieu Florals did a fantastic job in recreating my vision!  

For our favors, we wanted to do something special for our guests so they could take a keepsake home.  We hired Dianuh of Chasing Linen to do live watercolor portraits of families and it was such a big hit!  
Guest Sign-in Table / Doljabi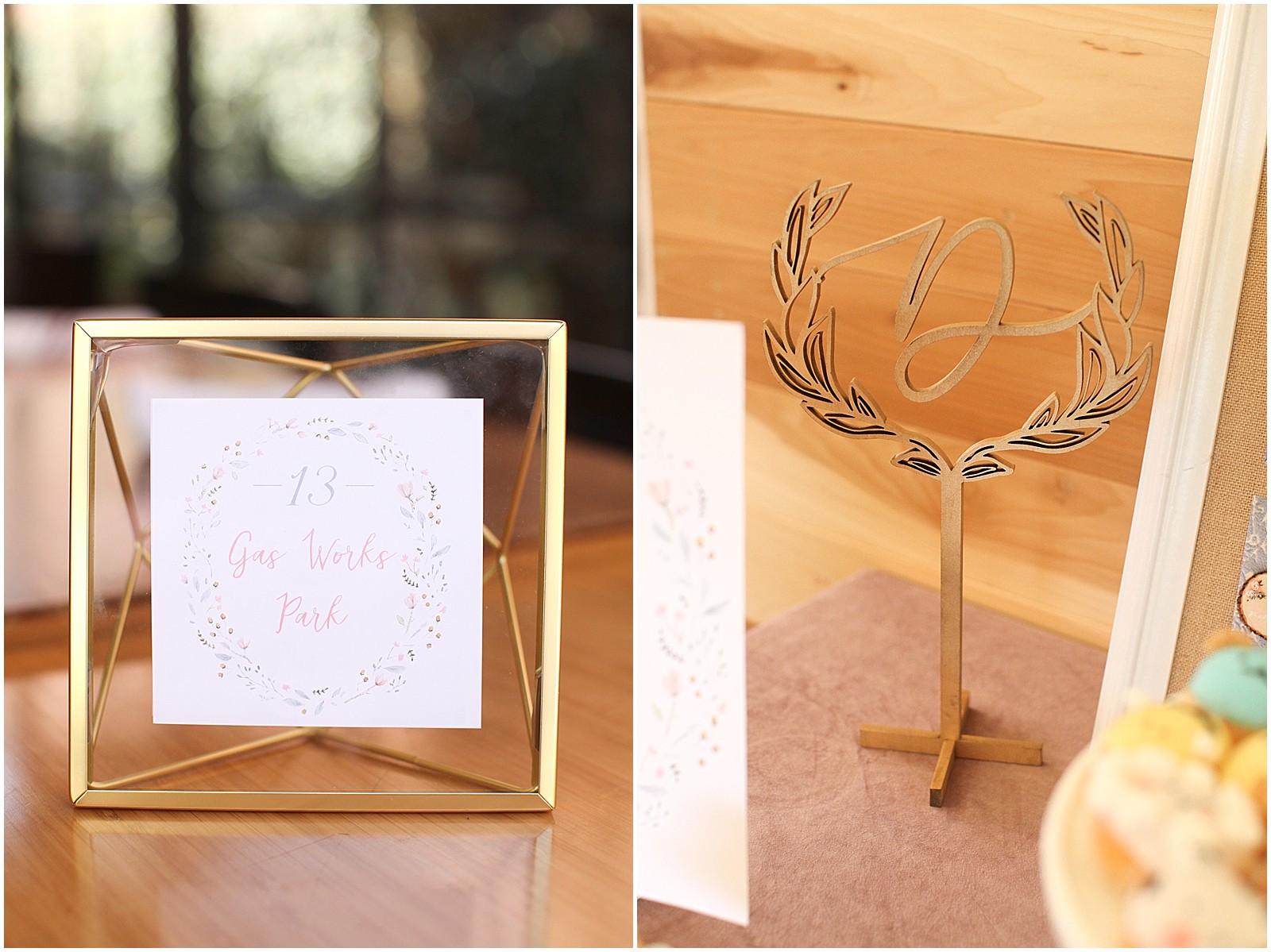 Seattle-themed seating chart
I love this Seattle-themed seating chart! And what a great idea to hang the baby girl's hanbok (traditional Korean costume) as a decorative element.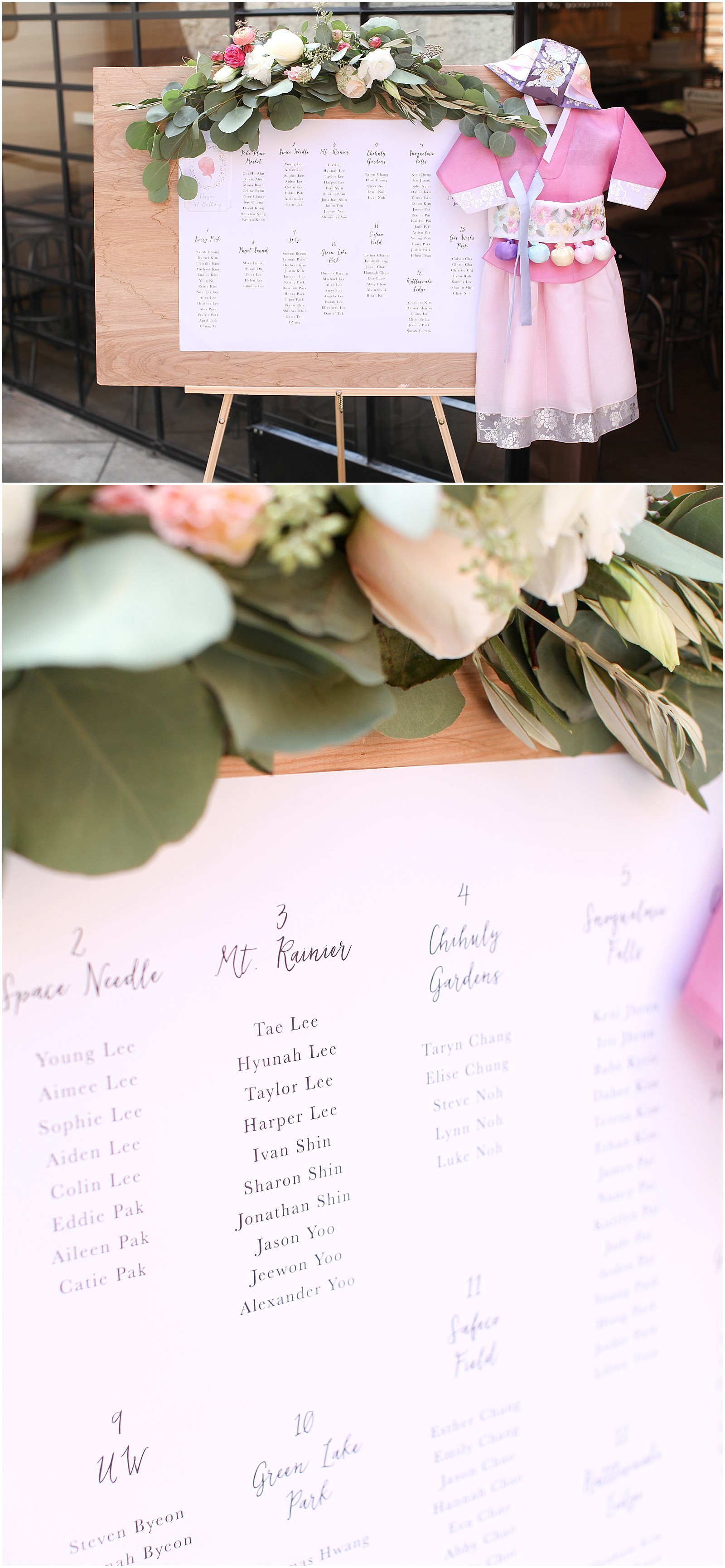 Baby Milestone Collage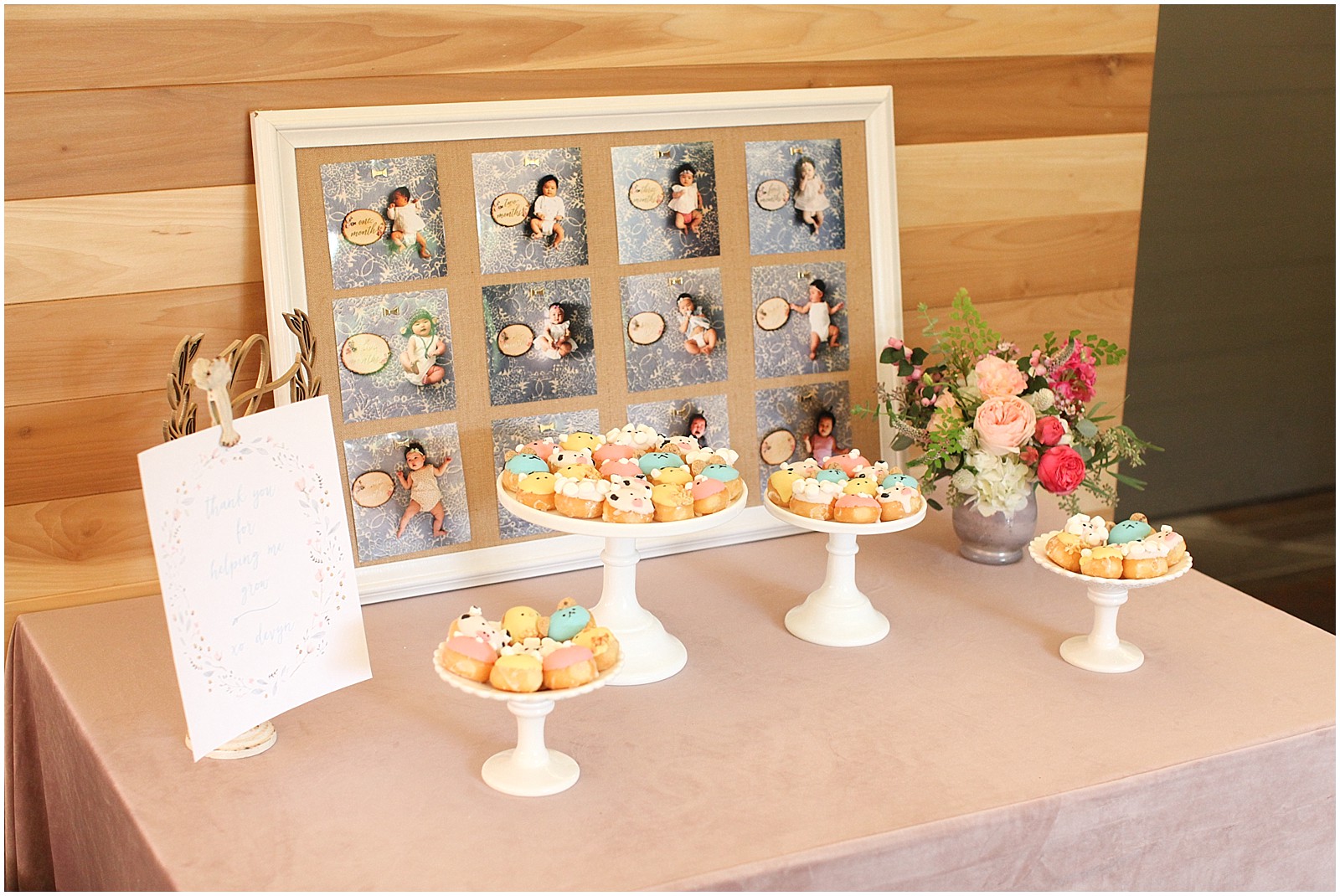 This is one of the cutest milestone collages I've seen! I love the idea of using a wooden board for months and keeping it consistent against a gray backdrop.
Doljabi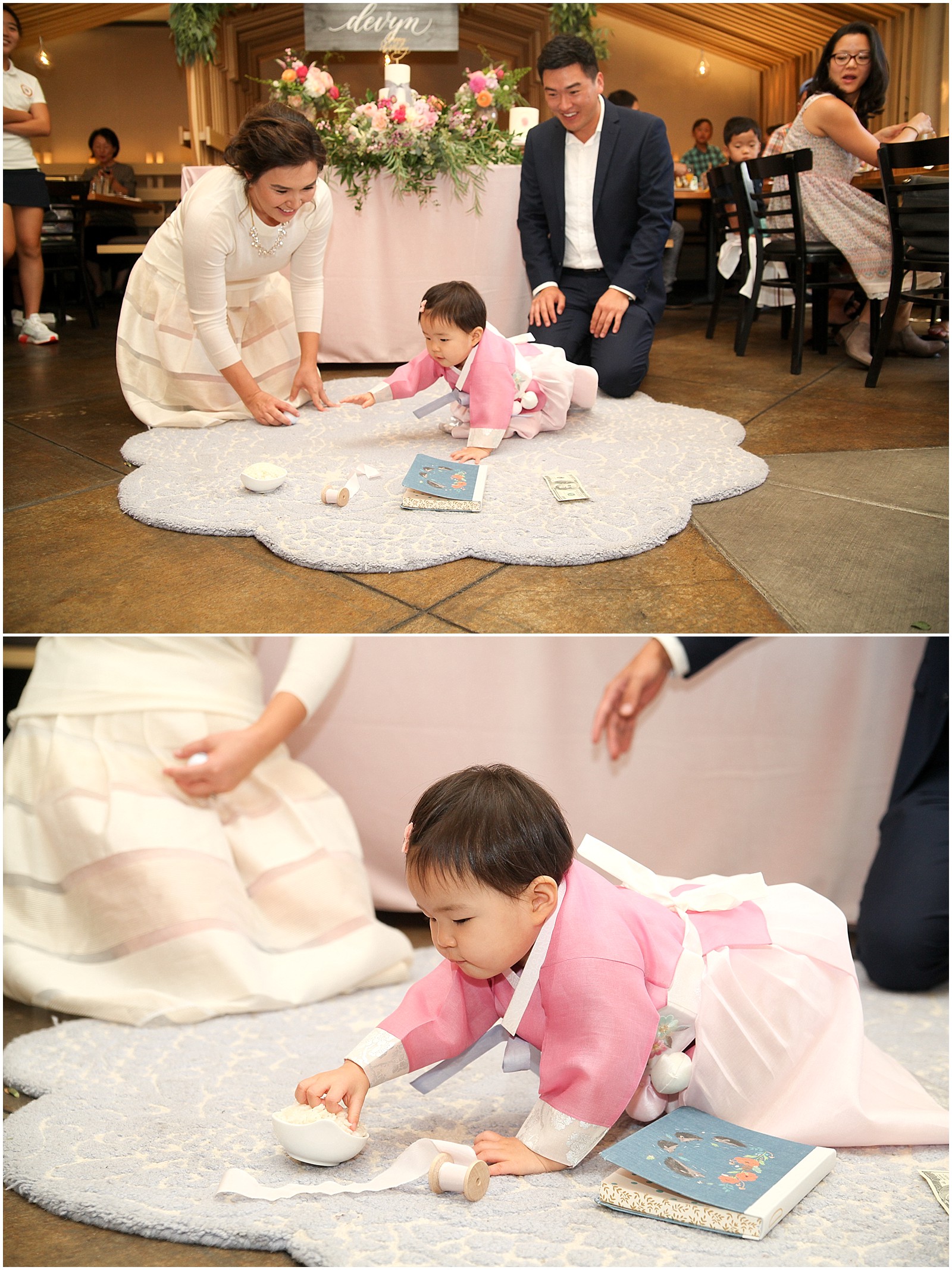 It looks like Devyn chose rice for her doljabi, which is a traditional Korean game where guests are invited to guess which item the baby will choose. The item symbolizes a career that the baby will become in the future. It's for fun of course, but in many cases it comes true. It came true for me! 😉  It looks like Devyn will have a long, healthy life as symbolized by the rice.
Smash cake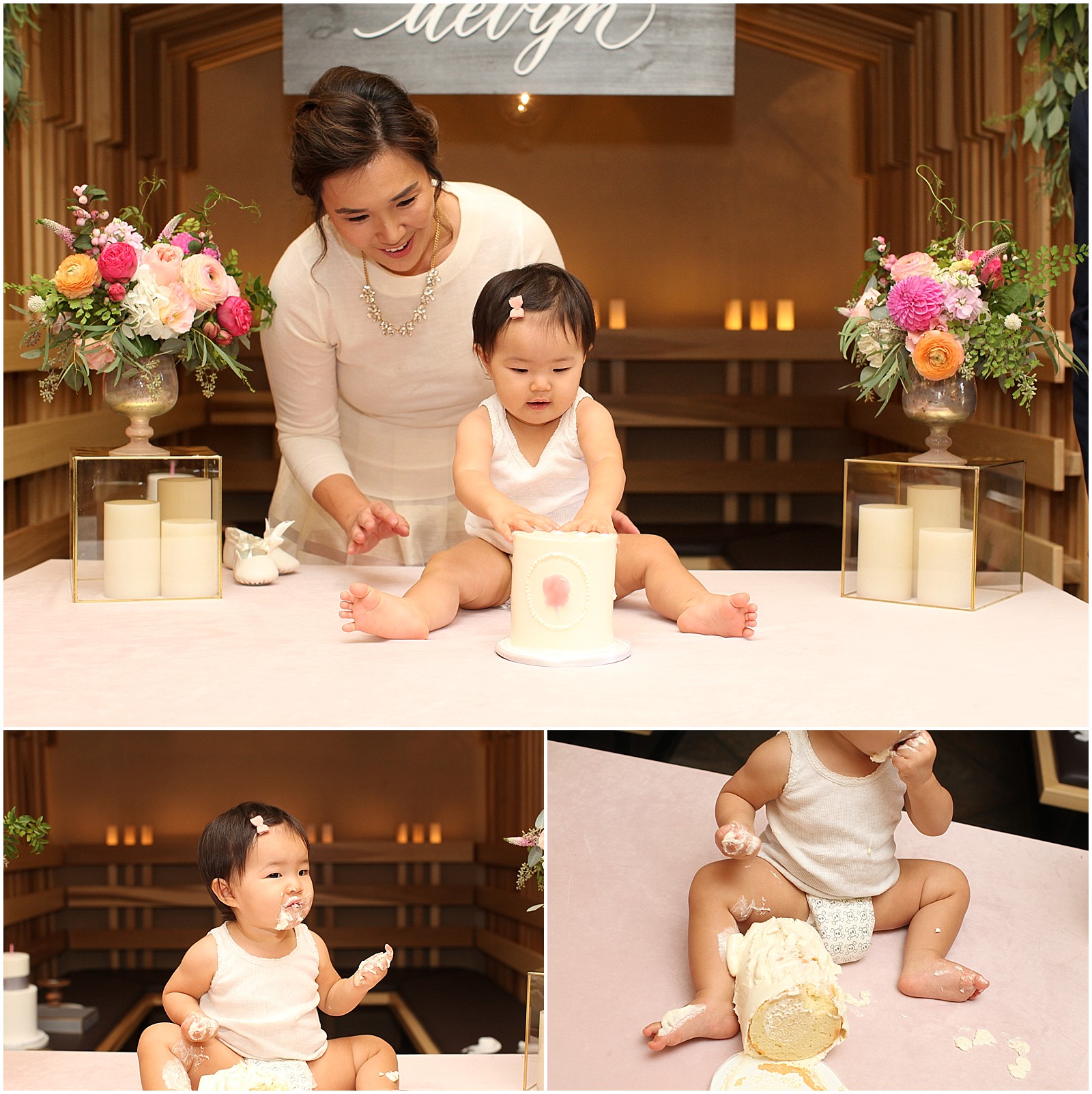 I love how Korean first birthdays nowadays incorporate both traditional Korean game (doljabi) and the cake smash. It's such a nice blend of two cultures for a meaningful celebration like the baby's first birthday.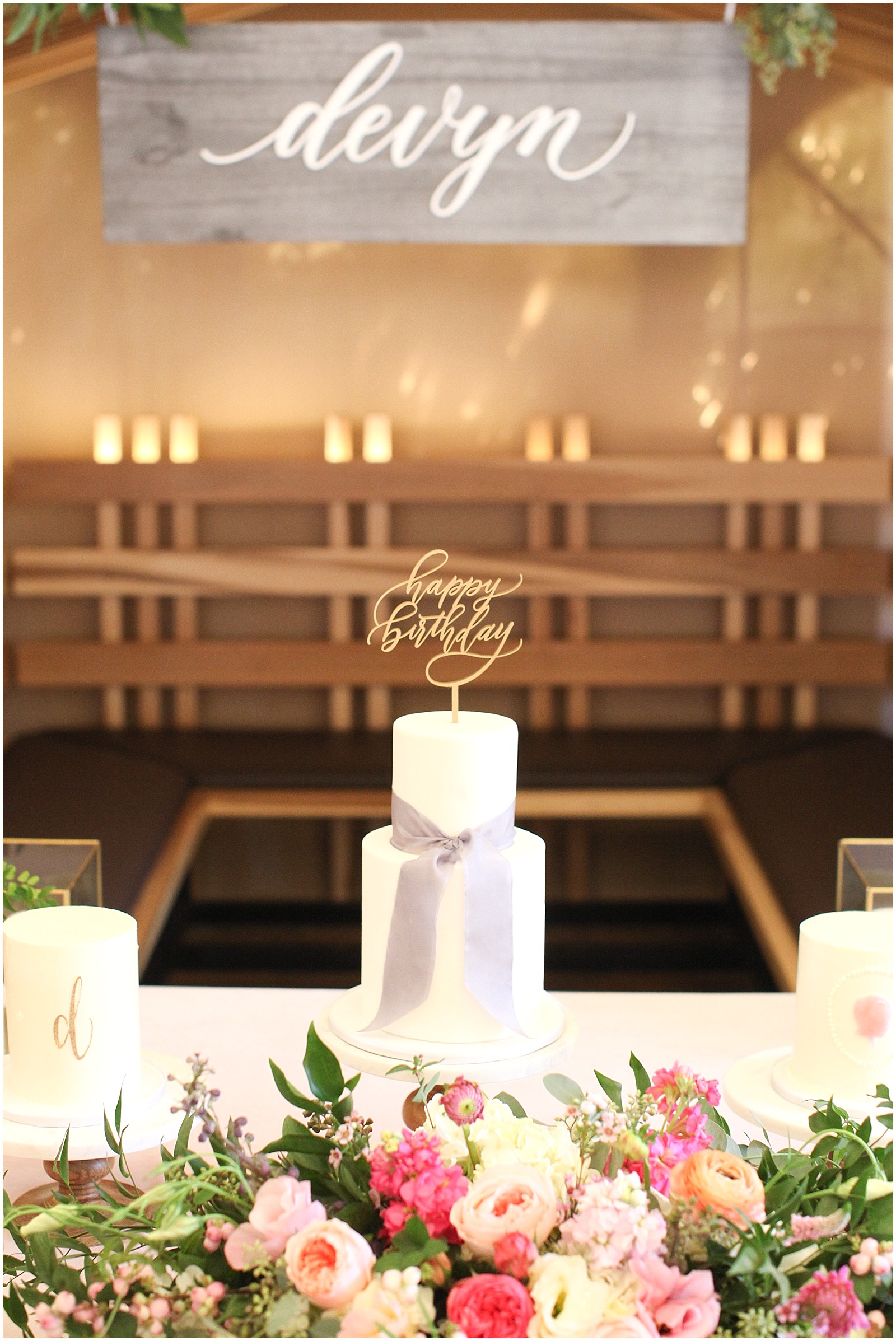 Thank you Jane for sharing your daughter's first birthday with us. Wishing you and your family a blessed life filled with lots of joy and laughter!
You can find more of Jane's personal and work life on her Instagram.
Venue: Communal Food & Drink in South Pasadena
Videographer: James Ko
Custom hanbok by Kim MeHee
Stationery: Sarah Chong
What do you think? Isn't this an amazing birthday party? What's your favorite element of this party? Please comment below!