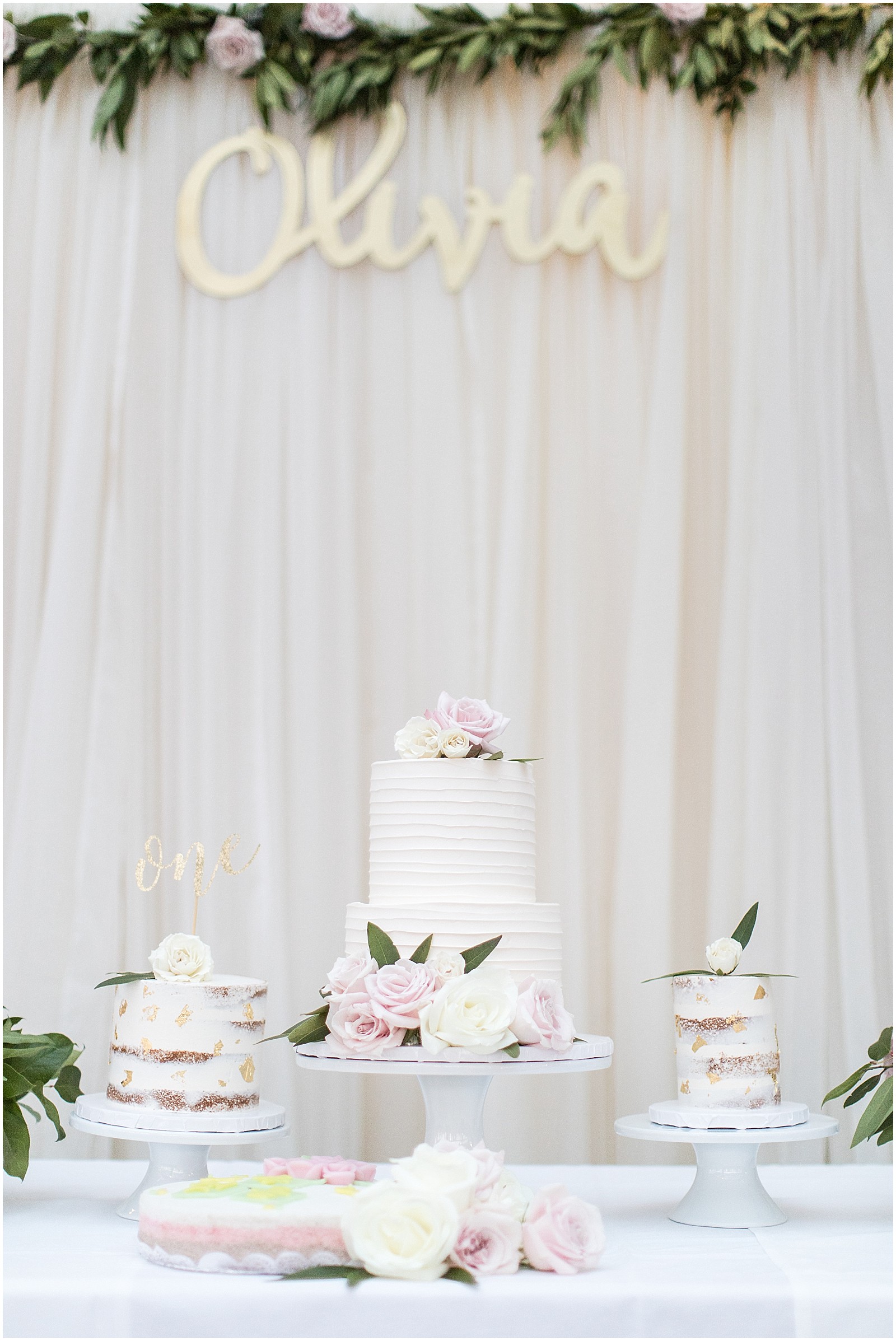 For part 3 of the First Birthday series, I want to share Olivia's classic floral birthday party. My favorite part of this party is the classic simplicity with few accent colors like light pink and cream. The party is executed with the perfect amount of whimsy and pretty, a perfect theme for moms who like to keep things simple.
Theme + Style
Classic, simple, floral, girly, whimsical, pink
Details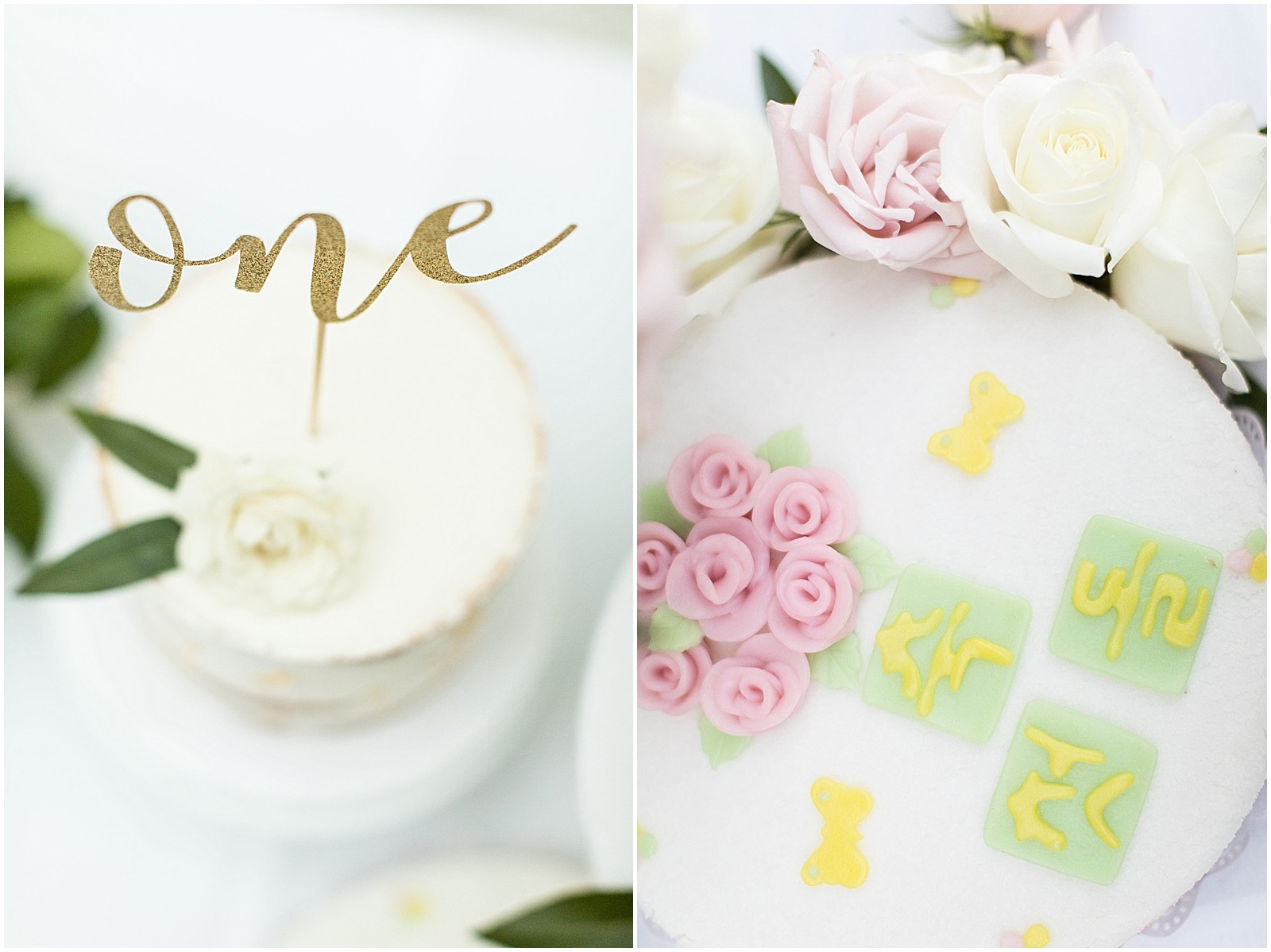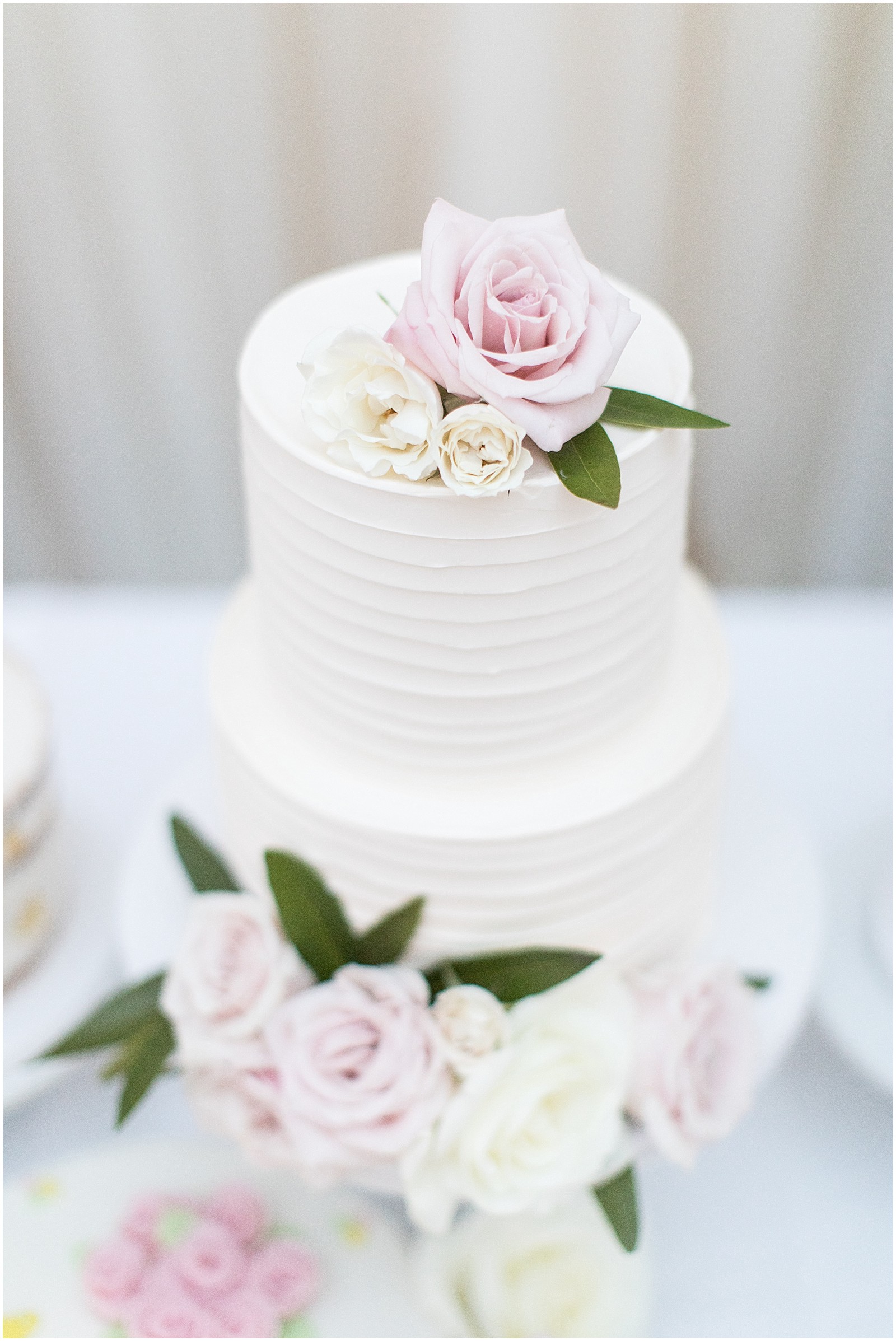 Words from mom
I started dreaming of my baby girl's first birthday party as soon as she was born. Since I had been taking monthly pictures of her with floral numbers, I decided to keep it cohesive and go with a floral/garden theme for her party. My vision for the party was to keep it simple and classy with a touch of whimsical and pretty.
We also incorporated Korean traditions, such as having our sweet birthday girl wear a hanbok (traditional Korean dress) for part of the day, doing dohljabi (a tradition where you place various objects – each symbolizing a different future – in front of the baby on their first birthday for them to choose), and displaying rice cakes.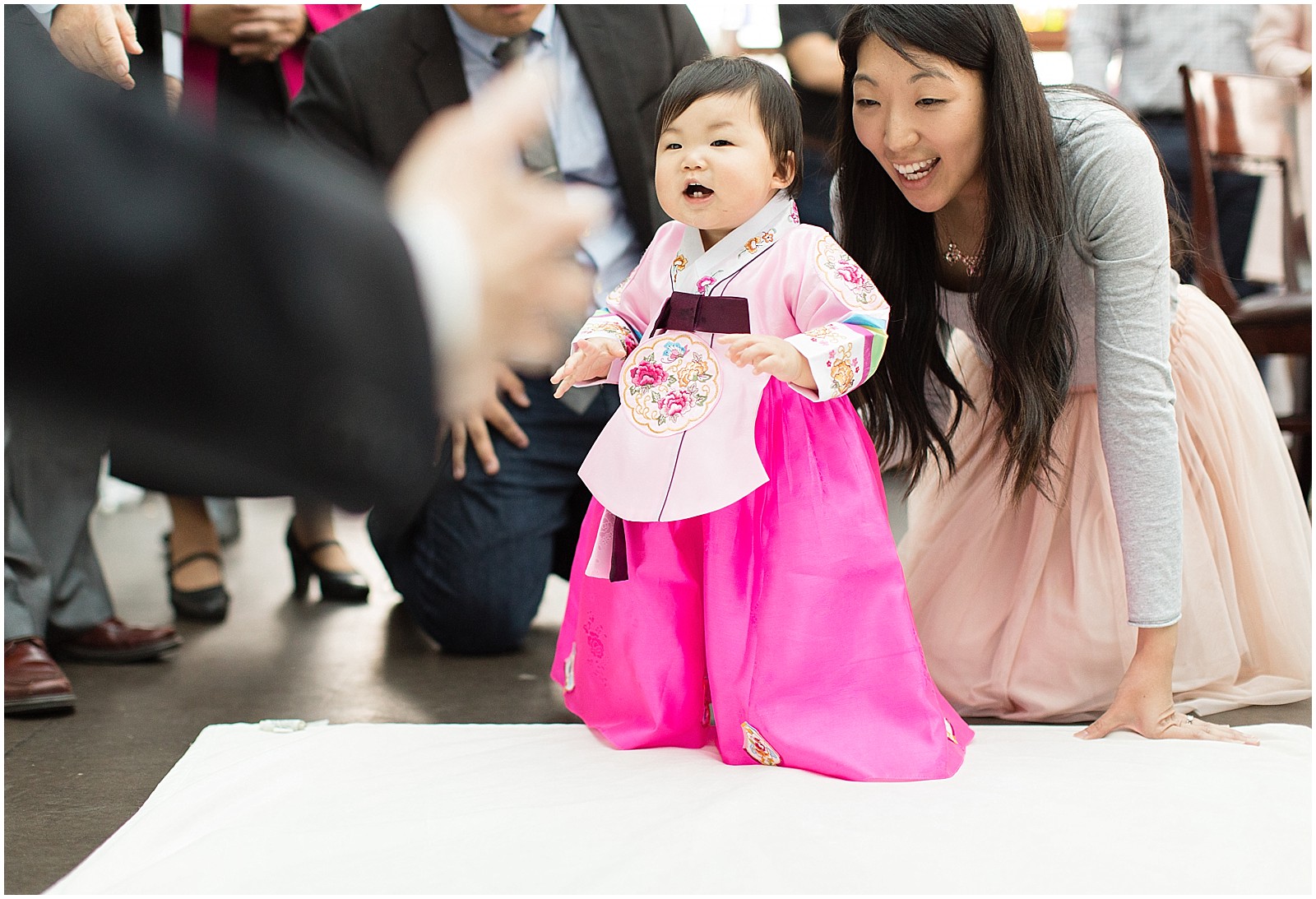 Despite the rain that afternoon, our venue, Jolane's Cafe, provided the perfect amount of light in their glass-surrounded atrium. Our amazing florist made my vision come to life with her beautiful floral arrangements on the head table and cakes as well as the lush bayleaf garlands on the chiffon backdrop and large, round balloons.
Urban Icing made the two-tiered ruffled cake, gold leafed semi-naked cake, and smash cake. Our dear friend and incredibly talented photographer, Chris Kim, captured all of the special moments and details of our baby girl's big day.
DIY Monthly frames

The talented mom made the monthly picture frame and did the calligraphy work herself. The doljabi game (A traditional Korean game during which the baby chooses her future occupation by selecting a corresponding object. It's played for fun, of course.) props are created by the mom as well.
Smash Cake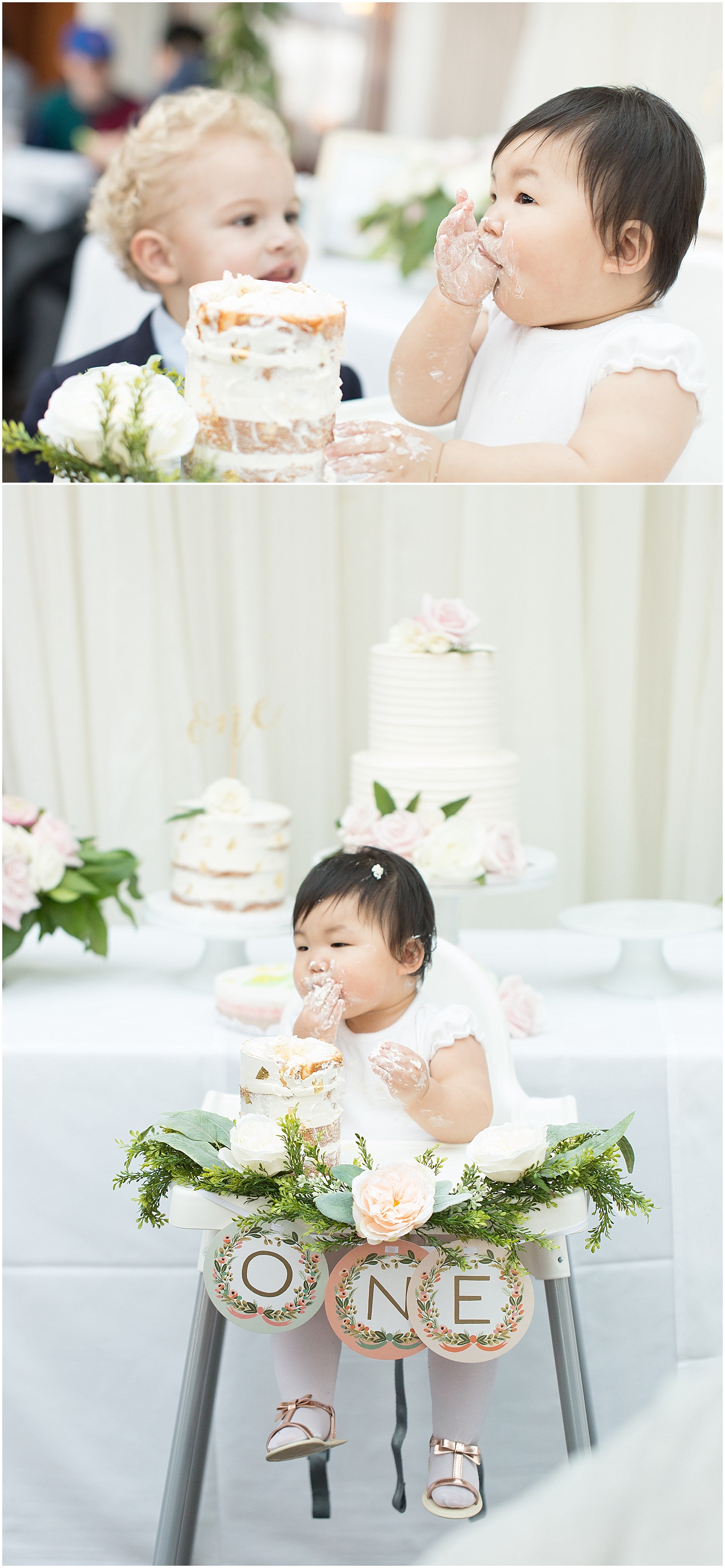 The highlight of this party has to be the smash cake! The cake is so pretty and I love how the birthday girl is just going for it. It seems like Olivia really enjoyed her first taste of sugar! 😉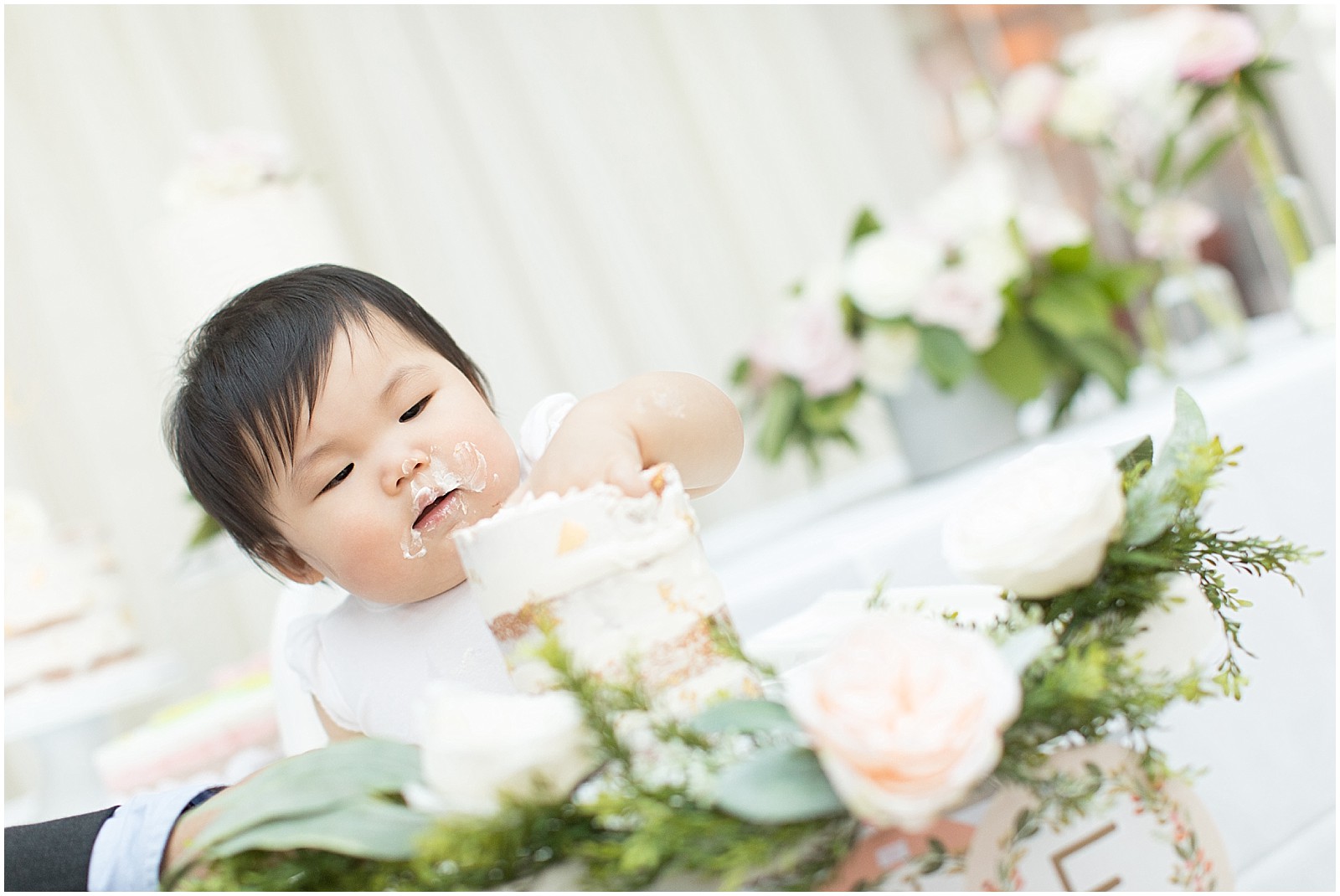 Thank you Anna for sharing your daughter's beautiful day with us. Wishing Baby Olivia a blessed and healthy life ahead!
If you enjoyed this post, please pin the image below. It helps more parents find this post for inspiration and ideas!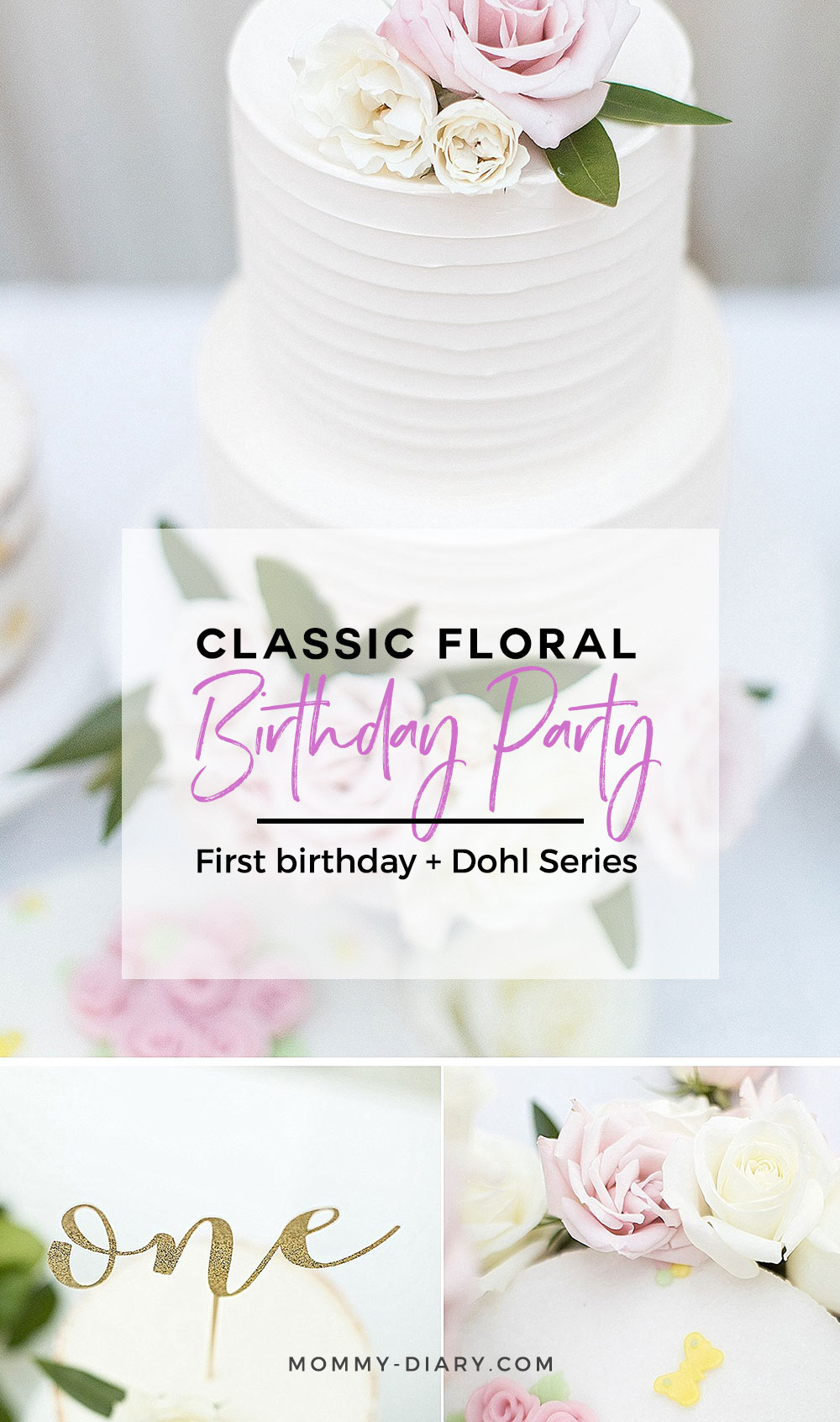 Vendors
Photographer – Chris Kim
Flowers, backdrop, and balloons – Sara from Vale of Enna 
Cakes – Urban Icing 
Wishing Tree – Anna Ahne
Monthly picture frame – Anna Ahne 
Calligraphy – Anna Ahne 
Faux flower garlands-  The Glittered Barn 
"Olivia" calligraphy sign – NgoCreations 
"one" cake topper – Tender Love Cardstock 
First birthday milestone poster – CasaConfetti
Dohljabi labels – Memele Paperie
Banner – Rifle Paper Co.
Olivia's dress – Little Trendsetter 
Olivia's headband – Notes & Knots