If you're celebrating Valentine's Day at home this year, you are in good company. Couples around the world will be enjoying yet another night inside their home. If you have children, you've probably found that a pandemic doesn't give much time for quality alone time with your partner. Although, now that I think about it…I suppose that's not much different than any other day with young kids in the house!
However, it is possible to have a cozy at-home Valentine's Day date night with just a tiny bit of preparation.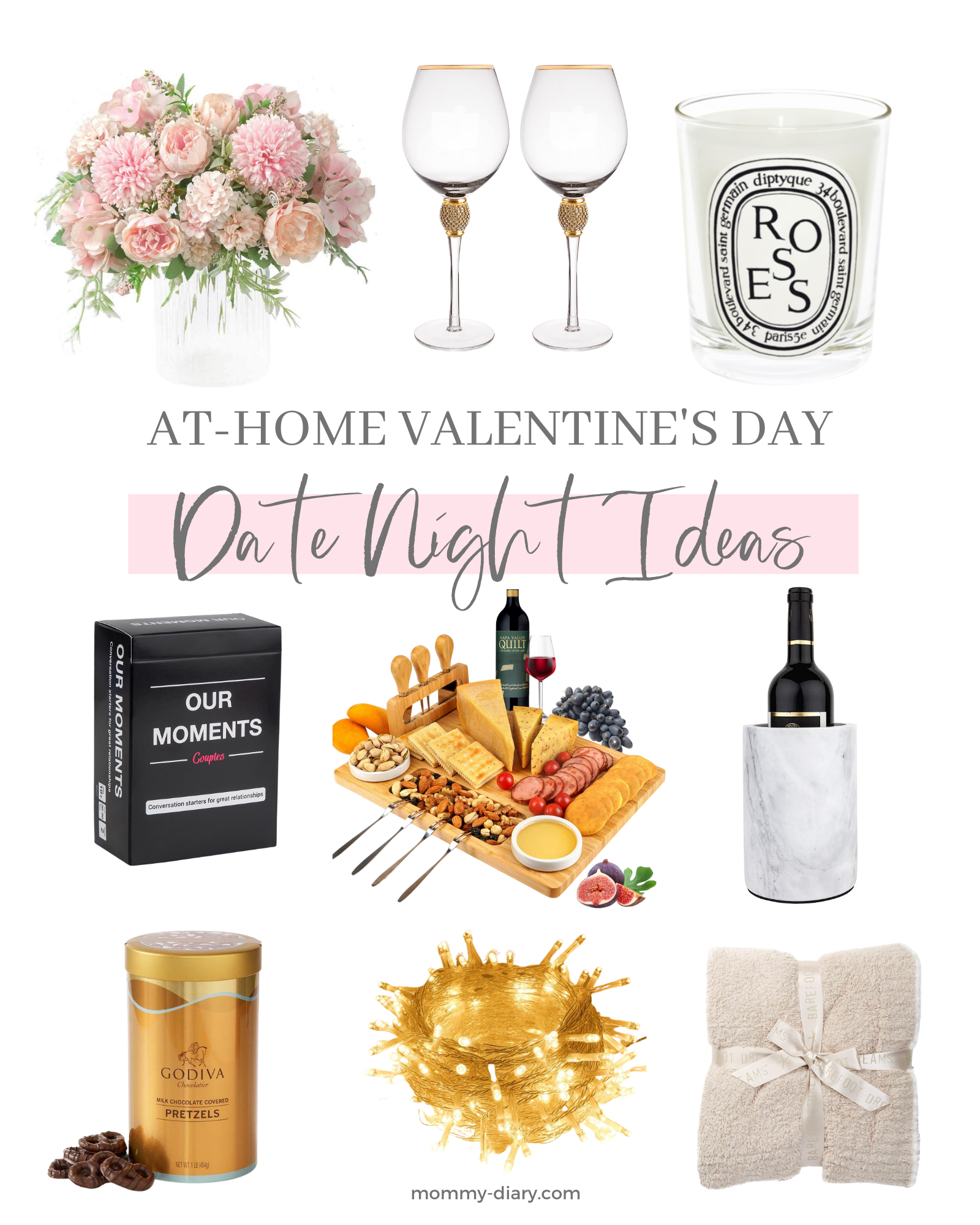 5 Steps to an at-home Valentine's Day date night
It doesn't have to take much effort to create a mini date night at home. You could plan this with your partner, or surprise him/her after the kids go to bed! Either way, I'm sure the alone time will be a nice change of pace.
1. Set up a cozy space
First thing's first…you have to set the scene. There are a few must-haves to create a cozy space for a Valentine's Day date night. To set up a romantic space, you'll want dim lights, nice smells, and a relaxing ambiance. Here are my suggestions:
Cozy blankets
Nice smelling candle
Cushions on the floor
Subtle decor such as garland on the fireplace
Twinkle lights around the room
Fresh flowers
2. Choose a romantic film
What's a date night without a cheesy romantic movie? With all kinds of at-home movie streaming such as Netflix, Amazon Prime, and other apps, the choices for movies are endless. Some of my favorites are:
The Notebook
Serendipity
Sweet Home Alabama
Titanic
A Star is Born
The Bodyguard
Dirty Dancing
Casablanca
About Time
Me Before You
3. Treats
Sweet and salty treats are the best compliment to an at-home date night and movie. If you want to be festive, try creating my Valentine's Day sweet charcuterie board. Other ideas include:
popcorn
chocolate-covered pretzels or strawberries
m&ms
cheese and crackers
gummy worms
cupcakes
cheesecake
4. Bottle of wine
Whether it's red or white, wine is an essential part of date night. If you don't drink alcohol, opt for a sparkling water in a wine glass with cut up fruit. Cheers!
5. Games
With a cozy blanket and dim lights, there's a good chance I won't make it through the movie without falling asleep. If you're able to stay awake past 10:00, consider having a game to play after the movie.
Can you remember the last time you and your partner played a game just the two of you? There are games created specifically for two people that can spark conversation, laughter, and make you feel closer to each other.
Does this give you some fun ideas for your at-home Valentine's Day date night? Let me know about your plans in the comments!
And hey, if Valentine's Day has already come and gone, you could set up a romantic and cozy date night in your living room any night!
This post contains affiliate links that help to support the blog at no additional cost to you. Thank you for your support that allows me to create valuable content for families all around the world.