After many weeks of research and discussion, my husband and I decided to go to Disney Aulani for our Babymoon. We also decided to make it a "Familymoon" by including our two children in all the activities and sharing the last few months as a family of four before the little one arrives.
We heard many amazing things about Disney Aulani from friends and were so excited to finally get a chance to go. We also love visiting Hawaii so Disney Aulani seemed like the perfect destination that combines two of our favorite places in one location.
As expected from any Disney resort, Disney Aulani boasts beautiful and well-maintained grounds, excellent guest service and a magical feeling that is characteristic of the Disney brand. As soon as you walk through the lobby, your senses are engulfed by the open view of the blue sky, lush greenery and hypnotic Hawaiian sounds that one might hear on a Hawaiian Disney ride if there was one. Immediately, you know you're at a Disney resort.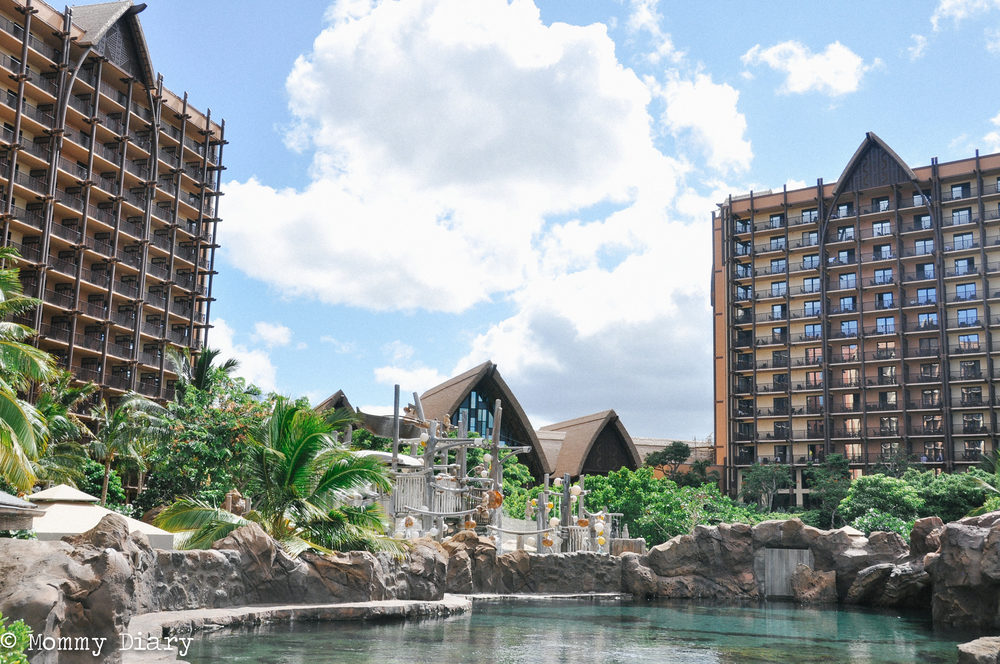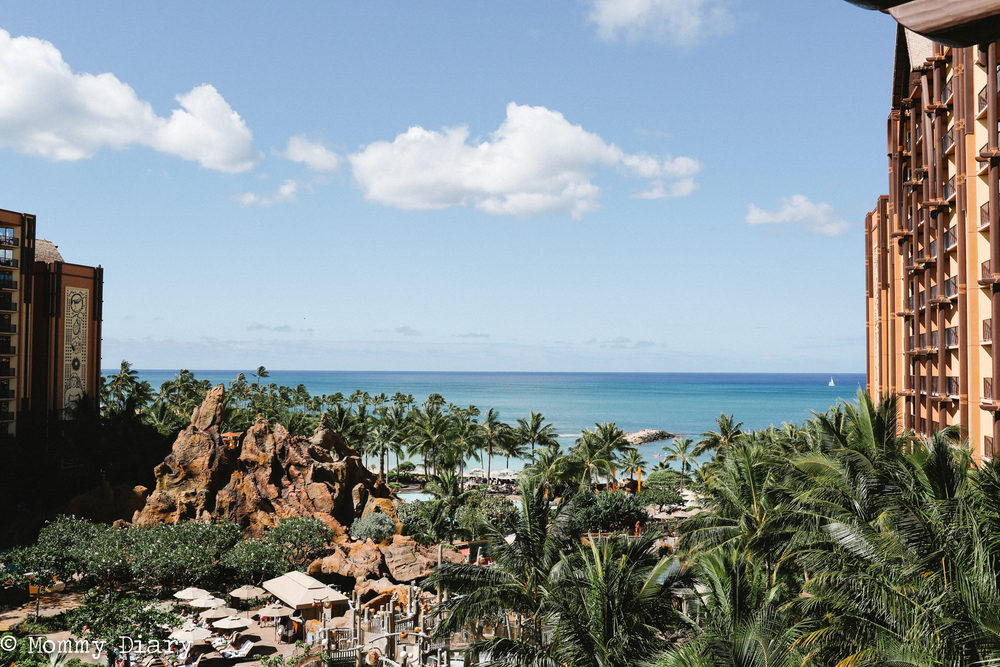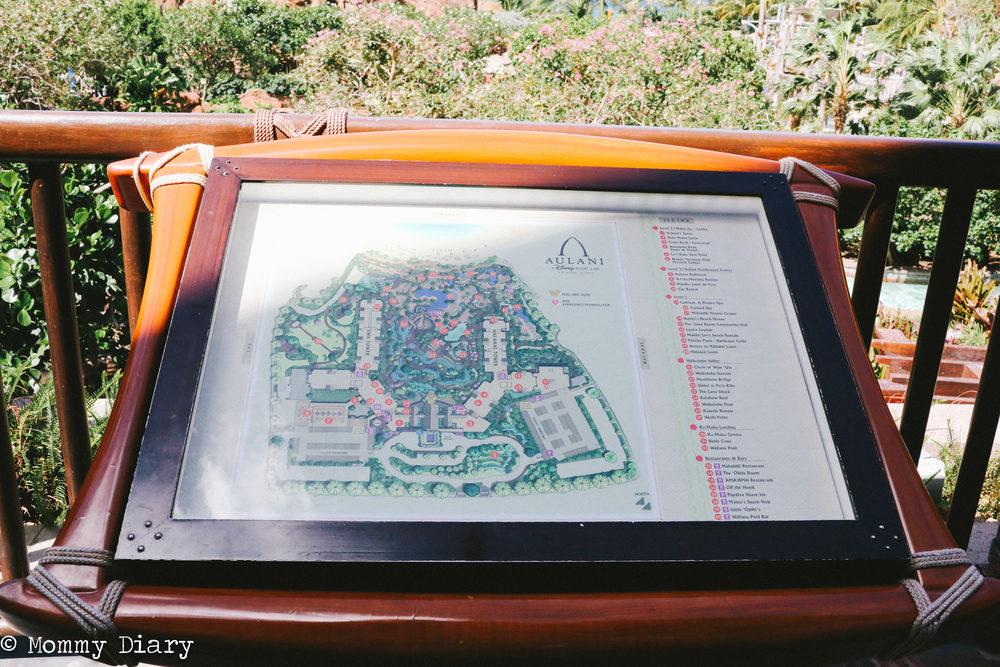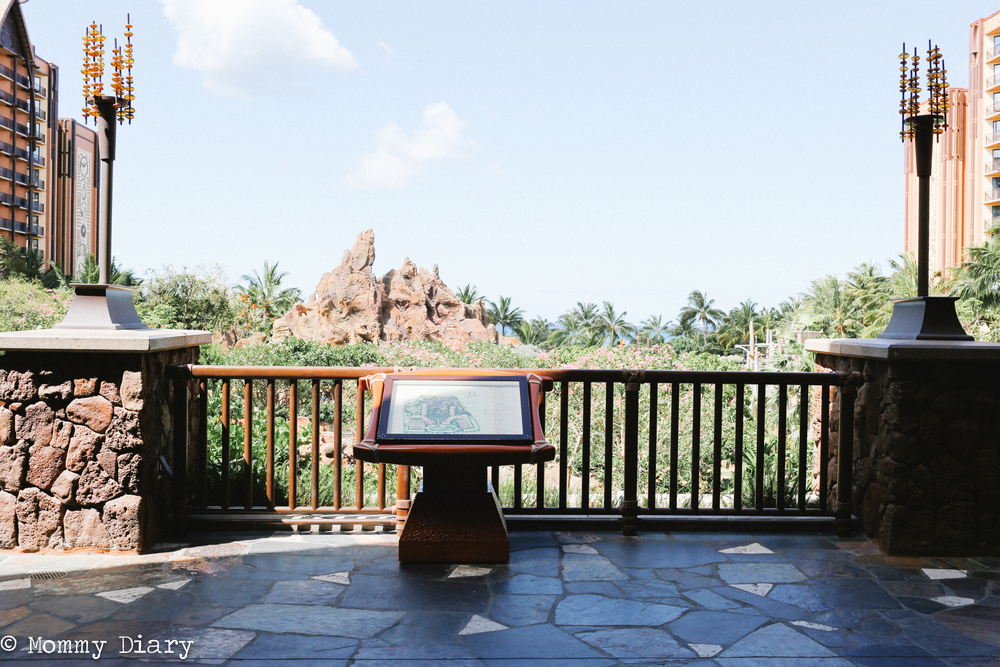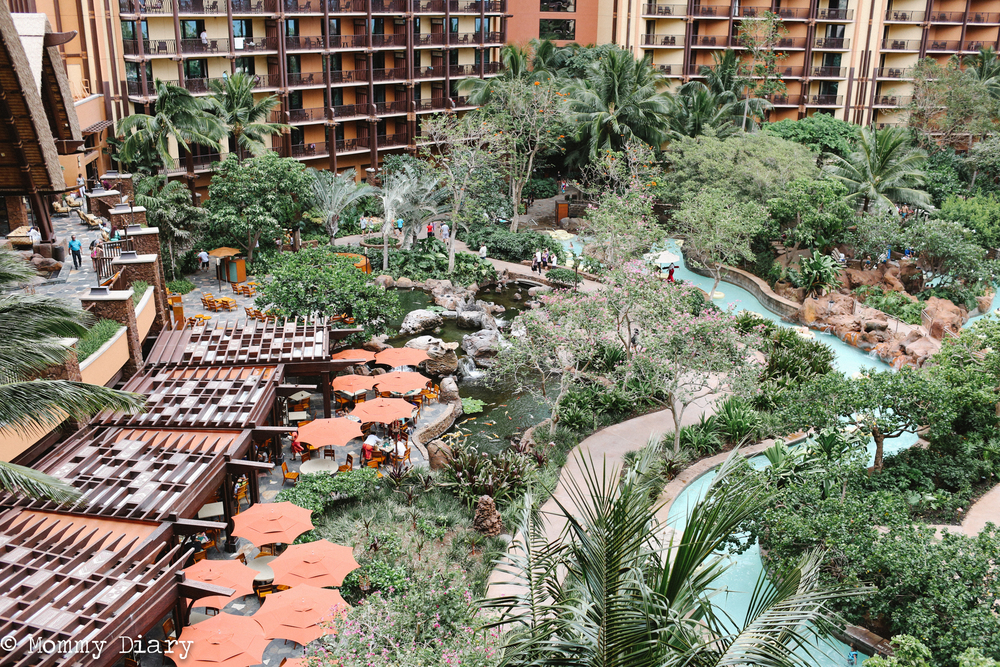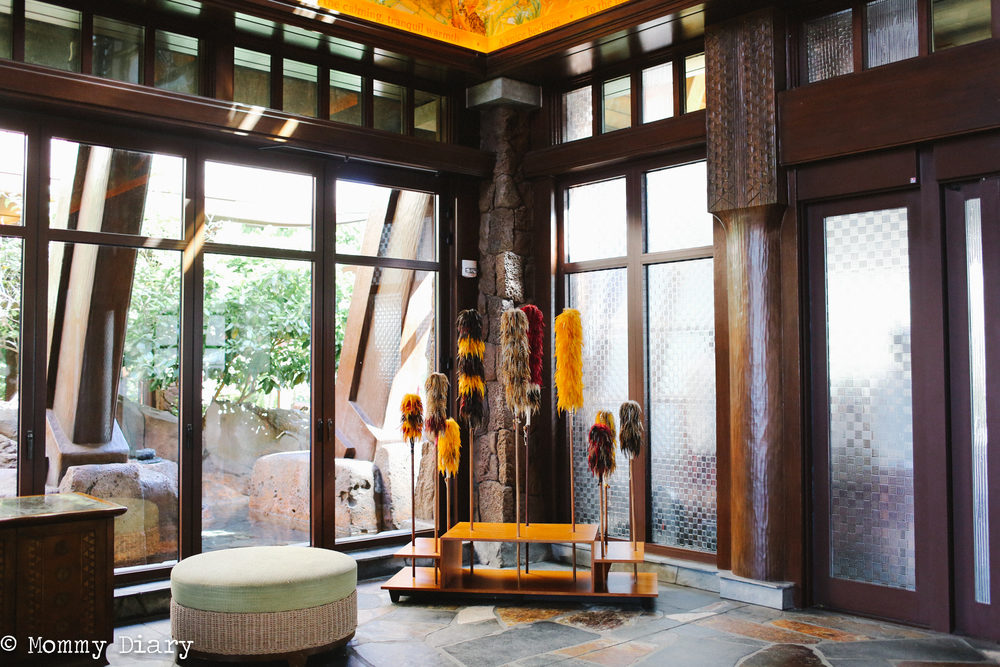 All hotel guests are greeted with leis for moms and dads and Menehune (little mystery people hidden throughout the resort) necklaces for kids. They always offer fresh fruit water in the front.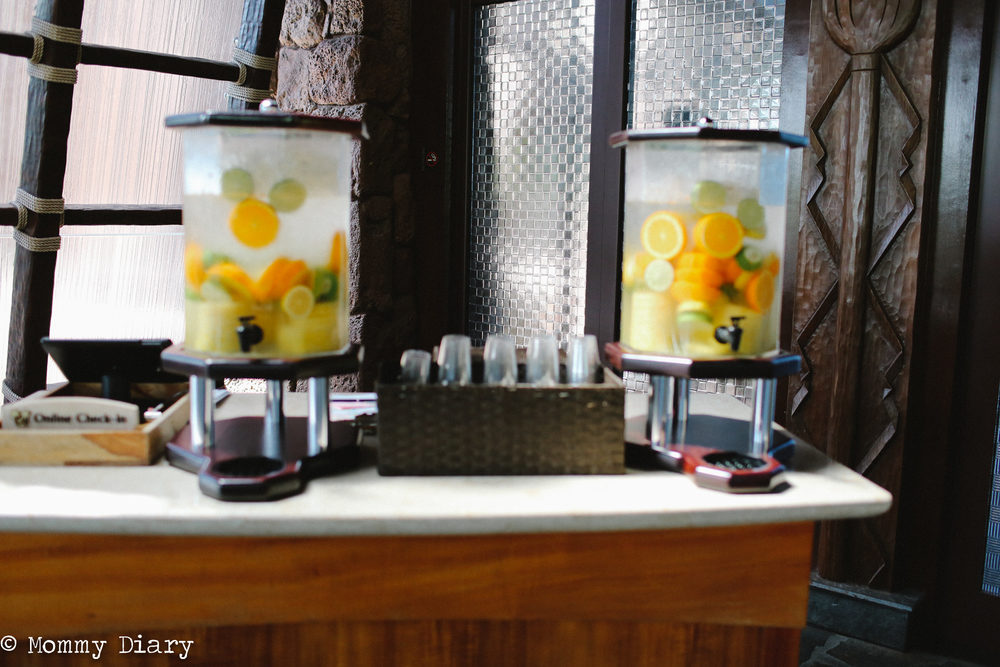 Rooms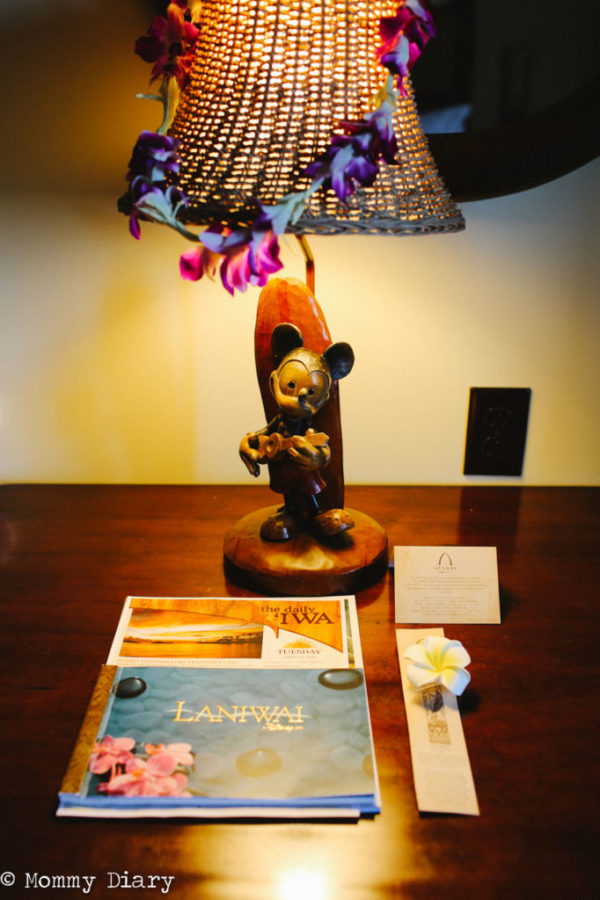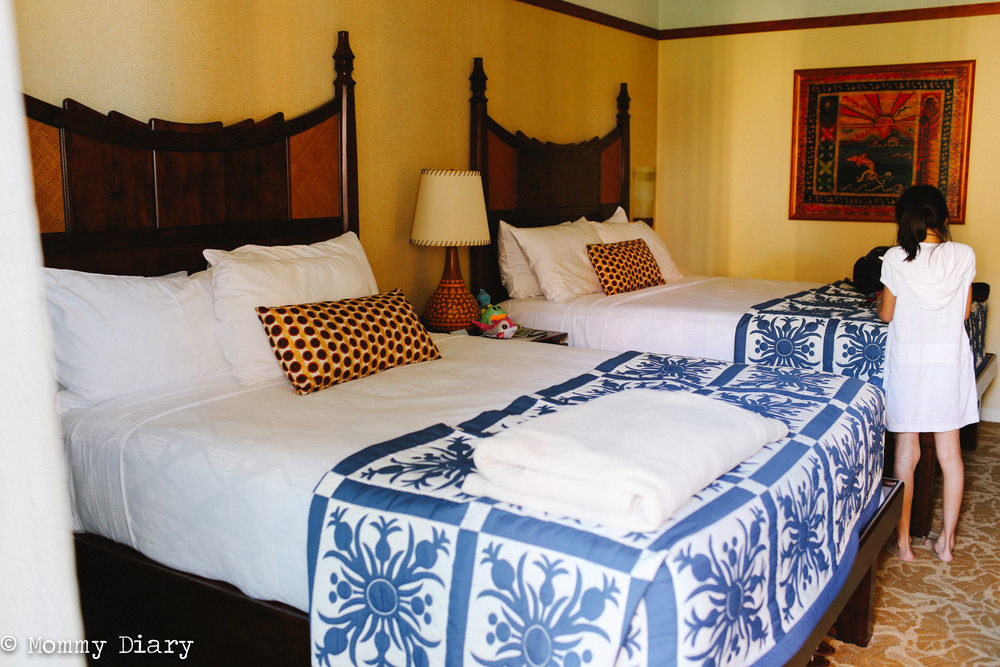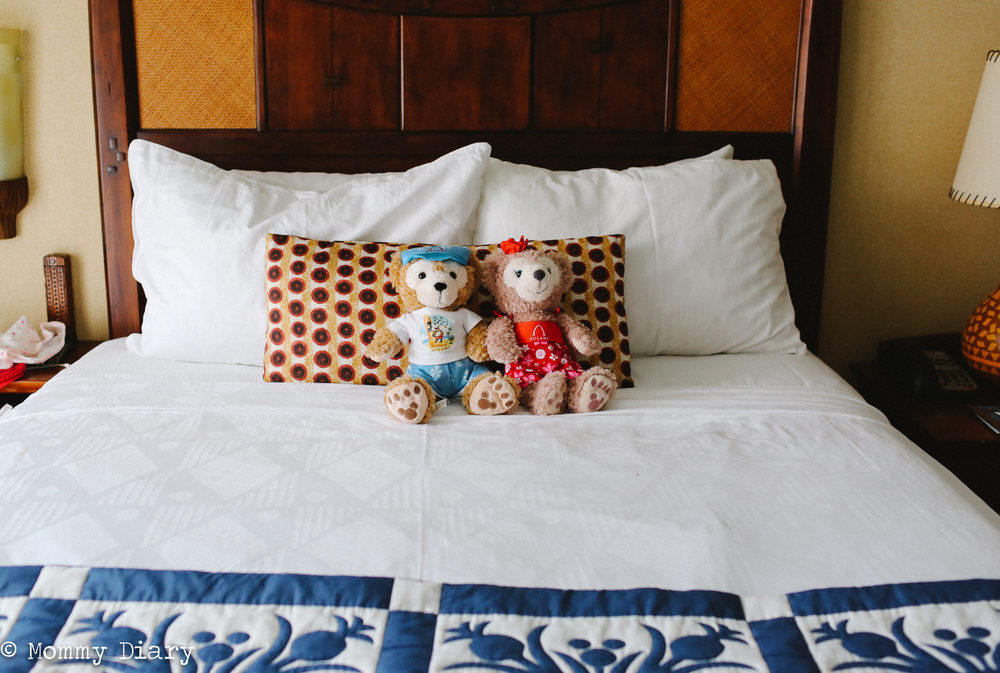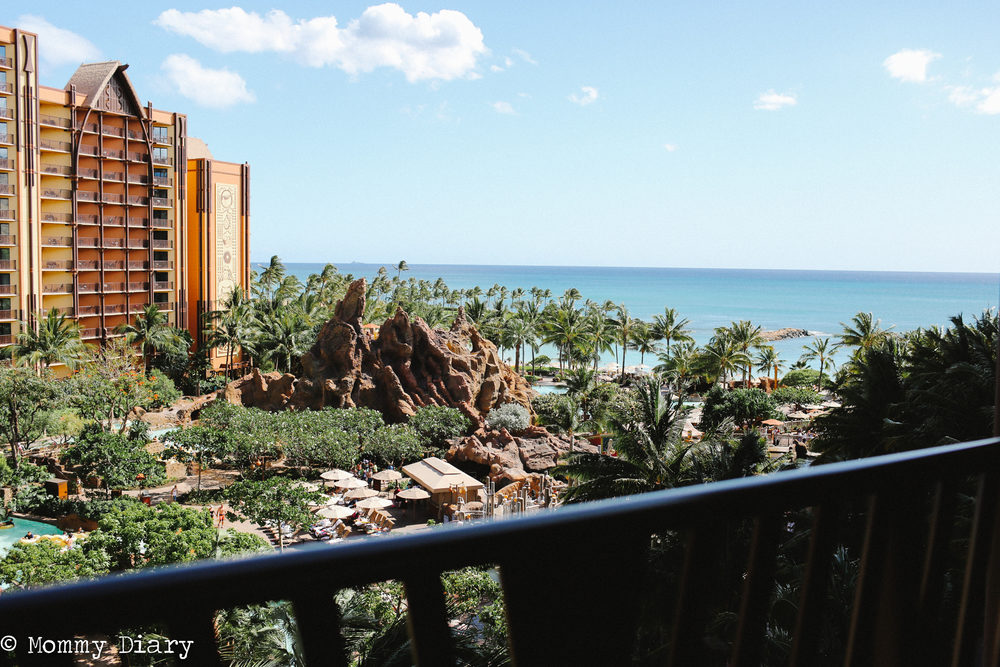 We stayed at the standard ocean view room for 4 people. At 382 sq ft the room was smaller than we would've liked but we didn't want to pay more for an upgrade. It's fine for a family of four but if you have a baby or more family members, I would recommend upgrading to one of their 1-bedroom suites or larger villas. The larger villas would be perfect for bringing along extended family and grandparents.
The room is equipped with standard amenities such as an empty refrigerator, coffee pot, hair dryer and two robes. There are also nice family-friendly additions such as hot water boiler and a portable baby crib. They also have microwaves available upon request so be sure to request one to heat up those leftovers in the room. We actually ended up using the microwave a lot for heating up leftover pizza, pasta and spam musubi for late light snacks.
The view was decent from the 7th floor. We've had nicer views before (See our previous Waikiki trip) but that was also a much more expensive trip. If you'd like more information regarding their rooms, you can check out their website here.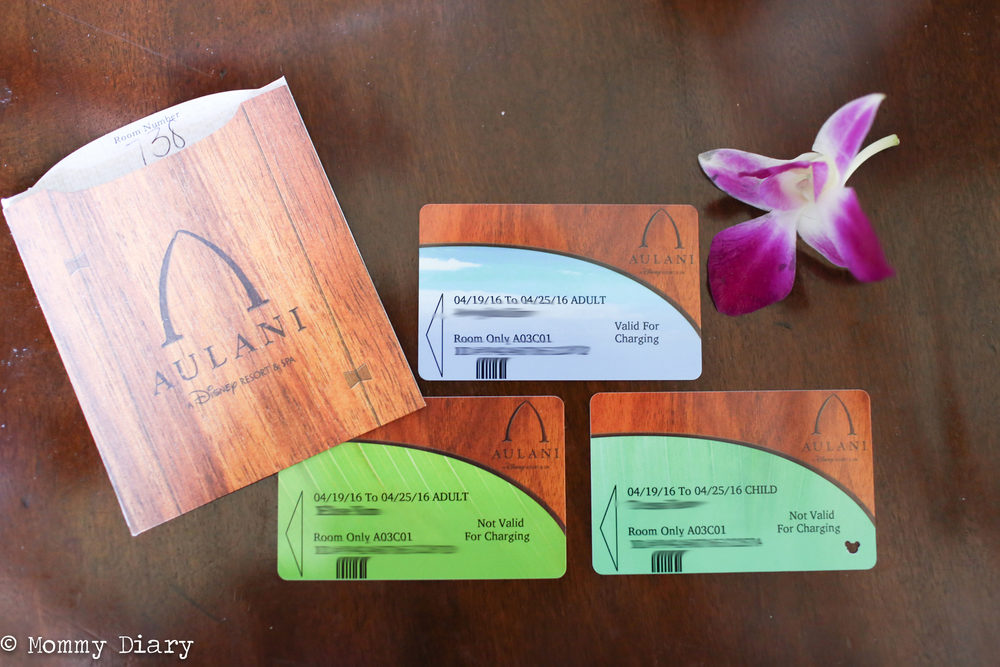 Another cute and family-friendly feature of the Disney resort is that each child gets personalized room keys. As you can see, moms and dad's cards are valid for charging and children's keys are only used as hotel room keys. The little Mickey mouse hole punch at the lower right corner is an indicator that the child has paid for a length-of-stay pass to snorkeling at the Rainbow Reef. More on that below.
Activities
1. POOLS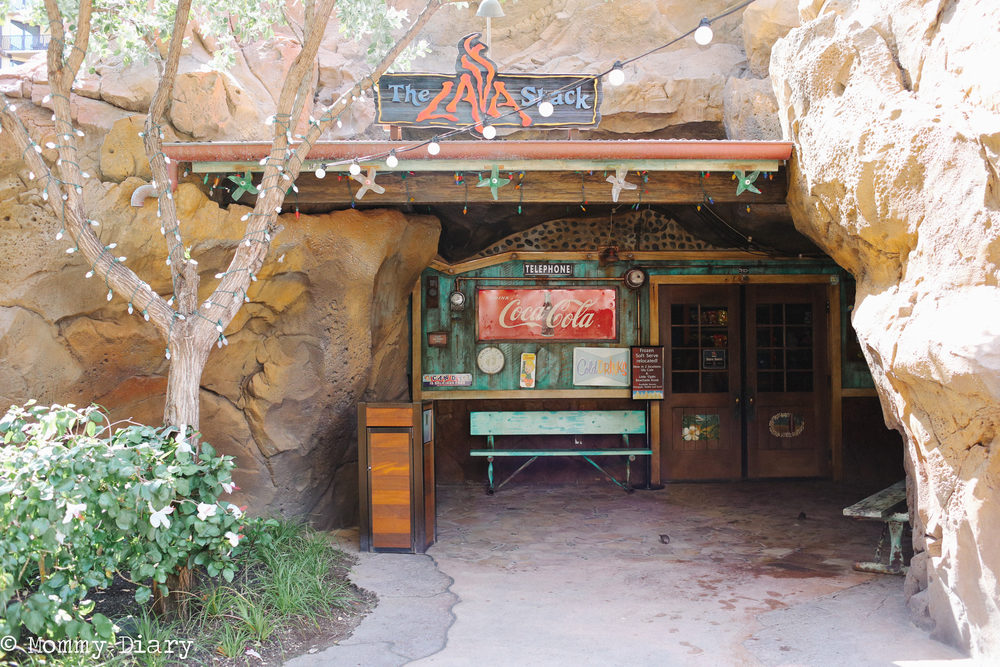 Disney Aulani has several pool options for families. We spent most of our time in the Waikolohe pool which is the largest. Waikolohe is Hawiian for "mischievous water" and is a 8,200-square-foot giant family-friendly pool. It's also heated year-round at approximately 82-86 degrees Fahrenheit.
This is where the Disney pool party takes place with various characters and kids can dance, swim and play games with the hosts. Here you can meet Disney characters like Mickey, Goofy and Minnie and take pictures with them. Photographers are available on-site, just be sure to catch them and take lots of photos during your stay!
*Helpful tip
We learned at the end of our trip that you can buy a CD of all your photos for $99. This sounds like a lot, but if you have more than 3 or 4 photos you'd like to keep, this is actually a better price than purchasing separately. So with that in mind, TAKE LOTS OF PHOTOS and TAKE ADVANTAGE of the photographers that are available throughout the resort. It's like having your own family photographer! (Another notable perk of Disney Aulani.)
For a flat rate of $99, you can get ALL your photos, whether there are 3 or 300. Next time I'll definitely be taking advantage of this.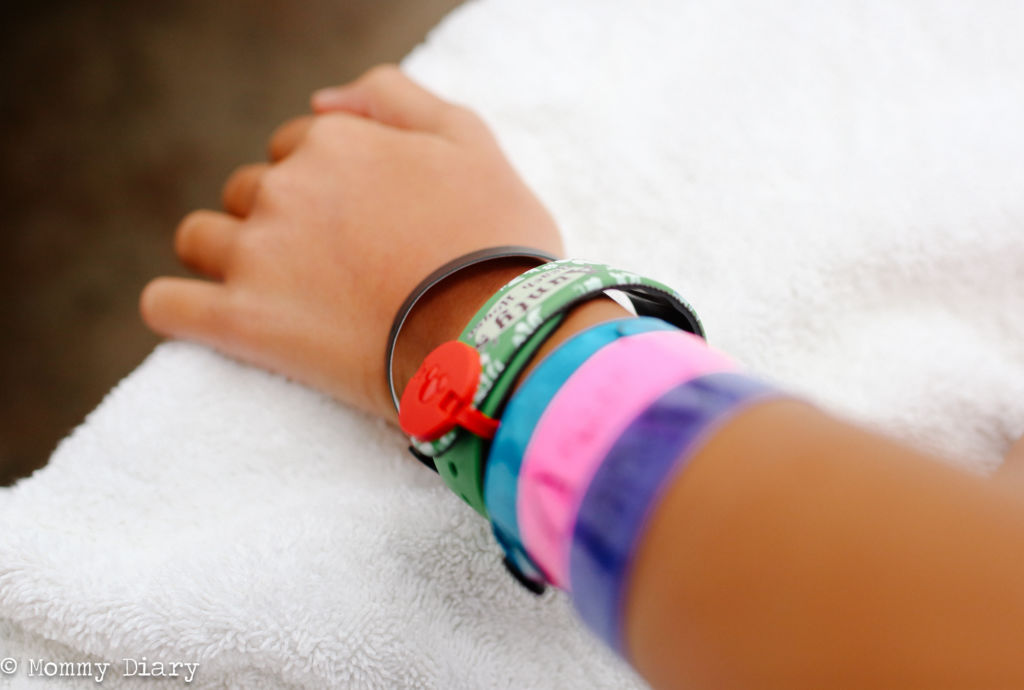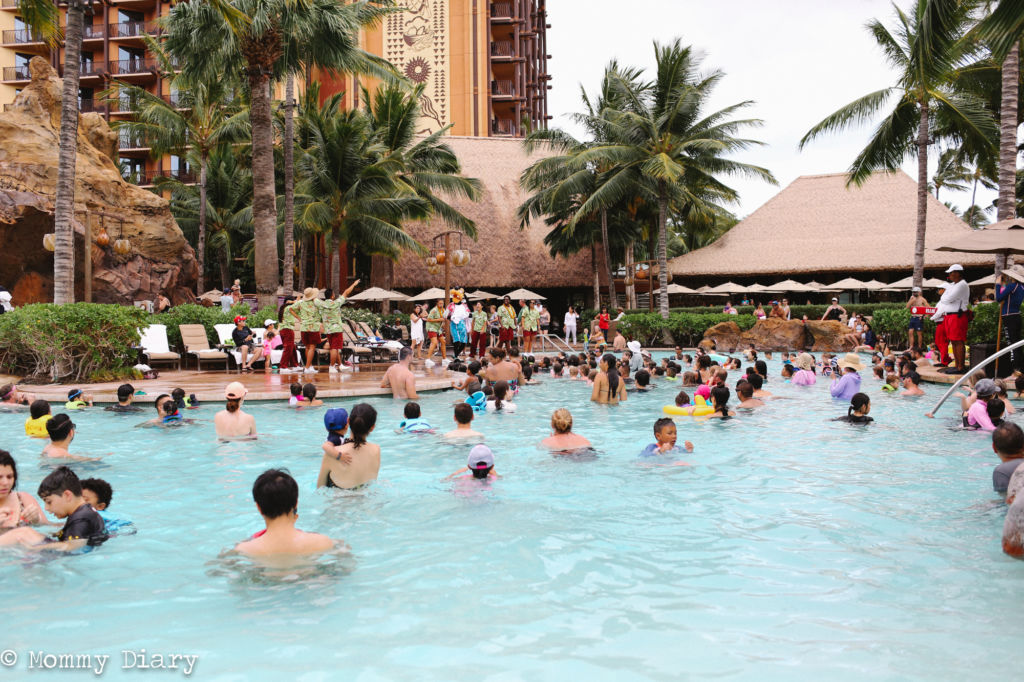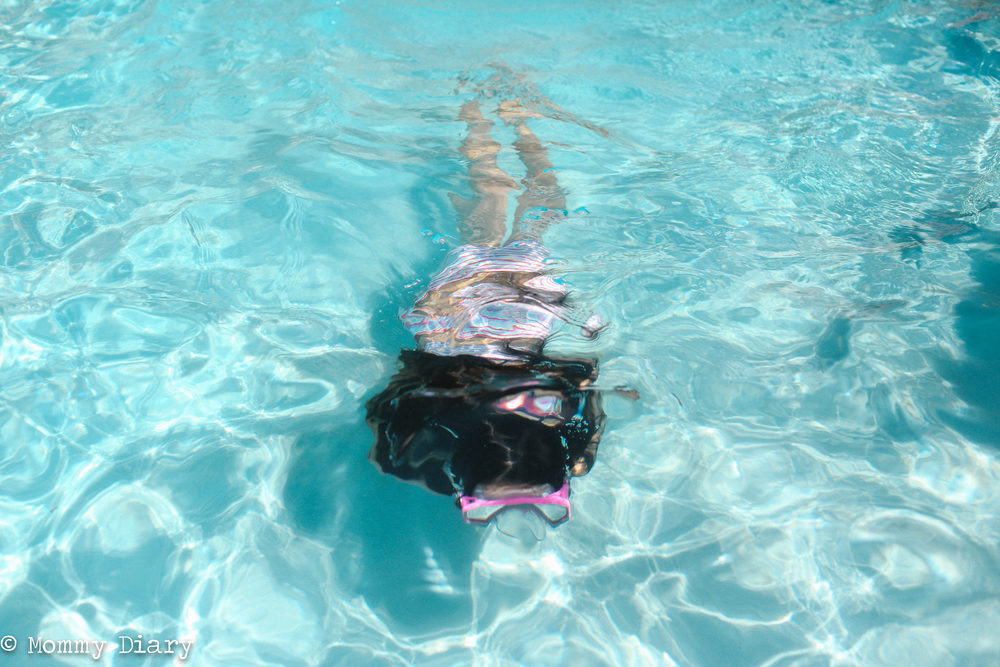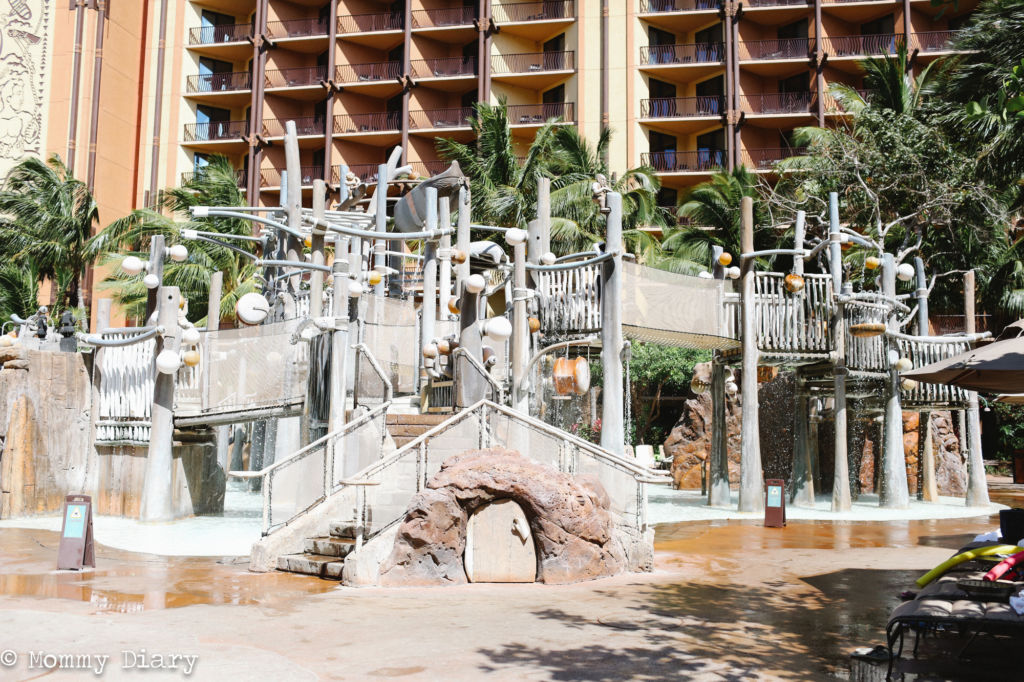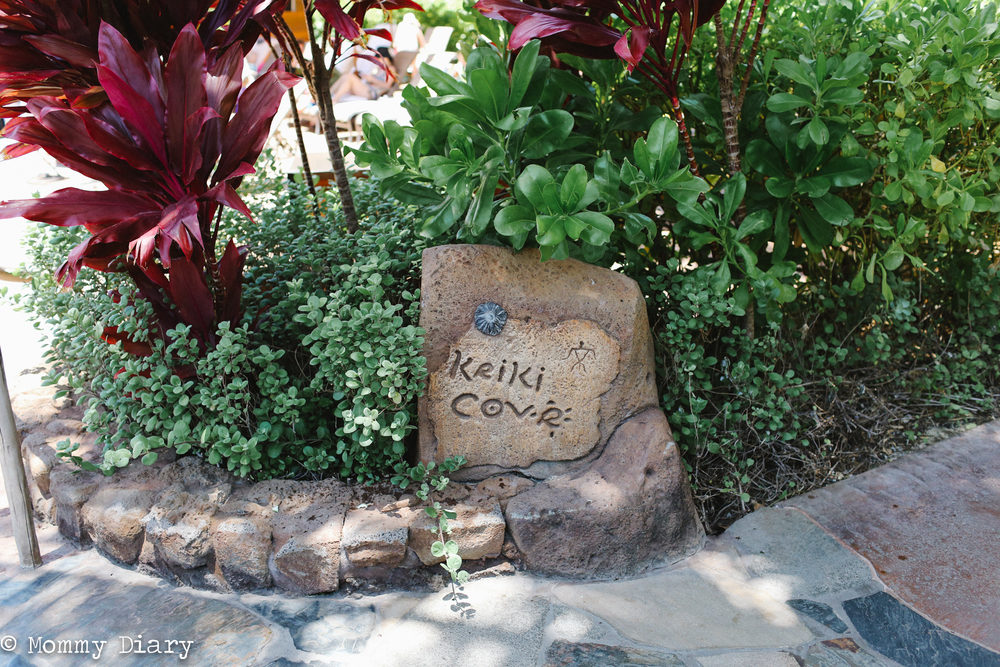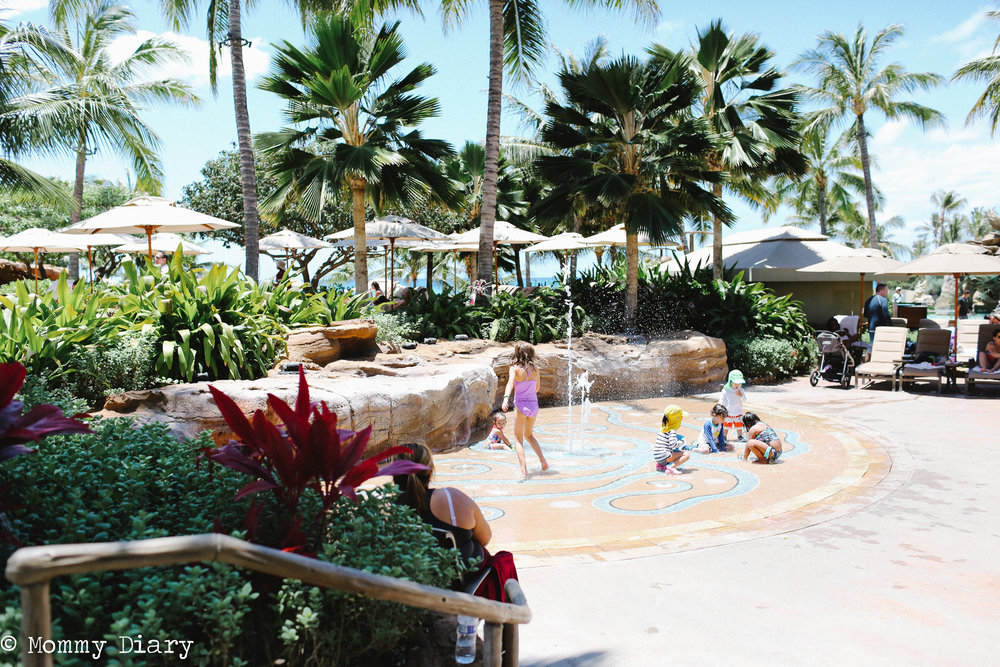 Other pools include Menehune Bridge– an interactive water bridge with slides and various water elements, the Keiki Cove– a kids' splash zone suitable for babies and toddlers, the Ka Maka Grotto– an infinity pool overlooking the Ko Olina beach and Wailana pool-an adult's only pool that I obviously did not get to use.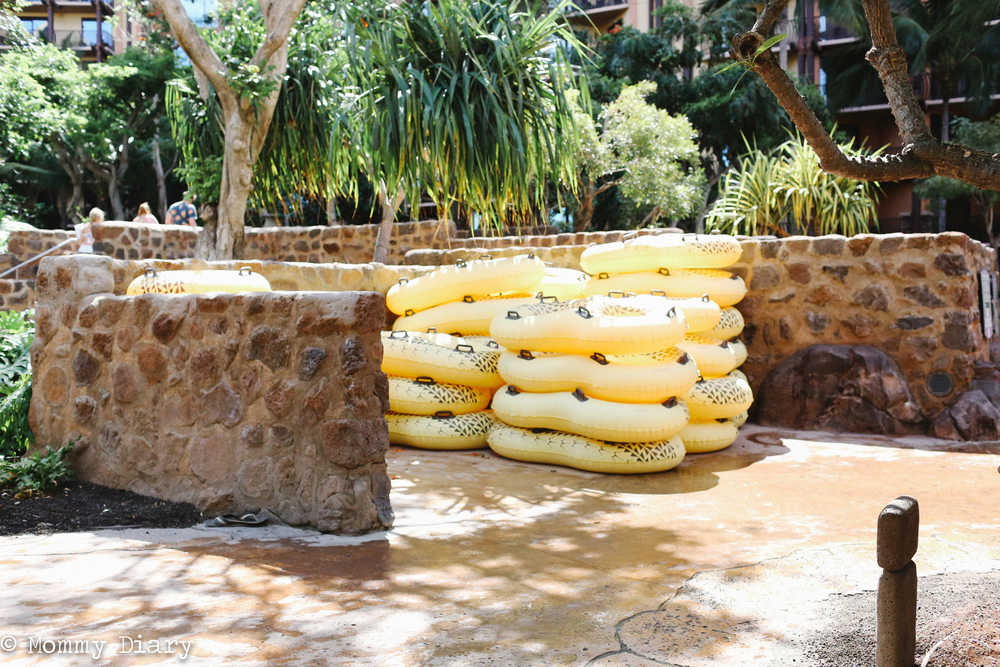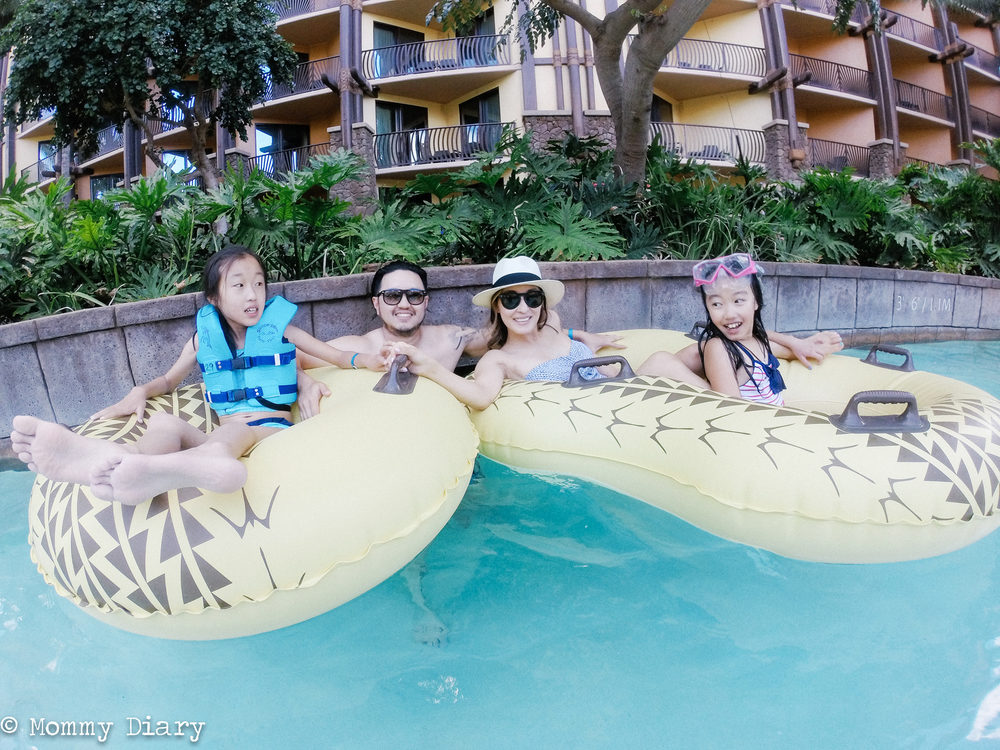 The highlight is the lazy river called the Waikolohe Stream that circles the beautiful hotel landscape. You can choose single or double tubes, relax your body and just let the stream take you around the lazy river. It also has fun slides that I did not use due to my pregnancy but the family loved.
*Helpful tip
The best part of Disney pools is that there are lifeguards everywhere! I've never seen so many lifeguards at one place before and this makes such a huge difference for the parents. I even saw some parents with three little kids just lounging and relaxing because they knew their kids were safe in the pools.
I wouldn't recommend taking your eyes off your kids for too long but you can definitely feel safer here than any other resort.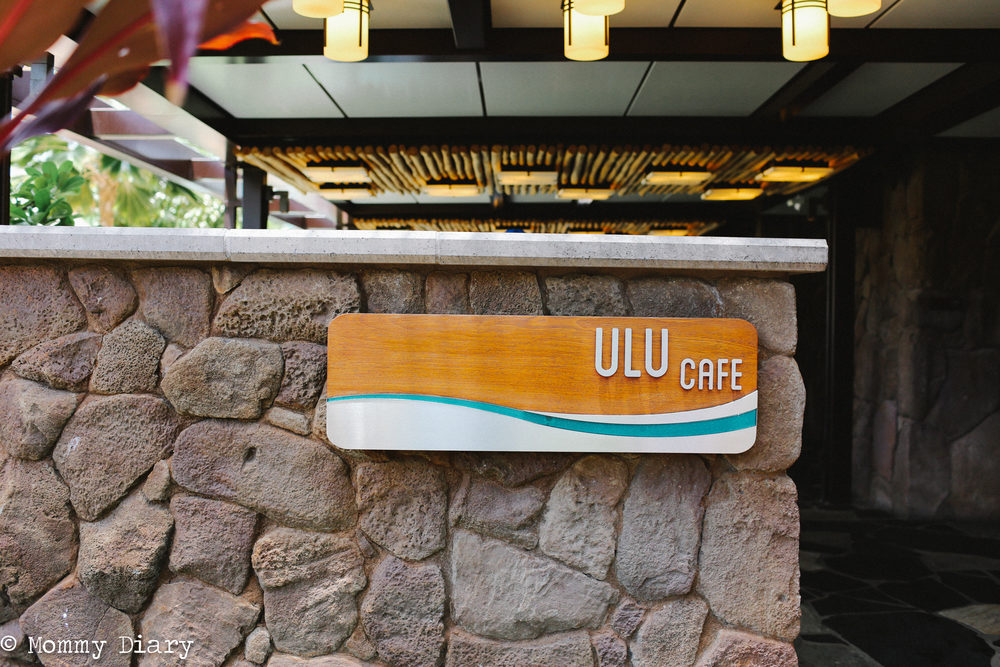 *Helpful Tip
When enjoying the pool and the beach, be sure to stop by at the Ulu Cafe and purchase refillable character cups at $19 each. Once purchased, you can get unlimited refills for the duration of your stay. They have various soft drinks, iced tea as well as coffee for parents. It was definitely worth it for us!
2. RAINBOW REEF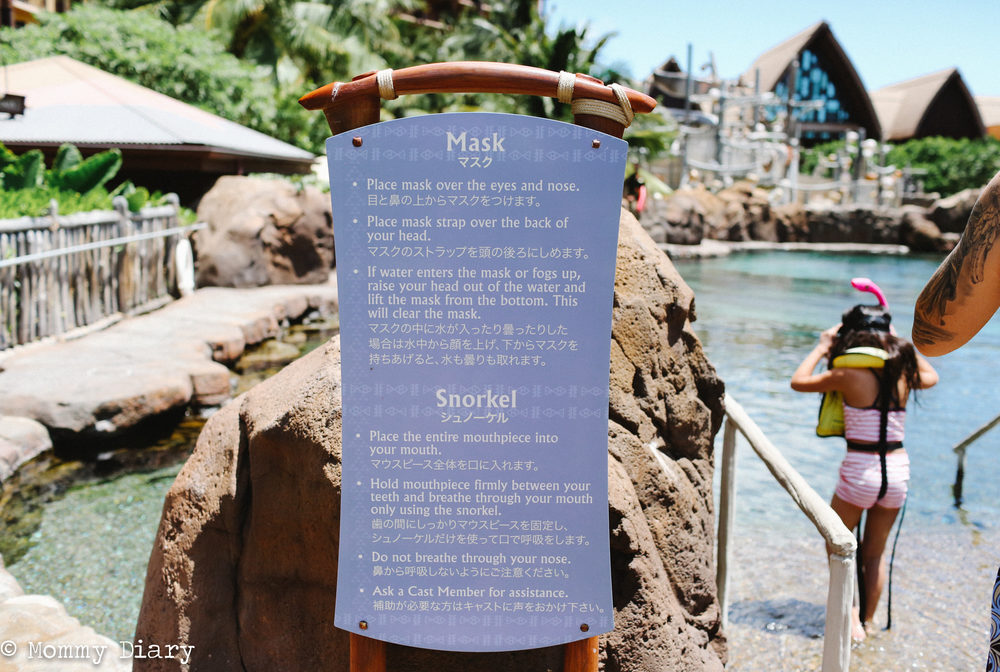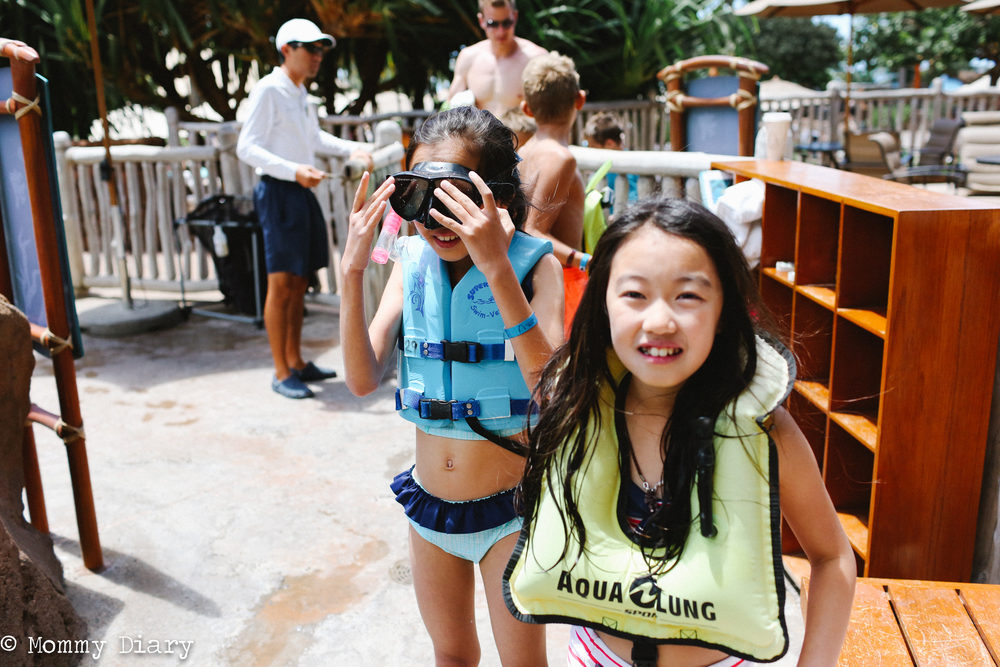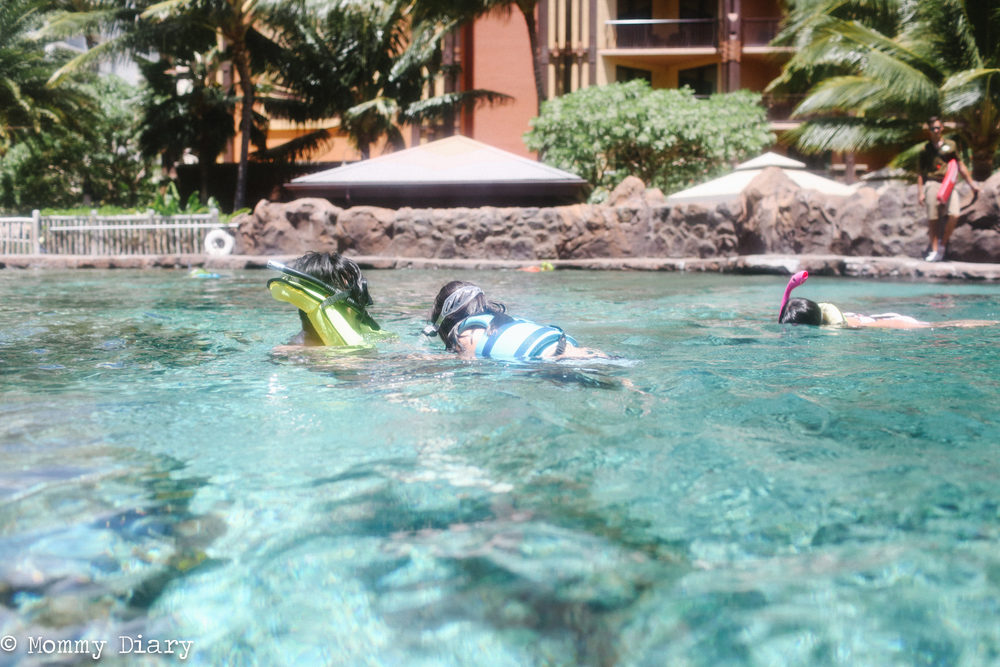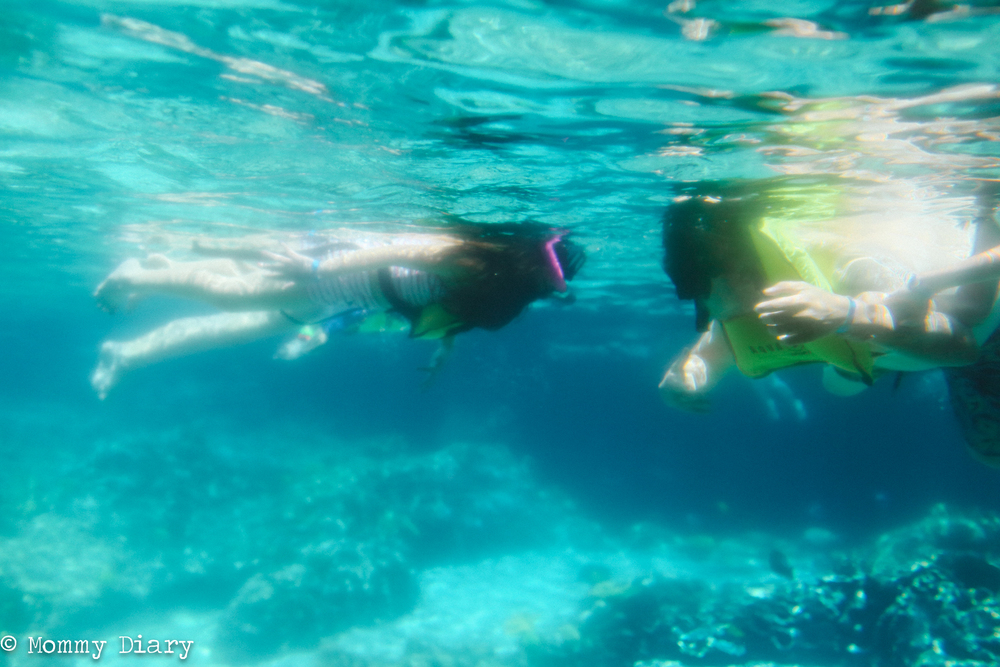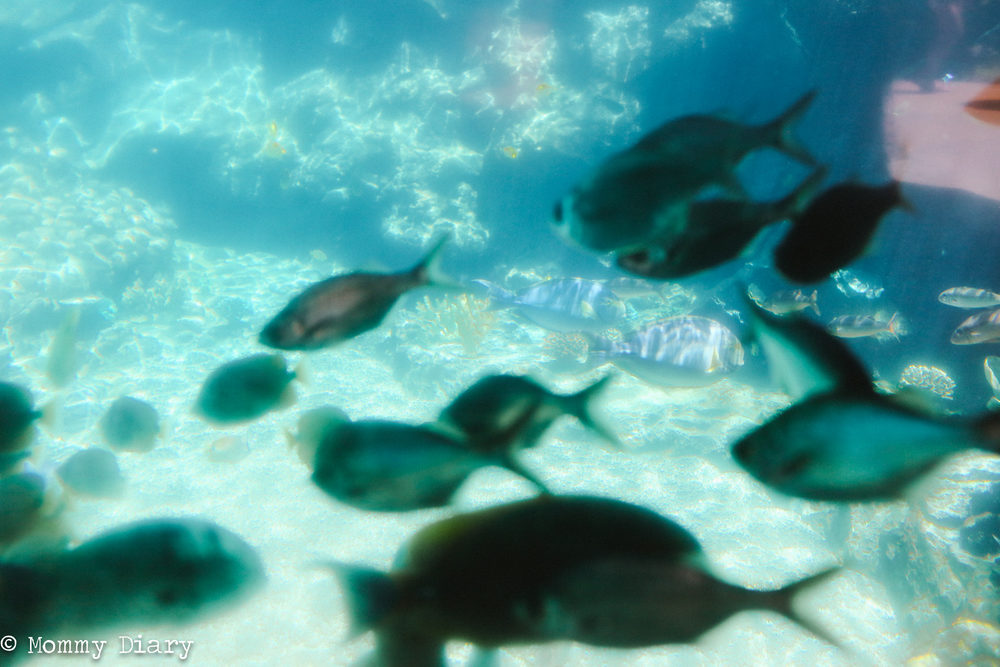 The saltwater lagoon located at the center of the resort is a fun and convenient place to snorkel for both kids and parents. The rainbow reef is a 3,800 square-feet reef that is home to thousands of tropical fish.
Entrance fee is $20 per adult (ages 10 and up) and $15 per child (ages 9 and under). You can also purchase a length-of-stay access which is $39 per adult and $29 per child. Conveniently, snorkeling equipment is included with the entrance fee.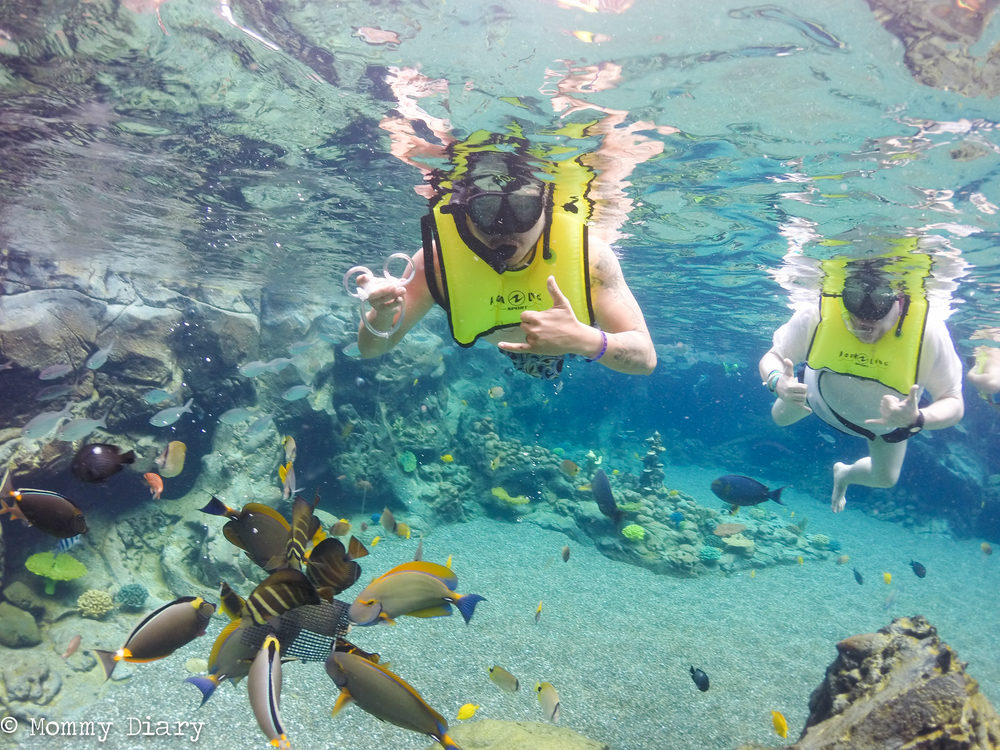 At certain feeding times you can feed the fish yourself during which they have underwater photographers available. It's a cool experience so be sure to check their feeding schedule if you wish to participate. There is also a viewing window where other family members can take photos for you.
My kids enjoyed snorkeling here without worrying about harsh currents or weather conditions. It's much more safe and family-friendly than places like Hanauma Bay and I loved that it's so conveniently located right inside the resort.
3. KO 'OLINA BEACH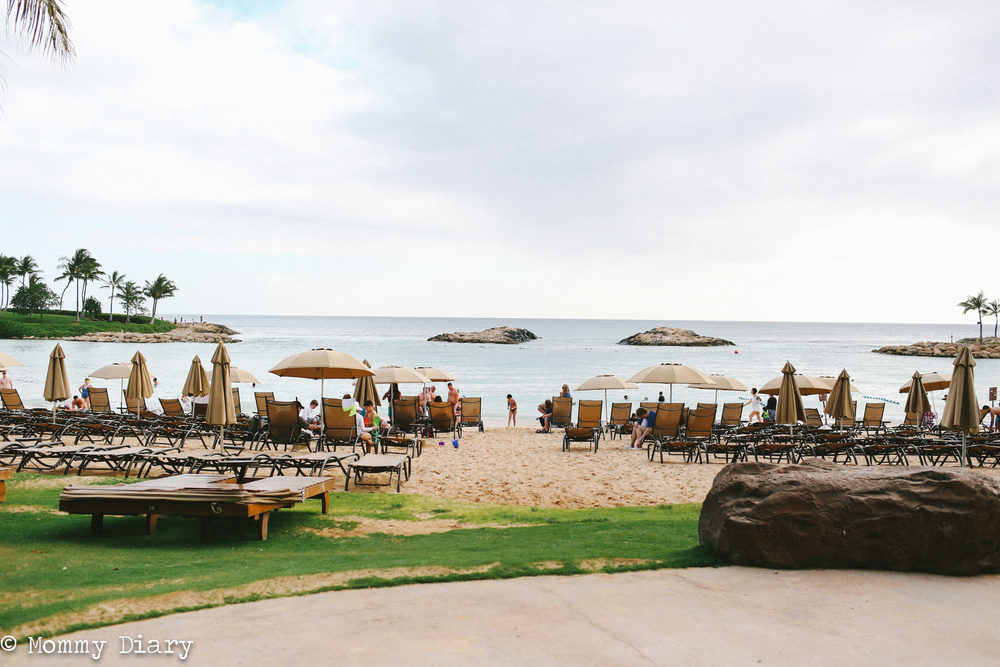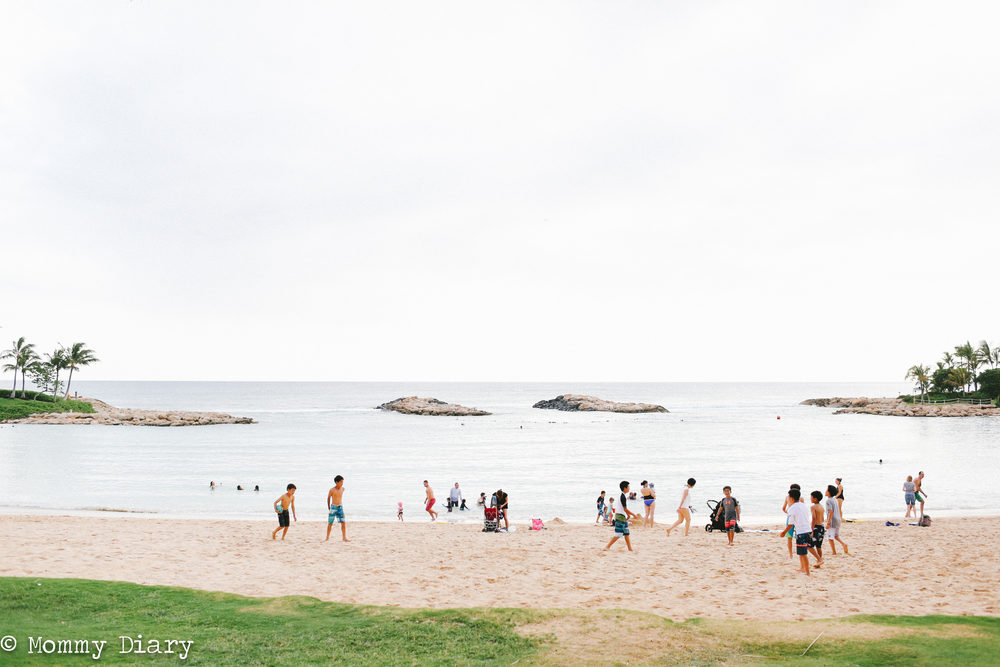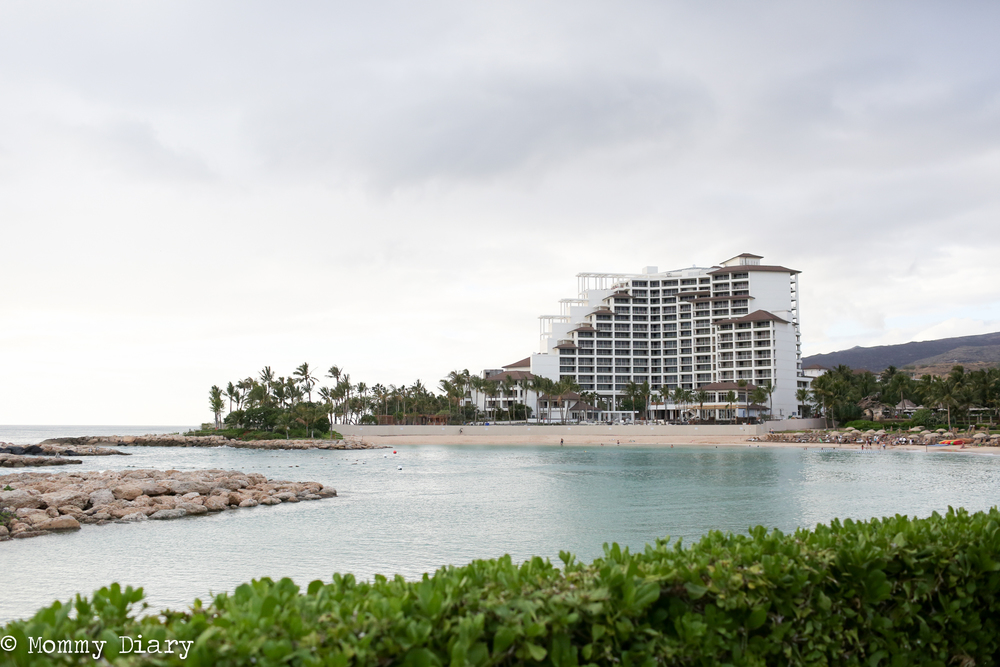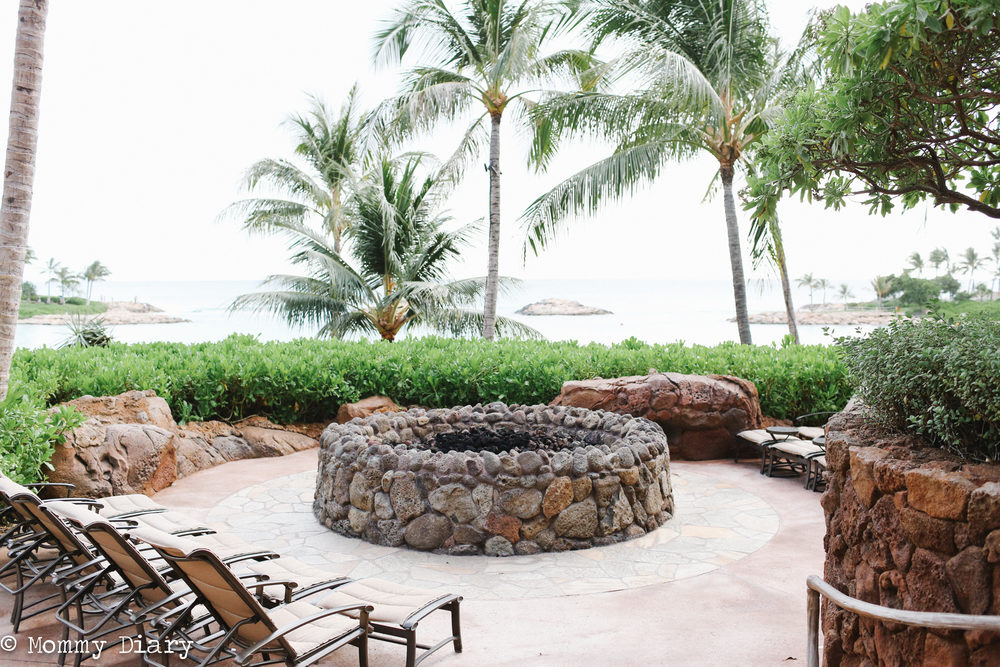 Ko 'Olina Beach is located right behind the Disney Aulani resort and open for hotel guests. We didn't spend too much time here except taking a walk along the beach at sunset while kids were at Auntie's Beach House (Another awesome part of Disney. Read Part two for more details).
You can swim, build sand castles or just lay out on the beach chairs. Boogie boards, snorkels, paddleboards, sand toys and other equipment are available for rent, many of them for free.
If you and your family decide to stay at the resort during most of your stay, the beach is a nice, family-friendly option. You can also enjoy Dole Pineapple ice cream and cocktails right along the beach! We decided to be more adventurous and go explore the islands so we unfortunately did not have time to enjoy a day here.
However, it was nice walking along the beach with my husband without kids for an hour and just catch up. Come to think of it, this was the only hour we were without the kids during the entire trip. I guess it was our magic one-hour babymoon!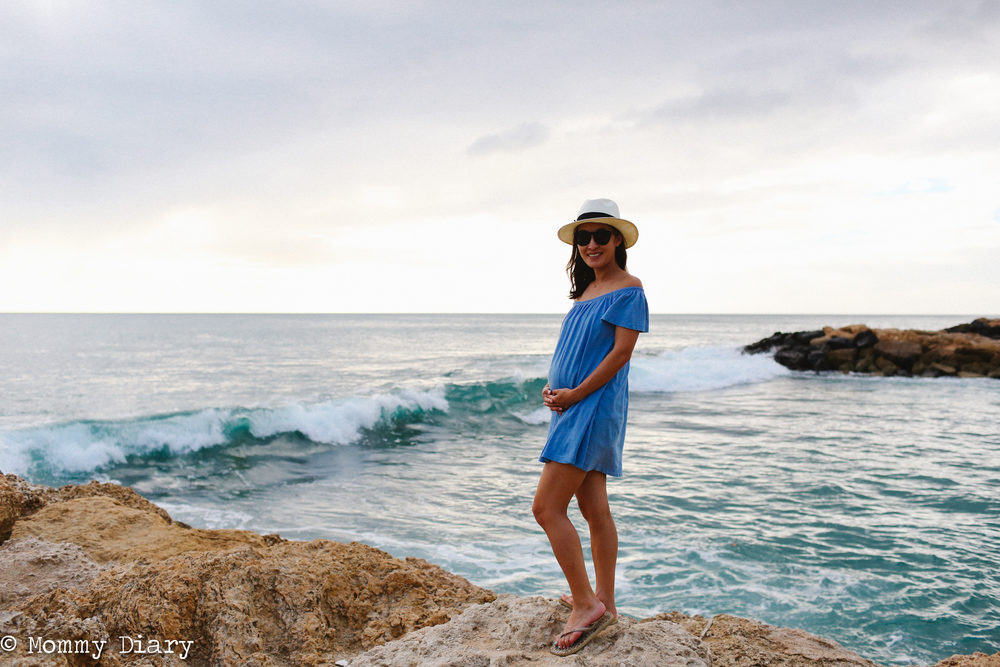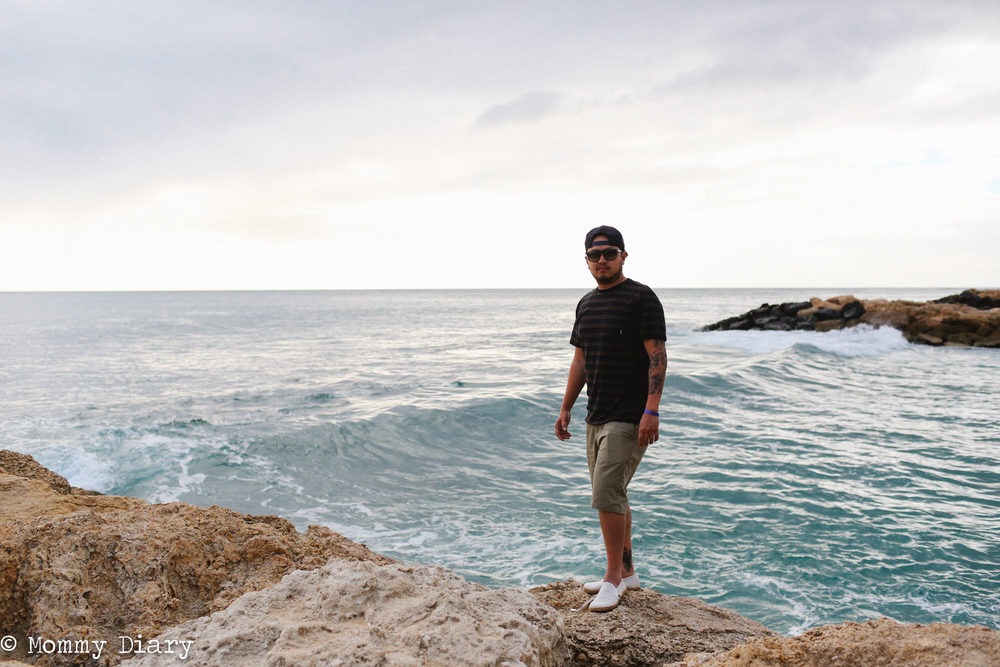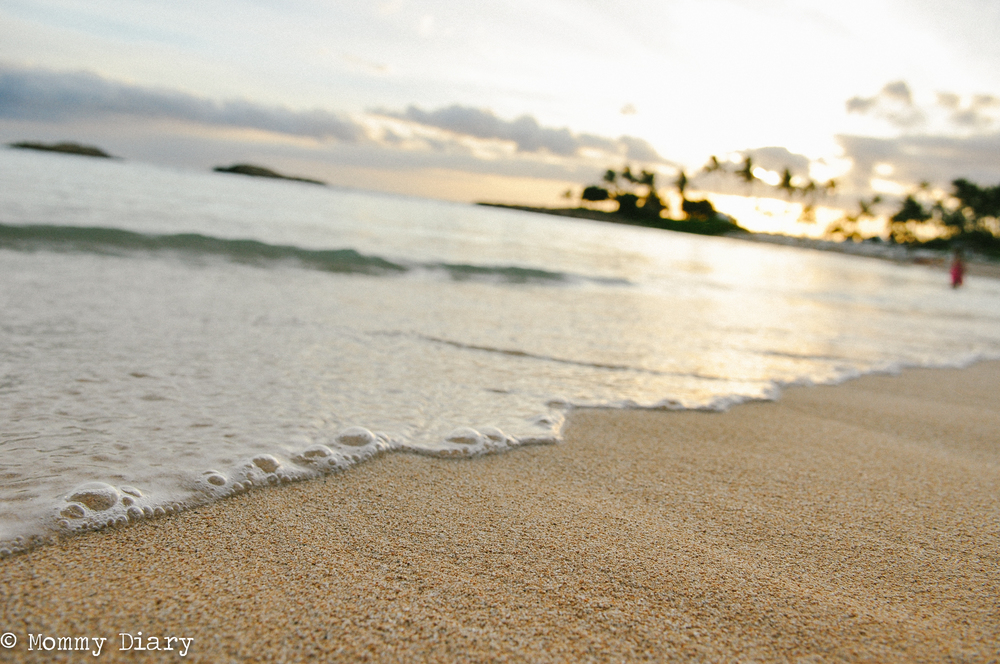 Read Part 2  for more photos and details about Disney's signature character breakfast and a day at their beautiful Laniwai spa.
Thank you for reading and let me know if you have any questions regarding Disney Aulani. Mahalo!