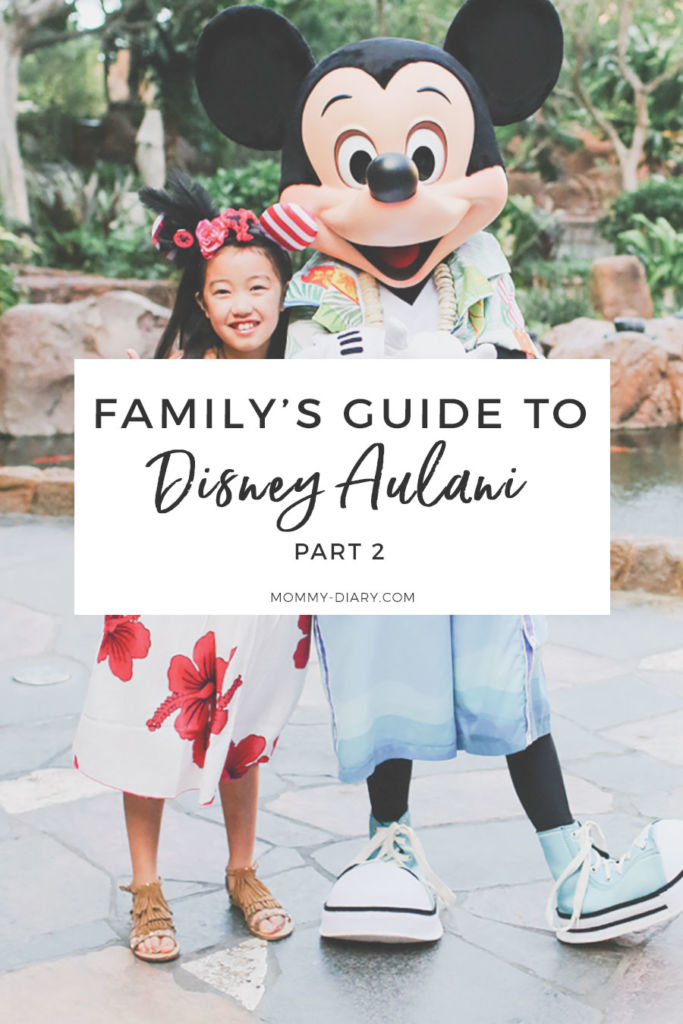 *This is part 2 of the Disney Aulani travel series. You can find part 1 here.
1. Disney Aulani Character Breakfast
One highlight of our Disney Aulani familymoon was the character breakfast. I would suggest making reservations in advance as it is very popular and gets booked up pretty fast.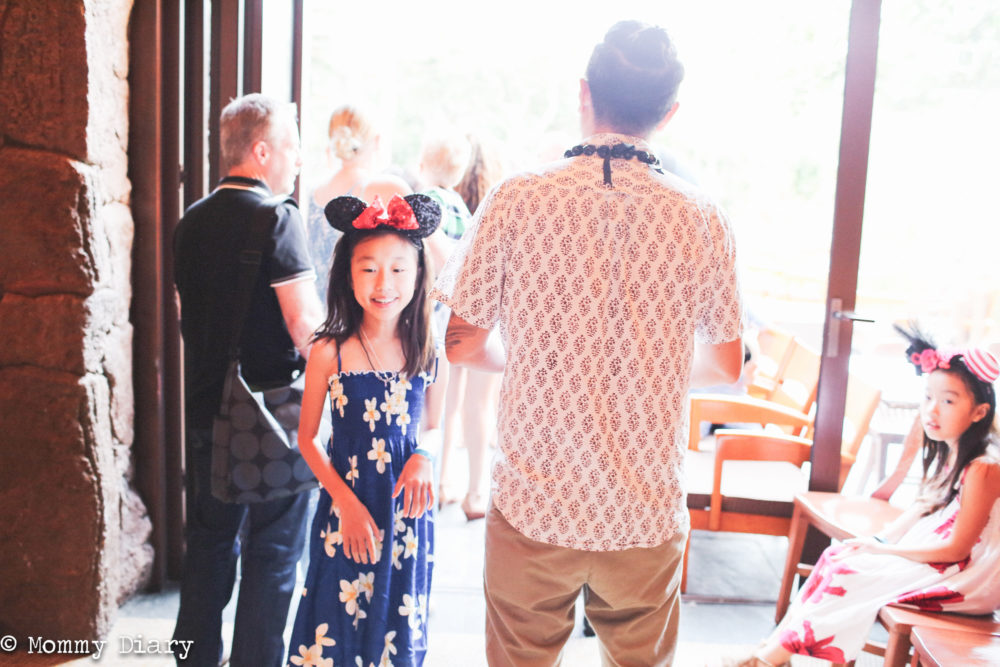 Our reservation was at 8:30 am but by then there was already a line. Upon arrival, you can check in and wait for a photo with Mickey. The line moves pretty fast but be prepared to wait a bit for the photos. My daughters wore these adorable Hawaiian dresses (purchased in Waikiki at 2 for $20- what a steal!) and Minnie Mouse ears.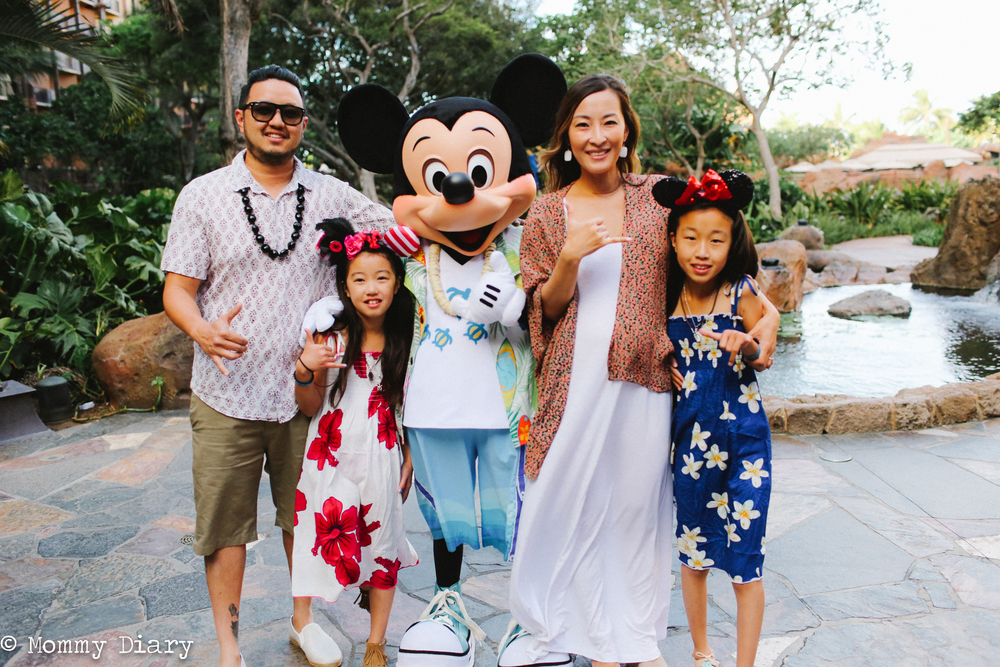 Interior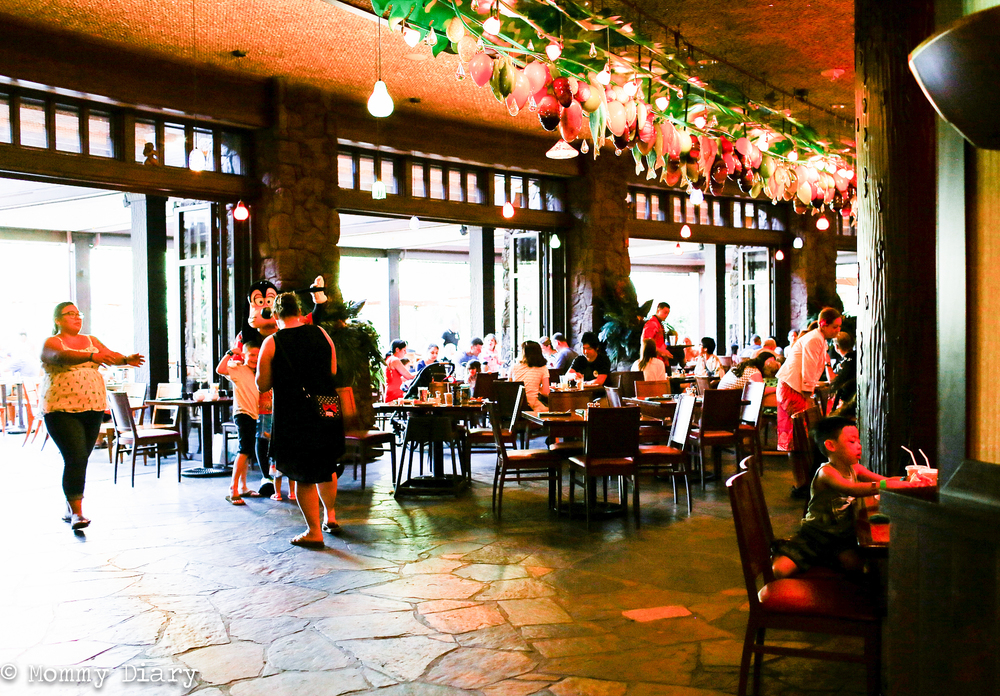 Food: Continental, Western & Asian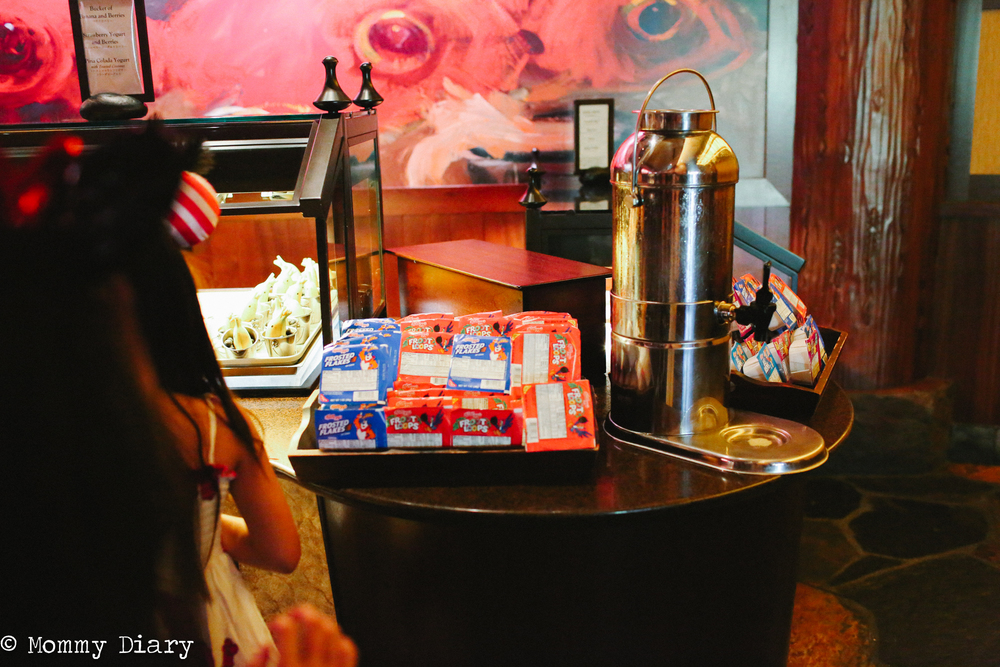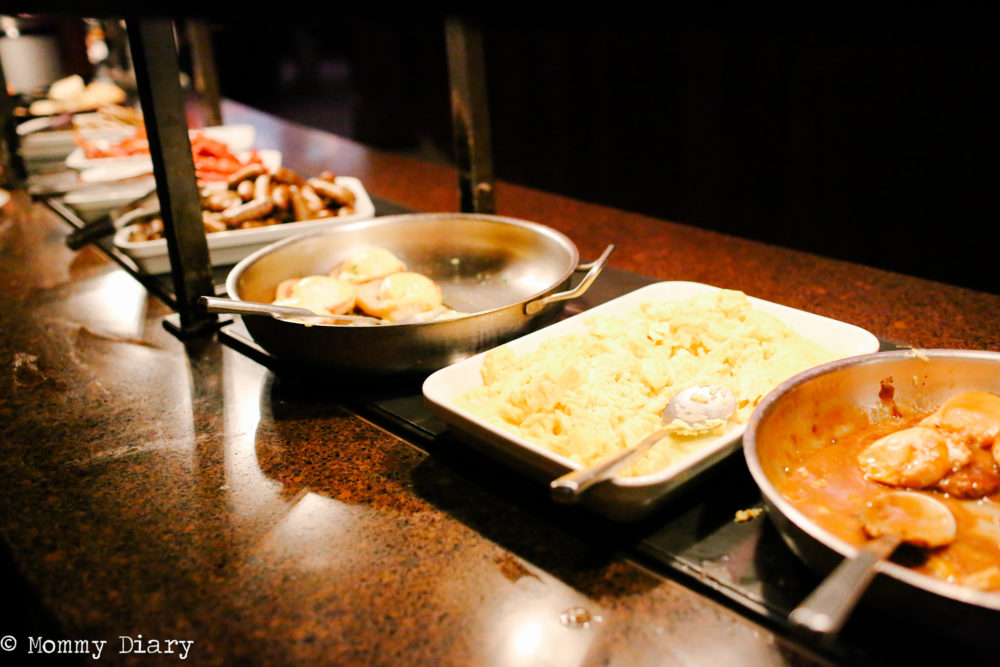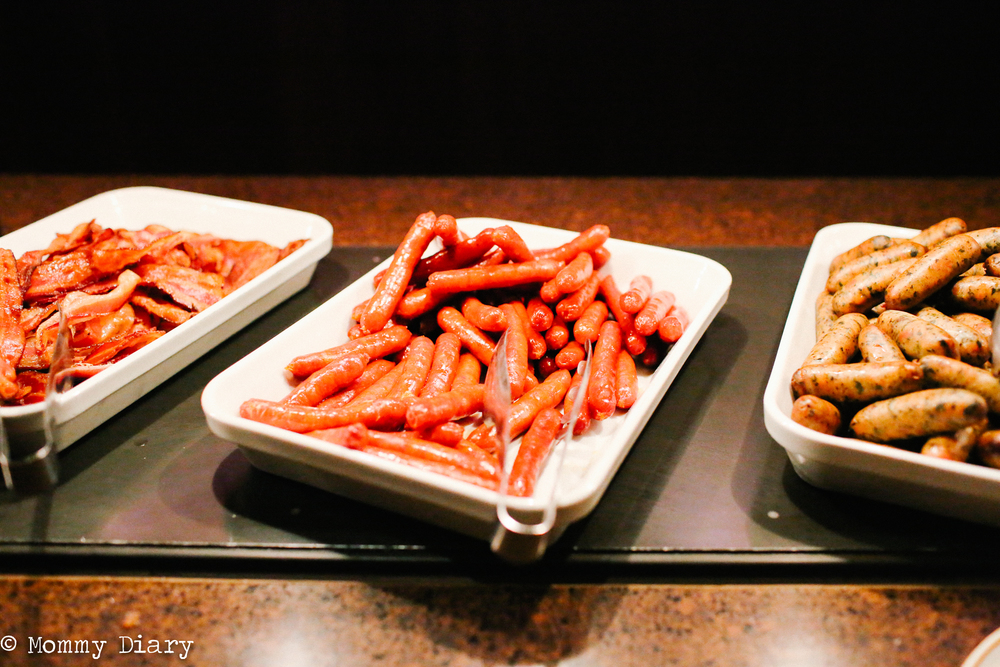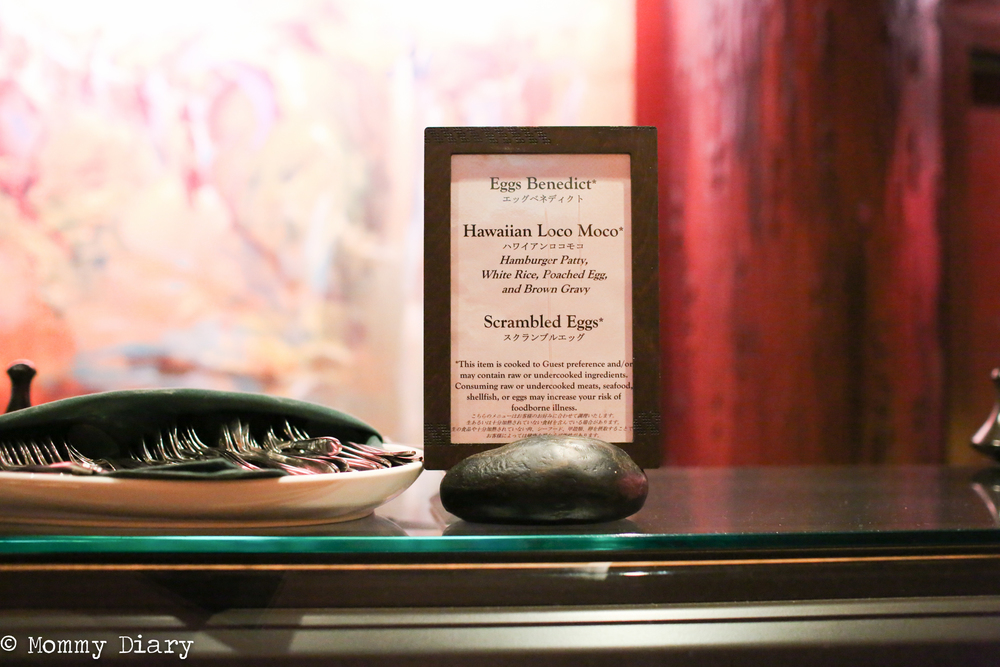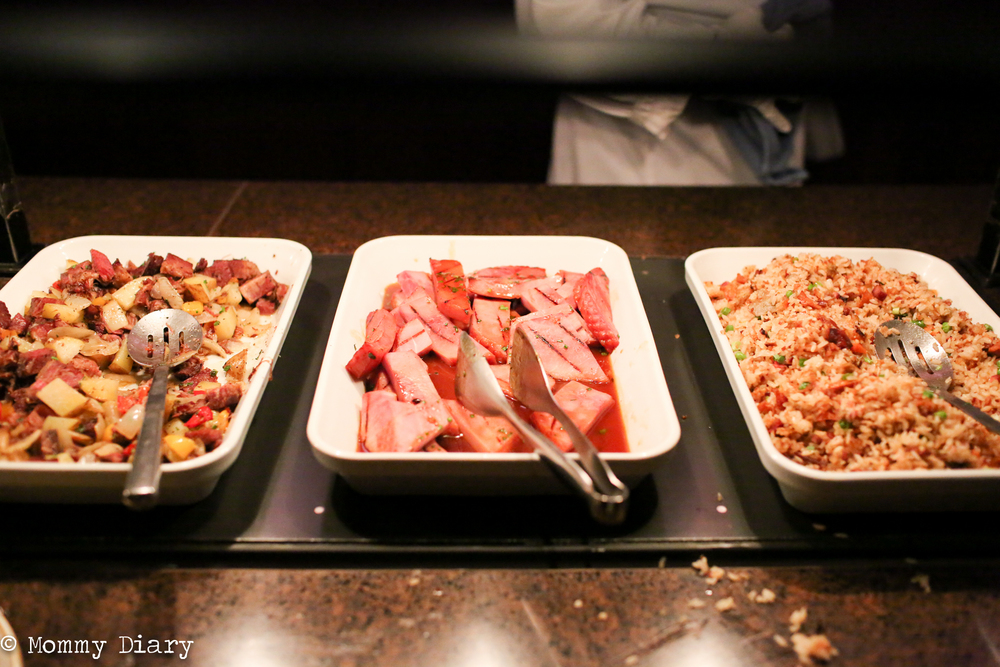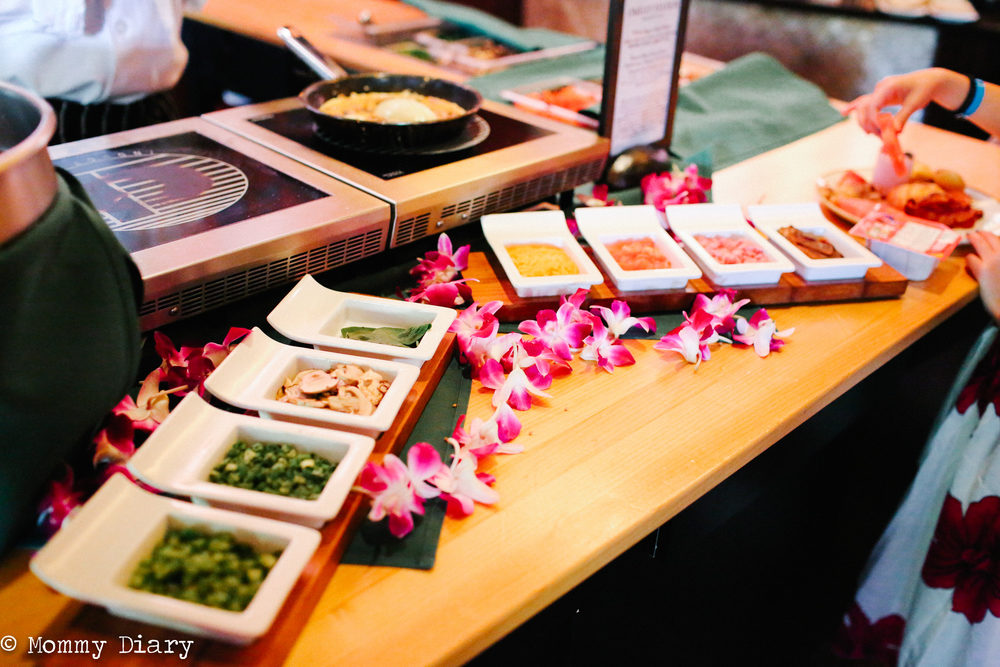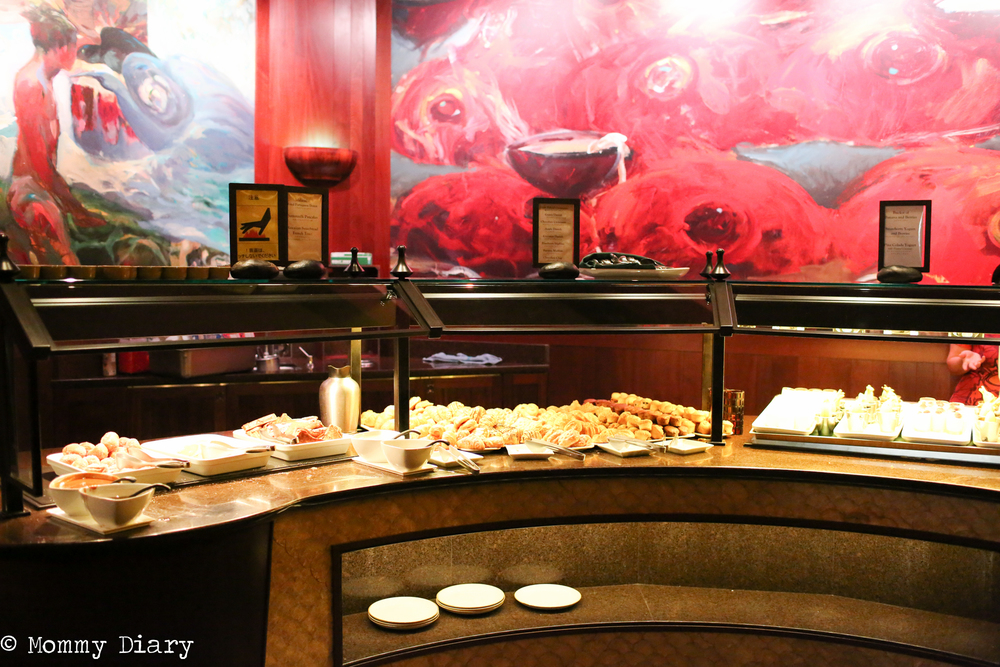 As you can see from the photos, there are numerous family-friendly options available for food. Menu items change daily but you can expect to find three major categories: continental, western and Asian.
Continental includes breakfast favorites such as assorted yogurt, granola, cereal, breakfast pastries, muffins, puddings, and bagels; western includes oatmeal, scrambled eggs, Eggs Benedict, pork sausage, ham, bacon, potatoes, hashbrown, loco moco and pancakes and build-your-own omelets.
You can also find Asian selections such as noodle salad, miso soup, island fish, Hawaiian fried rice and congee.
And of course, they offer fresh juice such as guava, orange and grapefruit as well as coffee and tea for parents. They also have a cute Keiki corner with Mickey Mouse shaped waffles, chocolate chip pancakes and various fruits.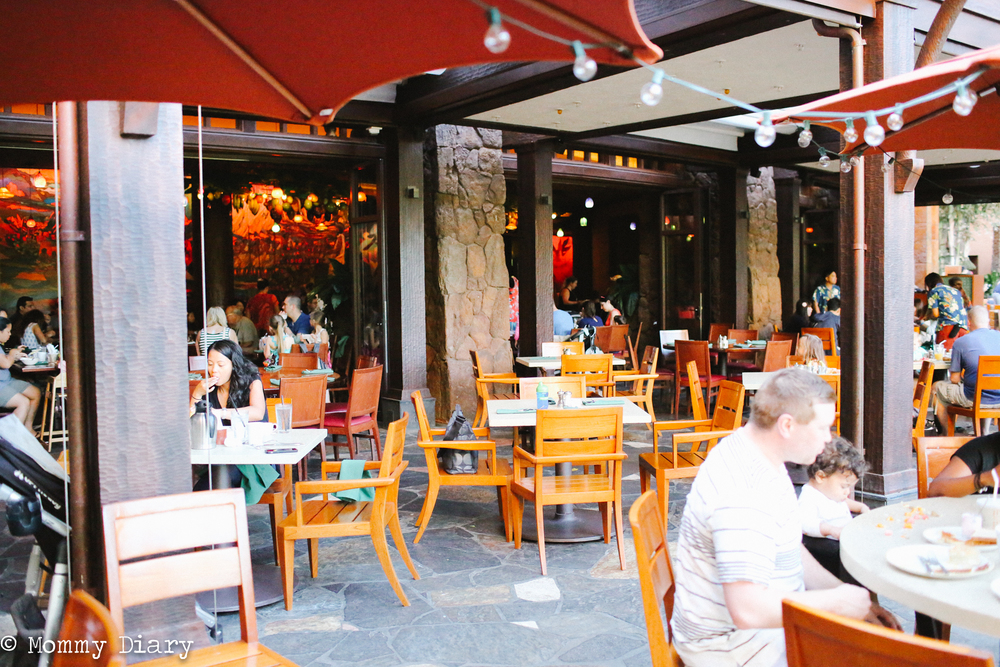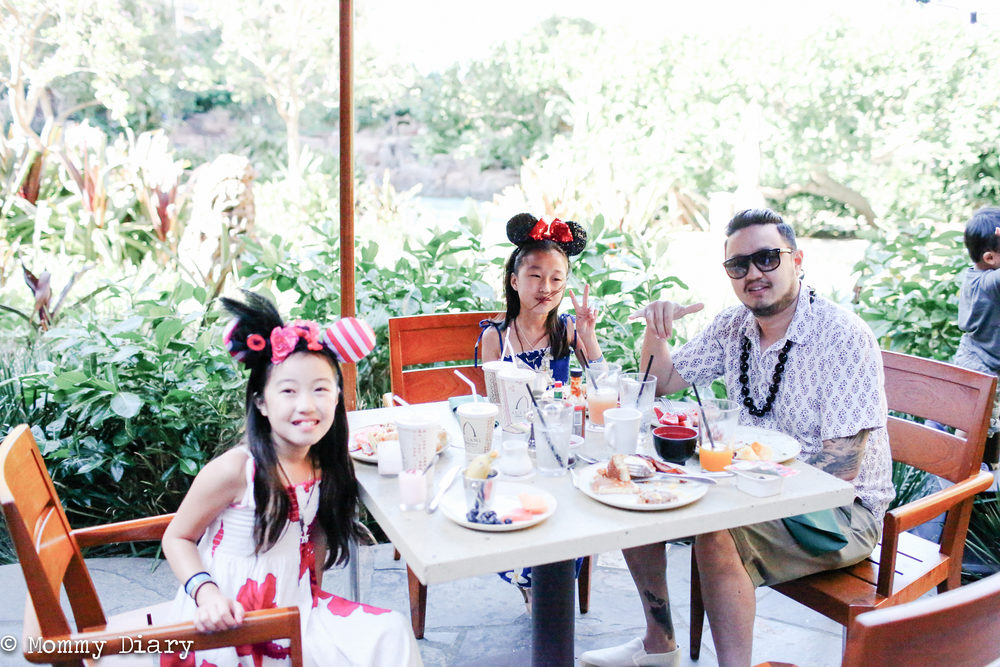 As you're enjoying your meals, Aunty entertains the guests and the characters come around to each table for a chance to meet and take photos. While Aunty plays the ukulele, children are asked to join her in singing and dancing in a single file line. As expected from Disney, everyone is friendly, smiley and vibrant, creating a wonderful and fun atmosphere that kids will remember for years to come.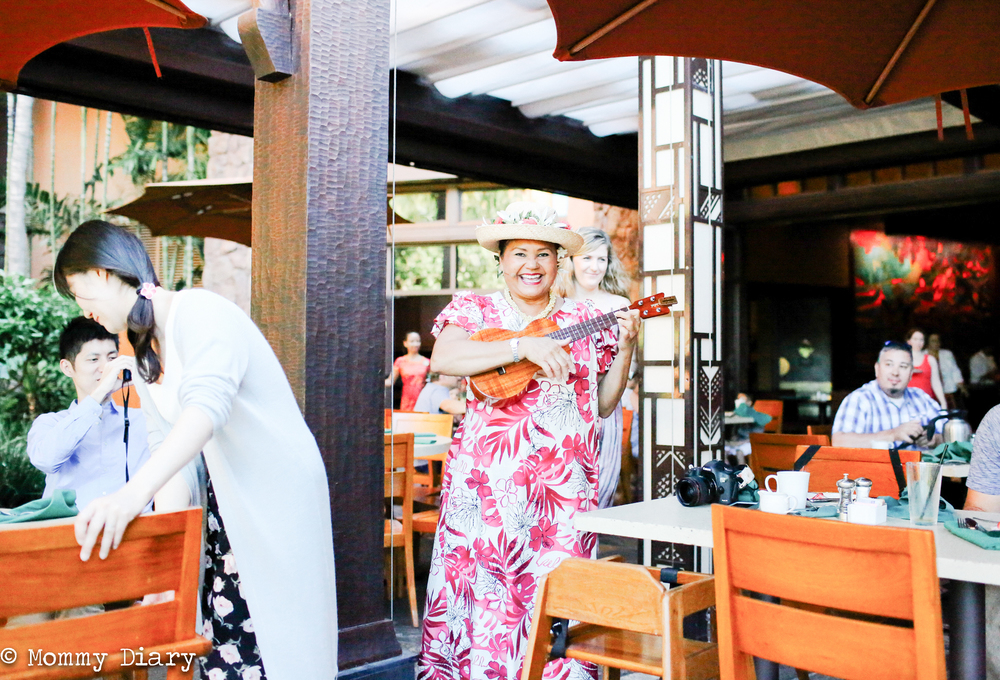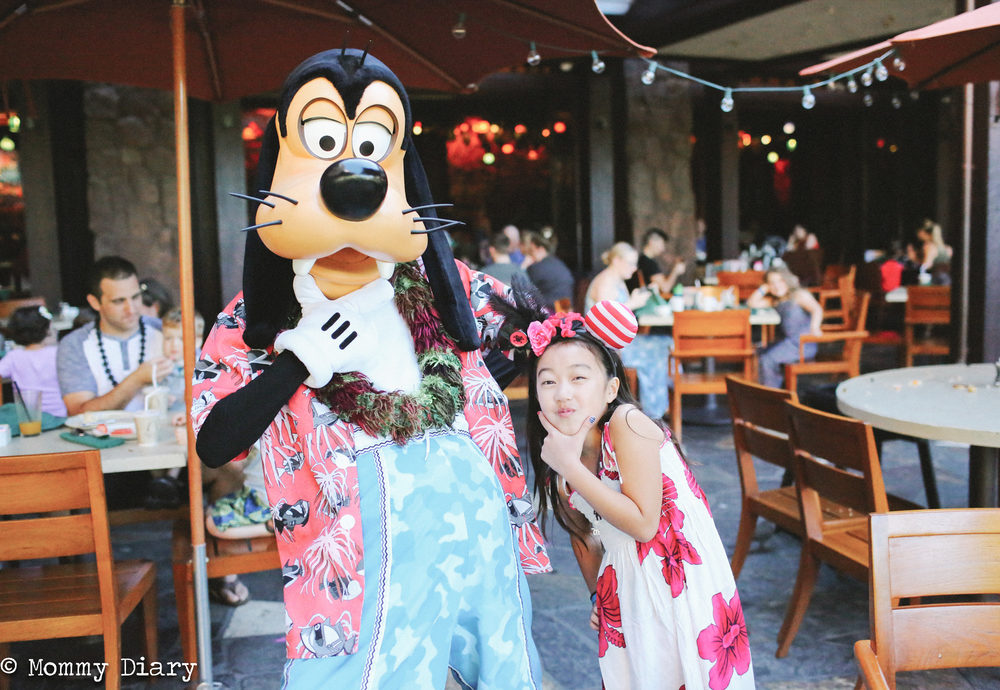 Before Goofy came around, my daughter T had an idea to have him pose like this. This is her signature pose + expression called the "smolder." (Note the Disney Rapunzel reference).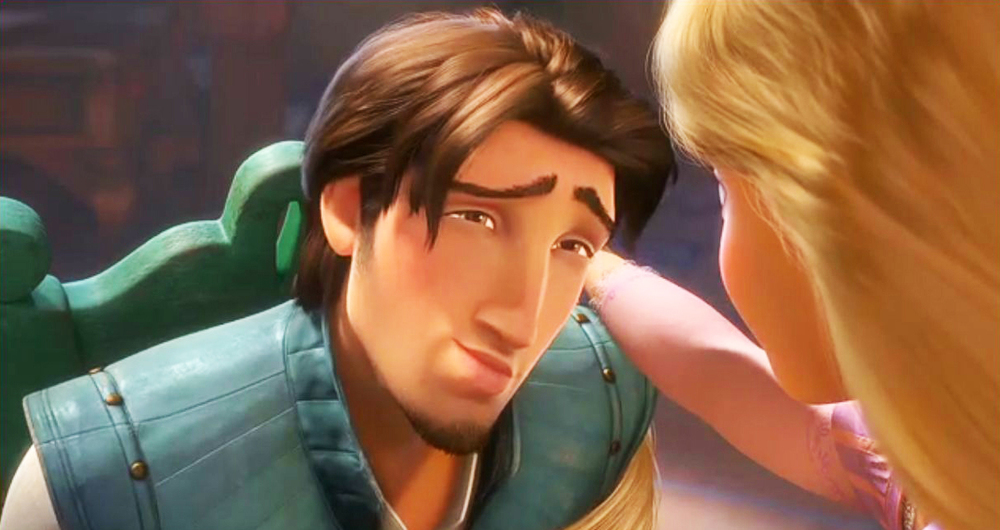 Of course Goofy was a good sport and took many photos with her.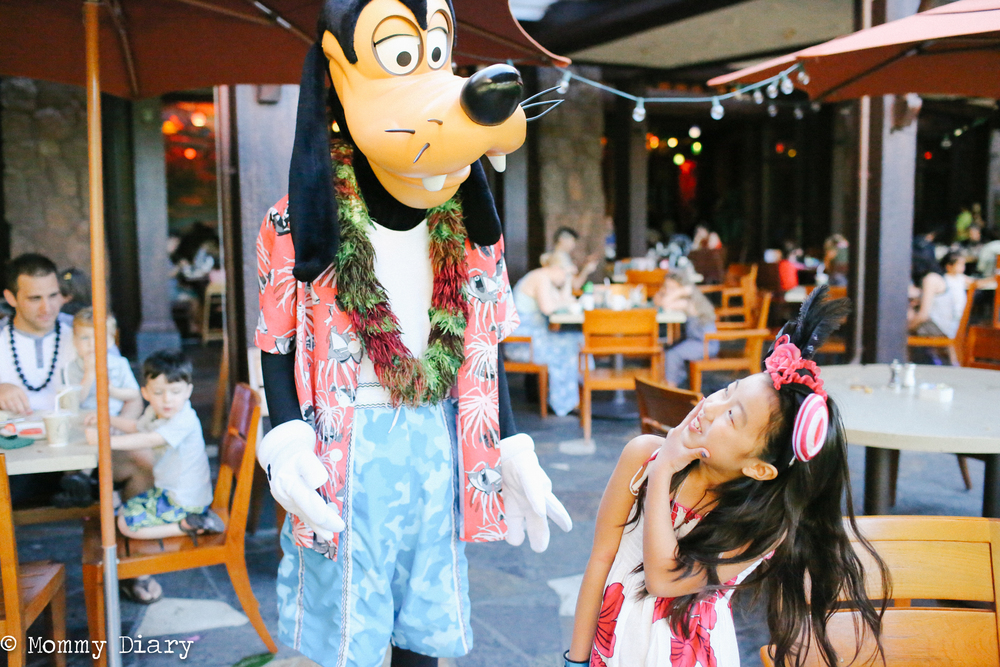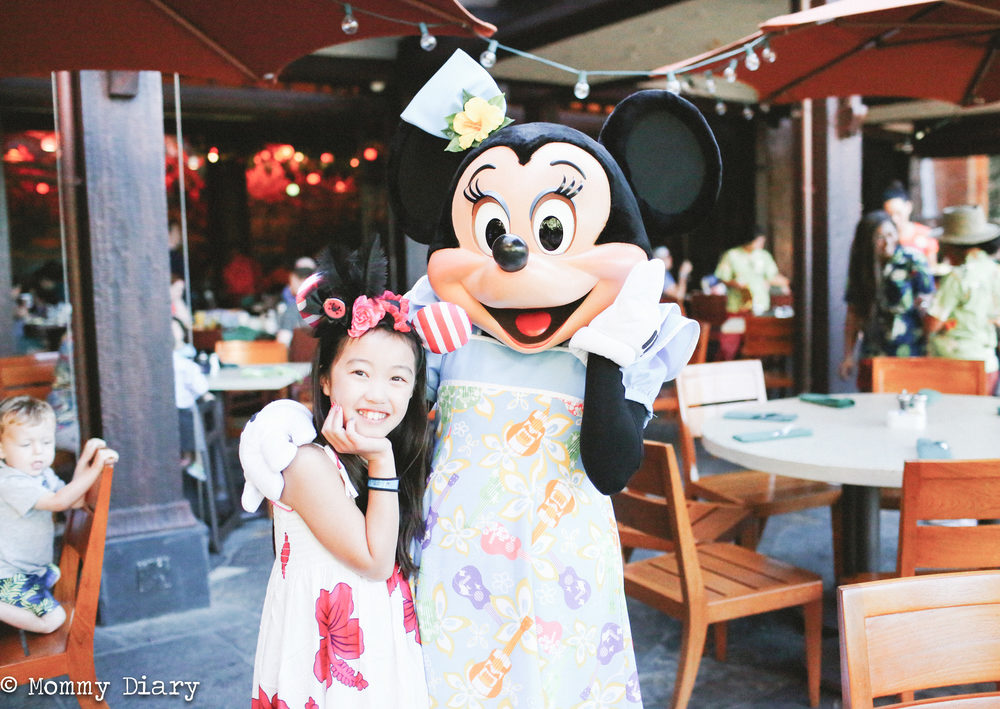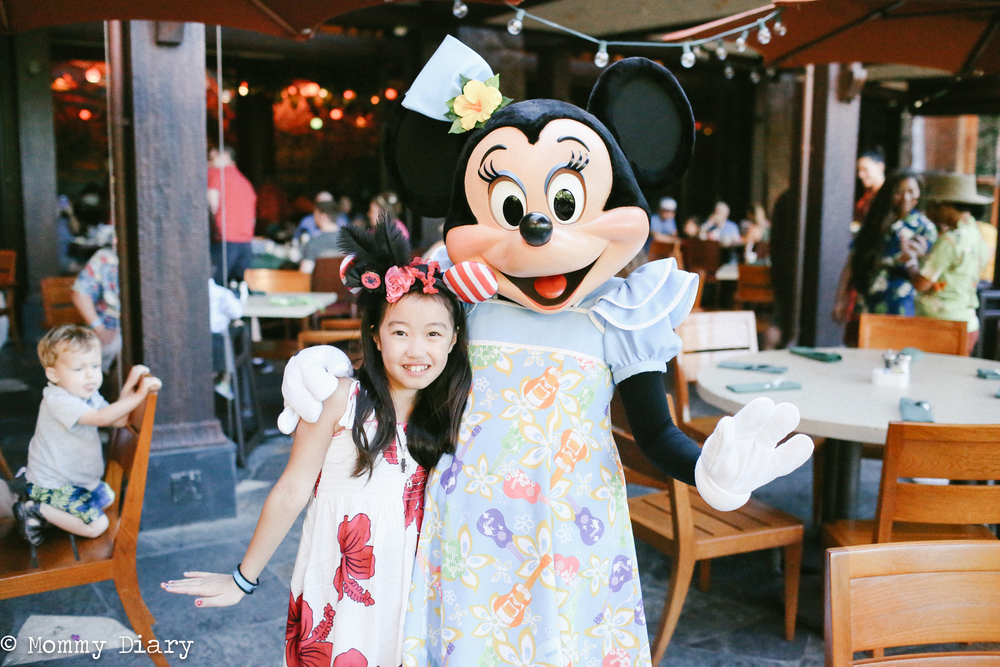 Minnie Mouse is always so sweet and girly, she'll always be one of my favorites!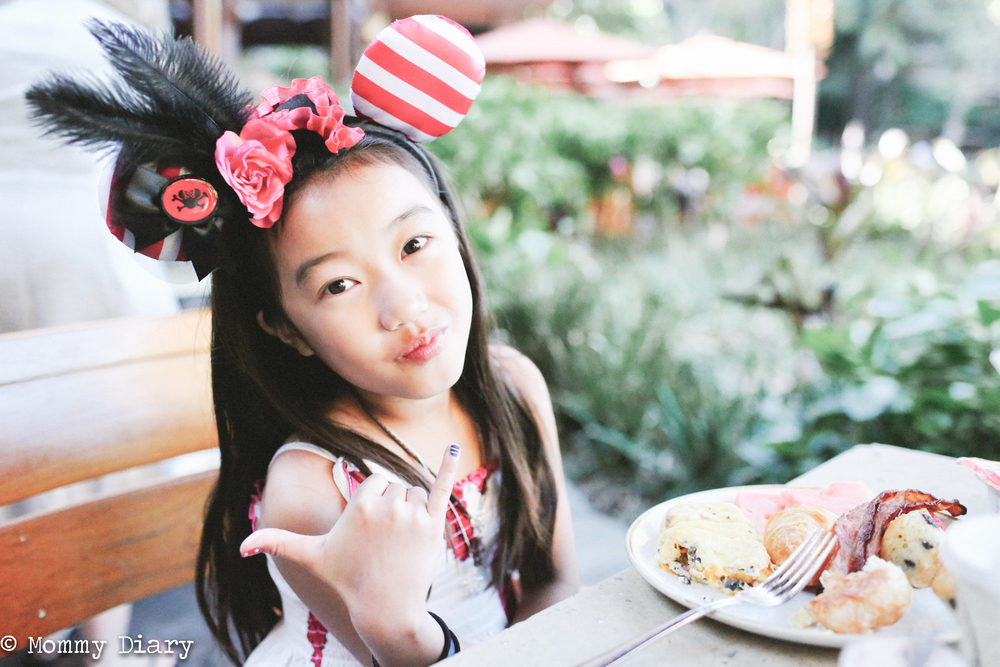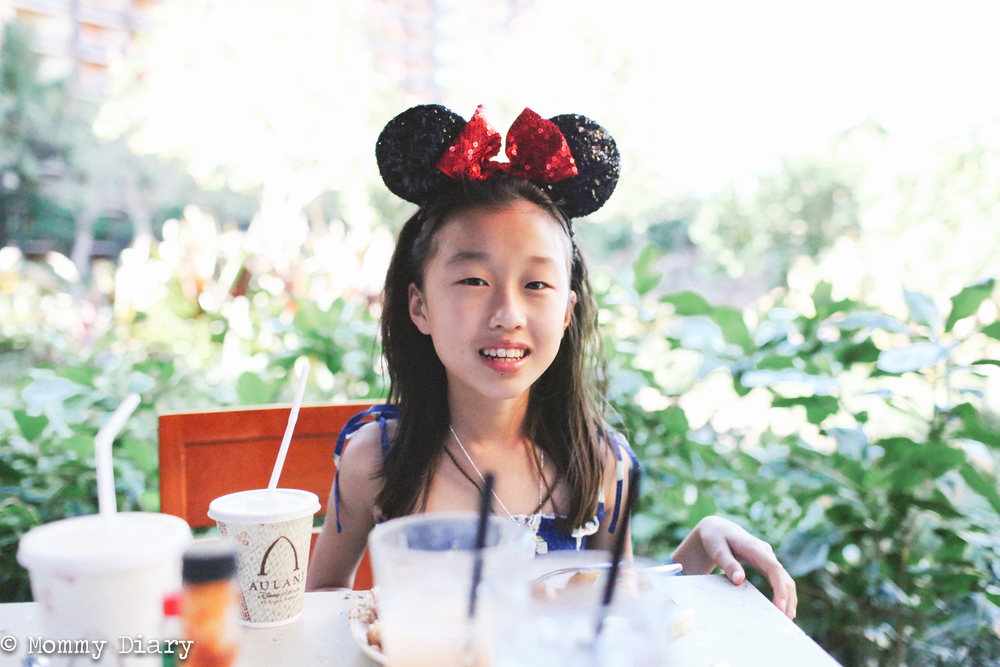 You might be wondering why my first daughter E isn't in any of the photos with the characters. Well she's very shy and even though she loves the characters, she prefers to interact with them from afar. She'll say hello, give them a high five, and hide behind me again. She still had a great time at the character breakfast and loved seeing all the characters up close.
*A note on special needs accommodation*
I want to note here that Disney Aulani is very special needs friendly. The characters, servers and staff were very friendly and patient with my older daughter and they had no problem accommodating her even at Aunty's Beach House for play time. Just be sure to let the staff know if your child requires any special accommodations, and they are most willing to assist you. Another perk of being at a family-friendly resort!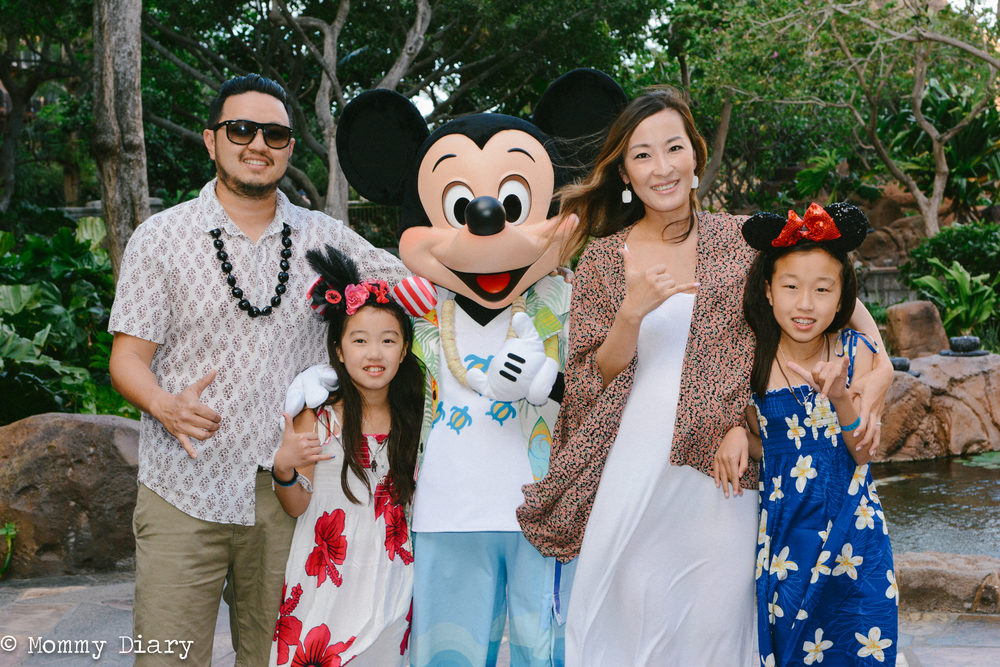 Our family portrait taken by the Disney photographer.
Overall it was an awesome way to spend our morning on the second day. The character breakfast costs $35 per adult and $18 per child (under 9) and operates from 7-11 am. I think this is a must try for all families visiting Disney Aulani.
2. Laniwai Spa
Another highlight of the Disney resort is the Laniwai spa. Being 6 months pregnant, I'm constantly battling fatigue, muscle aches, back pain and random headaches– and I knew I wanted to treat myself to a nice prenatal massage during my stay.
As expected, you are greeted by a friendly receptionist who will have you wait for an attendant. The entrance and lobby are luxurious, clean and serene as expected from a 5-star resort spa.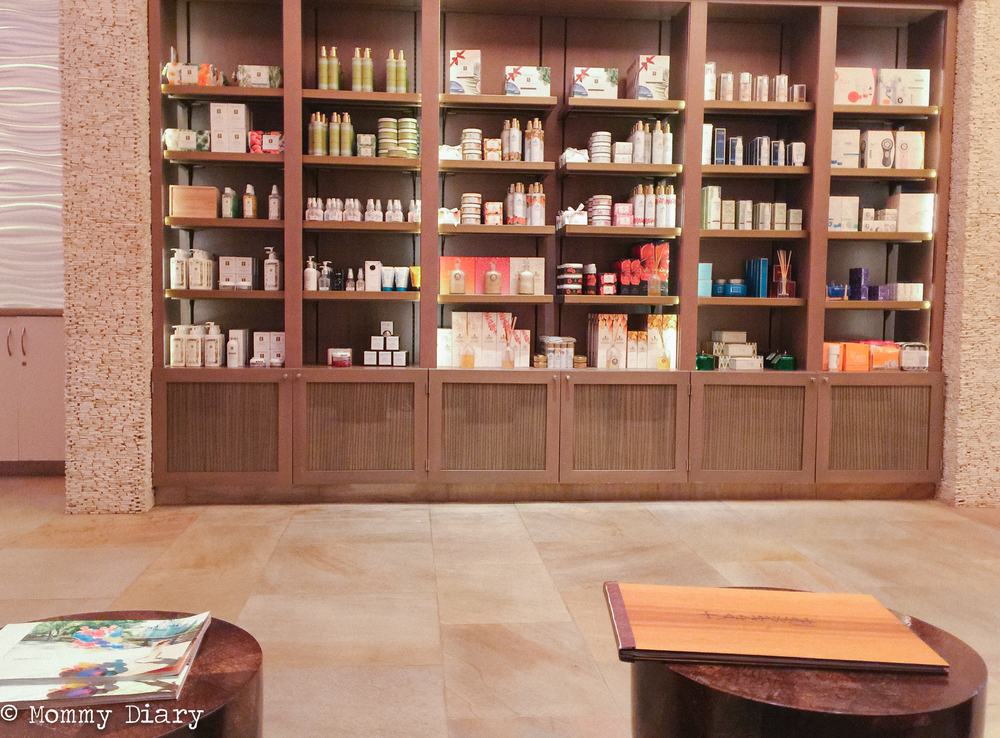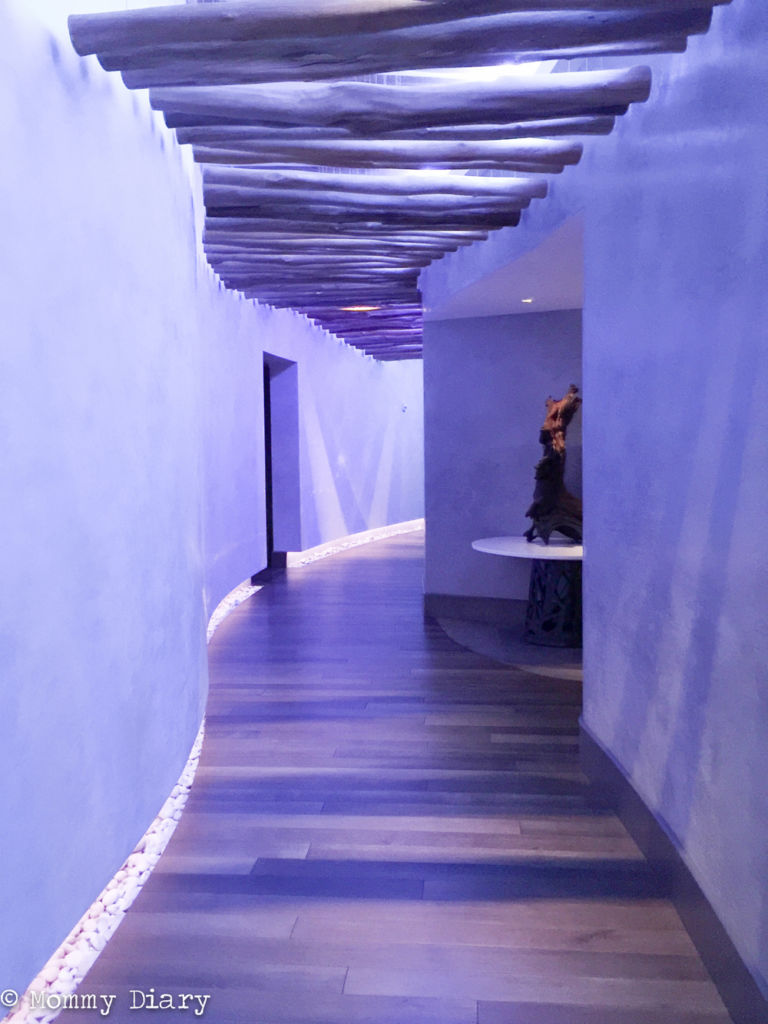 One interesting and unique part of the Laniwai experience is the long corridor illuminated in purple light. Right before you walk in, an attendant explains the meaning of Laniwai (means fresh water from heaven) and Hawaiian spirituality that teaches us we don't own anything, that whatever we receive from nature we are simply "borrowing." With this brief lesson, she asks you to close your eyes and choose a rock from a basket.
I briefly glanced over at the rocks and saw ones that say "love," "hope" and other positive affirmations. I wanted one that says "dream" and instead picked one that says "strength."
I consider myself a spiritual and intuitive person and know the universe (or God, depending on your belief) is always communicating with me through various mediums. To me, this "strength" rock symbolizes what I need to focus my intentions on especially with this third baby on the way.
I'm a woman of clear dreams with a strong need for independence and alone time, and having three kids including one special needs child will be a HUGE challenge for me. I know this because I know myself- both strengths and weaknesses- too well.
Through this rock, God sent me a critical message that I must accept. I must strengthen myself and be prepared to face the challenges that mothering another child will bring. I know it will be full of joyous moments as well as struggles, but that is a whole another story fit for future blog posts.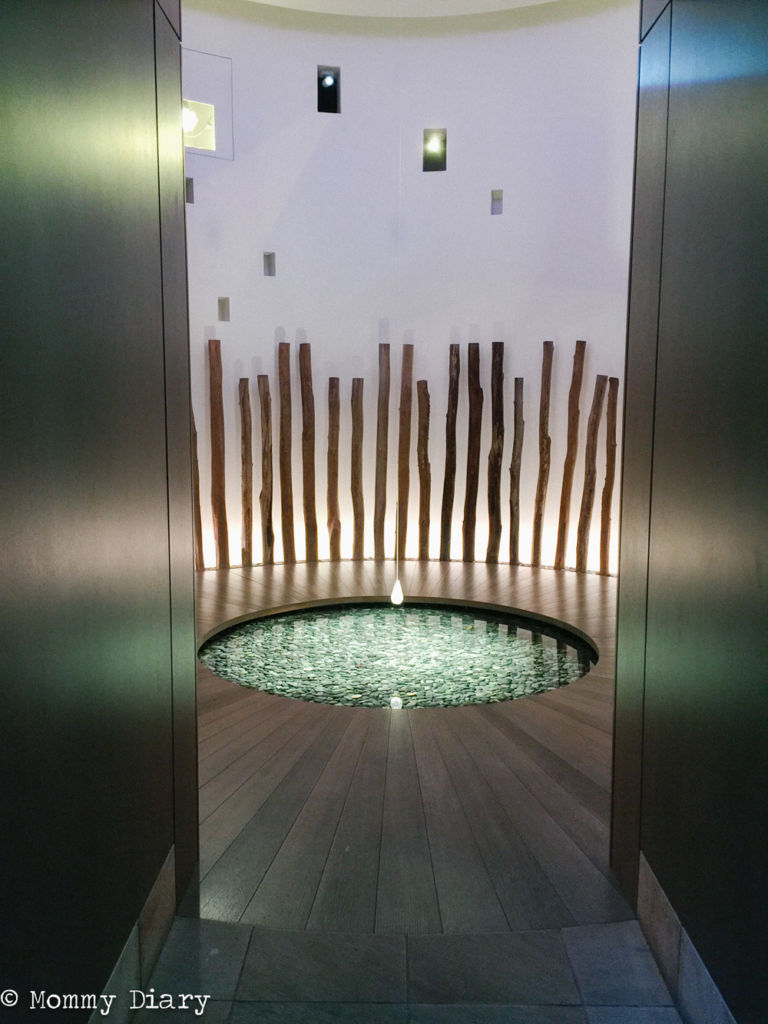 As I reflected on these these thoughts we came across a serene pond with a water drop floating on top. The attendant then asked me to say a quick prayer and "return" the strength rock to its rightful owner, the universe.
This short but symbolic ritual was calming and affirming on so many levels and it prepared me to enjoy my morning in a meditative and relaxed state of body and mind.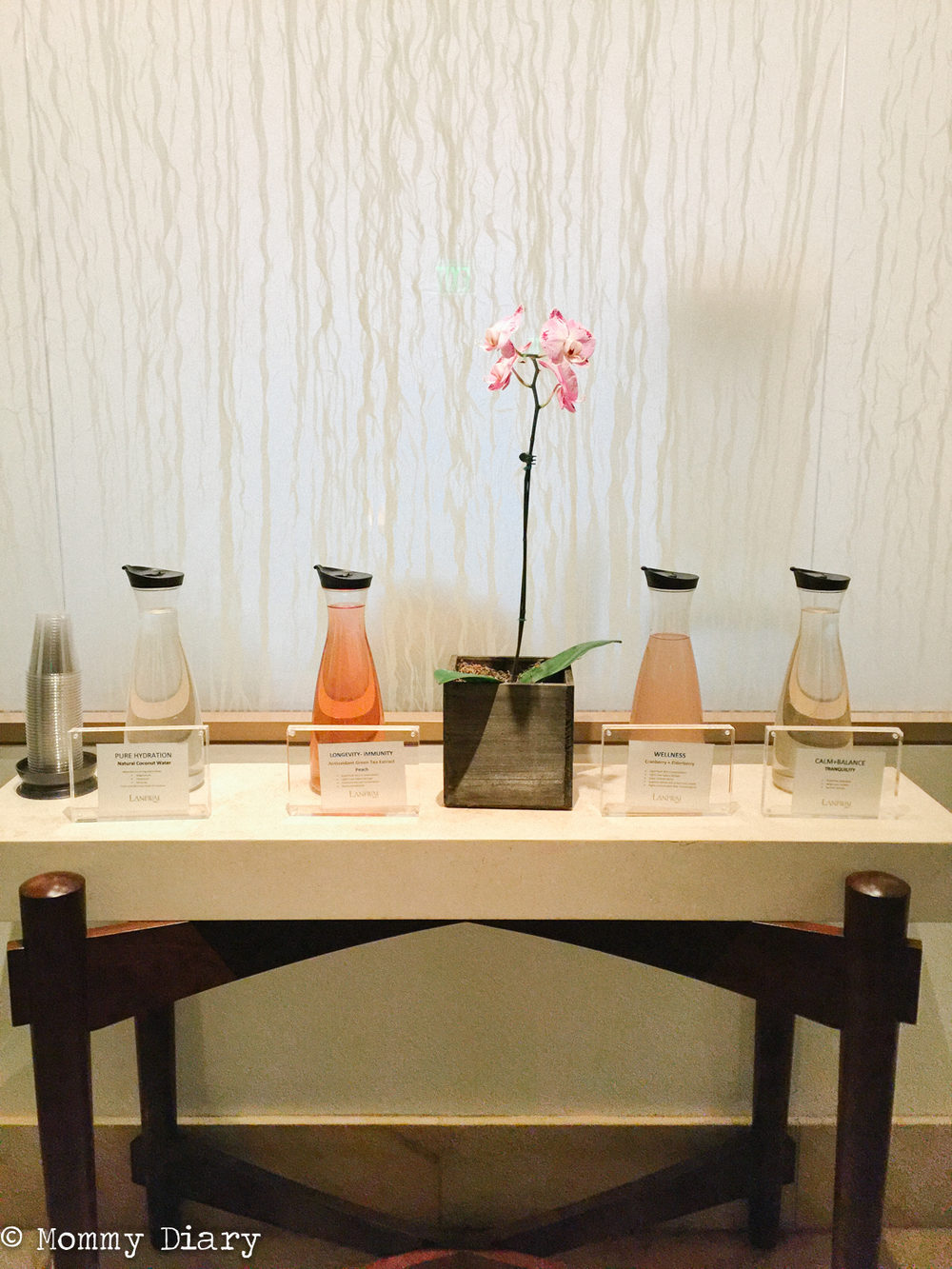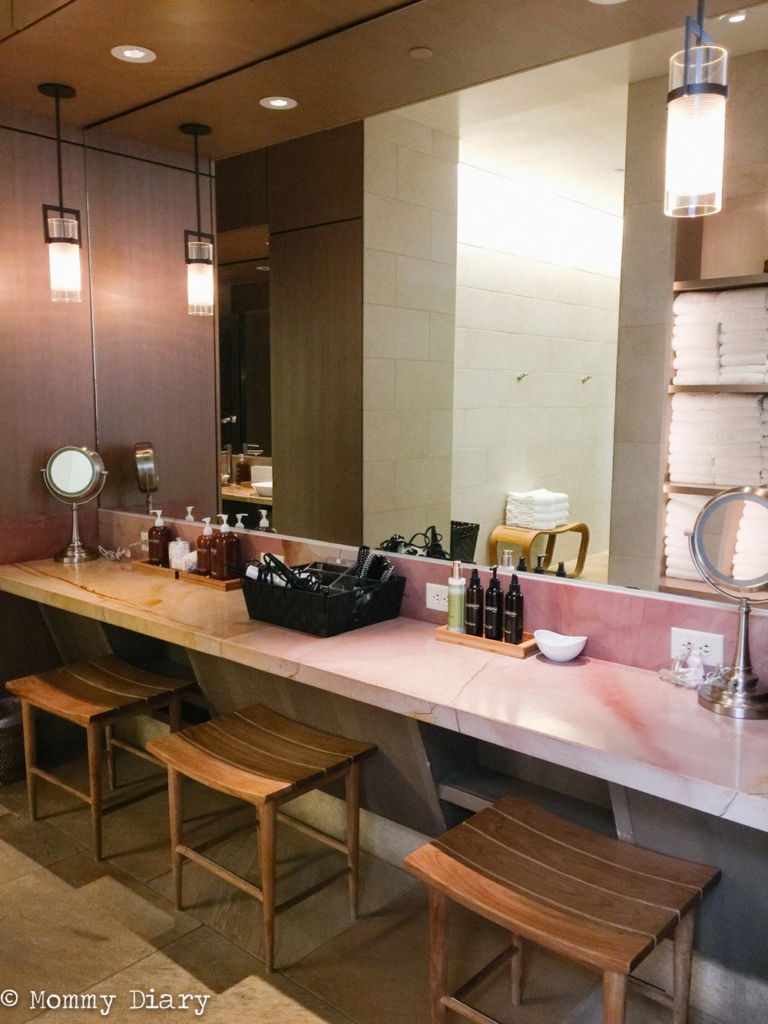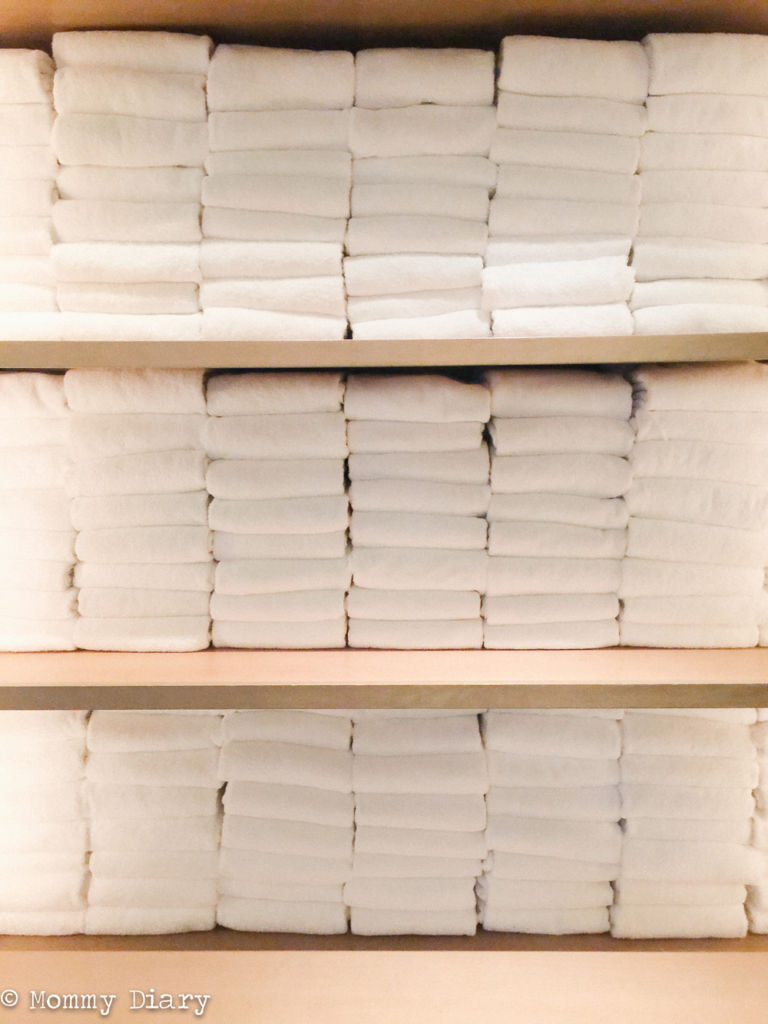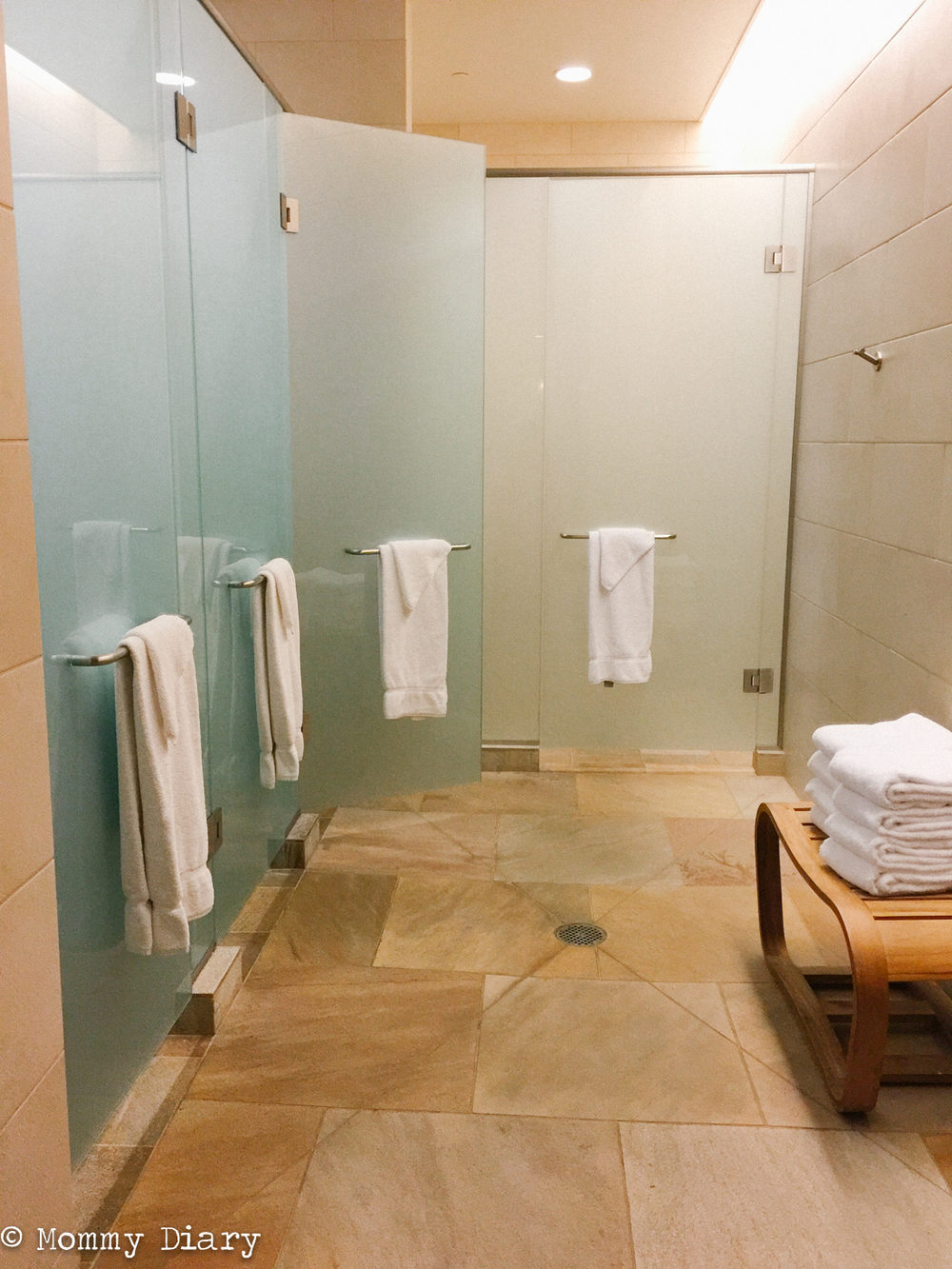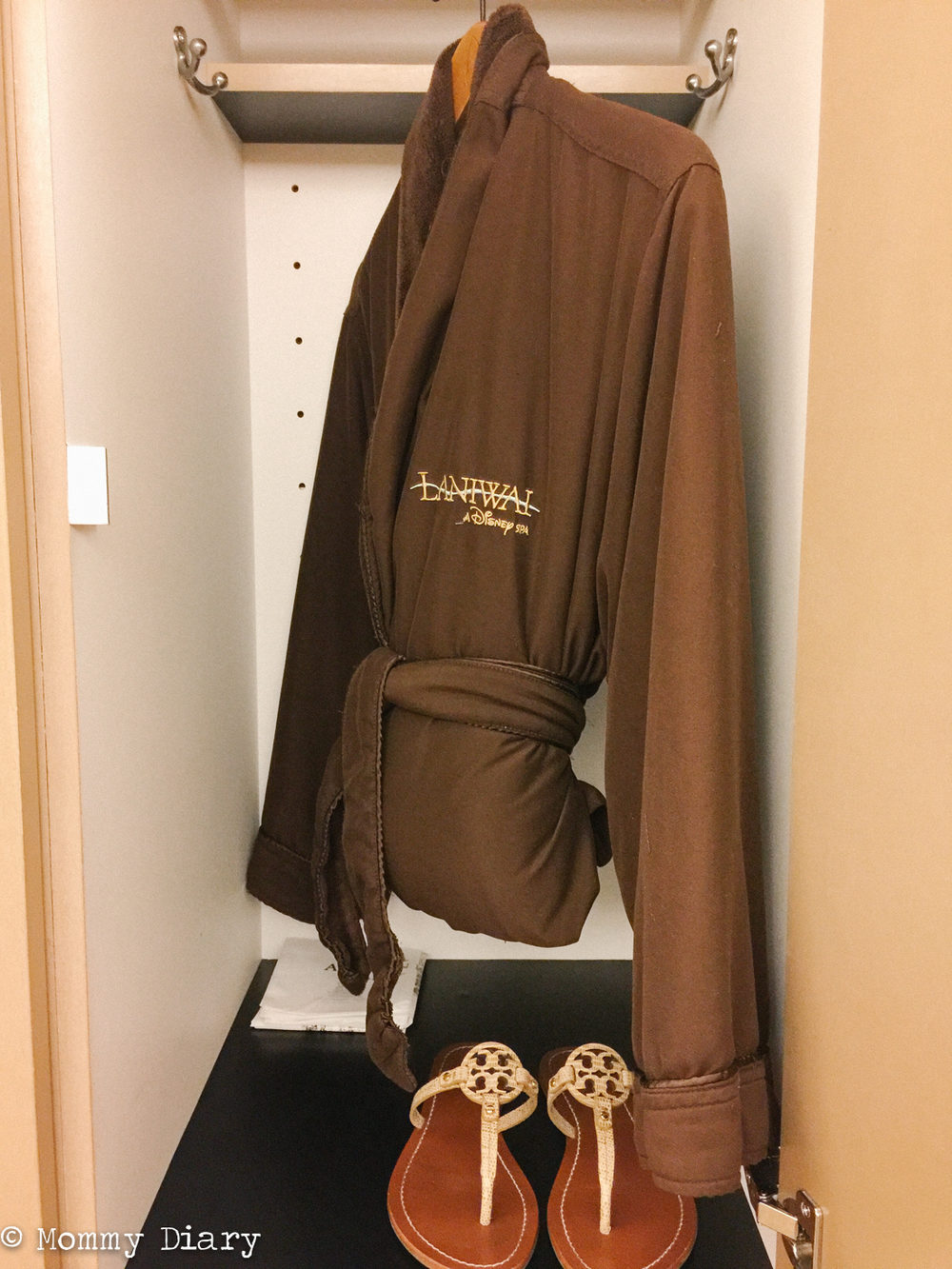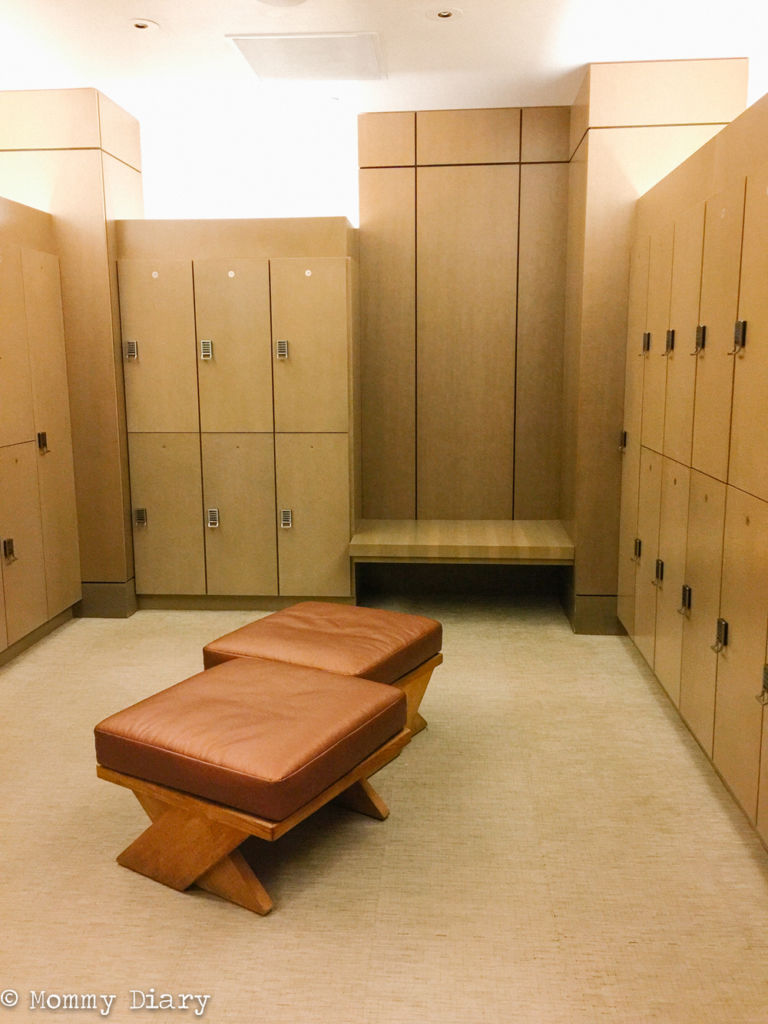 As you can see, the spa is immaculate and well-maintained. They also offer a dry sauna and aromatherapy steam room that's perfect for before and after a massage treatment. I unfortunately did not get to use them due to my pregnancy.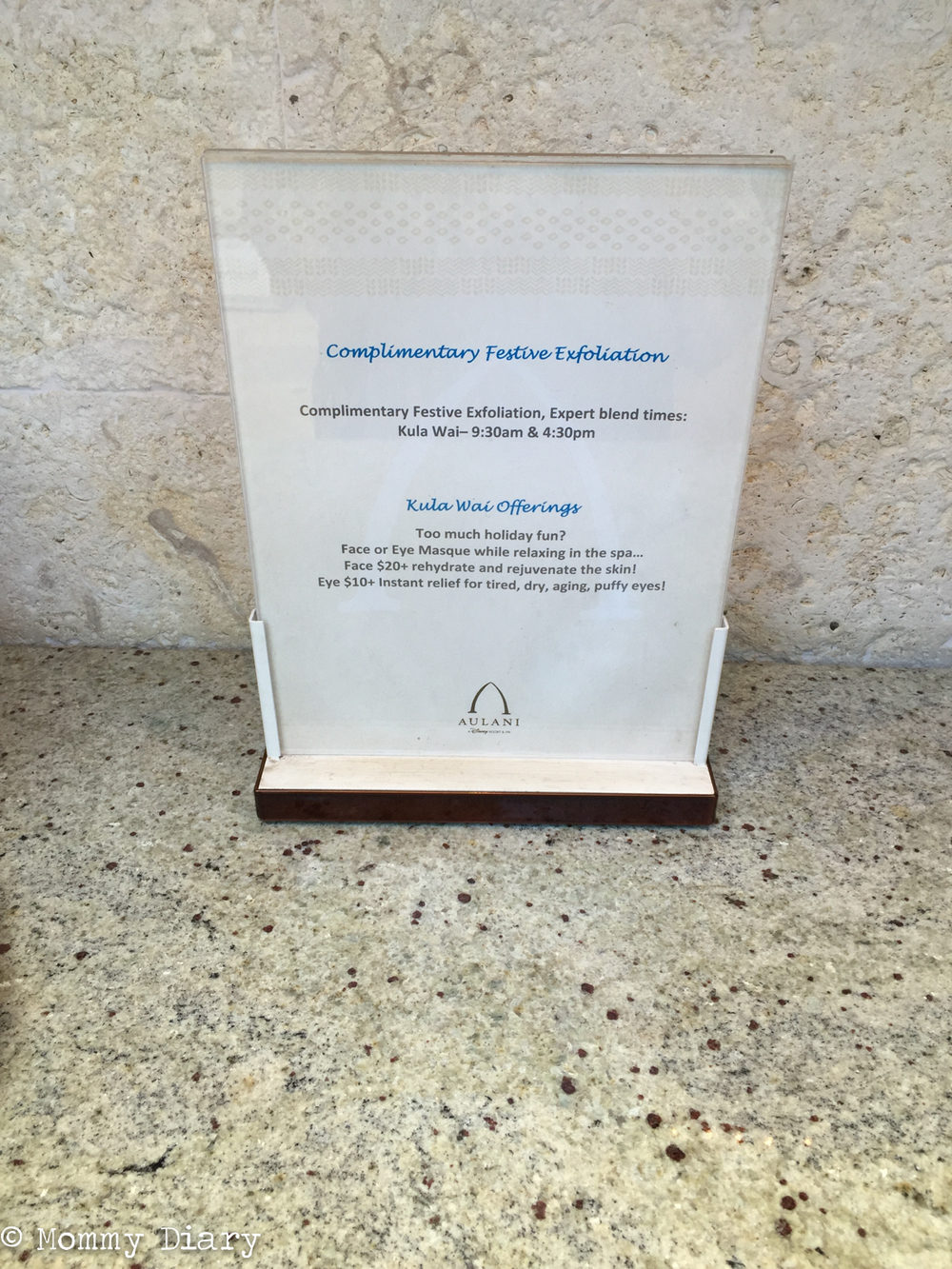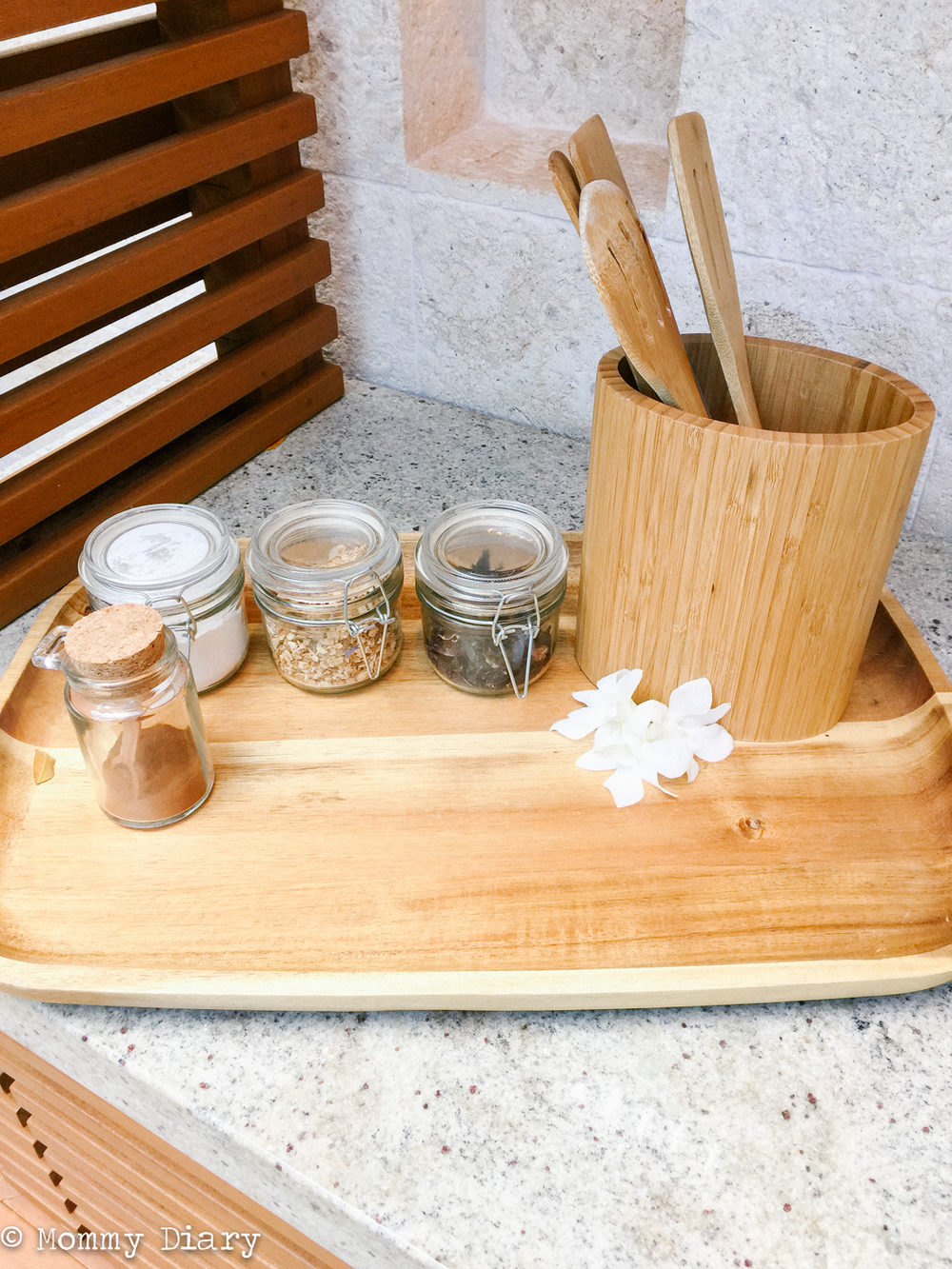 3. Hydrotherapy Garden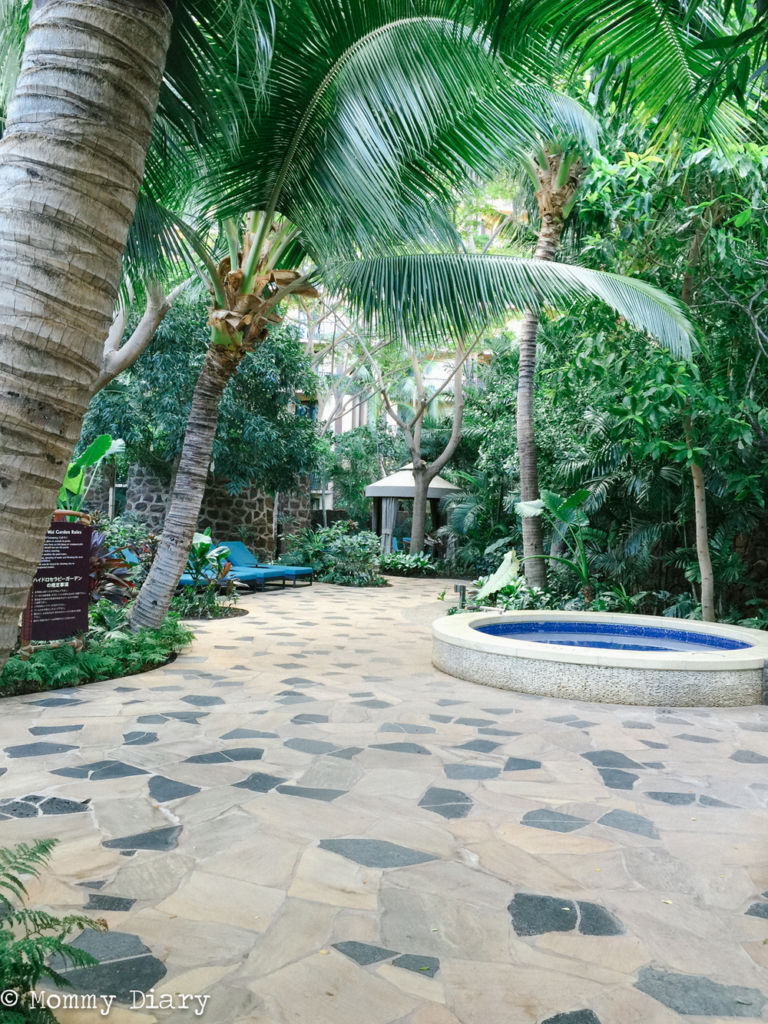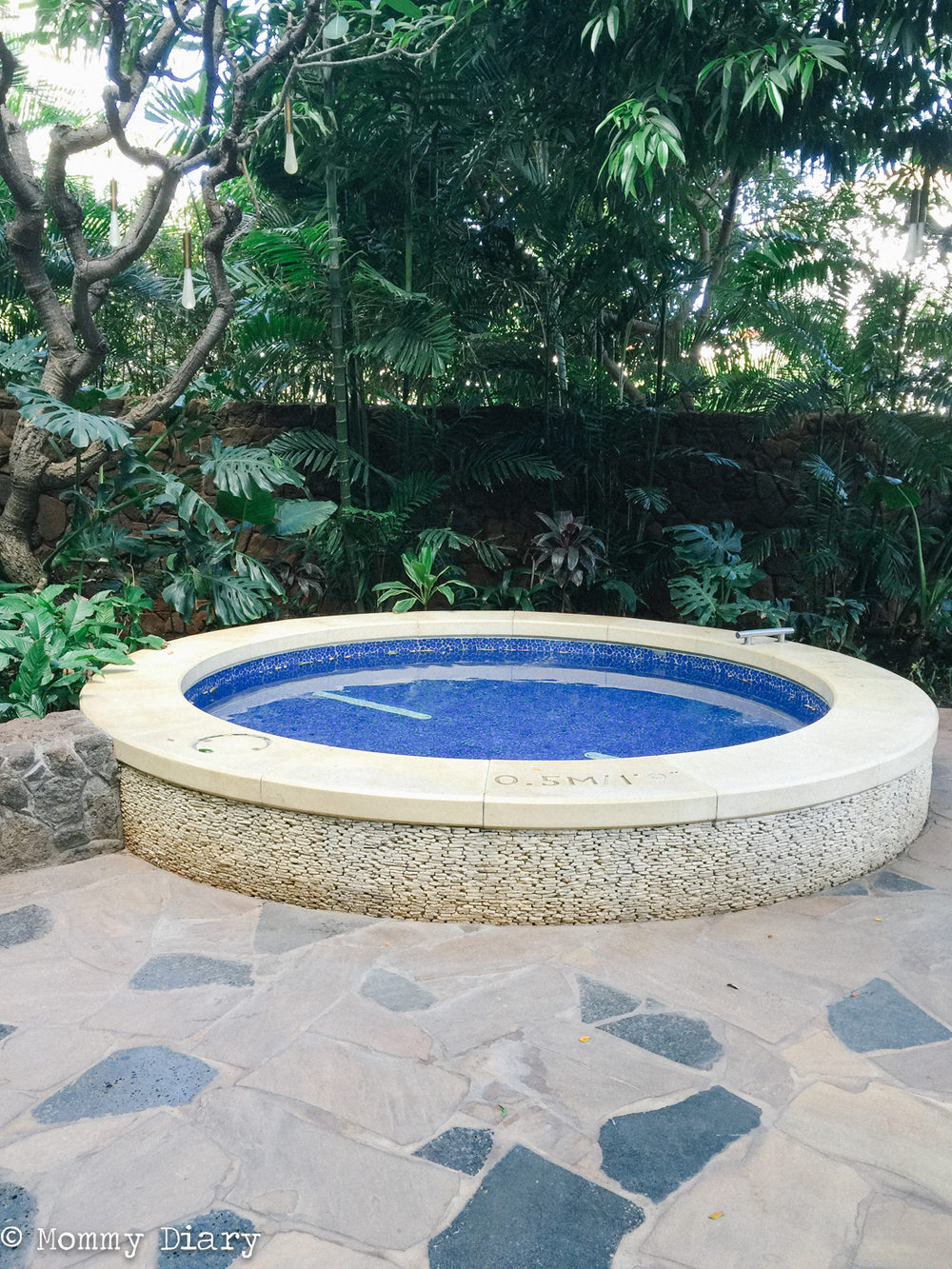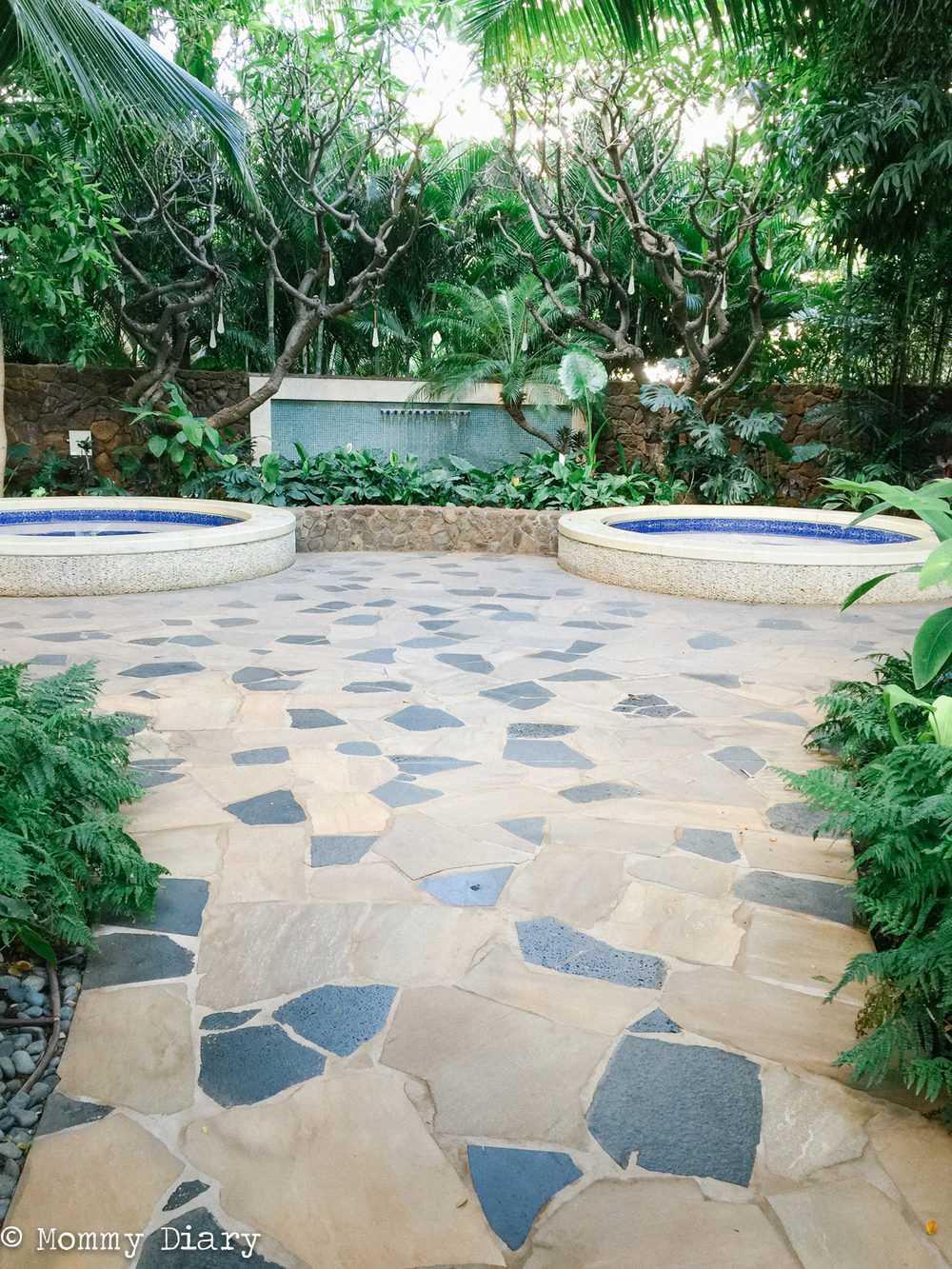 Laniwai offers Oahu's only outdoor hydrotherapy garden that is included with purchase of any full-service spa treatment.
This was my first time experiencing something like it and it was a wonderful experience. Hydrotherapy garden includes various tubs with hot, warm and cold water and their signature circle of rainshower with varying degrees of water pressure and temperature. There are about 5-6 rainshower heads that provide massage, detox and relaxation and it truly felt healing and detoxifying to use them in its lush setting.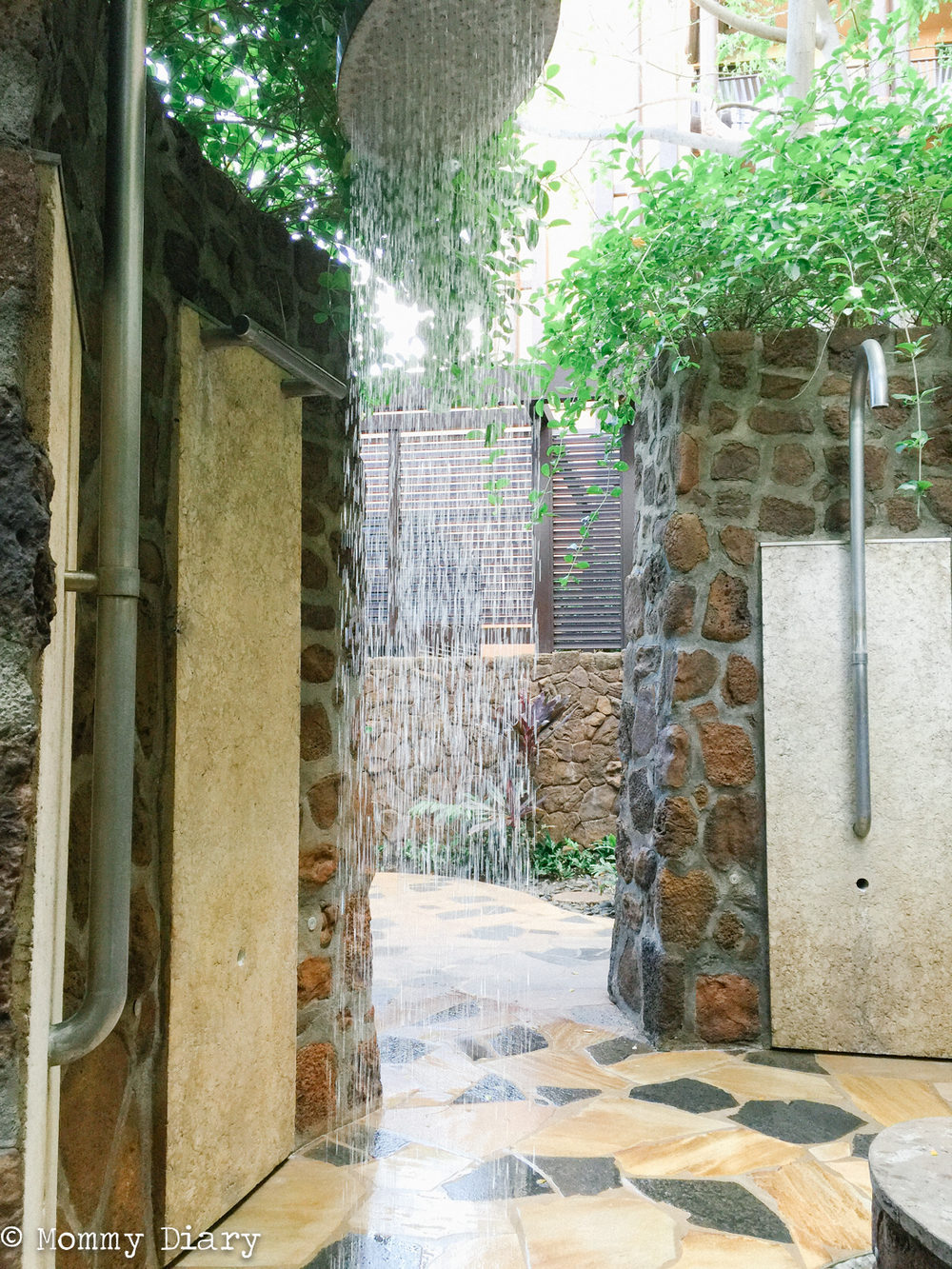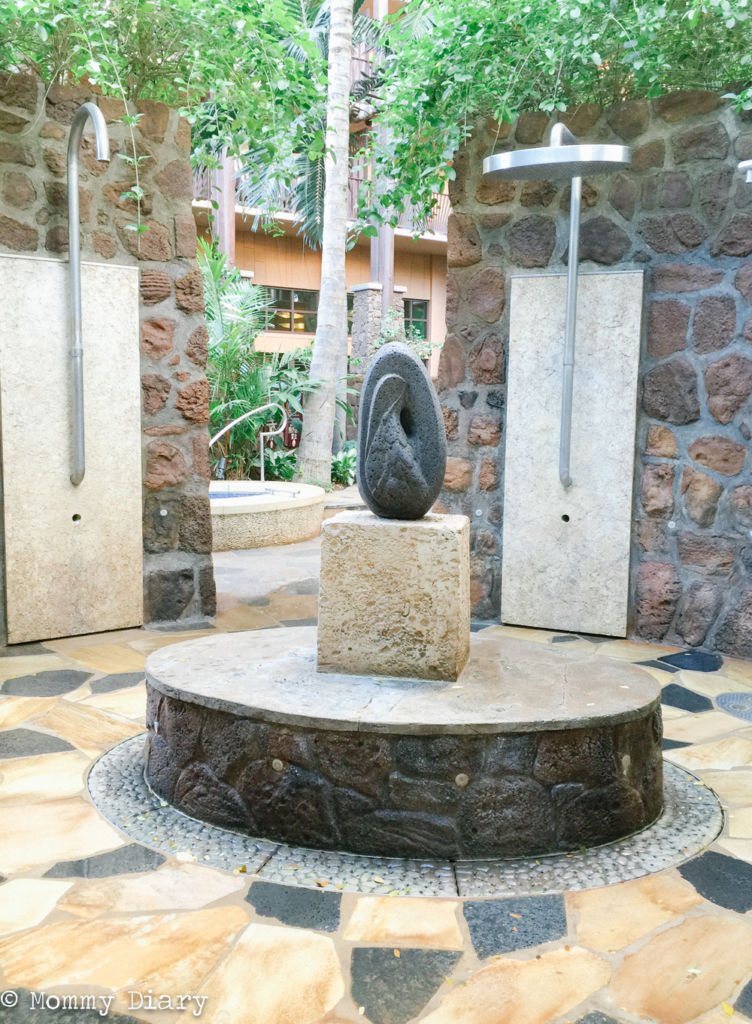 After a 80-minute prenatal massage (which was heavenly) I spent about an hour of alone time in this garden and most of the time, felt I had the entire place to myself. There were a few people here and there but they were in and out of treatment and the atmosphere was very serene and private.
At one point I was laying and relaxing in a cabana when yellow leaves started falling all around me like snow. It was such a beautiful and tranquil moment I still can't forget how it felt. There were tropical birds chirping and flying around me, soft ocean breeze tickling my freshly exfoliated skin and pretty yellow leaves softly falling and falling around me like dew fall.
Then my baby kicked as if he wanted me to remember his presence, and I experienced a beautiful, maternal and supernatural bonding moment with this new life inside me. In that moment I realized how busy I had been during the trip, no, the entire pregnancy, to really take in all the miracles that are happening inside my body. I prayed for and with the baby with heart full of gratitude and asked the universe for strength to nurture this new life generously given to me.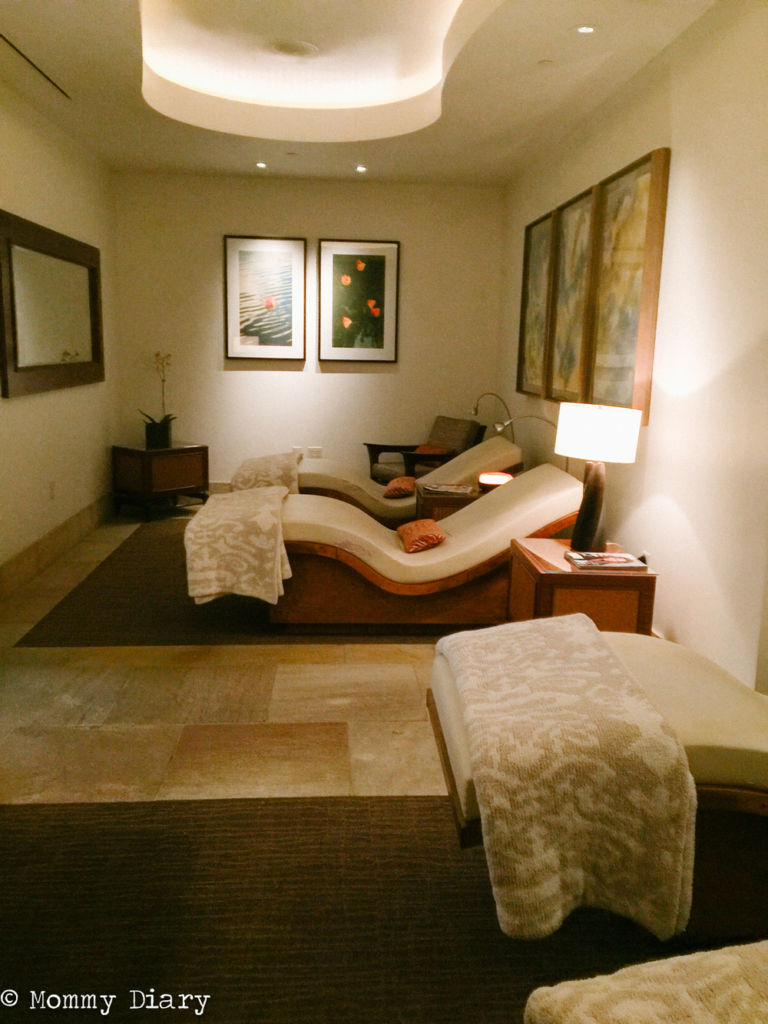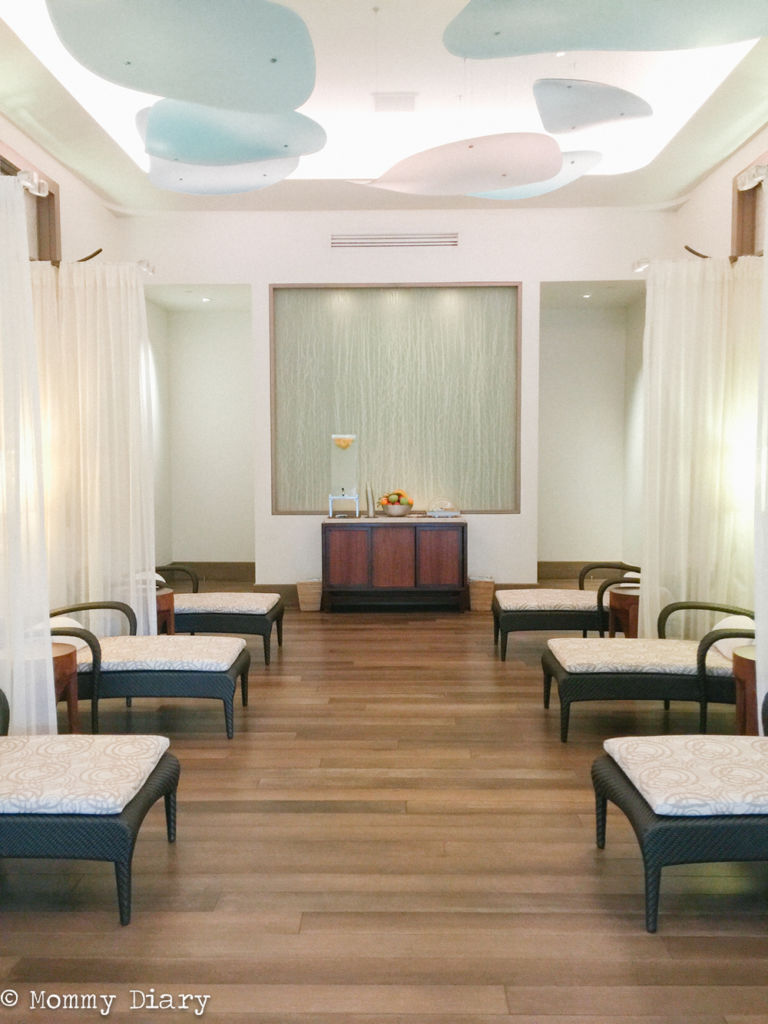 My morning at the spa passed by quickly and it was soon time to reunite with my family at the pool for lunch. Alone time for mothers is a funny thing, because when you're away you miss your babies but in less than 30 minutes with them, you're already looking forward to the next alone time!
Overall, our 6-day stay at Disney Aulani was pleasant, comfortable and we made wonderful family memories. We didn't know what to expect from this resort because my husband and I prefer a nicer, more "adult" experience during vacations but it's definitely worth coming here as a family. There are many perks of being at such family-friendly hotel as noted throughout my reviews.
If you're planning to travel to Disney Aulani, note the following tips:
Ask for a room that is away from the Four Seasons construction as noise can be bothersome in some buildings.
Try to request a higher floor for nicer ocean view.
Standard guest rooms are good for families with 2 kids. If you have 3, it might feel too small.
Request a microwave if you wish to use it for late-night snacks. It comes in handy for kids.
If you plan to use the pool and beach frequently, purchase the character mug as early as possible for $19 each for unlimited refills for the duration of your stay. It was definitely worth it for us.
Take advantage of the Disney photographers located throughout the resort. You can purchase a CD for $99 at the end of your stay that contains all your photos regardless of the number of photos.
Pool chairs fill up quickly so plan to get there early if you'd like a seat with an umbrella. We were out by the pool at about 8 am thanks to the 3 hour time difference.
Parking is $37 daily and includes valet.
There is no resort fee.
Rent a car if you'd like to explore outside of the resort for food and excursions.
Use Yelp, there are many decent local places to eat nearby. (As expected, food inside the resort can get expensive.)
Be sure to check out Waikiki for dinner options, which is about 40 minutes away. There is traffic in the late afternoon so plan accordingly.
Check out the various activities available during your stay. There are many fun classes, yoga + photography sessions and a scavenger hunt for kids, just to name a few.
Aunty's Beach House
Stop by Aunty's Beach House on the first day and register your kids between ages 3-12. You can also pre-register them online  here  as early as 90 days before, no later than 2 days in advance.
Upon registration, they give your child a digital bracelet that can be used to check them in. You can purchase and later return it for full refund or take it home as souvenir. They have various complimentary activities you can sign up for in the morning and provide free childcare (free play) until 9 pm so mom and dad can enjoy some alone time. Meals for kids can be purchased separately.
We only used Aunty's Beach House for a few hours because we spent most of our time together but the kids enjoyed being there. They learned how to hula dance and made little crafts. They also have a backyard playground area, a movie lounge, computer stations and craft tables. (Photos are not allowed inside for a good reason.)
Well, that concludes the Family's Guide to Disney Aulani series. For my next travel post, I will share photos and information about few excursions such as Waimea Valley and Lanikai Beach.
I hope you find these Disney Aulani tips useful. Let me know if you have any question and I would be more than happy to answer them. Mahalo!
(Thank you Disney Aulani for the complimentary breakfast for my family. It was a wonderful memory for us. All photos and opinions expressed are my own.)