As a mom, you may find yourself constantly amazed by the creativity and imagination of your kids' art. Their ability to create beautiful works of art at such a young age is awe-inspiring and can truly melt a mother's heart.
Still, I'm sure most moms can admit that all that artwork piles up pretty quickly, especially if you have more than one child. Momma, I understand. I also understand how hard it can be to let go of these little masterpieces after seeing all the effort your little one put into making them.
If you've found yourself in a heap of creative clutter, here are some practical and creative tips on how to store kids' artwork.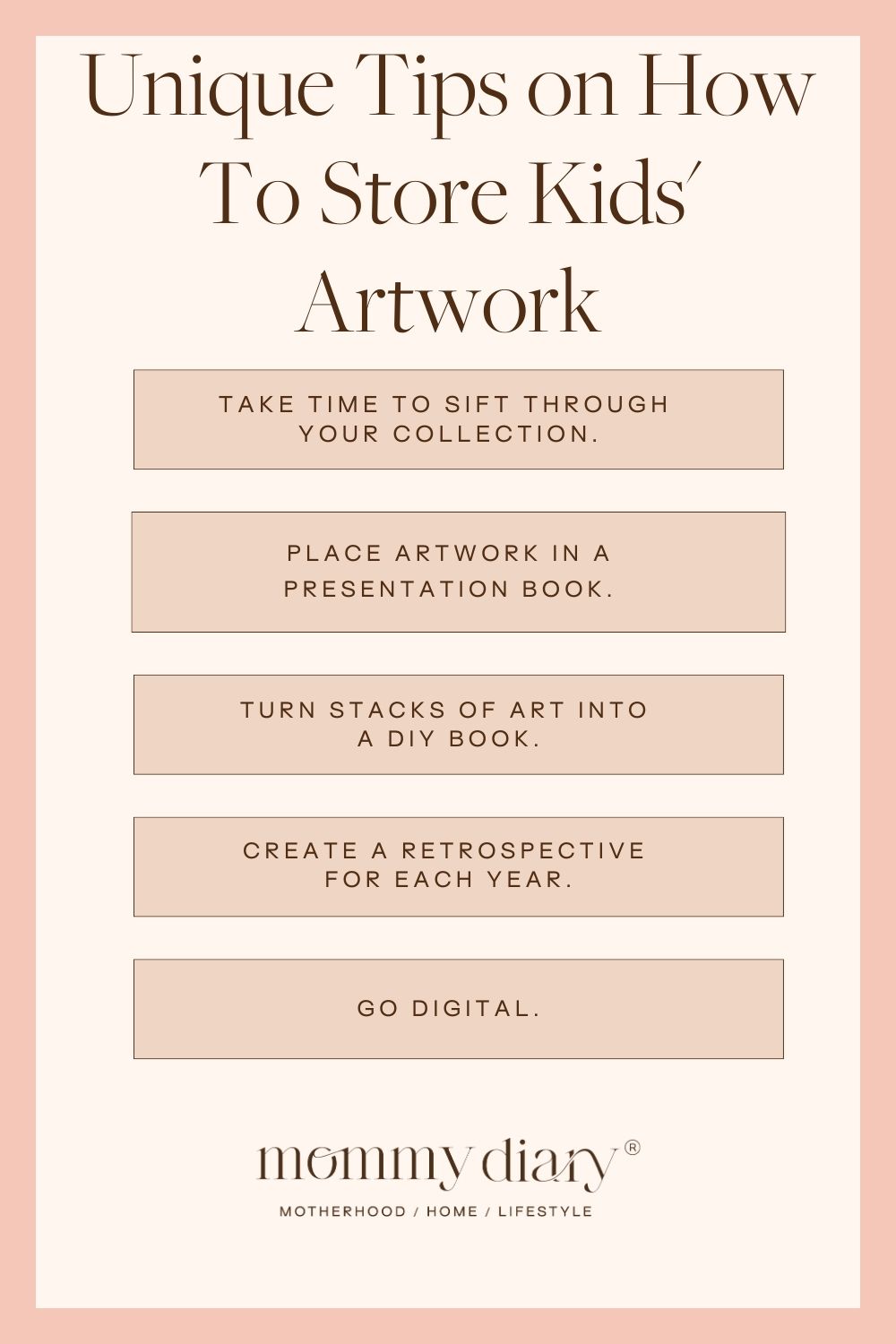 Unique Tips On How To Store Kids' Artwork
Take time to sift through your collection.
The first step in storing your kids' artwork is to decide which pieces are worth keeping. I know keeping everything is tempting, but let's be honest moms – we just don't have the space! Choose the sentimental pieces that reflect your child's growth and development as well as the ones that just stick out to you. For the rest of the kids' art storage, however, consider donating them to your child's school or art center or recycling them for new art projects. 
Place artwork in a presentation book.
For the artwork and projects you've chosen to keep, consider placing them in a presentation book (also commonly used by artists to display their portfolios). This storage solution is perfect for your little one's flat art pieces, like paintings or drawings. It's also a great way to keep them organized by school year, so you can, over time, look back and see how your child's skills and ideas have progressed.
Turn stacks of art into a DIY book.
DIY books are a fun and creative way to organize and store your kids' artwork. You can easily turn a stack of artwork into a beautiful and durable book by simply gathering the pieces together and placing them in order. Once you have all the artwork organized, you can use a true binding machine to bind it all together. Or easily use ribbons or staples to bind it. This will create a lasting keepsake that you can look back on fondly for years to come and is a DIY project the whole family can get in on.
Create a retrospective for each year.
This idea is one of my favorites because it makes such a thoughtful gift for grandparents or other family members. Creating a retrospective picture frame with kids' artwork over the year is a fun and creative way to celebrate your child's artistic growth and accomplishments.
Start by gathering a large picture frame and all the art projects your child has created throughout the year, such as paintings, drawings, collages, and sculptures. You can also include photos of your child engaged in art-making activities. Then, select the best pieces that represent your child's artistic development and arrange them in a visually pleasing way on a large poster board or a frame mat.
This retrospective picture frame is not only a great way to showcase your child's art but by involving your child in the process, you are also fostering their creativity and encouraging their artistic expression. As your child grows older, they can look back on this retrospective frame with fond memories of their childhood and artistic journey.
Go digital.
Another option for storing your kids' artwork is to go digital. Take pictures or scan the artwork and save them on your computer or in the cloud. This is a great way to preserve the artwork without taking up physical space in your home. You can also easily share the artwork with family and friends. Consider these three ideas below for going digital:
Artkive is a beautiful app to help moms preserve and share their children's artwork. Not only is it free to use, but it also provides convenient organizing features such as the ability to categorize and display your children's art by school grade or child's age. You can even name each artwork so that they are easily identifiable when searching through the collection. This added touch makes the Artkive app unique from other online galleries because it allows you to craft some exceptional memories of your kids' artwork in one place for easy retrieval and sharing with family and friends.
In addition to preserving past works, the app makes the process of printing out children's artwork extremely easy; all you have to do is click a few buttons, and voilà! You now have a custom photo book of your child's artwork collection. This app saves moms from having to endlessly look for mementos of past works, which adds value as a service for families looking for favorite ways to keep track of their kids' creative efforts over the years.
It's a well-worn ritual for us moms: our children show us their latest art project, paper plane, or clay pot, and we smile, telling them how much we love it and how proud of them we are. But then what? The paper plane will likely get tossed around the house, living room, or kitchen table a few times before getting lost forever, and the clay pot will likely become dust. That's why Keepy is such a great app. It helps to preserve those precious and fun creative details that make our kids who they are in digital form and with stories attached too!
Keepy allows you to create albums tracking your child's development journey by storing digital copies of artwork, photos, school work, or any other professional photographs and lovely mementos of your child in one place. Which you can then access on any device at any time.
And if that weren't enough, there's this amazing feature called 'Record Stories'. Using this feature, you can add memorable stories written or voiced to the memory that you have kept – an invaluable resource when memories fade over the years. It's pure genius! All these features help keep your memories alive forever and allow your children to relive them when they grow up – a priceless thing!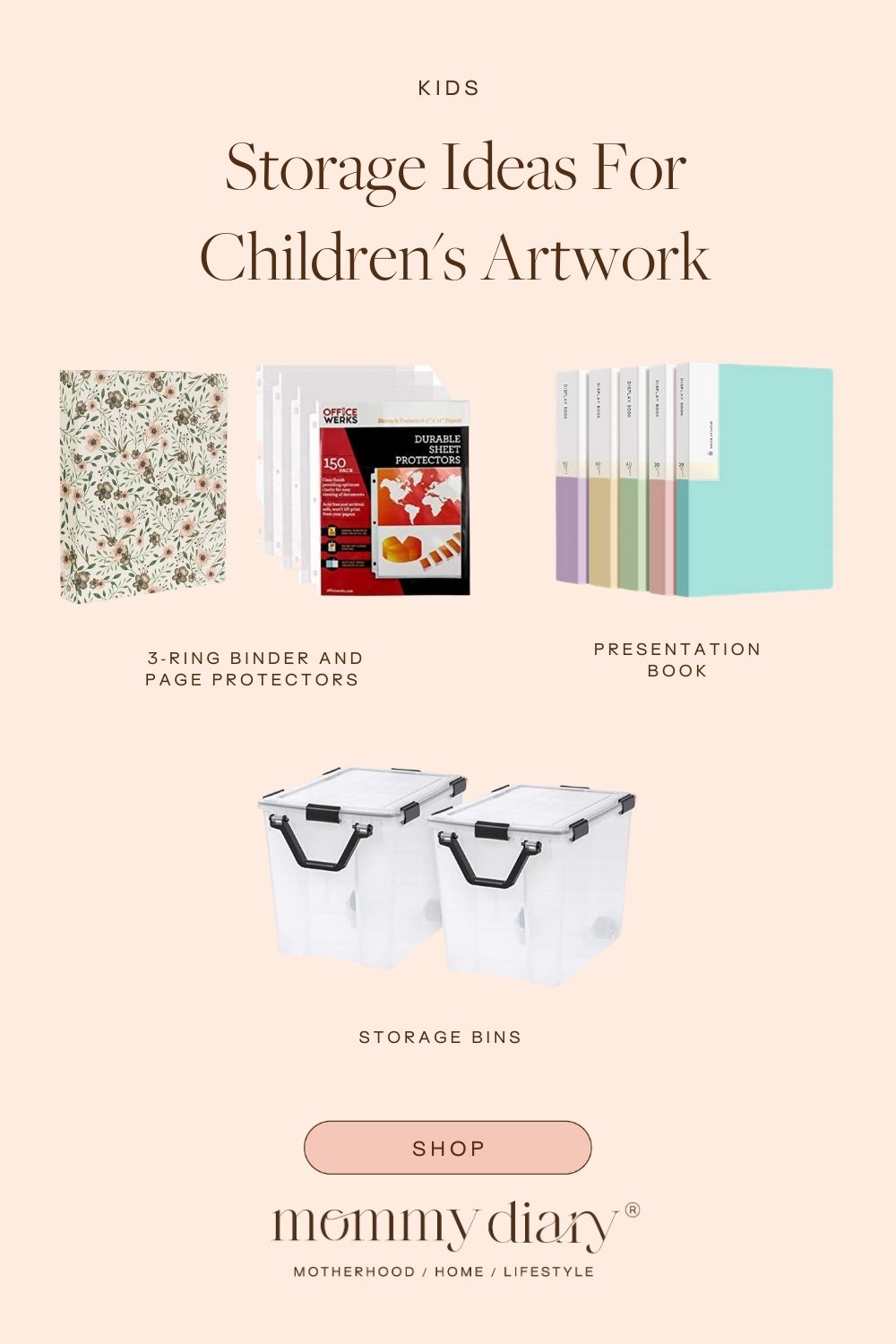 Storage Ideas For Children's Artwork
To store flat artwork on a year-by-year basis, I recommend using a 3-ring binder + page protectors. An easy and effective way to store loads of artwork that you can easily flip through later. Here are some adorable options in basic colors, florals, modern marble, and artwork inspired.  
What I like about presentation books is that they have durable built-in page protectors for easier storage and access. Another option to consider is for efficient storage of flat artwork, past school assignments, award certificates, and more. For a modern, minimalist lookbook try this pastel multipack or this single pack in cream. 
Plastic bins are one of the most popular storage solutions for children's artwork and good reason. These come in various sizes and are perfect for storing three-dimensional artwork, like sculptures, finger paintings, or clay creations. You can also store flat pieces of other art supplies that won't fit in a ring binder or presentation booklet.
Mini filing cabinets are another great storage solution for kids' artwork. They are small enough to fit in a closet or under a desk but spacious enough to store a lot of artwork. You can organize the artwork by school year, type of art, or even by the child's art if you have more than one.
Mini filing cabinets are ideal for people that don't have room for a larger filing cabinet or storage system. By ensuring each folder is labeled with categories such as 'School Reports' or 'Birthday Cards, ' you can quickly find what you are looking for when retrieving items from the filing cabinet. With this organized system, even the most disorganized person can accurately catalog keepsakes without creating a mess.
This mini-filing cabinet comes in a variety of colors and looks sophisticated yet homespun. Or try this one for a more rustic look that blends right into the room. A mini cabinet will add a considerable dose of practicality, allowing your cherished papers and memories to be stored safely in your home's special place.
A clipboard hung by the wall in a command center is a unique storage solution for kids' artwork. It involves hanging clipboards on a wall and using them to display kids' artwork while also storing weeks and even months of artwork at once. As each new masterpiece is created, it goes in front of the last clipped into the board. This is a simple and budget-friendly way to showcase your child's creativity and also serves as a reminder to your child to continue creating.
Not only will your kids have an inspiring place to express themselves artistically, but it can also become a command center for keeping track of upcoming activities and appointments. The clipboards that are hung around kids' art, like an art gallery, create different sections for displaying notes, reminders, and shortlists, making it easy to find what you need when you need it.
Additionally, the area serves as a Pinterest-inspired growth chart which helps the family keep track of their children's milestones throughout life. Whether capturing your baby's first step or her toddler's first day in pre-school, painting this mural lets them easily revisit these precious moments. As a result, children and parents stay organized while giving them plenty of opportunities to express themselves creatively.
Art portfolios are another great storage solution for kids' artwork. They are similar to ring binders, but are larger and can store larger pieces of art. They also come with handles, making them easy to transport. Art portfolios are perfect for storing artwork your child is particularly proud of while keeping everything organized and still being able to see what's inside easily. It's also great for preserving memories, with each piece of art or item saved as an easily-accessible reminder in the future.
Another artwork storage option for your young creatives is this simple art portfolio is a great solution for storing oversized artwork. It utilizes cardboard from a recycled box and some basic supplies, making it an easy and inexpensive project that results in a beautiful-finished product. Even more appealing is the idea that this portfolio can become a canvas by allowing kids to decorate and add colorful designs or special touches.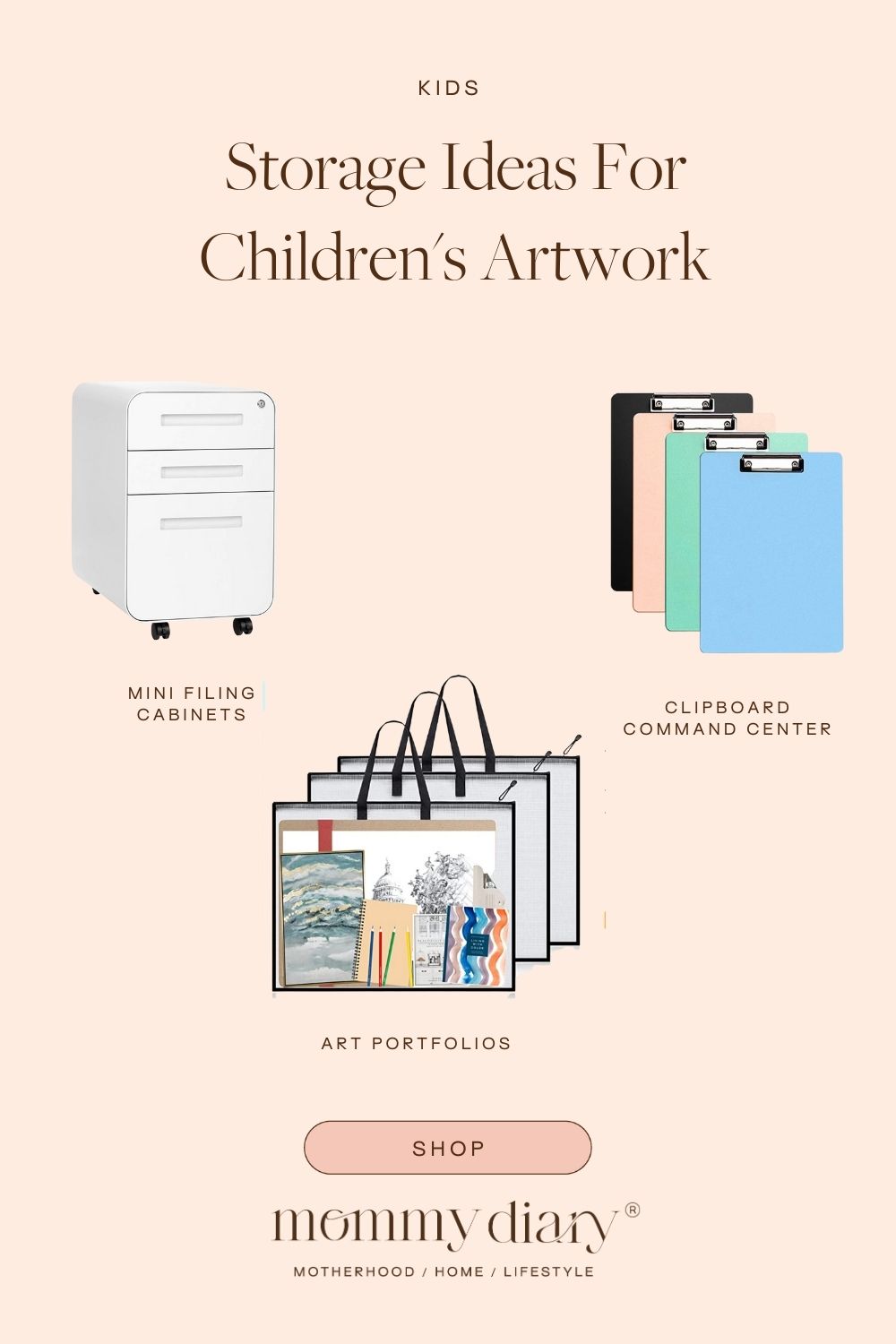 How do you store your children's artwork?
Do you have a unique way that you store your children's artwork? I would love to add it to my collection of organization tips! For more on all things parenting and motherhood, I'll see you back on the blog.