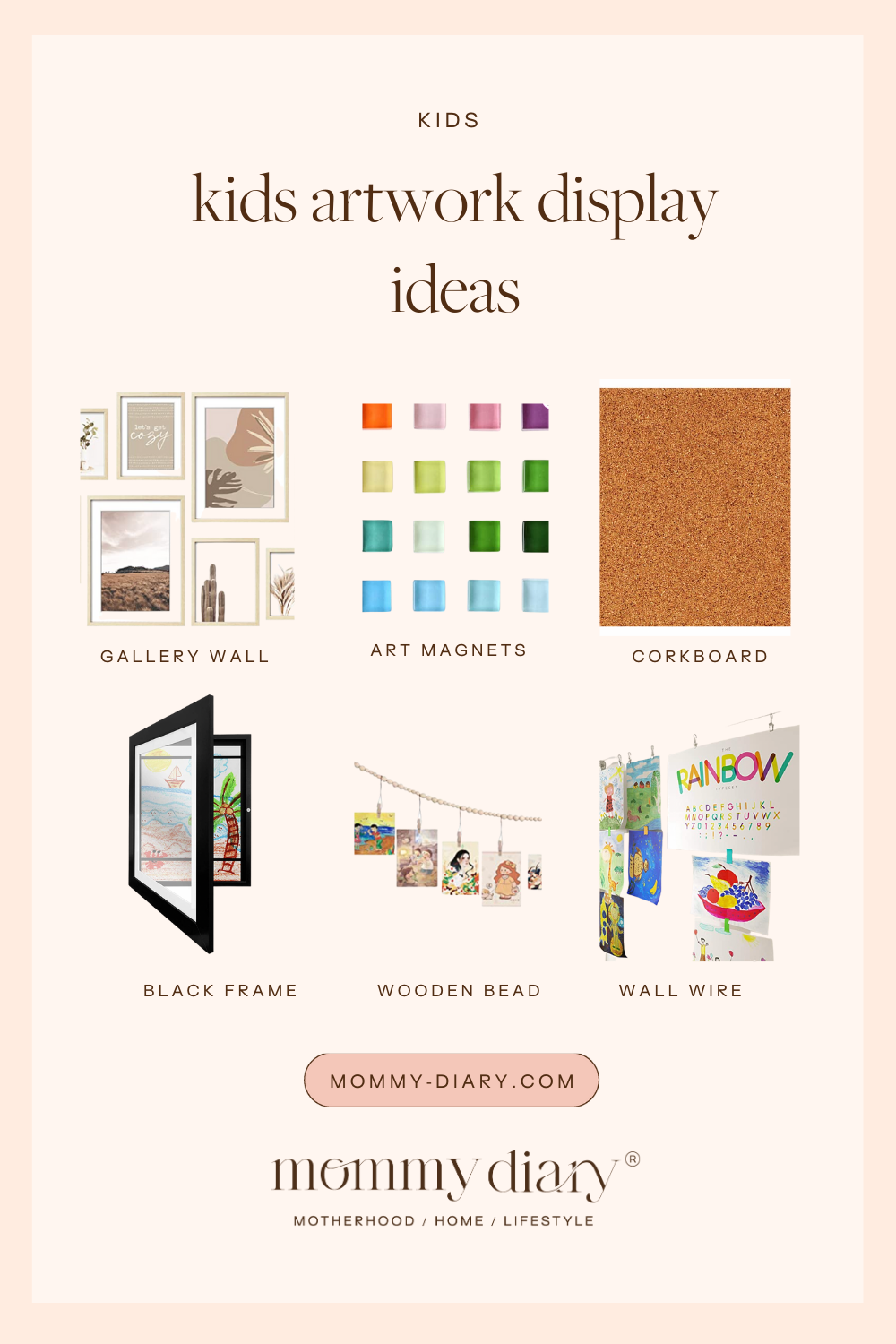 Throughout our children's elementary and middle school years, we can expect them to bring home a lot of artwork. From handmade mother's day and father's day gifts to art class creations and beyond, you might be wondering: what do I do with all this artwork?
Though we always enjoy seeing their creativity in action, it can be overwhelming to find ways to display all of their masterpieces, without taping them haphazardly around the house or on the refrigerator door. Luckily, there are plenty of fun and creative ways to showcase artwork that will add some personality and charm to your home.
With that in mind, I decided to compile a list of 15+ great ideas that will help you showcase your little one's creativity in a fun and unique way. Whether you decide to display art with frames, on shelves, or on the wall using command strips, below are some creative, and unique, ideas to get you started.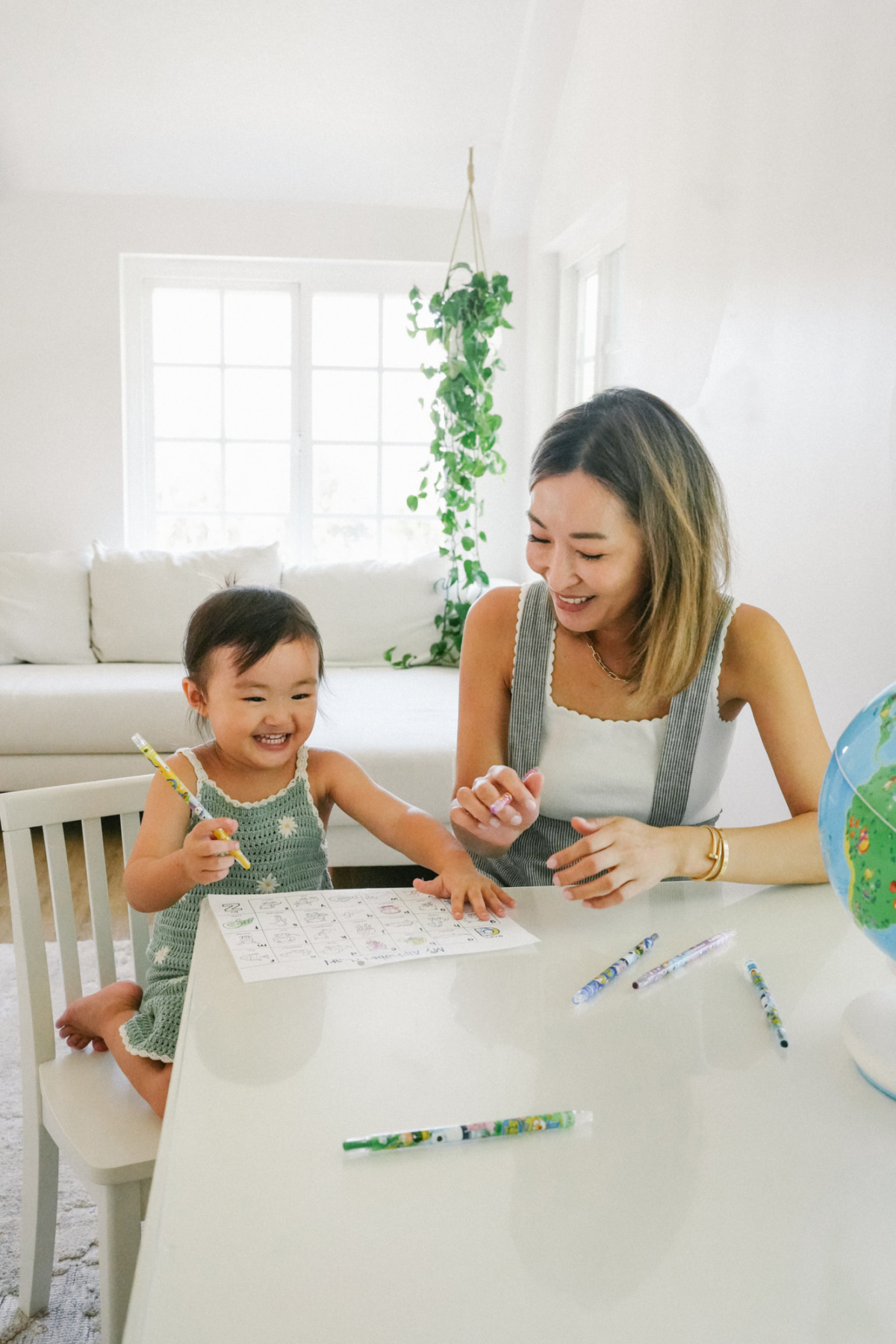 Ideas for Displaying Kids Artwork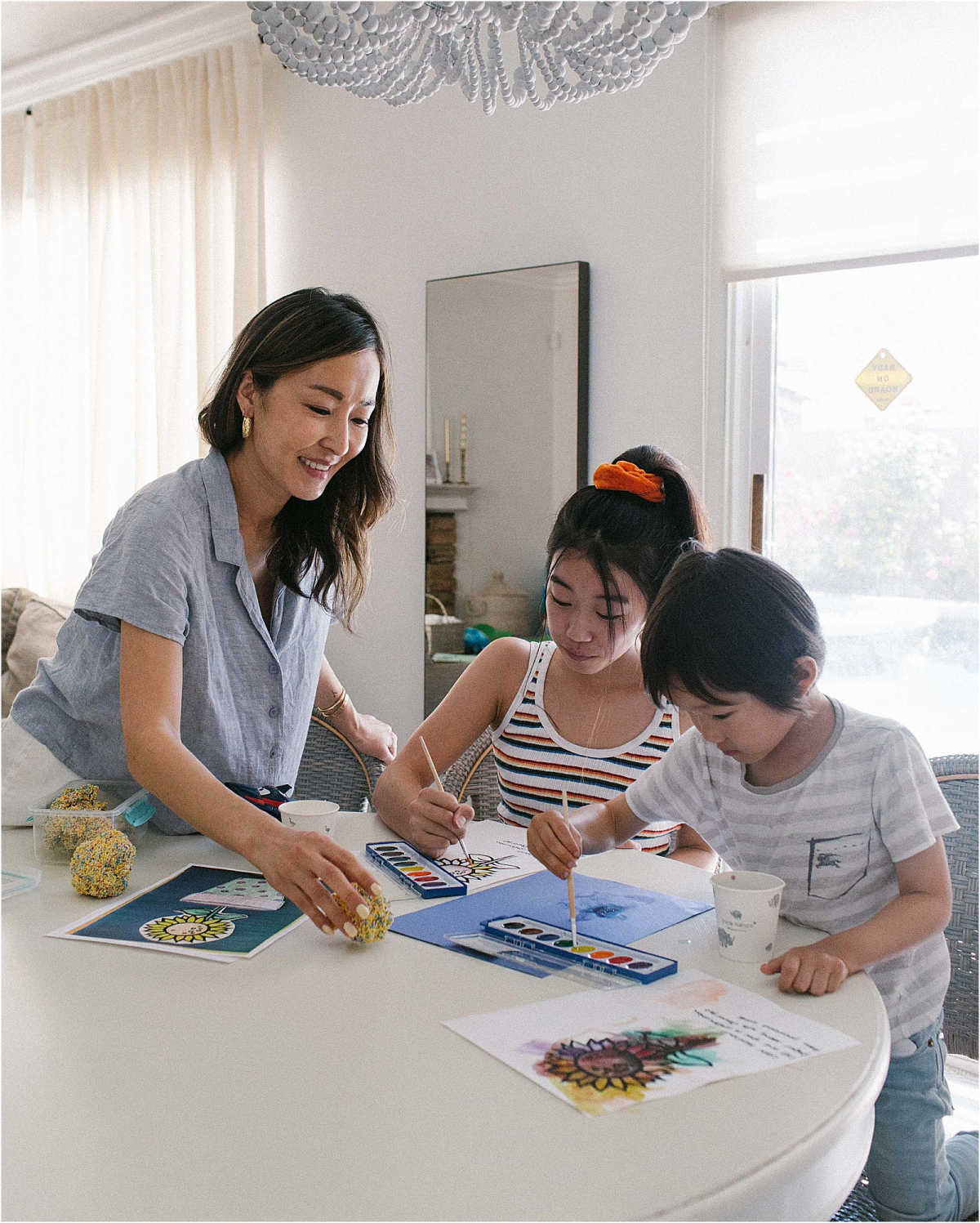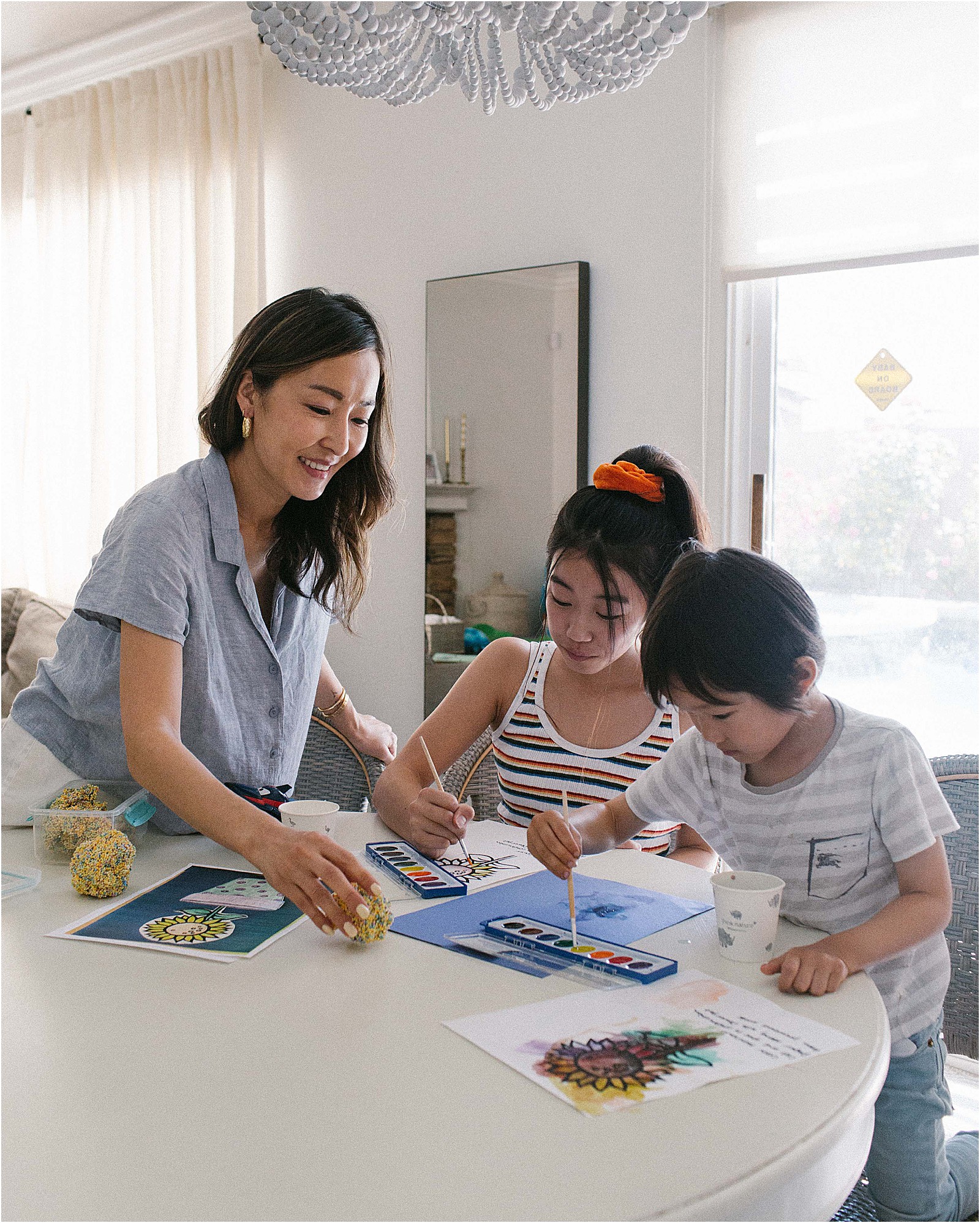 1. Display Kids Art Framed On The Wall
One way to display kids' artwork is by creating a dedicated gallery wall. Choose a prominent wall in your home where the art can be displayed together as a cohesive collection. Use inexpensive frames of various sizes and colors to create interest and depth. Or, you can even create custom frames by using colorful spray paint on plain wooden frames.
2. Display Kids Artwork In Their Rooms
Another great option is to display your child's artwork in their own bedroom or playroom. This creates a personal touch to their space and allows them to feel proud of their creations every time they walk into the room.
3. Display Kids Art by Hanging With Clips
For an easy, low-cost solution, use metal clips or clothespins to hang your child's artwork from string or ribbon. This creates an adorable "clothesline" effect that adds charm and whimsy to any room.
4. Display Kids Art With Magnets
Magnets are a fun and easy way to display your child's artwork on any magnetic surface, such as a metal door or a metal strip located on the wall. You can use colorful magnets or even create your own by gluing small magnets onto decorative buttons or other small nick-nacks.
5. Display Kids Art On A Chalkboard
Pick up a chalkboard or paint a chalkboard wall in your home and use it as a versatile backdrop for displaying artwork. Your kiddos can then draw directly on the chalkboard or chalkboard wall. Or, you can hang their art using clips, hooks, and hangers.
6. Display Kids Art Using a Corkboard
The combination of a corkboard and push pins is a classic option for hanging kids' artwork. Especially if you have limited wall space. Hang the corkboard in a prominent area of your home and attach your child's art by using push pins or thumbtacks. Some push pins can even double as clips.
7. Display Kids Art with Hanging Wire
If you're looking for a budget-friendly and easy way to display artwork, hanging them with wire might just be the perfect solution. It doesn't require any fancy materials or tools; all you need is some extra wire lying around in your house. This method also offers plenty of creative freedom because you can adjust the length of the wire to fit any space you want to hang it in.
8. Display Kids Art with a Hinged Frame
If you are interested in displaying your kid's artwork on a rotating basis, consider checking out this great idea! These picture frames allow for easy weekly updates. Simply open the frame and replace the old artwork with the new one.
9. Display Kids Artwork with a Bead Garland
Wood garland utilizes wooden beads strung together to create an aesthetically pleasing line. Attached to each bead is a small clip that easily holds paper – ideal for displaying kids' art projects or photographs. Not only does this add a lovely decorative touch to your home, but it also allows you to proudly display your child's creativity while keeping everything organized and tidy.
Consider creating your own wooden garland or purchasing one off of Amazon like this one.
10. Display Kids Art with a Digital Collage
In the age of technology, it's becoming increasingly common to digitize our possessions.
You can create a collage by combining digital images to create a new piece of art, similar to a traditional paper collage. Using an app such as Shutterfly allows you to create digital collages or annual books from the best artwork that you've saved. Snapping a photo and uploading it will ensure that no matter how much art your child produces, their talents will live on in a meaningful way for years to come.
Aside from artwork, you can also use Shutterfly to create collages of family photos. For more ideas on how to style your home with family photos, see this post.
11. Display Kids Artwork with Floating Shelves
Floating wall shelves are an excellent solution for creating a kids art display area. By utilizing floating shelves, parents can feature the work of their little artists with flexibility and ease. The best part about this DIY project is that it allows you to showcase multiple artworks at once, without burning a hole in your pocket. These shelves come in various sizes, shapes, and colors, creating a uniform or eclectic look that will perfectly fit your home decor style.
12. Display Kids Artwork by Creating a Kids Art Book
If you are the type of mom that enjoys scrapbooking, why not create a kid's art book? Gather a scrapbook binder or photo album and slip those beautiful pieces in.
Bonus: File these away every year for your kids to enjoy and see their progress year after year.
13. Display Kids Art with Magnetic Wooden Hangers
Magnetic wooden hangers are not only aesthetically pleasing, but they also provide a convenient way to display children's artwork. Using these hangers means that you don't need to worry about damaging walls with tape or getting uncooperative frames to hang straight. With magnetic wooden hangers, simply clip the artwork onto the hanger and enjoy the display!
14. Display Kids Artwork with a Shadow Box
A shadow box is a great option for displaying 3D art pieces or sculptures. Choose a deep frame and fill it with your child's artwork, adding depth and interest to the display.
15. Display Kids Art with a Staircase Art Gallery
If you have a staircase in your home, consider creating a mini-gallery along your staircase by hanging several pieces of your child's artwork together in one area. This creates an eye-catching and fun display for the whole family.
16. Display Kids Art on an Easel or Art Stand
Another option is using an easel or stand to display individual pieces of art. This is a great choice for larger pieces that might not fit well in a frame, or for special projects that deserve extra attention. You can also rotate the pieces on display regularly so that each one gets its moment in the spotlight.
Like any proud parent, I have my children's artwork and pictures scattered around the house.
But with these ideas, I've been able to create perfect pockets of my children's art around the house in a way that everyone enjoys!
I hope this list of how to display kids artwork inspired you to have fun, like I have, with how you display your children's masterpieces! More on all things parenting and motherhood here.