Creating Healthy Eating Habits for Our Children
Sponsored by the Robert Wood Johnson Foundation & HER (Healthy Eating Research). As always, all opinions are my own.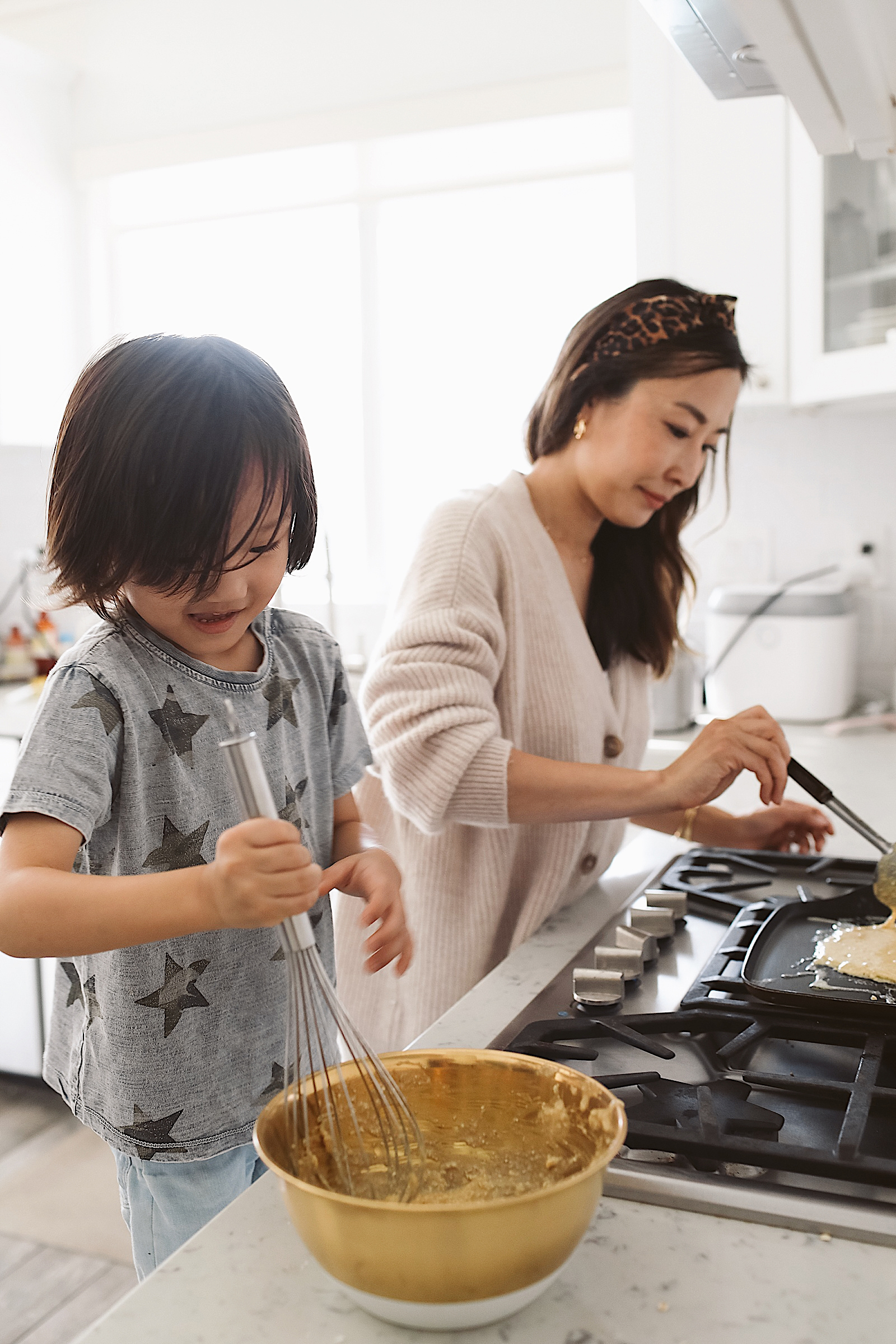 Food can be a topic that we don't usually think to address with our children from an early age. However, childhood is a critical time for establishing and maintaining healthy eating habits in our kids.
I've partnered with the Robert Wood Johnson Foundation Healthy Eating Research (HER) team to provide you with some tips on establishing healthy eating habits for our children.
Emerging research shows that it's not just what we feed our children that matters most; it's how we feed our kids that can shape their future habits. As a mom of four, two of whom are still developing their independence when it comes to food, I try to be mindful of how I approach healthy eating with my kids.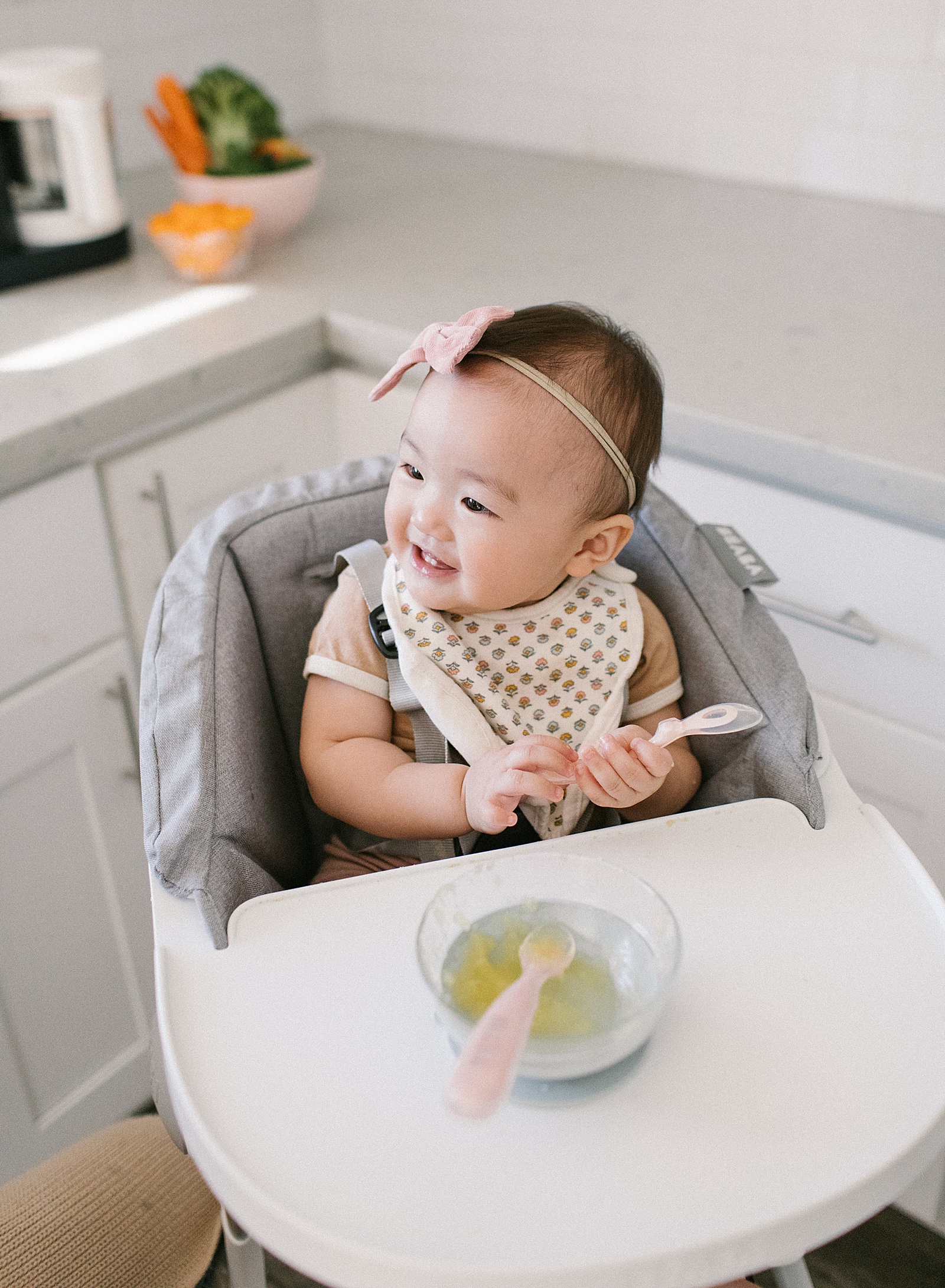 I'm sharing a few examples of how I have worked (and still work) to establish healthy eating habits for my family and some research-based suggestions for you to try at home as well.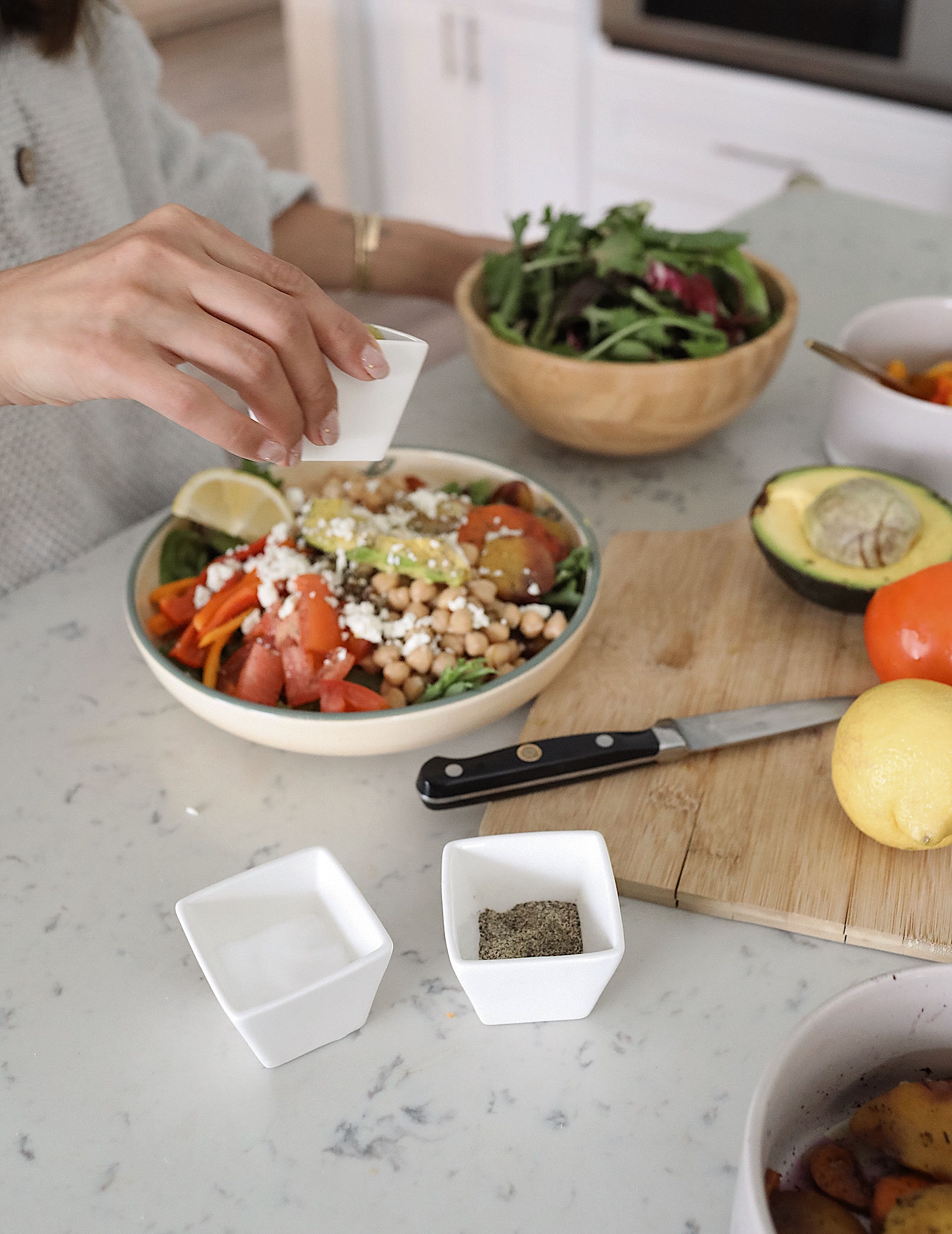 Setting your expectations and yourself up for success
It's important to realize that establishing these habits takes time, including repeated exposure to healthy and new foods for your children. When your little one can start eating solids, it's good to introduce new flavors and textures often. It's also a good habit to eat together at a kitchen or dining room table as a family. This behavior will help associate mealtime with family time for your child and develop a positive emotion.
I like to set up my pantry and kitchen for success — meaning I make healthy snack options available and easily accessible for my children. That includes portioning out veggies and fruit that are ready to snack on and loading them in easy-to-reach areas of the fridge. I also like to keep a healthy snack basket loaded with some of my kids' favorites on a lower shelf of the pantry.
I try not to compare my children to others and their journey with establishing healthy eating habits. That does no good for anyone, so my goal is to do what we can as a family to provide an excellent foundation and set us all up for success, no matter how long it takes to get there.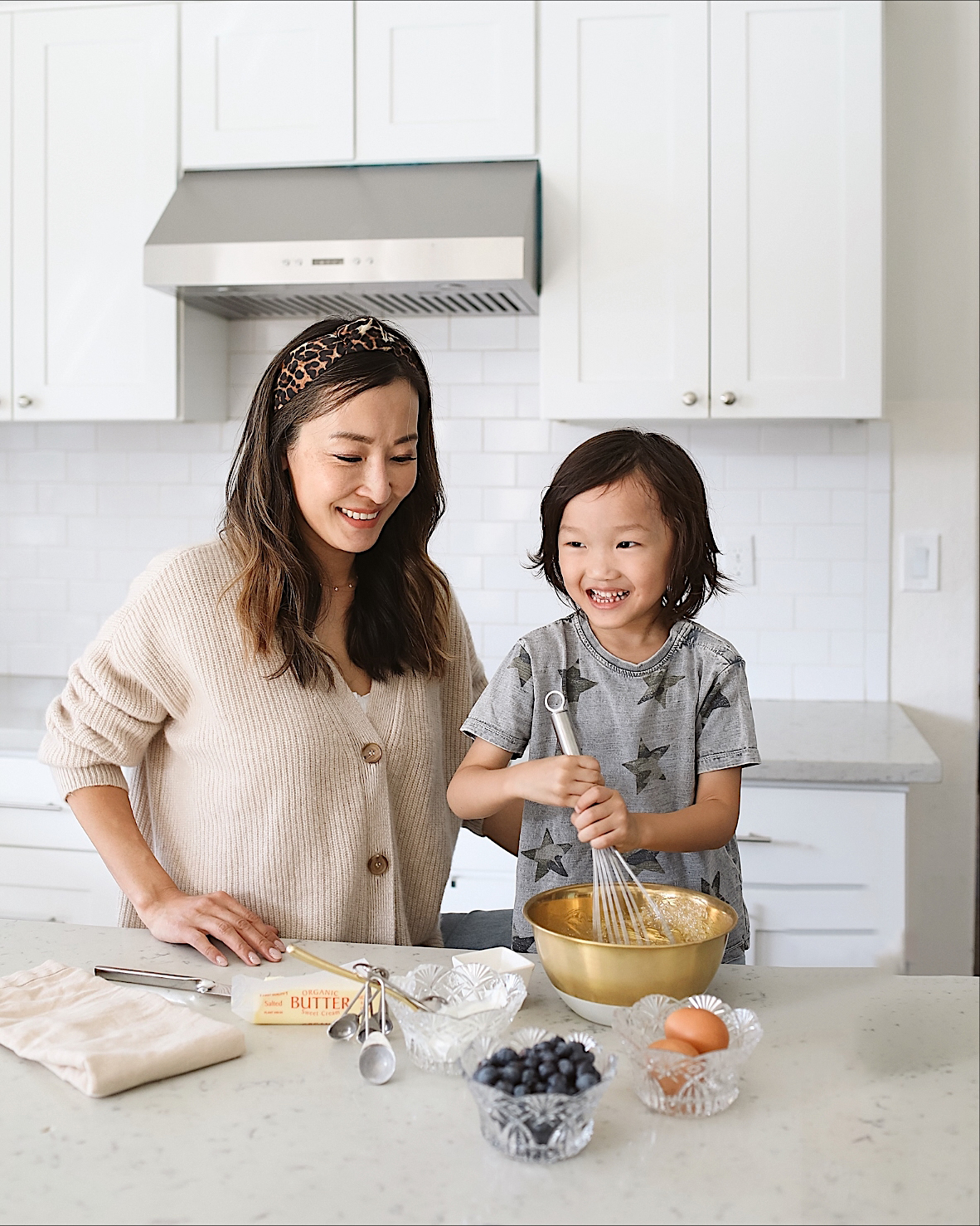 Let your kids be hands-on in the kitchen
One of my favorite things is watching my kids have fun exploring in the kitchen. D has helped me out several times, making fun meals and packing his lunch for school every day. Getting your kids involved in making meals is such a great way to create healthy habits around food.
If your kids show interest in what you are doing in the kitchen, let them help you by washing the potatoes or berries off in the sink. You could even invest in some kid-safe kitchen gadgets and let them chop soft foods, like mushrooms, bananas, or even apple slices. They will love giving a helping hand to mom.
This interaction and time spent together will also provide you an opportunity to educate your child on food, from different food groups to following a recipe, to portion control.
Outside of the kitchen, have your kids help you at the grocery store to pick out produce or other easy-to-reach items. This activity is another opportunity for some education about grocery stores and their layout. Did you know many healthier, whole-food options tend to be on the outer aisles?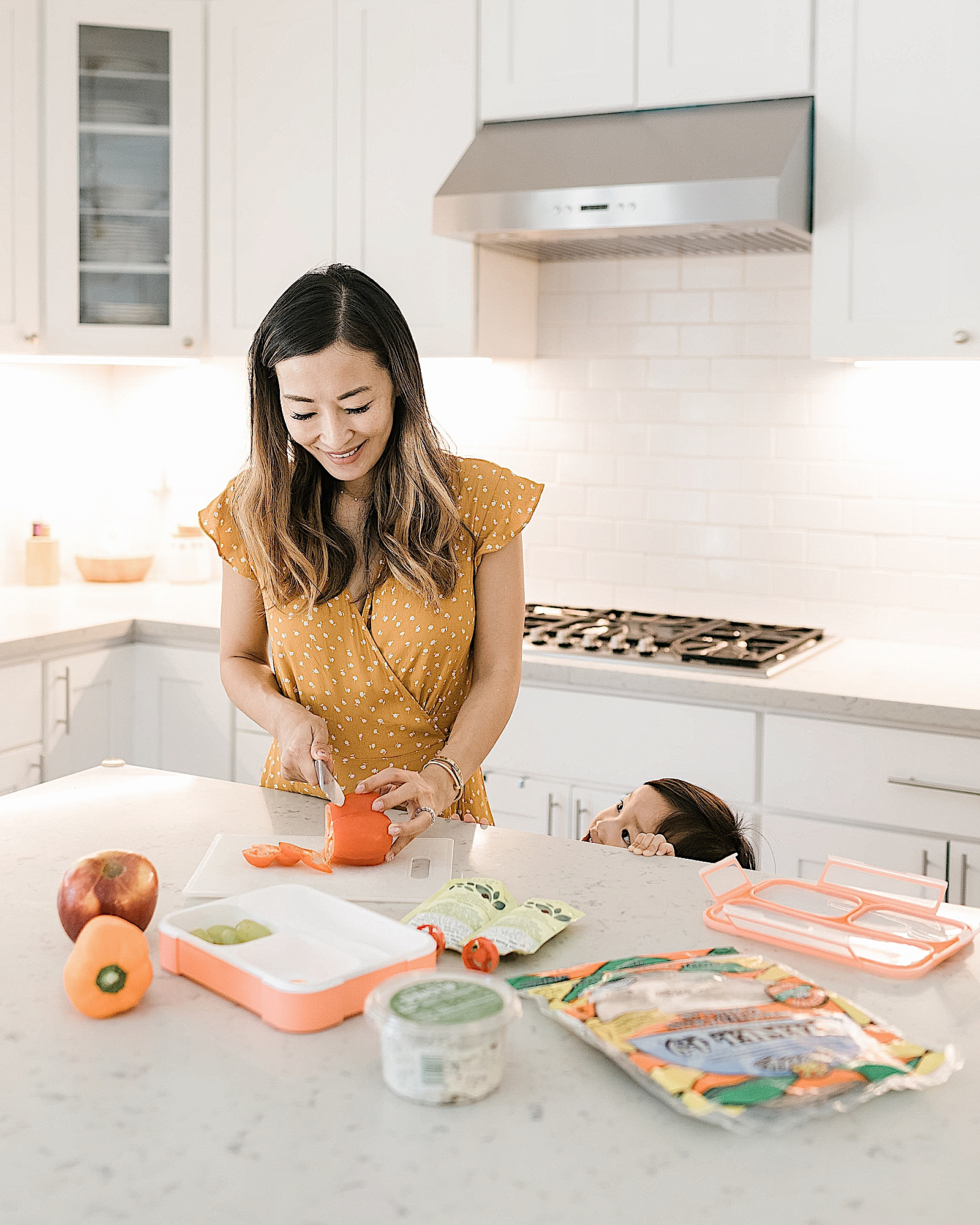 Avoid pressure during mealtime
It's bound to happen. You make a beautiful meal, and your toddler takes one look at it and pushes her plate away. I try to use these as an opportunity for my kids to learn independence and express themselves and work to limit any pressuring words, such as "just take one bite" or "you have to eat that." These phrases can make kids feel a negative response to trying something when they aren't comfortable.
Instead, try avoiding these moments during mealtime (without making a second meal for just your child). Try pairing some of the foods they are familiar with and like with something new. I like to let my kids try a new-to-them veggie or snack with a dipping sauce that I know they love. And, I try not to hide vegetables in meals, such as smoothies, as I want my kids to know that veggies are a great healthy option and can be good when they want them!
Another recommendation from HER is not to pressure our kids to finish or "clean" their plates. Helping our children understand and listen to their hunger cues is a healthy habit they will carry into adulthood. When my children say "all done" or I'm full," I listen, even if their plate is primarily untouched.
Educating yourself on creating healthy eating habits
There are several great tips and tricks on HER's Instagram account you can learn from and implement some into your family's routine. I think it's essential for parents to model healthy habits for their kids, and I try to live a healthy, well-balanced life and show my children that we're all in this together. We know that our kids mimic a lot of our behaviors, and if they see us making good choices and being an excellent example of how to build and create healthy eating habits, there is no harm in that!
What healthy eating habits do you practice in your house to help establish this mindset with your children? Leave some more ideas in the comments below or share them on Instagram and tag me.