Especially in this day and age, a child's emotional well-being is just as important as their physical health. As a mom of four, I've witnessed first-hand how negative thoughts can impact a child's mental health. But, I've also discovered the power of positive thoughts for kids.
A daily affirmation is a powerful tool for anyone, no matter their age. But they're especially important for kids. Kids can benefit from daily affirmations and positive thinking in several ways. Affirmations encourage kids to see themselves in a positive light, recognize their strengths, and face obstacles with confidence.
These days, daily affirmations are used by parents, as well as teachers, all over the world. They're recognized as important social-emotional learning tools that can be utilized every single day.
Daily affirmations can make children feel more confident, which as a mom, is always a joy to see. As our children develop and experience the ups and downs of life, it's important to give them the tools to succeed.
I'm sharing a list of daily affirmations for kids that they can say to themselves daily to silence negative self-talk.
Daily Affirmations For Kids
Daily affirmations are positive statements that promote confidence and optimism. Affirmations can help encourage your child to overcome challenges, embrace differences, and maintain a positive outlook on life. Daily affirmations are also great for motivating and inspiring kids to be the best version of themselves.
There are many different affirmations. There are also numerous ways to incorporate affirmations into a child's daily routine.
One easy way is to print affirmation cards or a list of affirmations and then hang them somewhere that your child will see every day, like on the fridge or a bathroom mirror. You can also write down a new affirmation for your child to read each morning. Or, you can incorporate affirmation reading time while brushing their hair, eating breakfast, or on the car ride to school. Morning affirmations are great for starting the day on a positive note.
Ultimately, it's up to you to decide how to best incorporate daily affirmations into your child's routine.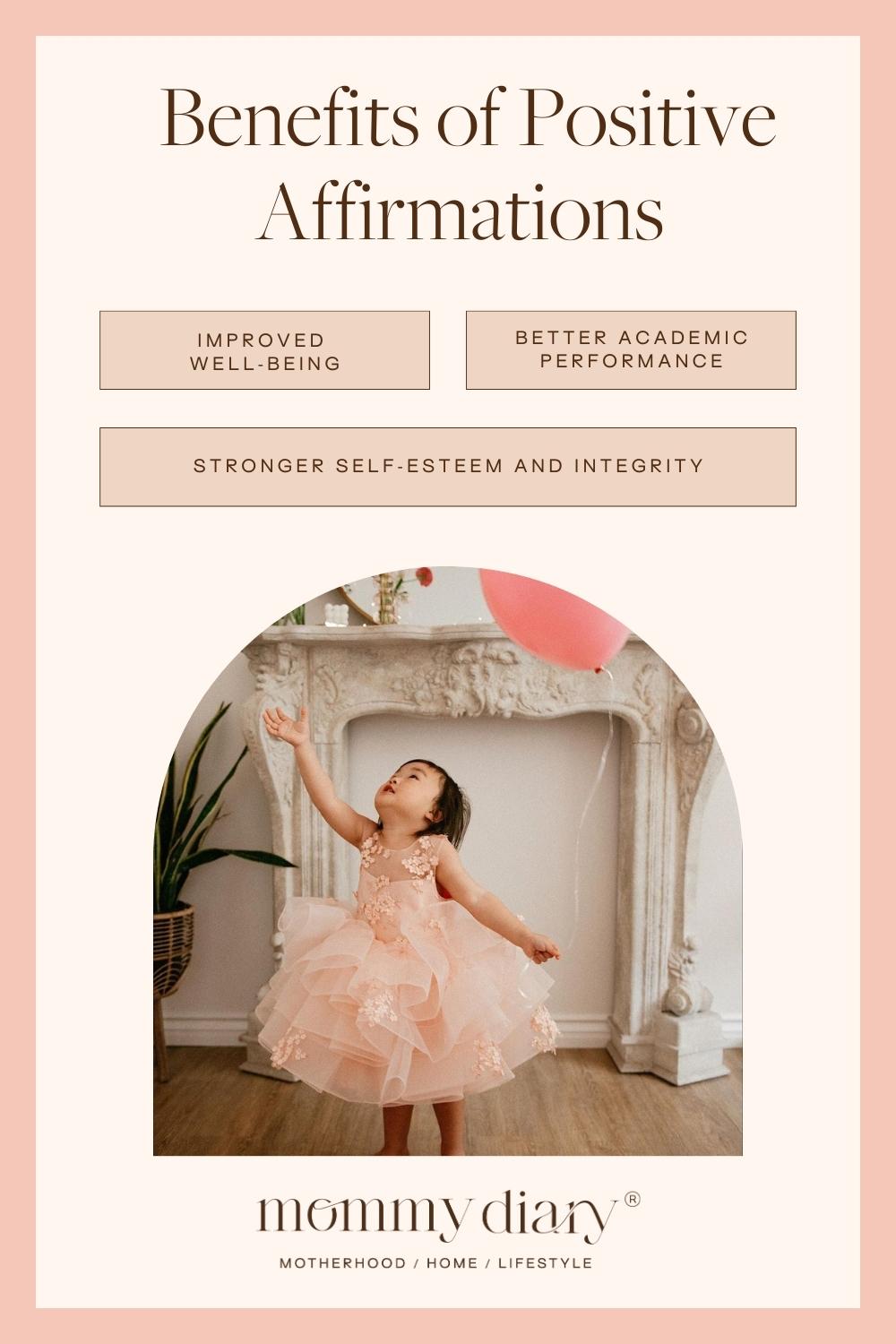 Benefits of Positive Affirmations
Improved Well-Being
Don't underestimate the power of positive thinking! Positive thoughts can help reduce stress and anxiety, therefore dramatically improving a child's overall emotional well-being. Positive thinking can release endorphins and boost your child's mood.
Include daily affirmations in the self-care skills you teach your kids to stress the importance of focusing on your mental health.
Better Academic Performance
Research has also found that self-affirmations activate various parts of the brain, improving its processing and valuation abilities. This suggests that frequent and consistent positive self-affirmations can boost brain function, which can translate to better academic performance in children.
Stronger Self-Esteem And Integrity
Studies have shown that thinking and saying positive, affirming things about ourselves can dramatically improve self-esteem. In this study, college students receiving daily positive affirmations consistently reported higher self-esteem and satisfaction. Even better, those students were also more likely to share the positivity by affirming others!
Replacing negative thoughts with positive ones can dramatically improve the way a child views themselves. Affirming their abilities and self-worth makes it easier for a child to recognize their value and capabilities, which boosts their confidence.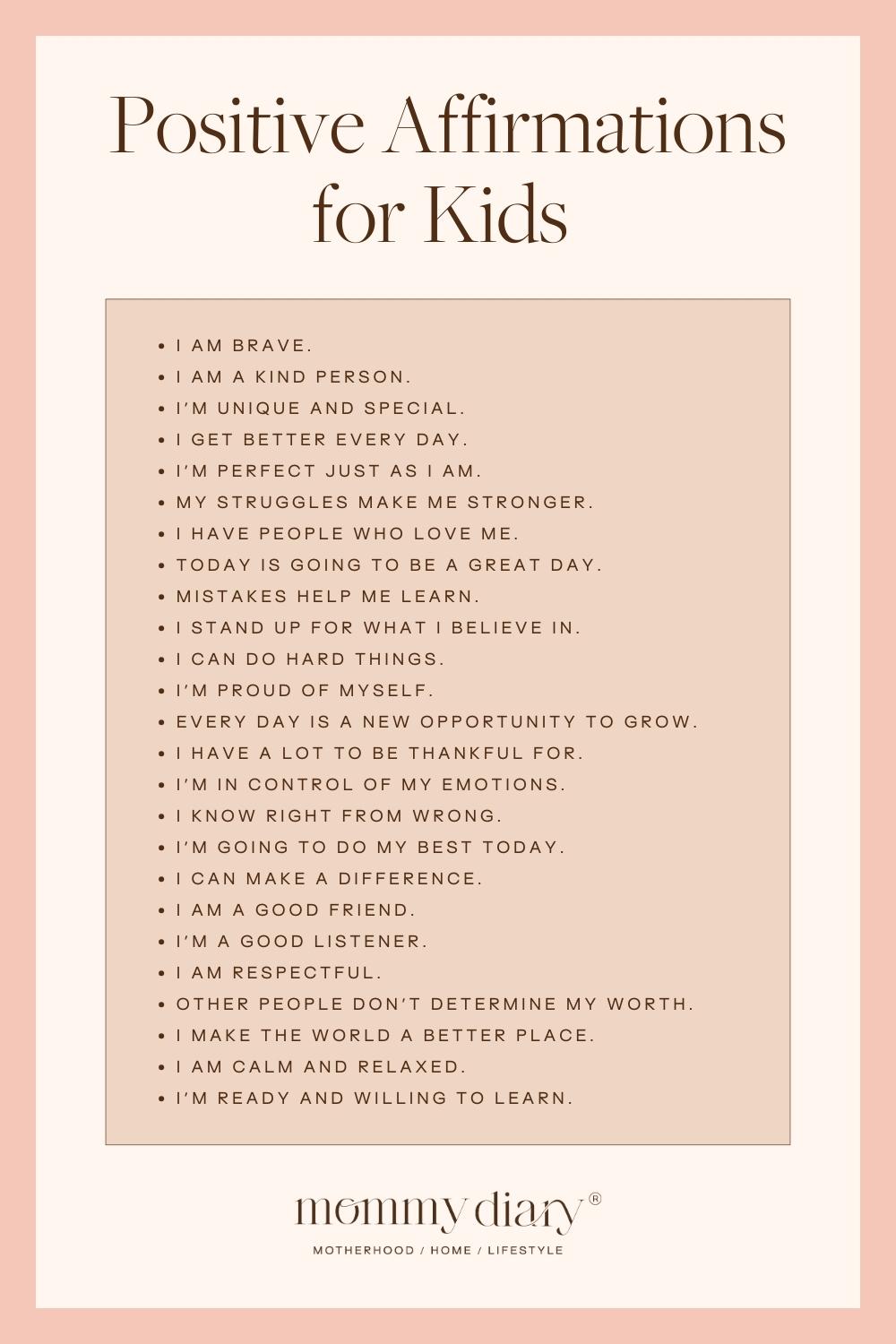 Positive Affirmations for Kids
I am brave.
I am a kind person.
I'm unique and special.
I get better every day.
I'm perfect just as I am.
My struggles make me stronger.
I have people who love me.
Today is going to be a great day.
Mistakes help me learn.
I stand up for what I believe in.
I can do hard things.
I'm proud of myself.
Every day is a new opportunity to grow.
I have a lot to be thankful for.
I'm in control of my emotions.
I know right from wrong.
I'm going to do my best today.
I can make a difference.
I am a good friend.
I'm a good listener.
I am respectful.
Other people don't determine my worth.
I make the world a better place.
I am calm and relaxed.
I'm ready and willing to learn.
My thoughts and feelings are important.
I don't give up when things are hard.
I can ask for help when I need it.
I'm beautiful inside and out.
I like learning new things.
I am honest.
I'm generous.
I embrace change.
I will accomplish my goals.
I'm a problem solver.
I face challenges with a good attitude.
There's no one else like me.
I am safe.
I have a great imagination.
I'm in charge of my body.
I don't have to prove myself to anyone.
Bad feelings are temporary; I can work through them.
I am patient.
I am polite and mindful of my manners.
I'm ready for whatever happens today.
I am a good sport, win or lose.
I can do anything I set my mind to.
I'm healthy and strong.
I choose to be happy.
I love myself.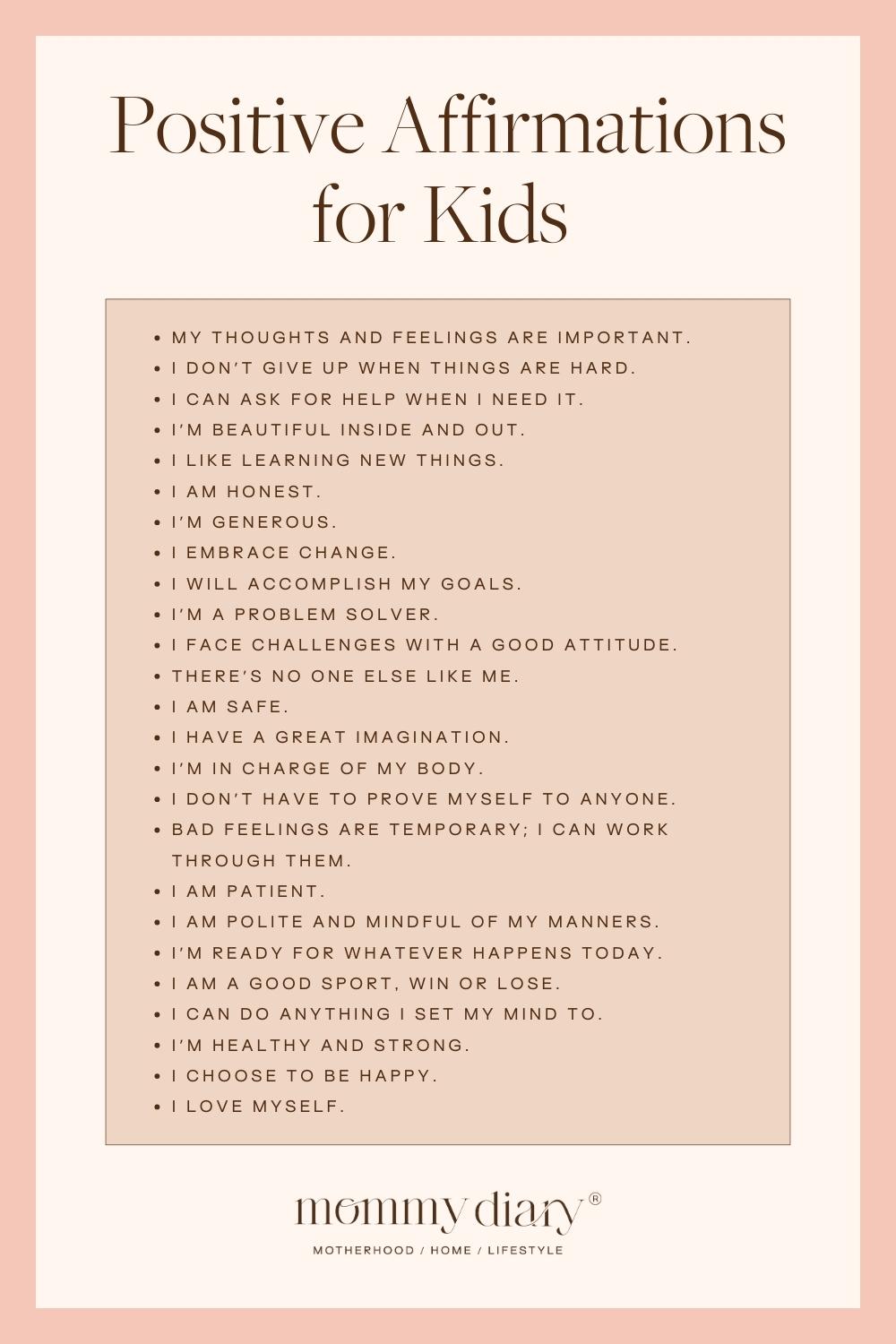 Daily affirmations are great for boosting kids' self-esteem and making them feel more confident.
There is nothing I want more for my kids than for them to be happy and healthy. Positive thinking and daily affirmations are valuable tools for children at any age. If your child struggles with low self-esteem or a lack of confidence in difficult situations, try integrating affirmations into their daily routine.
For more ways to support your kids through various life experiences, and a ton more info on motherhood, family life, traveling, and more, head over to the blog.