Valentine's Day can be celebrated in many ways. It brings on a new meaning when you become a parent. If you're looking for a treat to give your children, there are lots of Valentine's Day gift ideas that don't involve candy. I'm always on the look out for non-toxic items, so this list will give you suggestions that you can feel good about. Choose a few small gifts to put together in a basket, and you will quickly have a fun surprise waiting for your little ones on Valentine's Day morning.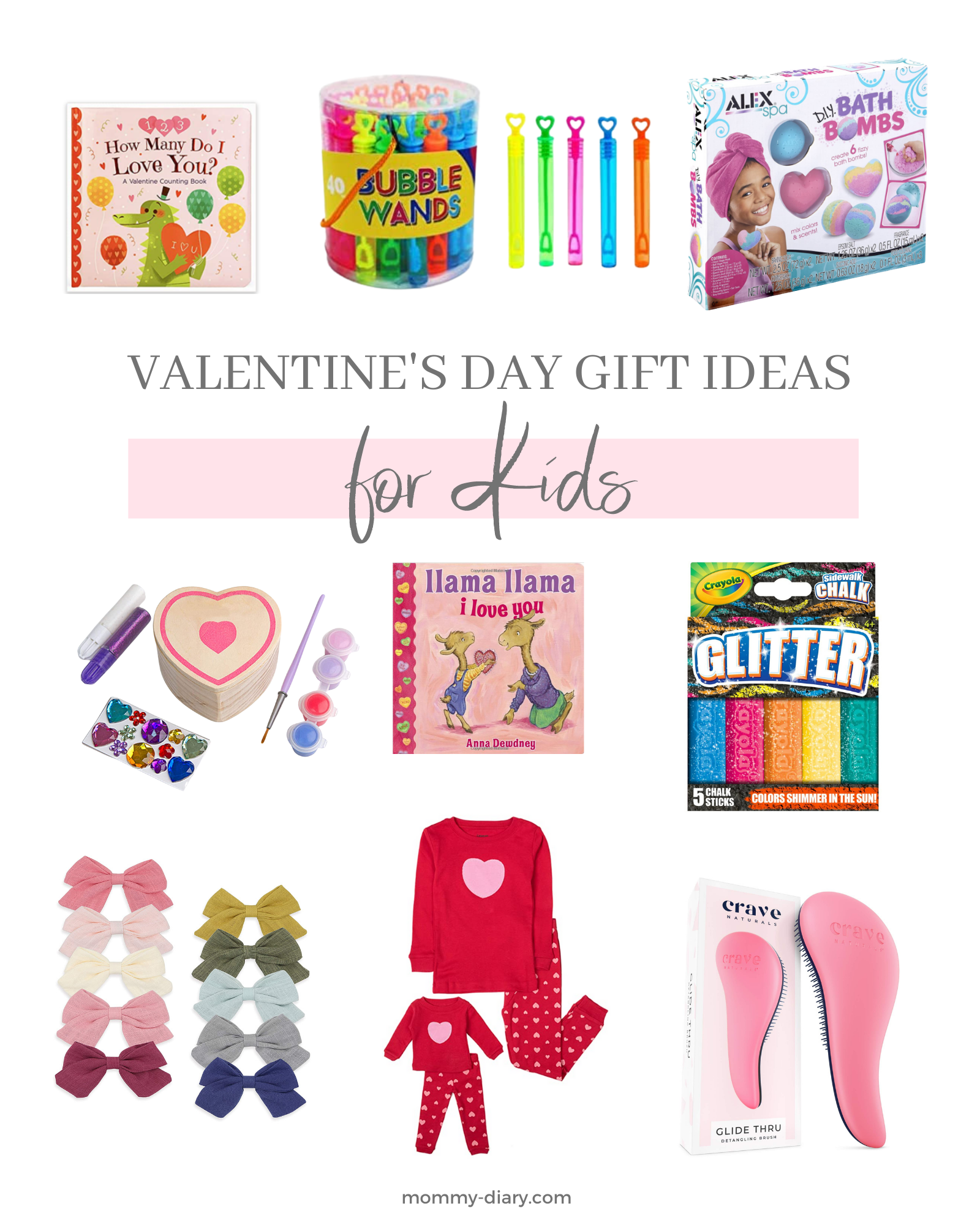 7 Valentine's Day Gift Ideas for Kids
1. Bubbles
Who doesn't love bubbles? If you've been spending a lot of time in your home, bubbles are the perfect excuse to get outside for a few minutes and appreciate the fresh air. They are also fun to play with in the bathtub.


2. Sidewalk Chalk
Chalk is the perfect compliment to bubbles. There are so many activities you can do with chalk inside or outside. On Amazon you can find glitter chalk, animal-shaped chalk, stencils, and different chalk holders that add to the fun.
Here's a tip: fill up a large container with water and let your chalk soak in there for a bit. Then when you use the chalk it will look and feel like paint!


3. Hair Accessories
Valentine's Day is a good time to stock up on hair accessories if you have a little girl. Bows, scrunchies, clips, and a detangle brush all make neat additions to a Valentine's Day basket.


4. Pajamas
Cozy pajamas are always a most-loved Valentine's Day gift idea in our home. There are lots of adorable Valentine-themed jammies and t-shirts on Amazon. As if we needed another excuse for a photo opportunity!


5. Bath Bombs
Adults and kids should treat themselves to a relaxing bubble bath on Valentine's Day. Have you tried the kid's bath bombs that have a special toy inside? They are so much fun and smell amazing. You can even make your own with this kit.


6. Books
I always enjoyed getting holiday-themed books as a child. Some of my favorites for Valentine's Day include:
Llama Llama I Love You

The Invisible String

Pete The Cat: Valentine's Day Is Cool

Happy Valentine's Day, Curious George

The Day it Rained Hearts

Junie B. Jones and the Mushy Gushy Valentine


7. A Valentine's Day Craft
Spending time together is the most special way to celebrate Valentine's Day. A craft will give you something unique to do with you kids. If you don't have many craft supplies, you can create your own Valentine cards for loved ones using paper, scissors, and crayons, markers, or paint.


After getting a few small gifts for your kids, you can gather them in a small basket with some red or pink tissue paper instead of traditional gift wrap.
I hope you have a wonderful Valentine's Day full of love and extra hugs and kisses from your kids. How will you be spending your day? Let me know in the comments! For a fun and easy Valentine's day snack recipe, check out this post.
This post contains affiliate links that help to support the blog at no additional cost to you. Thank you for your support that allows me to continue to create valuable content for families all around the world.